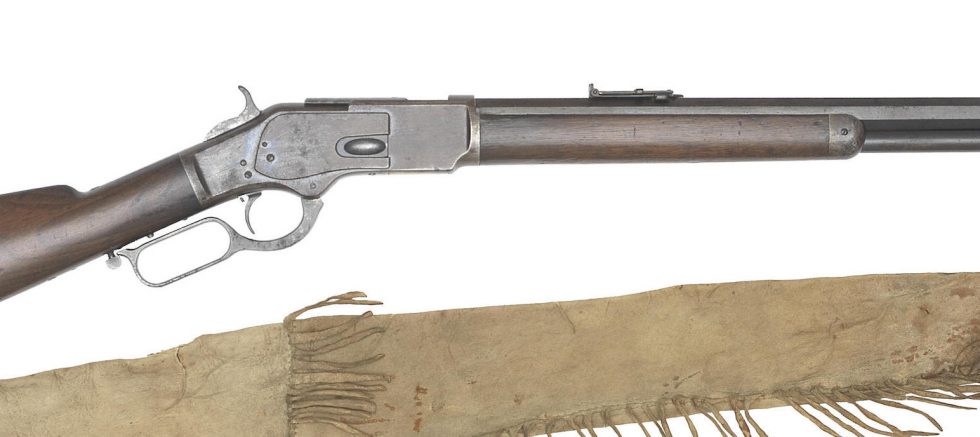 The Battle of the Little Bighorn is probably best known as "Custer's Last Stand" but it is also sometimes referred to as "The Indians Last Stand". It was the pivotal battle of the wars between the Native American Indians and the "white men" who were taking over their land. Over the years this battle more than any other in the fight between the Native Americans and the Europeans who had come to take over the land stands as the symbol of that struggle. It was a defining moment in the United States formative history. That being said an artifact from that historic battle is something that deserves to be in a museum where the maximum number of people can not only see it but also experience the connection with that historic event that the artifact presents.
The Winchester Model 1873 in our pictures was acquired by a man named Moses A. Welch who was a Blacksmith and Engineer at the Blackfoot Indian Reservation in Montana Territory. Amongst the family letters is a reference to the rifle which says that he "… got the gun after it was surrendered by an Indian warrior who helped kill Gen. Custer and his men'. Accompanying the family letters are a certificate of employment with the Blackfoot Agency and his military discharge from the 31st Regiment of Maine Infantry Volunteers dated July 1865 at the end of the Civil War.
This rifle is coming up for sale by Bonhams at their sale of the The Daedalus Collection of Antique and Modern Firearms to be held in London, UK, on 1st December 2016.
Bonhams description of the details of this rifle are as follows:-
"With blued octagonal barrel stamped 'Winchester's – Repeating Arms. New Haven. Ct.' above 'King's – Improvement – Patented – March 29. 1866. October 16. 1860' along the top flat in front of the calibrated folding adjustable back-sight dated 1863, blued tubular magazine beneath, blued action stamped 'Model 1873' on the upper tang, sliding dust-cover chequered for the thumb, brass elevator block, lever with threaded catch, figured butt and fore-end (some old bruising and scratches), curved butt-plate with sliding brass trap cover (rod missing), fore-end cap, and traces of original blueing mostly turned russet overall (some areas of rust patination and pitting): in contemporary American Indian buff leather slip stitched together and with fringed borders (2)
24in. barrel, recent London black powder proof".
You will find the sale page for this fascinating piece if you click here.
Assuming this rifle really came from the Battle of the Little Bighorn as the documentary evidence seems to suggest this is a significant relic of that iconic moment in history.
(All pictures courtesy Bonhams).