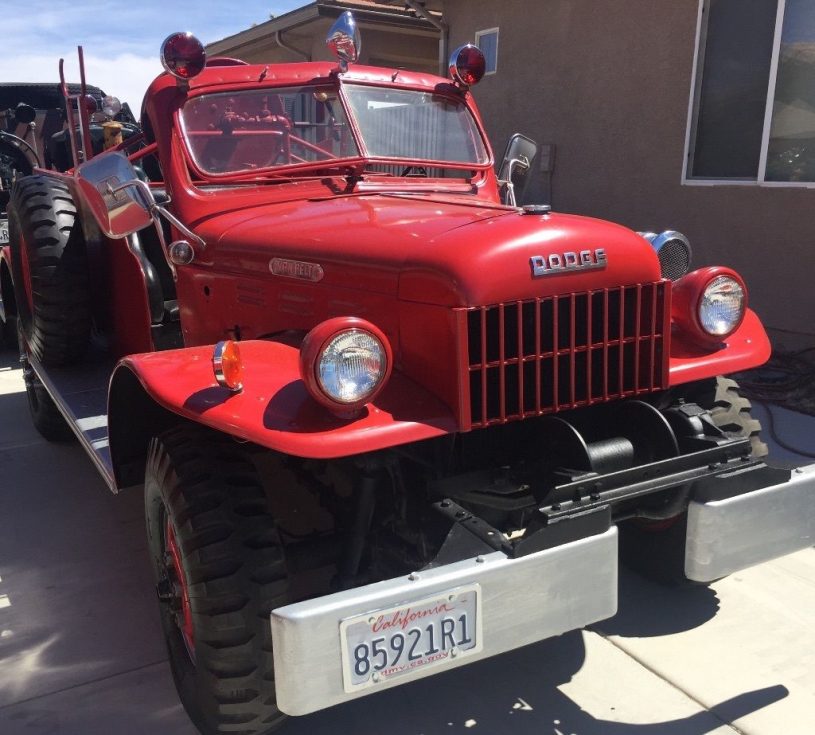 When you were a kid did you want to be a fireman? A lot of kids do and some get to fulfill their dream whilst others miss out and go on to become bankers and lawyers etc. Jobs that might make more money but jobs that aren't quite so exciting or glamorous.
If you love Dodge Power Wagons as so many of us do and would like to have one that comes with the added bonus of it being a fire truck then there are two currently for sale on eBay, one is original and unrestored whilst the other has been subject to a frame off restoration.
The Power Wagon pictured above and in the feature image at the head of this post is the original and unrestored one which you will find on eBay if you click here.
This Power Wagon was converted to a fire truck by Van Pelt and is one of only five known to exist. This fire truck was owned and operated in Twaine Harte California and it currently runs drives and stops.
Asking price for this unrestored vehicle is USD$37,000
The second Dodge Power Wagon fire truck also fitted out by Van Pelt has been subject to a full body off restoration and it looks better than new.
You will find the sale page for the restored Power Wagon fire truck if you click here.
Asking price for this restored vehicle is USD$125,000
This restored Power Wagon fire truck is also a Van Pelt and as such is also one of only five known to exist.
Of the five Van Pelt conversions this restored one was apparently the most well equipped and the vendor has original documentation to go with the sale.
So if you are a collector; or if you are someone who always wanted to be a fireman but didn't quite make it for one reason or another, then here is your chance to own a fire truck, and a rare and collectible one at that.
(All pictures courtesy eBay)