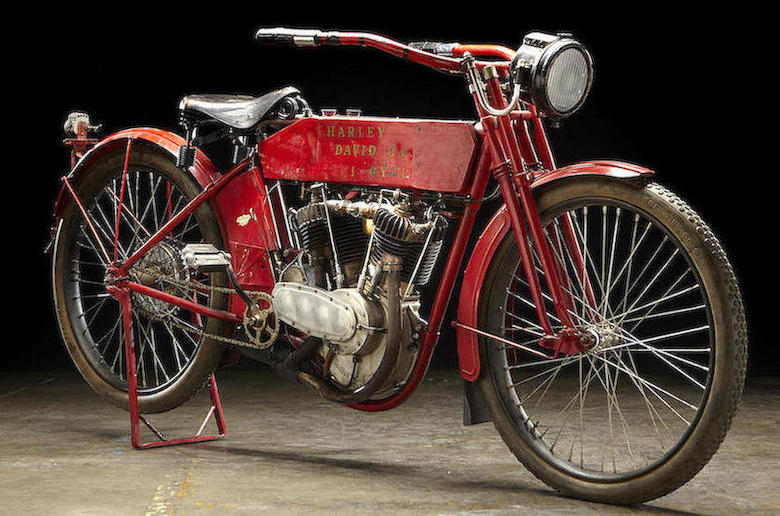 The Harley-Davidson X8E was arguably the first "Big Twin". Introduced in the second half of 1912 the X8E had a 60 cu. in. (1000cc) engine putting out 8hp replacing its 6.5hp predecessor. This was Harley-Davidson's first all chain drive model and included a clutch although not yet the three speed gearbox that would come later. The engine of this new bike did away with the atmospherically actuated inlet valves of the earlier Harley-Davidson IOE (Inlet Over Exhaust) engines and introduced mechanically actuated inlet valves using push-rods.
Also new for 1912 was Harley-Davidson's new seat to provide much improved rider comfort, the "Ful-Floteing Seat" which had a coil spring in the seat tube and twin spring supports at the rear. This was without doubt a great improvement in ensuring that the motorcycle did not become a pain in the proverbial on long trips.
The Harley-Davidson X8E was to be improved on over the next couple of years with the fitting of a three speed gearbox and it would be evolved into the motorcycle that the US Army took to Europe when the United States entered the First World War in 1917.
This old Harley-Davidson was owned by Steve McQueen and a story that surrounds it is that he and his friend Von Dutch decided to do some re-spraying to restore the paintwork. The legend suggests that they had been drinking and enjoying life when they decided to do this so they got some aerosol paint cans like the ones commonly used by graffiti "artists" and gave the bike a nice new red paint job complete with stick on gold letters most likely obtained at the same hardware shop as the spray cans. They seem to have run out of paint however and the left side of the tank was not treated to the red paint "restoration" that the right side was.
This quite rare ex-Steve McQueen Harley-Davidson X8E is coming up for sale by Bonhams at their Las Vegas Motorcycle Auction to be held on 26th January 2017 at the Las Vegas, Rio Hotel and Casino.
You will find the sale page for this bike if you click here.
Although this bike is reported to be ride-able and riding it would certainly be fun, it may be best used as the conversation centerpiece of your gentleman's room or "man lab".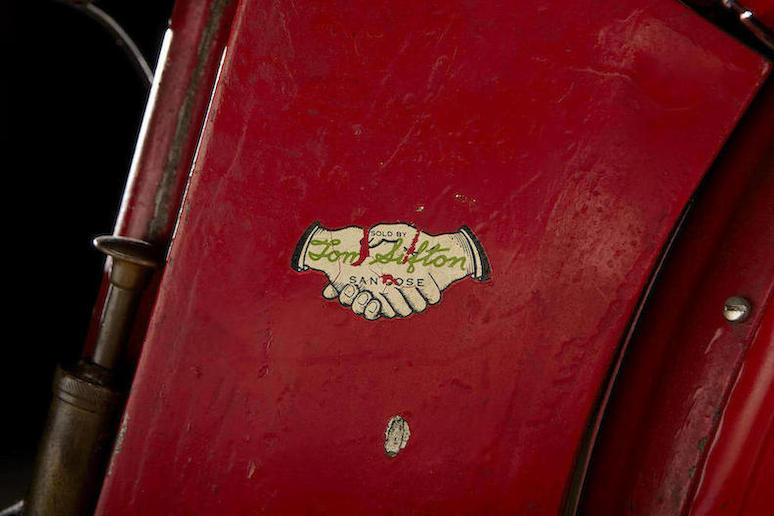 (All pictures courtesy Bonhams).