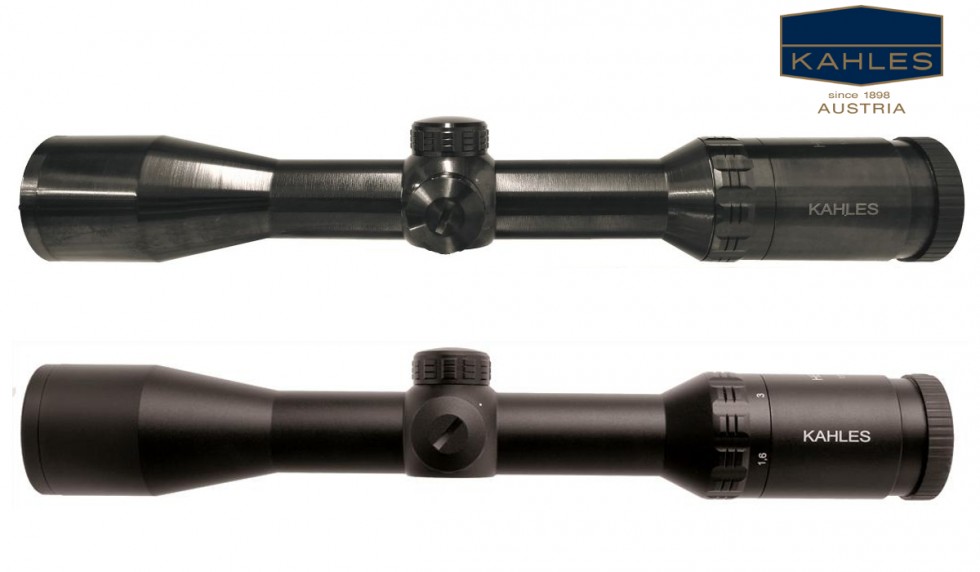 If you are looking for a rifle-scope for a custom rifle, perhaps even something such as the new Rigby Big Game Rifle, or perhaps something from Holland and Holland in London, then you are going to want a rifle-scope that exudes the same level of quality and ruggedness as the rifle it is going to be mounted on. That is when you are likely to be looking for a rifle-scope from a top quality maker, preferably of steel construction.
A rifle-scope needs to coordinate and blend in with the rifle it is mounted on, both functionally and aesthetically. So, especially for a rifle-scope that is going to be mounted on a heavy calibre big game rifle such as the new Rigby which is chambered for the 450 Rigby, 416 Rigby and the venerable 375 Holland and Holland Magnum, then a ruggedly beautiful steel rifle-scope such as the new steel version of the Helia 5 1.6-8x42i from Kahles of Austria is going to be something you will want to seriously evaluate. The new Rigby rifles for example are all steel, so an all steel rifle-scope will compliment them beautifully.
Kahles of Austria have, wisely I think, chosen to offer their new Helia 5 1.6-8x42i rifle-scope in both the usual aluminium alloy and also in polished, scratch proof, tempered steel. It is the only model in the Kahles Helia 5 range that offers the choice of either alloy or steel at present and this seems a sensible starting point, although I think it would be excellent if the Helia 5 1-5 x 24i were also offered in steel as it would be a rifle-scope of choice for a dangerous game rifle. That being said the 1.6-8x42i is an excellent specification for a big game rifle and/or a dangerous game rifle offering both a wide field of view at low magnification and the ability to go all the way up to 8x for longer shots, shots that may require the ability to use that 8x magnification to clearly see and identify one's quarry in cover and enable one to safely take the shot.
The Helia 5 1.6-8x42i is a new addition to Kahles Helia 5 series this year. It sits directly between the existing two Helia 5 models, the 2.4-12x56i and the 1-5x24i. A magnification range that begins at 1.6x provides a wide field of view of 25.5m at 100m/76.5feet at 100yards. This is good for short range target acquisition and adequate for running game. So the rifle-scope enables snap shooting on a quarry that is close by. The 8x upper magnification is a level that we used to find on rifles set up for long range and mountain hunting, Kahles own superseded 8x56mm being an example. I had a Kahles 8x56mm on my old Mannlicher-Schönauer 6.5x68mm many years ago. 8x is sufficient magnification to zero a rifle at 300 yards and to shoot out to 400 yards providing the shooter and the cartridge are up to that task. So, although there is no shortage of rifle-scopes that offer magnification above 8x, nonetheless 8x is sufficient for the longest range shots one might ethically take on game. Thus the 1.6x-8x magnification range of the Helia 5 1.6-8x42i offers enormous flexibility.
The 42mm objective lens is a decent compromise on a rifle scope of this class. It will be able to be used in really poor light up to about 6x, and in low light conditions all the way up to 8x if needed. The old method of assessing a rifle-scope's low light capability was calculated on the notion that a human eye can accommodate an exit pupil from the scope of 7mm. Thus, to calculate the maximum magnification that will be able to be used under really adverse light conditions we divide the diameter of the objective lens by 7mm. Hence the old standard fixed power European rifle-scopes were 6x42mm and 8x56mm. Historically the 6x42mm rifle-scope was pretty much a European standard for decades.
In addition to rugged and reliable construction the Kahles Helia 5 series rifle-scopes feature an illuminated reticle with variable brightness and an automatic off/on feature to save battery life. The automatic off/on feature senses if the rifle is upright, as it needs to be when taking a shot, or laid over at an angle as it will be if no shot is to be taken. If the rifle is brought to an upright shooting position the reticle illumination will come on, and if it is not near upright it will automatically switch off. The shooter can of course choose whether or not to activate the illuminated reticle and can adjust the brightness to suit the hunting situation by means of the knob on the left side of the adjustment turret. The automatic off/on feature also responds to the vertical angle of the rifle-scope so, if the rifle is for example slung over the shoulder and his pointing upwards at the sky or downwards at the ground the illuminated reticle will switch off, and back on when the rifle-scope is brought back to a shooting position. The video below gives an idea of this.

There are two illuminated reticles available for the Helia 5 series rifle-scopes; the 4-Dot and the G4B. The reticles of the Helia 5 series rifle-scopes are located in the second focal plane as is the norm on rifle-scopes made and preferred in the United States. This means that the reticles are "non-magnifying" but this also means that the reticle subtensions change as the rifle-scope is zoomed up or down through its magnification range. Hence the pictures below specify different reticle subtensions at 1.5x and at 8x.
The 4-Dot reticle is a clean, simple old fashioned design that has been proven by years of use in the field.
The G4B reticle halves the distance between the heavy bars and adds three lines as additional helps for range estimation and to provide guidance for aiming off as needed to compensate for range and/or windage.
You will find the full specifications of the three models in the Kahles Helia 5 series at the Kahles web site if you click here.
Kahles short video summarising the specifications and features of the Helia 5 1.6-8x42i is below.

The new "Ballistic Drop Compensation" device
This year Kahles have added a new optional feature to the Helia 5 series of rifle-scopes; their own "Ballistic Drop Compensation" device. This essentially works by the addition of a modified elevation turret (which can be retro-fitted to any Helia 5 series rifle-scope) that takes a customised ballistic ring for the factory ammunition being used.
Once set up the idea is that the shooter needs only to estimate the range to his or her quarry and then dial the range into the ballistic compensator ring, which will adjust the elevation so the shooter can then simply put the cross hairs at the point of aim, without needing to hold off for elevation. For hand-loaders customisable rings are available for the shooter or their gunsmith to create suitable rings for their hand-loaded ammunition.
This is a system that will appeal to some. Some people prefer to have a means to adjust their sights for longer shots. Personally though I would not choose to install this device onto a rifle-scope that I will be using for a couple of  reasons.
Adjusting the device takes time. This will be OK if you have time to make adjustments for your shot. It is much quicker to aim off. It is also much more flexible.
Taking the guess work out of the elevation does not take the guess work out of taking the shot. Mirage and wind drift can each shift a bullet's point of impact up or down in addition to shifting it in other directions. The Ballistic Drop Compensator can't accommodate this. No BDC device from any manufacturer can. There is no substitute for training and experience with the rifle with which you will be taking the shot.
Conclusion
To sum up, the Kahles Helia 5 series are well worth looking at and evaluating if you are looking for a rifle-scope for your hunting rifle. The availability of the Helia 5 1.6-8x42i in both steel and aluminium versions is an exciting development and I hope it proves to be a great success for Kahles. They are creating rifle-scopes that will suit both top shelf rifles, and also rifles that are intended to be used in rugged and challenging conditions.
Whether you choose a steel Kahles Helia 5 1.6-8x42i or an aluminium alloy one you are certain to be buying a rifle-scope that has been designed and constructed to be predictable and reliable, you will have purchased a top quality item. They are also aesthetically pleasing and will look fabulous on whatever rifle the owner chooses to mount them on.
The aluminium alloy Kahles Helia 5 1.6-8x42i is available from OpticsPlanet if you click here. (Note: USA customers only)
Australian customers can find dealer information from Winchester Australia; click here
The Kahles Helia 5 1.6-8x42i rifle-scopes are also available on Amazon.com; click here
Technical Data for all Kahles Helia 5 Models
(Data courtesy of Kahles)
Helia 5
2,4-12x56i

Helia 5
1,6-8x42i

Helia 5
1-5x24i

Magnification

mm

2,4-12

1,6-8

1-5

Objective Lens diameter

mm
inch

56
2,20

42
1,65

24
0,94

Field of view

m/100m
ft/100yds

16,5-3,3
49,5-9,9

25,5-4,9
76,5-14,7

42,3-8,0
127,0-24,0

Eye relief

mm
inch

95
3,74

95
3,74

95
3,74

Diopter compensation

dpt

+2/-3,5

+2/-3,5

+2/-3,5

Parallax adjustment

m

–

–

–

Impact point correction per click

mm/100m
inch/100yds
mrad
MOA

10
0,36
–
–

10
0,36
–
–

15
0,54
–
–

Adjustment Range elevation/windage

m/100m

ft/100yds

1,9/1,1

5,7/3,3

1,55

4,7

2,2

6,6

Tube diameter

mm
inch

30
1,18

30
1,18

30
1,18

Length

mm
inch

361
14,2

323
12,7

278
10,9

Weight

g
oz

689
24,3

538
19,0

470
16,6

Weight
(S-Rail)

g
oz

709
25,0

–
–

490
17,0

Weight
(Steel Edition)

g
oz

–
–

900
31,7

–
–
| Model/Type | A | B | C | D | E | F | G | H | I | J | K |
| --- | --- | --- | --- | --- | --- | --- | --- | --- | --- | --- | --- |
| Helia 5  1-5 x 24i | 278 | 173 | 99 | 168 | 30 | 30 | 20,5 | – | 95 | 45,5 | – |
| Helia 5  1,6-8 x 42i | 323 | 174 | 99 | 138 | 48 | 30 | 20,5 | – | 95 | 45,5 | – |
| Helia 5  2,4-12 x 56i | 361 | 176 | 99 | 146 | 62 | 30 | 20,5 | – | 95 | 45,5 | – |
Dimensions in mm