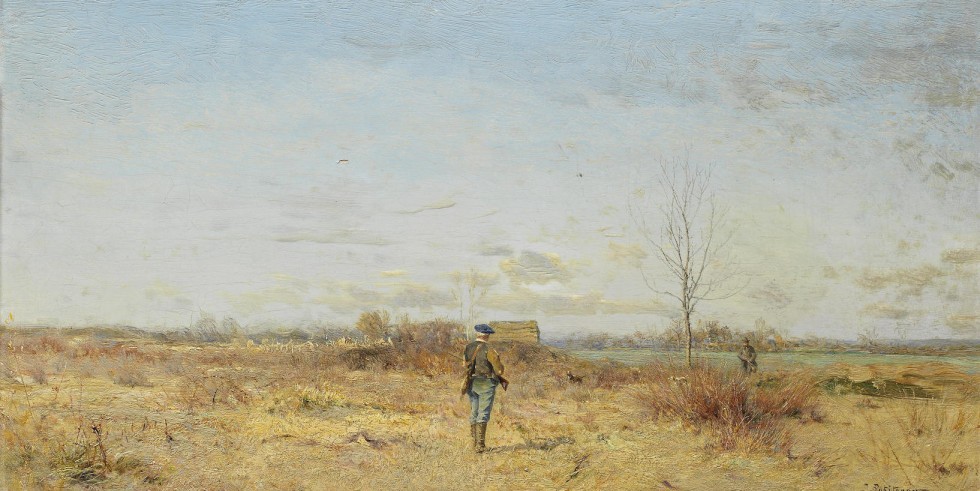 Ivan Pavlovich Pokhitonov was passionate about hunting and passionate about painting, something that those who like to characterize hunters as barbaric and un-cultured would simply be unable to comprehend. But its a natural mix; the hunter has a keen eye for detail and a love of nature made all the more real because of his or her involvement in it. When hunting one's senses are at their highest levels of alertness, highest levels of observation, taking in every detail, every scent and every sound. So it is a natural thing that a hunter should be passionate about painting scenes that he or she have so keenly observed and participated in. Nowadays some like to hunt with a camera – but to hunt with a camera is to hunt as an observer of nature. To hunt with a rifle is to hunt as a participant in nature. I like to do both. How about you?
Ivan Pavlovich Pokhitonov was born in 1850 and appears to have begun combining hunting and painting in the 1870's, during his twenties. Hunting remains one of his favourite themes although he paints many other subjects, but most commonly rural and natural scenes. He is noted for his eye for detail and his ability to transfer his feel for nature into his works.
He lived in his native Ukraine and Russia, and also in Belgium and France, so the subjects of his paintings traverse all these countries. He would go on hunting and painting journeys, selling his paintings when he returned to "civilization" to finance his next journey.
Each of the examples of Ivan Pavlovich Pokhitonov's works we've included in this post are computer wallpaper quality and make a delightfully restful background for your desktop, or screensaver slide-show, or both.
To see a picture in full resolution just click on it and your browser will display it full size.
The painting we have featured at the head of this post is coming up for sale by Bonhams at their "The Russian Sale" on 3rd June 2015 at New Bond Street.
You will find the auction page if you click here.
Ivan Pavlovich Pokhitonov's paintings have a quality about them that an artist can only attain by having developed a close affinity with the land; something that hunting and fishing will tend to develop in you. His paintings have that sense of peace and oneness with nature such that we catch the feeling of being there, with him, at one with the natural world and a participant in it.