The Webley revolver was affectionately known as the "Wobbly Webley" and served as "THE" revolver of the British Empire from 1887 through various marks and models until it was finally phased out in 1963. The World War I Mark VI Webley was a direct descendent of the lineage that had begun with the Mark I that was adopted on November 8th, 1887, chambered for the .455 Webley Mark II cartridge that was introduced the same year, and which used Cordite instead of the black powder used the the .455 Webley Mark I cartridge. From the .455 caliber Webley Mark I revolver to the Mark VI of World War I vintage these quite large revolvers have a wonderfully solid feel: they look and feel like something one could depend on if one found oneself "on a bit of a sticky wicket" – that's British slang for finding oneself in a life or death situation.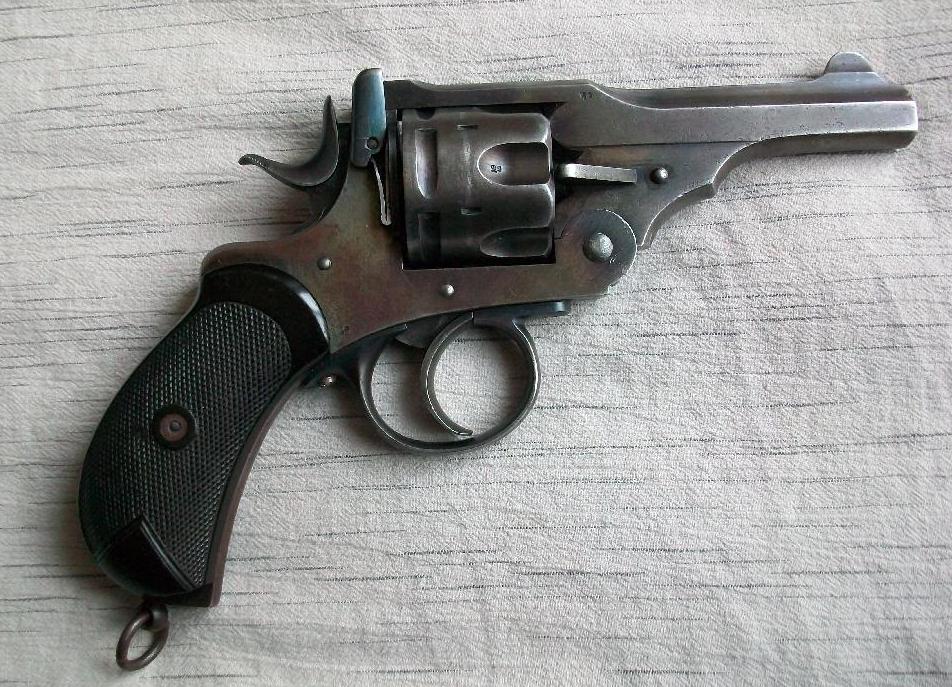 The first impression one gets when handling one of these .455 caliber Webley revolvers (if it's in good or mint condition) is the "bank vault door" closure, the solid feel of a very well made arm, and (for me at least) the sheer size of it. The first time I handled one of these revolvers was back in the early 1970's and prior to that the revolvers I was used to were Smith & Wesson K38's, a Model 10, and a Colt Python. So by comparison the Webley Mark VI, a World War I veteran but in very good condition, was an impressive item.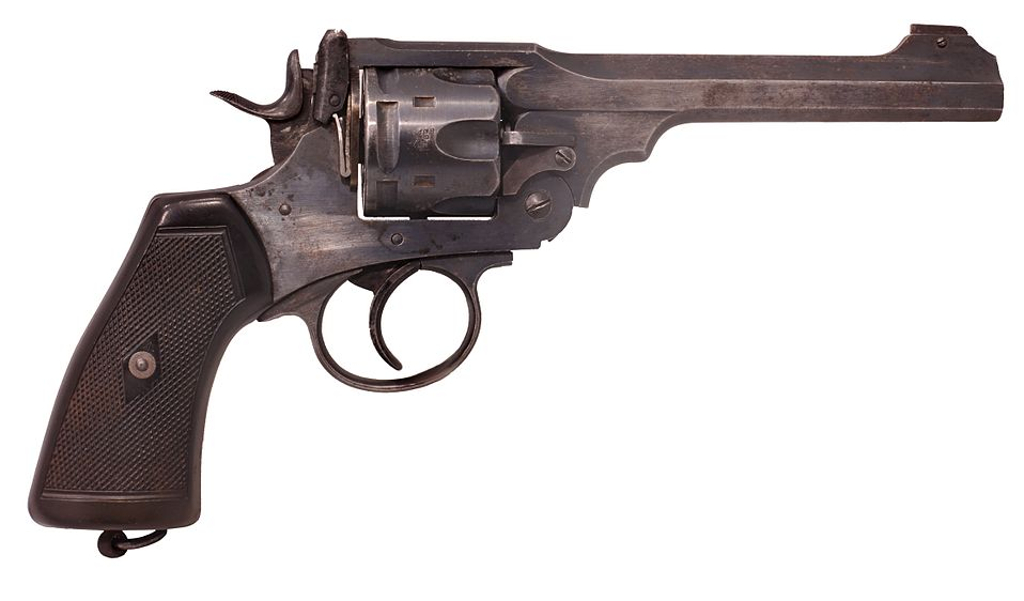 I must admit that on the night I got my hands on that Webley Mark VI revolver, if you'd told me that not only were they making them again, but that I could buy a brand new one chambered in .357 Magnum, I would have been reaching for my check book as I asked "how much?" So when I tell you that you can now buy one of these revolvers, brand new, hand made, and finished to British "best gun" standards, then no doubt some of you are already considering making a revolver sized hole in your bank balance.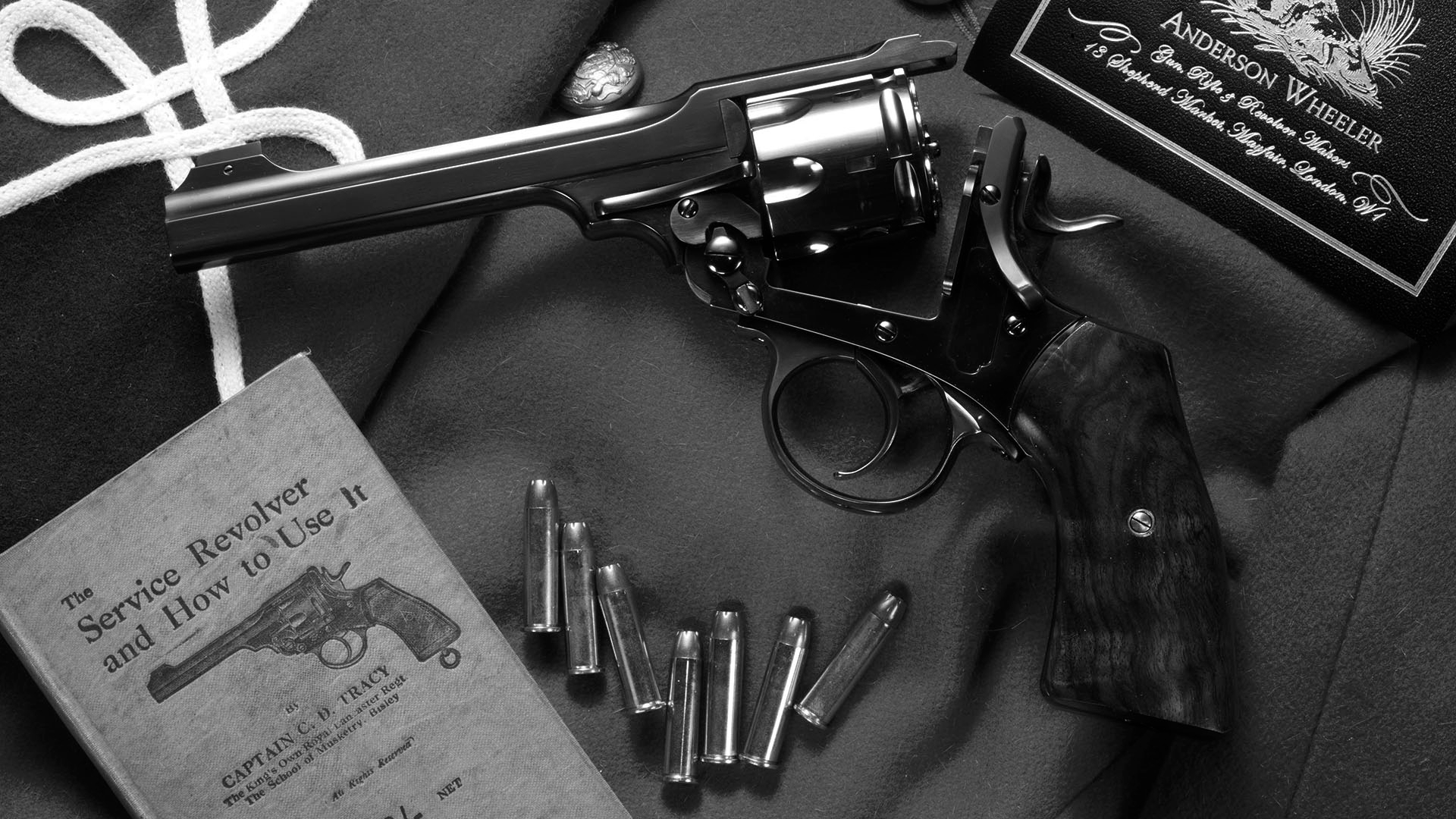 British gunmaker Anderson Wheeler may best be known as the makers of the .500 Nitro Express double-rifle used by James Bond in the movie Skyfall. Anderson Wheeler's double rifles, bolt action rifles, and shotguns, are indeed made to "best of British" standards and were a natural choice as providers of that .500 Nitro Express double for 007, just as Aston Martin has been the natural Bond car maker.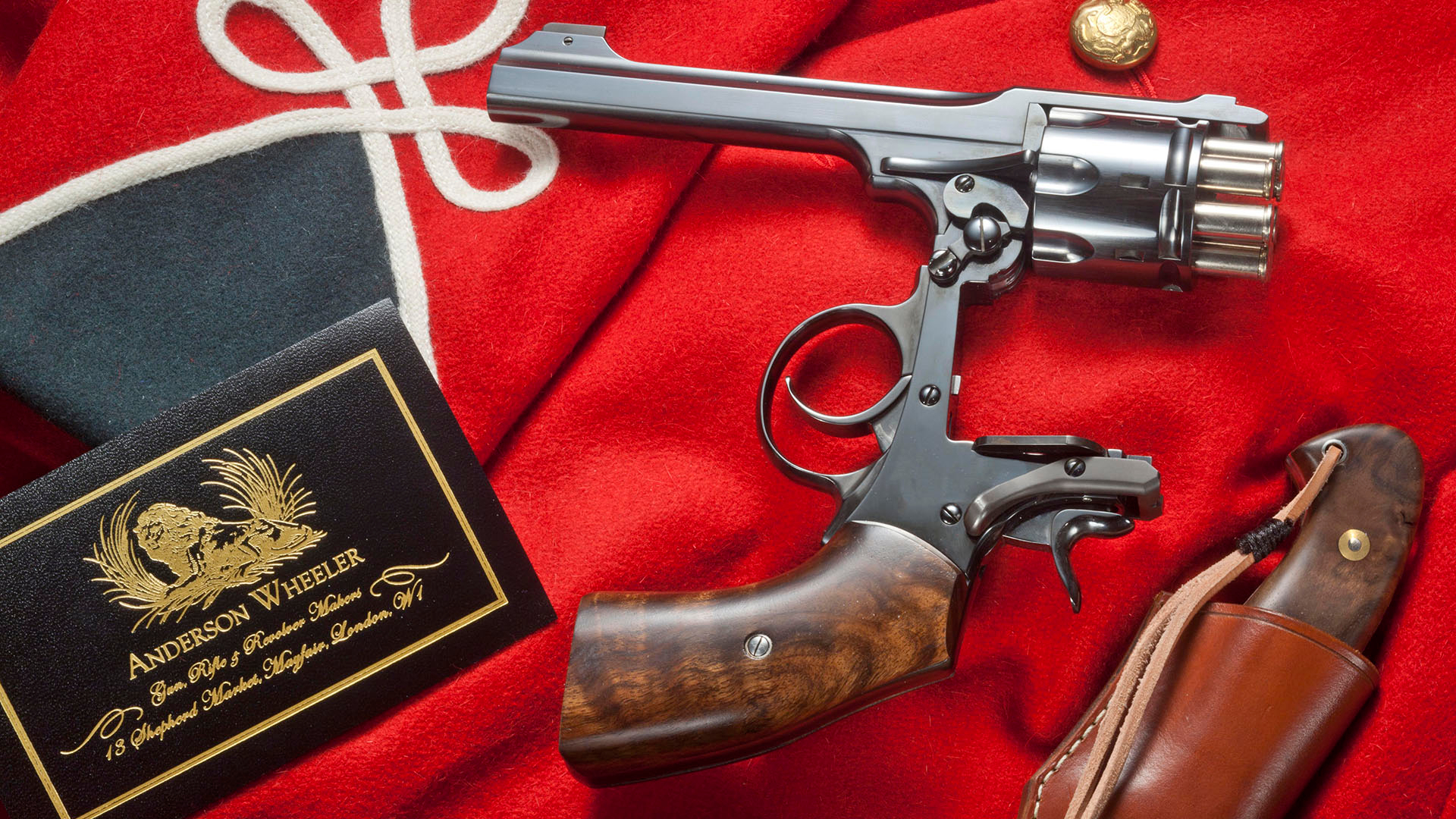 Anderson Wheeler used original Webley Mark VI design drawings in developing their Mark VII revolver. The development process took four years and the revolver is made using traditional drop forging: so, not only does the Mark VII revolver look like its parent, it is made using similar traditional methods. The Mark VII uses the best of twenty-first century chrome molybdenum steel to create a fully modern top break revolver easily able to handle the pressures delivered by the .357 Remington Magnum cartridge, and to enable the fitting of a seven shot cylinder. Not only that, but the revolver is available in best London blueing, and can also be had in a coin finish. Custom engraving is also available.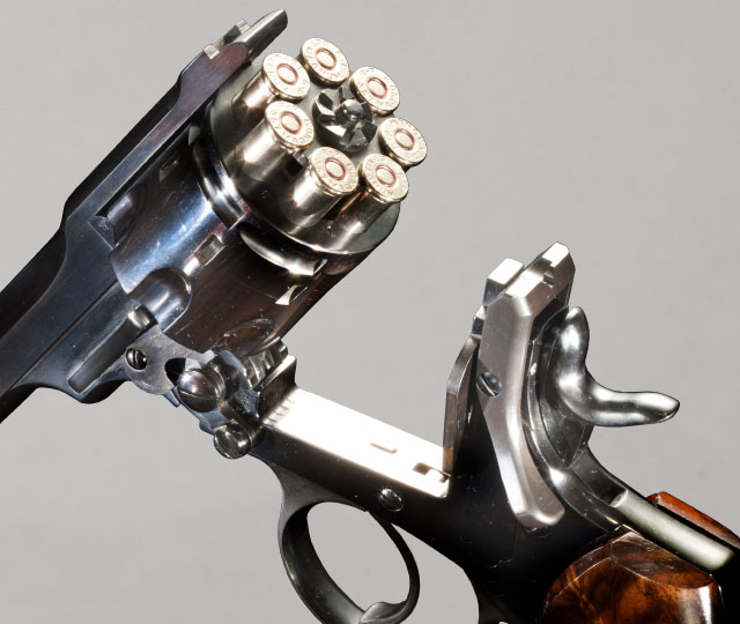 The new Anderson Wheeler Mark VII revolver has the traditional 6″ barrel as did its Webley Mark VI forebear and weighs 2lb 10½oz., unloaded and without grips attached. Internally the Mark VII uses a "V" spring as did the Webley. The rear sight is a fixed "U" notch formed as part of the top strap. The prototype Anderson Wheeler Mark VII retains the Webley style fixed firing pin but Anderson Wheeler are working on improvements such as a reinforced hammer-drop safety, inertia firing-pin, and a reinforced frame. Their intention is to be able to create this revolver in larger calibers if there proves to be a demand. Which larger calibers Anderson Wheeler might try we don't yet know, but it would not be difficult to make it in .45ACP using moon-clips as has been done on many old Webley Mark VI revolvers: the difference being that the Anderson Wheeler revolver could be made safe for .45ACP +P ammunition whilst the old converted Webley Mark VI revolvers are only really safe with reduced "starter" handloads and lead bullets.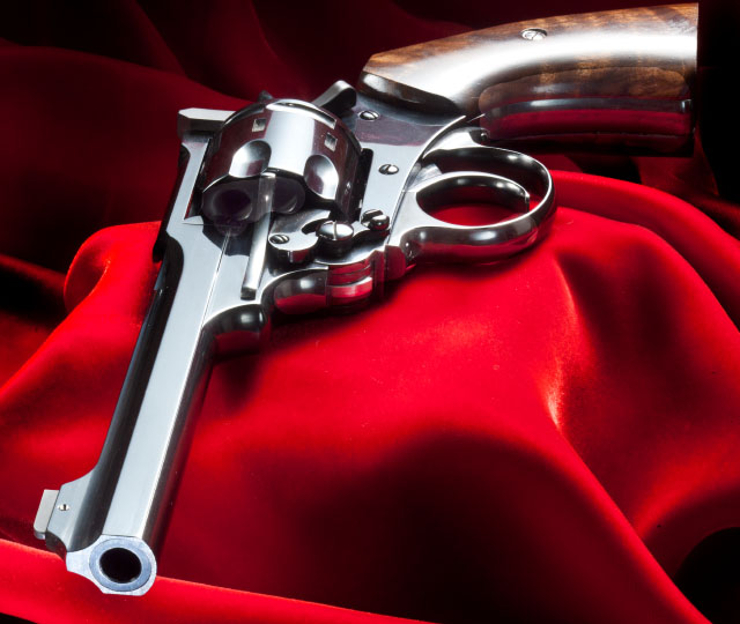 The Anderson Wheeler Mark VII is the first revolver to be entirely made in Britain since 1983. Ironically British citizens are not generally permitted to own a handgun so unless that situation changes the bulk of sales of this beautiful and historic revolver will be for export.
The Anderson Wheeler Mark VII is a bespoke London "best gun" and as such it commands a London "best gun" price-tag. It is certainly not as expensive as a fine British double-rifle but it is not an inexpensive item either, being priced up with some of the hand-made custom M1911 pistols made by the likes of Wilson Combat or Ed Brown. The Anderson Wheeler Mark VII revolver is priced from £6,500, which translates to about USD$10,000. That's a significant investment but not out of the ball-park for a fine hand-made custom pistol or revolver.
If you are interested in finding out more about the Anderson Wheeler Mark VII the best place to start is with a visit to their website which you will find if you click here.
And you will find Anderson Wheeler's sporting long arms if you click here.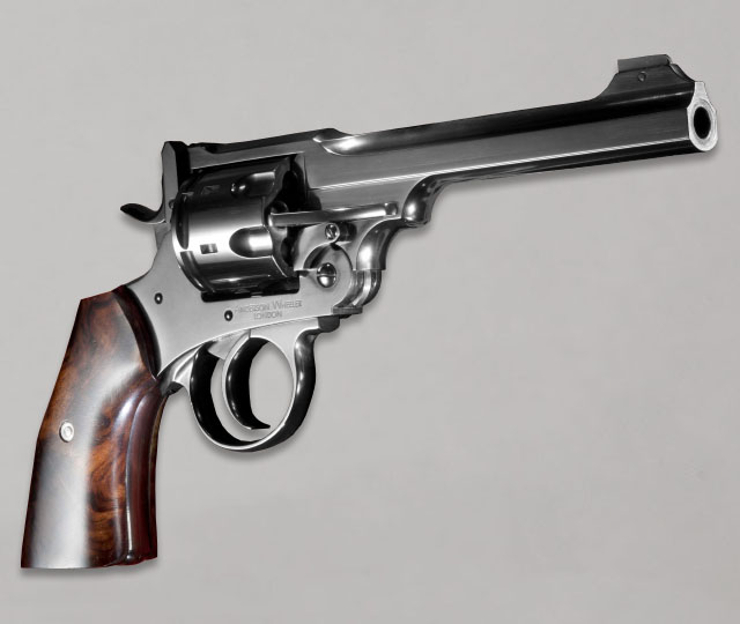 (All pictures courtesy Anderson Wheeler unless otherwise noted).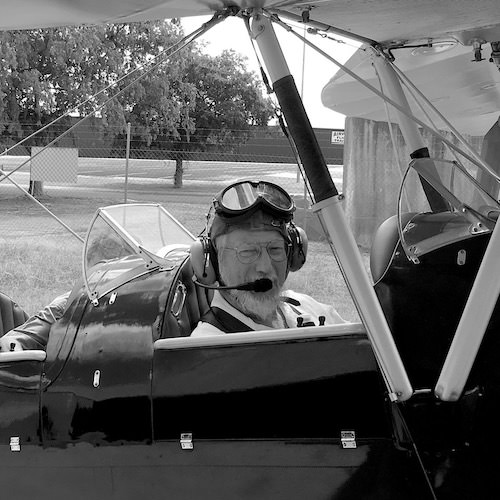 Jon Branch is the founder and senior editor of Revivaler and has written a significant number of articles for various publications including official Buying Guides for eBay, classic car articles for Hagerty, magazine articles for both the Australian Shooters Journal and the Australian Shooter, and he's a long time contributor to Silodrome.
Jon has done radio, television, magazine and newspaper interviews on various issues, and has traveled extensively, having lived in Britain, Australia, China and Hong Kong. His travels have taken him to Indonesia, Israel, Italy, Japan and a number of other countries. He has studied the Japanese sword arts and has a long history of involvement in the shooting sports, which has included authoring submissions to government on various firearms related issues and assisting in the design and establishment of shooting ranges.