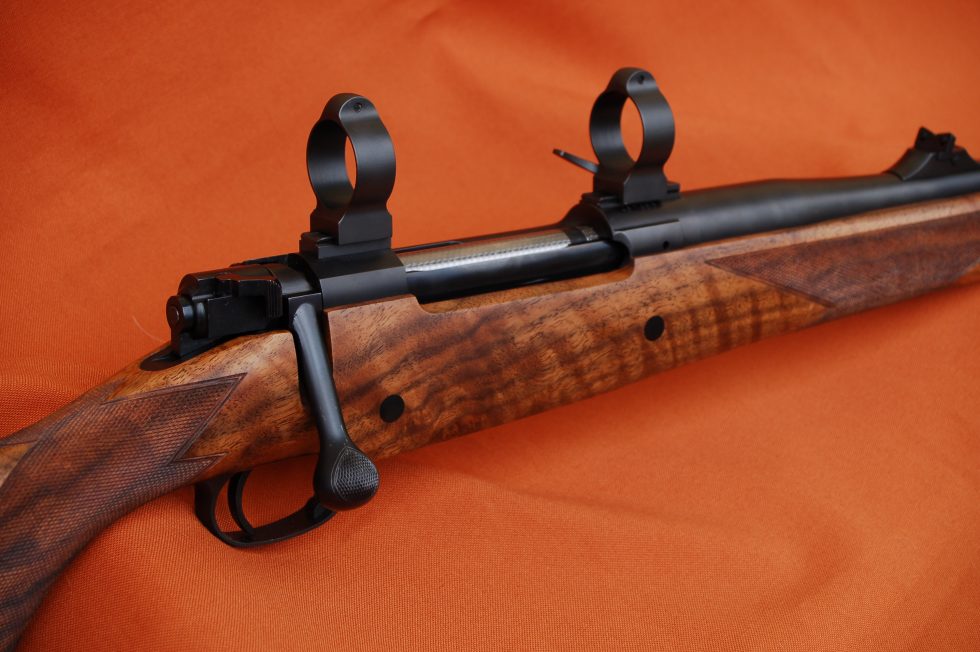 When building a custom rifle the most sought after actions to base it on tend to be the Mauser 1898 either standard or magnum, or the Pre-64 Winchester Model 70. There is another action oftentimes available at less cost that will build a superb custom rifle and that is the M1917 Enfield. If you are planning on a custom rifle, and especially if you are wanting to build one in a heavy caliber, then the the M1917 Enfield action is worth a serious look.
There have been some excellent custom rifles created on the M1917 action and this .375 Holland & Holland Magnum from Ed La Pour is a prime example. The original M1917 Enfield action has been strategically modified with the original "crooked as a dog's hind leg" bolt handle replaced with a tastefully straight one. The prominent "ears" surrounding the military M1917's aperture rear sight have been ground off and Ed La Pour has installed his custom Winchester Model 70 style three positional safety that also converts the original M1917 from British military style cock on closing to American style cock on opening.
The custom features of this rifle are:-
Restyled rear action tang
Custom bolt handle
Krieger barrel
Custom bottom metal
LaPour 3-position safety
NECG sights & swivels
Talley Scope bases & rings
The M1917 Enfield is a controlled feed action and has a number of advantages if you are building a heavy caliber rifle. British custom rifle makers commonly used the action in creating quality safari rifles for African and Asian use both in the thirties and post war fifties. The M1917 action is large, more like a magnum Mauser 98, front locking, and able to accommodate large Nitro Express and magnum calibers with ease. I've seen M1917 based rifles chambered for common magnum calibers such as the .300 Winchester Magnum, wildcats based on the .404 Jeffrey case, and even one made for the rarely encountered rimmed .360 No.2 Nitro Express. Because the M1917 action is large it lends itself to not only accommodating large cartridges but has a magazine that typically holds one or two more magnum or Nitro Express cartridges than a standard Mauser 98 magazine. So whereas a standard Mauser 98 action will require some opening up to fit something like a .375H&H and will hold three rounds in its magazine unless a custom drop magazine is created or fitted; the M1917 action and magazine normally holds four or five cartridges of a caliber such as .375H&H or .404 Jeffrey and can also be made for calibers in the .416 Rigby and .505 Gibbs range.
The M1917 Enfield based custom .375 Holland & Holland Magnum by Ed La Pour is an excellent example of the sort of custom rifle that can be created around that action and is a tribute to both Ed La Pour and to custom stock maker Clint Meier.
Ed La Pour is based in Bremerton, Washington. He began professional gun-smithing in 1981 and was admitted as a member of the prestigious American Custom Gun makers Guild in 1993. Ed La Pour's custom work has been featured in various publications and one of the most prominent was the rifle he created with Al Lofgren and Brian Hochstradt that featured in the 2013, 67th Edition of Gun Digest. You will find that rifle if you click here.
You will find Ed La Pour's website with examples of his work and contact details if you click here.
If you are planning on a custom rifle then Ed La Pour is a gunsmith you may wish to contact to discuss your project. His work on this custom .375 H&H looks impressive.