The AC 428 was arguably the most outstanding British luxury GT car of the creative 1960's and 1970's. It was a blending of the eye-popping power, performance and handling of the Mark III Shelby Cobra with the best of Italian styling and British design and engineering.
It was a car that deserved to achieve far better sales than it actually managed, its price having been driven up by a combination of having the body made and fitted in Italy with the car being completed in Britain, something which was costly and resulted in government taxes imposing a heavy burden.
Fast Facts
With the advent of the AC Shelby Cobra Mark III the leadership at AC realized that this was a foundation for the car that they had longed to create but lacked the resources to do so.
This new AC luxury GT was first made as an aluminium bodied convertible powered by a 6.2 litre Ford V8, but the concept was amended to making the car with a steel body powered by the 427 "Side-oiler" Ford V8. This was then changed to the more common and less expensive Ford 428 V8 as used in the production Mark III Cobra.
From 1965 until 1968 all these cars were convertibles, but a coupé was introduced at the 1968 Paris Auto Salon and this proved to be more popular than the convertible.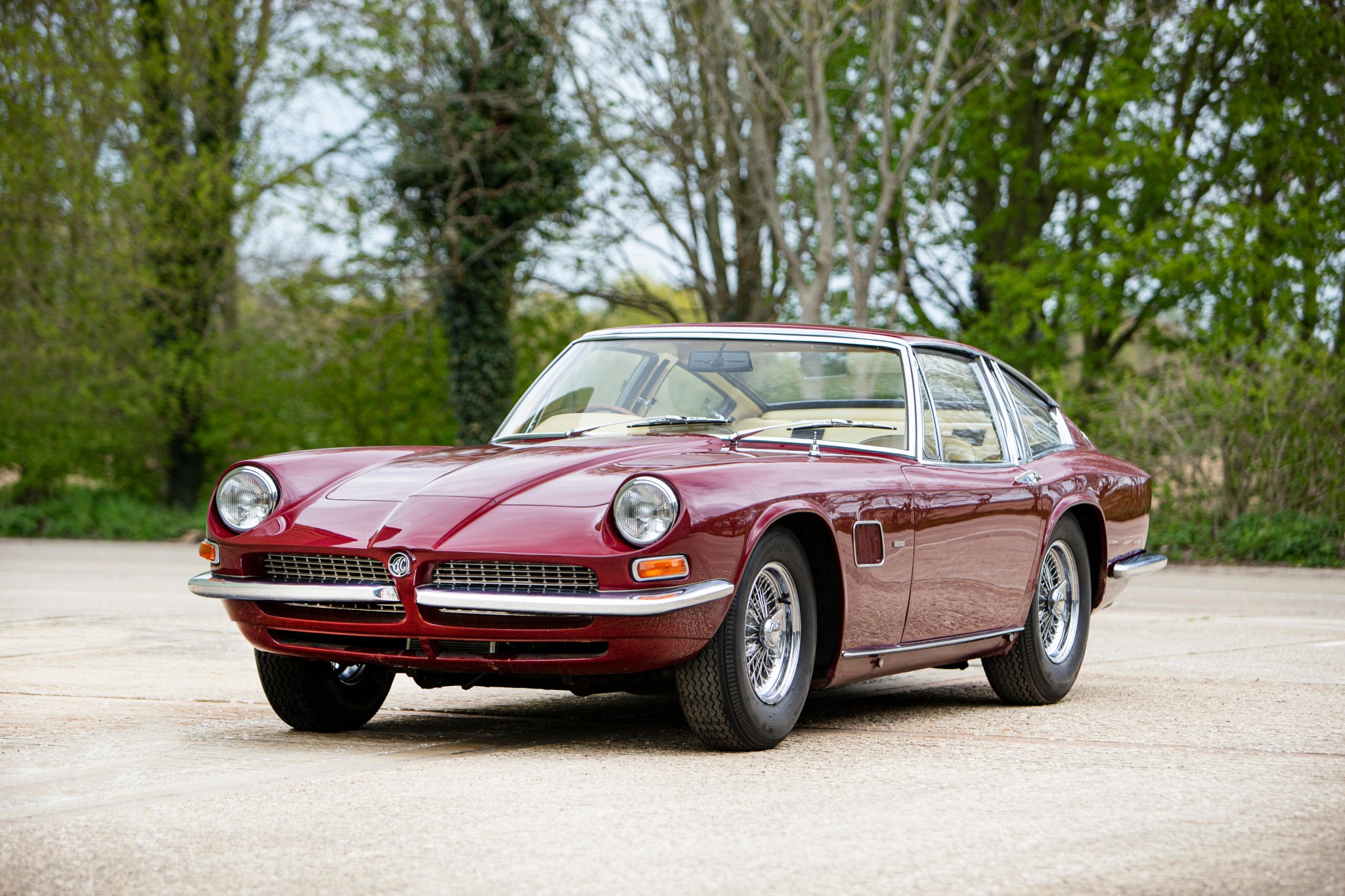 No doubt there are many who are well aware of the Shelby Cobra and Carrol Shelby's penchant for squeezing powerful American V8 engines into a diminutive British sports car, the AC Ace.
But what do you get if you take a fire-breathing Shelby Cobra Mark III and decide to transform it into a subtle high performance luxury Grand Touring car of restrained beauty?
The Shelby Cobra Mark III had been born from the 390 Big Block Cobra which was based on the Mark II Cobra. Shelby installed a 390 cu. in. (6.4 litre) Ford FE V8 engine into that Mark II Cobra, otherwise keeping the design in accordance with Mark II specifications, including the transverse leaf-spring front suspension.
This prototype car was given to legendary British racing driver and engineer Ken Miles to compete with and to say he was unimpressed would be an understatement. Miles rated the car as almost undrivable and although he managed to get it around a race track at impressive speeds he recognized that it just wasn't a viable competition proposition.
In order to create a Cobra that would be not only driveable but also a car that would win races the Shelby team went ahead with a radical re-design of the Mark II to create the Mark III.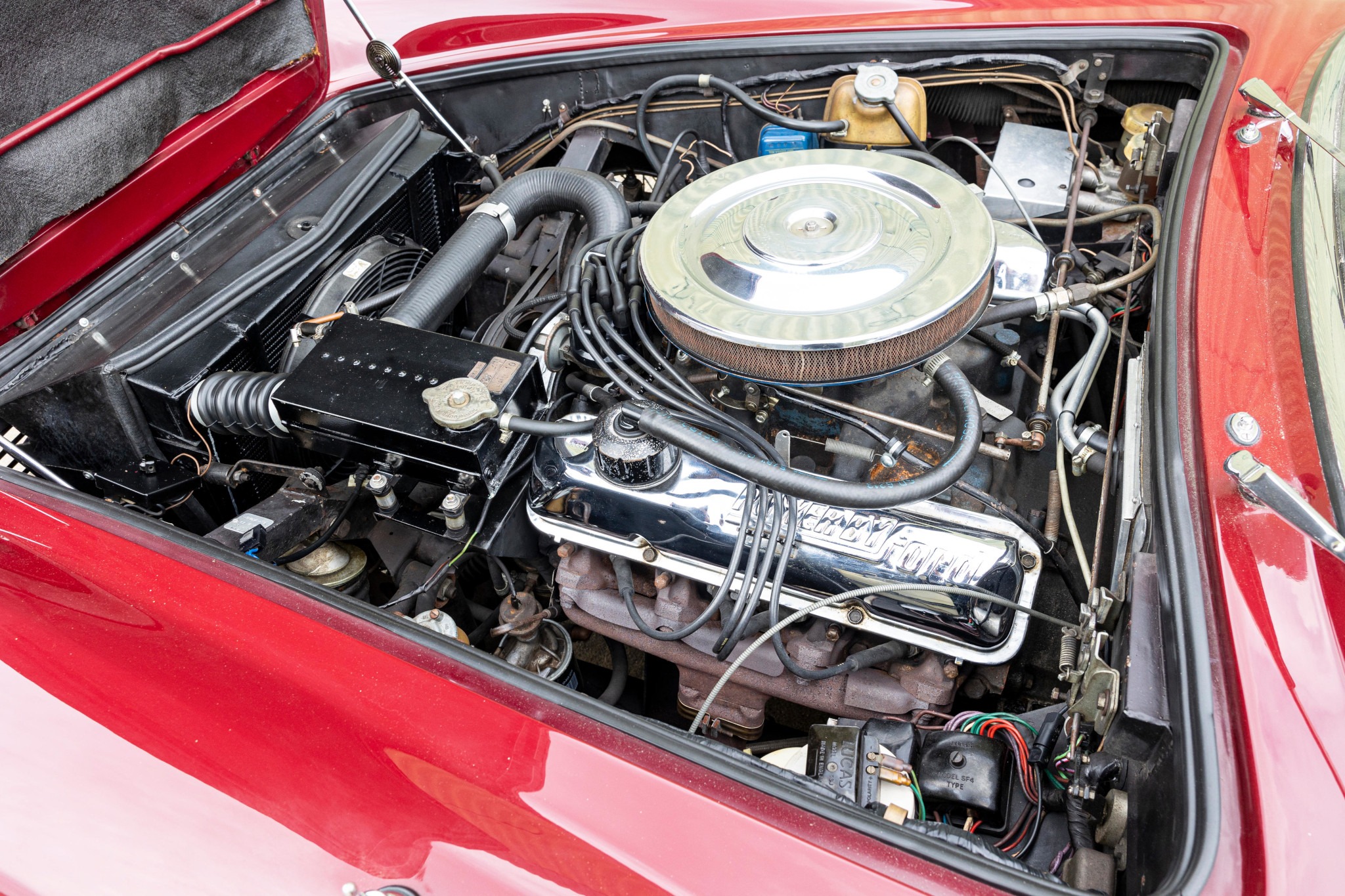 For the Mark III the car's frame was upgraded from 3 inch (76.2 mm) steel main chassis tubes to 4 inch (101.6 mm) to give it the stiffness required to deal with the engine weight and power. Not content with that a new suspension system was created using unequal length "A" arms with coil springs front and rear, giving the car a fully independent suspension system, and making it very driveable, and enjoyable too.
This new Mark III car was fitted with the 7.0 litre (427 cu. in.) Ford FE V8 engine breathing through one large four barrel 780 CFM Holley carburettor. This little gas-guzzler delivered 425 hp @ 6,000 rpm and 480 lb/ft of torque at 3,700 rpm.
Thus equipped the Mark III Cobra was and still is a hot contender for the "most exciting car on earth to drive" award. It was I suspect a car that might just have ensured that Carrol Shelby needed to bite into the nitro-glycerin capsule he kept under his tongue when he drove in case his heart needed steadying from the excess excitement.
The Making of a Luxury GT Shelby Cobra with British Characteristics
The Shelby Cobra Mark III was the car that the conservative British back at AC in Britain looked at with considerable interest.
The car from which the Cobra had originally been created had been designed and made by AC and was called the AC Ace, before Carroll Shelby came along and dropped an American V8 into it, creating the Shelby Cobra.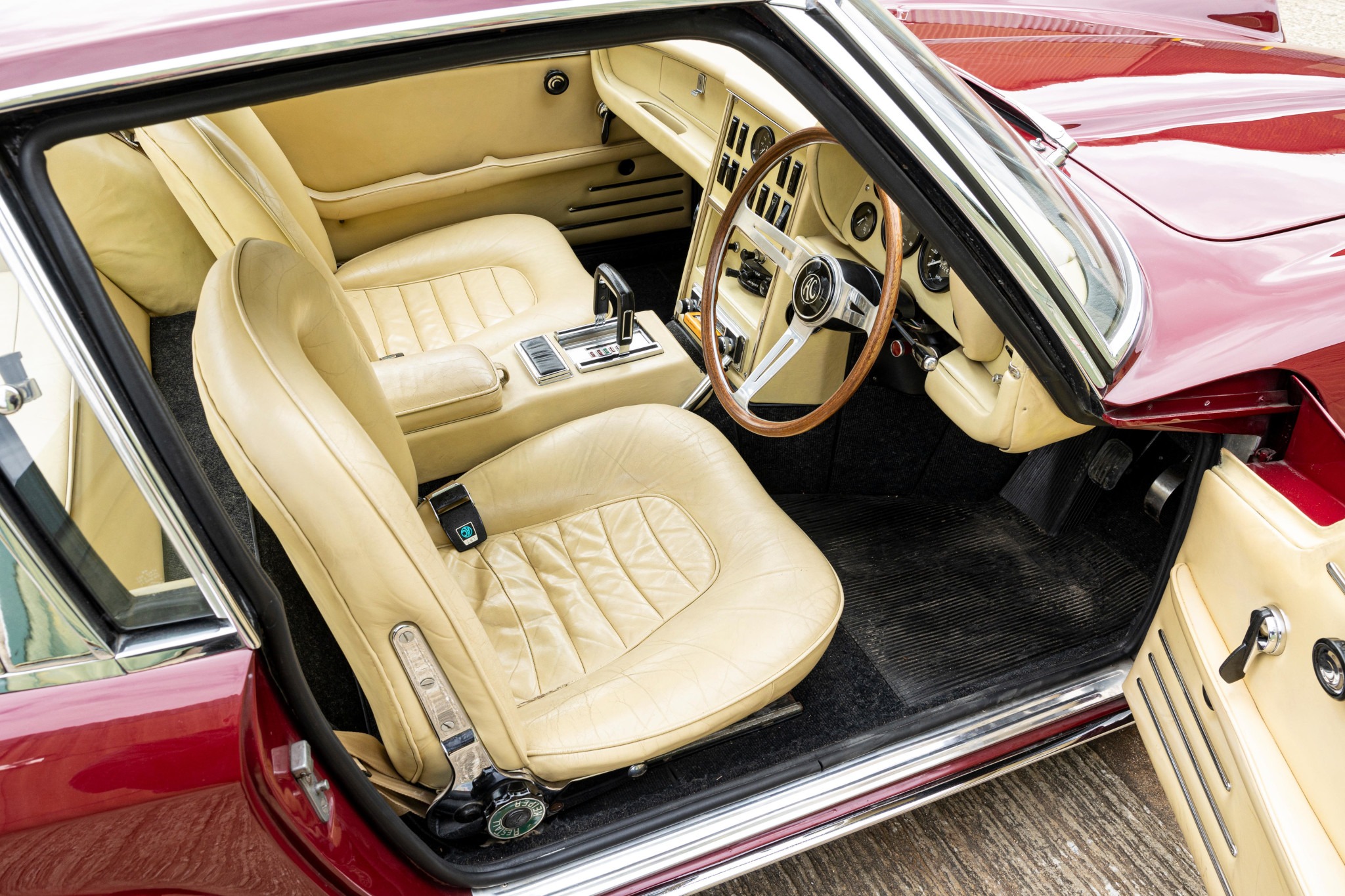 But the Cobra Mark III was a dramatically different design even though it looked very much like the AC Ace that had been its predecessor.
Being a small custom car builder AC had never had the cash behind them to develop the Ace into the sophisticated high performance car that Shelby in collaboration with the Ford Motor Company of the United States had done. Being flush with American dollars and technical expertise had worked wonders on what had started out as the AC Ace: and what it had created was something with wonderful possibilities.
Armed with this new design AC decided to re-create the Mark III Cobra into a sophisticated high performance Grand Touring car which would offer the performance of the Mark III clothed with gorgeous Italian styling and unsurpassed creature comforts.
AC's engineers realized that in order to create the car they wanted they would have to make the Mark III chassis a tad longer, and they settled on six inches longer as being the right balance.
Arrangements were made with Italian designer and coach-builder Frua to create a body that would suit this new luxury AC Grand Touring car, one with head-turning Italian beauty.
Initially a prototype car was created with an all aluminium body and powered by a 6.2 litre V8 and that car featured with Tara King (played by Linda Thorson) behind the wheel in "The Avengers" television series.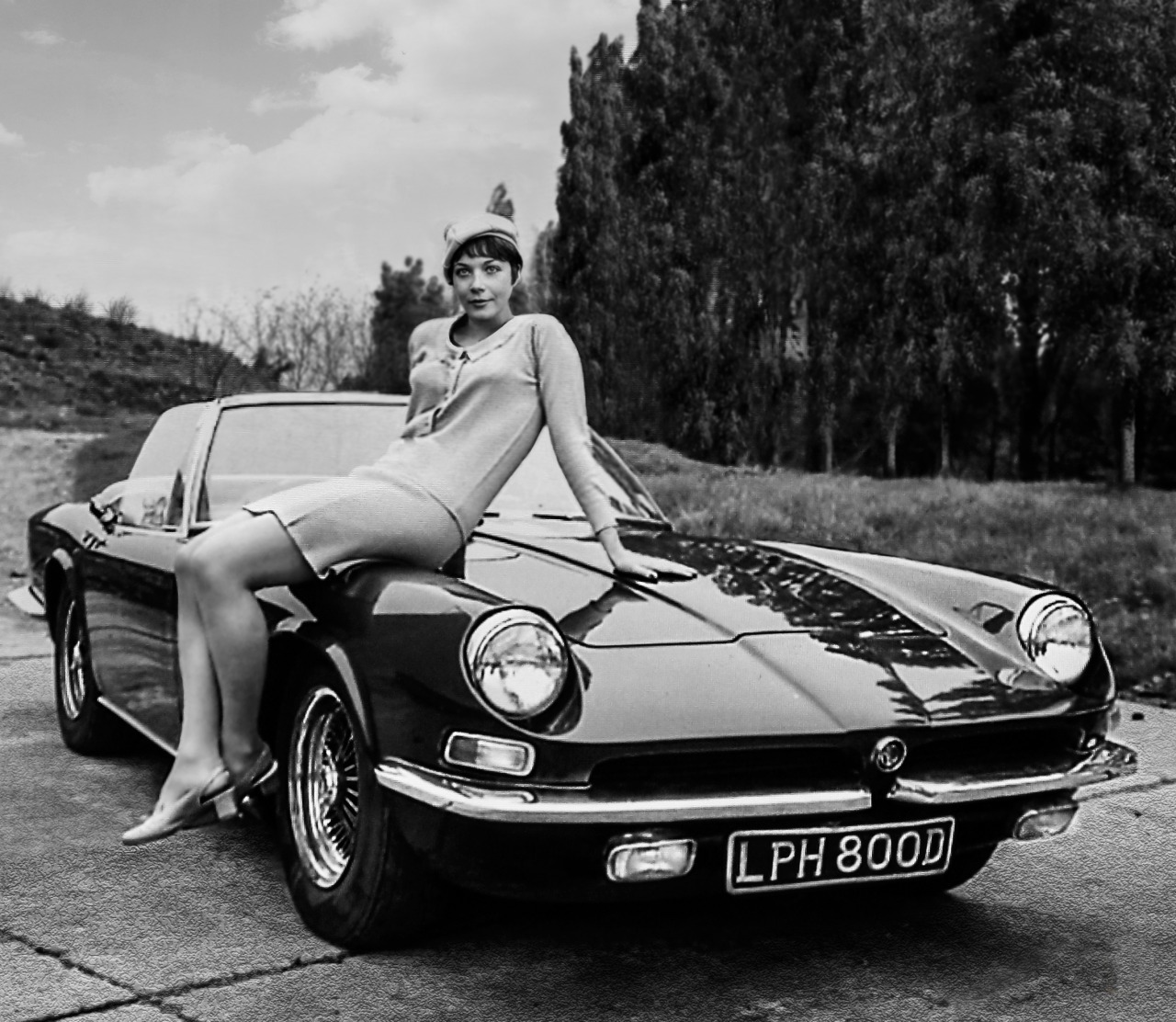 For the production cars however AC's leadership decided to go for an all steel bodywork. They made the first six cars fitted with the standard Mark III Cobra 427 "Side Oiler" Ford V8 but then decided to use the less expensive and more road oriented Ford 428 V8 instead.
With Frua and AC having reached agreement AC began the process of shipping AC Cobra Mark III bare chassis to Frua's workshop in Italy where the custom coachwork was created and fitted.
These partially complete cars were then shipped back to AC in Britain where the mechanical components were installed and the car's interior was made and fitted.
This was of course an expensive manufacturing process and it pushed the purchase price of the AC 428 Frua into the same class as the likes of Ferrari, Maserati and Lamborghini.
Was the AC 428 Frua a viable competitor to Ferrari and Maserati? It offered Italian styling, a combination of British and American racing car technology, and British bespoke craftsmanship.
In terms of performance the AC 428 Frua was up with its opposition with a standing to 60 mph time of 6.2 seconds and a top speed of 141 mph (227 km/hr): these figures being achieved on an independent test done by Britain's "Autocar" magazine.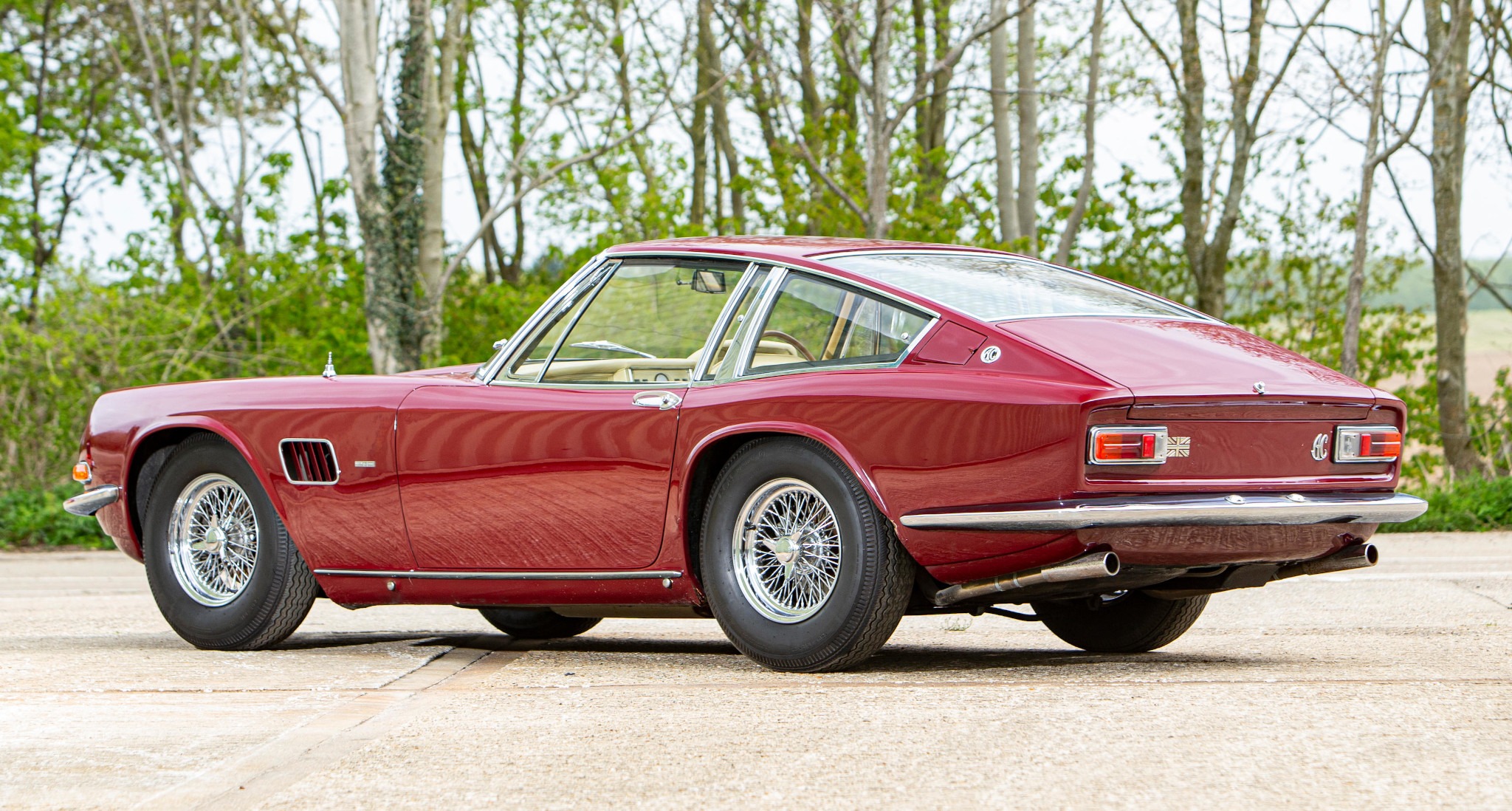 Fuel consumption was 15.6 miles to the Imperial gallon (13 miles per US gallon: 18.1 litres per 100 km).
But the performance numbers simply don't do justice to the car, its sheer power, handling, and best quality bespoke construction. It was described by Autocar magazine tester Mike Tailor as as car that "…  joined that select company of very fast, very luxurious touring automobiles which moved effortlessly from current model to collector's piece".
Production began in 1965 of convertible cars only up until 1968 when the coupé made its debut at the Paris Auto Salon. The coupé garnered a great deal of interest and orders began coming in at a pleasing rate for AC, with their main frustration being getting sufficient bodies fitted by Frua in Italy, and the tax that the British government imposed on the imported Italian bodywork.
AC attempted to find a British coach-builder who would build the bodywork in Britain – which would have brought the price of the car down substantially – but to no avail.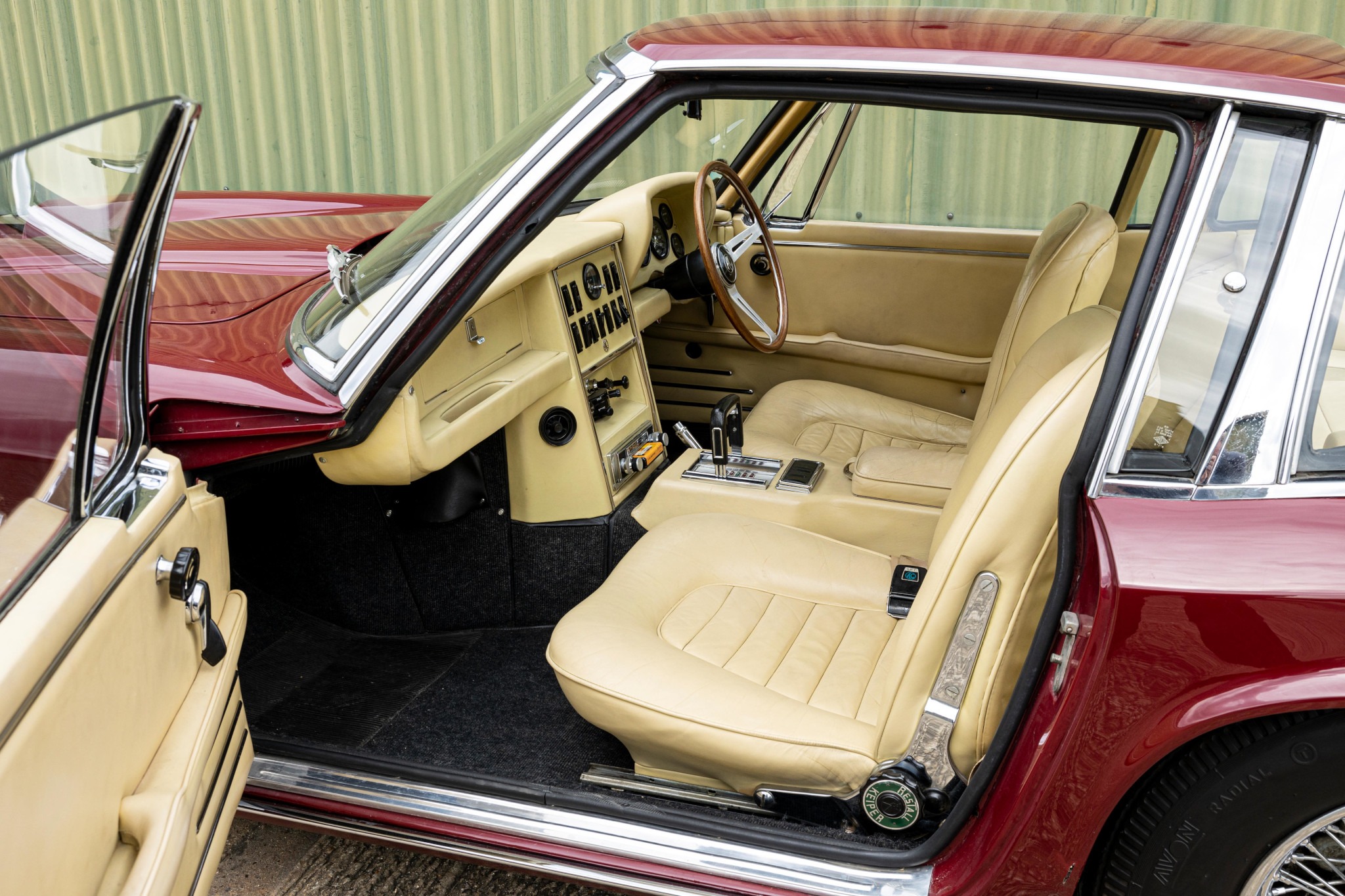 In total AC produced eighty one AC 428 Frua automobiles: 49 coupes (of which 31 were made right hand drive and 18 left hand drive), twenty nine convertibles, and three with special bodywork.
The car was in production from 1965 until 1973 and it had proven to be highly successful. AC only took the decision to end production when Ford decided to no longer sell AC the engines direct from the United States but to have AC purchase via the UK agency, which would have jacked the price of the car up even more.
An AC 428 Frua Coupé Coming up for Sale
A 1969 AC 428 Frua Coupé is coming up for sale by Bonhams at the Goodwood Festival of Speed. This sale is scheduled for 14th July 2023 and you will find the sale page with further details here.
The car for sale is chassis number CF46 and it is fitted with the three speed automatic transmission which is controlled by a shift lever not unlike the throttle controls on aircraft.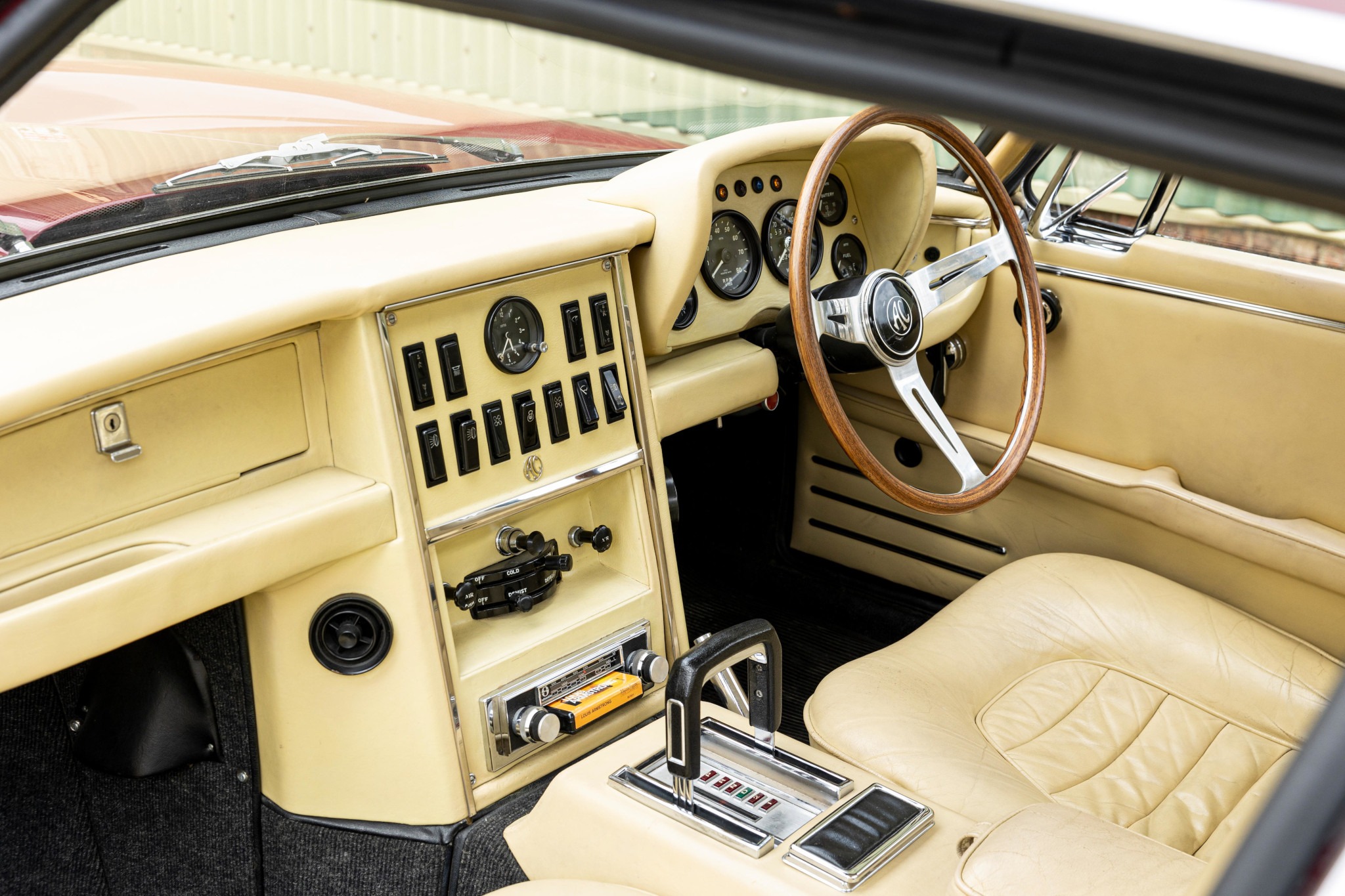 This car has been in dry storage since 2012 and has a documented ownership history.
Technical Specifications
(Source: Wikipedia)
Body
Pressed steel panels over a frame made of rectangular and square profile steel tubing, this frame being set on a ladder style chassis of four inch (101.6 mm) steel tubing.
Dimensions
Length: 176 in (4,470 mm)
Width: 176 in (4,470 mm)
Height: 49 in (1,245 mm)
Wheelbase: 95.0 in (2,413 mm)
Weight:  3,153 lb (1,430 kg)
Suspension
Front: Fully adjustable independent suspension with double triangular wishbones, coil spring hydraulic telescopic shock absorbers.
Rear: Adjustable independent suspension with double triangular wishbones, coil spring hydraulic telescopic shock absorbers.
Brakes: Four wheel disc brakes by Girling with power assistance and 3 pistons, dual remote servo assistance.
Steering: Rack and Pinion.
Tyres: Avon 97H 205 R15 radials.
Engine
Ford FE 428 V8 "Big Block" of 7,016 cc (428.1 cu. in.) capacity, or, for the first six cars made, the Ford 427 Cross-bolted "Side Oiler"  of 6,997 cc (427.0 cu in). Fuel system by either Autolite or Holley four barrel carburettor. Most cars featured engines with hydraulic valve lifters although some were made with solid lifters to enable the engine to run at higher rpm. Compression ration 10.5:1.
Transmission
Either a Ford all synchromesh four speed "Top Loader" manual gearbox or optionally a Ford C6 three speed automatic.
Final drive by Salisbury limited slip differential. Ratio: Automatic 2.88, Manual 3.08.
Performance
Manual Transmission: More than 245 km/h (152.2 mph), 0 to 100 km/h (0-62 mph): 5.4 seconds (Autosport Magazine); Automatic Transmission: 220 km/h (136.7 mph), 0 to 100 km/h (0-62 mph) 5.7 seconds.
Fuel Consumption: 17.2 litres per 100 km (16.4 mpg Imperial; 13.7 mpg US).
Conclusion
The AC 428 Frua remains one of the most capable Grand Touring cars of the 1960's and 1970's. These cars delivered superb performance, handling, and comfort and stand out as one of the greatest British sports cars ever created.
Picture credits: All pictures of the for sale 1969 AC 428 Frua Coupé courtesy Bonhams.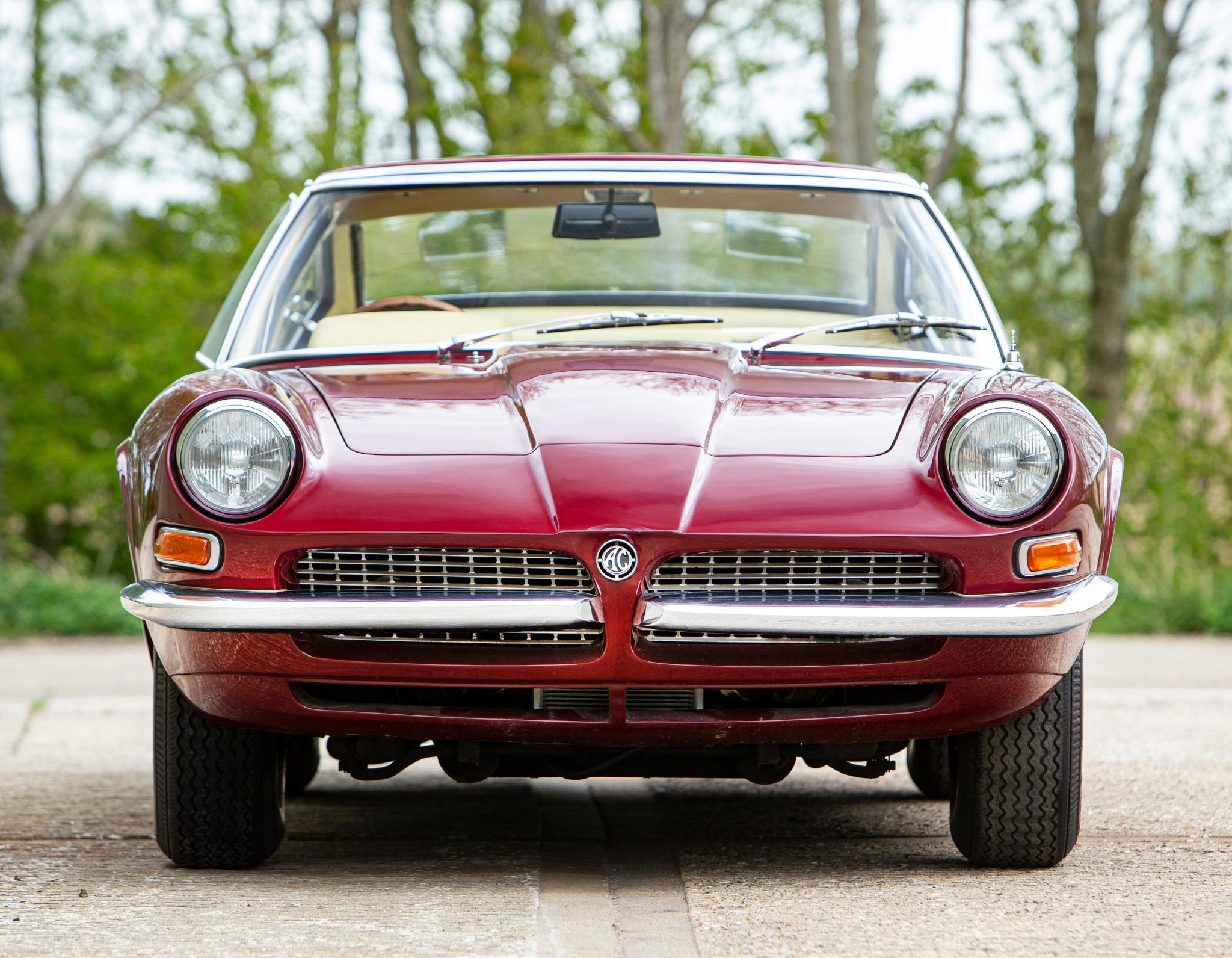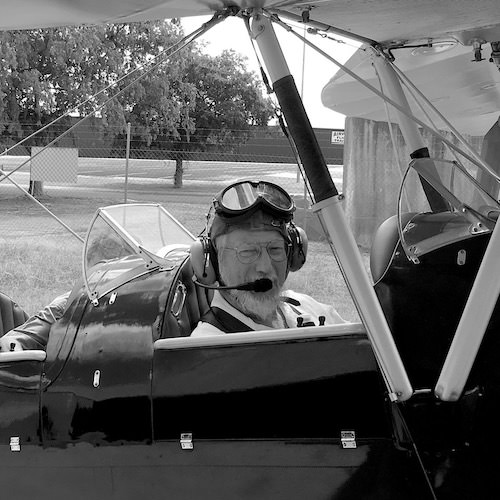 Jon Branch is the founder and senior editor of Revivaler and has written a significant number of articles for various publications including official Buying Guides for eBay, classic car articles for Hagerty, magazine articles for both the Australian Shooters Journal and the Australian Shooter, and he's a long time contributor to Silodrome.
Jon has done radio, television, magazine and newspaper interviews on various issues, and has traveled extensively, having lived in Britain, Australia, China and Hong Kong. His travels have taken him to Indonesia, Israel, Italy, Japan and a number of other countries. He has studied the Japanese sword arts and has a long history of involvement in the shooting sports, which has included authoring submissions to government on various firearms related issues and assisting in the design and establishment of shooting ranges.