The Chinese have a saying regarding buying something that is expensive and exotic; "Easy to buy, difficult to sell". Strangely so many of the "Easy to buy, difficult to sell" things in life are also the most desirable, and most expensive. The decision to buy something that is exotic and eye wateringly expensive, rather than being sensible and investing that money in real estate which will appreciate in value and will likely be somewhat easier to sell, is a strange phenomenon that more often than not guys can tend to get into, much to the chagrin of wives and/or girlfriends who are more likely to favour the spending of the cash on sensible real estate or diamonds, because as Marilyn Monroe so wisely informed us "Diamonds are a girl's best friend", though she was wrong of course, real estate is.
This is a topic close to my heart at the moment as I've just been through the process of moving countries and buying a house. And in that process for a short while I had in my normally humble bank account enough money to buy a Maclaren, and a Holland and Holland double rifle, with some change to spare. I of course didn't buy the Maclaren, because, as my eldest son reminded me, although one can comfortably sleep in a Maclaren, it doesn't come with a shower. And I don't have a Holland and Holland double rifle either, I have a nice sensible house in the country with no Maclaren in the spacious double garage.
So to actually buy an expensive "boys toy" as the ladies would describe it one needs to have a significant reserve of cash, and the sense of adventure that shuns sensible rationality and instead is willing to sacrifice to use that cash for the object of desire. That object of desire may be a Maclaren, or an English "Best Rifle" from Holland and Holland, or Rigby, or Purdey, or it could be even more exotic and be a double rifle from Italy proudly bearing the name of one of the world's oldest gun making families – Beretta.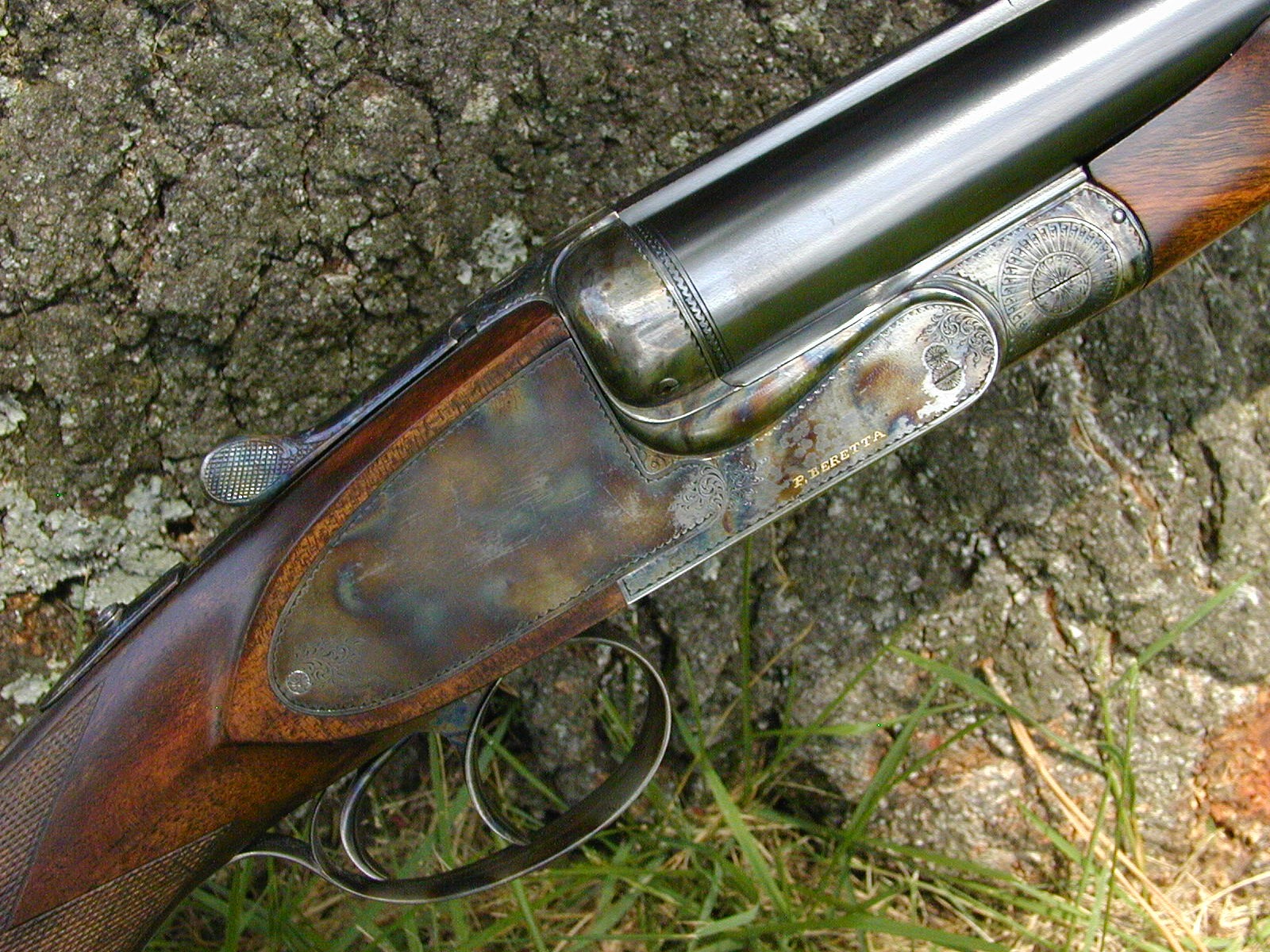 The Beretta 455 is no longer listed in Beretta catalogues so we must assume it has long since ceased to be made. If you do happen to come across one nowadays it will likely be triple the decade old asking price of the rifle pictured above. But then again, you may just come across one being offered by someone who is unaware of the potential value of the rifle. When they were being offered in the Beretta catalogue the asking price could typically be around US$60,000.00, and higher for custom engraved rifles.

In their catalogue Beretta tell us that the 455 double rifle action was made of a special steel forged with a 60mm long plate to provide more support to withstand the pressures and thrust of the heavy calibre big game cartridges it was chambered for. Standard cartridges were 375 Holland and Holland Magnum, 416 Rigby, 458 Winchester Magnum, 470 Nitro Express and the 500 Nitro Express which professional ivory hunter the late John Taylor describes as "a real killer on practically anything". Barrels of the Beretta 455 were cold hammer forged and rifles could be ordered with either 60cm or 65cm barrels. Rifle weight was around 5kg (11lb), which is a nice weight for the calibres on offer though arguably a tad heavy for a 375 Holland and Holland Magnum.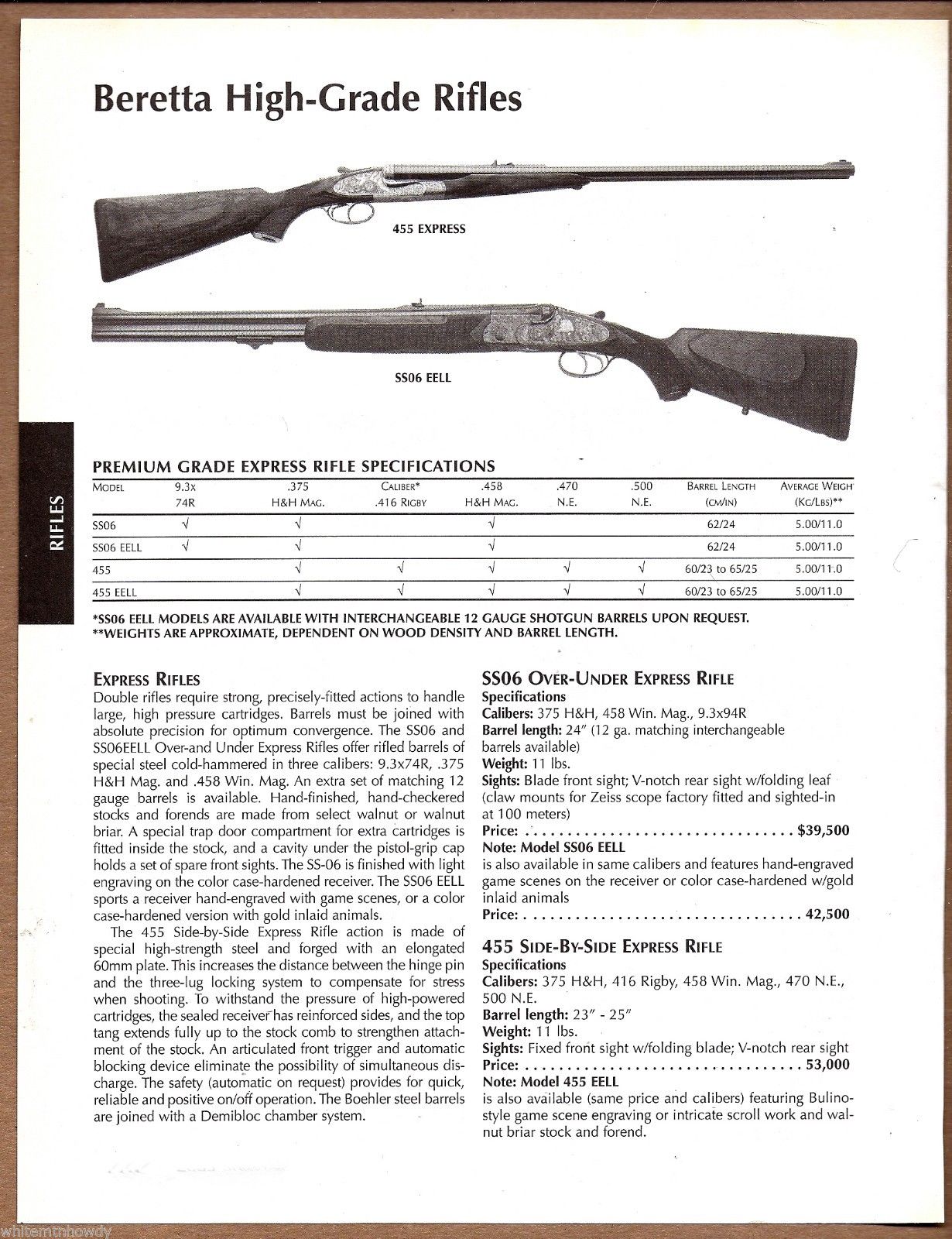 You can find the above advertisement for sale on E-bay if you click here.
The stocks of the Beretta 455 were of walnut or ornate walnut briar. Stocks featured a spare cartridge compartment in the but-stock and a spare foresight compartment under the pistol grip cap. The basic finish of the action, described as "field finish" was colour case hardening with minimal border engraving. The Beretta 455 could also be ordered as the 455 EELL with a bulino engraved game scene and the ornate walnut briar stock. These rifles were supplied in a fitted leather case complete with tools, cleaning kit and accessories.
With their triple locking lugs, sealed action, optional manual or automatic safety, and articulated front trigger with a mechanism to absolutely prevent a double discharge, these Beretta 455 were double rifles that hold their own against their British hand made rivals. If you have the opportunity to own one I'd have to recommend that you follow your heart and do whatever you need to do to acquire one of these exotic Italian beauties. Would it be a practical choice? If you intend to invest in one of these rifles does the practicality matter? These are a rare and beautiful rifle. Personally I'd like to believe it will appreciate in value slightly more quickly than a comparable investment in solid, practical real estate, but I'm a hopeless romantic at heart.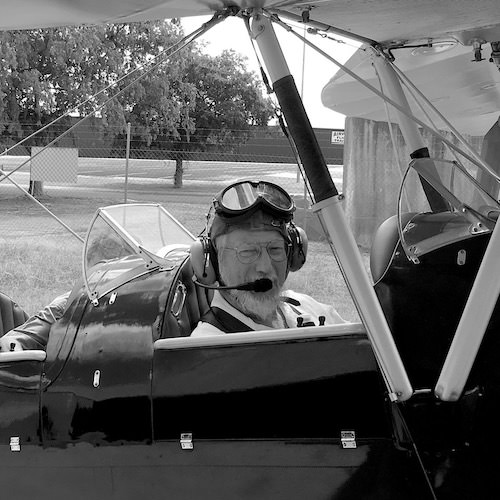 Jon Branch is the founder and senior editor of Revivaler and has written a significant number of articles for various publications including official Buying Guides for eBay, classic car articles for Hagerty, magazine articles for both the Australian Shooters Journal and the Australian Shooter, and he's a long time contributor to Silodrome.
Jon has done radio, television, magazine and newspaper interviews on various issues, and has traveled extensively, having lived in Britain, Australia, China and Hong Kong. His travels have taken him to Indonesia, Israel, Italy, Japan and a number of other countries. He has studied the Japanese sword arts and has a long history of involvement in the shooting sports, which has included authoring submissions to government on various firearms related issues and assisting in the design and establishment of shooting ranges.