Ferry Porsche, Dr. Ferdinand Porsche's eldest son, did the design work for the Porsche 356 whilst his father was being held without trial in a French prison in the aftermath of World War II. When his father was finally released he said of Ferry's design that he would have done it exactly the same. The Porsche 356 made its crossing of the North Atlantic on the same ship as the Volkswagens and each appeared at the same stand when exhibited in New York. Both the Volkswagens and the Porsche 356 became popular quickly and the Porsche 356 remains the classic Porsche, the car that became the ancestor of all those that followed it.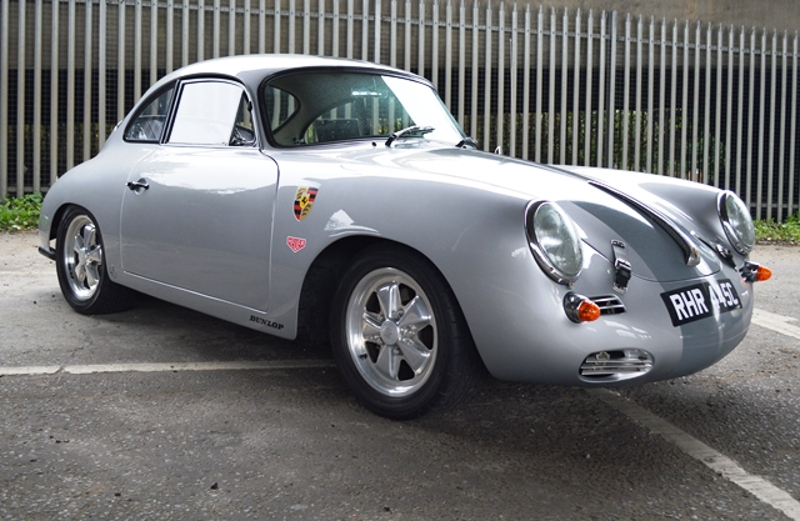 There is something about the Porsche 356, it has a sleek aerodynamic quality that is somehow different, more graceful than its newer siblings. It is also a car that just begs to be personalised, and personalised means a few things. For a start it means the car will cease to be factory standard and so it may not be welcome at concours events anymore – oh dear, how sad, never mind. But personalised can mean making the car better, faster, better handling and therefore nicer to drive, more exciting and even more good looking than a factory original. Let's not forget that a factory is generally in the business of turning out lots and lots of clones. Sports cars need to be individuals.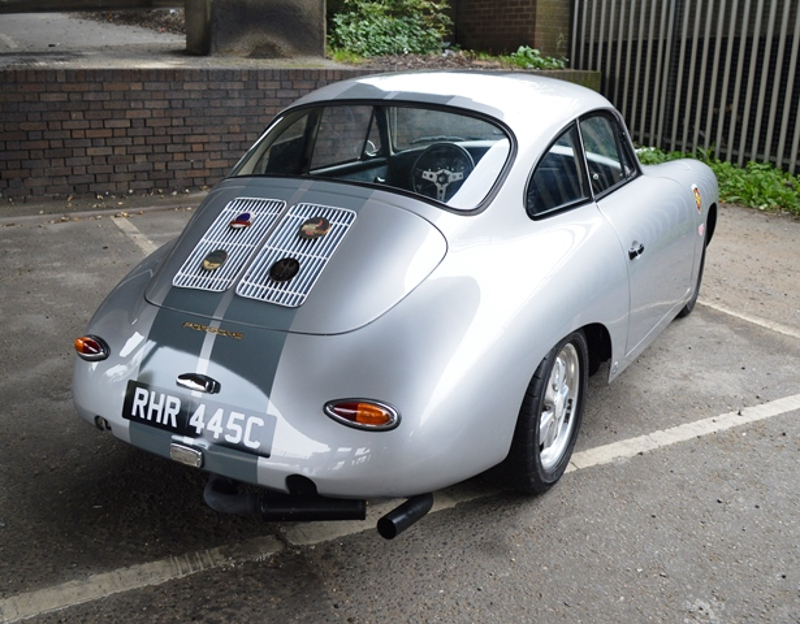 Americans, thankfully, have never lost that "rebellious" spirit that led to the "American Revolution" or "War of Independence" depending on which side you were on. That revolutionary spirit began getting applied to Porsche 356's most likely in California by a guy named Dean Jeffries in 1957. Dean customised a 1956 356 to demonstrate his car customisation skills. He was really interested in hot rods but he said that at the time "…back then only the sports car guys had any money. All of the hot-rodders were broke." so he started working on hot Porsche's instead. Another group that got into creating modified "outlaw" Porsche 356's were the Emory brothers of McMinnville, Oregon and nowadays purchase of an original Emory Outlaw can make a significant dent in one's bank balance.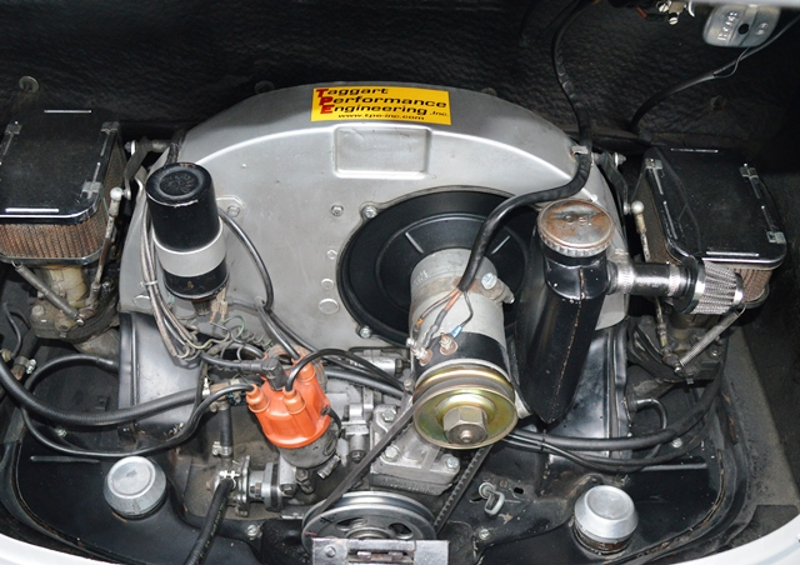 The engine of this particular Porsche 356 has been upgraded by Hamilton Classics of Texas with an LN Engineering Nickies Big Bore Kit machined to 1883cc and has had top end and crankshaft work with a full flow oil filter. The engine has twin Webber carburettors and a Bursch extractor system mated to a street legal muffler system. The car also features four wheel disc brakes with a dual circuit hydraulic system so it not only goes better than a factory original but it stops a lot better also. In fact I suspect that these are mods that would bring a smile to Ferry Porsche's face.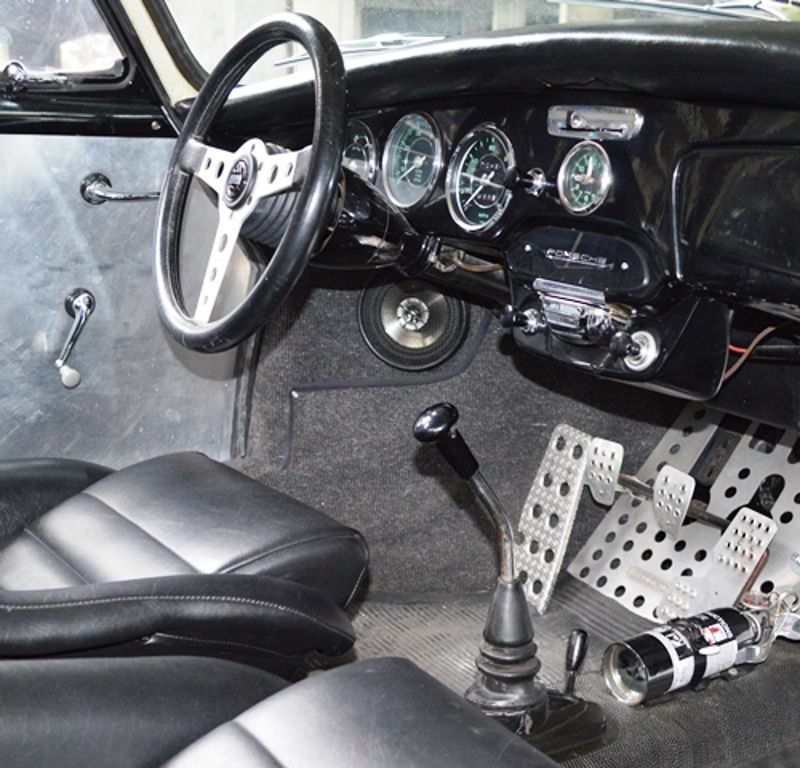 The interior of the car has also been completely renewed from the headlining down to the German weave carpet. Seats have been replaced with re-upholstered custom 911RS race-style seats with three point harnesses and the MOMO Prototipo steering wheel is a nice improvement over the orginal. Aluminium floor plate, pedals and dead pedal are also nice improvements on the originals and as a piece de resistance the car has been fitted with Lexan side windows for those, like me, who like their creature comforts.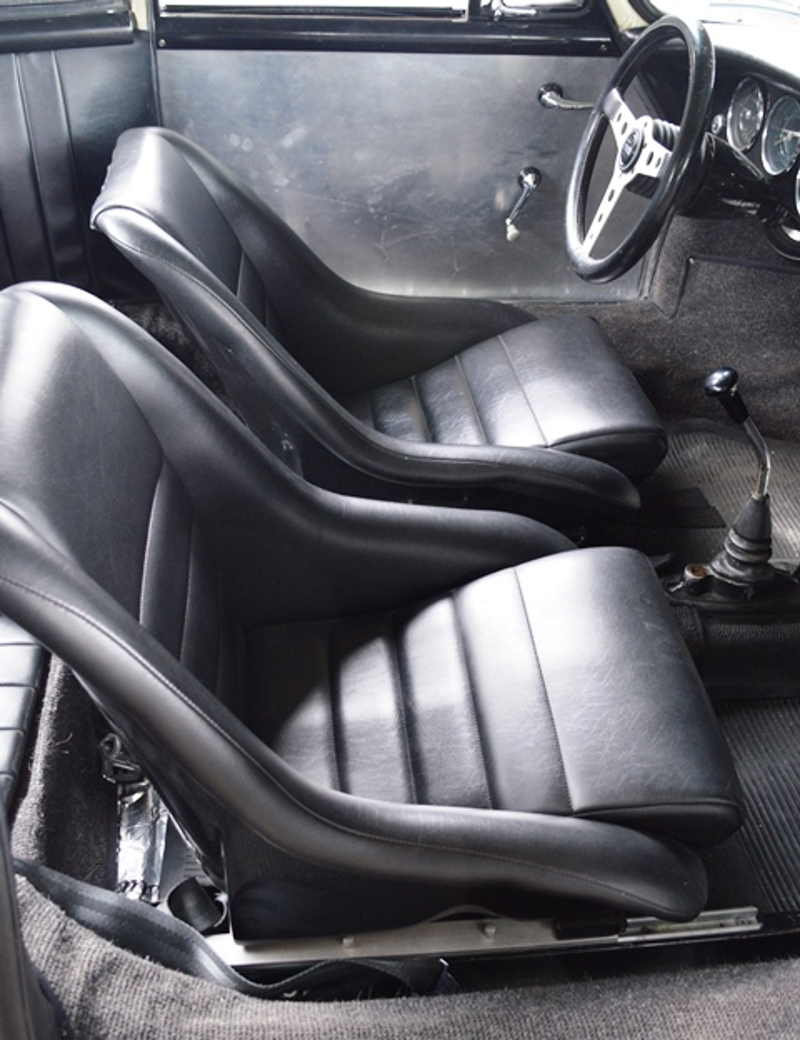 The paintwork of the car has been recently re-done in the attractive silver grey with grey stripes as seen in the photographs and is fitted with 1971 Fuchs wheels.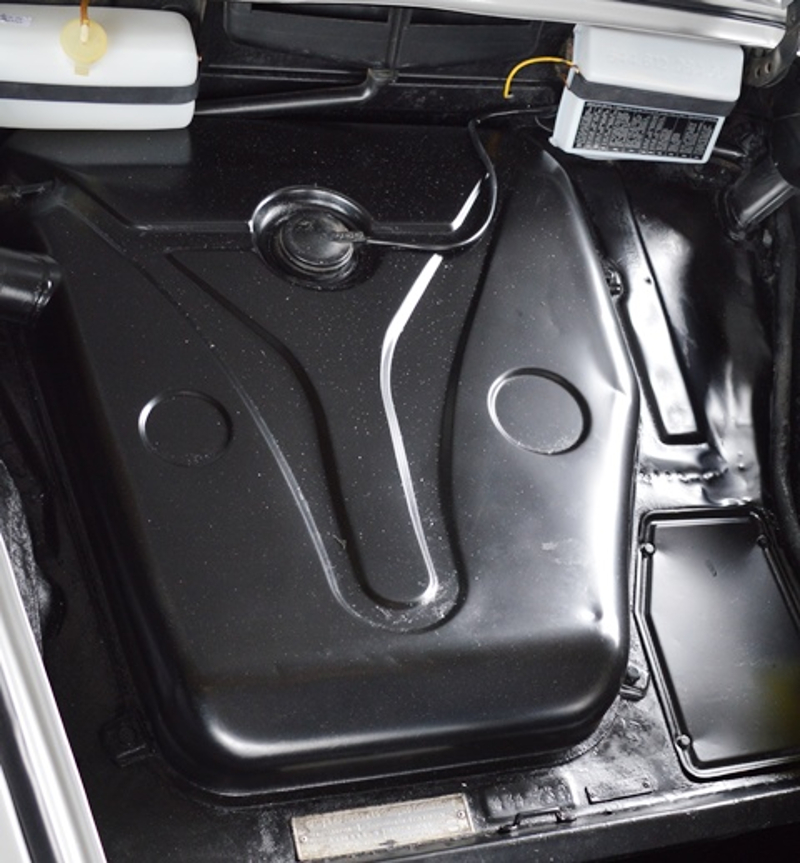 This Porsche 356 has been certified by Porsche Cars of Great Britain to be a genuine 1964 356C Coupé. It is in excellent shape and is coming up for auction by Historics at Brooklands in the UK. The expected price at auction is in the range £40,000 – £52,000.
You will find the auction page for this car if you click here.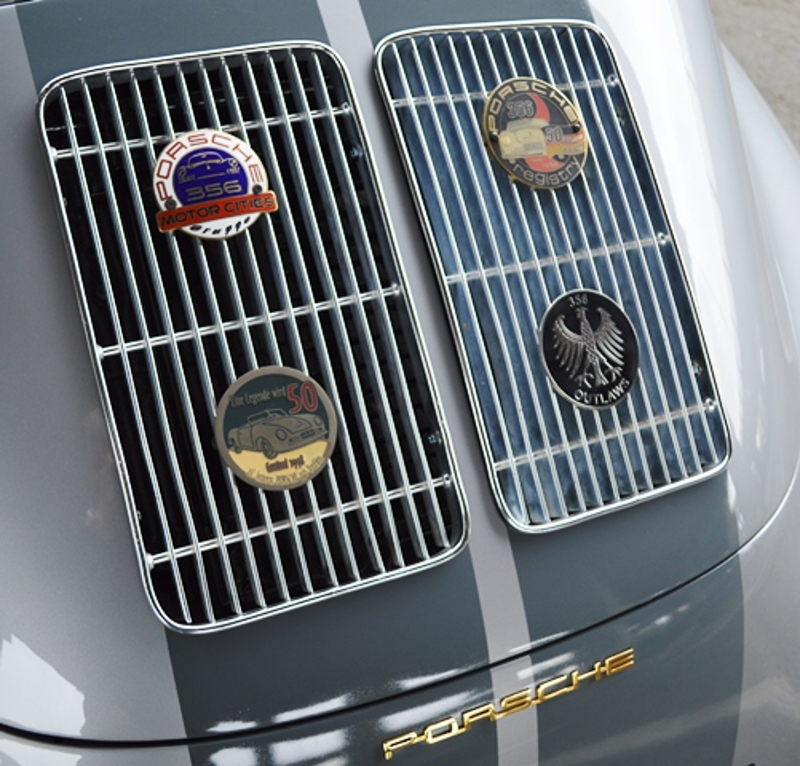 (All pictures courtesy Historics at Brooklands).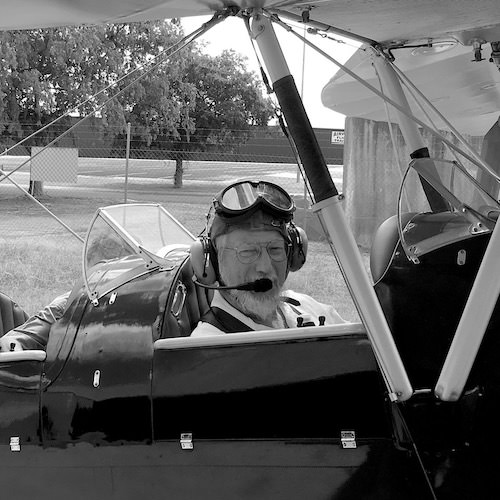 Jon Branch is the founder and senior editor of Revivaler and has written a significant number of articles for various publications including official Buying Guides for eBay, classic car articles for Hagerty, magazine articles for both the Australian Shooters Journal and the Australian Shooter, and he's a long time contributor to Silodrome.
Jon has done radio, television, magazine and newspaper interviews on various issues, and has traveled extensively, having lived in Britain, Australia, China and Hong Kong. His travels have taken him to Indonesia, Israel, Italy, Japan and a number of other countries. He has studied the Japanese sword arts and has a long history of involvement in the shooting sports, which has included authoring submissions to government on various firearms related issues and assisting in the design and establishment of shooting ranges.