Some of us just want one or three rifles that we will reach for when we go hunting but others are enthusiasts who really want a collection of interesting rifles to shoot and enjoy as the mood strikes. In fact a lot of the people I shoot with are in that second category, they like hunting, they like shooting, and they like collecting and shooting the rifles in their collection. I've had opportunities to shoot all sorts of interesting rifles that I might never had tried but for the generosity of people who are collector/shooters who were generous and let me shoot some of the rifles in their collection. If you are one of these shooter/collectors who is ever on the lookout for an unusual and affordable rifle then the Mauser M1996 straight pull rifle might just be something you'd be interested in.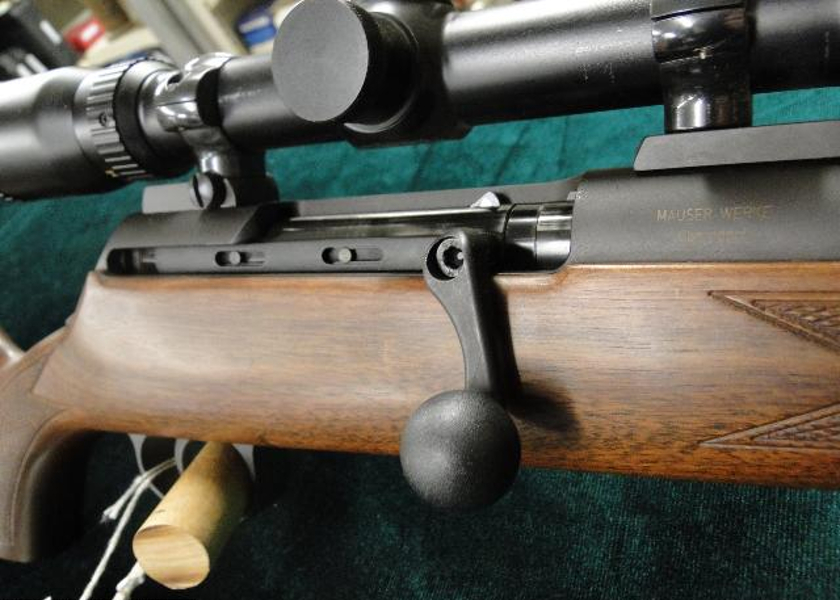 The Mauser M1996 was Mauser's foray into the straight pull hunting rifle market but it was not able to compete with the Blaser and production ended some years ago. They are a rifle that will appeal to you if you want something that is as fast as a lever action but handles full power hunting cartridges with pointed bullets. A straight pull action normally offers better accuracy than most lever actions are capable of although they typically don't shoot under MOA out of the box with factory ammo. But a rifle that provides quick follow up shots with a straight line action that allows you to keep your eye on the target as you cycle it can be a very useful arm.
To get an idea of the operation and potential speed of this action watch the video below courtesy RMR2ENG's YouTube channel. The Mauser M1996 in the video is chambered for the moose stopping 9.3x62mm which is pretty much a 30/06 necked up to take .366″ bullets. He has an Aimpoint sight in what appear to be German EAW mounts. The sights appear to be quite high but that height is standard for the EAW detachable mounts. They are intended to accommodate rifle-scopes with up to 56mm objective lenses.
The Mauser M1996 features a front locking sixteen lug bolt and was chambered for both standard and magnum cartridges:-
Standard Calibers (barrel length 22.05″/56cm)
.243 Winchester, .308 Winchester, 25-06, .270 Winchester, 7x64mm Brenneke, 30-06, 9.3x62mm.
Magazine capacity for standard calibers is five cartridges.
Magnum Calibers (barrel length 24.02″/61cm)
7mm Remington Magnum, .300 Winchester Magnum.
Magazine capacity for magnum calibers is four cartridges.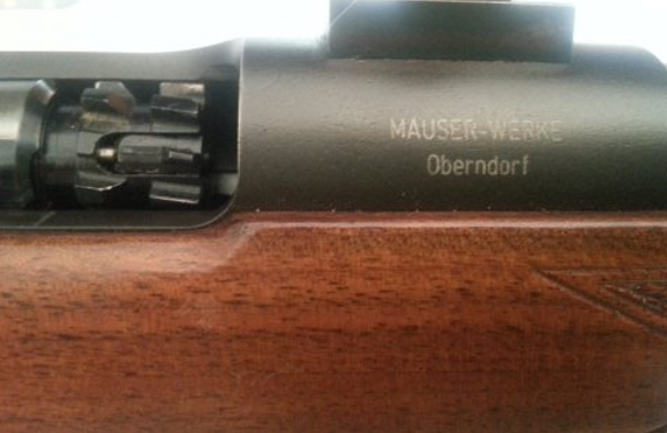 Workmanship on the Mauser M1996 is said to be up to Mauser's expected very high standard. Field stripping the rifle is not a mammoth task but having a copy of the factory manual is necessary.
You will find the owner's manual for the Mauser M1996 on mauser.com if you click here.
A 4mm allen key is necessary to remove the bolt handle and the word of advice to heed when field stripping and cleaning the bolt is DO NOT allow the firing pin to un-cock as it is one of those "blood sweat and tears" experiences to re-cock it whilst disassembled.

Whilst the build quality of the Mauser M1996 is excellent they typically seem to come with quite plain wood, straight grained and functional, but not walnut that one might immediately fall in love with. These rifle's do however offer a very high quality genuine Mauser rifle for very little money as they are now out of production and were not a great sales success.
There is one coming up for auction by Rock Island Auction on 23rd March 2017 for example and it is expected to sell for as little as USD$600 or so.
You will find the sale page for that sale rifle in 7mm Remington Magnum if you click here.
Condition of the sale rifle is rated as "NB – EXCELLENT: near new condition 95% – 98%, used but little, no noticeable marring of wood or metal, bluing near perfect (some wear at muzzle or sharp edges can be expected)."

The Mauser M1996 is a rifle that many have not heard of and not so many of us have seen or used. Owner comments about them tend to be mostly favorable which is positive, and owner reports on accuracy tend to indicate accuracy of 1.0 MOA to around 1.5 MOA depending on the individual rifle and factory ammo versus tuned handloads. Most owners comment on the relatively heavy trigger pull. Factory trigger pull is listed as 5lb (15N) which is on the heavy side by comparison with something like a Winchester M70 which has a 3.5lb pull on a very crisp trigger system. But 5lb is a reasonable weight, I had a nice continental side by side sidelock ejector shotgun years ago with heavy but crisp triggers and it was superb, so I'd expect the Mauser M1996 to be fine out hunting, especially for snap shooting. The one time that 5lb trigger might be noticeably heavy would be on the target range, especially at the bench rest.
With an ammunition capacity of 5+1 for standard calibers and 4+1 for magnums the Mauser M1996 carries an adequate supply for most hunting situations, including forays after wild pigs where more than one shot will be likely and fast follow up shots are essential. The safety catch is a quick and convenient tang safety. One of these rifle's in .308 Winchester, 30-06 or 9,3x62mm would be a near perfect wild pig rifle, and the rifle in the video above in 9.3x62mm with 22″ barrel and Aimpoint sight would be an utterly superb rifle for close encounters of the wild boar kind, as well as being a delightful woods deer rifle.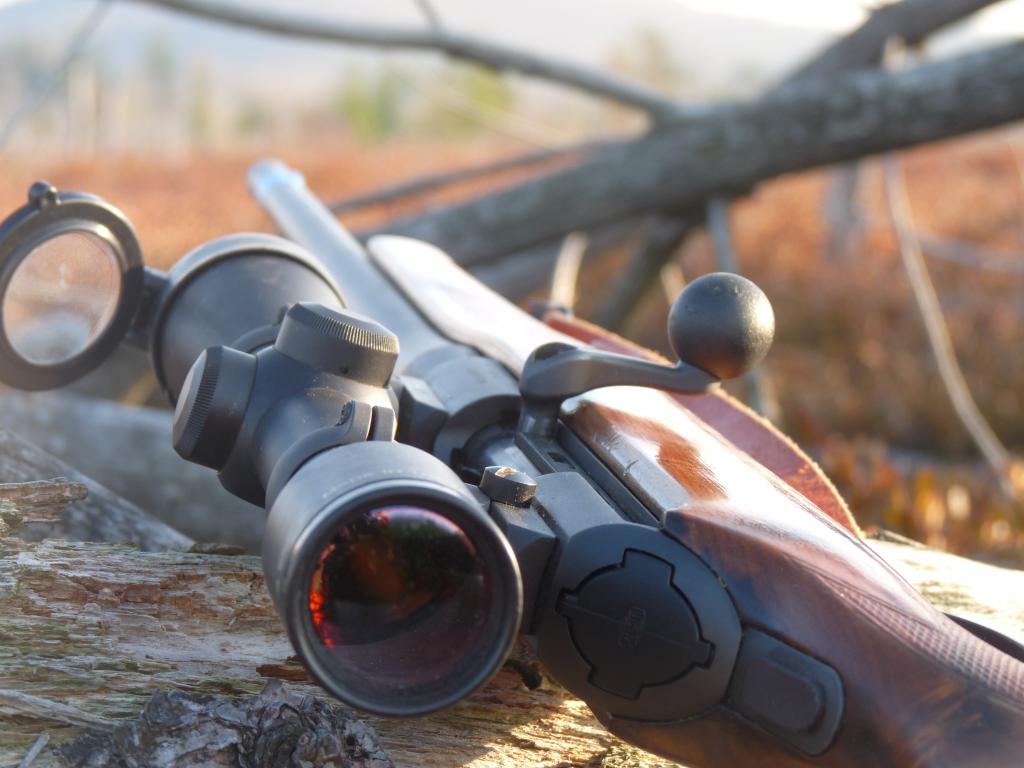 The Mauser M1996 is a rifle that deserved much more success than it actually achieved. I think its a rifle that is a bit of a hidden treasure. They can be found in shops at quite reasonable prices simply because not many people know what a bargain they are. So if you are looking for something a bit different for your collection of hunting rifles then a Mauser M1996 would be a real conversation piece, and I suspect it will become a favored brush and wild pig rifle the more you use it.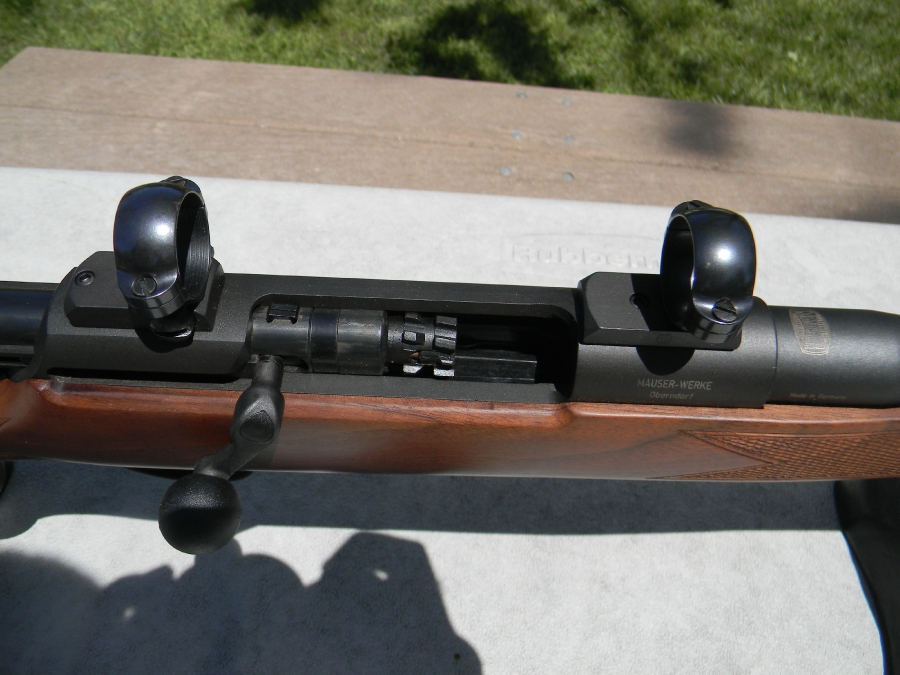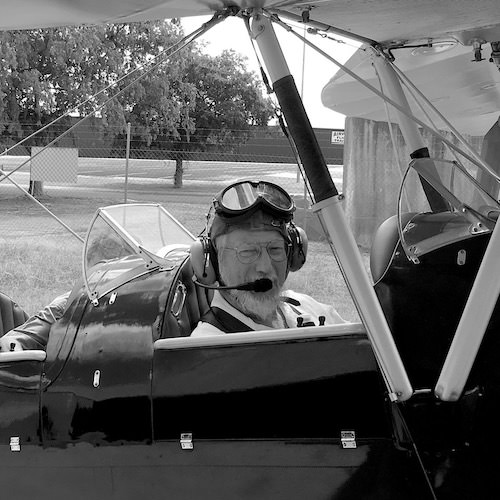 Jon Branch is the founder and senior editor of Revivaler and has written a significant number of articles for various publications including official Buying Guides for eBay, classic car articles for Hagerty, magazine articles for both the Australian Shooters Journal and the Australian Shooter, and he's a long time contributor to Silodrome.
Jon has done radio, television, magazine and newspaper interviews on various issues, and has traveled extensively, having lived in Britain, Australia, China and Hong Kong. His travels have taken him to Indonesia, Israel, Italy, Japan and a number of other countries. He has studied the Japanese sword arts and has a long history of involvement in the shooting sports, which has included authoring submissions to government on various firearms related issues and assisting in the design and establishment of shooting ranges.