The Studebaker E Series trucks began production in 1955 and were given numeric designations for their year of production; the 4E Series being manufactured in 1959. These trucks were factory made as standard 2WD vehicles but Studebaker recognized that there might just be a market for 4WD trucks; a great many buyers of Studebaker trucks were Second World War and Korean War veterans who had come to appreciate the value of a 4WD vehicle so there was some demand. The extent of that demand was an unknown quantity in the fifties however and so to create a 4WD version of their E Series truck Studebaker turned to the Northwestern Auto Parts Company of Minnesota (NAPCO) who made an imaginative conversion that would enable many trucks to be changed into 4WD vehicles.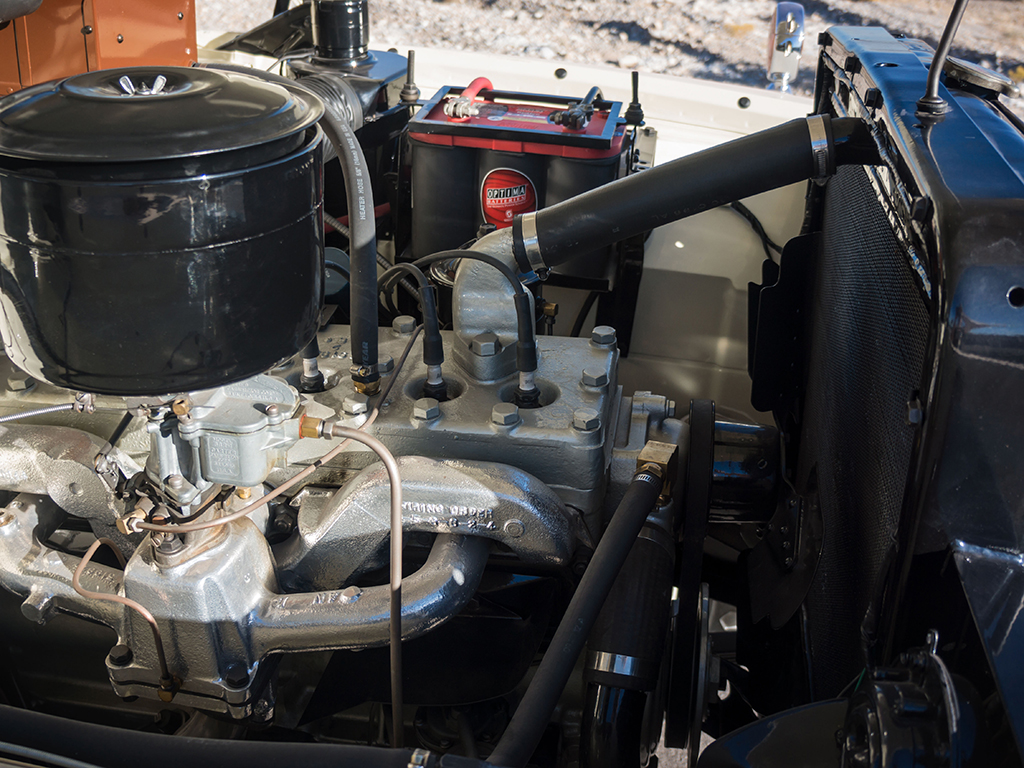 The NAPCO conversion was called the Powr-Pak 4×4 and it was created so a mechanic could convert a truck into a four wheel drive with only a few hours work. One secret of the ease with which this conversion could be used was the provision of a front axle already fitted for constant velocity joints enabling the front wheels to steer. The kit also did not require a special adapter to connect to the gearbox because the transfer case took its power via a shaft from the transmission.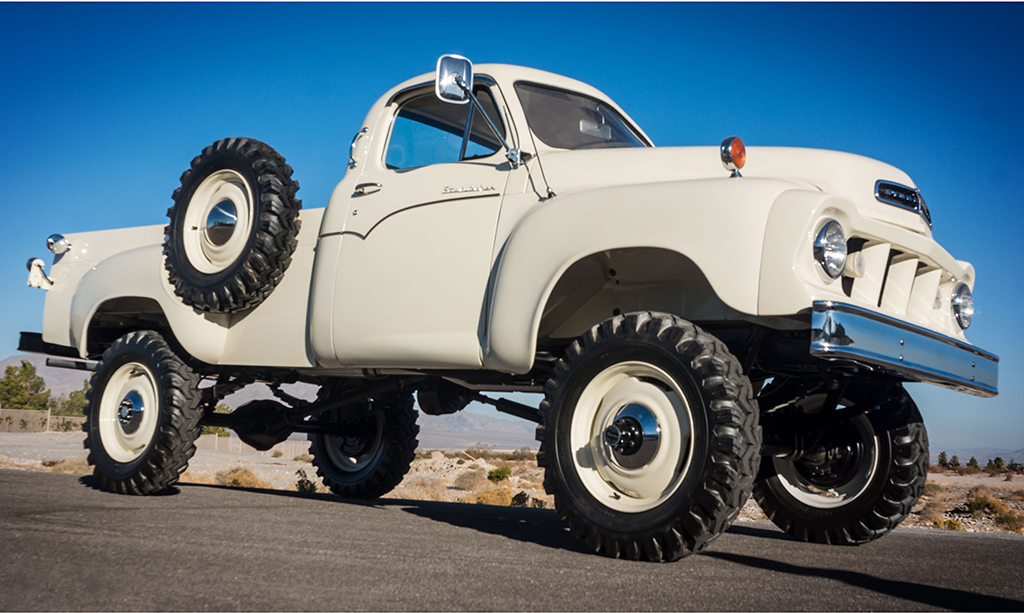 Studebaker decided to provide their trucks with NAPCO four wheel drive from the factory but this conversion pushed the price of the truck up from about USD$2,000 to USD$3,000 which was a large jump, especially in the fifties. So in 1959 when the white Studebaker 4E was built only 155 four wheel drive trucks were built by the factory. Studebaker factory NAPCO trucks have a "D" suffix on the model identification number which is stamped on a tag in the cab. These trucks also have the separate two speed transfer case and four speed gearbox. The placement of the two speed transfer case means that the fuel tank is moved to the rear of the truck bed. The suspension of the 4E11D is by leaf springs with 11″ drum brakes front and rear to bring it to a stop.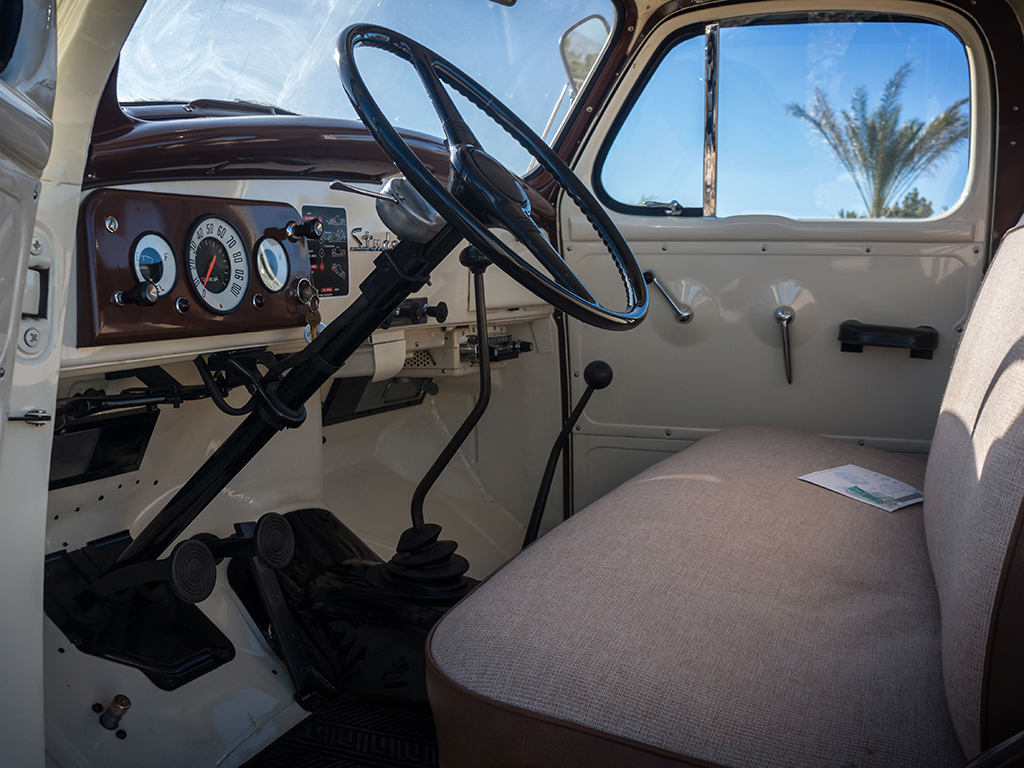 The white 4E11D in our pictures was the actual Studebaker official demonstrator for the 1959 show circuit and is fitted with the 245 cu. in. six-cylinder Commander engine which produces a decent 118 hp and 204 lb/ft of torque. The truck has been subject to a full frame-off, nut-and-bolt rotisserie restoration so it is in what might be best described as "good as new" condition.
This vehicle is to be offered for sale by RM Sotheby's at their Santa Monica auction to be held on June 24, 2017.
You will find the sale page for this truck if you click here.
With only 155 of these trucks built in 1959 this is an unusual vehicle and would be a great addition to a collection of US trucks or a Studebaker collection.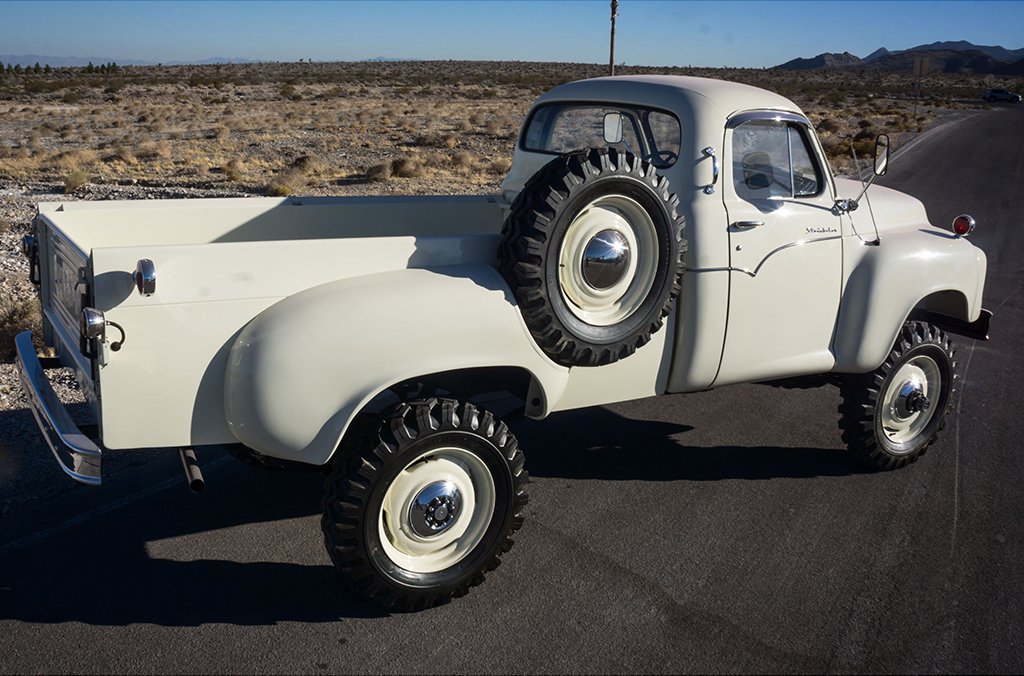 (All pictures courtesy RM Sotheby's).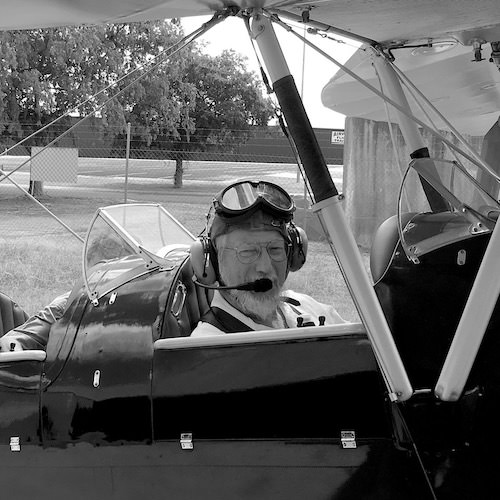 Jon Branch is the founder and senior editor of Revivaler and has written a significant number of articles for various publications including official Buying Guides for eBay, classic car articles for Hagerty, magazine articles for both the Australian Shooters Journal and the Australian Shooter, and he's a long time contributor to Silodrome.
Jon has done radio, television, magazine and newspaper interviews on various issues, and has traveled extensively, having lived in Britain, Australia, China and Hong Kong. His travels have taken him to Indonesia, Israel, Italy, Japan and a number of other countries. He has studied the Japanese sword arts and has a long history of involvement in the shooting sports, which has included authoring submissions to government on various firearms related issues and assisting in the design and establishment of shooting ranges.