Fast Facts
The Vincati motorcycles were originally built in Australia by combining an original Vincent Rapide or Black Shadow engine into a Ducati 750 chassis.
It was possible to modify the Ducati chassis so the Vincent engine unit did not require modification in order to be fitted.
The 998 cc Vincent V-twin was only 10 lb heavier than the Ducati engine it replaced and so the Vincati's handling was the equal of the original Ducati.
The most famous Vincati was "Big Sid's Vincati" which was built as a father and son project by "Big Sid" Biberman and his son Matthew.
The Vincati began way down in Australia – in the land of the Koala and the Wombat: and this was rather appropriate because the much admired 998 cc Vincent V-twin engine had originally been designed by Australian engineer Phil Irving.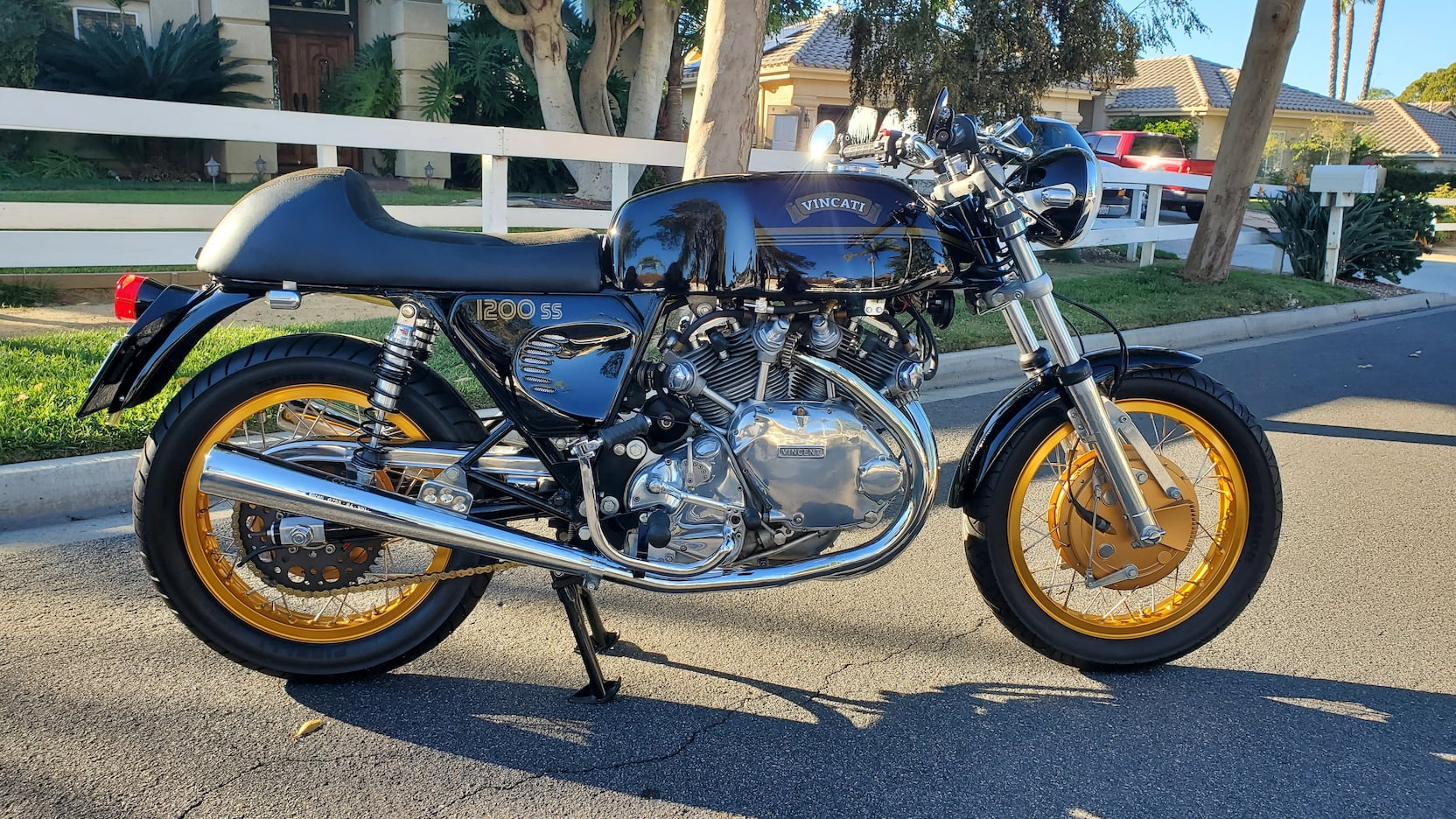 The Vincent "Black Shadow" and its even faster sibling the "Black Lightning" has long been regarded as the world's first "superbike", having been the "fastest motorcycle on earth" back in the 1940's when it was created. It was the bike that was used in the iconic photograph of American Roland "Rollie" Free at Bonneville Salt Flats on 13th September 1948.
Wearing only a pair of Speedo bathers, a bathing cap, and lightweight joggers Rollie lay prone on the bike and managed to get it up to 150 mph in what must have been the most uncomfortable adrenaline pumping ride of terror in the history of motorcycling.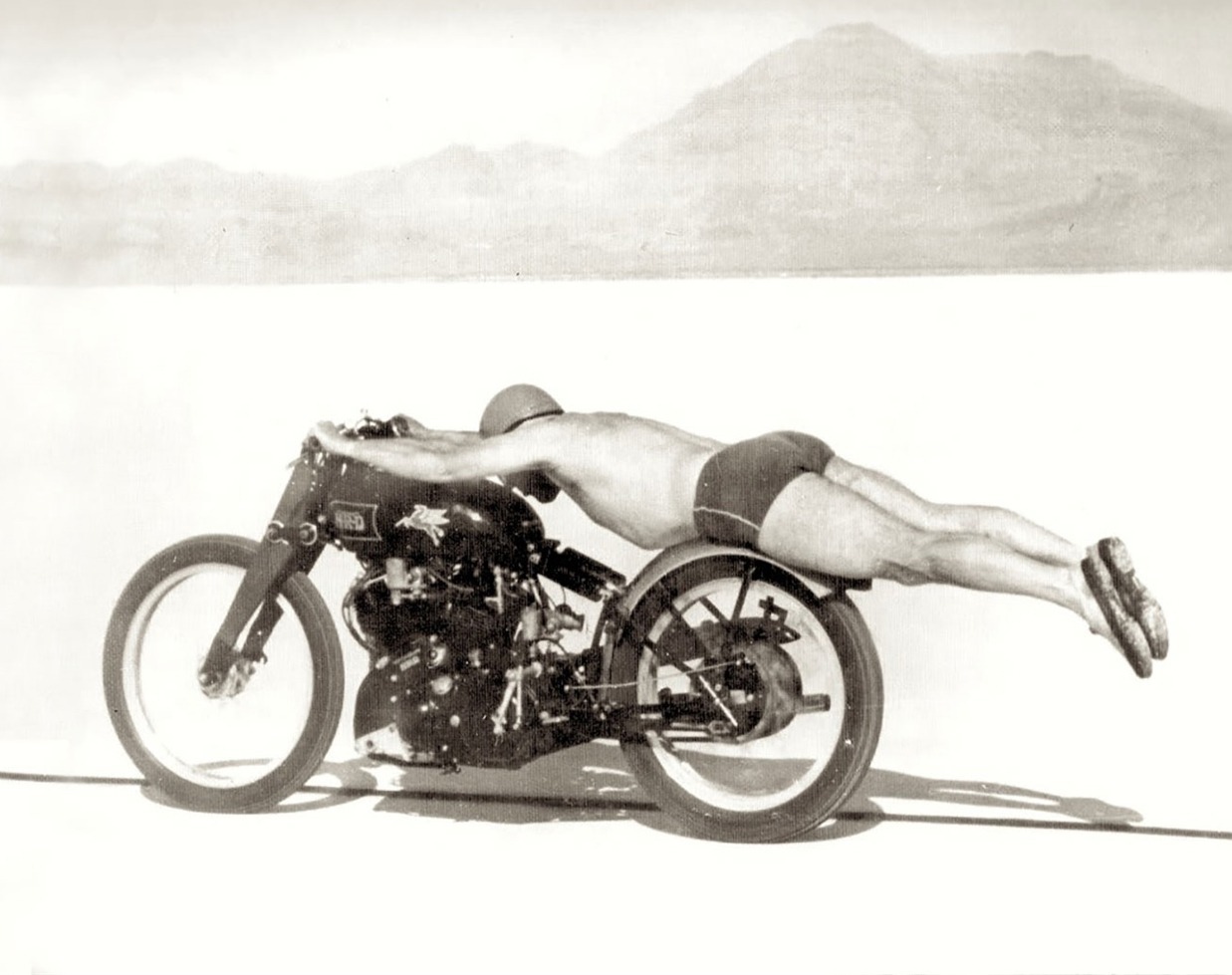 Australian band "Divinyls" released a song titled "Pleasure and Pain" in 1985 in which the main lyric line is "There's a fine line between pleasure and pain": and I suspect that was Rollie Free's experience when he climbed aboard the rear mudguard of the stripped down Vincent Black Shadow, lay prone on top of the bike, and proceeded to roar across the salt flats to attain 150 mph.
But his ride made the Vincent Black Shadow an international legend.
If we now shift in our time reference to the 1970's we shift into a time in which Vincent had long since gone out of production, and the old bikes were greatly undervalued. Some were wrecked and used for parts, and some of those magnificent 998 cc V-twins found their way into motorcycle sidecar racing machines, for which they were near perfect.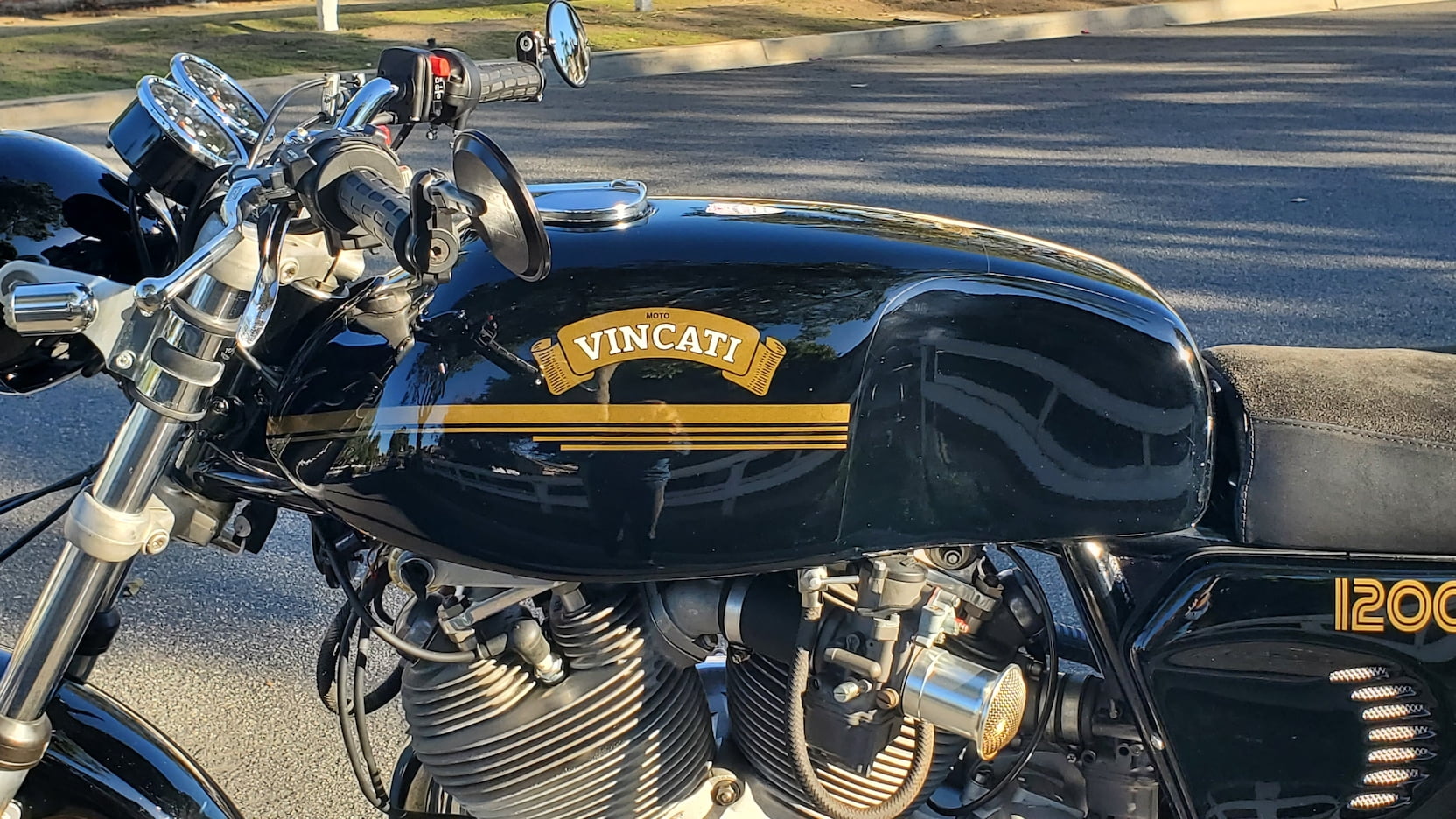 In the 1940's Phil Vincent's chassis design was streets ahead of the competition, and so good that US motorcycle maker Indian looked seriously at getting Vincent to design motorcycles for them. This led to the creation of the "Vindian", which was an Americanized Vincent Rapide intended to be manufactured in the USA by Indian.
Had Indian gone ahead with that project the company might have survived and prospered, but they didn't, and both Indian and Vincent sank into financial woes of the incurable kind.
But by the 1970's Phil Vincent's ground-breaking chassis was no longer ground breaking, having been long since superseded by new motorcycles with more advanced geometry and suspension systems.
The story of the Vincati began in 1972 when Australian Max Johnson – who had a soft spot for Vincents and was looking for one – came across a 998 cc Vincent engine retrieved from a racing machine. He bought it, probably not yet having a complete plan for what he was going to do with it, but the engine was affordable, and what Vincent enthusiast could turn down the opportunity of acquiring at least a Vincent V-twin engine.
At that point Max Johnson was not thinking "Vincati" at all. He continued in his quest trying to find a Vincent frame and other parts with which to build an original bike. But in those days long before the Internet had been invented and nobody had a computer, searching for such exotica as a Vincent Rapide or Black Shadow frame was a vastly more challenging prospect.
The day that Max Johnson had his 'Vincati" epiphany was one in which he was working on a friend's Ducati 750. Working away on the bike it dawned on Max that a Vincent V-twin might just be able to be fitted into the Ducati frame.
Max did careful measurements, figured out what would need to be done to make the project successful, and assessed it as something he would rather like to undertake.
This was not a quick hacksaw and weld job, the frame needed to be customized to accommodate the Vincent engine. The front frame tubes of the Ducati chassis were cut off, and mounting plates for the Vincent engine designed and made. The Vincent engine mounts by the cylinder heads to the top frame tube, requiring the appropriate mountings to be created, fitted under the fuel tank out of sight.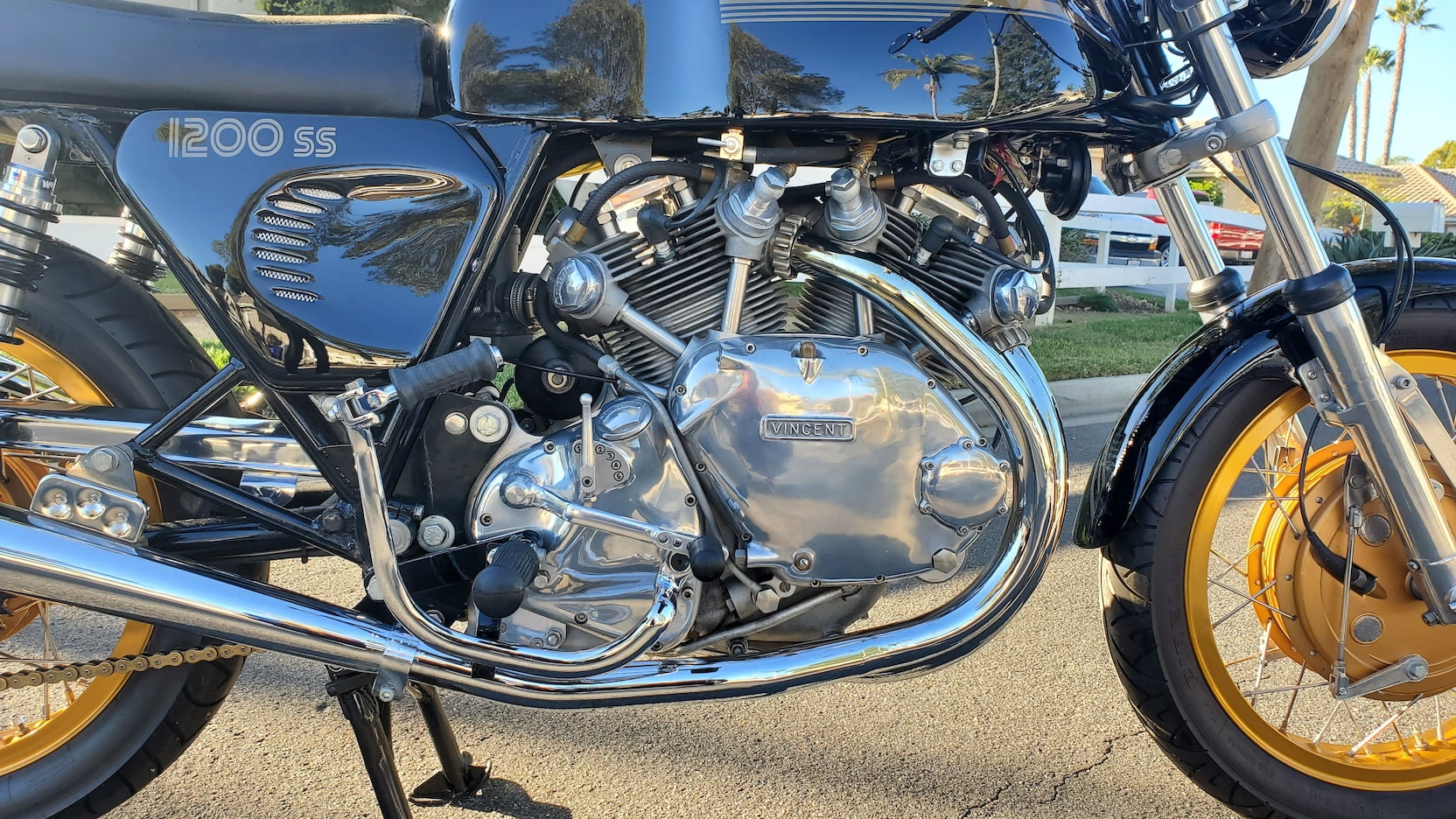 Max Johnson had completed his pioneering "Vincati" by 1975 when the first motorcycle press article described it. It created considerable interest at the time and Max Johnson was pleased when the bike was looked at by Phil Irving who simply said of the engine fitting "It almost looks as if it grew there". Phil Irving was not a fan of original Vincents being modded but he was impressed by Johnson's creation: perhaps because it might have just looked very like the bike that Vincent would have been making in the 1970's had the company survived.
The idea of the Vincati next caught the imagination of Australian Don Johnson who used a similar method to Max Johnson who was, like Max Johnson, determined to keep the original Vincent engine so it could be installed into an actual original Vincent frame if that was desired – and in fact that was to be the ultimate fate of Max Johnson's first "Vincati".
Don made engine mounting plates being very careful to fit the engine into the Ducati in the best possible way. He also did a performance rebuild of the Vincent engine which included fitting 30mm Mk I Amal carburetors, and a Suzuki GS850 clutch. Reliability for the electrics was also done with the bike converted to 12 volts system with a solid-state rectifier and improvements made to the ignition system.
There were a number of "Vincati" bikes created in Australia after Don's, and one in the United States after Don was approached by Sidney and Matthew Biberman who wanted to build one as a father and son project. The result of this was the famous "Big Sid's Vincati" the story of which Matthew published in a book.
As the collector value of original Vincent motorcycles began to skyrocket in the 1990's the number of Vincatis in existence began to decline as these bikes were cannibalized for their Vincent parts to re-build original – and from that time on high value – Vincent motorcycles.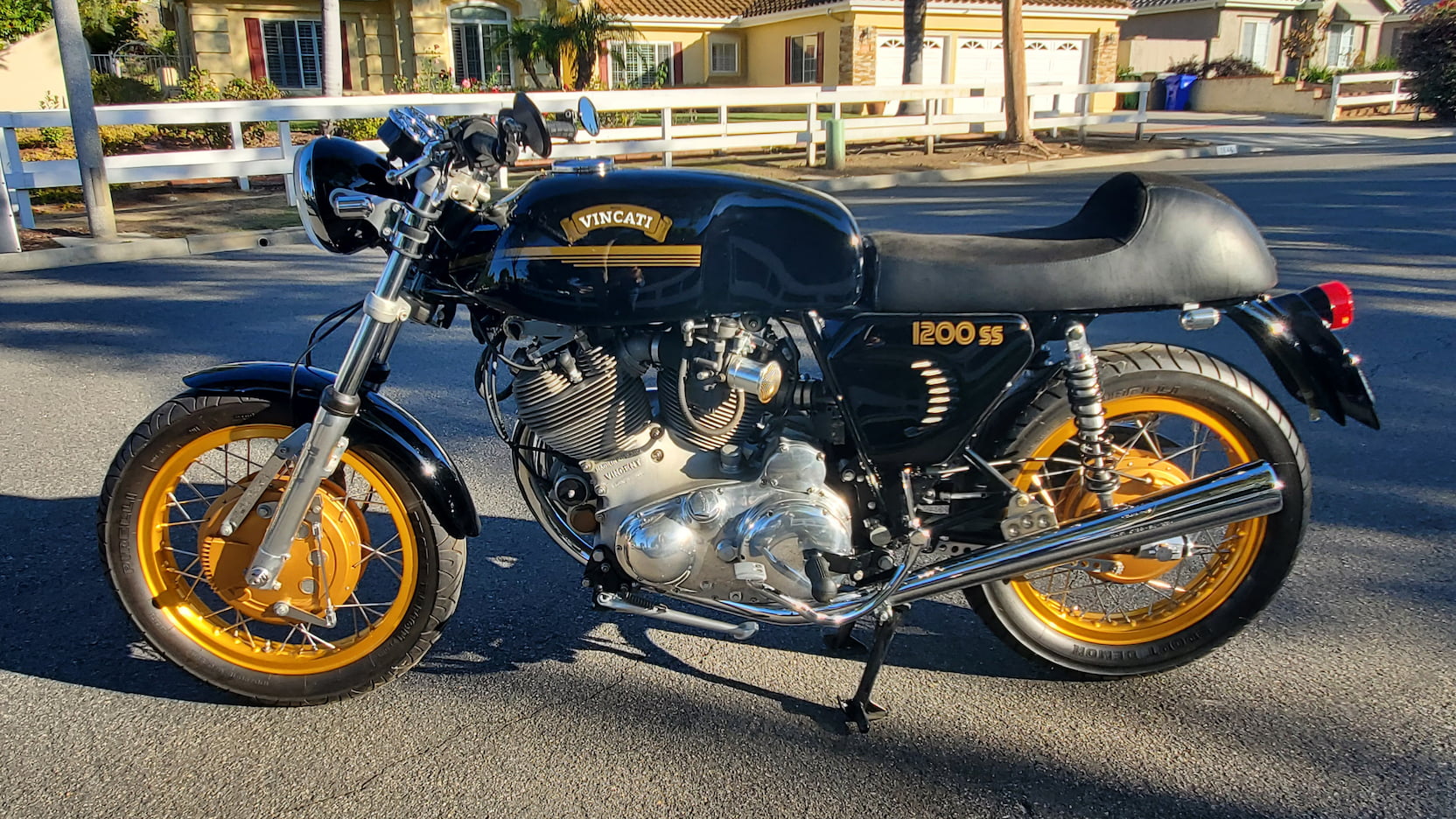 A 1972 Vincati for Sale
Mecum Auctions has a rare Vincati coming up for sale at their Las Vegas 2023 Auction to be held over January 24-28.
This bike has been built on a Ducati 900SS chassis and has the Vincent Owner's Club continuation number F10AB171054 with frame number 171054.
This bike is fitted with a 1,200 cc OHV Vincent V-Twin engine with 36 mm Dellorto carburetors, a five speed gearbox, new Conti mufflers, new Smiths gauges, new high-shouldered Gold anodized wheels with stainless spokes, Super Freni Grimeca dual twin-leading shoe front brake, BTH electronic magneto, McDougalator charging system, and both electric and kick starters.
This bike has won a number of awards including the Innovation Award at the 2016 Quail Celebration of the Motorcycle, The Judges Choice Award at the 2016 La Jolla Concours d'Elegance, and the Café/Street Tracker winner at the 2016 Clubman's All British Show held in San Jose, California.
You can find the sale page for this rare bike here at Mecum's website.
The Vincati gives us a sense of the sort of motorcycles Vincent would quite probably have designed and built had the company survived and prospered. It certainly installs a Vincent engine into a chassis that is thoroughly modern and which has an outstanding pedigree: making it very much a "what might have been" motorcycle.
Photo Credits: All pictures of the sale Vincati courtesy Mecum Auctions.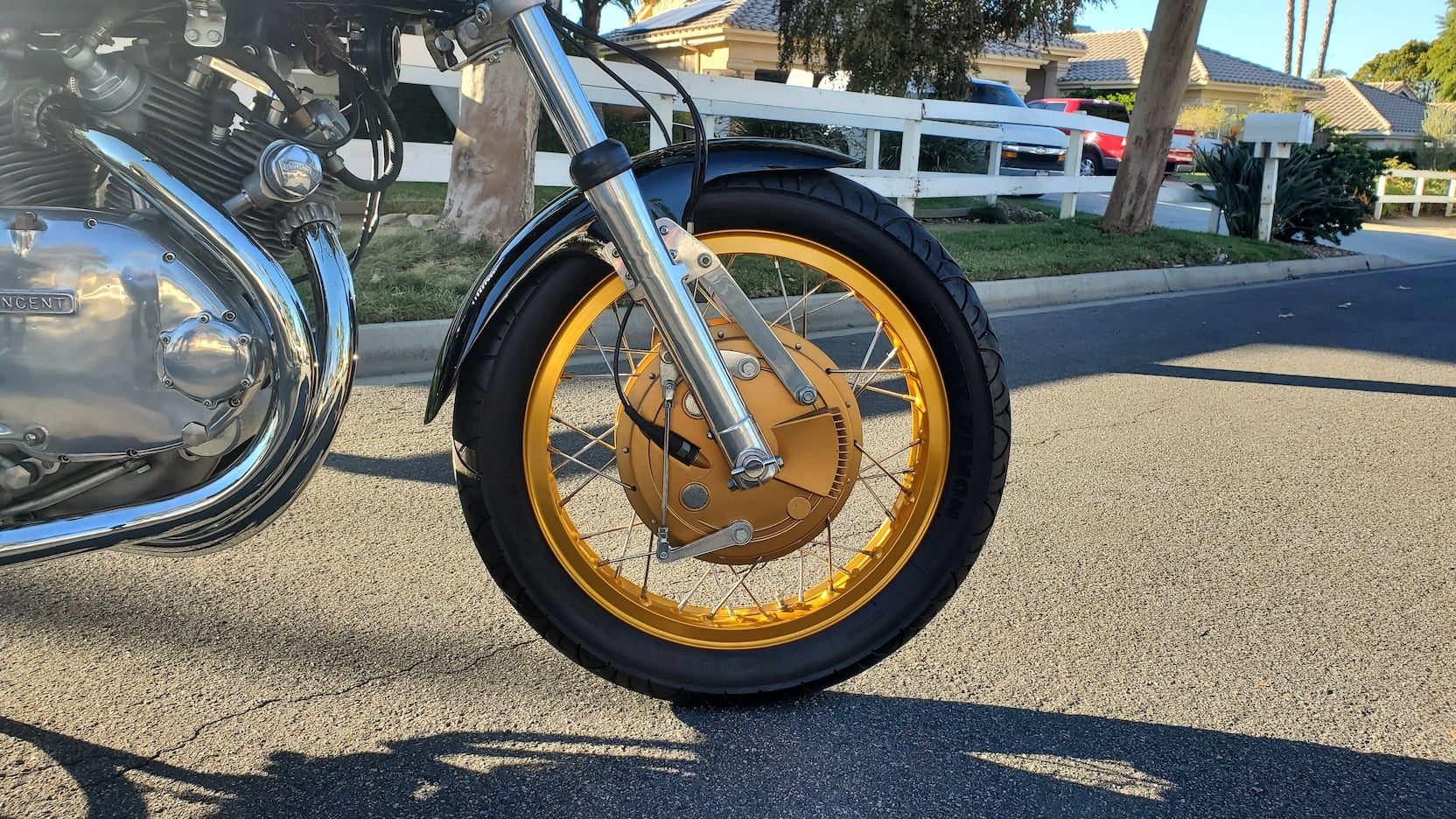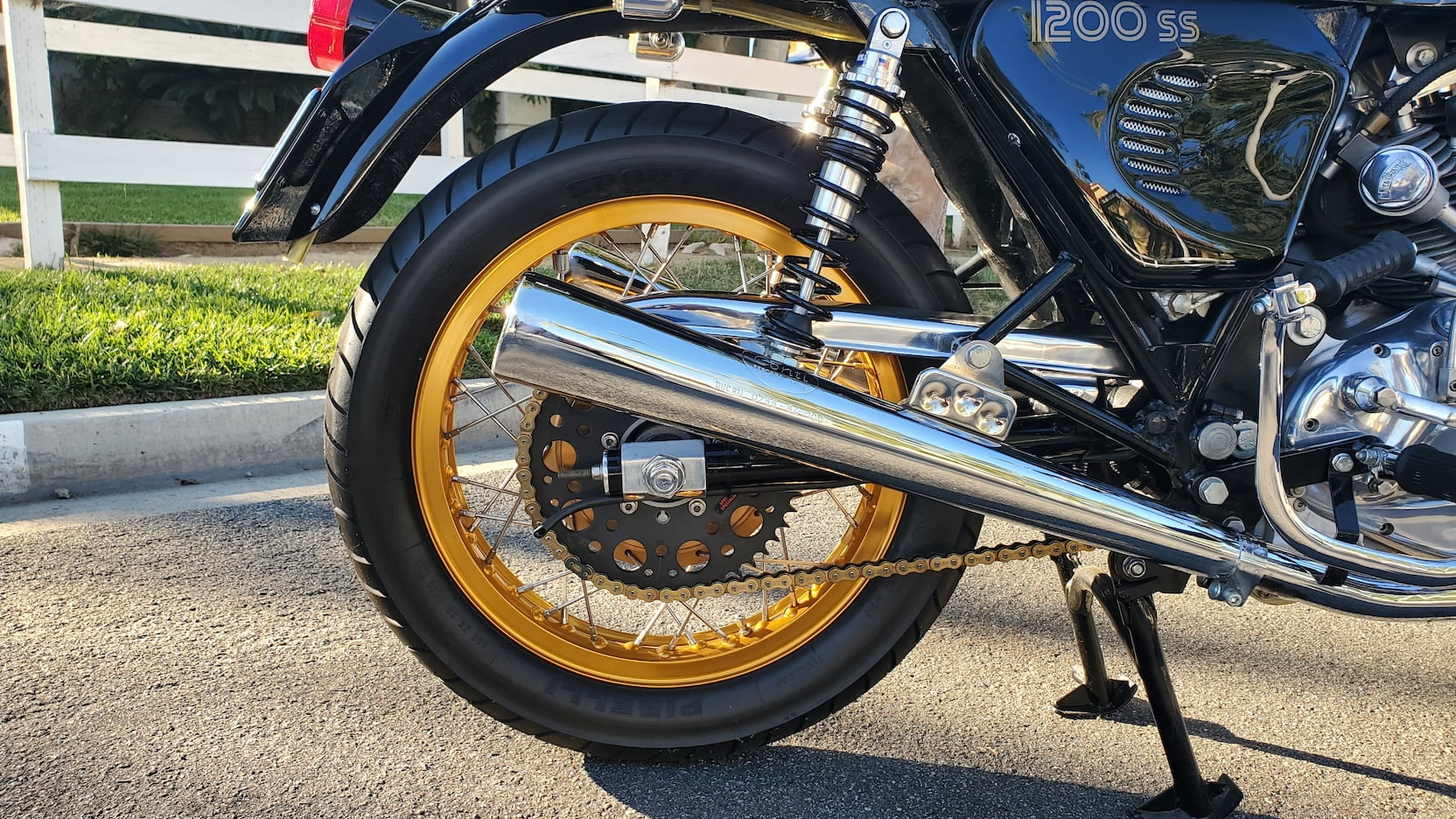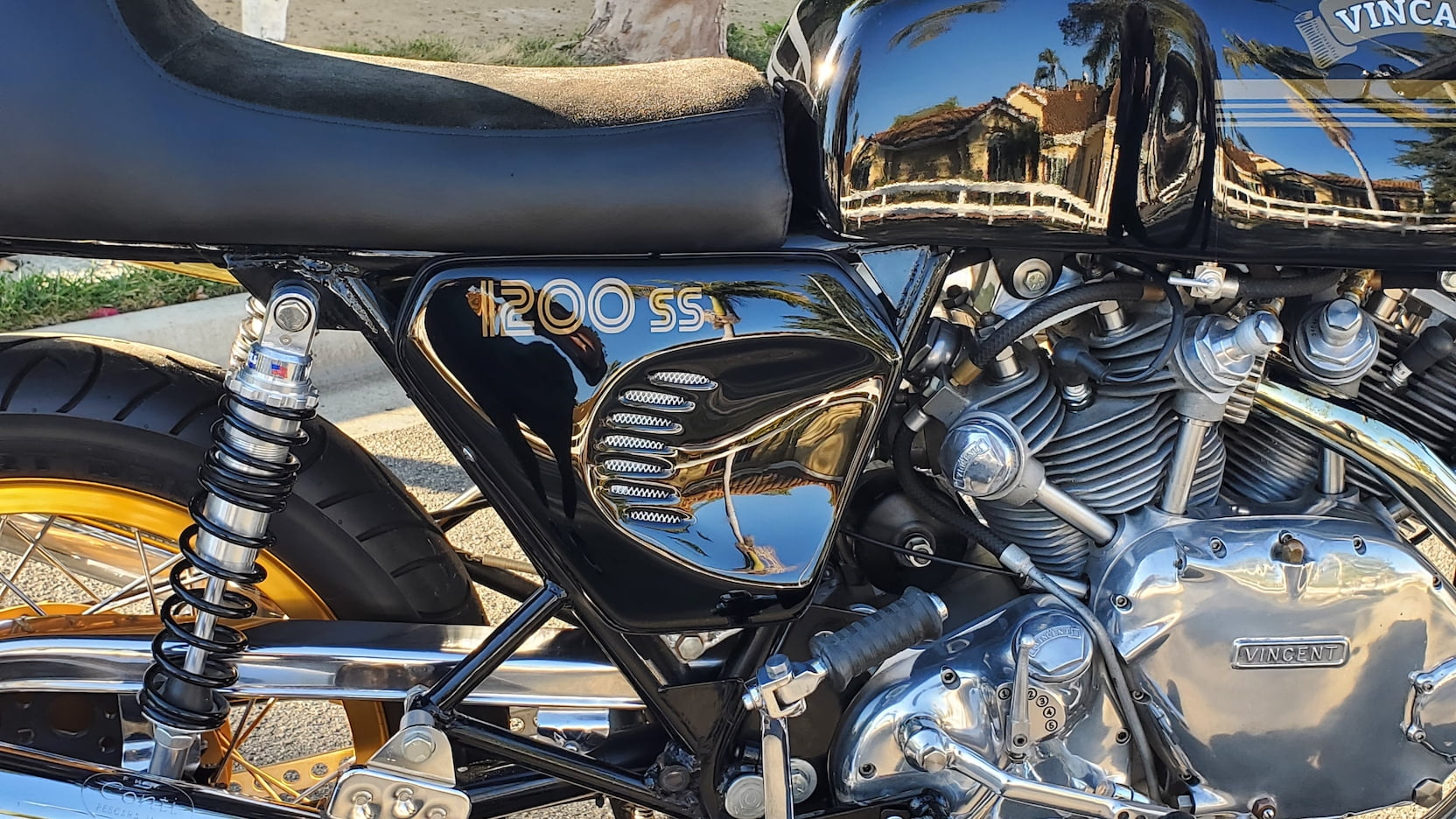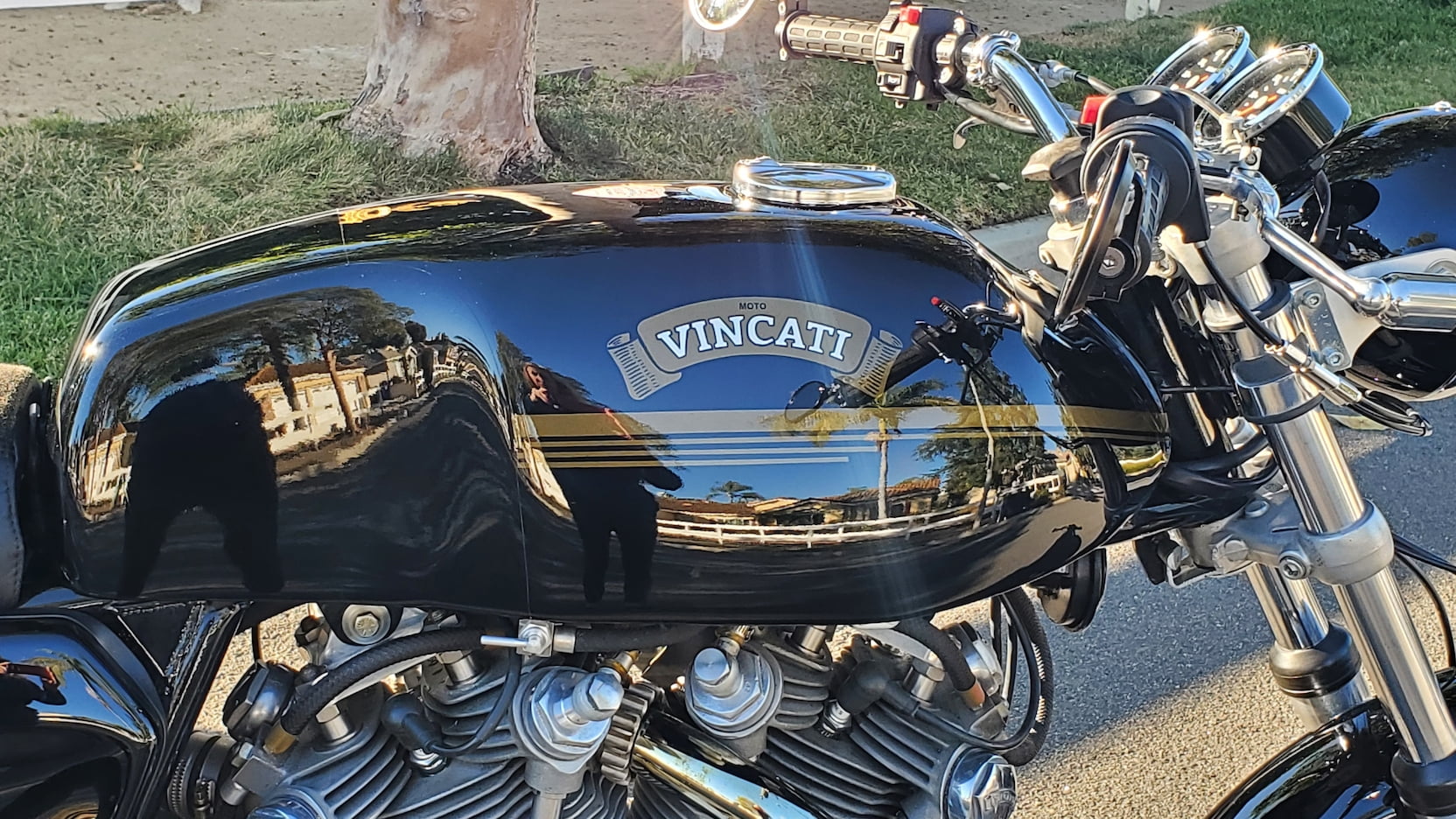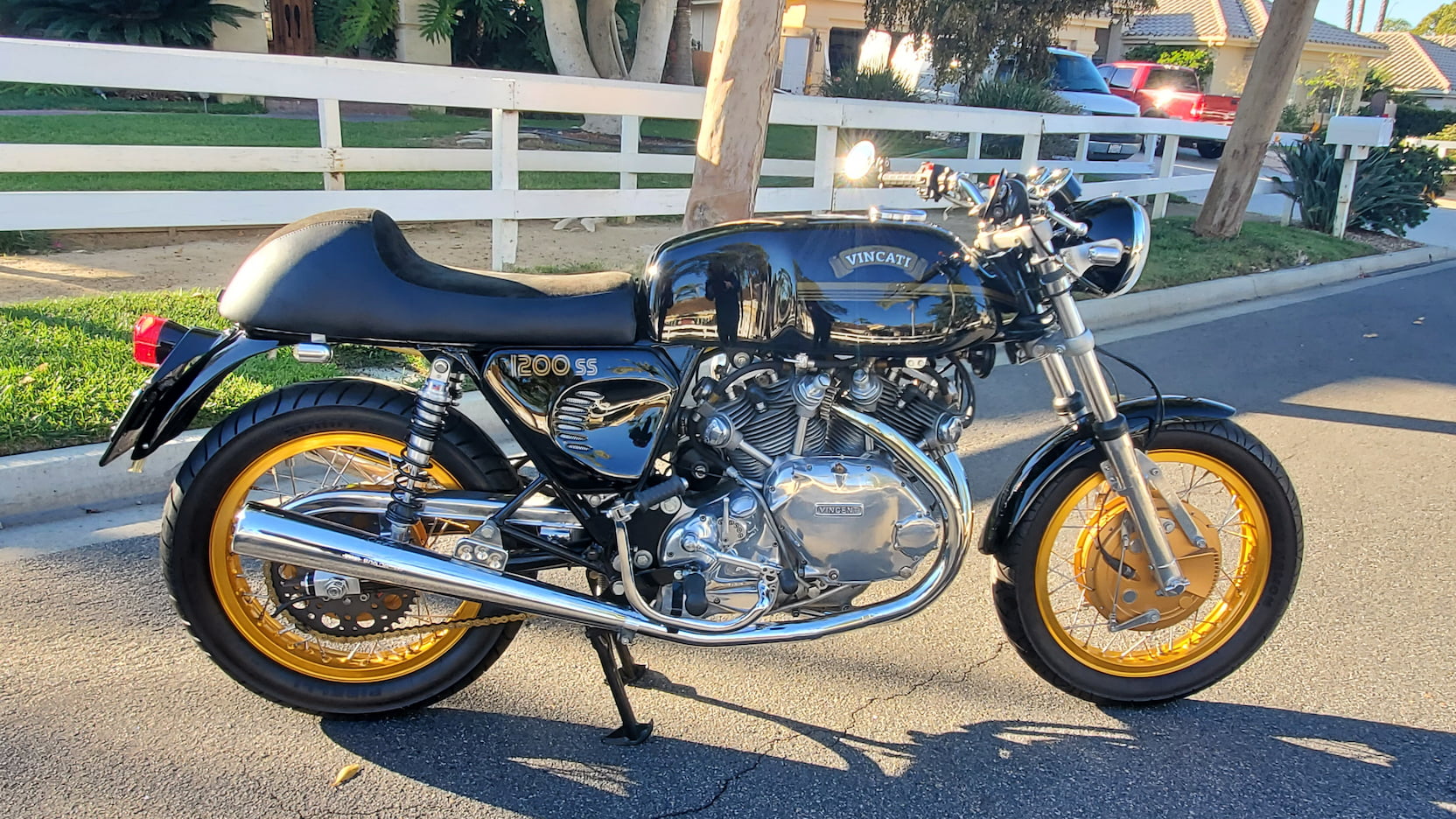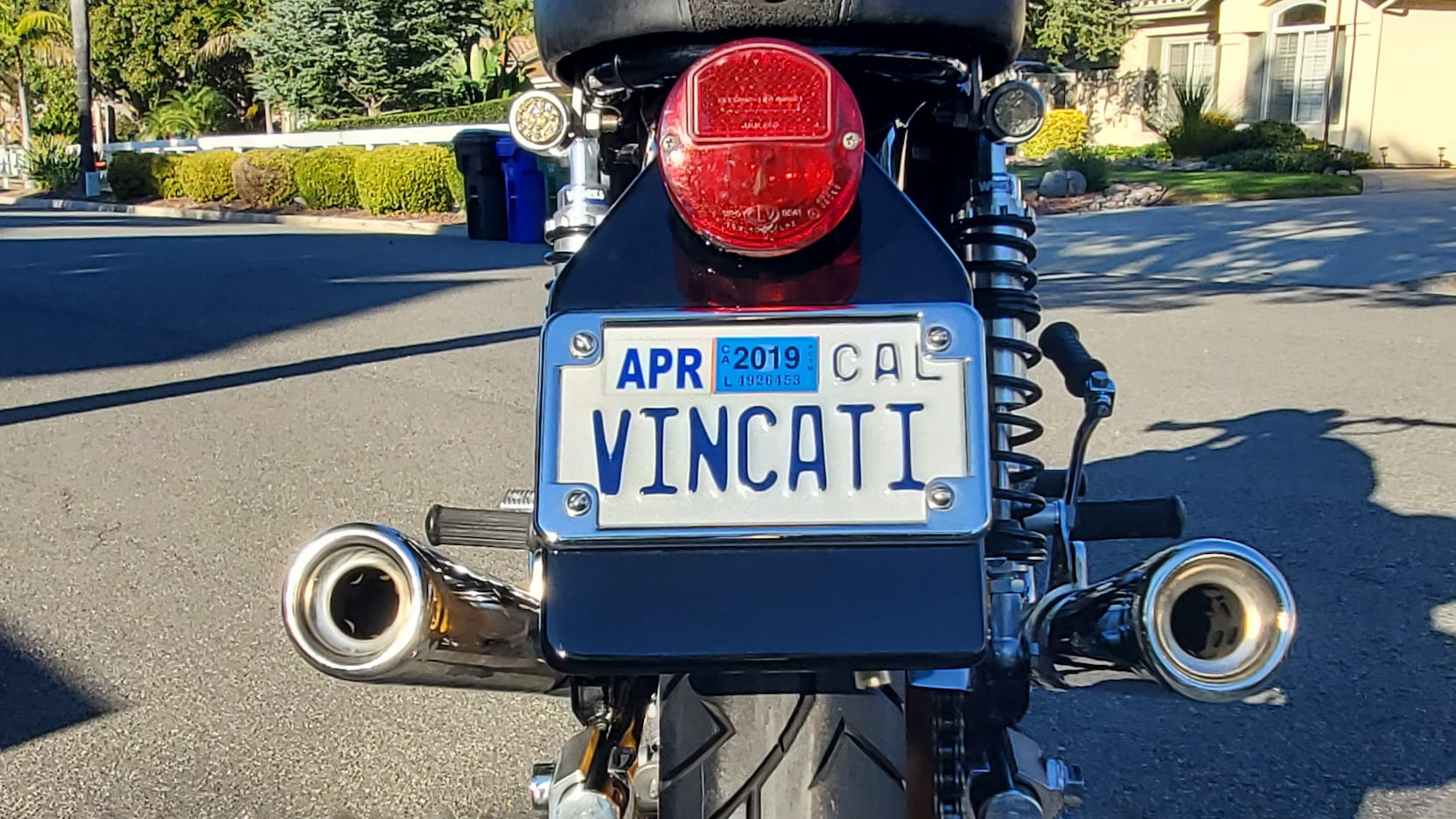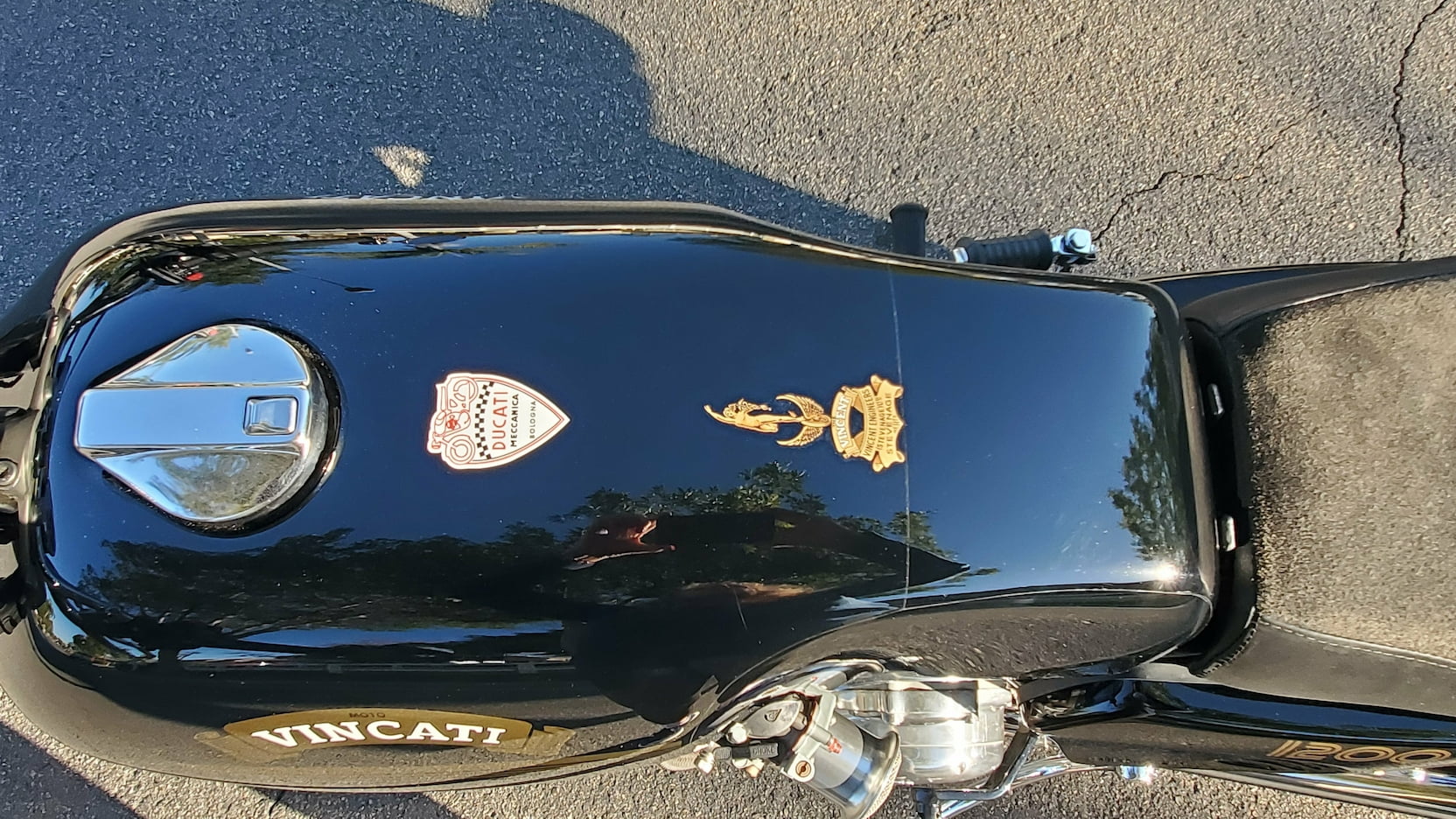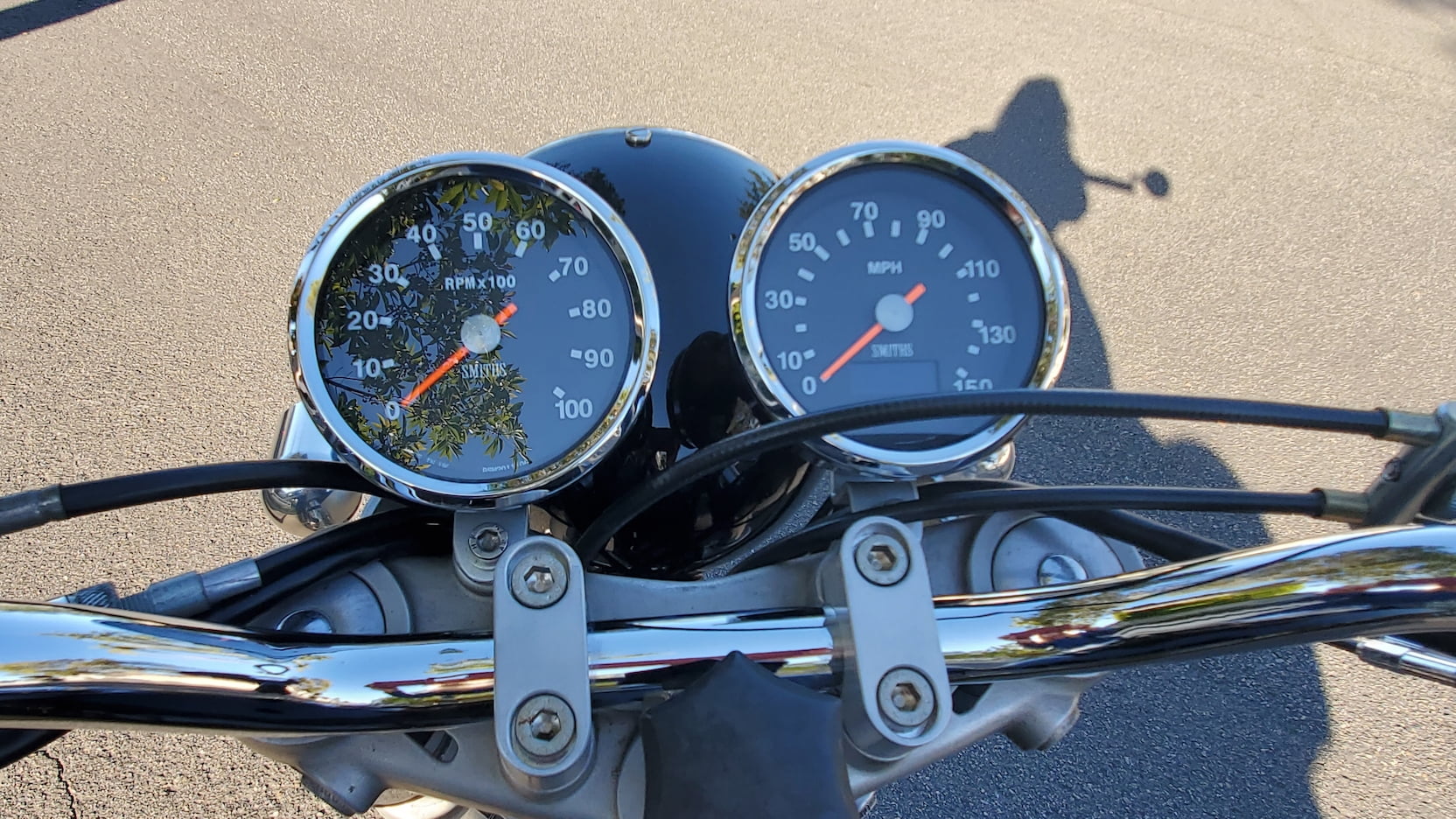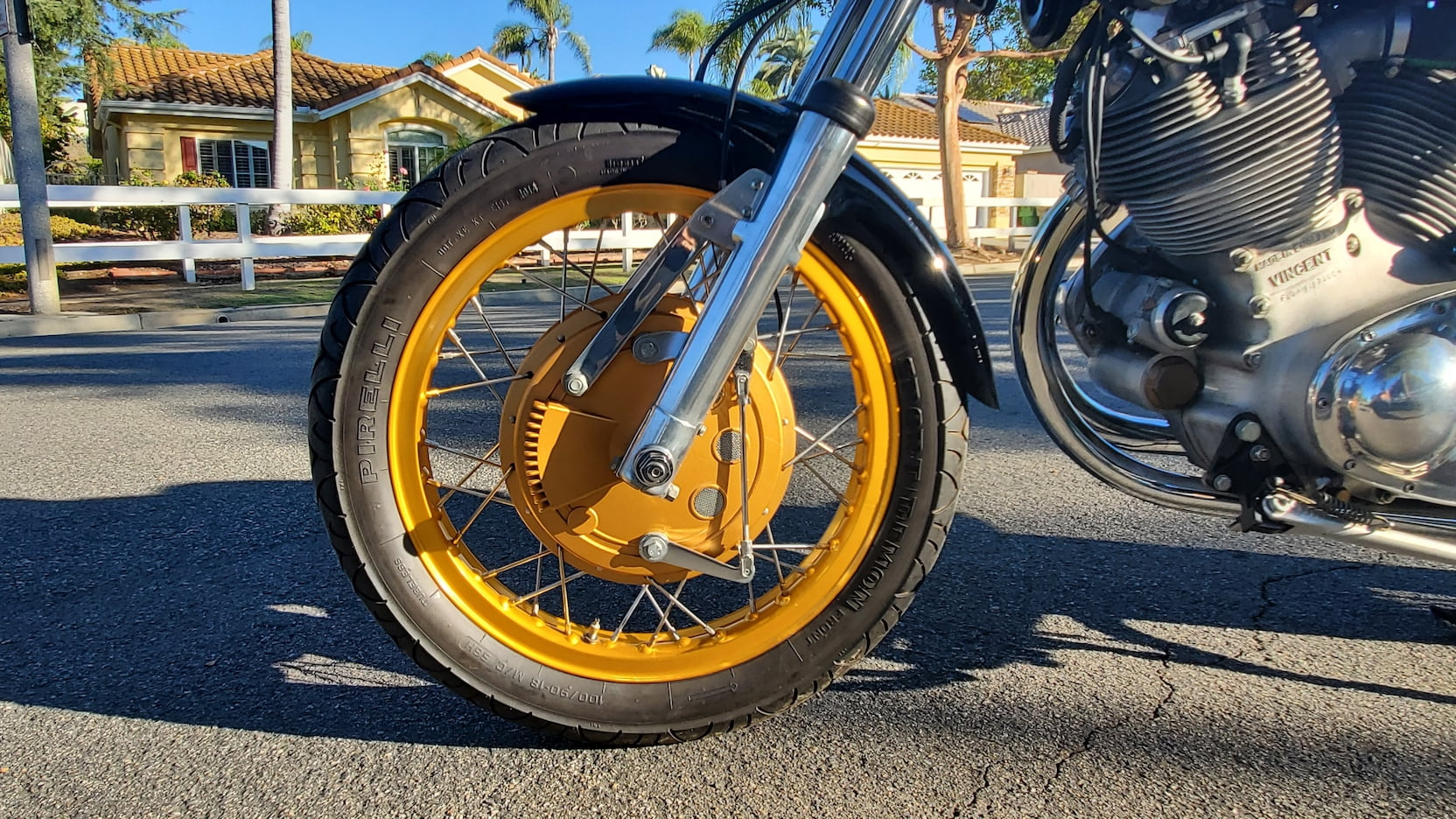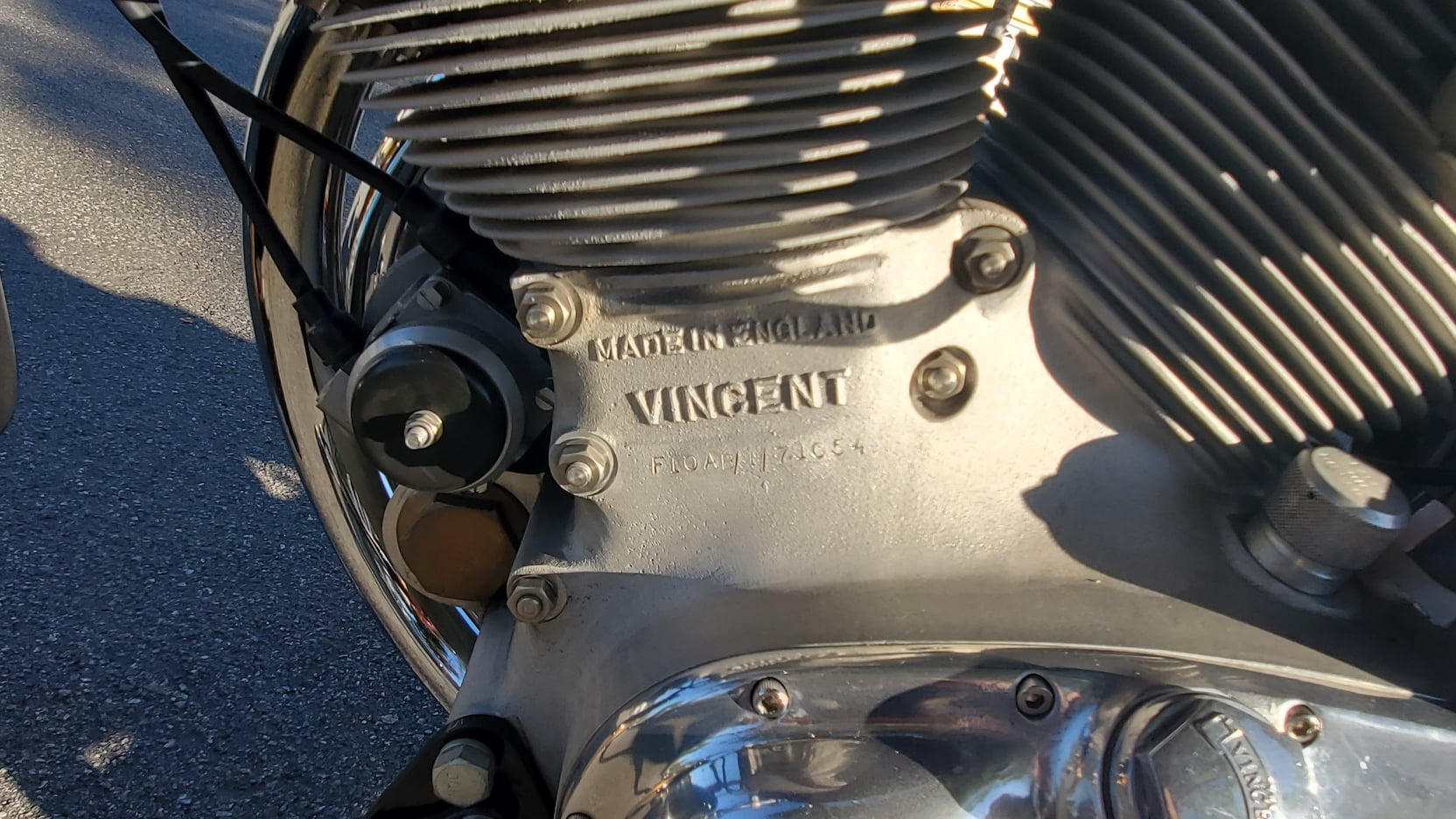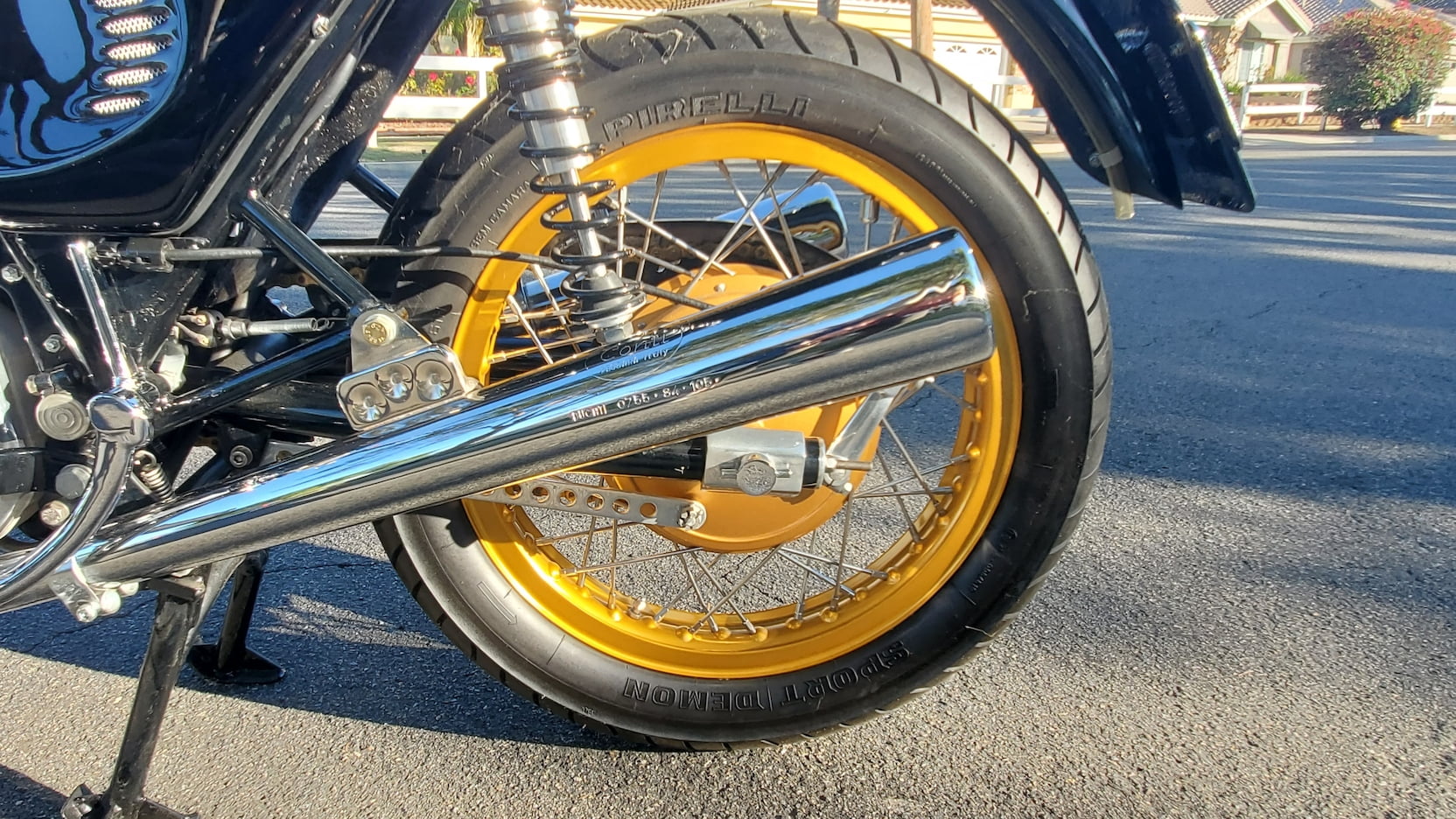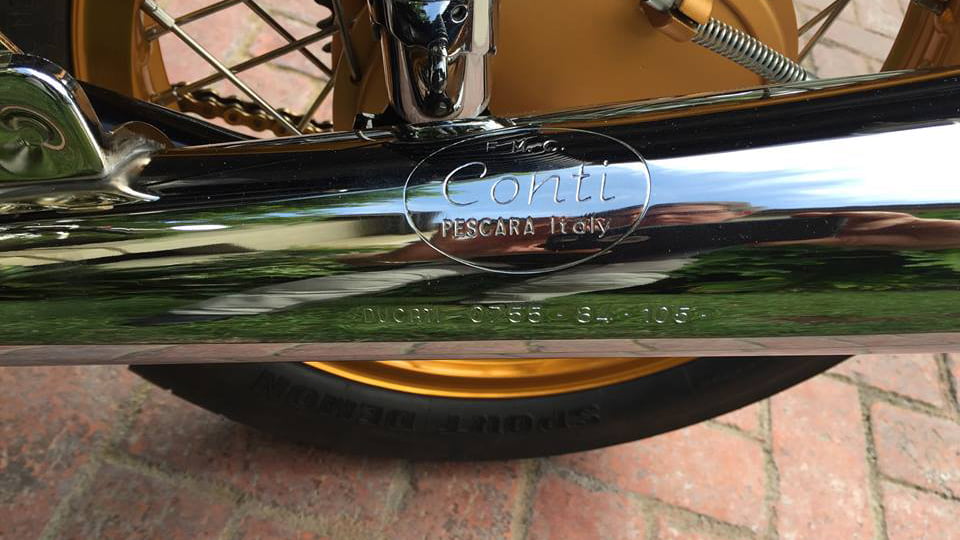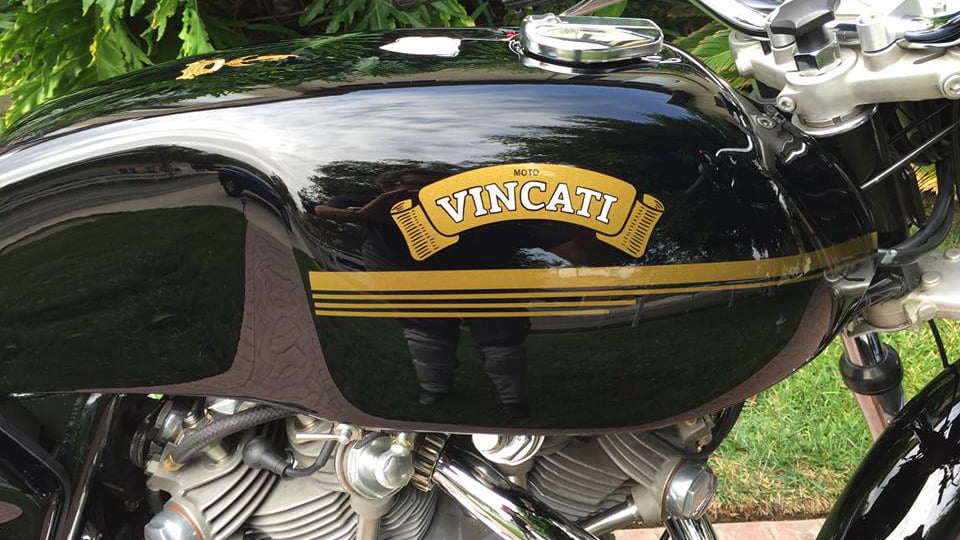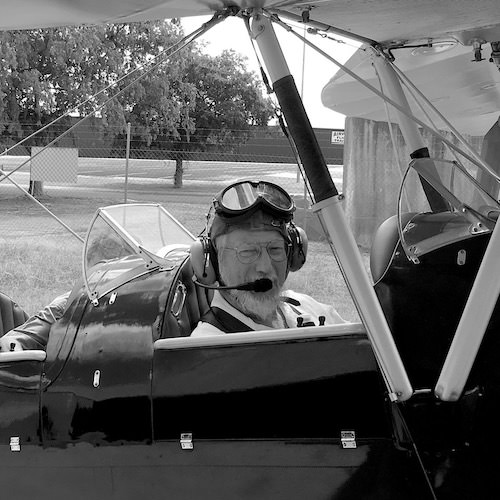 Jon Branch is the founder and senior editor of Revivaler and has written a significant number of articles for various publications including official Buying Guides for eBay, classic car articles for Hagerty, magazine articles for both the Australian Shooters Journal and the Australian Shooter, and he's a long time contributor to Silodrome.
Jon has done radio, television, magazine and newspaper interviews on various issues, and has traveled extensively, having lived in Britain, Australia, China and Hong Kong. His travels have taken him to Indonesia, Israel, Italy, Japan and a number of other countries. He has studied the Japanese sword arts and has a long history of involvement in the shooting sports, which has included authoring submissions to government on various firearms related issues and assisting in the design and establishment of shooting ranges.