Described by T.E. Lawrence (aka Lawrence of Arabia) as "the jolliest things on wheels" the Brough Superior SS100 was the ultimate motorcycle of the 1920's and 1930's. Lawrence was known for riding his Brough Superior for 500-700 mile excursions on a regular basis delighting in the big bike's speed and stable road-holding, and in its impeccable reliability. Brough Superior motorcycles were enjoyed by a number of rich and famous people including George Bernard Shaw, author of the play "Pygmalion" which was later made into the musical "My Fair Lady".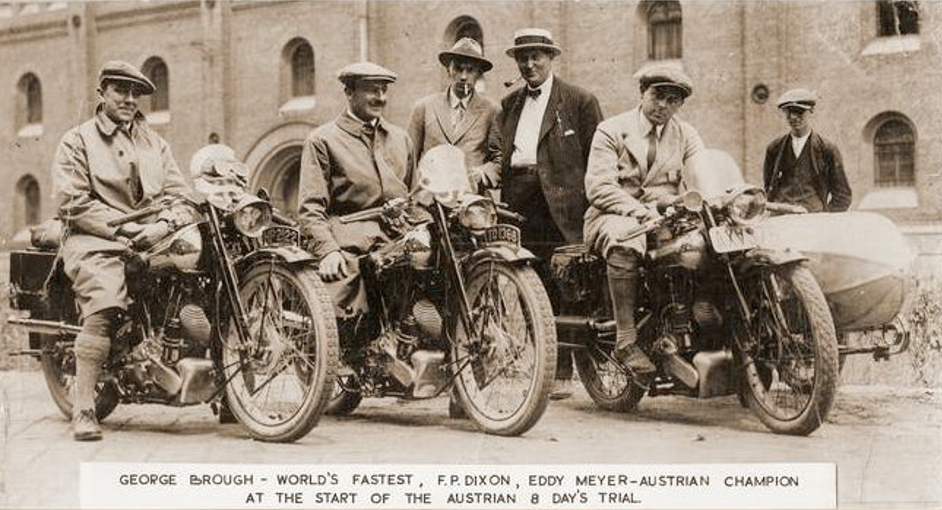 George Brough had come from a motorcycle manufacturing family: his father W.E. Brough made Brough motorcycles which he considered to be excellent. Young George however had high ideals laced with a healthy dose of ambition to build motorcycles that were superior, not just to the bikes his dad was making, but superior to anything else anyone on earth was making. George Brough could see that if he could create motorcycles that combined both performance and style, with flawless quality, that he could emulate the achievements of the likes of Rolls Royce and W.O. Bentley, and build a luxury prestige company. He set out to accomplish just that.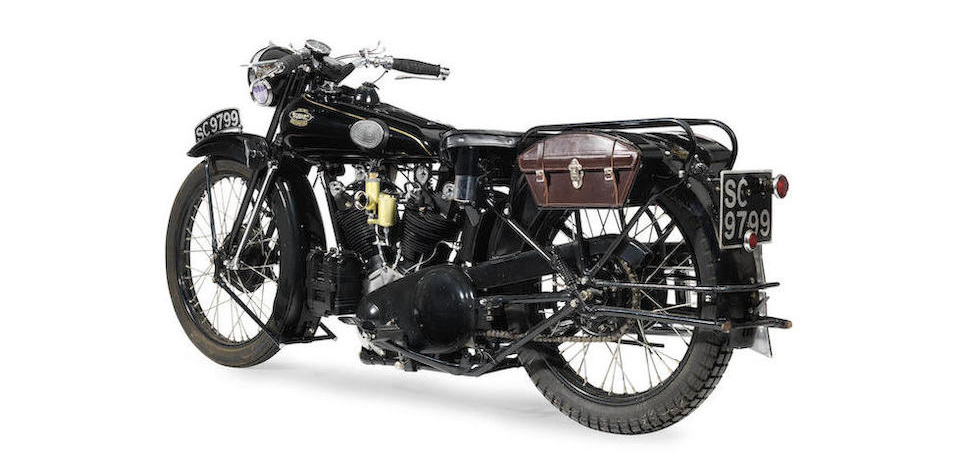 George Brough's dad was perhaps not impressed with his son's high ideals and so George opened his own manufacturing facility in Haydn Road, Nottingham in 1919 where he produced his first model, the Brough Superior Mark I that same year. George Brough's first motorcycle incorporated a saddle type fuel tank with a characteristic wedge shape that would become a hallmark of his motorcycles. From the Mark I onwards George Brough aimed to use only the best component parts money could buy in building his motorcycles, with engines sourced from J.A. Prestwich (J.A.P.), the Brough Superior Mark I was fitted with an overhead valve JAP engine.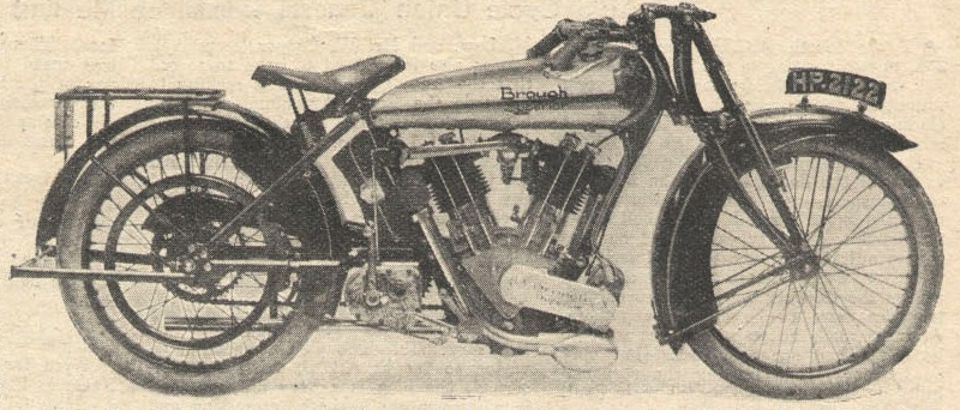 George Brough set great stock not only in speed and style but also in reliability. He recognized that his machines needed to deliver speed and style with boring reliablity. T.E. Lawrence himself commented on just how reliable the Brough Superior motorcycles were, and given his propensity for riding long and hard into some quite remote places we can imagine just how important it was that a Brough Superior rider not experience any "involuntary stops" when riding miles from anywhere, and without the luxury of a mobile phone to call for assistance. In the 1920's if your motorcycle broke down you were literally on your own.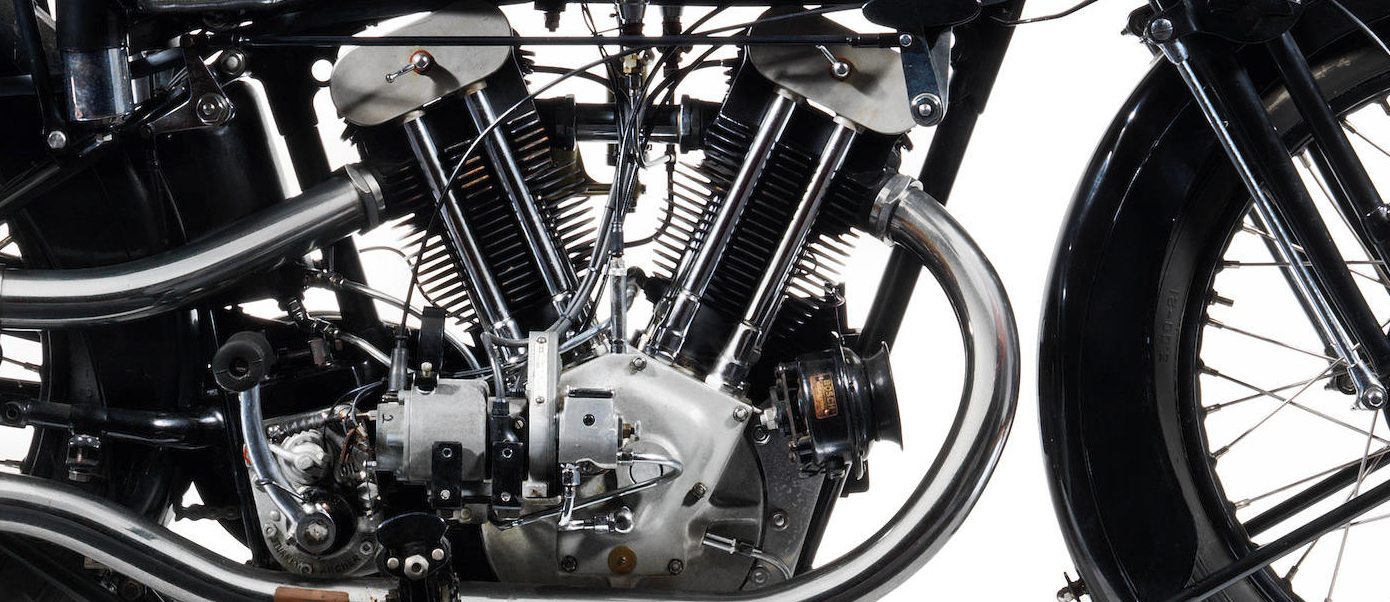 Because back in the 1920's the side-valve engine was the most reliable, and easiest to cool if an air-cooled engine, George Brough decided to create a side-valve equipped motorcycle as his second major model. This was the SS80 and the JAP side-valve engined model was ridden personally by George Brough at British racing circuit Brooklands to lap the circuit at over 100mph in 1922. This made the SS80 the first motorcycle with a side-valve engine to lap Brooklands at that speed. There was just one teensy little problem with this: the side-valve SS80 was actually quicker than its overhead valve predecessor. George Brough realized that with his success with the SS80 he would need to create an even more prestigious overhead valve equipped bike that would out-perform it. This was to be the birth of the fabled SS100.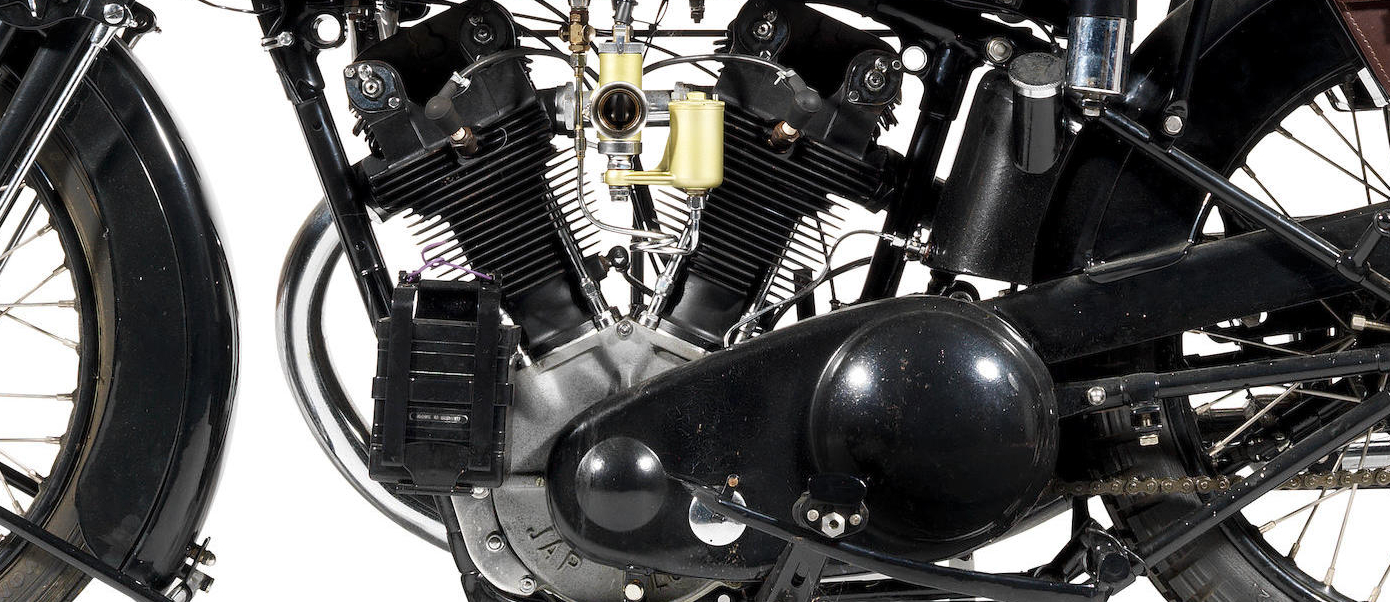 The SS80 was guaranteed by the factory to be able to deliver 80mph or better and came with a letter certifying this. George Brough's next model was the SS100, likewise guaranteed to be able to deliver 100mph over a quarter of a mile. Back in the early 1920's not much of anything could deliver that speed. For the new SS100 George Brough worked with JAP to create a new overhead valve 980cc V-twin engine. The engine was fitted in a purpose designed cradle frame and, not long after its introduction, the Castle front fork patented by George Brough and Harold 'Oily' Karslake (which had been inspired by a Harley-Davidson design).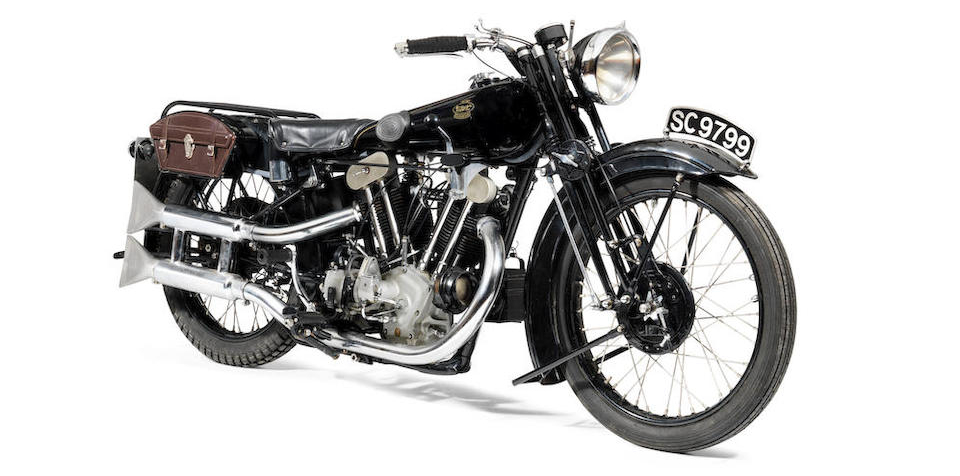 The SS100 was the motorcycle that T.E. Lawrence preferred over all others and, sadly, it was the type of bike he was riding when he was killed in an accident. It was his seventh Brough Superior, and he had an eighth bike on order at the time of his death.
Although George Brough went on to make other motorcycle models and create some fascinating prototypes before Brough Superior was forced to cease motorcycle manufacturing in 1940, because of the demands of the war, it is the SS100 with JAP engine that has become the iconic Brough Superior motorcycle. Perhaps this is partly because of its association with T.E. Lawrence, but equally likely because it is one of the most eye-catching motorcycles ever created, and a bike with a deserved reputation for excellence in every department.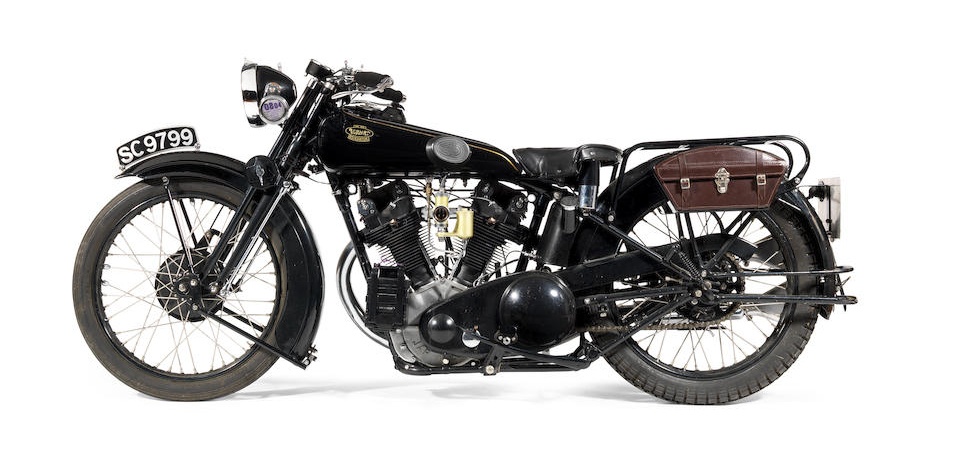 The black Brough Superior SS100 in our photographs was originally purchased by the Edinburgh Police, in Scotland, in 1931. The motorcycle was originally mated to a side-car and back then it would have been one of the fastest things on the roads around Edinburgh. This bike has been partly modified so the fuel tank and gearbox are not original to the bike. The Lucas magdyno was partially worked on but the dynamo, contact breaker cover, and contact breaker assembly are all missing. This means this partly restored SS100 will require some sourcing of parts and re-commissioning before its new owner will be able to experience a "ride of a lifetime" on this most famous of the Brough Superiors.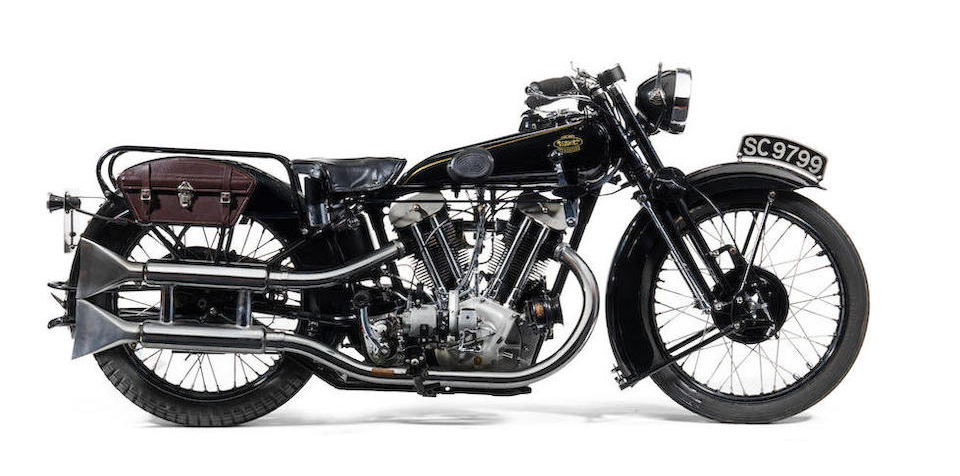 This bike is coming up for sale by Bonhams at their annual Spring Stafford sale in the UK and will be offered on April 22nd, 2018.
You will find the sale page for this motorcycle if you click here.
The proceeds of this sale will go to benefit three charities; the Search and Rescue Dog Association, Royal National Lifeboat Institution, and the Salvation Army.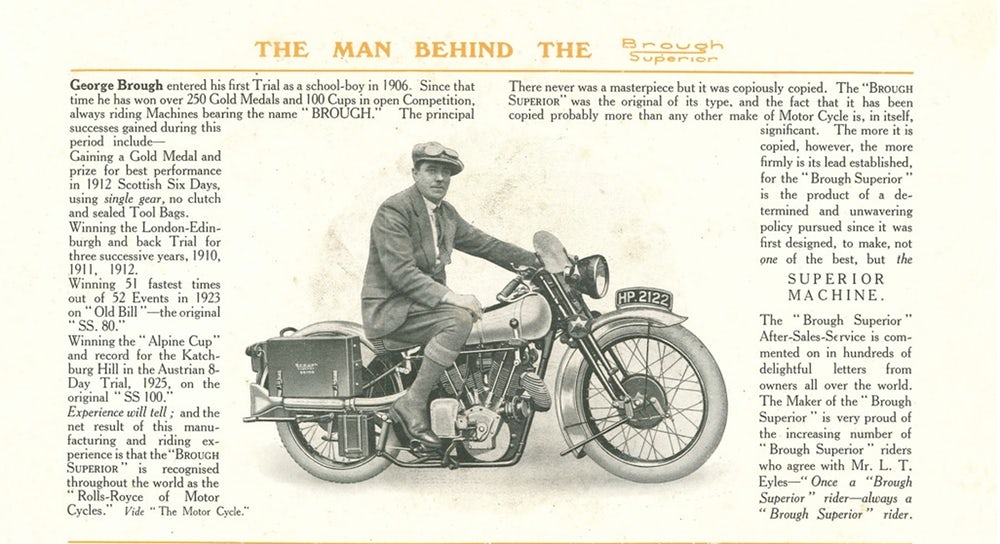 (All pictures of the sale Brough Superior SS100 courtesy Bonhams).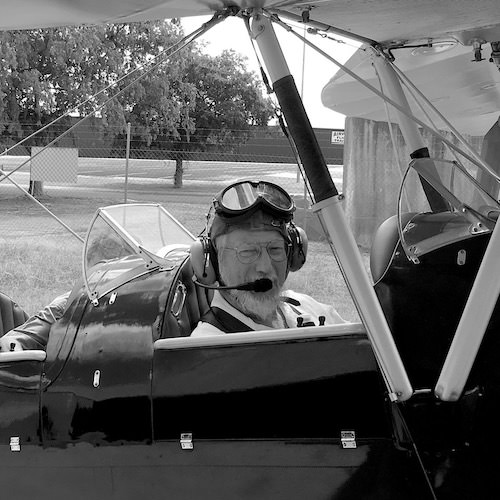 Jon Branch is the founder and senior editor of Revivaler and has written a significant number of articles for various publications including official Buying Guides for eBay, classic car articles for Hagerty, magazine articles for both the Australian Shooters Journal and the Australian Shooter, and he's a long time contributor to Silodrome.
Jon has done radio, television, magazine and newspaper interviews on various issues, and has traveled extensively, having lived in Britain, Australia, China and Hong Kong. His travels have taken him to Indonesia, Israel, Italy, Japan and a number of other countries. He has studied the Japanese sword arts and has a long history of involvement in the shooting sports, which has included authoring submissions to government on various firearms related issues and assisting in the design and establishment of shooting ranges.