Introduction: Why Choose a Straight Pull Rifle?
Straight pull rifles have become popular in Europe, most probably because they are so perfect for driven wild boar hunting where the game comes in thick and fast, shots need to be taken at running animals, and fast repeat shots are frequently needed. For that sort of scenario traditional hunters will tend towards a double rifle or double rifle drilling, and the younger generation often choose a straight pull bolt action rifle. A straight pull rifle will normally be somewhat less expensive than a double rifle or double rifle drilling, which can be another factor encouraging their use: a double rifle without doubt permits the firing of two shots faster than any other action, but becomes much slower for the third and subsequent shots, even if you have an ejector double rifle.

Why then not choose a semi-automatic? There are two downsides to the use of a semi-automatic action; the first is that they are often illegal in places we may want to hunt, and the second is that when you fire a semi-automatic it automatically chambers a fresh cartridge ready for the next shot. The fact that a semi-automatic makes chambering a fresh live round compulsory takes away the shooter's ability to choose whether or not they want to do that, with a semi-automatic you don't have a choice. But if you want to have complete control over your rifle then a repeating action such as a straight pull bolt action provides that. In a driven hunt situation where there will be a number of shooters, having that additional level of control is desirable.
The Merkel RX Helix
A few straight pull hunting rifle models have appeared in recent years and one of the more highly regarded is the Merkel RX Helix. The Merkel RX Helix has attracted quite a following of enthusiasts because of its short-bolt-throw operation, which literally halves the required bolt-handle movement by comparison with other straight pull rifle actions. To achieve this Merkel engineers employed a geared linkage hammer system that provides a 2:1 advantage so that for each inch of bolt handle movement the internal bolt moves about two inches. Locking and unlocking of the six lug rotating bolt head is accomplished by use of a cam in the bolt sleeve.

Caliber Groups
The Merkel RX Helix is made in three groups of calibers, Mini, Standard and Magnum. The Mini group is the .222 Remington and the .223 Remington. The Standard group is the .243 Winchester, 6.5×55 SE, .270 Winchester, 7×64, .308 Winchester, .30-06, 8×57 IS, and 9.3×62. The Magnum group is 7mm Remington Magnum, .300 Winchester Magnum, and .338 Winchester Magnum.
The Merkel RX Helix is not made in heavy dangerous game calibers and is at its best used as a general purpose stalking rifle that provides the speed needed for driven wild boar hunts, and the accuracy needed for deer stalking and open country or alpine hunting.
Switch Barrel/Caliber System
The Merkel RX Helix can be switched to any of the calibers in the same group by changing the barrel and, if necessary, the magazine. The rifle can also be used for calibers of the other groups by changing the rotating bolt head and magazine.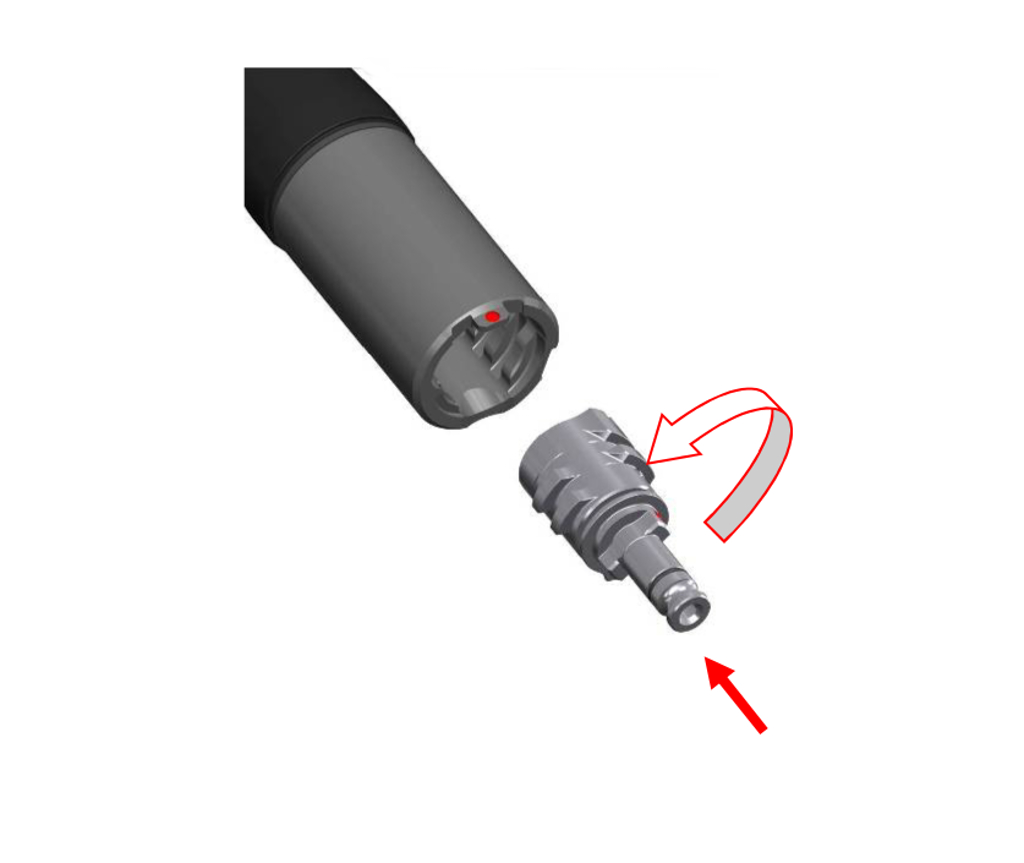 The Merkel RX Helix is made for easy field stripping both for cleaning and for interchanging barrels if desired. To remove the barrel the bolt is pulled back to its rearmost position and the magazine removed. The stock fore-end is removed by rotating the button under the fore-end anti-clockwise to release it, then depressing it. The fore-end can then be removed by pulling it forward and away: almost as easy as removing the fore-end of a double barreled gun. If it is desired to remove the bolt head then this procedure is done with the bolt in the forward (locked) position so that when the barrel is removed the bolt head comes out of the action with it. It can then be rotated and removed and a different one inserted and rotated to lock into place (see diagram above).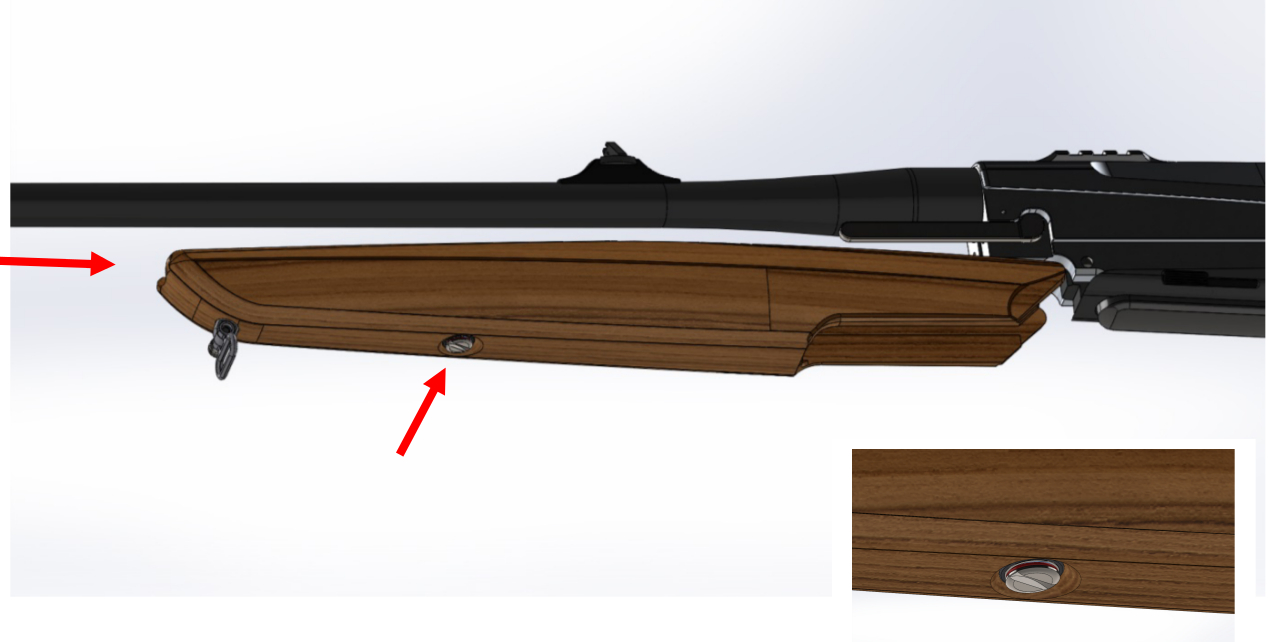 Once the fore-end is removed the barrel can be removed by rotating the barrel locking lever through 90° anti-clockwise and sliding it out of the action body.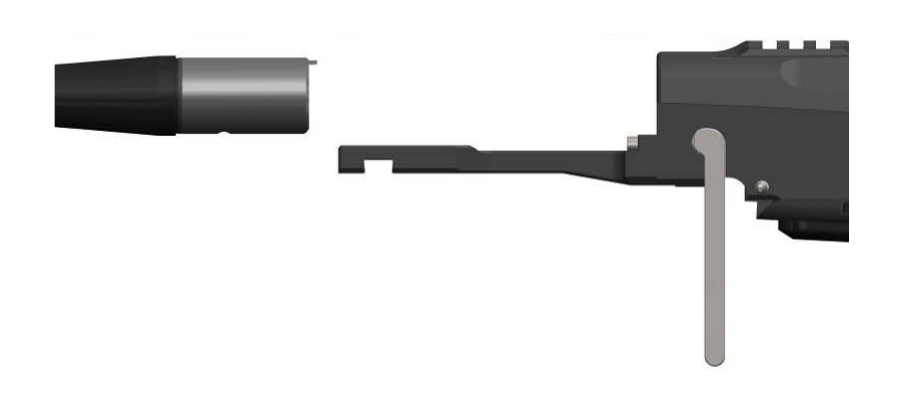 Field stripping the Merkel RX Helix is a quite simple process so maintenance is kept as easy and intuitive as possible. Barrel removal and replacement can be accomplished in a little less than one minute.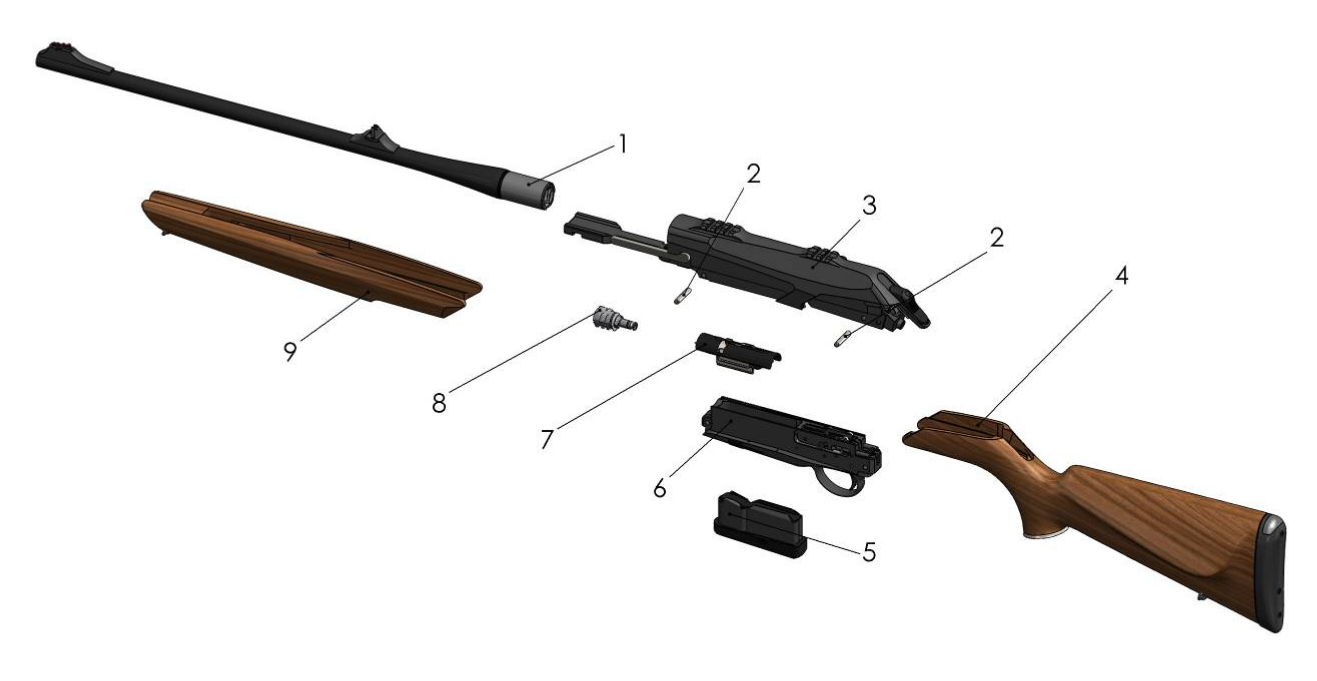 For full instructions you will find the complete manual if you click here.
For the section in English go to page 25. The diagrams begin on page 121. We recommend you read those instructions in full before attempting to use or field-strip an RX Helix.
Safety System
The Merkel RX Helix uses the cock/de-cock style of safety system that is common on many European rifles nowadays. These systems provide an excellent level of safety for a rifle used for non-dangerous game, but are often not recommended by Professional Hunters for use on dangerous game, where provision of "safety" takes on an additional dimension. A dangerous game rifle must be easy and instinctive to fire, and it must fire instantly with absolute reliability. If it does not then the shooter can find themselves being masticated on by a big cat or reduced to a red stain in the dust by a grumpy elephant or hippo. For the sake of safety, when dealing with game that can kill you, carrying a rifle that is cocked and locked is more reliable than carrying one that must be cocked before it can be fired. So, for a stalking and hunting rifle for non-dangerous game the de-cock safety system is excellent: but for a dangerous game rifle a professional hunter will often advise a rifle with a normal safety catch that will be carried cocked and locked.
Merkel double rifles are made with conventional safety catches and are carried cocked and locked. These rifles are suitable for dangerous game and you will find more information about them if you click here.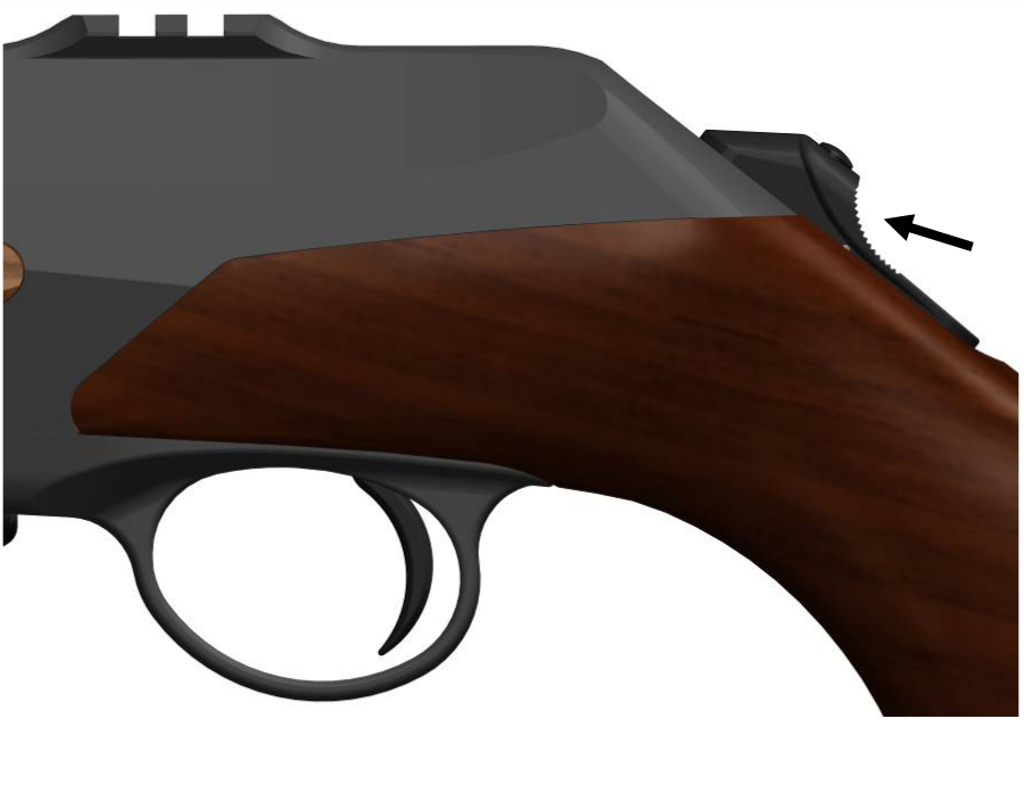 To cock the RX Helix the cocking slide lever on the tang is pushed fully forwards: to de-cock the button on top of the slide is depressed as the slide lever is pushed forwards and then allowed to move back to the safe position. When the rifle is cocked a red warning spot is visible behind the cocking slide, when it is de-cocked the red warning spot is no longer visible.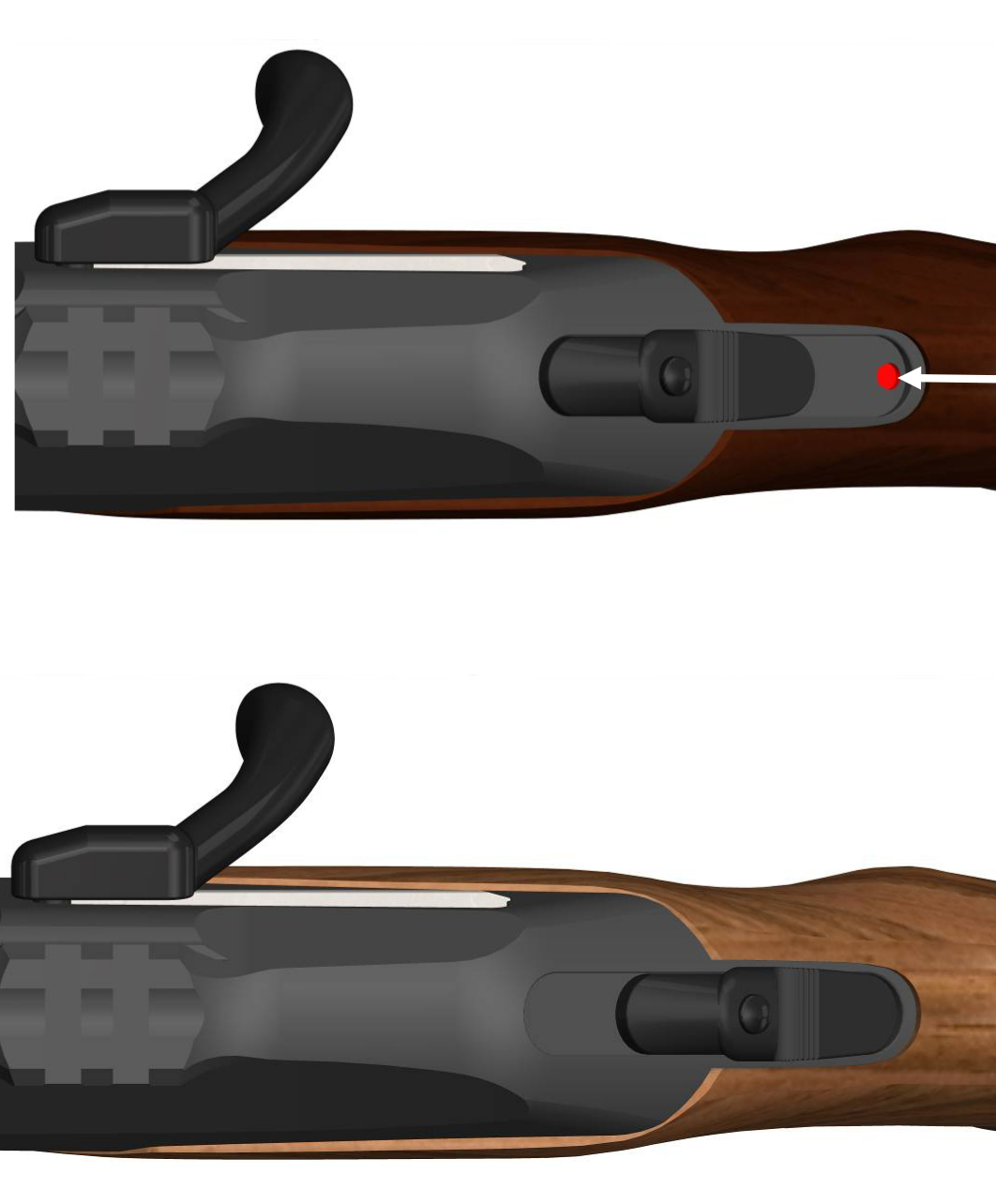 Specifications
Action: Straight pull bolt action with 1:2 gearing to provide short manual bolt operation. Rotating steel bolt head with six locking lugs that lock into the barrel making this a front locking action. Action body made of aluminum alloy with integral Picatinny profile bases. Weaver or Kilic mounts optional. For full information on mounting options click here.
Trigger: Direct trigger adjustable from approx. 900 to 1,900 grams. Optional: TAR-GT trigger smoothly adjustable from approx. 500 to 1,500 grams. Gold plated trigger
Magazine: detachable box magazine, 3 rounds in standard magazine and 5 rounds in extended magazine. Rifle can be loaded with a cartridge in the chamber making the total capacity 3+1 for a standard magazine and 5+1 for an extended magazine.
Barrels: Standard barrel (Ø 17 mm), with or without driven hunt sights. Optional: Semi-weight barrel (Ø 19 mm), fluted barrel, muzzle thread M15x1 with cap. For full barrel options and information click here.
Dimensions: Length 107cm with 56cm barrel fitted. Weight approximately 3kg depending on barrel, stock material, and other fittings.
Options: Extended magazine, Muzzle brake, Merkel Suppressor, Stock key, Harris bi-pod.
Models
Helix Black

The Helix Black is a traditionally styled sporting rifle with blackened action and barrel, and walnut stock in a classic configuration. The Helix Black is available in a range of wood options and is also available with the Lady DS style stock. The Helix Black is fitted with a rubber recoil pad as standard.
You will find the Merkel website page featuring this model if you click here.
Helix Lady DS

The Helix Lady DS features a stock ergonomically designed specifically for women. The Lady DS is available with a range of options including higher grades of walnut. The Helix Lady DS tips the scales at approximately 3kg without telescopic sight or mounts.
You will find the Merkel website page featuring this model if you click here.
Helix Noblesse

The Helix Noblesse is a luxury version of the Lady DS featuring higher grades of walnut, an ebony Schnabel fore-end tip and an accentuated ebony pistol-grip cap. Recoil pad is in the classic sporting style.
You will find the Merkel website page featuring this model if you click here.
Helix Explorer

The Helix Explorer is made with a soft touch synthetic stock for optimum resistance to adverse weather and environmental conditions. The soft touch stock material is designed to provide a good gripping surface even in conditions of extreme cold. The synthetic stock can be exchanged for a walnut one if desired.
You will find the Merkel website page featuring this model if you click here.
Helix Alpinist

The Helix Alpinist is designed for long range open country and mountain hunting. The synthetic stock is available in green or black and features an adjustable cheek-piece as an aid to obtaining a consistent shooting position.
You will find the Merkel website page featuring this model if you click here.
Helix Speedster

The Helix Speedster is made as a hybrid that provides both the ergonomic advantages of the thumbhole stock with an open top to aid quick-action cycling. This model also features an adjustable cheek-piece so the shooter can set the rifle up to suit their personal fit.
You will find the Merkel website page featuring this model if you click here.
Helix Sportster

The Helix Sportster features a traditional style thumbhole stock in wood grades 2, 4 or 5. This is a rifle with a stock designed or stand hunting or accurate longer range shooting. In smaller calibers it would be an ideal fox rifle. In medium and magnum calibers a precision hunting rifle.
You will find the Merkel website page featuring this model if you click here.
Helix Suppressor
The Helix Suppressor is made for suppressor use and comes with a barrel appropriately prepared for the fitting of one. This model can be ordered with a plain synthetic stock or the Alpinist stock with adjustable cheek-piece. Stock colors are green or black. Sound reduction with the Merkel Suppressor is approximately 20 dB(C).
You will find the Merkel website page featuring this model if you click here.
Helix Tracker

The Helix Tracker is made with the professional tracker in mind and is only available in calibers .308 Winchester, .30-06 Springfield, 8x57IS, and 9,3×62. The stock color can be either black "Anthracite" or "Camo Orange". The Tracker comes with a 5 round magazine as standard and is fitted with a 47cm barrel. Rifle weight is approximately 2.9 kg.
You will find the Merkel website page featuring this model if you click here.
Helix Deluxe

The Helix Deluxe comes with grade 7 or higher Turkish walnut and engraving with three animals of the buyer's choice. This model features an ebony Schnabel fore-end tip and ebony pistol grip cap. As can be appreciated in the photograph above the engraving covers the action and magazine floor plate.
You will find the Merkel website page featuring this model if you click here.
Helix Arabesque

Offered with walnut from grade 4 to grade 10 the Helix Arabesque features tasteful engraving on the action, and not on the magazine floorplate. The pistol grip cap has a subtle ebony cap.
You will find the Merkel website page featuring this model if you click here.
Helix Custom

The Helix Custom model is the top of the line RX Helix rifle. This model can be had with a variety of themes and on the Merkel website some of the themes illustrated include "One Thousand and One Nights", "Oryx", "Whom the Moose Calls", "African Dream", "Spirit of the Edelweiss", and "The Predator". Discussion with staff at Merkel will no doubt provide many suggestions for themes for a Helix Custom you might wish to commission.
You will find the Merkel website page featuring this model if you click here.
Conclusion
The Merkel RX Helix has become one of the straight pull sporting rifles by which others are judged. The action with its 2:1 gearing is somewhat more complex than a conventional bolt action rifle: but of course a Porsche automobile is rather more complex than a Toyota sedan. Indeed if we compare rifles to automobiles then the Merkel RX Helix is without doubt in the Porsche class: it is a high performance machine with a strong aesthetic appeal. The Merkel RX Helix also has the distinction of being one of few rifles offered with models specifically designed for women shooters. Additionally the RX Helix can also be had in either right or left hand versions. The Merkel RX Helix appears to have most of the bases covered when it comes to providing a sporting rifle that will suit the needs of most sportsmen and women. Added to that it is one of the fastest straight pull rifles extant.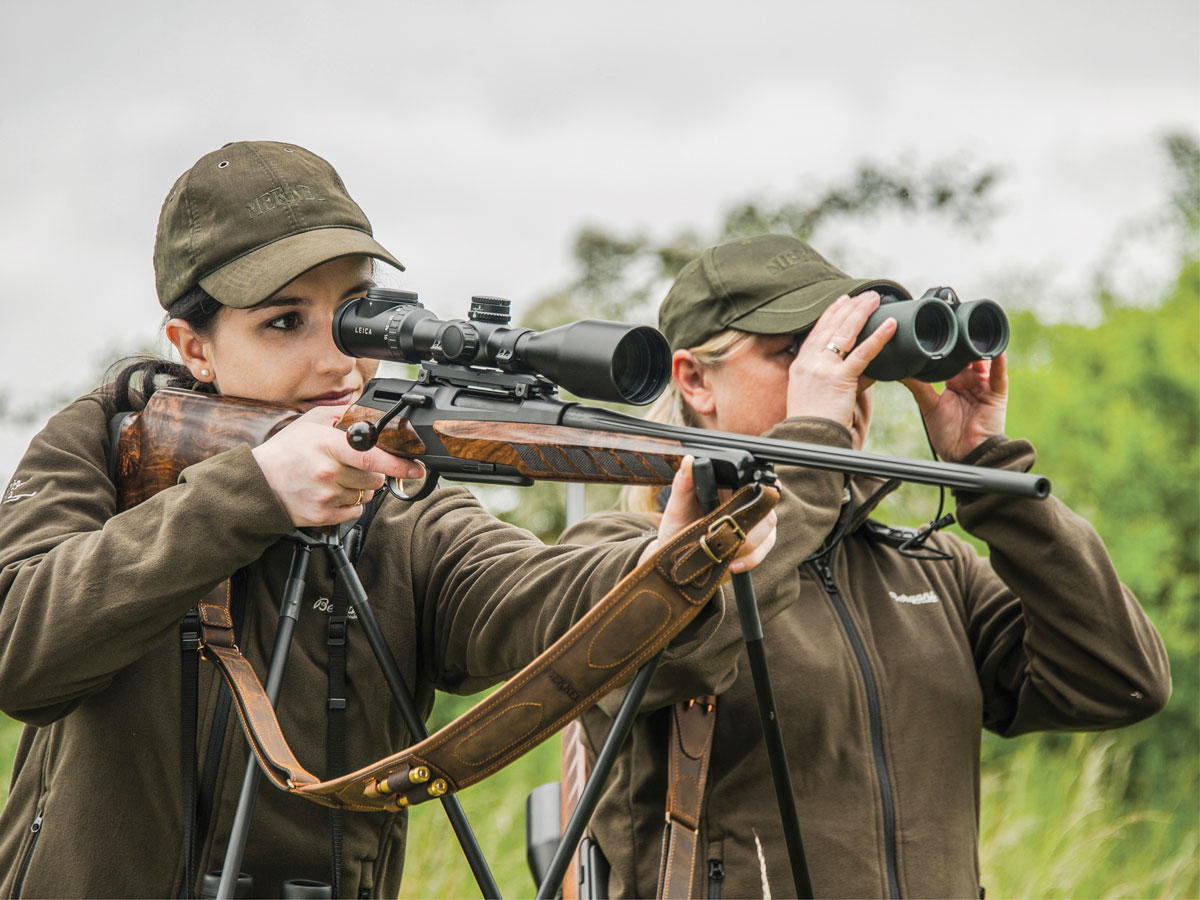 (All pictures courtesy Merkel).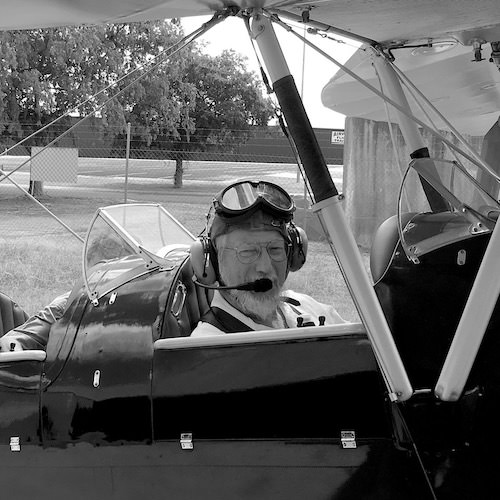 Jon Branch is the founder and senior editor of Revivaler and has written a significant number of articles for various publications including official Buying Guides for eBay, classic car articles for Hagerty, magazine articles for both the Australian Shooters Journal and the Australian Shooter, and he's a long time contributor to Silodrome.
Jon has done radio, television, magazine and newspaper interviews on various issues, and has traveled extensively, having lived in Britain, Australia, China and Hong Kong. His travels have taken him to Indonesia, Israel, Italy, Japan and a number of other countries. He has studied the Japanese sword arts and has a long history of involvement in the shooting sports, which has included authoring submissions to government on various firearms related issues and assisting in the design and establishment of shooting ranges.