Smith & Wesson's No. 3 top break single action revolver was used by lawmen and outlaws and a great many people who were sort of in between from its inception in 1869 right up into the twentieth century. These revolvers made their way to Russia, the Philippines, Japan, Spain, the Ottoman Empire and even way down south to Australia. They likely made it to a lot more places than on that short list. The list of past owners of Smith & Wesson No. 3 revolvers reads like a roll of the "royalty" of America's wild west and includes Billy the Kid, Jesse James, Wyatt Earp (who used one during the OK Corral gunfight with the Clanton gang), Pat Garrett, "Li'l Miss Sure Shot" Annie Oakley, and 26th President of the United States Theodore Rooseveldt. So although in the movies we almost always see hero and bad guy alike armed with a single action Colt "Peacemaker" the revolvers they really carried are far more varied than that.
Theodore Rooseveldt's Smith & Wesson is preserved at the NRA National Firearms Museum.

The Smith & Wesson No. 3 did not start life with the Schofield name attached to it. It began in 1869 although fully entering production in 1870. This was a big departure from the cap and ball muzzle loading revolvers of the American Civil War and interestingly it appears before Colt were able to begin production of their conversion revolvers in 1871-1872 and their "Peacemaker" in 1873: Colt being held back because of patents held by Smith & Wesson. The Smith & Wesson No. 3 a cartridge revolver with all the advantages that provides not only in speedier reloading but also in weather proofing and reliability. If you have never fired a cap and ball revolver and had a cap come off the nipple and fall into the action thus jamming it up then you haven't lived! The speed of reloading the Smith & Wesson No. 3 was unparalleled. The revolver used a break action just like a double barreled shotgun and thus all six chambers were able to be seen and reloaded. Opening the action activated an extractor which pulled the fired cases a distance out of the cylinder so they could be tipped out by tipping up the revolver.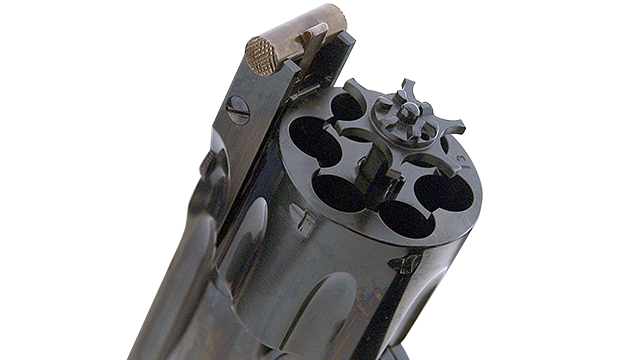 The extractor extracted the cases and then snapped back into place ready for new cartridges to be reloaded. This was a vastly superior system to reloading a cap and ball revolver and this garnered much interest both from the US military and overseas military forces most notably Russia. The Tsar ordered forty thousand of the new revolver but the order was done in stages. The first Russian model which followed the original design and then two variants with modifications ordered by the Russian Ordnance Inspectorate. The revolvers were not supplied in the No. 3's original cartridge the .44 Smith & Wesson American however. Russian General Alexander Gorloff who was the military attaché at the Russian embassy in Washington approached Smith & Wesson early in the revolver's production expressing his government's interest in purchasing quantities of the revolver but expressing reservations about the cartridge it was chambered for. The .44 Smith & Wesson American cartridge was externally lubricated (like .22 rimfire ammunition we see nowadays, especially target ammunition with waxed bullets). General Gorloff understood that this external lubricant would attract dirt and cause functioning problems, so he told Smith & Wesson to create an internally lubricated .44 caliber cartridge. Smith & Wesson must have had a "what a good idea" moment and the new cartridge was created and came to be known as the .44 Russian.
The Russian contract proved to be disastrous for Smith & Wesson however. The Russian government decided to defer paying for revolvers supplied, and then they cancelled their order leaving Smith & Wesson with a lot of revolvers manufactured and no sale. The Russians had realized that they could get their own arms factory at Tula to manufacture Smith & Wesson's No. 3 more cheaply and so they simply made their own copies.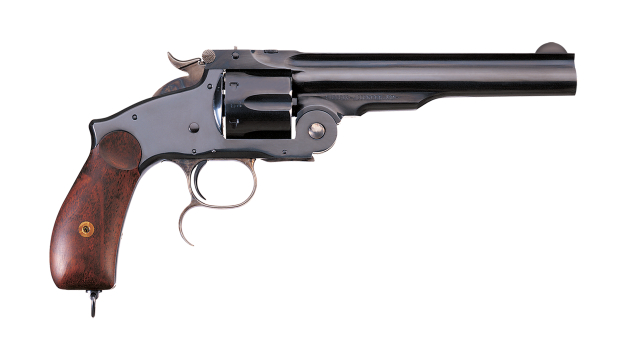 One interested US military man was Major George W. Schofield who asked for a revolver to evaluate it for cavalry use. Major Schofield suggested a number of improvements which were incorporated into the revolver in 1875. Significant in Major Schofield's modifications was the changing of the top break latch to a frame mounted stirrup type latch so it could be operated by the thumb, thus making it easier to manipulate whilst on horseback.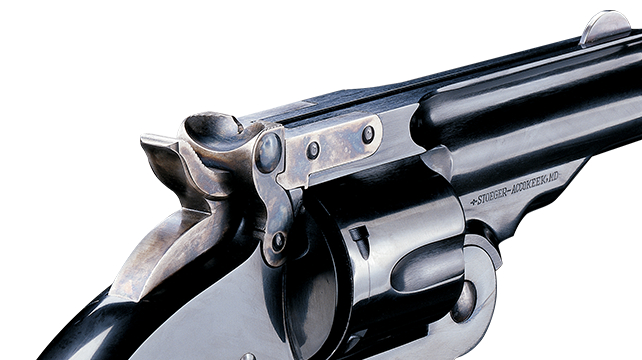 It was Major Schofield's modifications that attracted the interest of the US military. They had purchased a thousand of the original revolvers in the .44 Smith & Wesson American cartridge but were not impressed. It was not until Major Schofield's changes were made to the design in 1875 that the US Army decided to order Smith & Wesson No. 3 revolvers in the then standard .45 Colt chambering. This was problematic for Smith & Wesson as the cylinder of the No. 3 was not long enough to accommodate the .45 Colt cartridge. Rather than creating a new revolver with a longer cylinder Smith & Wesson simply created a shorter .45 cartridge that would chamber in both their No. 3 and the 1873 Colts the Army had in .45 Colt. The cartridge was designated the .45 Schofield. The army were not impressed and standardized on the 1873 Colt single action in .45 Colt. This is how we come to have the idea of the ".45 Long Colt" There actually isn't such a thing, the term was coined simply to differentiate between the .45 Colt and the shorter .45 Schofield.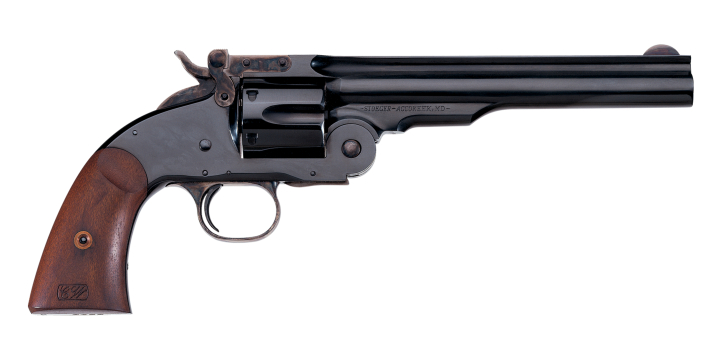 Uberti make their replicas of the Smith & Wesson No. 3 revolver in both the Russian contract and Schofield variants with either blued or Nickel plated steel finish and in barrel lengths of 7′, 6½", 5″ and a handy little 3½". Calibers available are .38 Special, .44 Russian, 44-40 and 45 Colt.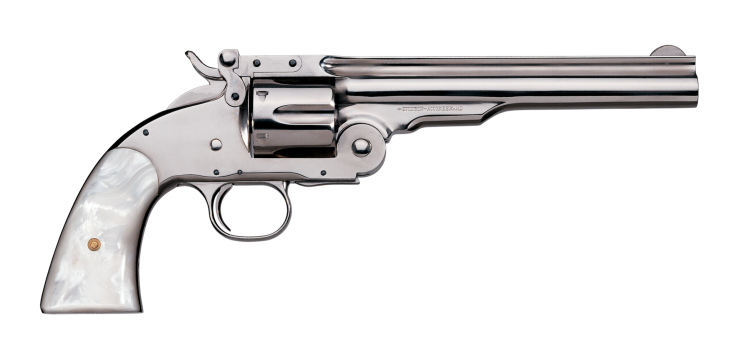 The Uberti replicas of the Smith & Wesson No. 3 Russian and the 1875 2nd model provide an affordable opportunity to own and use one of these interesting revolvers that were just as much a part of the forging of the American west as the Colt Single Action. They are an excellent choice for Cowboy Action shooting and equally at home down in Australia where "Cowboy Action" shooting has been locally re-modeled to become "Colonial Action" shooting. The Smith & Wesson No. 3 was used in Australia by police in the States of South Australia, Western Australia and New South Wales so it's just as much a part of the story of the forging of Australia as a nation as it was in the forging of the United States as a nation.
You will find these Uberti replicas of the Smith & Wesson No. 3 at Uberti's website if you click here.
You will find the Uberti manual for these replicas if you click here.
You can also enjoy hickok45 shooting one below.

(
All pictures courtesy Uberti
).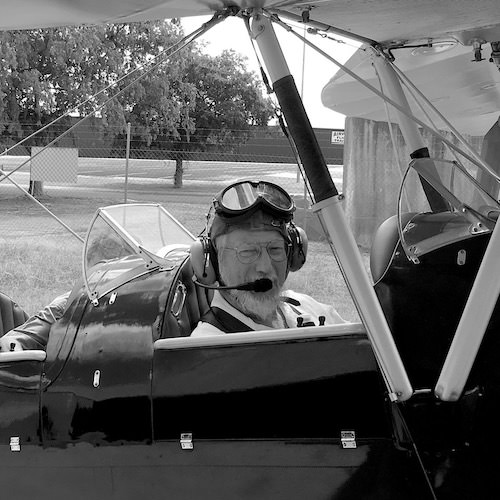 Jon Branch is the founder and senior editor of Revivaler and has written a significant number of articles for various publications including official Buying Guides for eBay, classic car articles for Hagerty, magazine articles for both the Australian Shooters Journal and the Australian Shooter, and he's a long time contributor to Silodrome.
Jon has done radio, television, magazine and newspaper interviews on various issues, and has traveled extensively, having lived in Britain, Australia, China and Hong Kong. His travels have taken him to Indonesia, Israel, Italy, Japan and a number of other countries. He has studied the Japanese sword arts and has a long history of involvement in the shooting sports, which has included authoring submissions to government on various firearms related issues and assisting in the design and establishment of shooting ranges.