It looks like the car that Kermit the Frog should drive. The British called it the "Frogeye" Sprite, while across the pond in the United States they settled on "Bugeye": but a Sprite by any other name is still as sweet. The Austin-Healey Sprite was made to be affordable fun, plain and simple. While Donald Healey's other sports cars had been predominantly expensive but utterly gorgeous machines, the Sprite was designed to be a sports car that an ordinary guy or girl could buy and enjoy: it wasn't made to be a stylish status symbol, it was made for enjoyment.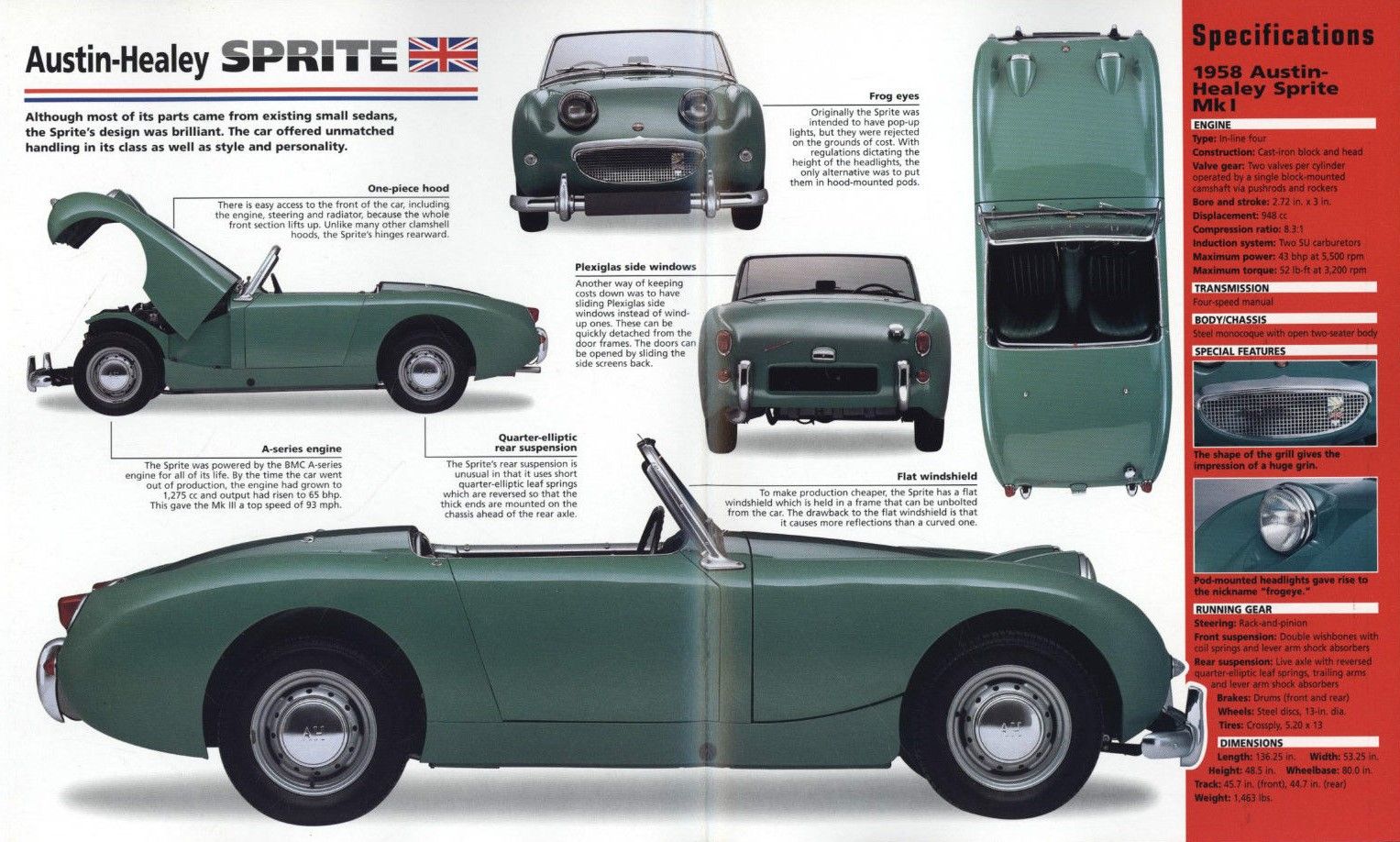 The Austin-Healey Sprite was conceived in the mid-late 1950's after the success of Donald Healey's "Healey 100", which had brought him into partnership with British car maker Austin to make what would have been a low volume production specialist sports car into a mass produced sports car that would become stylish transportation for the famous and glamorous, like Sacha Distel and Brigitte Bardot, and for people who just enjoyed the excitement the "big Healey" provided.
The Sprite, unlike the Austin-Healey 100 and its successors, was made to be inexpensive, and something "a chap could keep in his bike shed", yet still be enormous fun. The car was based on parts that Austin/Morris already had in production; the OHV 948cc 43 bhp  engine was the same basic one used in the Morris Minor 1000 and Austin A35 family cars but with twin 1⅛" SU carburetors. The four speed gearbox with synchromesh on the top three gears was also used in Austin/Morris passenger cars as was the rear axle and differential.
Front suspension was independent with a lower "A" arm while at the rear was a quarter elliptic leaf spring and live axle. The unibody was semi-monocoque having two front chassis legs protruding from the passenger compartment.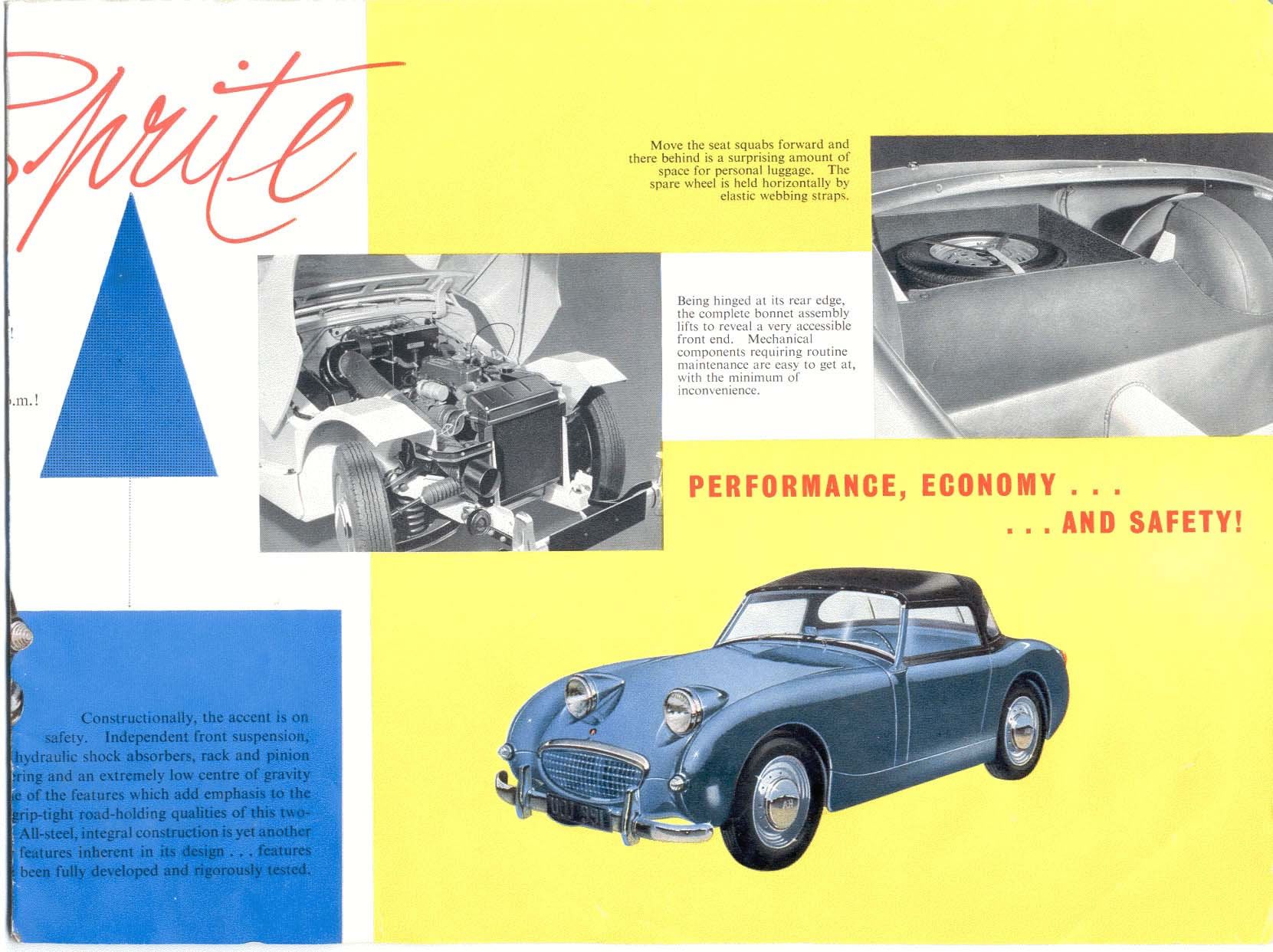 The Sprite was designed by Barry Bilbie with the body styling done by Gerry Coker. The original plan had been for the headlights to retract by laying down backwards but the car was to be a budget model and the budget didn't allow for such luxurious items as retracting headlights. The budget didn't allow for an opening boot/trunk lid either and so although the Mark I Sprite had quite good capacity for soft luggage the space could only be accessed by folding the driver and passenger seats forward and then putting the gear in the cavernous space behind the seats. Getting luggage out again has been described as being rather like "caving" or "potholing" as the British prefer to call it.
Performance of the Sprite Mark I was of course not startling on paper; standing to 60mph could be achieved in 20.5 seconds, about twice as long as a "big Healey". Top speed was almost 83mph, but fuel consumption was exemplary at 43 miles of fun to the Imperial gallon (or 36 miles of fun to the US gallon). The figures don't do justice to the sheer enjoyment factor of this little car however and owners will attest that once the "Bugeye" bites you you'll want to own one and enjoy it often.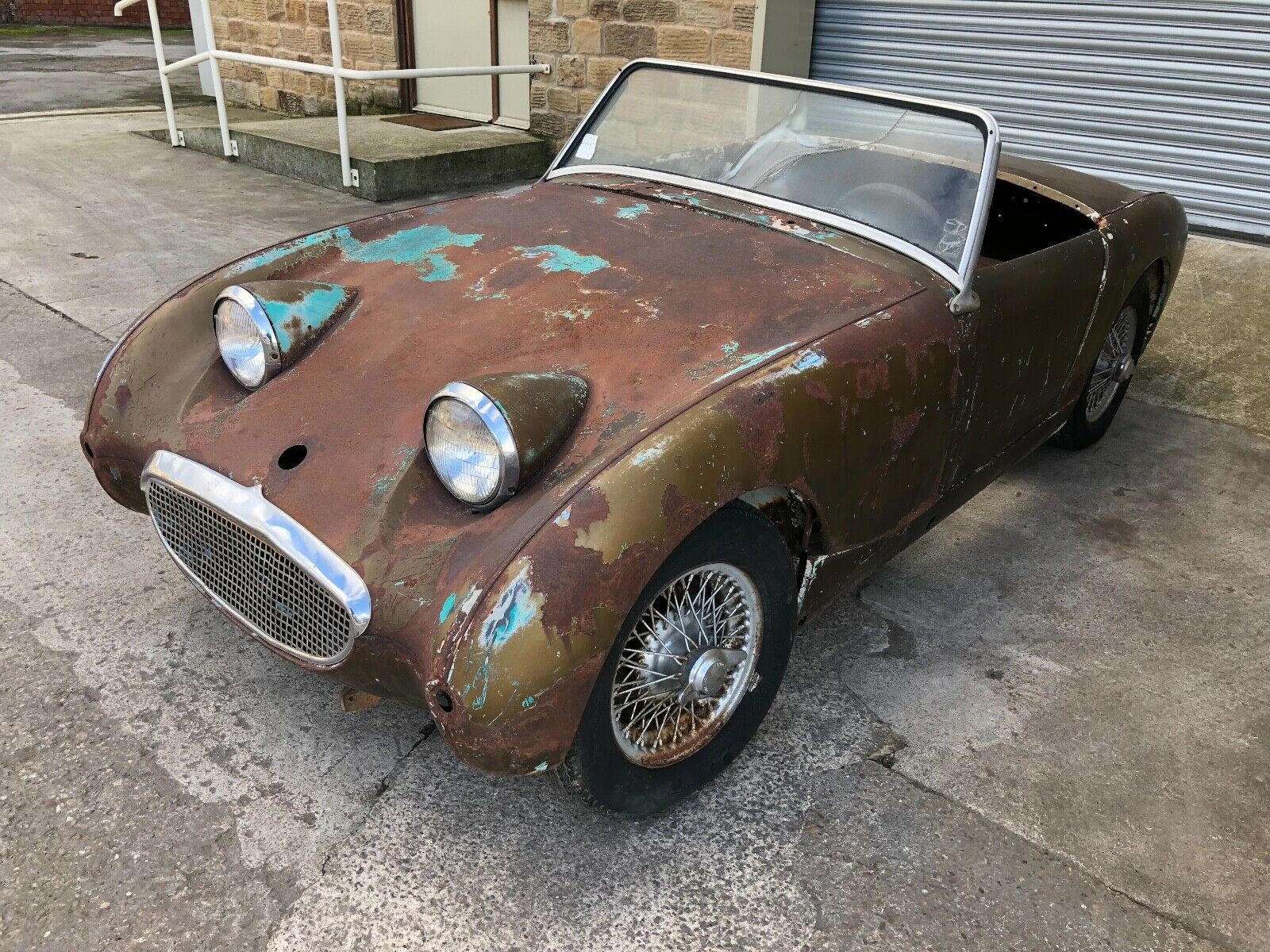 Austin-Healey Sprite Mark I cars pop up from time to time in varying conditions of Tender Loving Care, or lack thereof. There is a barn find currently on eBay which might be worth a look if you are hoping to be bitten by the Frogeye Bug. It has a certain amount of rust visible and the vendor says it has been sitting in a barn for over forty years.
You can find that Barn Find car on eBay UK if you click here.
An Austin-Healey Sprite Mk 1 could be a fun project. The car is not horribly difficult to take apart and could be rebuilt into whatever your vision for it might be. They always were a hobby car, designed for enjoyment both in the workshop and on the road, or track.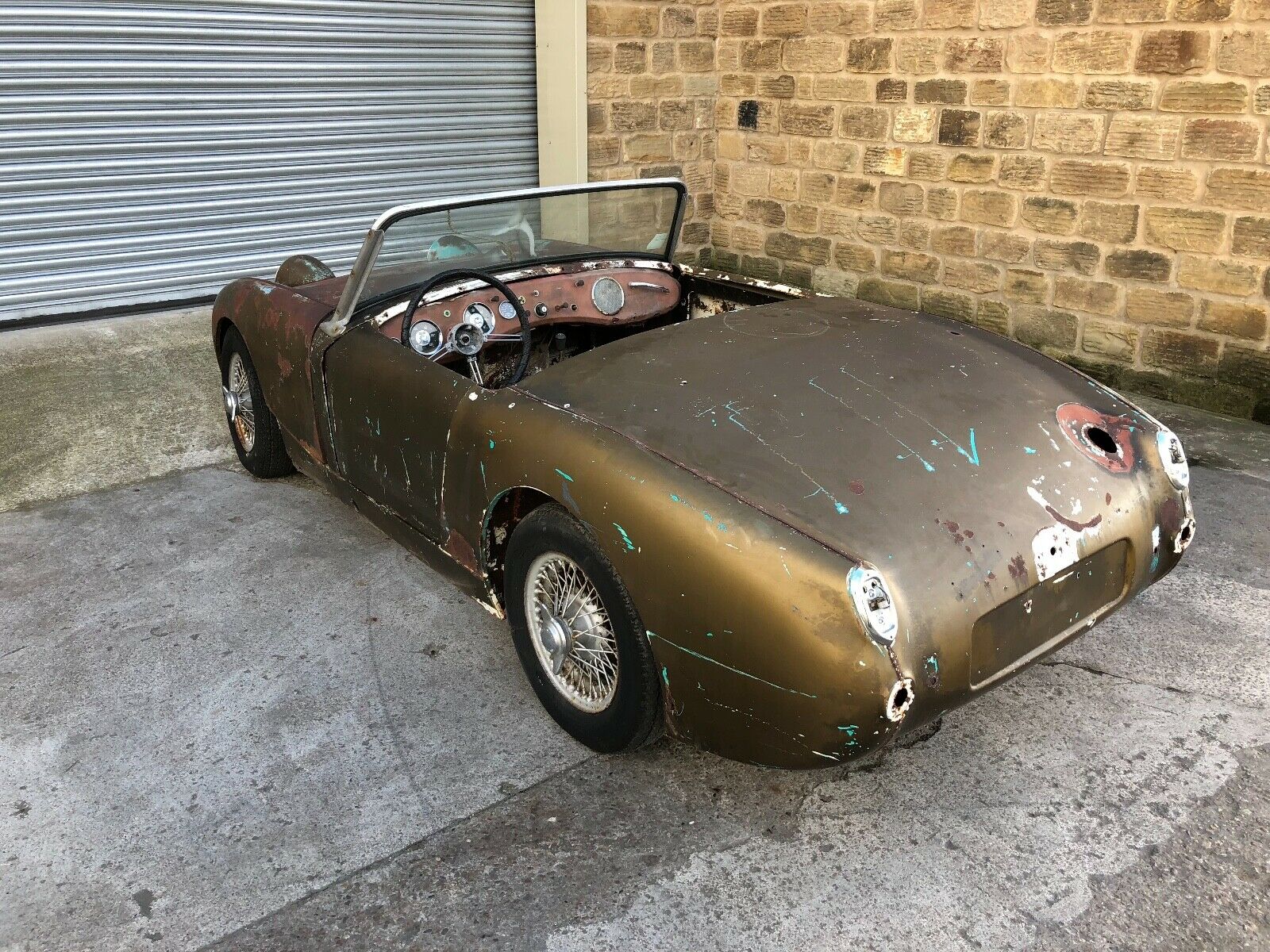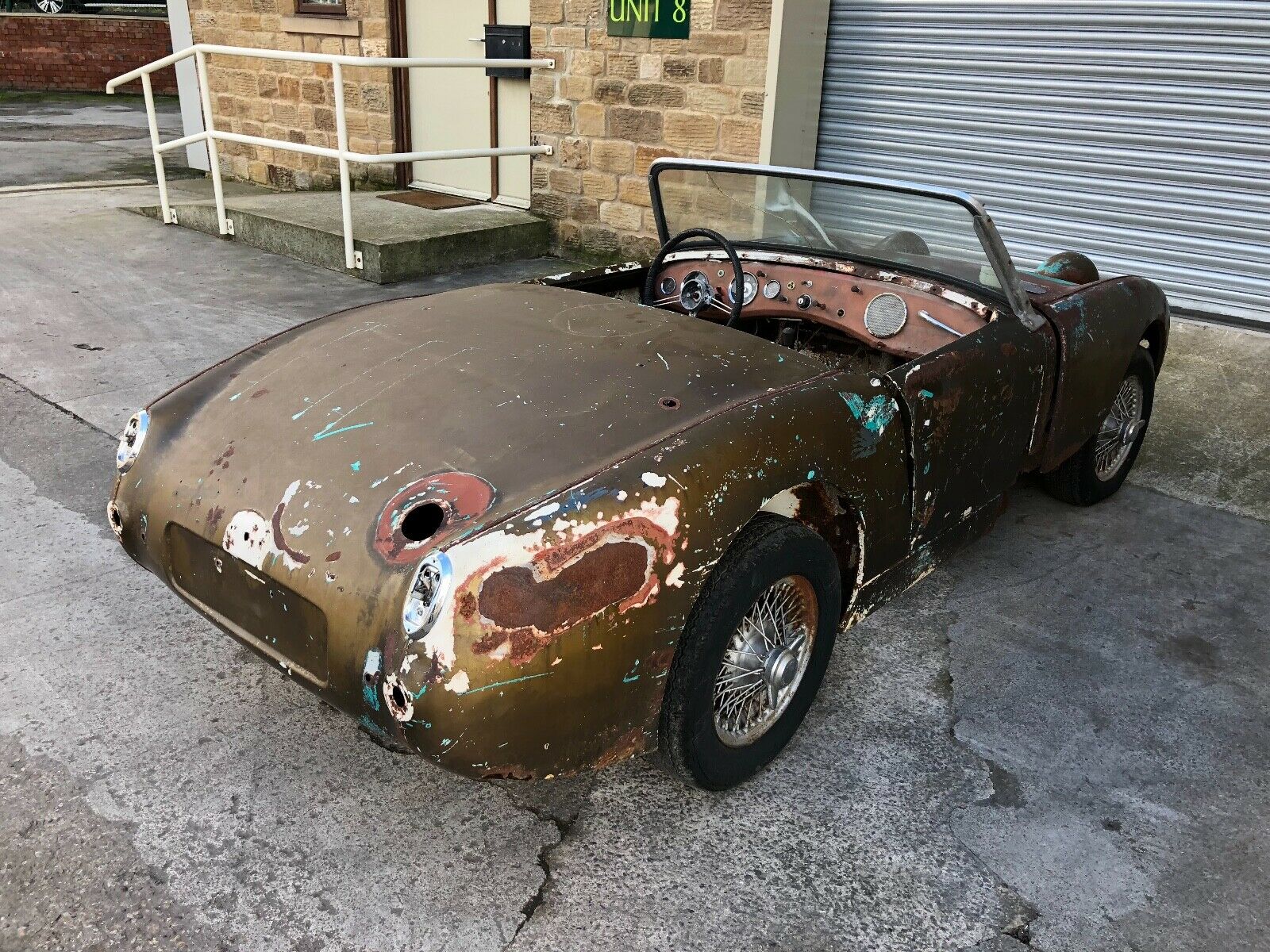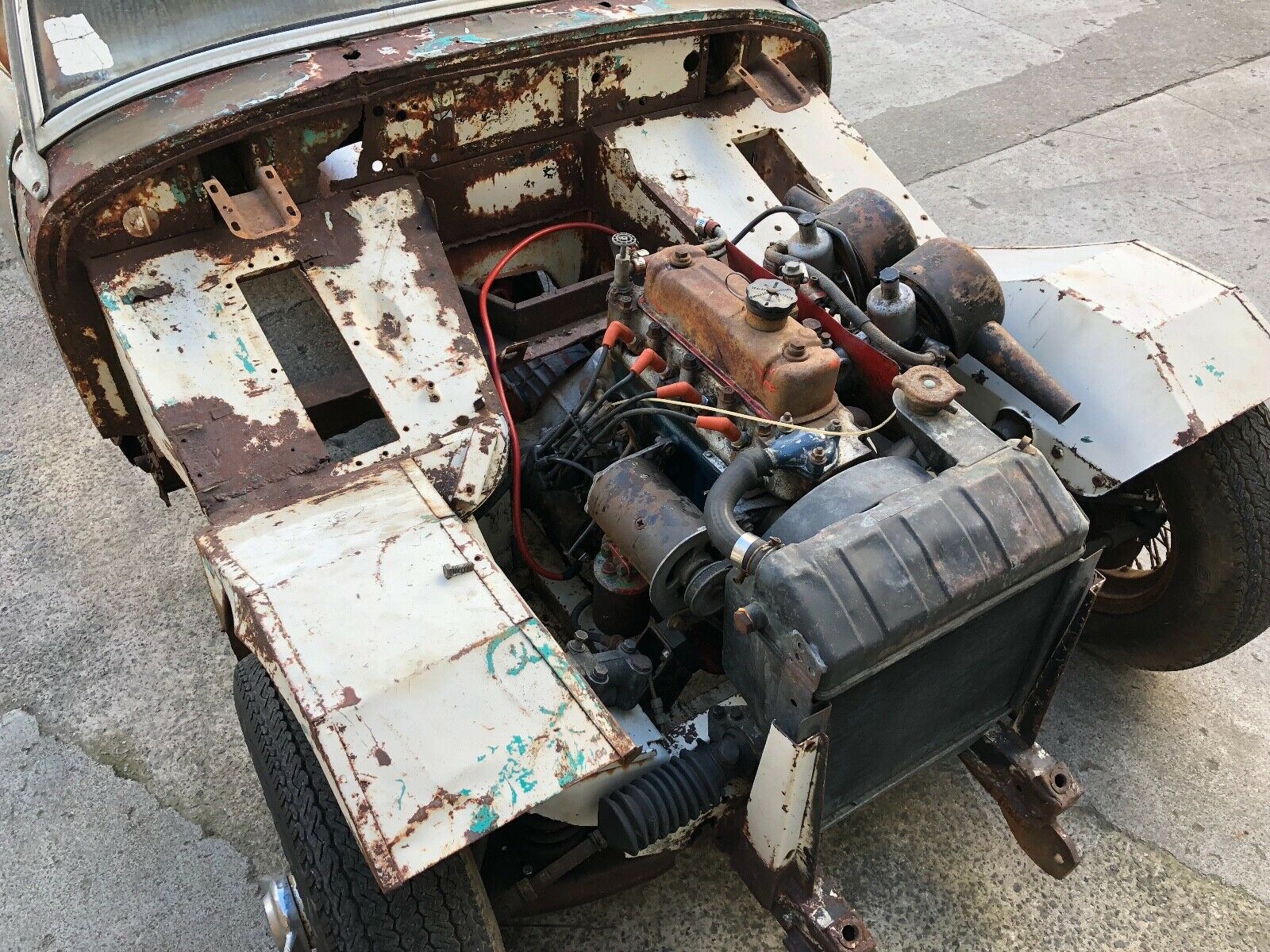 Picture Credits: Austin/Morris BMC, eBay UK.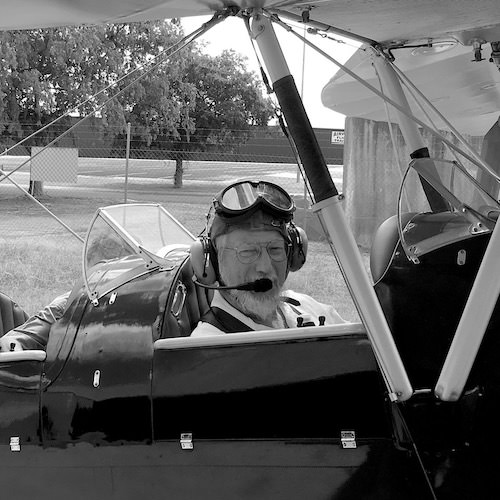 Jon Branch is the founder and senior editor of Revivaler and has written a significant number of articles for various publications including official Buying Guides for eBay, classic car articles for Hagerty, magazine articles for both the Australian Shooters Journal and the Australian Shooter, and he's a long time contributor to Silodrome.
Jon has done radio, television, magazine and newspaper interviews on various issues, and has traveled extensively, having lived in Britain, Australia, China and Hong Kong. His travels have taken him to Indonesia, Israel, Italy, Japan and a number of other countries. He has studied the Japanese sword arts and has a long history of involvement in the shooting sports, which has included authoring submissions to government on various firearms related issues and assisting in the design and establishment of shooting ranges.