To Produce the Finest Single Action Revolver
Standard Manufacturing make an ambitious claim for their Single Action Revolver: they state "Never before in history has an effort been put forth to produce the finest single action revolver." The original Single Action Army revolver of 1873 was designed by William Mason and Charles Brinckerhoff Richards for the United States government service revolver trials of 1872, a decade after the death of Samuel Colt, and it was successful in being the revolver chosen as the standard US Army revolver. The Single Action thus became known as the "Single Action Army" (SAA) revolver and was manufactured by Colt's Patent Firearms Manufacturing Company for whom Mason and Richards both worked at that time. Thus the revolver was known as the Colt Single Action Army Model 1873 and it earned for itself a reputation for reliability and dependability: not only among the soldiers of the US Army who carried them and used them in active service, but also among British Army officers who chose to purchase a Colt Single Action Army revolver as their personal side-arm, and of course with the often larger than life people of the American "Wild West" where the Single Action Army earned itself the name "Peacemaker" – a reference to its ability to ensure that a "difficult" person was made to "Rest in peace".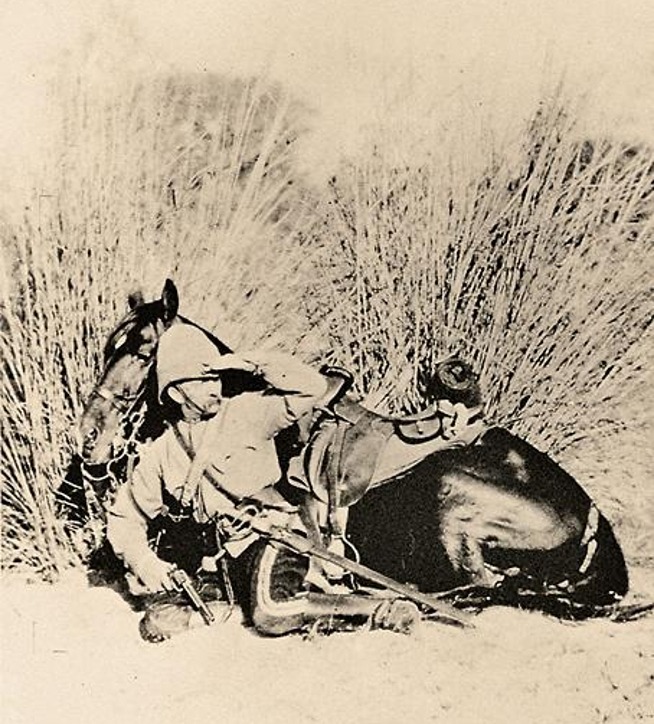 Back in that period the Colt Single Action Army revolver faced significant competition from revolvers made by other manufacturers such as Smith & Wesson in the United States, and the likes of Webley & Scott and Tranter of Britain, and from various other makers especially those of the gun making centers of Belgium. So it would be reasonable to say that when Colt made Single Action Army revolvers they needed to strike a balance between the manufacturing quality invested into each gun, and the price that they could reasonably expect to charge for each gun. Colt's emphasis was thus on providing guns that were excellent value for money, and that were revolvers you could trust your life to.
Times have changed, and the Colt Single Action Army revolver of 1873 was officially retired from US Army service between 1892-1902 but has remained in production since then for the civilian market, and it has proved to be a revolver that has etched itself into American culture and has become a sought after collector's item. Not only that but with the advent of Cowboy Action shooting it has become a "must have" item for most people involved in that sport.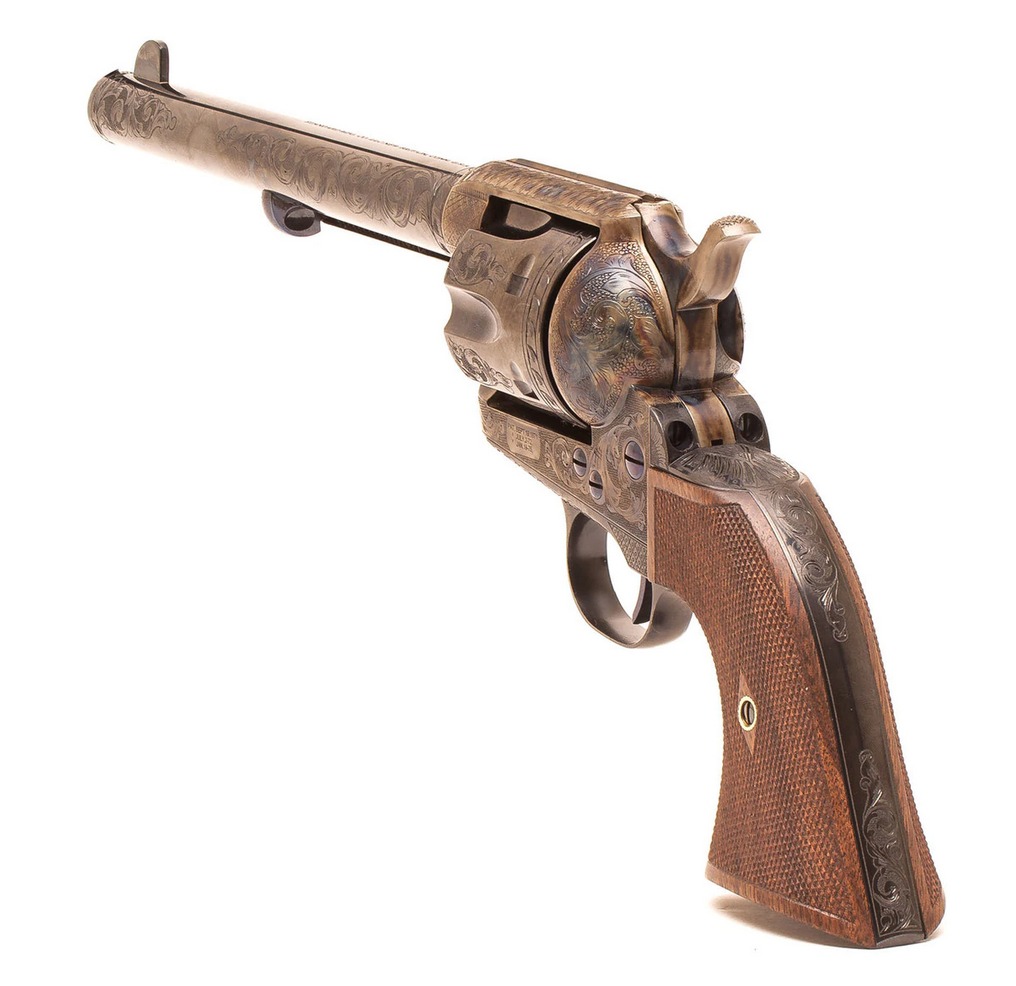 What we have seen emerge for the Cowboy Action revolver market has been a number of Italian gunmakers manufacturing "clones" of the original 1873 Single Action Army style revolver of varying degrees of design accuracy and of reasonable quality, making them affordable to most people. But it is arguably true that none have actually sought to manufacture "the finest single action revolver" regardless of price. So, Standard Manufacturing are arguably the first in history to set about accomplishing that, as they claim.

Standard Manufacturing not only have the ambition to manufacture "the finest single action revolver" but they also have the great advantage of setting about accomplishing this in this twenty-first century and so have available to them steel of unrivaled quality, machinery that Mason and Richards would have loved to have had, and staff with a great depth both of gunsmithing experience, and of skills, knowledge and experience in making the single action revolver.

The Standard Manufacturing single action revolvers are made in the USA at their New Britain, Connecticut workshop using machined 4140 steel. No cast or metal injection parts are used: and they state that they are the only manufacturer of single action revolvers who can make this claim. Their design is faithful to the originals but they have not attempted to make a clone of one of the various generations of the Colt Single Action Army but instead have incorporated the most desirable features from the original designs. So not only are these revolvers made to be superior in workmanship, they are also made to incorporate the most desirable design features found in the original generations of Colt made Model 1873 single action revolvers.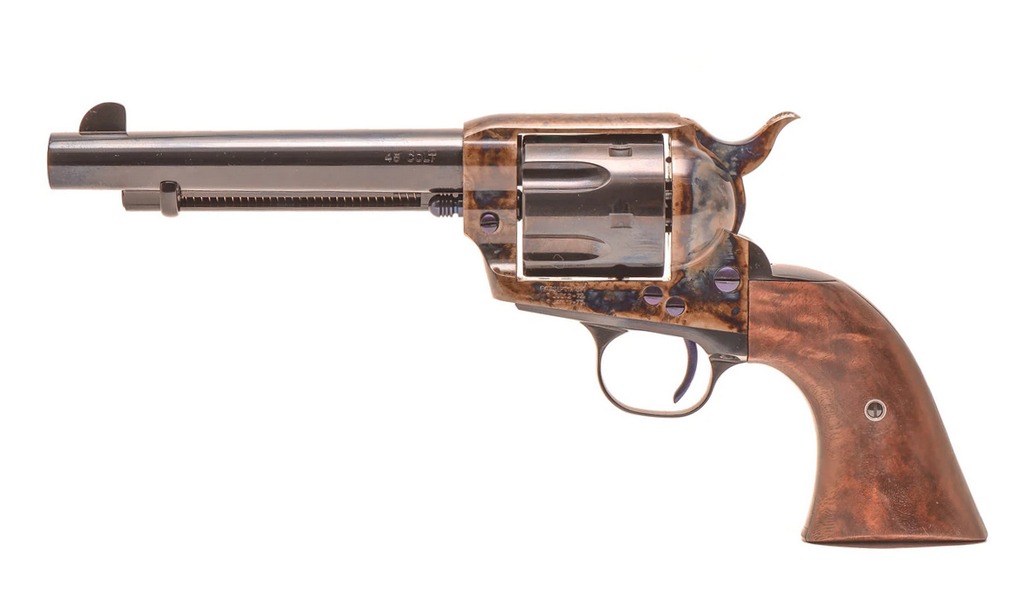 Thus, what Standard Manufacturing are making are single action revolvers made to the highest standard and these revolvers are faithful to the original designs: no transfer bar, no floating firing pin, and when you cock the hammer you get the distinct four clicks that mark a revolver made according to the original design. So, just like the originals, this is a revolver you only load five rounds into in the "load one, skip one, load four, go to full cock, and lower the hammer on the empty chamber" routine.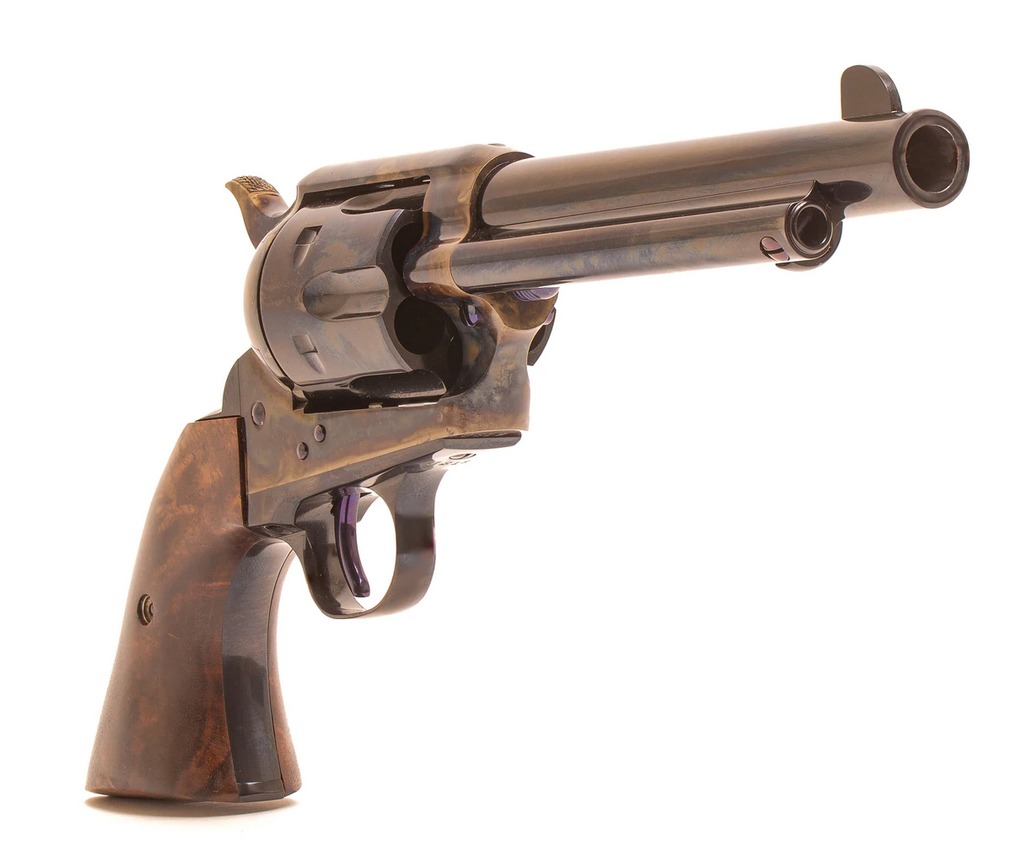 Does it get any better? As a matter of fact yes it does. As can be appreciated from the pictures of these superb revolvers the frame and hammer are given a traditional bone and charcoal case hardened finish. Case hardening of this type is rare and normally only found on custom guns and it is rare indeed to find a manufacturer who applies this finish to both frame and hammer.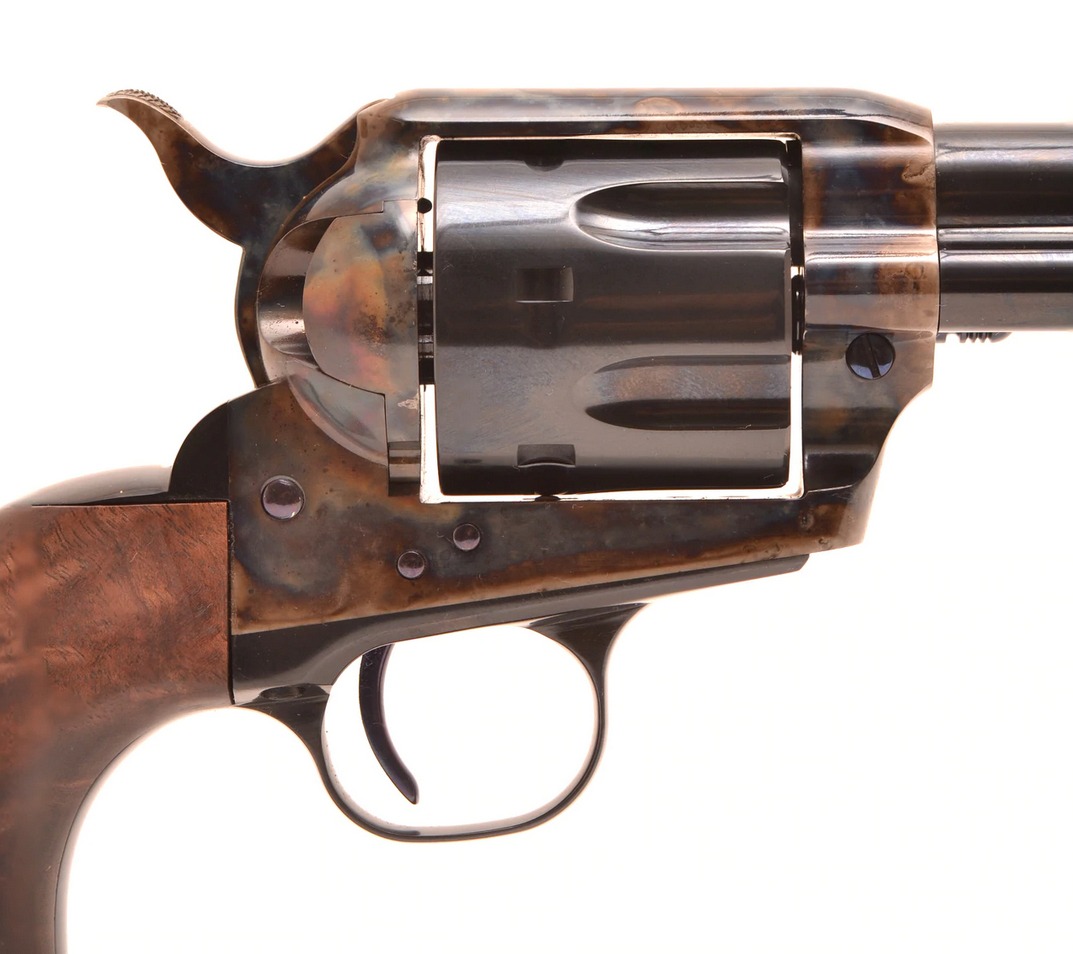 Consistent with the quality of these revolvers the blueing has a deep sheen that speaks of the conscientiousness of the workmanship imparted into these revolvers. So when Standard Manufacturing's President Louis Frutuoso states "There's nothing held back on these guns. All the parts are machined, and everything is built to a meticulous high standard. We have set out to build the finest single action available at any price." it is apparent that he means exactly what he says.
Models
Standard Manufacturing have six models of their single action revolver available for sale via their website.
Standard models are supplied with two piece Turkish Walnut grips, and one piece grips are available as an option as are checkered two piece grips. Turkish Walnut has a character of its own: typically it tends to be quite dark with subtle grain and figure. This is the type of wood used by Winchester on their Super Grade Model 70 rifles which have Grade 4/5 Turkish Walnut, and on the examples I have seen, and the one I own, this is a very attractive and durable timber.
Single Action Revolver .45 Colt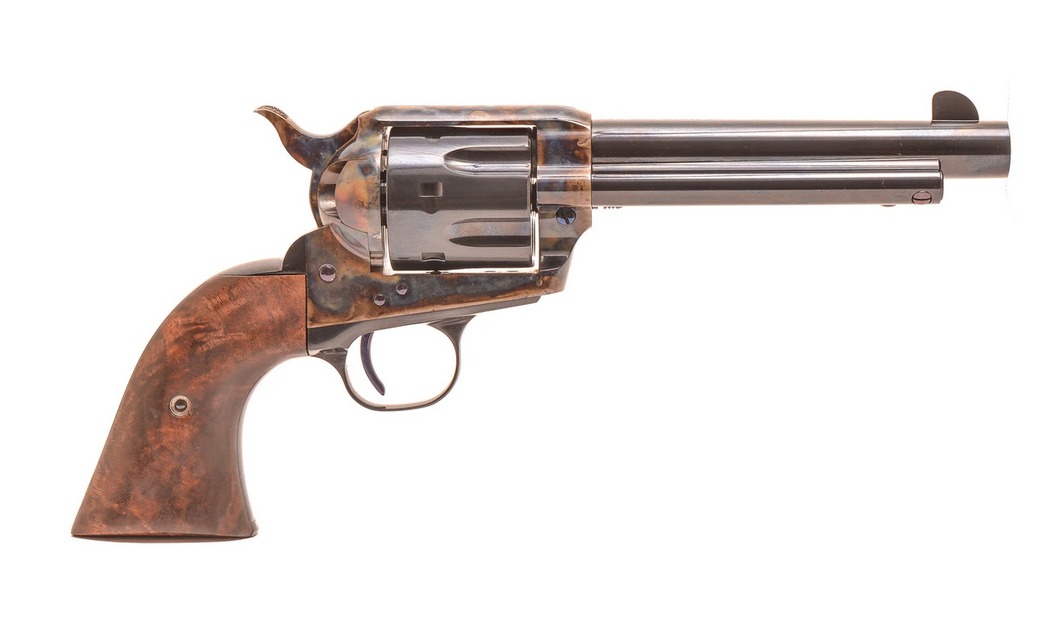 This is the standard model single action revolver made by Standard Manufacturing. The frame is bone and charcoal color case hardened while the barrel, cylinder, and metal parts are deep blued. The crowning glory is that all screws and pins are fire blued.
This revolver is offered with choice of 4¾ inch, 5½ inch or 7½ inch barrel: and the standard stock can be upgraded to a fancy wood one piece or two piece checkered at extra cost.
You will find this revolver on the Standard Manufacturing website if you click here.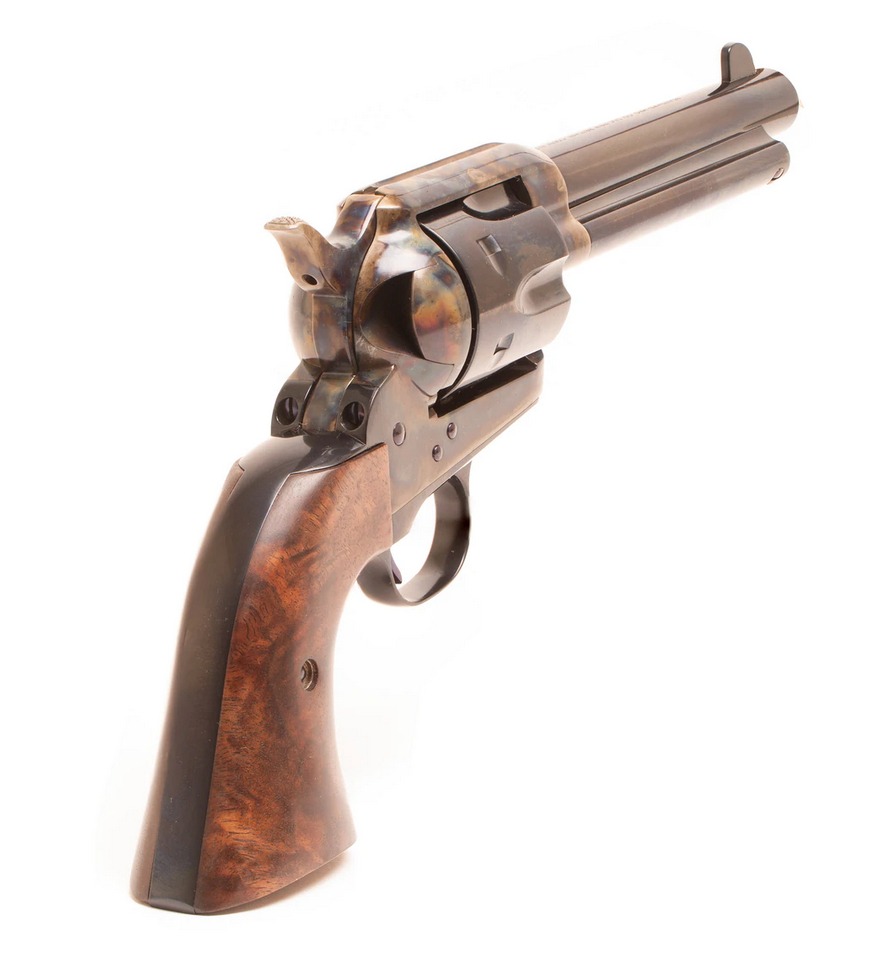 Single Action Nickel Plated Revolver .45 Colt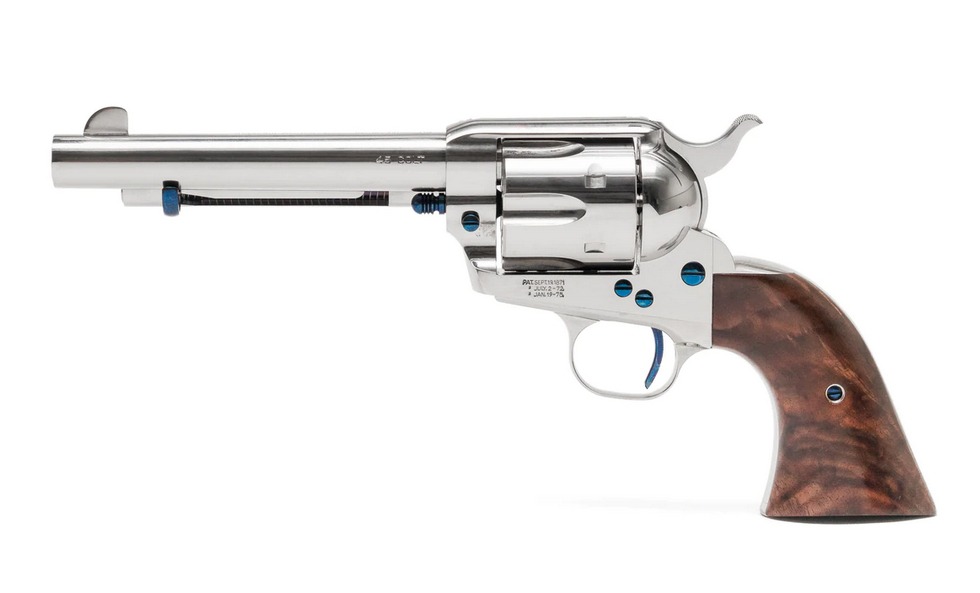 For those who prefer a nickel finish Standard Manufacturing offer their single action revolver with a traditional nickel finish complimented by fire blued screws and pins. Stock and barrel options for this model are the same as for the case hardened and blued standard revolver. So if you wanted something like the "Long Branch" revolver one of these with a 4¾ inch barrel would do nicely.
You will find this model on the Standard Manufacturing website if you click here.
Single Action Revolver .38 Special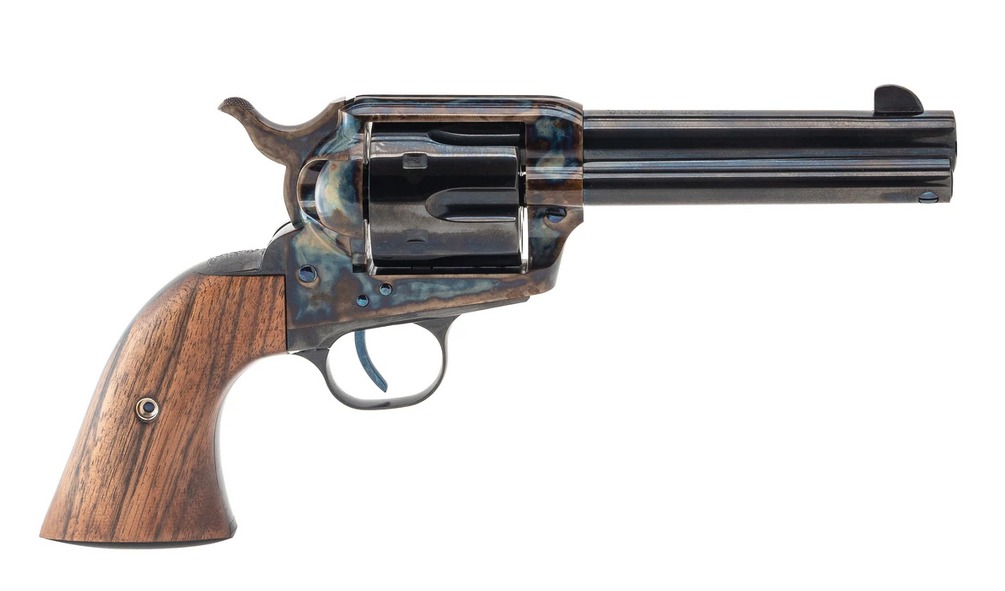 Standard Manufacturing make most of their revolvers chambered for the .45 Colt cartridge but they make one model chambered for the popular .38 Special. This cartridge dates from 1898 so it appeared at the end of the "Wild West" period during the transition from black powder to smokeless powder.
Although many will want their revolver in the older and more traditional .45 Colt there will be others who prefer the .38 Special for various reasons. Among those may be shooters who live in jurisdictions where the revolver will be easier to license if it is chambered for .38 Special. Australia is one example of this. In Australia handguns are heavily controlled and while a .38 Special revolver will be considered to be chambered for a standard caliber a .45 Colt will be regarded as "High Caliber" and subject to more difficult licensing requirements.
The Standard Manufacturing .38 Special single action revolver is only available with the 4¾ inch barrel with standard case hardened and blued finish, and with standard grips. It looks to be a beautiful revolver that should be accurate, with mild recoil, and a delight to shoot.
You will find this revolver on the Standard Manufacturing website if you click here.
Single Action Revolver Nickel Plated C-Coverage Engraving .45 Colt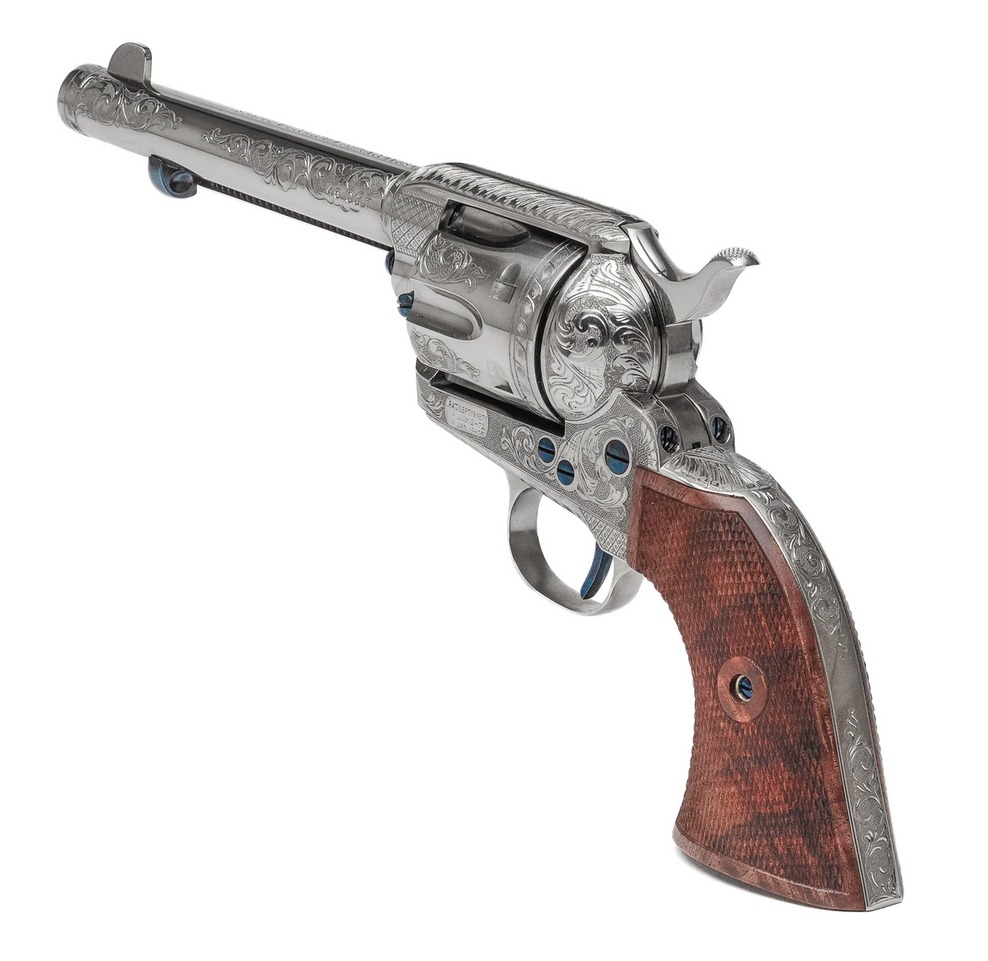 Two of the Standard Manufacturing single action revolvers are made with C-Coverage (75%) engraving and the first of these is nickel plated. This model is offered with choice of 4¾, 5½ or 7½ inch barrel and is supplied standard with two piece checkered grips.
This is an heirloom or presentation standard revolver and you will find it on the Standard Manufacturing website if you click here.
Single Action Revolver C-Coverage Engraving .45 Colt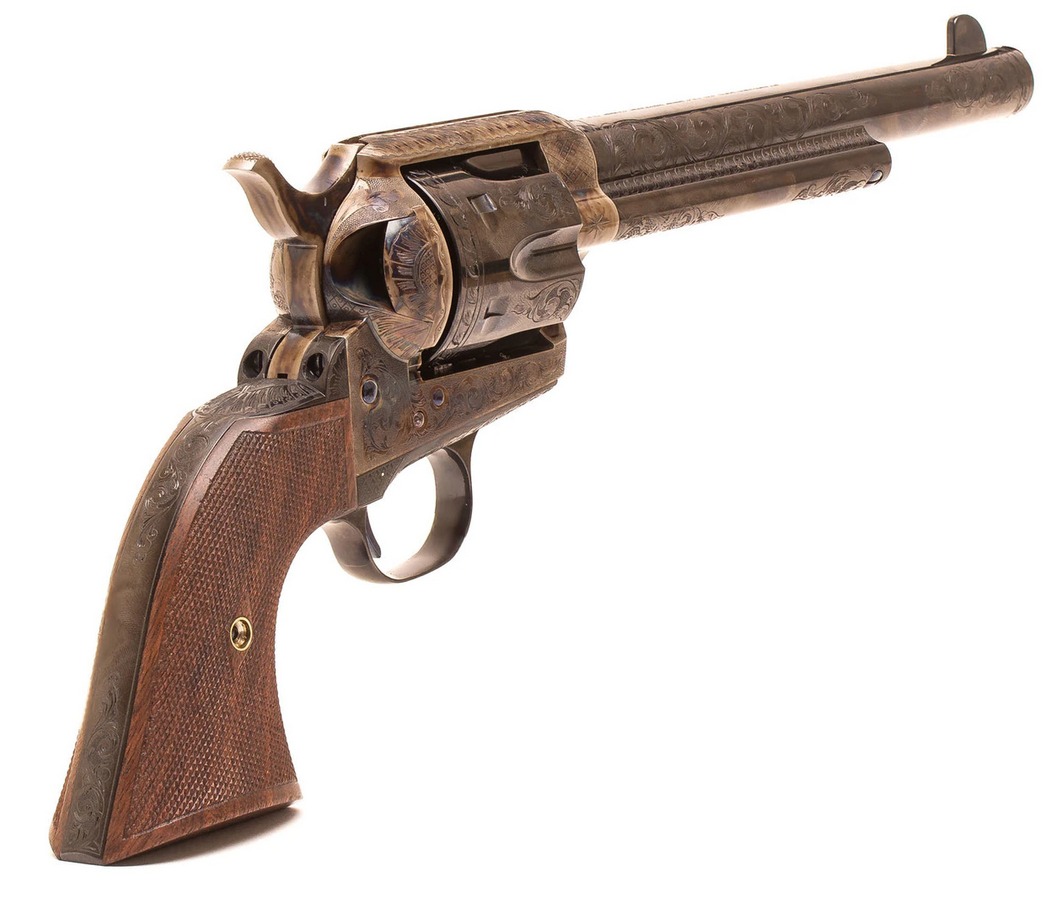 For those preferring their engraved revolver to have a blued and case hardened finish Standard Manufacturing provide a C-Coverage engraved model that is conservative and utterly beautiful: a revolver that can be enjoyed and then passed on to one's children or grandchildren when the time comes for them to inherit it.
You will find this model on the Standard Manufacturing website if you click here.
Single Action Target Model .45 Colt

Last but not least is the Standard Manufacturing Single Action Target Model chambered for the .45 Colt cartridge. This model sports a 16 inch barrel and is fitted with an adjustable rear sight and fixed front sight.
The frame is bone and charcoal case hardened, the barrel, cylinder and metal parts are deep blued, screws and pins fire blued, and the grips are one piece walnut.
You will find this model on the Standard Manufacturing website if you click here.
Conclusion
Standard Manufacturing have made the bold claim that they have set out to make the finest single action revolver. Using twenty-first century 4140 machined steel and the sophisticated tools available at this time in history it looks like they have succeeded. If you are looking for a traditional single action revolver of the highest quality then you owe it to yourself to have a good look at the Standard Manufacturing revolvers. They are expensive by comparison with the foreign made replica revolvers in the shops, but they are remarkably good value as a best quality American made gun. To me these exceptional Standard Manufacturing revolvers look to be excellent value and perfectly aimed at the segment of the market where customers are looking for the best.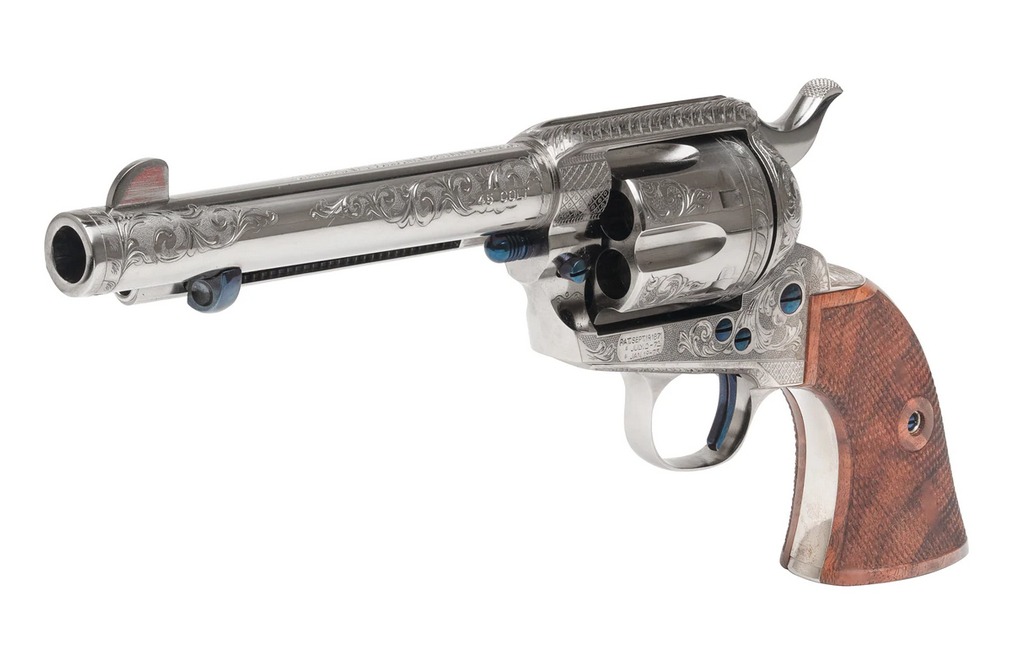 Picture Credits: All pictures courtesy Standard Manufacturing except where otherwise noted.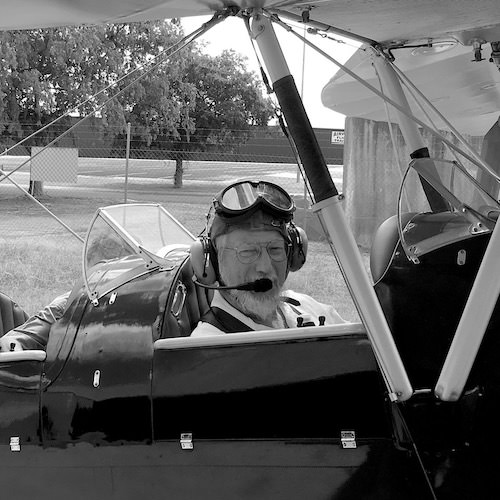 Jon Branch is the founder and senior editor of Revivaler and has written a significant number of articles for various publications including official Buying Guides for eBay, classic car articles for Hagerty, magazine articles for both the Australian Shooters Journal and the Australian Shooter, and he's a long time contributor to Silodrome.
Jon has done radio, television, magazine and newspaper interviews on various issues, and has traveled extensively, having lived in Britain, Australia, China and Hong Kong. His travels have taken him to Indonesia, Israel, Italy, Japan and a number of other countries. He has studied the Japanese sword arts and has a long history of involvement in the shooting sports, which has included authoring submissions to government on various firearms related issues and assisting in the design and establishment of shooting ranges.