The first Shelby Cobra, chassis number CSX2000, is coming up for sale in August 2016. Back in 1961 AC cars of Thames Ditton, in the county of Surrey in Britain were making their own range of small production sports cars on a tubular steel frame with aluminum body panels hand formed on English Wheeling machines. AC were making three models, the AC Ace, Aceca and the 2+2 hard top coupé the AC Greyhound. American racing driver and sports car enthusiast Carroll Shelby was familiar with AC and their cars but, being American, what he really wanted was an AC Ace with a nice big American V8 engine in it. Something that would comfortably leave the fashionable new Jaguar XKE behind.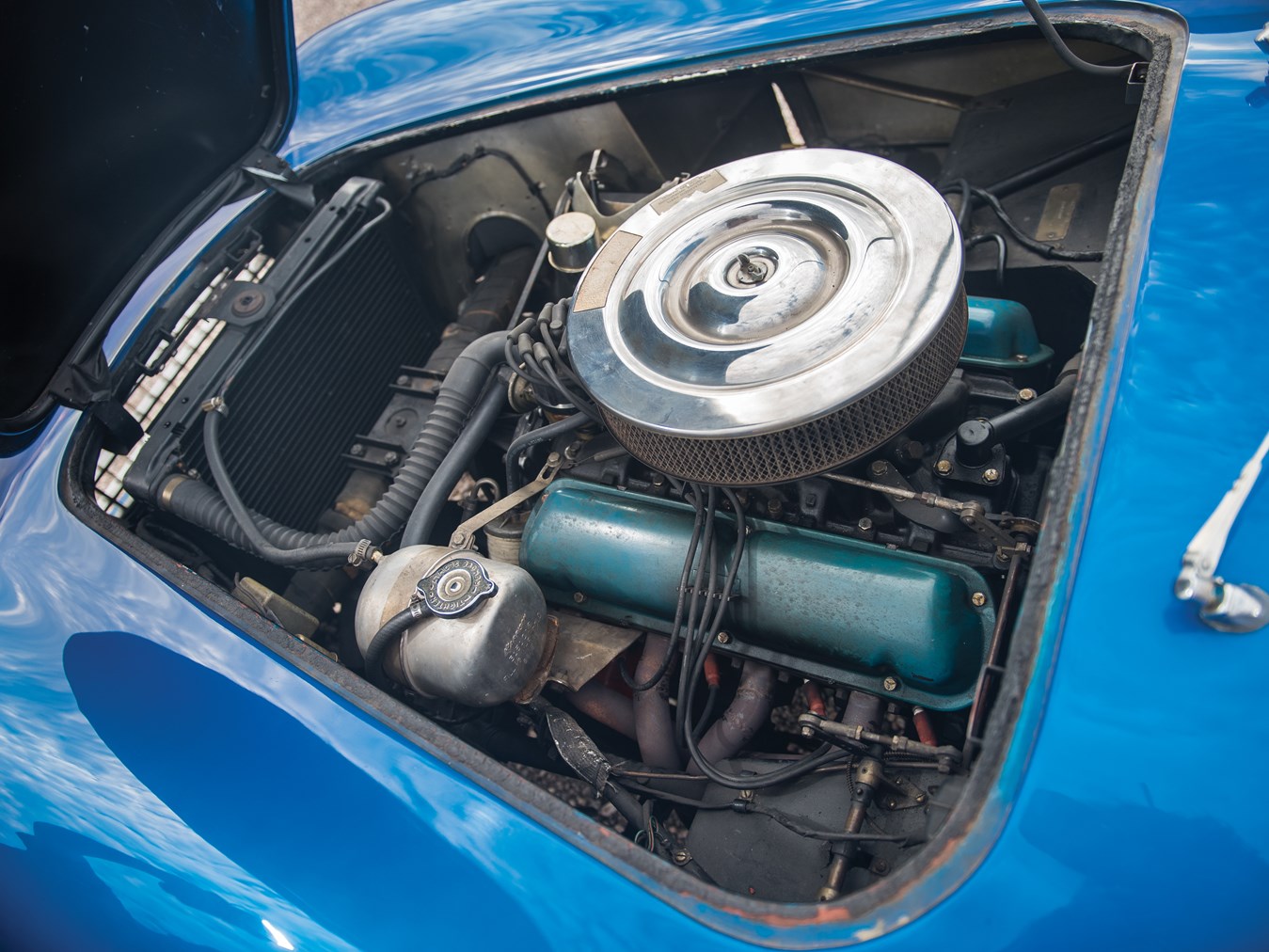 At that time the AC Ace was powered by a Bristol in-line six cylinder engine that had originally been a pre-war BMW design. The BMW/Bristol engine was 2.0 liters capacity, produced 120bhp and could accelerate the car to 60mph in around nine seconds whilst carrying it on to a top speed of 116mph. To put that performance in perspective a stock standard Datsun 510 with the 1600cc engine properly tuned will pretty much match both that acceleration and top speed. But the AC Ace with its fully independent suspension with transverse leaf springs and lightweight body would be capable of much more if only it had a more powerful power plant under the hood. AC Cars were beginning to fit a 2.6 liter Ford Zephyr six cylinder engine to make the car quicker, it was a conservative British move that suited the conservative environment in Britain.
Carroll Shelby was of course not a conservative Brit, he was a V8 loving American and he contacted AC Cars and asked if they would custom make him an AC Ace that he could fit an American V8 into? AC Cars said yes, if a suitable V8 could be found. At first Carroll Shelby approached GM for a small block Chevrolet engine, but Chevrolet were in the sports car business and they didn't want some guy in a cowboy hat making a sports car that was faster than their Corvette. They were still basking in the glory of their Le Mans class win and they didn't want anyone to spoil that. So Carroll Shelby went to Ford. Ford were not in the business of making sports cars, at least not yet, and they were happy to provide their V8 Windsor engine in 260 cu in (4.3 liters) for the nice man in the cowboy hat to put in his sports cars, they provided him with two of them.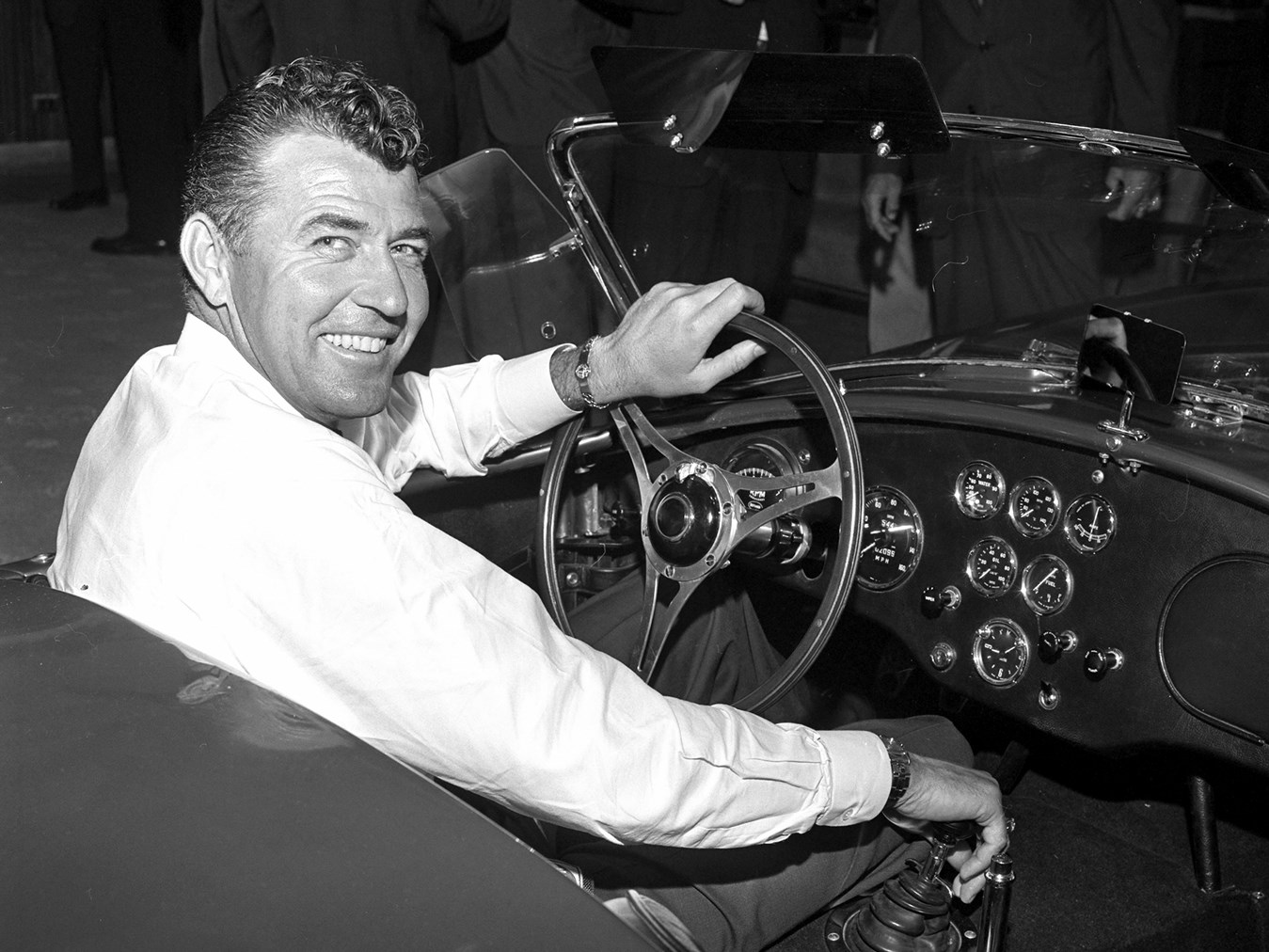 AC cars were allowed to borrow a Ford 260 cu in Windsor V8 from Ford in Britian to enable them to fit it into a modified AC Ace. Once done they removed the borrowed engine and sent it back, and shipped the AC Ace to Carroll Shelby. It took Shelby and his team just eight hours to fit one of their two V8's in it and then to discover just how good this little car was going to be.  Prior to creating the car for Carroll Shelby AC Cars had already begun prepping the Ace for the larger Ford Zephyr six cylinder engine that they were planning to fit as their replacement for the old Bristol/BMW unit. This had included a new differential, the Salisbury 4HU with in-board disc brakes, the same differential and rear in-board disc brake assembly as used in the Jaguar XKE.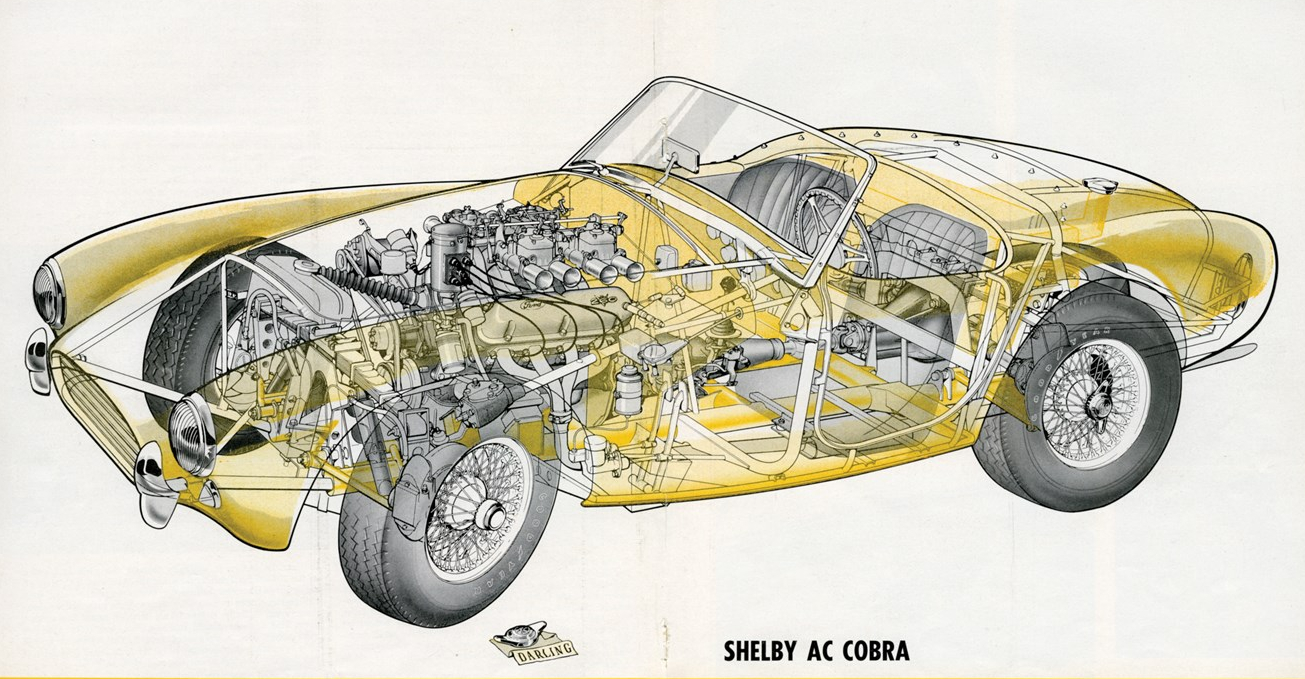 The performance improvements speak for themselves. In Road and Track magazine's test in 1962 the car did a standing to 60mph in 4.2 seconds, standing quarter mile in 13.8 seconds by which time it was doing 112mph, and a top speed of 153mph, just a tad faster than a Jaguar XKE and I can near guarantee that the Cobra sounded better also.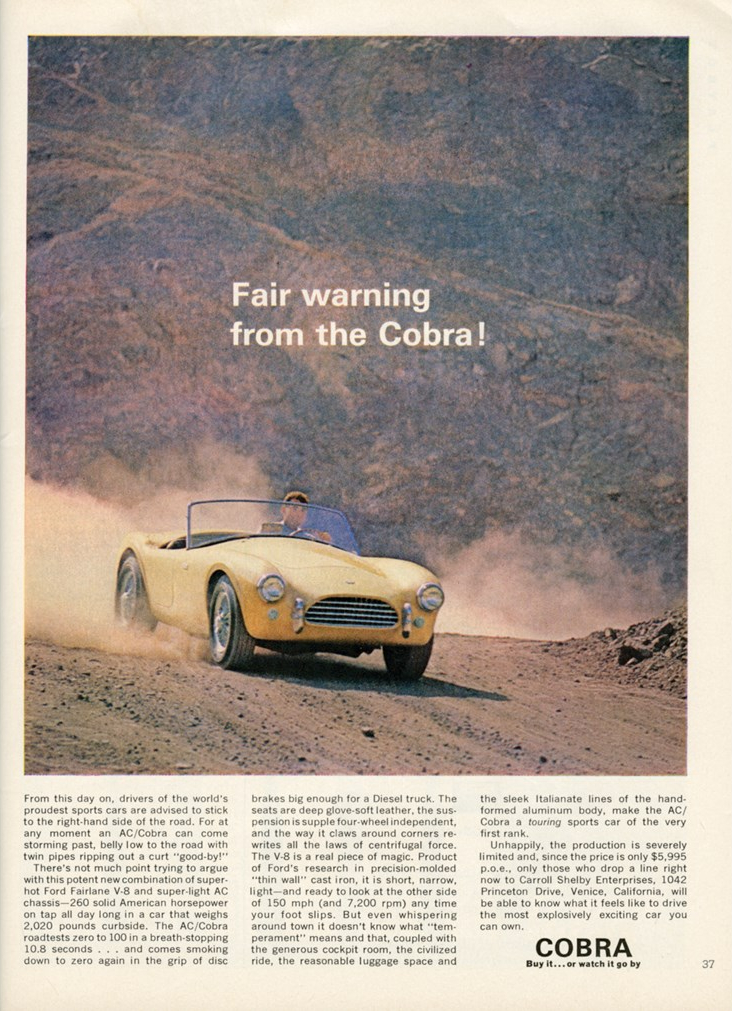 At first Carroll Shelby only had one car, chassis number CSX2000. But he didn't want the car buying public to think he only had one car. He wanted people to think he had a running production line. So that one car was repainted a different color every time it came back from a magazine road test or a display. CSX2000 must have been the most painted car in automotive history.

This first AC Shelby Cobra with all her colorful history (literally) is the car coming up for auction by RM Sotheby's at their Monteray Auction to be held over 19th-20th August 2016 at the Portola Hotel & Spa, Monterey, California. The car is so original that the driver's seat, which Carroll Shelby forbade anyone to repair, is still in its original "heavily patinated" condition.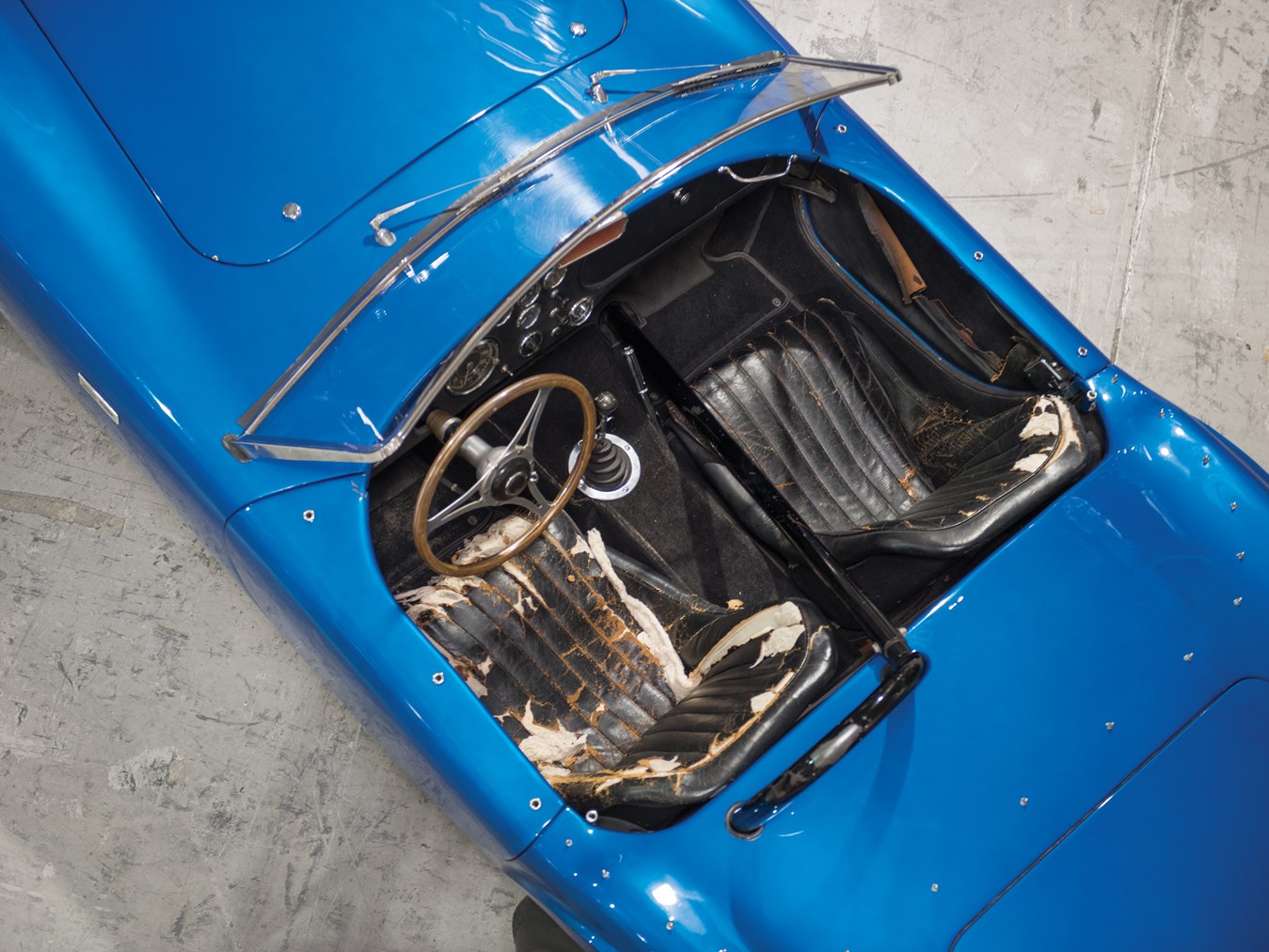 You will find the sale page for the car if you click here.
This car is about as iconic as a car can get. It is the centerpiece of the Shelby Cobra story, the foundation upon which the whole legend was built. And it is a car that remained in Carroll Shelby's ownership for its entire life up until he passed away in 2012.
The car that began the legend. It doesn't get better than that.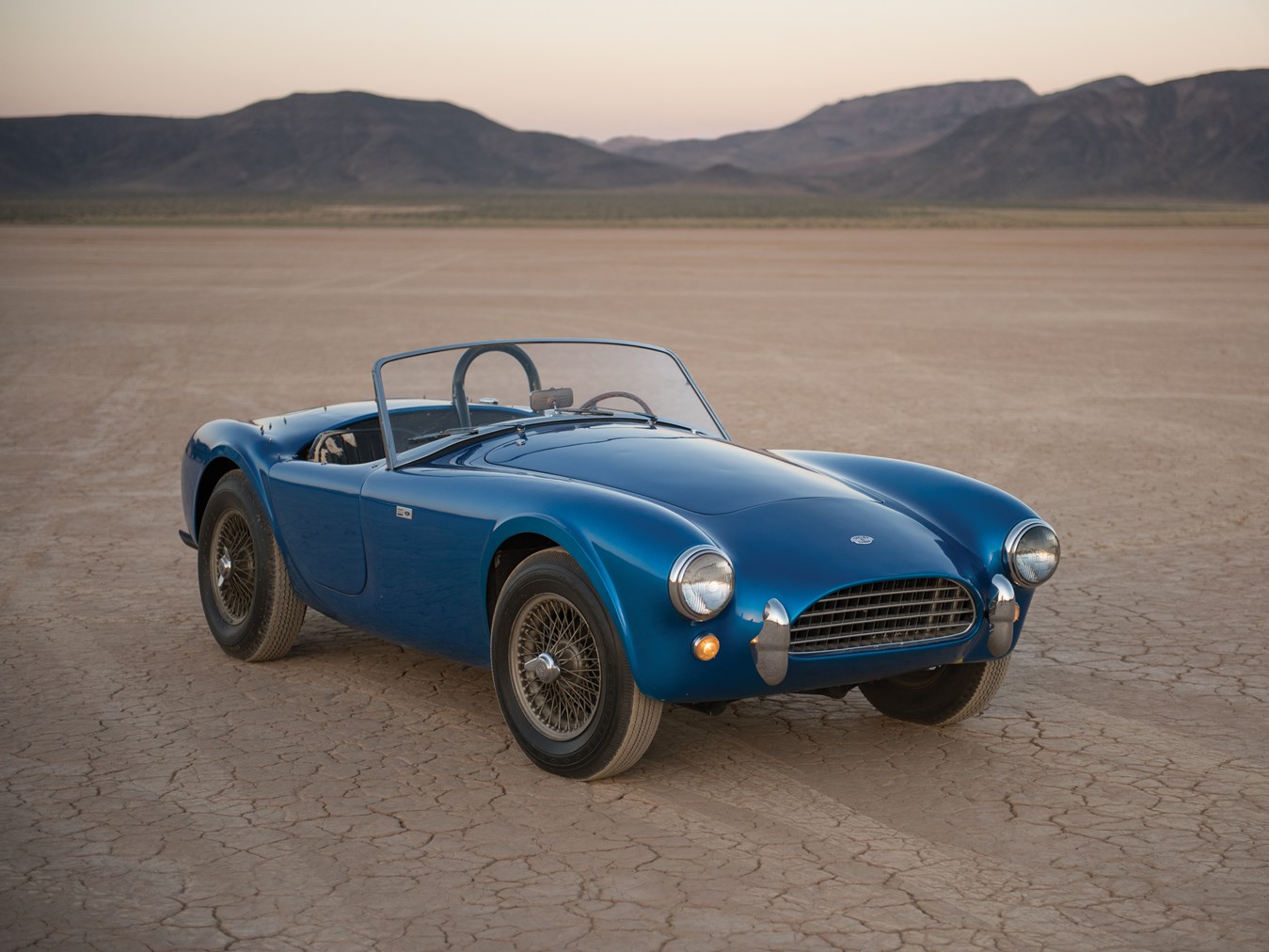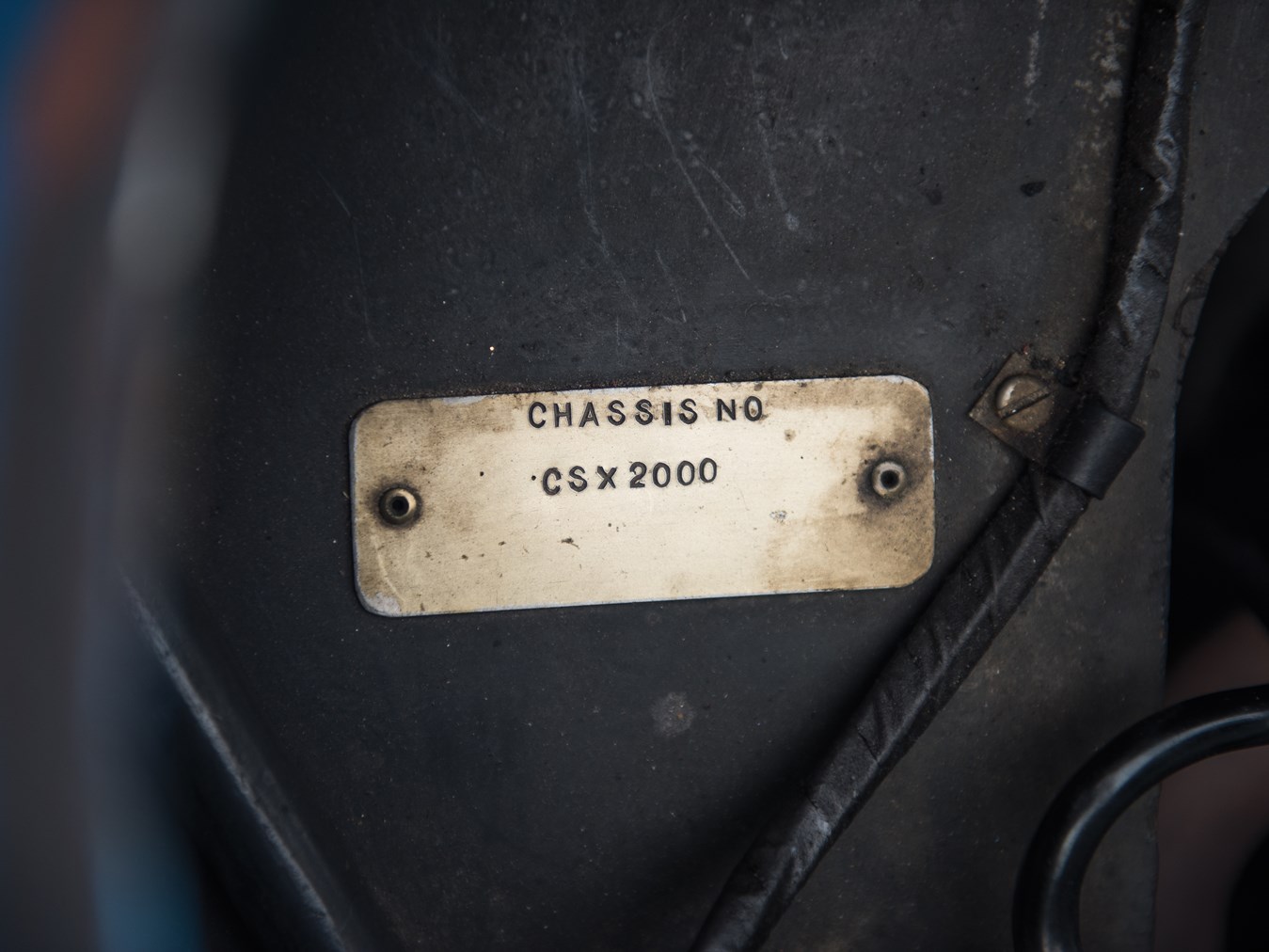 (All pictures courtesy RM Sotheby's).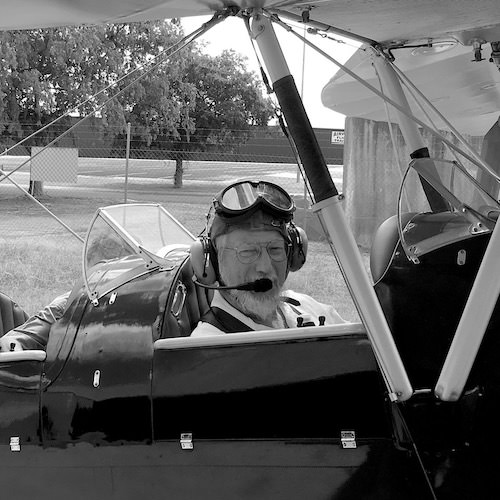 Jon Branch is the founder and senior editor of Revivaler and has written a significant number of articles for various publications including official Buying Guides for eBay, classic car articles for Hagerty, magazine articles for both the Australian Shooters Journal and the Australian Shooter, and he's a long time contributor to Silodrome.
Jon has done radio, television, magazine and newspaper interviews on various issues, and has traveled extensively, having lived in Britain, Australia, China and Hong Kong. His travels have taken him to Indonesia, Israel, Italy, Japan and a number of other countries. He has studied the Japanese sword arts and has a long history of involvement in the shooting sports, which has included authoring submissions to government on various firearms related issues and assisting in the design and establishment of shooting ranges.