The Colt Single Action Army revolver is often described as "The gun that won the West", and along with the Winchester and Marlin lever actions that's pretty much true. That being said the Colt SAA was found all over the globe especially in the far reaches of the British Empire including in Africa, Australia, India and Canada. Colt even had a production facility in Britain and his revolvers were popular with British Army and Navy officers who were responsible for buying their own revolvers. These Colt Single Action Army revolvers were chambered for the standard British cartridge the .455 Eley.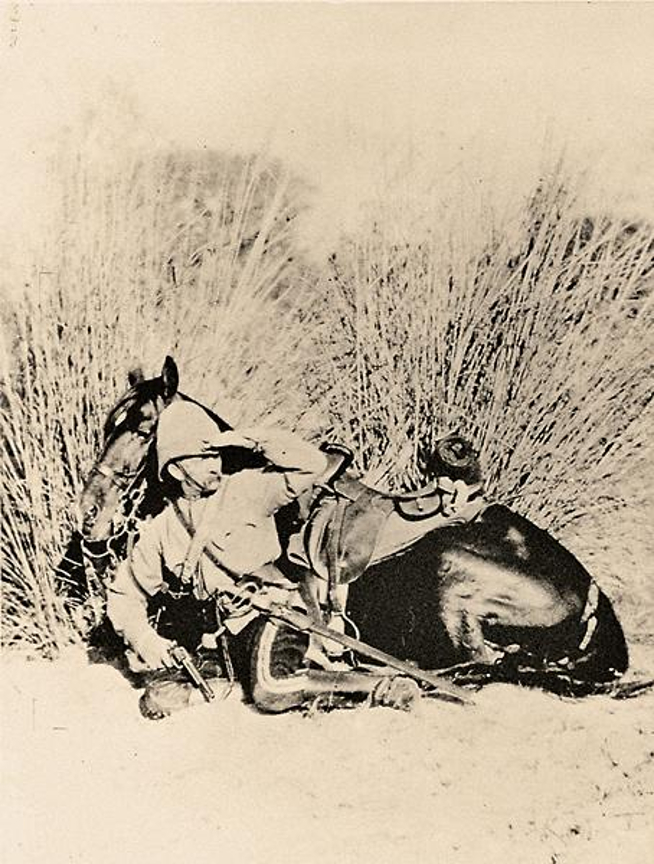 So the "Gun that won the West" was very well traveled and featured in some of the most famous battles of the nineteenth century and the Victorian era. This also means that for those involved in Cowboy Action shooting in the United States or Colonial Action shooting in Australia, or for enthusiasts and re-enactors all over the world a Colt Single Action Army is going to be a historically accurate revolver for the period 1873 onwards right up until the wars of the early twentieth century. T.E. Lawrence aka "Lawrence of Arabia" was one of the most famous British men to carry one and American General George S. Patton carried his in World War II. T.E. Lawrence discovered that the single action of Colt was a great safety feature. At one point his Colt SAA was grabbed by a guy who tried to shoot him, but the guy did not realize he had to cock the hammer first. Happily Lawrence was able to resolve the situation before his attacker could figure the gun out.
It is interesting that this revolver became so well regarded and so popular given that its main competitor, the Smith & Wesson No. 3 and its Schofield variant were much quicker to reload. I think W.W. Greener in his book "The Gun and Its Development" sums up British thinking about trying to quickly reload one's revolver in close quarters combat when he says "If six shots are not sufficient to deal with the emergency then perhaps the remaining time may be better spent than in hurriedly trying to reload".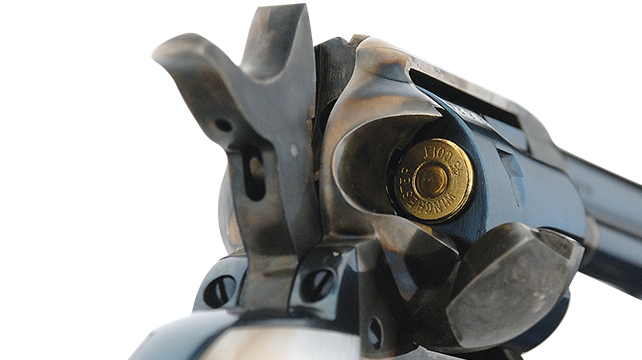 One of the best and most affordable sources of replicas of the Colt Single Action Army is from Uberti of Italy who are nowadays owned by Beretta. Uberti make a range of replica Colt SAA in both old model and the new model revolvers with the improved cylinder retaining mechanism.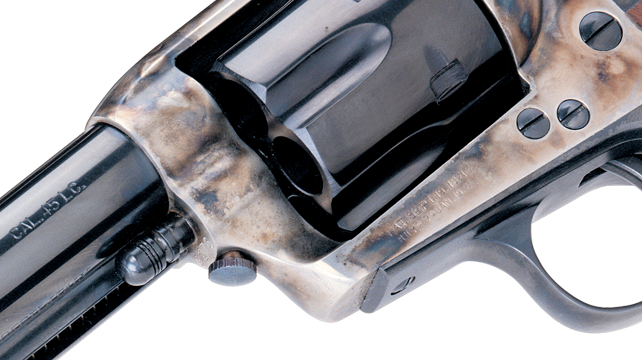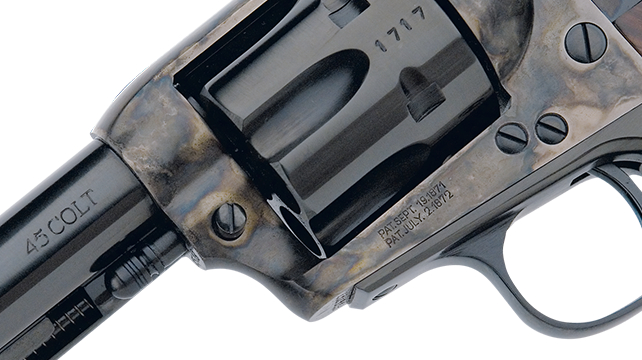 The Uberti replicas of the Colt SAA come in an extensive variety of finishes and barrel lengths. Revolvers can be had in traditional blue with color case hardened frame, nickel plated steel, stainless steel, and a low sheen powder coat finish.
Old Model
The two "old model" replicas from Uberti are the Cattleman Charcoal Blue and the Old West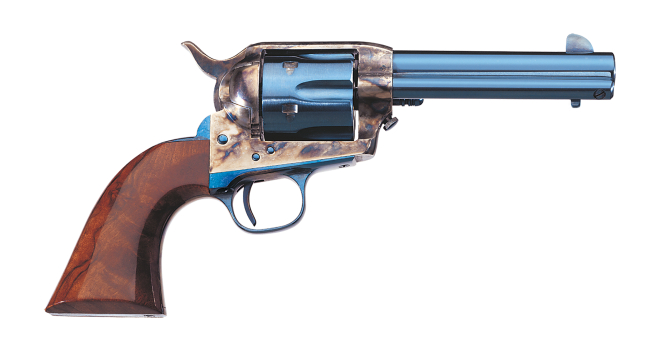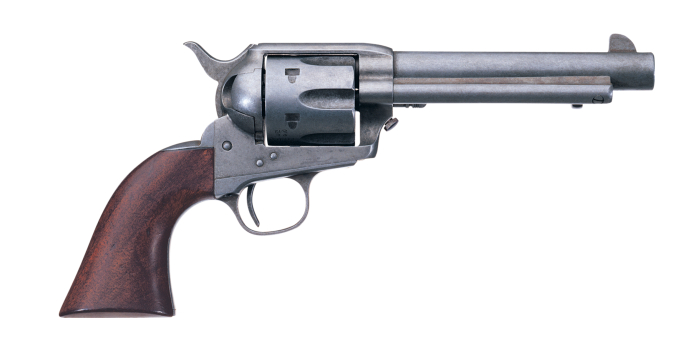 The Cattleman Charcoal Blue is only made in .45 Colt and comes with barrel lengths of 4¾", 5½", and 7½".
The Old West is made in .45 Colt and .357 Magnum and comes with barrel lengths of 4¾", 5½", and 7½".
New Model
There is a much bigger range of New Model replicas from Uberti.
The Cattleman Nickel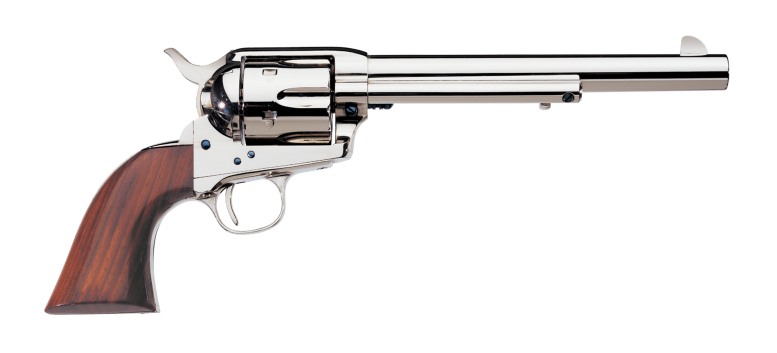 The Cattleman Nickel comes chambered in .45 Colt only and has barrel lengths of 4¾", 5½", and 7½".
The Cattleman Stainless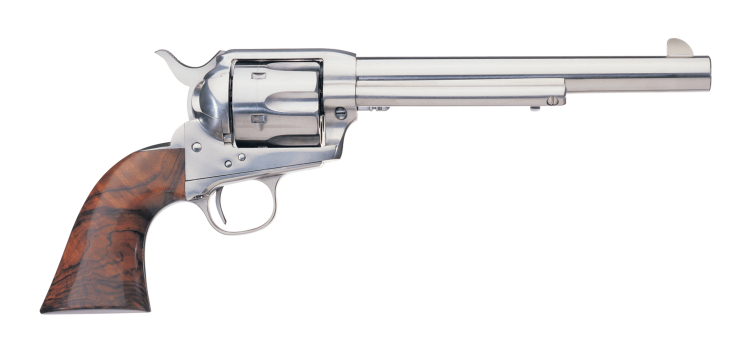 Like the Cattleman Nickel the Cattleman stainless is only chambered in .45 Colt and has barrel lengths of 4¾", 5½", and 7½".
The Chisholm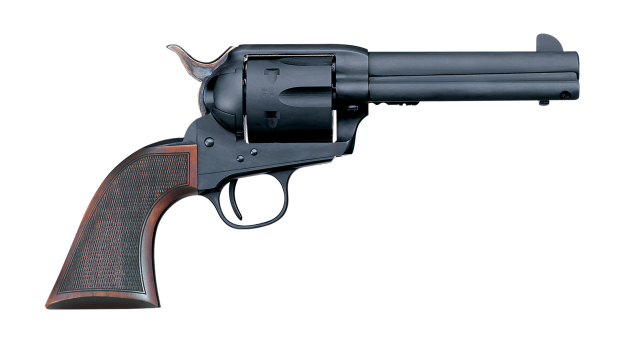 The Chisholm is made of stainless steel and has a matte black finish. This is a good looking revolver and the checkered panels on the grips are both functional and give the revolver a unique appearance. The Chisholm comes in .45 Colt only and in barrel lengths of 4¾" and 5½". With its stainless steel construction and sooty black finish this might be a good revolver for black powder cartridge aficionados.
The Cody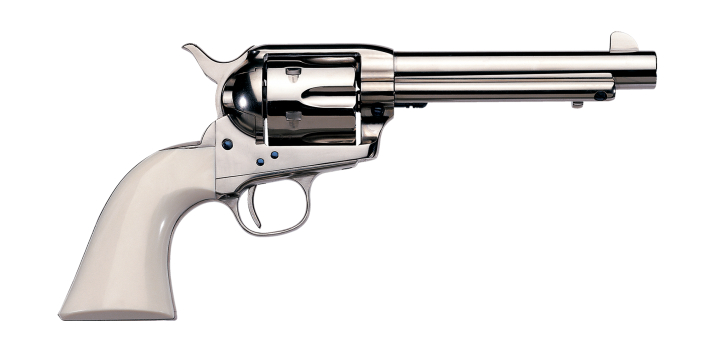 The Cody comes in nickel plated steel and can also be purchased as a matched pair. This model's faux ivory grips make it look similar to General George S. Patton's Colt SAA. Available in .45 Colt and in barrel lengths 4¾", 5½", and 7½".
The matched pair only comes with 5½" barrels.
Engraved Cattleman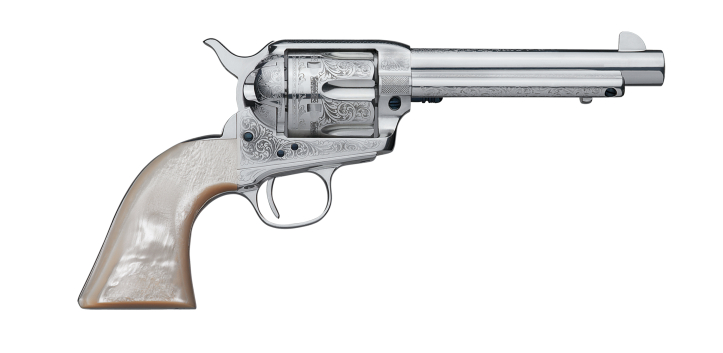 The Engraved Cattleman is a stainless steel revolver which features full scroll engraving. It is only made in .45 Colt and with either 4¾" and 5½" barrel.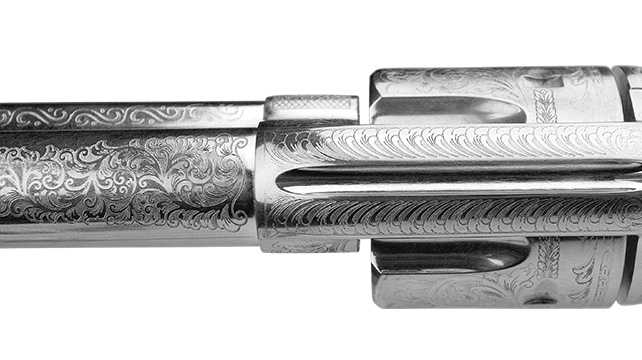 The Frisco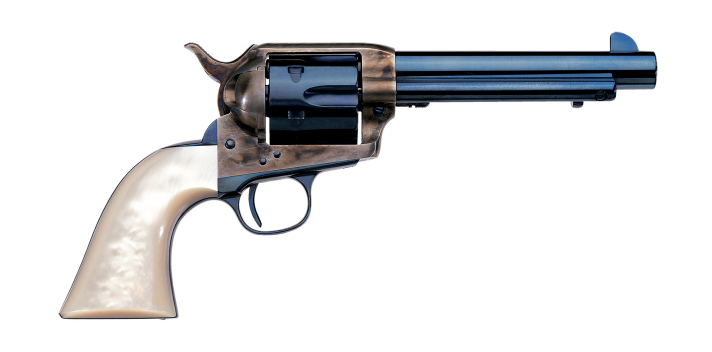 The Frisco combines a color case hardened frame with charcoal blue trigger guard, barrel and cylinder. Grips are faux mother of pearl. Caliber is .45 Colt and barrel lengths are 4¾", 5½", and 7½".
The Hombre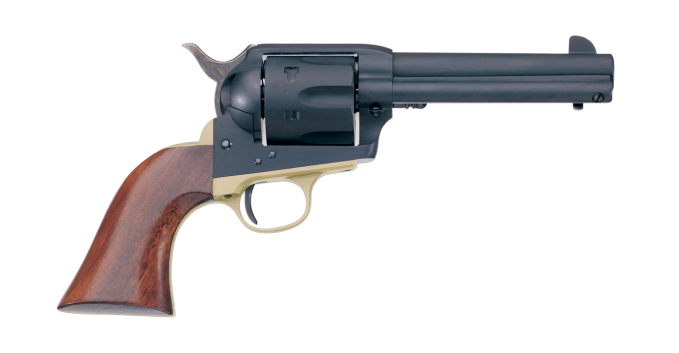 The Hombre is similar to the Chisholm except it has a brass trigger guard and the grips are plain finished wood. This makes it a more eye catching piece and the brass certainly gives it a look reminiscent of cap and ball revolvers with brass frames. This model is available in .45 Colt and .357 Magnum and comes with a 4¾" barrel only.
The Callahan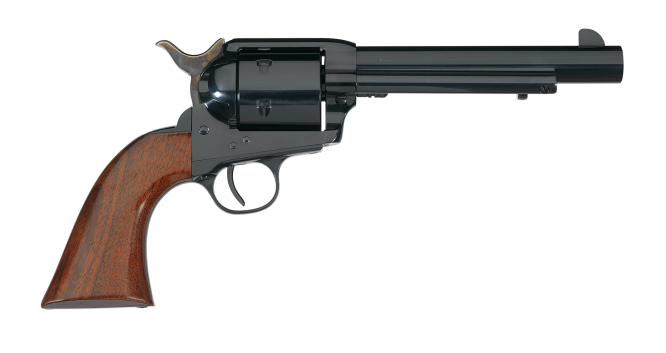 The Callahan is the .44 Magnum revolver from Uberti. It comes in both fixed sight and target sight versions finished in polished blued steel. So if you are looking for a woods and hunting revolver that you can also use for Cowboy Action or Colonial Action this is a good candidate. It can of course use .44 Special cartridges for use at the range especially on reactive steel targets.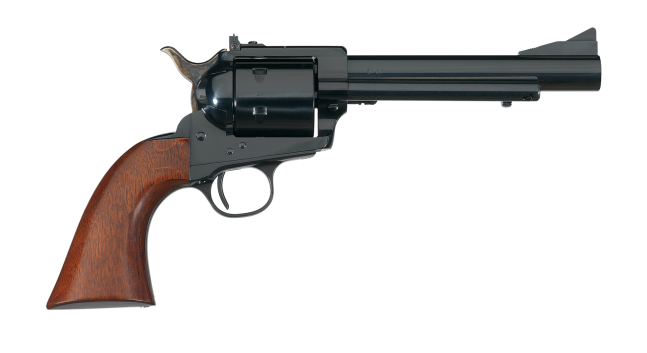 The Callahan comes with a choice of either 4¾" or 6½" barrel and the Callahan Target with either 6½" or 7½" barrel.
The Bird's Head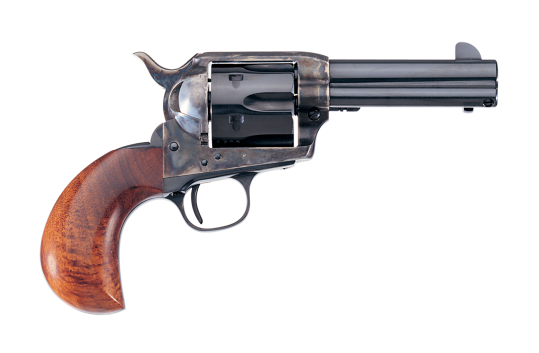 The Bird's Head features the "bird's head" or "bird's beak" style of grip giving the revolver a different and interesting appearance, and also making it a somewhat different shooting experience. There are three sub-models of the Bird's Head; the Old Model, New Model and the small framed Stallion Old West Defense. The Old and New Models are made in .45 Colt and .357 Magnum with choice of 3½", 4¾", and 5½" barrels. The Stallion Old West Defense is made on the smaller Stallion action and is only made in .38 Special with a 3½" barrel.
The Bisley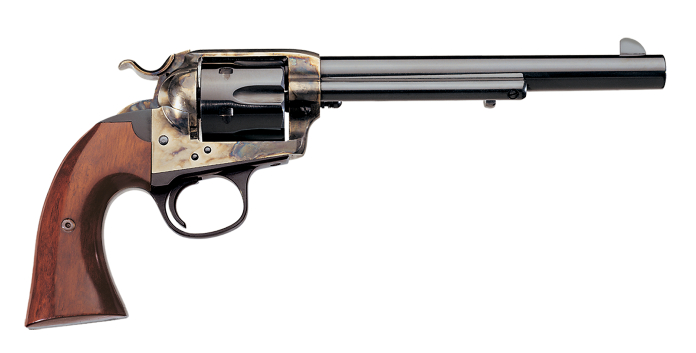 The Bisley model is a replica of the Colt Bisley that earned itself a good reputation and popularity with Victorian era target shooters. Bisley models sold in the United States were normally purchased for self defense use as the grip angle and low hammer are good for rapid shooting. The Bisley is made in .45 Colt and .357 Magnum and with barrel lengths of 4¾", 5½", and 7½". Although this revolver does not have target sights in .357 Magnum it would be legal for the ISSF Centerfire match, so it can still be used as a competition target revolver.
Revolver Carbine and the Buntline

The last two of our Uberti replicas are the Buntline and the Revolver Carbine. Both come with 18″ barrels and both come in either fixed sight or target sight versions. The picture above is of the Buntline in target sight version whilst the picture below is of the Revolver Carbine with fixed sights.

Revolving carbines were not popular in the American West, certainly not in the lever action era although they did achieve some popularity in Australia. Police troopers in South Australia and Western Australia were equipped with Smith & Wesson Schofield revolvers with shoulder stocks for mounted police use and so the idea of a revolving carbine that can be used one handed from horseback seems to make sense. The Uberti Revolver Carbine is quite manageable to shoulder and operate with one hand just like a revolver with a shoulder stock. Its certainly no more awkward than the Buntline which takes well developed forearms to handle the weight of that eighteen inch barrel hanging off the end of your arm. Supine position works much better. The other advantage is that if you are using one for hunting or at the range you don't have to search for your fired brass after shooting. These are available in .45 Colt and .357 Magnum.
So there you have Uberti's range of replica's of the 1873 Colt Single Action Army. They are nicely made and not expensive, especially when compared with a genuine Colt. I see a lot of single action shooters at the range equipped with them so Uberti must be doing something right.
If you are interested in Uberti's replica's you'll find their website if you click here.
For the 1873 Single Action Army replicas click here.
For the Bird's Head click here.
For the Bisley click here.
For the Buntline and Revolver Carbine click here.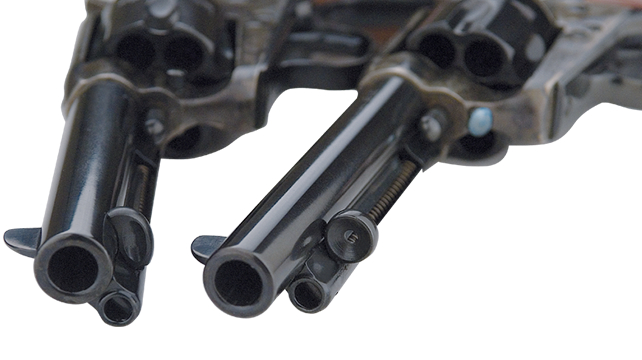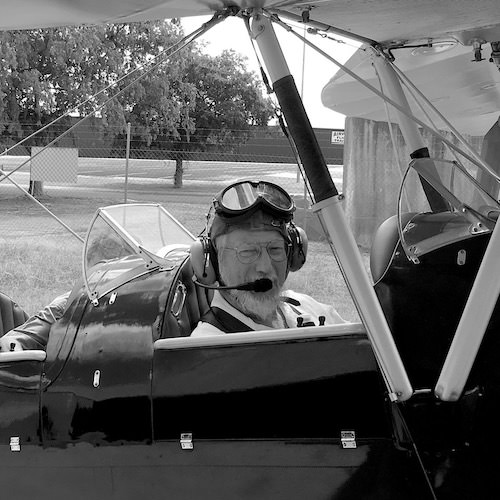 Jon Branch is the founder and senior editor of Revivaler and has written a significant number of articles for various publications including official Buying Guides for eBay, classic car articles for Hagerty, magazine articles for both the Australian Shooters Journal and the Australian Shooter, and he's a long time contributor to Silodrome.
Jon has done radio, television, magazine and newspaper interviews on various issues, and has traveled extensively, having lived in Britain, Australia, China and Hong Kong. His travels have taken him to Indonesia, Israel, Italy, Japan and a number of other countries. He has studied the Japanese sword arts and has a long history of involvement in the shooting sports, which has included authoring submissions to government on various firearms related issues and assisting in the design and establishment of shooting ranges.