In production between 1985-1989 the Ferrari 328 was an upgraded version of the Ferrari 308 with a transverse mounted 3.2 liter Tipo F105CB V8 double valve engine churning out 270bhp at 7000rpm. The car's ignition system was new being a Marelli MED 806 but the same Bosch K-Jetronic electronic fuel injection system was used as on the 308. Top speed of the 328 was rated as 166mph and the standing to 60mph accomplished in five and a half seconds.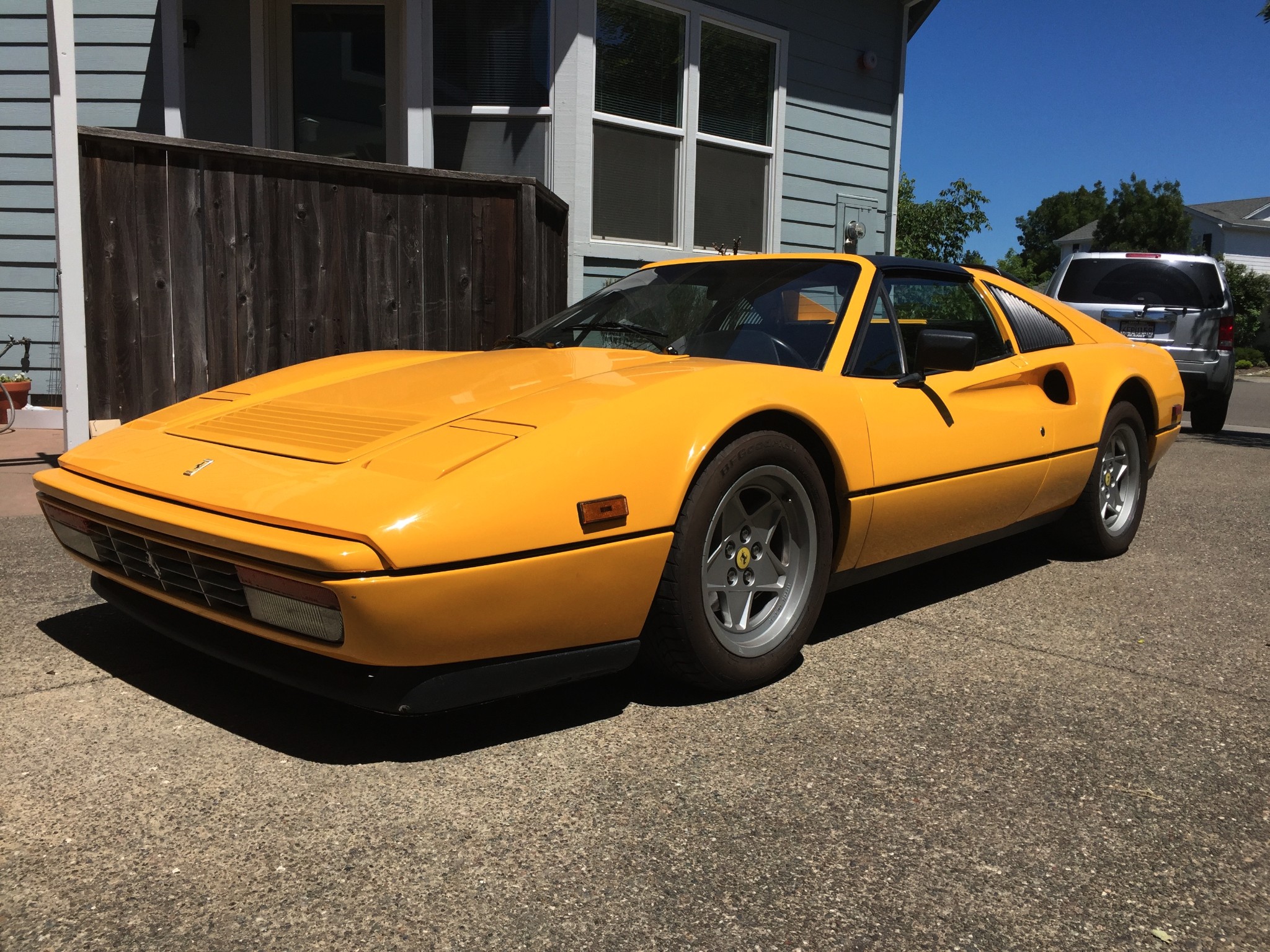 The gearbox of the 328 was a five speed manual mounted below and to the rear of the transversely mounted V8 engine. Suspension of the 328 was fully independent by wishbones front and rear with coil springs and telescopic shock absorbers, and with disc brakes all around as one would expect. ABS brakes were fitted to the 1988 models onwards so our feature car has the older style standard brakes and suspension geometry which some of us prefer for its more direct driving experience.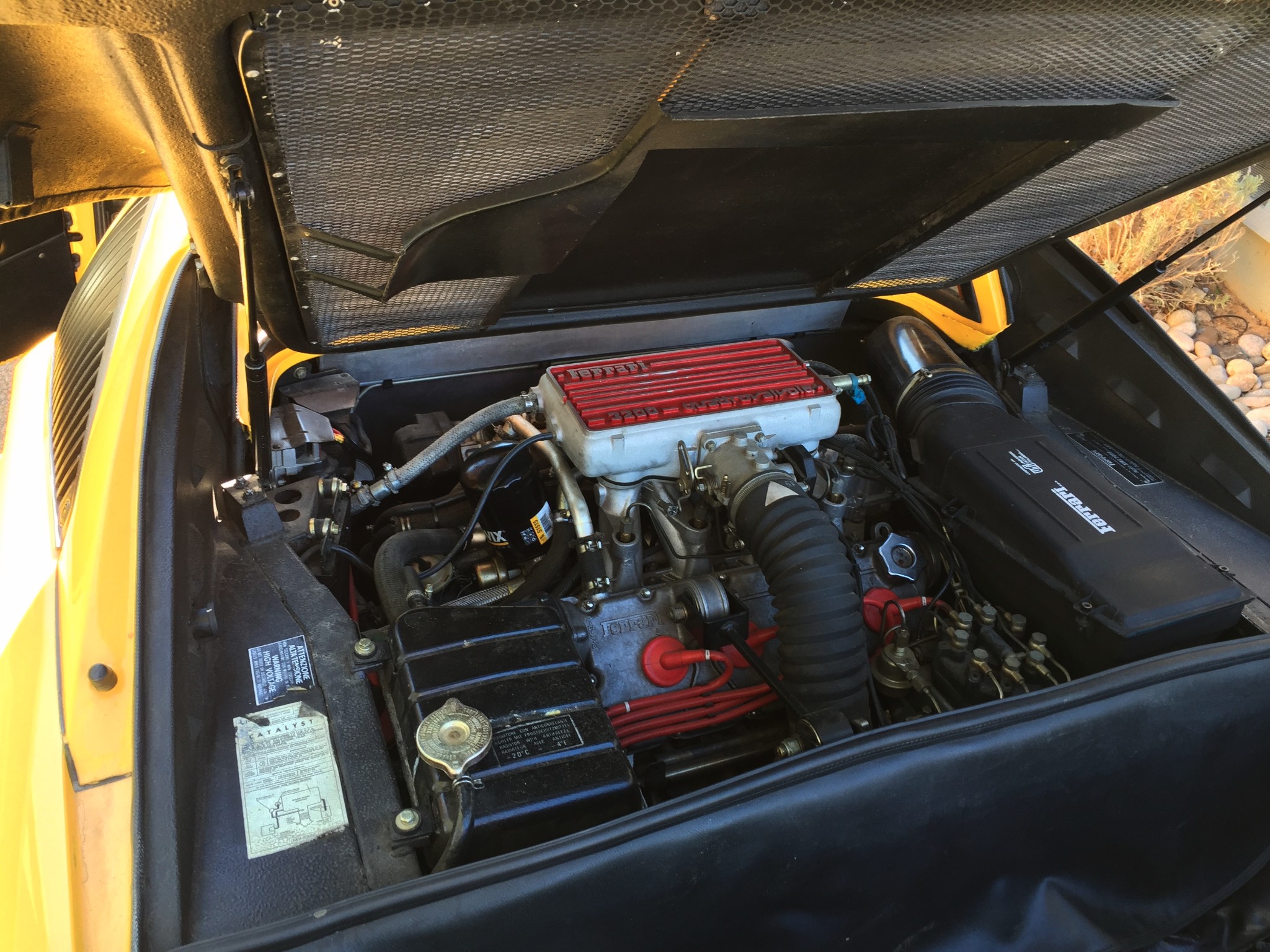 This attractive yellow Ferrari 328 with black leather trim is for sale on Bring A Trailer. At time of publication there are three days left of the auction for those interested in considering a bid. You will find the sale page for this car if you click here.
The car appears to be in good condition with a bit of the inevitable road rash on the front end and the interior shows signs of three decades of gentle enjoyment. But the car has held its age well and will respond well to a restoration if or when a future owner decided to commit to that.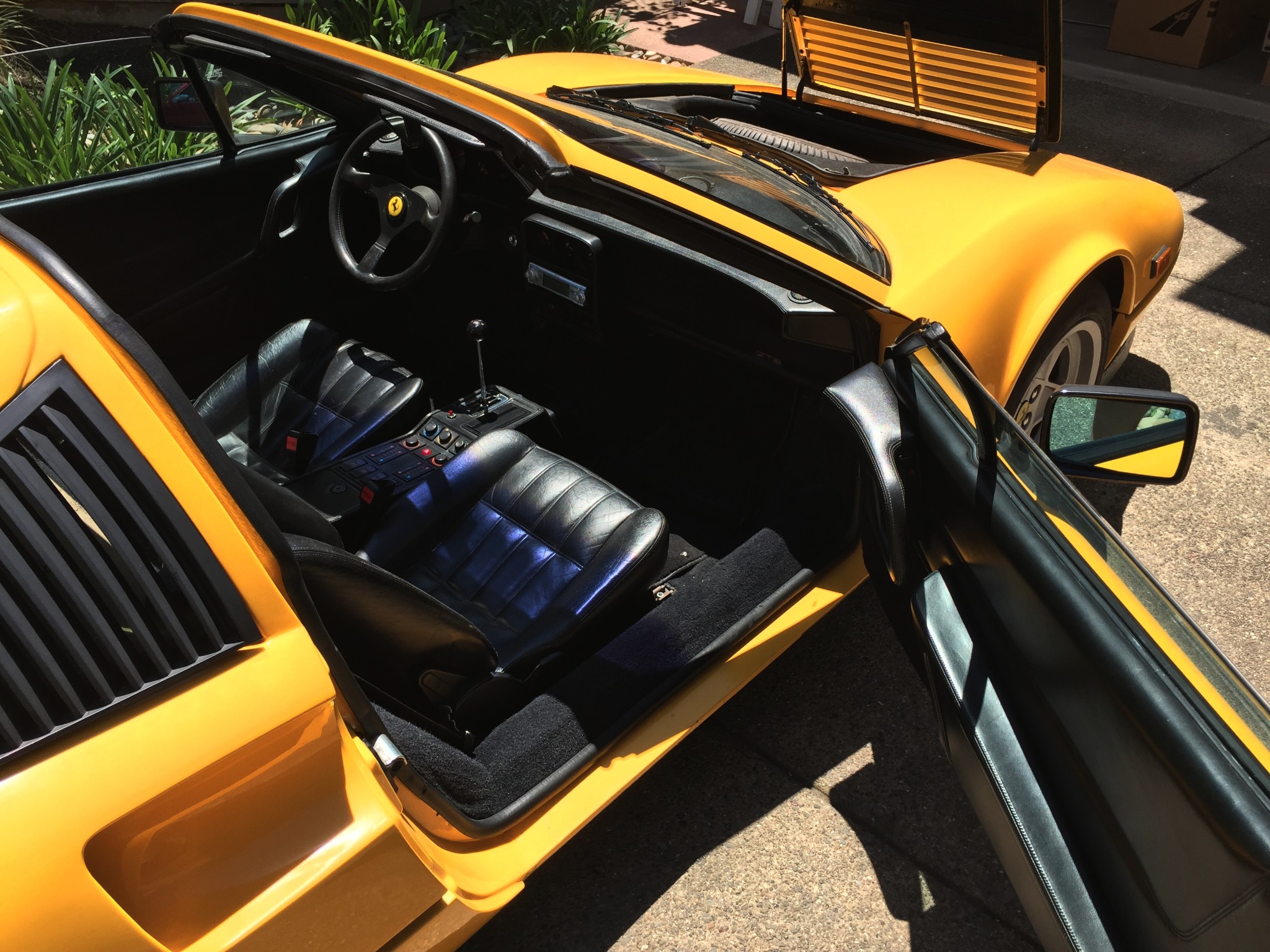 The car used to be air conditioned but a previous owner has removed the compressor so if air conditioning other than that provided by the open roof is desired then that would need replacement.
The underside of the car appears to be free of any significant damage and has been well maintained with recent work including; New timing belt and tensioner bearings, camshaft drive bearings replaced,  water pump rebuilt with new thermostat, gaskets and seals replaced, all leaks resolved,valve adjustment, new distributor cap and rotor, all fuel, vacuum, and cooling hoses replaced, flushed coolant and brake fluid, new CV boots, and a new throttle cable. The timing belt has not been replaced since 2006 so that should be done. As for tyres the car is currently wearing a set of BF Goodrich G-Force tires in 225/50VR16 which have little wear despite having been fitted in 2012.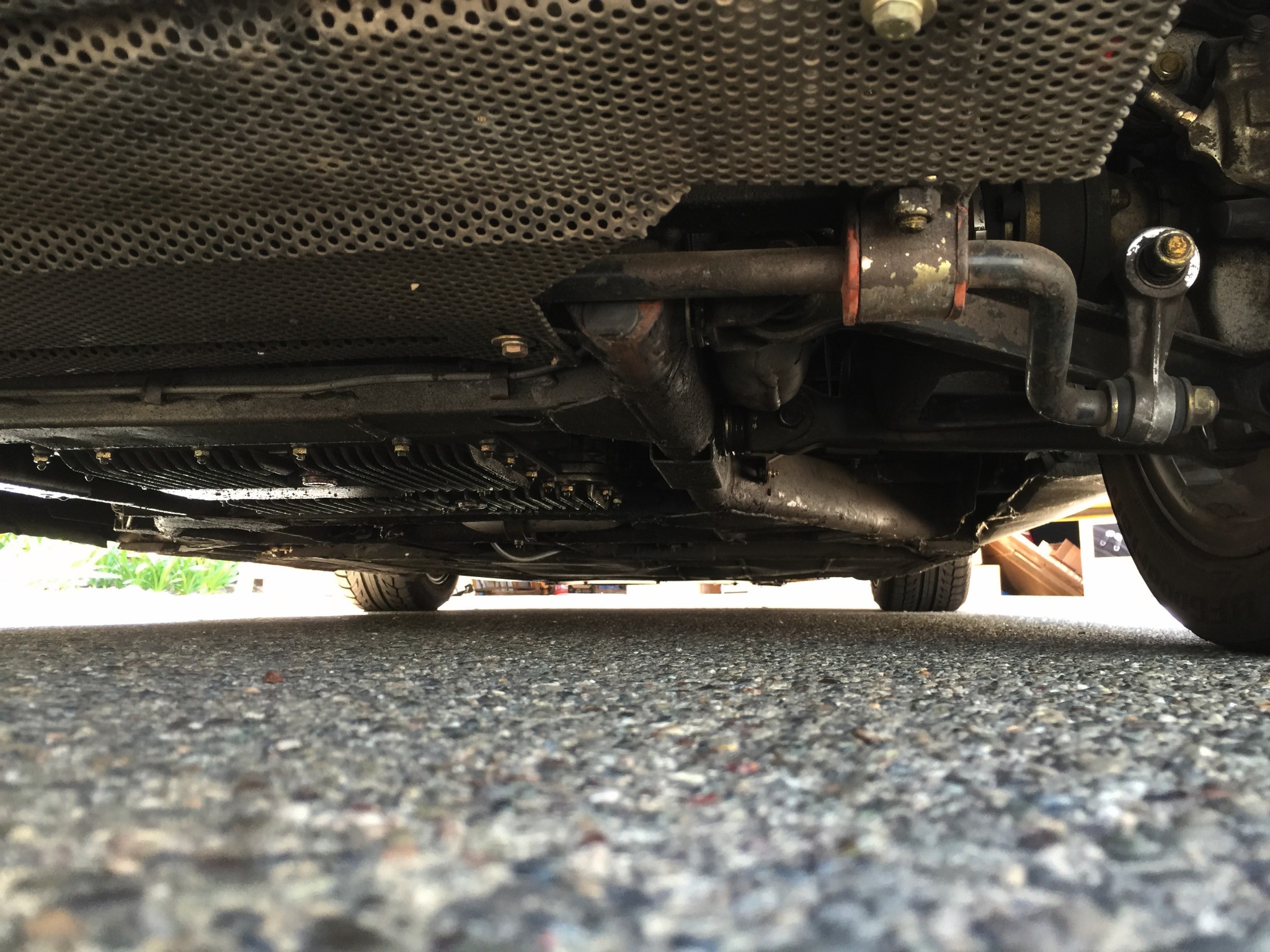 So if you are looking for a neat Ferrari 328 as a driver and potential future project car, or as an investment proposition, then this car may fit the bill for you.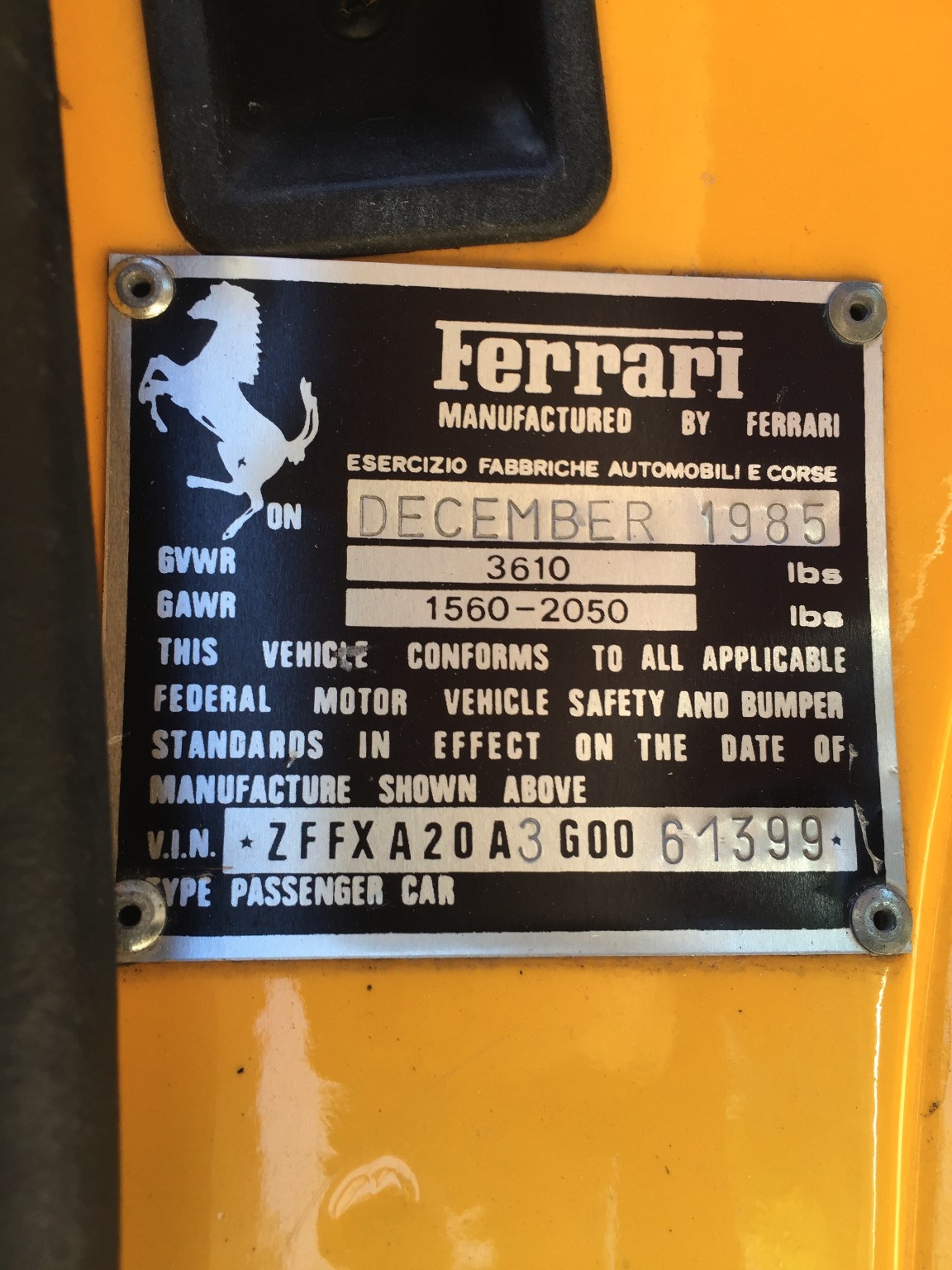 (All pictures courtesy Bring A Trailer).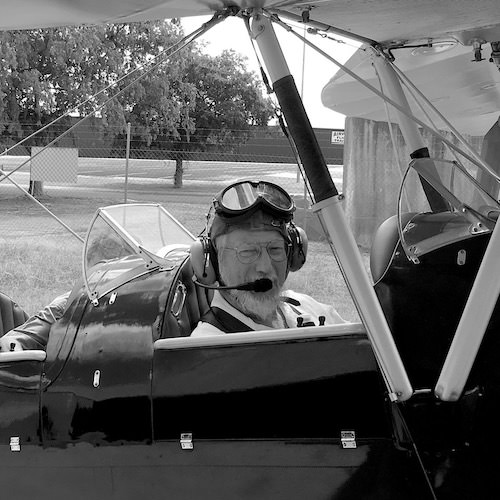 Jon Branch is the founder and senior editor of Revivaler and has written a significant number of articles for various publications including official Buying Guides for eBay, classic car articles for Hagerty, magazine articles for both the Australian Shooters Journal and the Australian Shooter, and he's a long time contributor to Silodrome.
Jon has done radio, television, magazine and newspaper interviews on various issues, and has traveled extensively, having lived in Britain, Australia, China and Hong Kong. His travels have taken him to Indonesia, Israel, Italy, Japan and a number of other countries. He has studied the Japanese sword arts and has a long history of involvement in the shooting sports, which has included authoring submissions to government on various firearms related issues and assisting in the design and establishment of shooting ranges.