Back in 1913 the world was a quite different place. The "War to End All Wars" had not yet begun, the communist Russian Revolution had not yet happened, and the teachings of Karl Marx were largely ignored by the vast majority of people in the "free world". In that era in which the truth was greatly valued, an era in which common decency was expected, the Western World was still holding on to the foundational culture, values and mores on which it had originally been built. It was a world in which a "red blooded man" was encouraged to seek freedom by heading out onto the open roads on a blood red Indian motorcycle.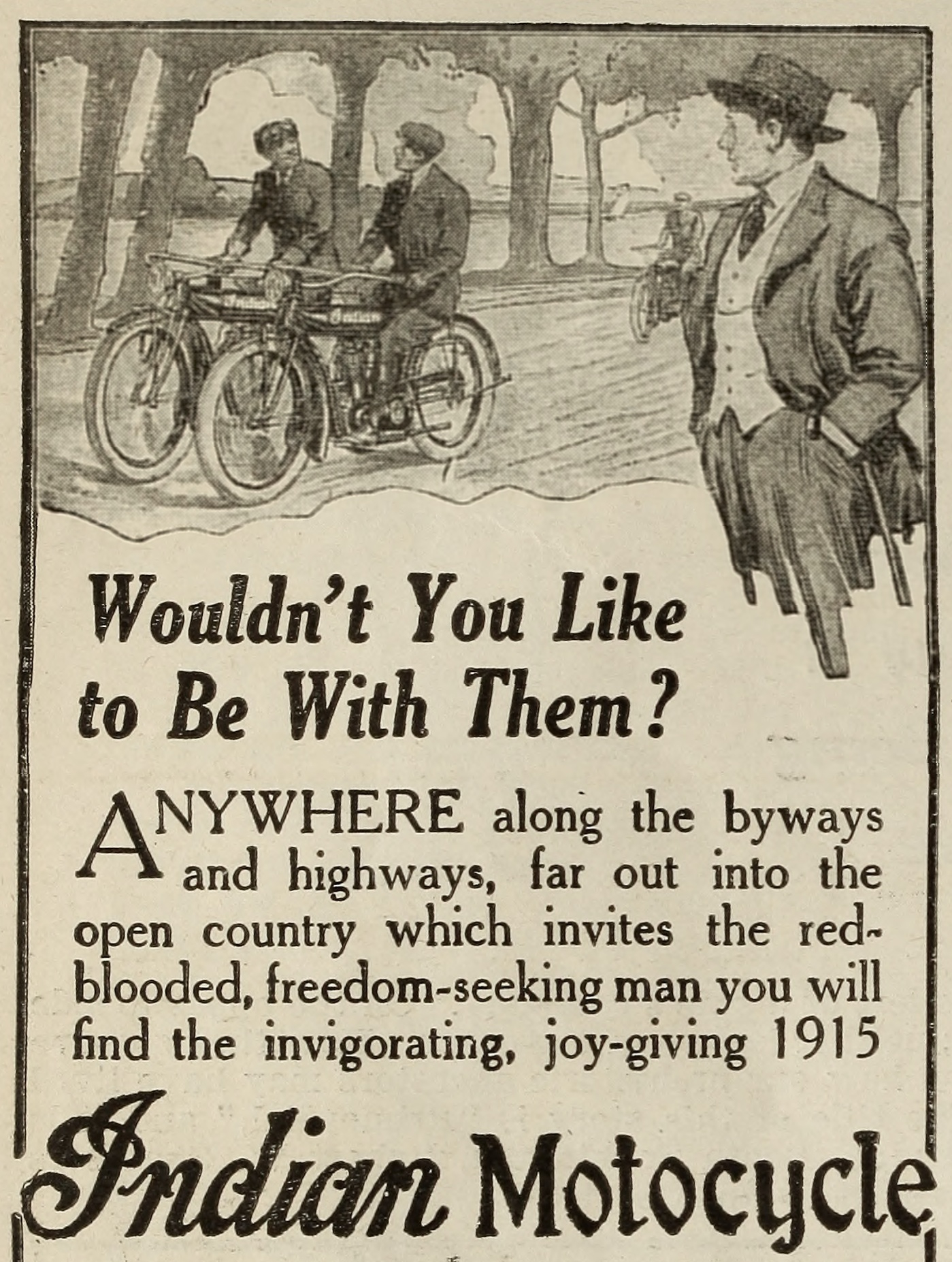 Indian offered machines that a gentleman would find "invigorating and joy-giving", and should that man find a suitable lady with which to share his life with then his Indian motorcycle could be fitted with a side-car that would ensure she could ride with the dignity and decorum as befitted a respectable lady.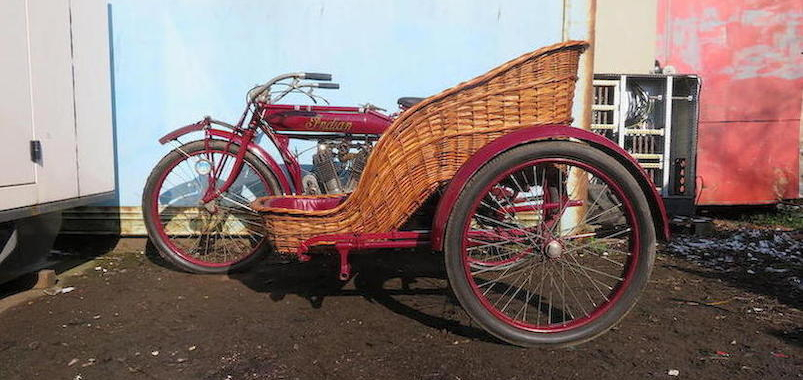 This blood red Indian motorcycle combination is a memory of a world past. It serves as a reminder of how things were, and how things have changed. This combination is based around an Indian Big Twin of 60.32 cu. in. (988cc) with a three speed transmission. The bike's engine produces a healthy (for 1913) 7hp by the old RAC rating method, and is fitted with Indian's unique leaf-spring front forks.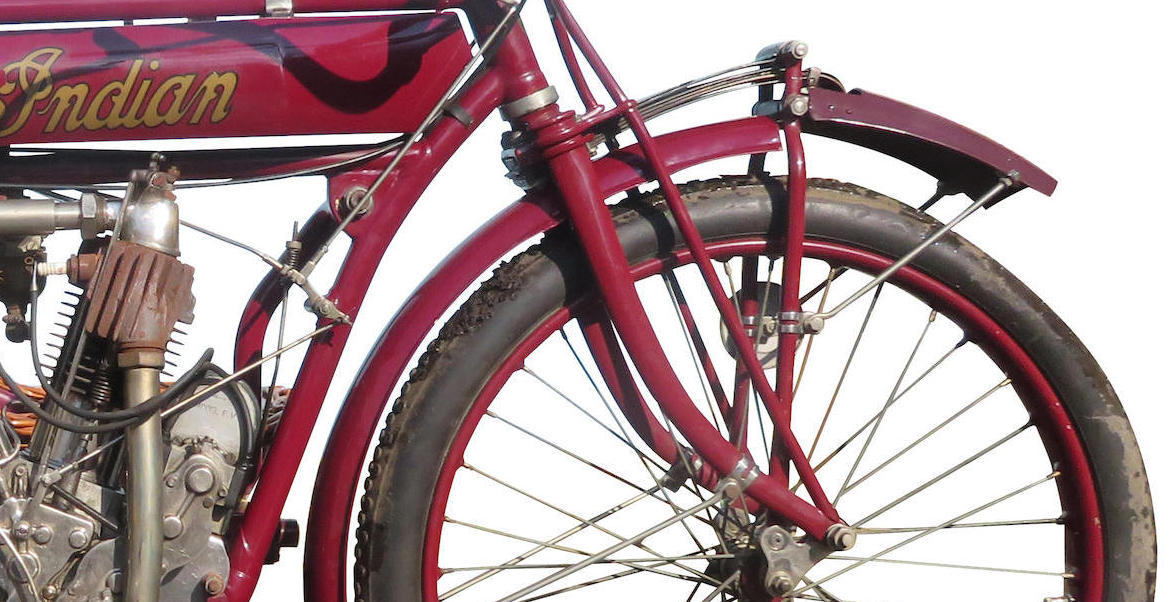 Both Indian's founder, George M. Hendee, and Oscar Hedstrom who joined him three years later, were keen cyclists and competition enthusiasts. This meant that the Indian from the outset was made with respectable performance in mind. Oscar Hedstrom set a motorcycle speed record of 56 mph in 1903 which may sound tame to twenty-first century ears, but it is a speed that would feel pretty exhilarating on a motorized bicycle with not so efficient rear brakes. In fact Indian competed at the Isle of Man TT in 1911 with their V-twin equipped motorcycles and took the trifecta; first, second and third place. The Indian's were indeed performance machines capable of winning races and of breaking transcontinental United States records also.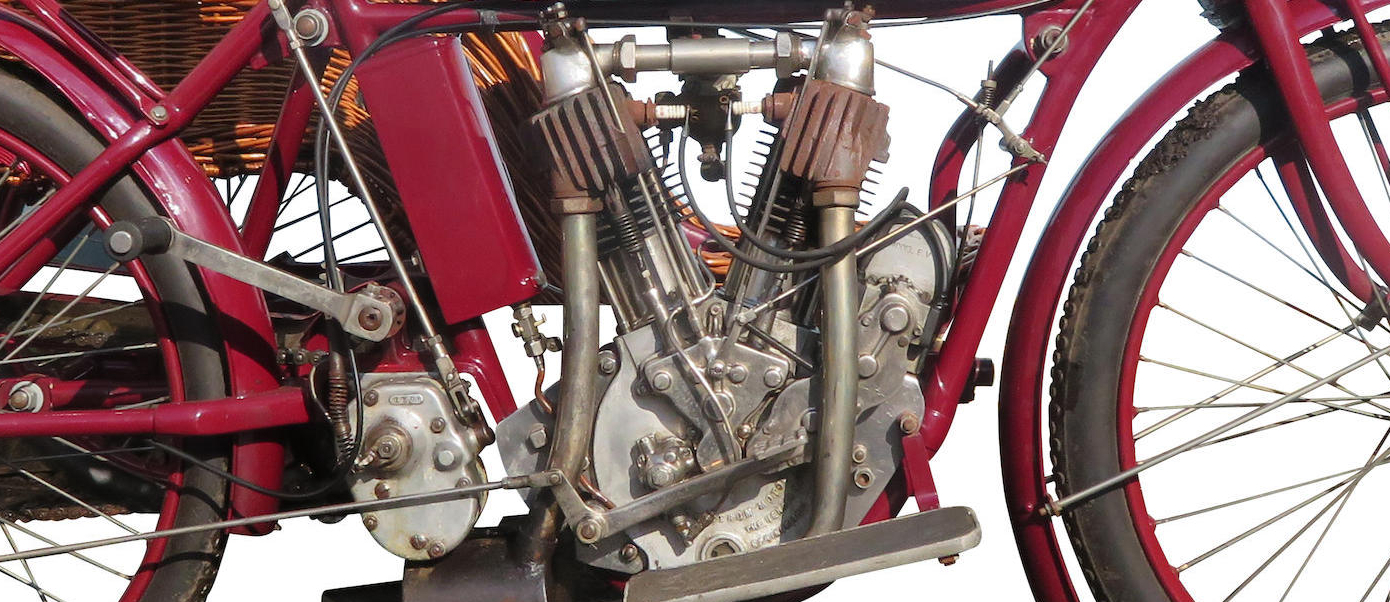 The beating heart of the Indian motorcycle was its V-twin 988cc 7hp engine. Dubbed the "Big Twin" this was the engine that won at the Isle of Man, and transported Indian rider Erwin "Cannonball" Baker on his 11 day 12 hours and ten minutes record setting run from San Diego to New York in 1914. The power and reliability of this engine helped make Indian one of the most sought after motorcycles in the United States in the period prior to America's entry into the First World War.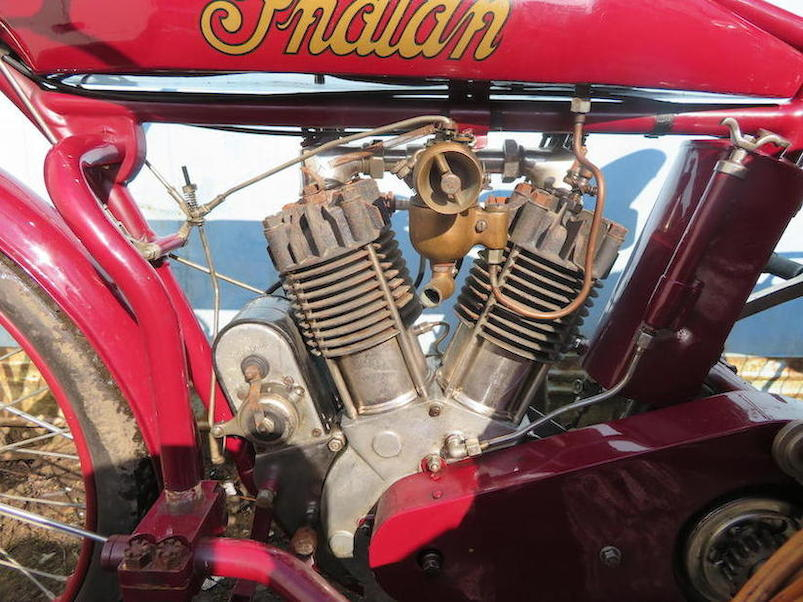 The Indian "Big Twin" motorcycle combination in our pictures is a 1913 model that was restored many moons ago and is due for someone to give it some TLC and provide another restoration. It offers the opportunity to spend lots of happy hours in the workshop re-building this enjoyable antique, and the promise of times spent on the road once the project is complete, re-living the pioneer days of motorcycling on an American icon.
This motorcycle and side-car are coming up for sale by Bonhams in the UK on April 21st, 2018.
You will find the sale page if you click here.
This classic Indian Big Twin with its wicker side-car looks like a perfect machine for country touring punctuated with a picnic in a picturesque location.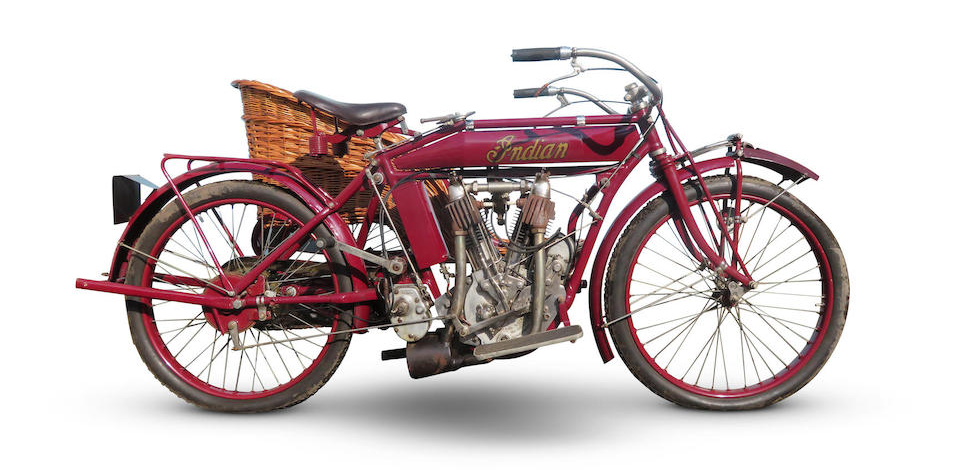 (All pictures courtesy Bonhams except as otherwise noted).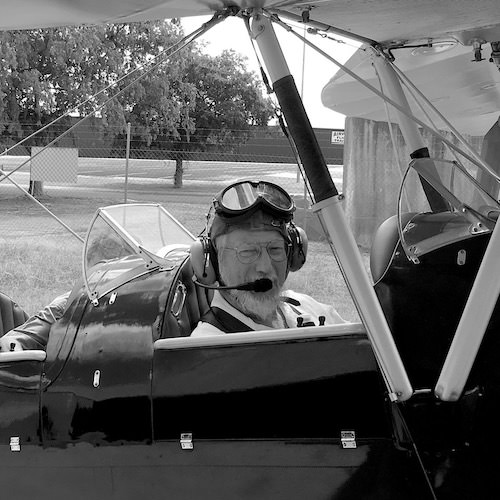 Jon Branch is the founder and senior editor of Revivaler and has written a significant number of articles for various publications including official Buying Guides for eBay, classic car articles for Hagerty, magazine articles for both the Australian Shooters Journal and the Australian Shooter, and he's a long time contributor to Silodrome.
Jon has done radio, television, magazine and newspaper interviews on various issues, and has traveled extensively, having lived in Britain, Australia, China and Hong Kong. His travels have taken him to Indonesia, Israel, Italy, Japan and a number of other countries. He has studied the Japanese sword arts and has a long history of involvement in the shooting sports, which has included authoring submissions to government on various firearms related issues and assisting in the design and establishment of shooting ranges.