If considering the perfect gun for the "World wide one gun hunter" then most of us think about a rifle chambered for a common "all around" cartridge that meets legal minimum caliber requirements everywhere we intend to hunt. That normally means a .375 Holland & Holland rifle that is in accordance with the hunter's taste if Africa's "Big Five" are on the list of game to be taken, or one of the .300 Magnums if Africa's "Big Five" are not on the list but long range shots to take mountain sheep and plains antelope are. Of course having just one caliber as a "one size fits all" is not necessarily going to cover all the bases and an ideal gun is likely to be one that includes more than one rifle caliber and includes a shotgun also. Enter the Beretta SS06 over/under which can be used with 12 gauge shotgun barrels and with double rifle or combination barrels also.

The Beretta SS06 in our photographs is supplied as a "World wide one gun hunter" kit with three barrels. The gun comes with double shotgun barrels in 12 gauge with 3″ chambers choked full and modified; the actual length of the shotgun barrels is not listed but in the photos they look to be 2″-3″ longer than the rifle barrels, so they are probably 70cm or about 27½"-28″. Also in the kit are two sets of double rifle barrels; a .375 Holland & Holland Magnum double rifle barrel, and a .458 Winchester Magnum double rifle barrel, both the rifle barrels are 24½" long, and each of the three barrels has its own fitted fore-end.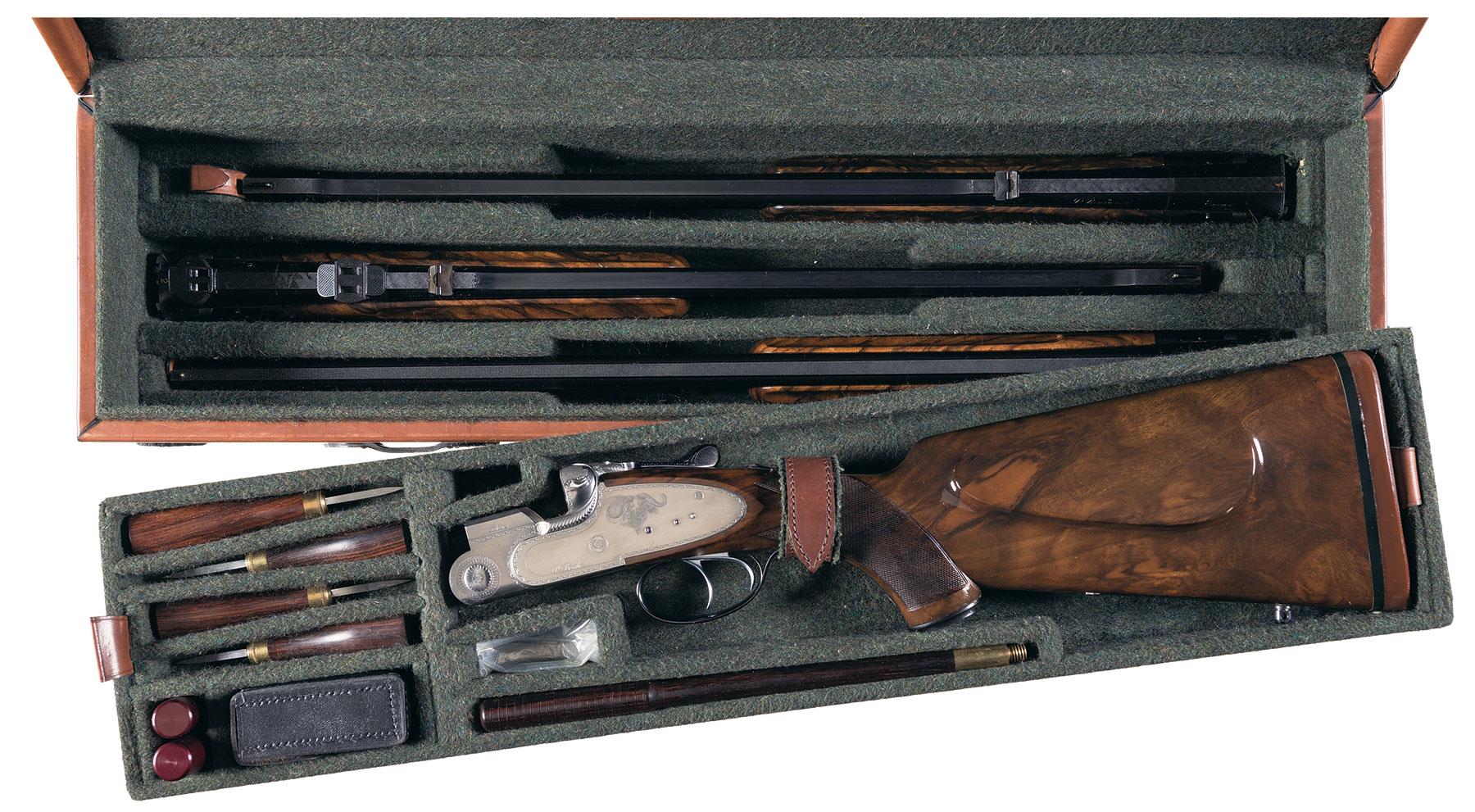 Appropriately the .375H&H Magnum barrel is fitted with integral bases for rifle-scope claw mounts. This rifle/gun also has some nice additional features; in the base of the butt stock is a cartridge trap that can hold two additional rifle cartridges, and there is a small trap in the pistol grip cap for keeping small parts such as a spare foresight. The kit comes in a fitted case complete with a three-piece wood cleaning rod, two 12 gauge snap caps, cleaning rod heads, and four turn-screws fitted specifically for this gun.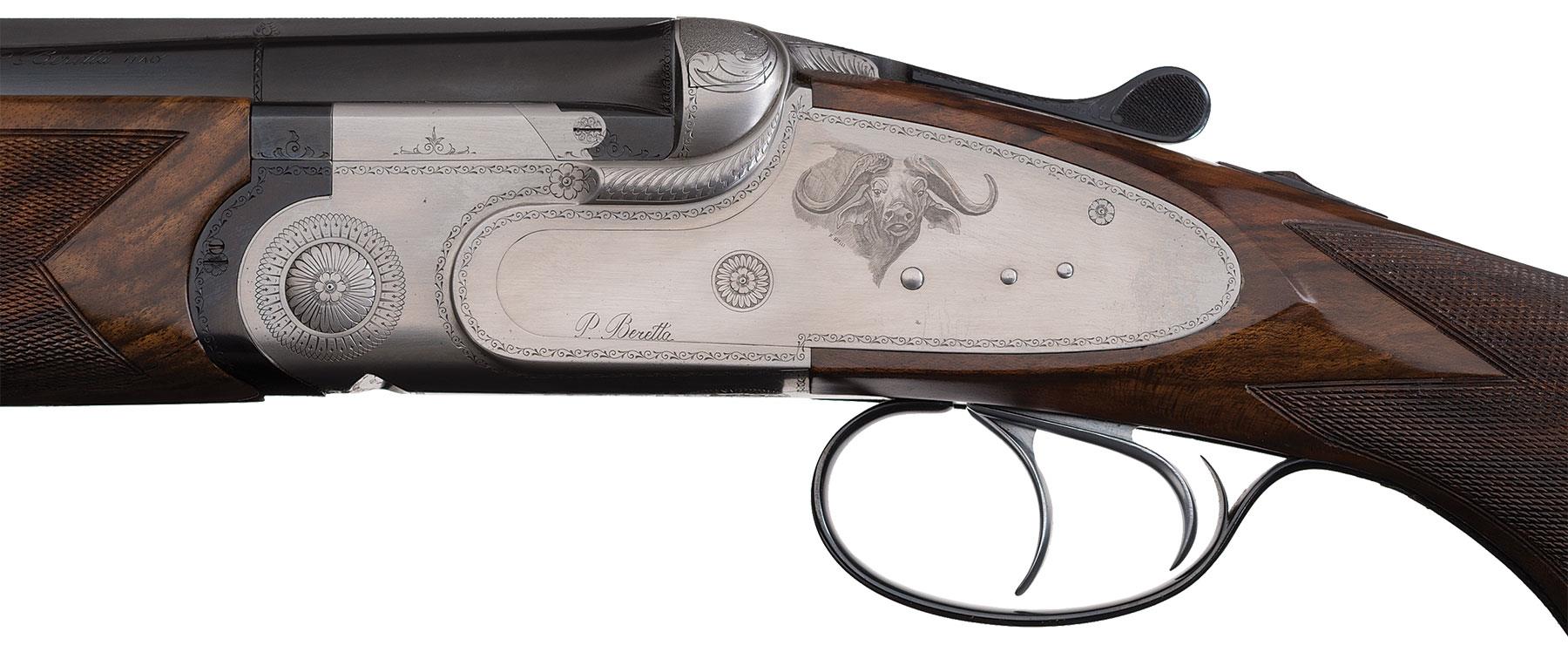 The engraving of the action includes an African Cape Buffalo on the left lock, a lion on the right lock, and underneath the action is a Kudu.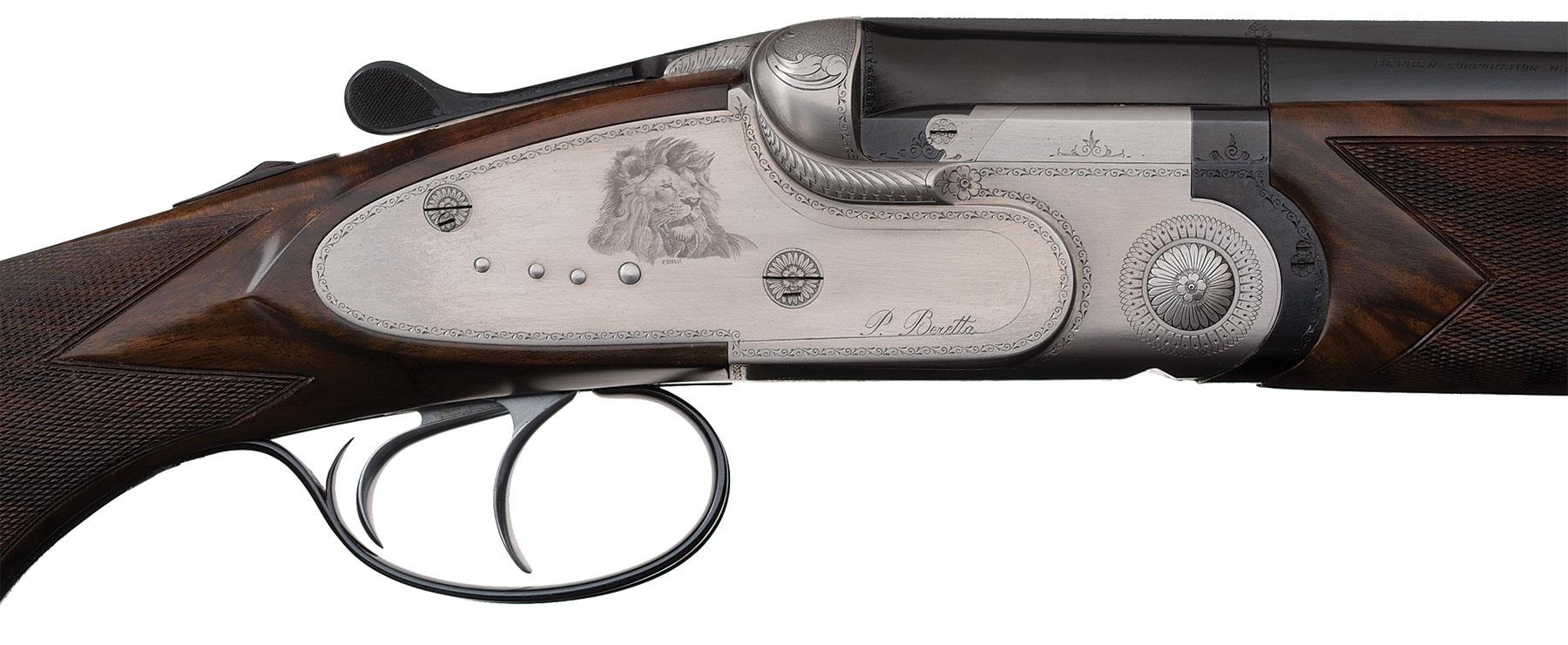 This "World wide one gun hunter" kit is coming up for sale by Rock Island Auction at their Premiere Auction to be held from May 5th-7th, 2017.
You will find the sale page for this rifle/gun if you click here.
Rock Island Auction describe the condition of this rifle/gun as follows: "Excellent. 99% original blue and coin finish remains with minimal light handling marks overall. The butt-stock has a few small dings but otherwise is excellent. Mechanically excellent. The forearm for the shotgun barrels is cracked on the left side just ahead of the hinge fitting. The case is excellent with a few light scuffs on the exterior."
This is a cased set that would provide for hunting Africa's Big Five and plains game, Banteng in Australia's north, deer and boar wherever they may be found, and is good for some bird shooting as well. It is a nice, and very practical set.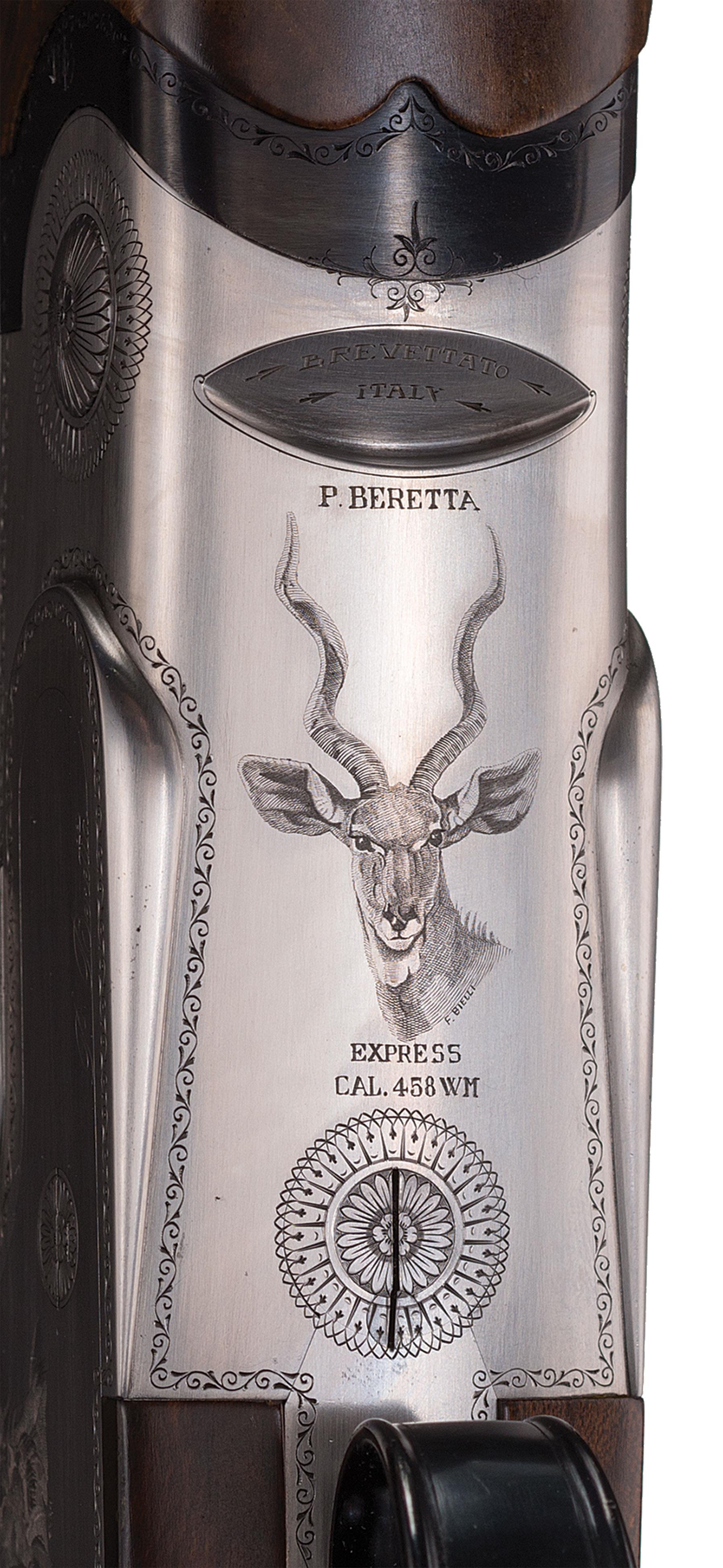 (All pictures courtesy Rock Island Auction).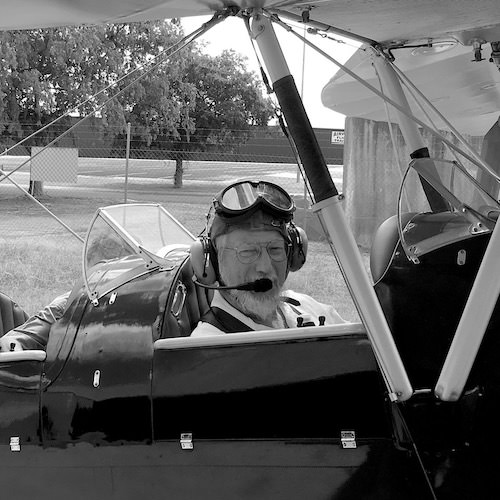 Jon Branch is the founder and senior editor of Revivaler and has written a significant number of articles for various publications including official Buying Guides for eBay, classic car articles for Hagerty, magazine articles for both the Australian Shooters Journal and the Australian Shooter, and he's a long time contributor to Silodrome.
Jon has done radio, television, magazine and newspaper interviews on various issues, and has traveled extensively, having lived in Britain, Australia, China and Hong Kong. His travels have taken him to Indonesia, Israel, Italy, Japan and a number of other countries. He has studied the Japanese sword arts and has a long history of involvement in the shooting sports, which has included authoring submissions to government on various firearms related issues and assisting in the design and establishment of shooting ranges.