Those of you who are rifle shooters will know that 600 yards is a long way. 600 yards is the distance it takes to stop a Bugatti Veyron from 400 km/hr, which is not it's top speed. The Bugatti Veyron is a controversial car. Depending on the model it packs in excess of 1000bhp into a mid engine, all wheel drive GT car and keeps it comfortable and controllable all the way up to it's top speed and back again. It has been described as the "Concorde" of sports cars, a title it certainly deserves. If you try to rationalize the Veyron in some sort of logical way you will fail. It is not logic but art that defines it. The Bugatti Veyron brings together the visual art of the stylist, with the engineering art of the design team, and blends them together into one of, if not the greatest work of automotive art ever to have been created, period. It is an astonishing car, and it comes at a price that is astonishingly inexpensive when you fully evaluate what it is and just how much has gone into making it what it is. Like the Concorde this is something that has become an icon of a generation because it fires the imagination combining beauty with engineering excellence to create something that makes other things seem rather ordinary.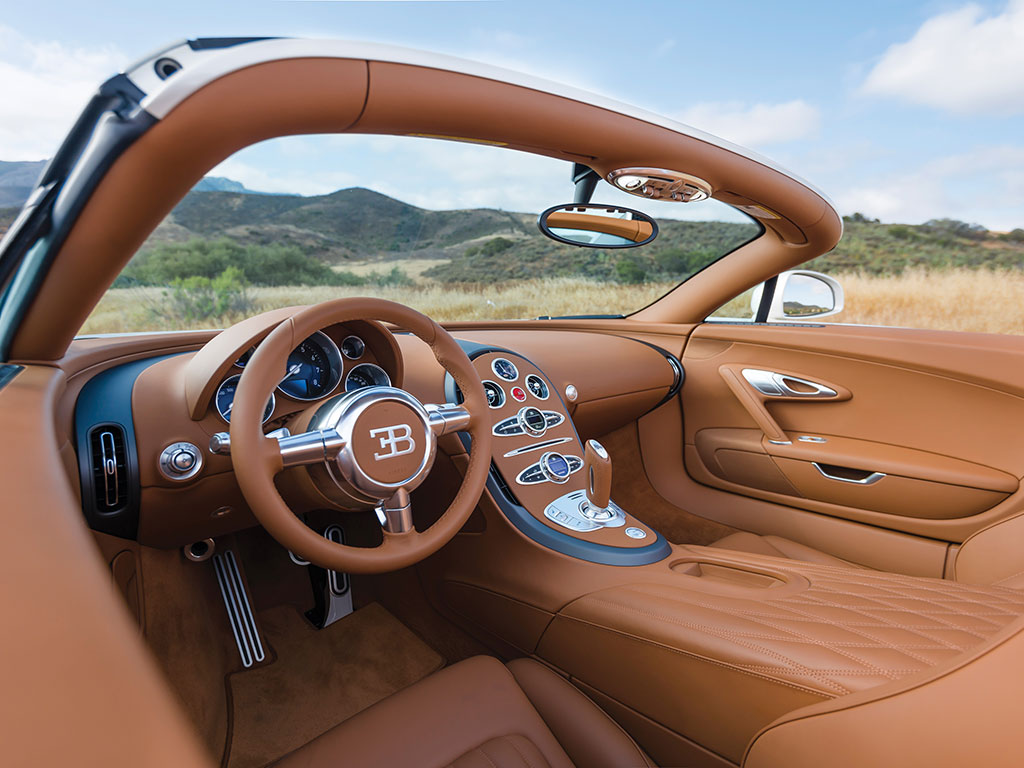 The original Veyron began life back in 1998 when Volkswagen acquired the Bugatti brand name and began the process of evaluating how best to use it. A number of concept cars were created including the EB118 two door coupé shown at the Paris Motor Show in 1998 and the EB218 four door saloon, shown in 1999 at the Geneva Motor Show. Both of them beautiful and desirable motor cars but, like other concept cars created in the early days, none of them cars that would completely re-define the Bugatti name, nor cars that would be in a class all of their own. None of them were "Concordes" of the automotive world.
In 1999 Bugatti created and displayed another concept car, the 18/3 Chiron. It was the 18/3 Chiron that tended to point Volkswagen's design team towards the car they found they should create. A two seater GT car with impeccable credentials, one that would stand impossibly tall against it's rivals. The 18/3 Chiron was based on a Lamborghini Diablo VT with the Volkswagen W18 engine of three banks of six cylinders – hence the 18/3 name. Engine power of the 18/3 Chiron was 547bhp. But Volkswagen's design team decided that to move into a whole new league of GT car creation they should aim to roughly double that, just as the Concorde pretty much tripled the cruising speed of airline travel. So the Volkswagen design team set about doing what had not been done before with the same brief that Yoda gives to Luke Skywalker in Return of the Jedi – "Succeed, there is no try".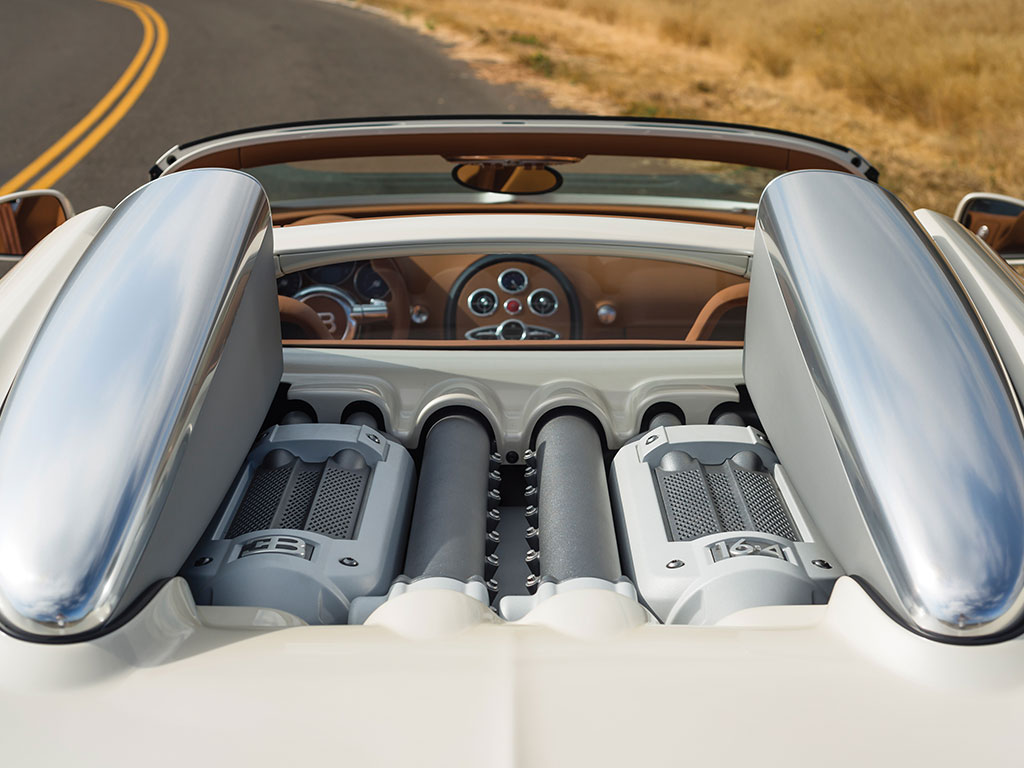 Under the direction of Hartmut Warkuß the Volkswagen design team began work on this "supercar to beat all supercars". By 2005 they had a working prototype. The W18 engine with its three banks of six cylinders had given way to a W16 engine with four banks of four cylinders sucking in air through four turbochargers. Just keeping this 7,993cc thousand horsepower engine cool was an engineering task in itself. The Veyron's engine finished up with no less than seven radiators; three heat exchangers for the air-to-liquid inter-coolers, three engine radiators, and an engine oil radiator. In addition to that the car has a transmission oil radiator, differential oil radiator,  and a radiator for the air conditioning system. That's ten systems just to get rid of the excess heat.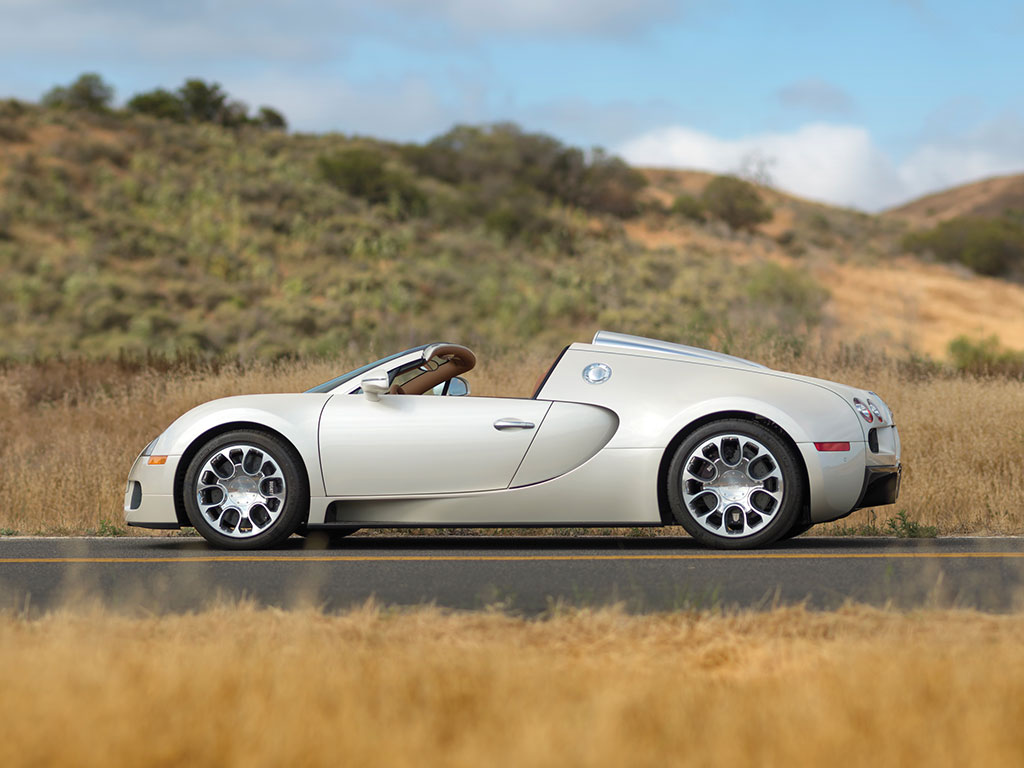 Our feature car, the Bugatti Veyron 16.4 Gran Sport made it's debut in the United States at the Pebble Beach Concours d'Elegance event of 2008. This was a limited production model of which only one hundred and fifty were to be made. This was and is a Bugatti Veyron fully capable of in excess of 400km/hr. However, with the roof open the car's computer systems limit the top speed to 369km/hr. I haven't had the opportunity to personally experience this car with an open roof at speeds in excess of two hundred miles per hour but it would be interesting to see if it is still possible to listen to your favorite classical music over the sound system. The wind pressure would be phenomenal, certainly enough to ensure that you would need to thoroughly brush your hair after such a hair raising experience.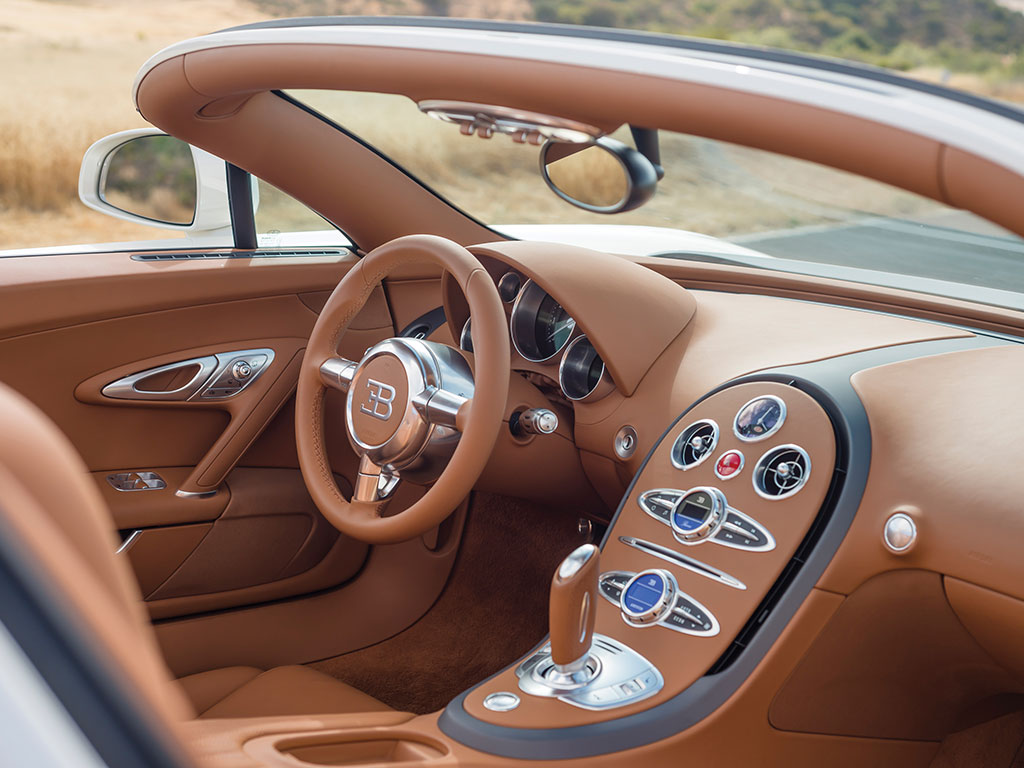 The 2012 Bugatti Veyron 16.4 Gran Sport we are featuring was the fifty fourth made and is coming up for sale at RM Sotheby's Monterey auction to be held over 19th-20th August 2016. The car was originally kept by Bugatti for display and marketing and so has been very much in the public eye. It did not remain a display model for long however as it was seen by a man who fell in love with it that same year and he indeed was able to purchase it after the car had been returned to the Bugatti factory for pre-delivery servicing. In total the car has only 1,100miles on the odometer.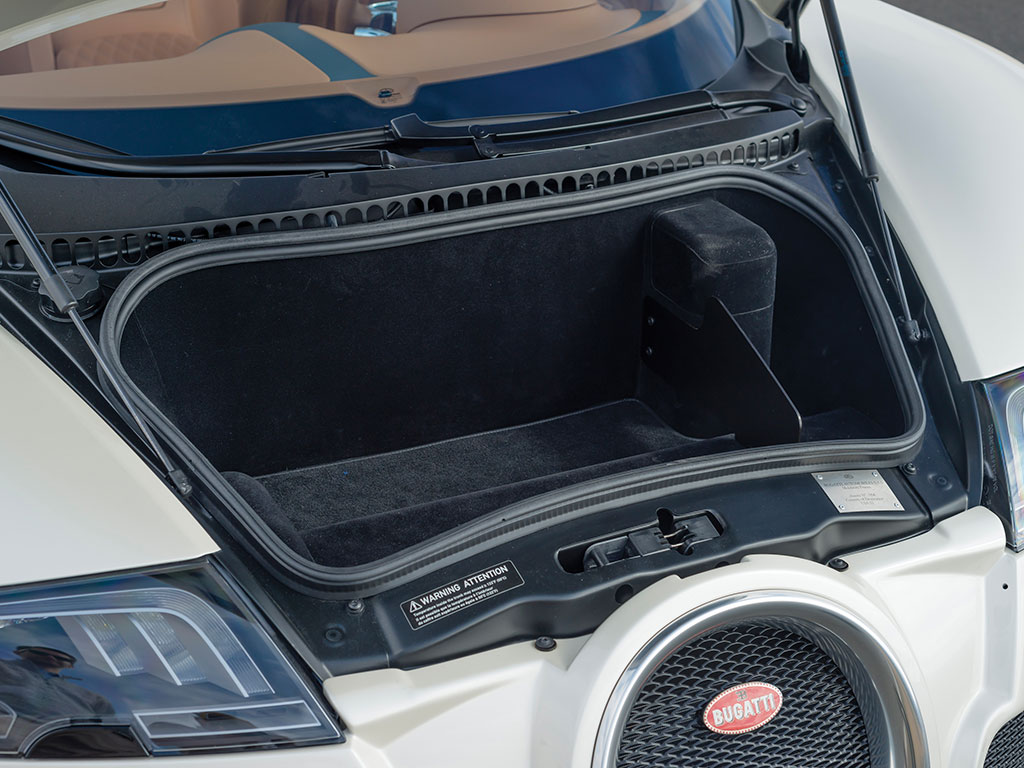 This Veyron 16.4 Gran Sport offers some very desirable upgrades over a standard Veyron. Not only does it have an effective roof system to close the car in the event of inclement weather or a desire to listen to one's music in quiet comfort, but it also has a leather console to add to the luxurious effect.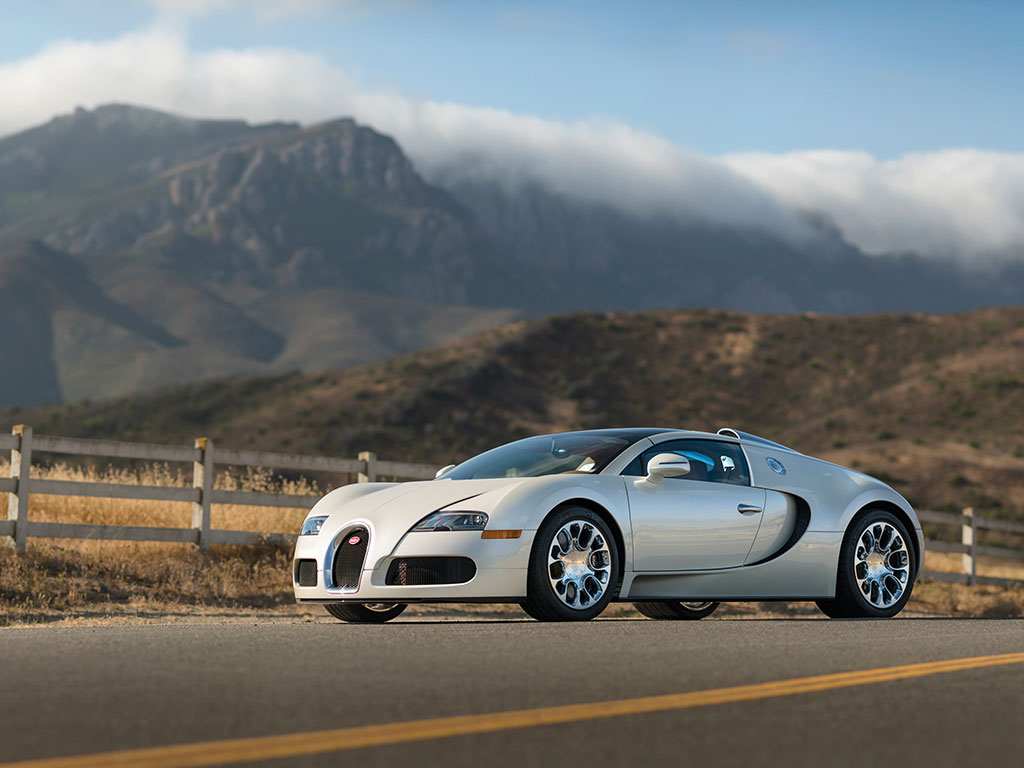 With a 0-62mph time of 2.5 seconds and a braking time from 62mph-standing of 2.2 seconds this is a car that goes and stops better than the vast majority of cars on the road, and the very few that can compete with it's performance don't offer the same level of luxury and ease of control. If you are looking for a car that stands out not only as one of the fastest road cars the world has ever seen, but also one of the most enjoyable and predictable then this is one you will want to look at closely.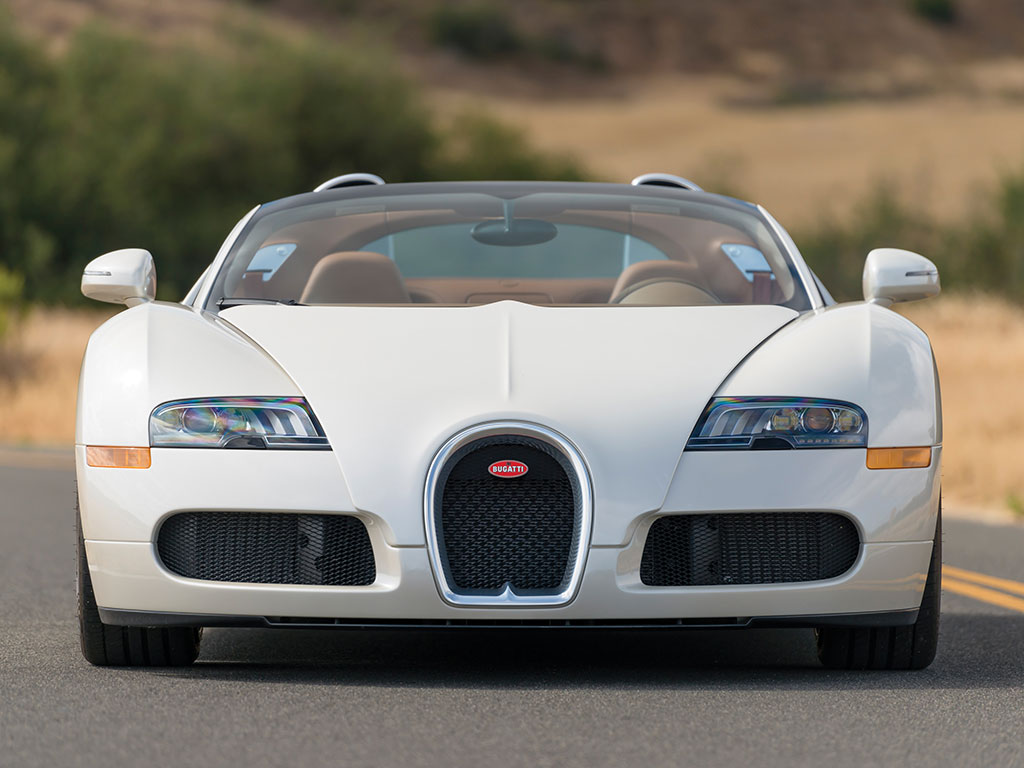 You will find RM Sotheby's sale page with more information if you click here.
And whether or not you are planning on purchasing this car one of the better books on the Bugatti Veyron is Martin Roach's "Bugatti Veyron: A Quest for Perfection – The Story of the Greatest Car in the World" which you can find on Amazon both new and used if you click here.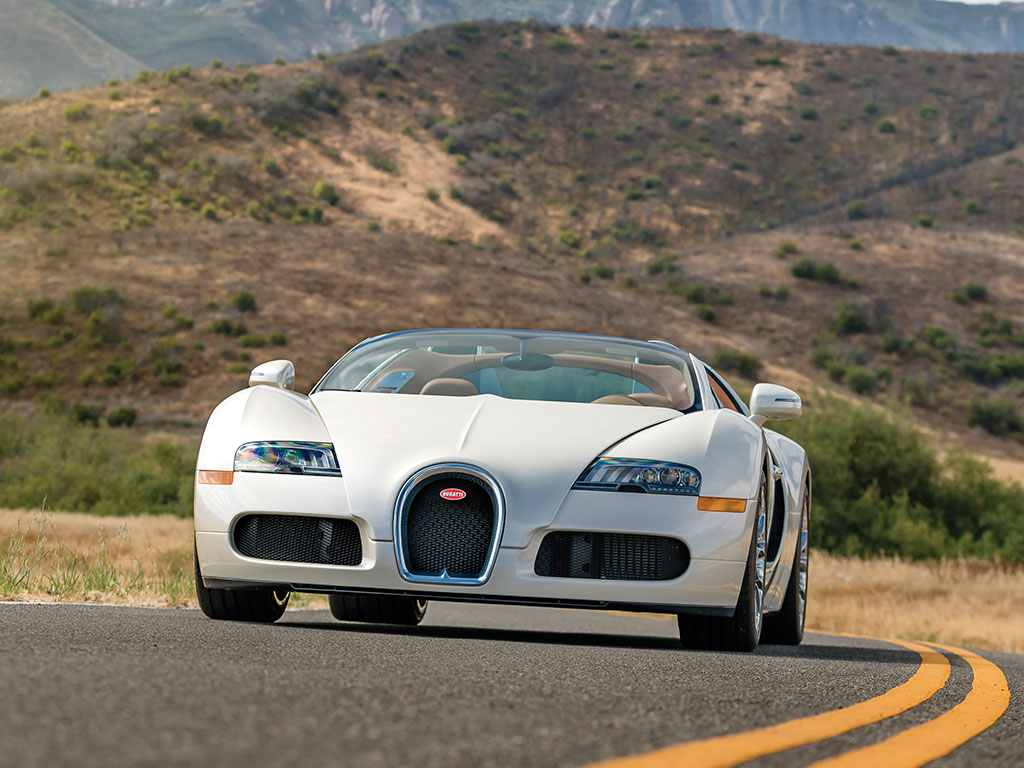 Although Bugatti are already planning a new model to replace the Veyron no new model will be able to take the Veyron's place in history. This was and is the car that broke the mould. The Concorde moment of the automotive world.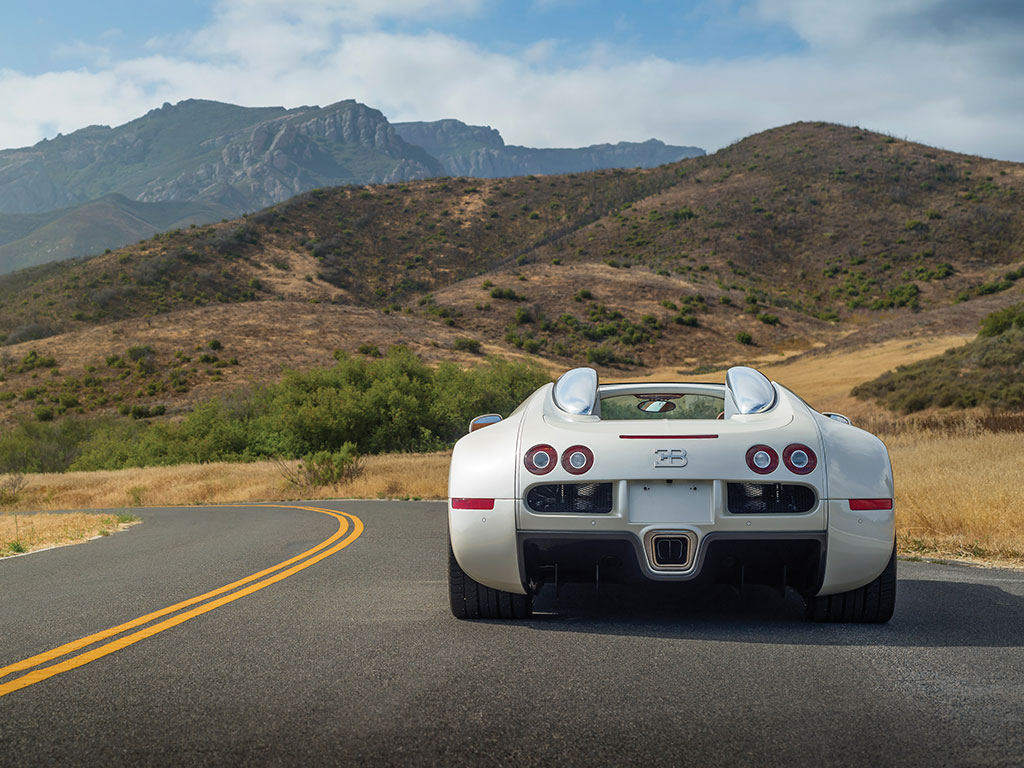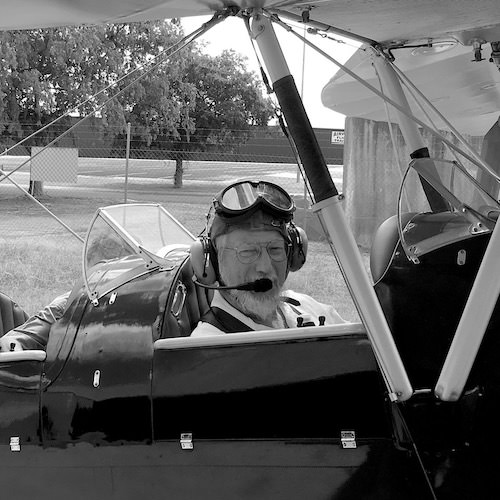 Jon Branch is the founder and senior editor of Revivaler and has written a significant number of articles for various publications including official Buying Guides for eBay, classic car articles for Hagerty, magazine articles for both the Australian Shooters Journal and the Australian Shooter, and he's a long time contributor to Silodrome.
Jon has done radio, television, magazine and newspaper interviews on various issues, and has traveled extensively, having lived in Britain, Australia, China and Hong Kong. His travels have taken him to Indonesia, Israel, Italy, Japan and a number of other countries. He has studied the Japanese sword arts and has a long history of involvement in the shooting sports, which has included authoring submissions to government on various firearms related issues and assisting in the design and establishment of shooting ranges.