The Winchester Model 1873 was one of the most successful of Winchester's lever action rifles and is another of the arms that have been given the title "The gun that won the west" although of course there are a few claimants to that title. It was initially chambered for the 44-40 cartridge but as the 38-40 and smaller 32-20 gained popularity they were added to the chambering options also; the 38-40 in 1879 and the 32-20 in 1882. In 1884 a .22 rimfire option was also offered. Winchester used the 1873 as the basis for their "One of One Thousand" rifles which were built from hand selected parts, especially barrels, and finished to the highest degree. These rifles were sold for the then princely sum of one hundred US dollars to those willing to pay such a handsome sum.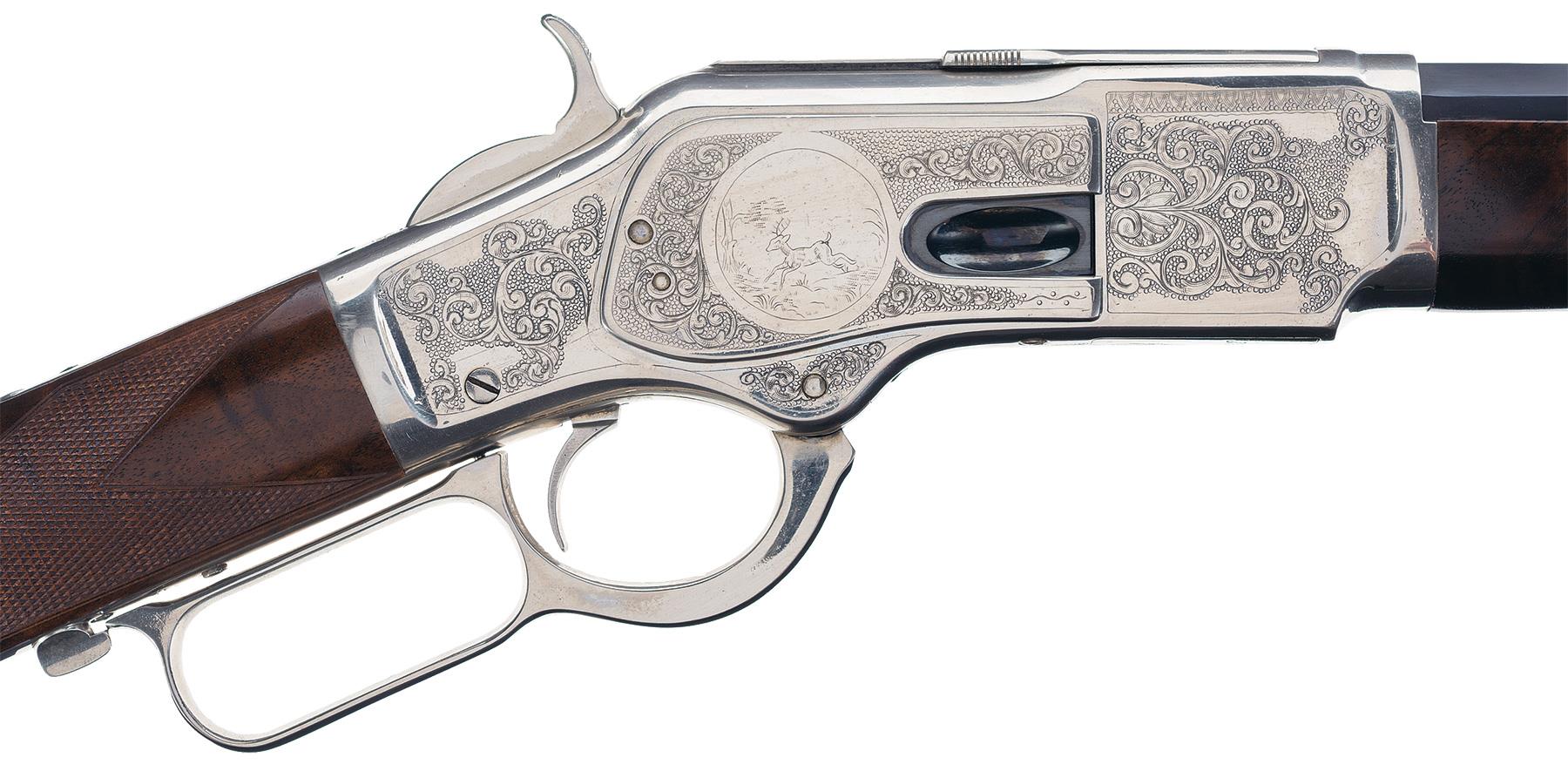 In all over 720,000 Model 1873 Winchesters were produced during a production run that extended from 1873 until 1923. Of that total 19,552 were .22 rim-fires. The Model 1873 was made in a standard 24″ barrel and shorter 20″ barreled carbine but other lengths and styles were available on request. There was a military long barreled and full stocked "musket" version also although these are quite unusual their having made up less than 5% of total production.
The 1873 was first produced with a finger lever similar to the design used on the model 1866 but in 1879 this was upgraded with a lug at the top forward end of the finger loop of the lever which when closed depressed a pin under the action enabling the rifle to be fired; this being done to ensure the rifle would not fire until the action was locked. This is visible in the picture above.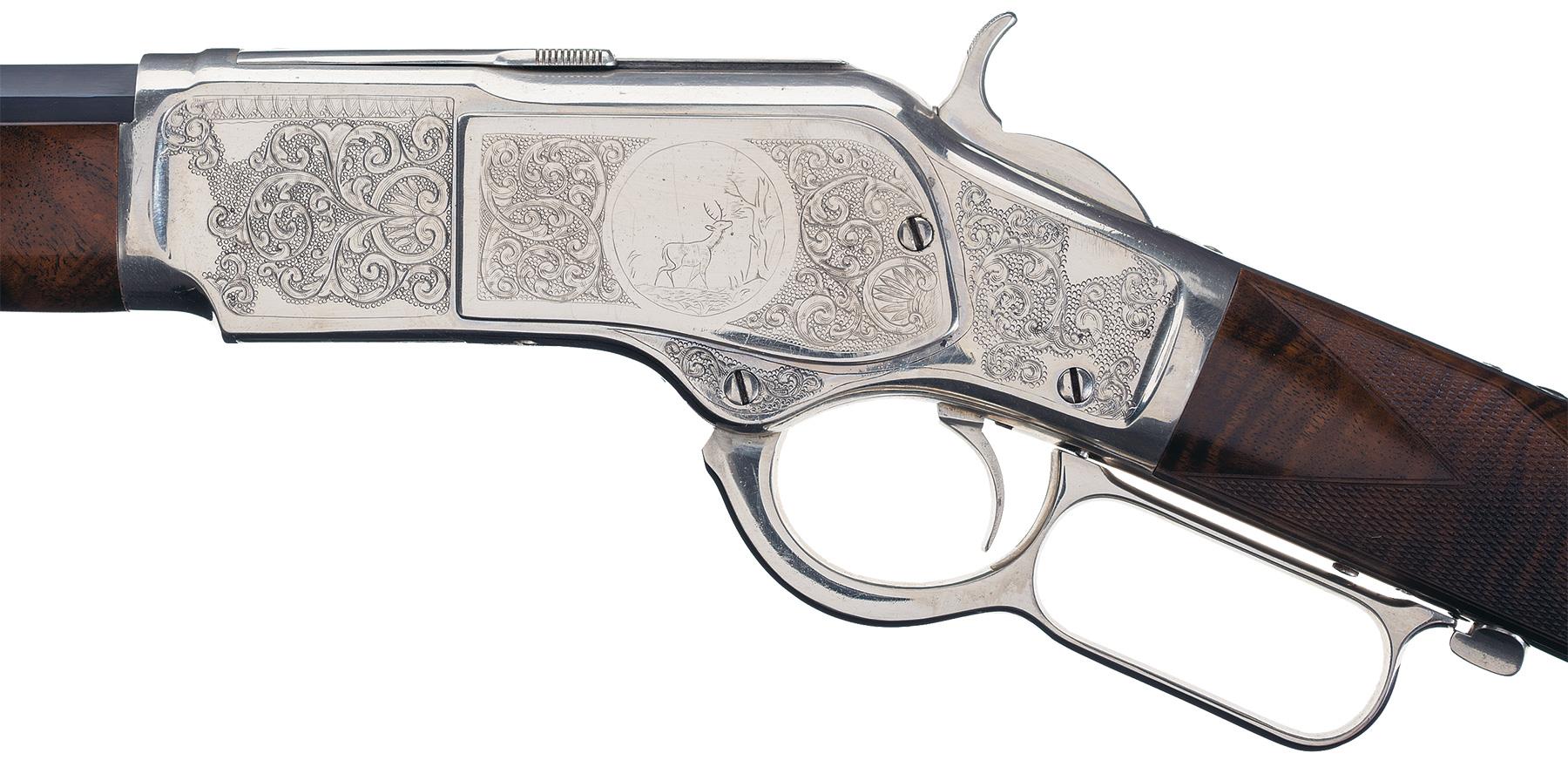 It did not take Colt long to decide to start chambering their Single Action Army revolver in 44-40 once the Winchester 1873 had entered production. This enabled a shooter to have both rifle and revolver(s) chambered for the same cartridge thus making life more simple by only needing to carry one type of cartridge. This is one reason the 44-40 became such a popular caliber. Winchester on the other hand did not chamber the model 1873 rifle in .45 Colt because it was a proprietary cartridge.

The engraved rifle in .32WCF (32-20) is coming up for sale by Rock Island Auction in their June sale and will be offered on June 22nd, 2017.
You will find the sale page for this rifle if you click here.
Condition of this rifle is listed by Rock Island Auction as follows: "OB – EXCELLENT: all original parts; over 80% original finish; sharp lettering, numerals and design on metal; unmarred wood.
PRF – PROFESSIONALLY REFINISHED OR RESTORED"
Rock Island Auction describe the details of this rifle as follows: "Manufactured in 1884 and subsequently engraved. A scroll engraving on a punch dot background is featured on the barrel at the muzzle, forend cap, dust cover, cartridge elevator, buttplate tang and receiver. The receiver also has game animal scenes in circle panels on the sides. Mounted on a deluxe style straight grip stock. The barrel and magazine are blue, and the remaining surfaces are nickel plated. The included Cody Firearms Museum serial number research request form shows that the rifle had a .32 caliber octagon barrel and plain trigger when it was shipped on 7-10-1884."
Expected sale price is in the order of USD$4,000-$7,000

If you are not looking for an original antique rifle but for a current production Winchester model 1873 to shoot and enjoy then you need look no further than Winchester's web site. The Model 1873 is listed by them and comes in two barrel lengths; 20″ and 24″ and with either color case hardened or blued receiver.
You will find the current production Winchester Model 1873 rifles at Winchester's web site if you click here.

(All pictures courtesy Rock Island Auction except as otherwise marked).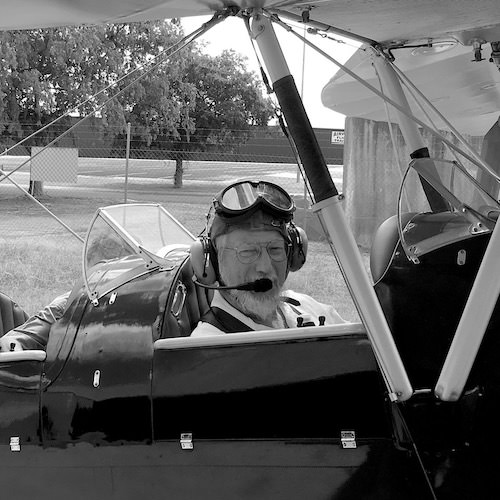 Jon Branch is the founder and senior editor of Revivaler and has written a significant number of articles for various publications including official Buying Guides for eBay, classic car articles for Hagerty, magazine articles for both the Australian Shooters Journal and the Australian Shooter, and he's a long time contributor to Silodrome.
Jon has done radio, television, magazine and newspaper interviews on various issues, and has traveled extensively, having lived in Britain, Australia, China and Hong Kong. His travels have taken him to Indonesia, Israel, Italy, Japan and a number of other countries. He has studied the Japanese sword arts and has a long history of involvement in the shooting sports, which has included authoring submissions to government on various firearms related issues and assisting in the design and establishment of shooting ranges.