The "Seven"
If you can imagine a driving experience that is a blending of go-kart, motorcycle and sports car then you realize what a Caterham 7 provides. It is a car that is not only fast, but that feels adrenaline pumping fast: a car that corners, brakes and accelerates in a way that imparts to the driver an experience that is going to remain etched in their mind for life.
In the Beginning was the Lotus 7
The Caterham 7 began life as the Lotus 7 and it qualifies as a car whose history is a large part of the history of Colin Chapman and Lotus Cars. The Lotus 7 was the final iteration of the series of home-built simple cars that Colin Chapman created beginning back when he was an engineering student at University College London. He started out making cars based on the diminutive Austin 7 and then moved on to begin making cars using spaceframe chassis of his own design.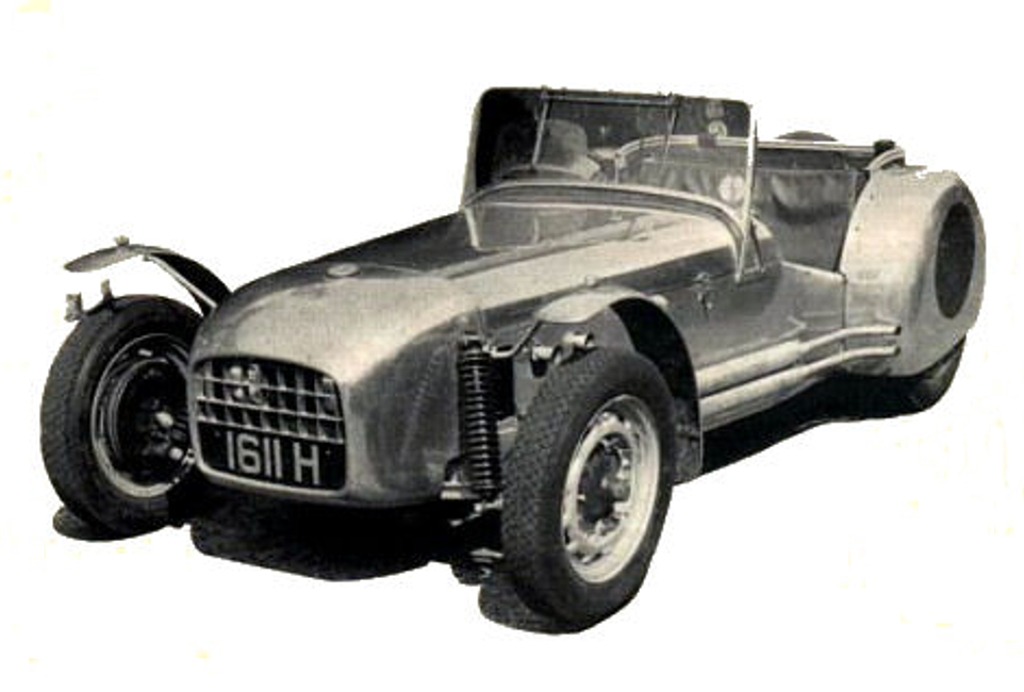 The immediate predecessor to the Lotus 7 was the Lotus Mark VI which Chapman was making between 1952-1957 and it was made and sold as a kit car to take advantage of Britain's tax system at the time which charged a hefty Purchase Tax on "luxury goods" such as motor cars, but not on car parts. The only snag with selling the cars as kits was that they were not allowed to be sold with assembly instructions. Colin Chapman solved this problem with a bit of "out of the box" thinking: he sold his kit cars with "disassembly instructions" so the buyer could simply follow the instructions in reverse to build their car.
For Colin Chapman his kit cars were a means to an end, not the end in themselves. Chapman's vision was to make Lotus Cars a maker of some of the most desirable high performance cars in the world, to rival the likes of Porsche, Maserati and Ferrari. So in 1957 he was thinking seriously about ending production of the Lotus Mark VI and concentrating on his new Lotus Elite sports car. It was Colin Chapman's wife Hazel, whom he used to call "Lotus Blossom", who suggested he should make a new and improved enthusiast kit car. This made perfect sense as it was the enthusiast cars that were providing Lotus with income they needed to support their racing program and the development of the Lotus Elite. That new improved kit car was the Lotus 7 Series 1 which was introduced the same year as the completely different Lotus Elite: which was built on a fiberglass monocoque body.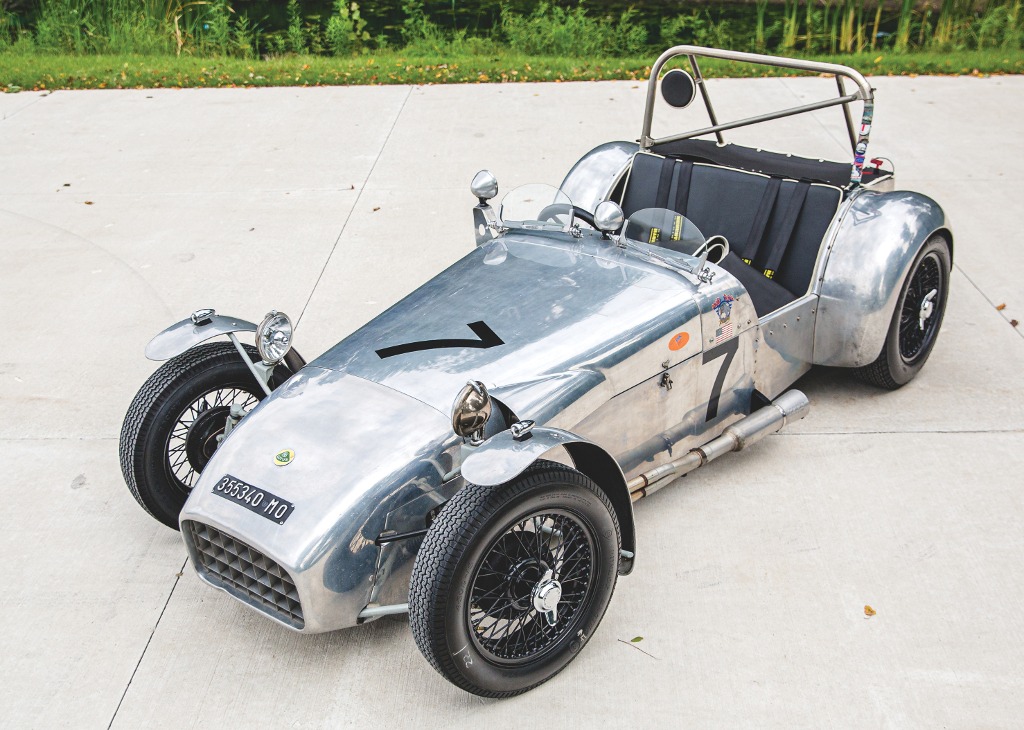 The Lotus 7 was made with a spaceframe chassis with additional stiffness provided by stressed aluminum bodywork. Quite possibly neither Colin Chapman nor Hazel Chapman realized back then that this car would remain in production for more than sixty years, but it is, and showing no signs of being regarded as obsolete any time soon.
1973, The End of the Lotus 7 and the beginning of the Caterham 7
Over the years from 1957 until 1973 the Lotus 7 went through four series and had remained a popular seller despite the Series 4 not being well received by the enthusiast buyers who were attracted to the Lotus 7 and the pure unadulterated driving experience it provided. The Series 4 had been designed to be 1970's trendy but in successfully becoming "trendy" the designers all but destroyed the aspects of the Lotus 7 that had made it so appealing to enthusiasts. The Lotus 7 Series 1, 2 and 3, were cars that had aesthetics reminiscent of the Formula 1 cars of the 1950's, especially the BRM, and the squared boxy Series 4 lost that.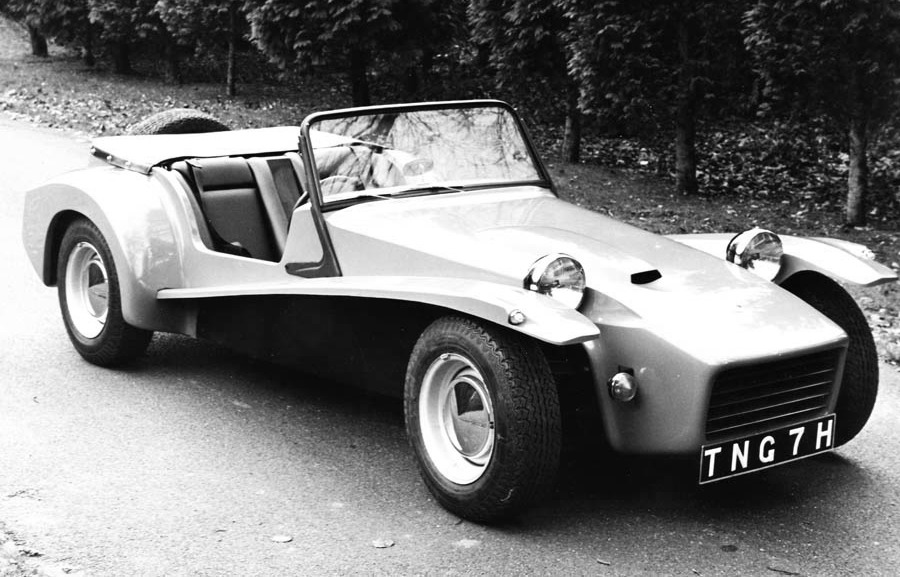 The original Lotus 7's provided a wonderful driving experience and were also cars that you could build yourself, fix yourself, and modify yourself: they were a hobby on four wheels. But for Colin Chapman the Lotus 7 was a reminder of the humble beginnings of Lotus Cars, a memory that he wanted to move on from.
In the early 1970's Lotus Cars was planning to move upmarket with the new Esprit and Elite. Chapman had commissioned renowned Italian designer Giorgetto Giugiaro to design his new Lotus Esprit, and in 1972 the prototype Esprit was displayed by Giugiaro's Ital Design beside the Maserati Boomerang: Lotus was entering the upper echelon of sports car makers, so it was time to shed the kit car Lotus 7.
The Lotus 7 might well have come to an end in 1973 but a man named Graham Nearn of Caterham Cars could see the potential in the car and his company was at that time the last remaining dealer in Britain selling and assembling Lotus 7's. So Graham Nearn made arrangements to purchase the license and tooling to build Lotus 7's from Lotus Cars and, after the last of the Series 4 Lotus 7 kits had been sold by Caterham Cars they entered into manufacturing these cars under their own name as the Caterham 7.
Caterham and the Return of the Series 3
Graham Nearn and his team at Caterham understood exactly why the "trendy" Lotus 7 Series 4 had been a flop. The customer base for the "Seven" were not people interested in "trendy", what they were looking for was that blending of go-kart, motorcycle, and open wheel 1950's British Racing Machines racing car that you could build yourself in your garage and drive to the race track, hill-climb or motor gymkhana and compete in. The aesthetics of the Series 4 just didn't sit right, but the Series 3 did. Hence Caterham decided that once their supply of Series 4 kits was used up they were going to resurrect the much loved Series 3.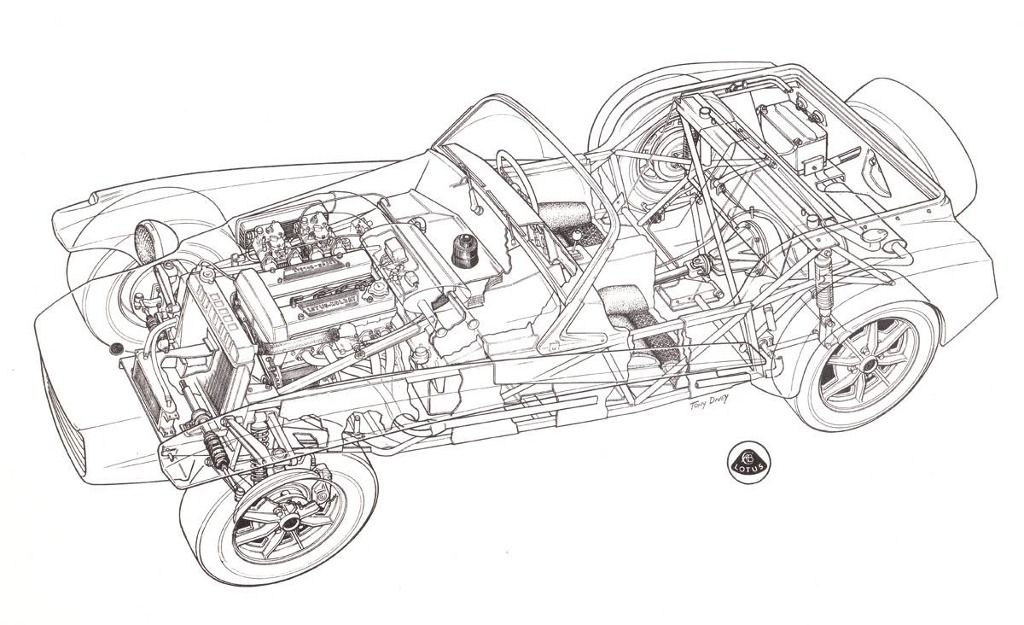 In re-introducing the Caterham 7 as a reborn Series 3, and offering it as a kit, Caterham were very much in tune with what would make the "Seven" attractive to the enthusiasts who would buy it. Caterham continued to offer the Caterham 7 as a kit despite the fact that in 1973 Britain had joined the European Economic Community which resulted in the abolition of the Purchase Tax that had made a kit car much less costly than a fully assembled one. EEC membership meant that Britain moved to Value Added Tax (VAT) which was charged on car parts and assembled cars thus eliminating that component of the kit car advantage. But a kit car was still attractive to enthusiasts not simply because it was a bit cheaper, but because they could build it themselves and personalize it themselves.
The Early Caterham 7 Models
Caterham's initial Caterham 7's were by and large to the same specification as the Lotus 7 Series 3. It used Ford major components such as the gearbox and live rear axle. Front suspension was independent by upper and lower "A" arms with an anti-roll bar while at the rear the live axle was located by an "A" frame that attached under the differential, and two trailing arms.
Engines included the Ford Crossflow and Lotus Twin Cam as had been used in the Lotus Series 3, Cosworth BDR, and Vauxhall HPC. From 1991 Caterham used the Rover K-series engines until Rover/MG was sold to Chinese interests and production in Britain ceased, being shifted initially to Nanjing, and then to Shanghai in China.
Caterham experimented with a range of engines over the years and they tried a couple of large motorcycle engines: the Caterham 7 Blackbird for example was fitted with a Honda CBR1100 motorcycle engine which produced 170 bhp at 10,750 rpm and made the Caterham 7 a 132 mph sports car that could do a standing to 60 mph time of 3.7 seconds. The Blackbird was fitted with a six speed sequential gearbox and was without doubt the closest thing to a superbike on four wheels.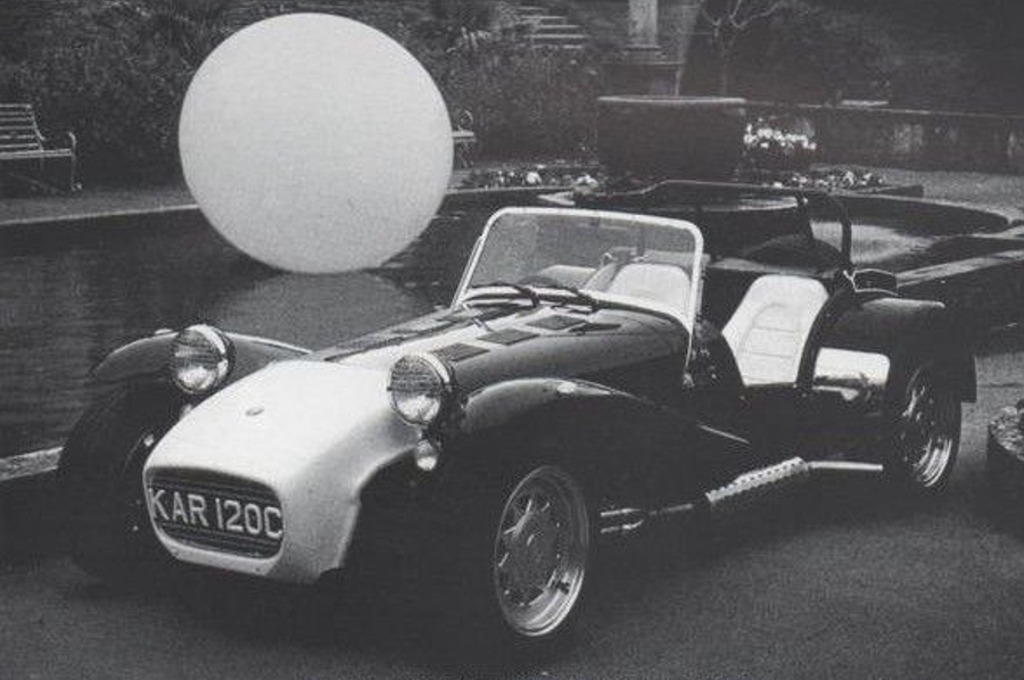 The original Lotus 7 had been fitted with front bicycle style mudguards but for cars made for the North American market this was not permitted by regulation and so the Lotus 7 America models had been fitted with "Clamshell" style fenders and Caterham's initial cars also had these as can be seen in the picture above. While such fenders can look stylish they present the distinct disadvantage of acting like wings to create upwards force at speed which will tend to make the steering light and less certain as the car goes faster. So for practical reasons Caterham fitted their Caterham 7's with the older style bicycle mudguards at the front to avoid the lift problem.
Caterham realized that although the diminutive and very lightweight Series 3 was a popular model that there was a need for a physically larger model for taller people, and because vehicle standards regulations were changing and the original size car would not be able to meet regulations in some parts of the world, such as Australia for example. To this end Caterham created a new model designated the SV (i.e. Special Vehicle) which could comfortably accommodate occupants of 6'6″ or so. Happily the weight difference between the small S3 and the larger SV turns typically turns out to be less than 30 kg so the larger model is not at much of a weight disadvantage as one might expect.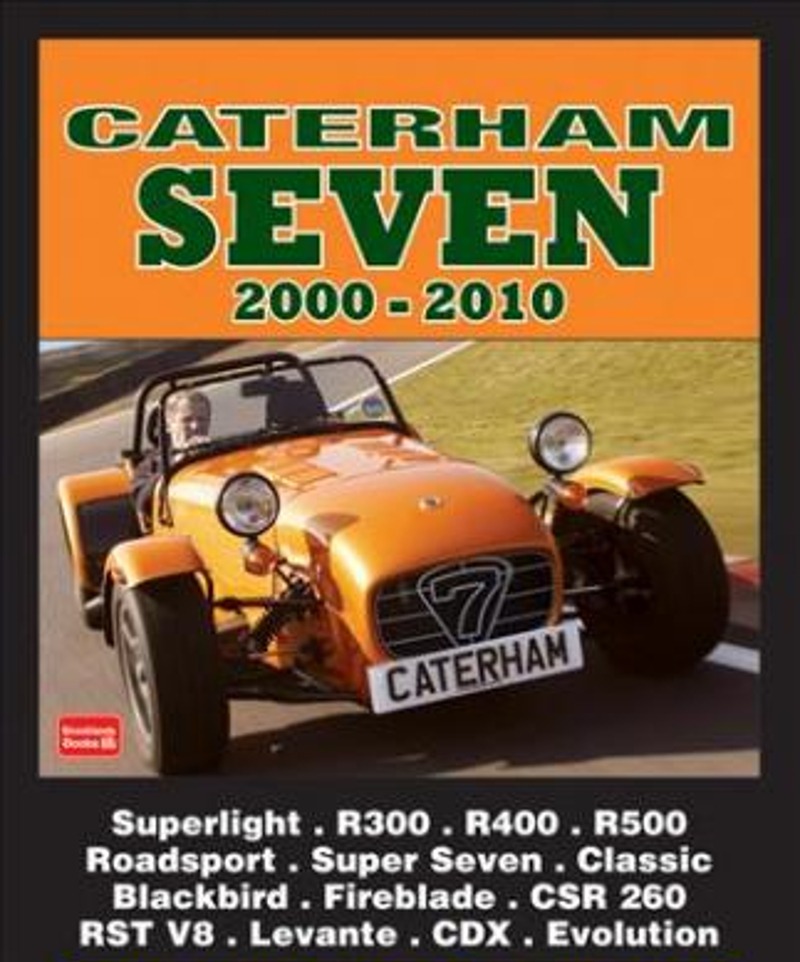 There have been a number of Caterham 7 models, some of which were made in very small numbers. Among these the major models were the Classic, Roadsport, Superlight and CSR.
The Classic was the entry level Caterham 7 and was fitted with a 1.4 liter Rover K-series inline four cylinder engine producing 105 bhp @ 6,000 rpm with 95 lb/ft of torque. That power was delivered to the rear wheels via a five speed all synchromesh manual gearbox. The suspension was by upper and lower "A" arms with an anti-roll bar at the front and a De Dion rear suspension using a lower "A" arm and upper radius arm.
Brakes were discs all around with dual circuit hydraulics. With a weight of 1,201.5lb (545 kg) the power to weight ratio of the Classic was of the order of 200 bhp per metric tonne.
The Roadsport was made as an all purpose sports car and it was made both in the smaller S3 size or the larger SV. It had a proper windscreen with windscreen wipers and a fold down canvas top in case of rain, hail, sleet or snow. It also had a heater/demister and carpet: so this was a car you could genuinely use as a daily driver, yet it could also be driven to the race track and raced before being driven home – assuming the driver did not have any nasty accidents on the track requiring a tow truck home.
The Roadsport was fitted with three engine options; a 1,600 cc Ford Sigma engine in either of two states of tune, a 125 bhp and a 150 bhp. The third engine option was the Caterham Powertrain (CPT) 2.0 liter Ford Duratec pushing 175 bhp to the back wheels.
The Caterham 7 Superlight was made in two versions, the Superlight and the Superlight R500 and neither of these was made in the larger SV format. The Superlight was fitted with a 1.6 liter Sigma engine delivering 150 bhp mated to a six speed gearbox, while the Superlight R500 was fitted with a 263 bhp Caterham Power Train Ford Duratec which Caterham said provided "Weapons Grade Driving Thrills". As the Superlight R500 weighed 1115.5 lb (506 kg) this meant it boasted a power to weight ratio of 525 bhp per metric tonne and as a result its standing to 60 mph time was 2.88 seconds – an experience probably not unlike that of shifting the "Star Wars Millennium Falcon into Hyperspace. Top speed of the R500 was 150 mph so it was a budget priced machine that would leave some very expensive cars in its dust.
Last but not least was the Caterham 7 CSR which was made not only powerful but also sophisticated. The CSR was made in CSR200, CSR250 and CSR Superlight configurations, with the CSR200 and CSR250 being available in the larger SV format.
The engine options were both Ford Duratec Cosworth, the CSR200 being fitted with a 2.3 liter tuned to churn out 200 bhp and the CSR250 being fitted with a 250 bhp version of that engine. The CSR Superlight had a 260 bhp engine and could do a standing to 60 mph in 3.1 seconds and had a top speed of 155 mph which in a small Caterham 7 Superlight would be about as close to Formula 1 exhilaration as we are likely to ever get.
Caterham 7 Current Production
Caterham continues to make the Caterham 7 to the present day. The best way to find out their most current model offerings is to visit their website:
At time of writing the following are the current Caterham 7 models:-
Super Seven 1600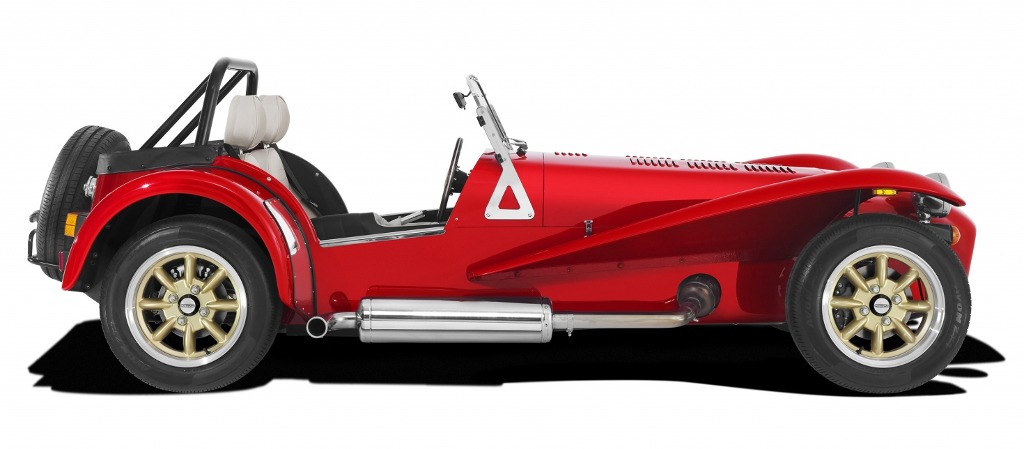 The Super Seven 1600 is available in either the traditional or larger SV body style and is fitted with a 235 bhp 1.6 liter Sigma engine with twin 40s throttle bodies. The car is available either fully built or as a kit and it is capable of a top speed of 122 mph, accomplishing a standing to 60 mph time of 5 seconds.
Seven 270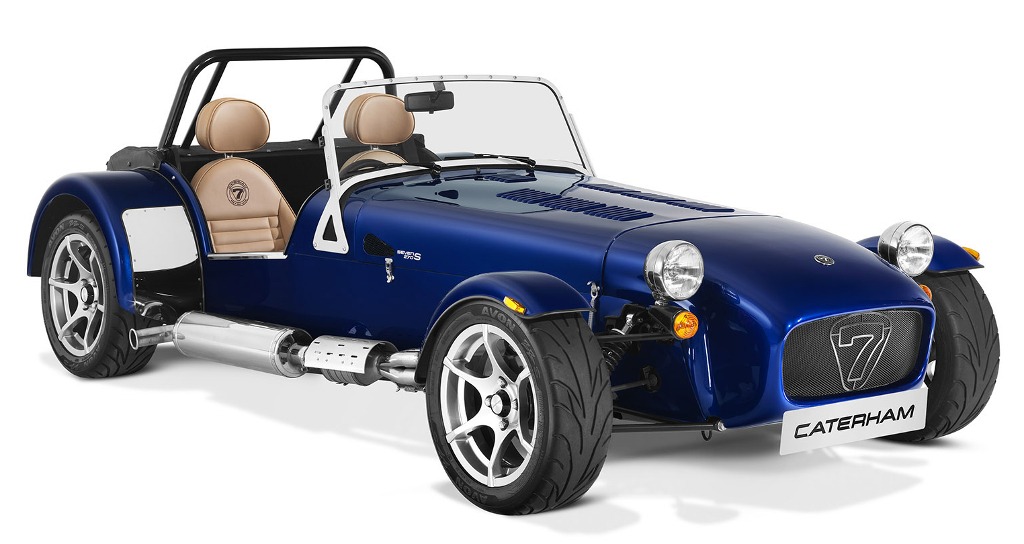 The Caterham Seven 270 is made in the style of a traditional Seven having the bicycle type mudguards and being fitted with a De Dion type rear suspension. It has the same 1.6 liter Ford Sigma engine as the Super Seven 1600 and achieves the same performance.
It is available in either standard or SV large sizes and is available either fully constructed or as a kit.
Seven 310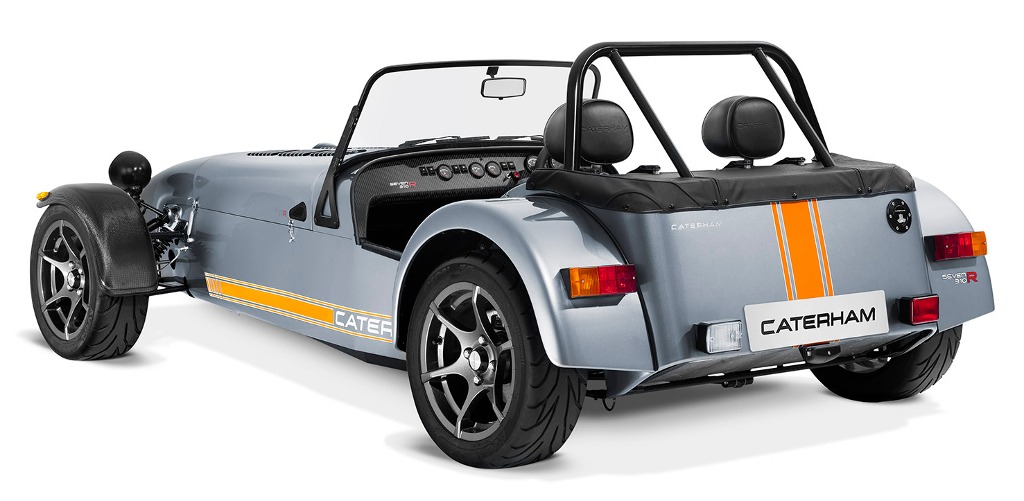 The Caterham Seven 310 is fitted with a top of the range 1.6 liter Ford Sigma engine developing 152 bhp. This car also features a De Dion rear suspension and is available in either standard or the larger SV size, and it can be had fully built or as a kit.
Seven 360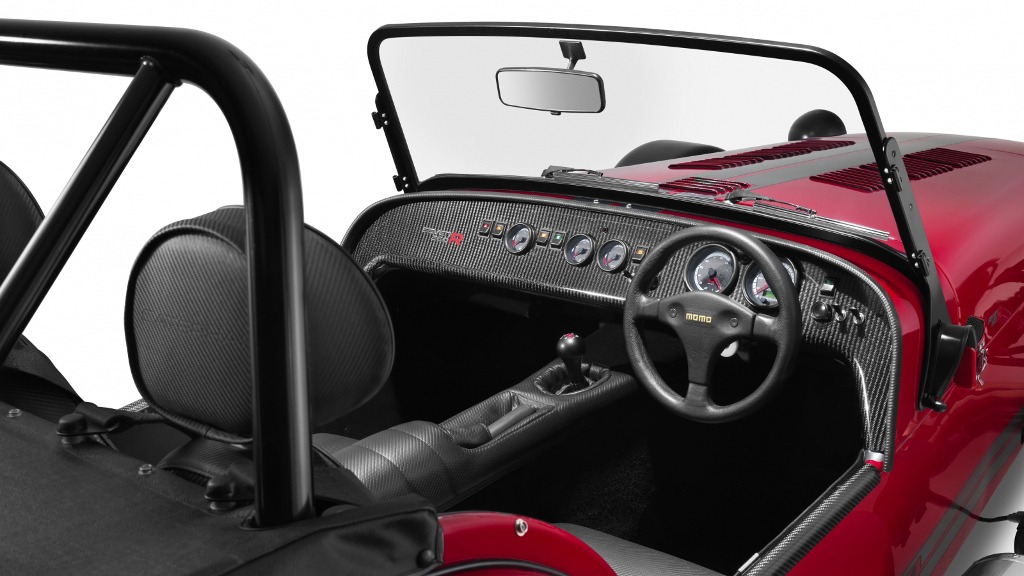 The Seven 360 is fitted with a Ford Duratec 2.0 liter engine delivering a smooth 180 bhp. This model is capable of a top speed of 130 mph and accelerates from standing to 60 mph in a brisk 4.8 seconds. This car also features a De Dion rear suspension, something that was only ever fitted to five of the original prototype Lotus 7's and something that did not make it into the production Lotus 7's because of the costs involved. So these De Dion equipped Caterham cars are a cut above their Lotus forebears: much has been improved over sixty years of production.
Seven 420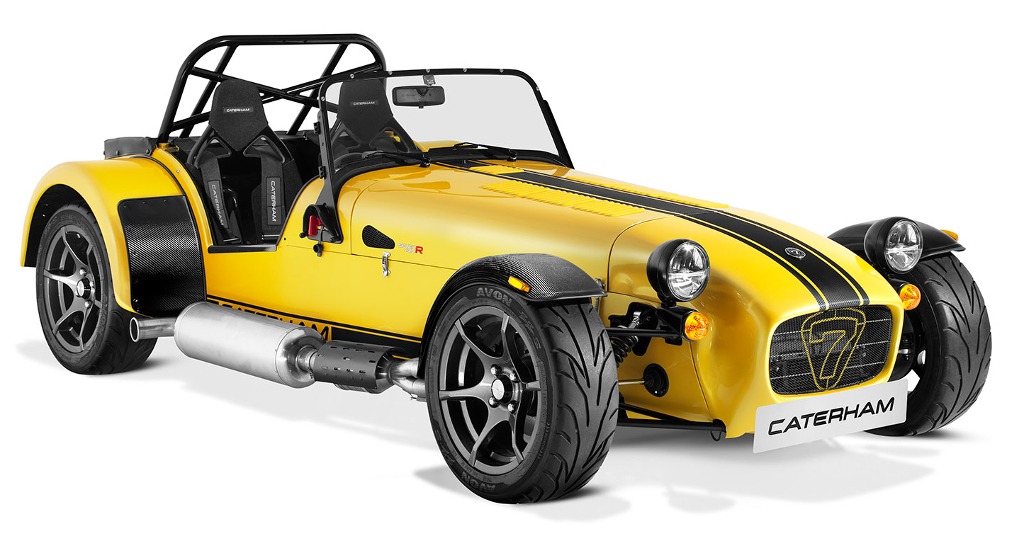 The Caterham Seven 420 weighs about half a metric tonne and is fitted with a 210 bhp 2.0 liter naturally aspirated Ford Duratec engine, giving it a power to weight ratio of around 420 bhp to the metric tonne. The engine has a dry sump and the car is available in either standard or large SV size as a fully built car or kit.
Seven 620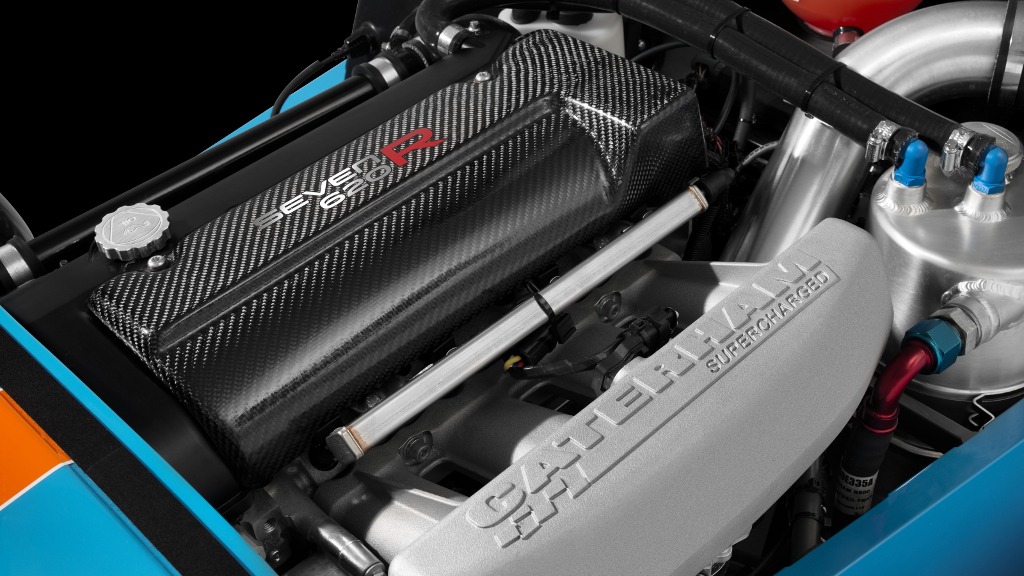 The Caterham Seven 620 improves on the already breathtaking performance of the Seven 420 by adding a supercharger to the already powerful 2.0 liter Duratec engine. This car has the nose cone optimized for air flow and has a race developed cooling package to ensure that hot little 310 bhp engine keeps its cool.
With a power to weight ratio around 620 bhp per metric tonne this little road rocket goes from standing to 60 mph in a scant 2.79 seconds and has a top speed of 155 mph.
The Seven 620 features a special "gunmetal chassis" and it is available in standard or large size. This specialist car is not offered as a kit but only fully constructed.
Academy Race Package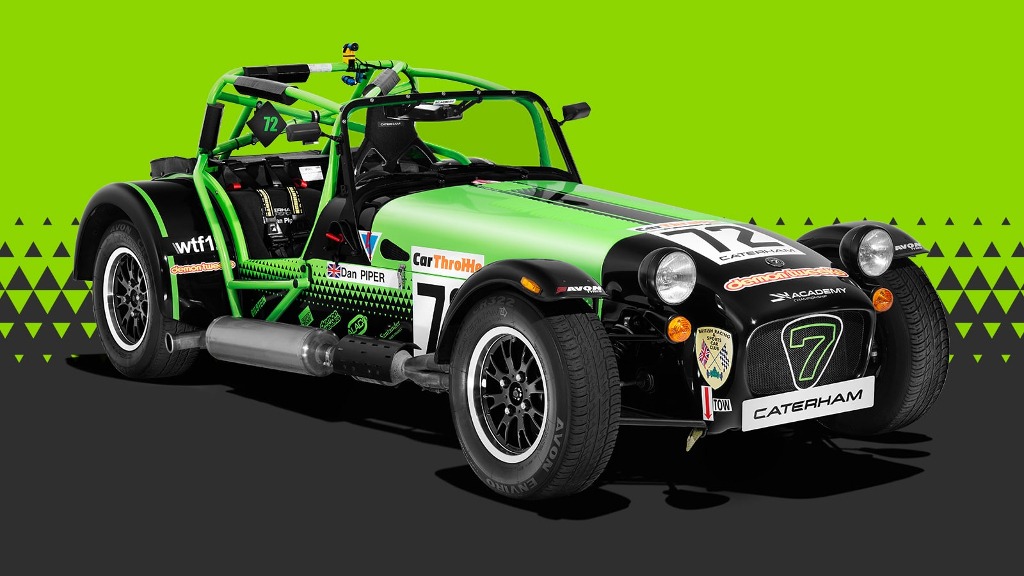 The Academy race package provides the buyer with a Seven Academy road legal racing car fitted with a Caterham Motorsport 1.6 Ford Sigma engine, but it doesn't stop there. The Academy package also includes a full guided introduction to motor racing with trackside tech support and gaining of a racing driver's license along with a full season of racing.
For the person looking for a pathway in which to fully experience motor racing this is a complete package.
420R Race Package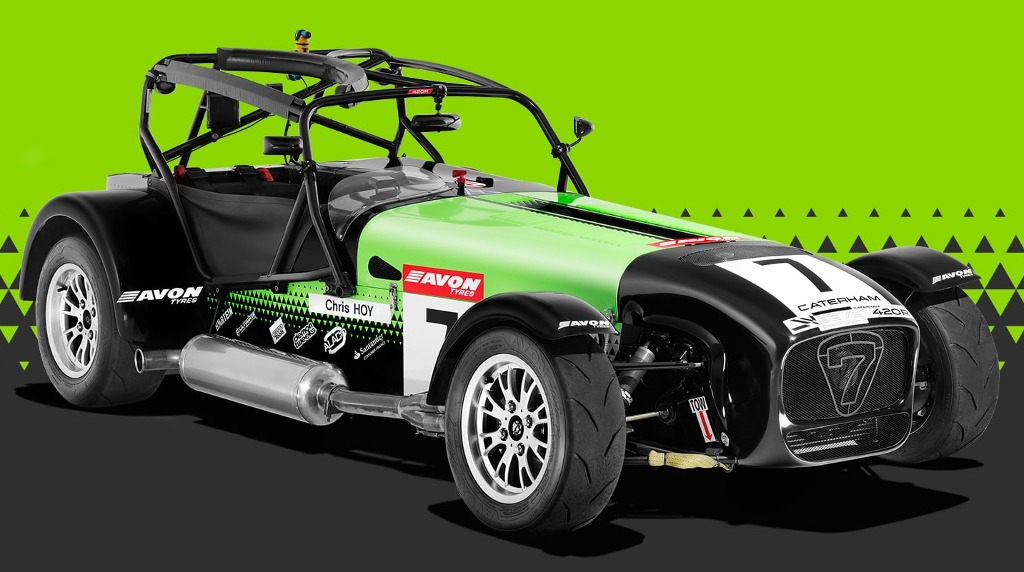 The Caterham Seven 420R package is like the Academy but instead is based around a track only non-road-legal Caterham Seven. The 420R is fitted with a sequential gearbox and 2.0 liter Ford Duratec racing engine and the package includes full season race entry into the Seven 420R Championship.
Conclusion
Back when Colin Chapman's wife Hazel suggested that he continue making affordable kit cars it is pretty certain that neither Colin nor Hazel would have imagined that this extraordinary car would remain in production for over six decades. The Seven has accomplished that in part due to the enthusiasts who love the car and the driving experience it delivers: but the success of the Seven is also in no small part due to the visionaries at Caterham, beginning with Graham Nearn and the team he assembled.
The Caterham Seven is an out of the box car that was designed from the ground up as a car that would deliver the ultimate driving experience, and it was originally created by a man who understood exactly how to deliver that, and deliver it at a price that ordinary people could afford. We hope it continues to deliver that for another six or more decades.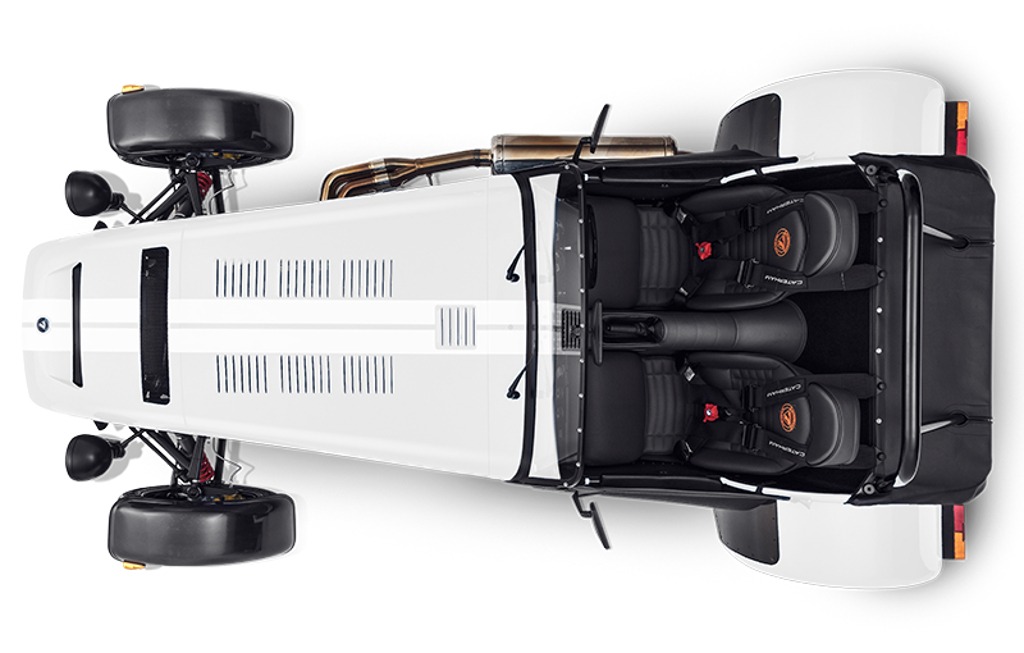 Picture Credits: Caterham Cars, Lotus Cars, RM Sotheby's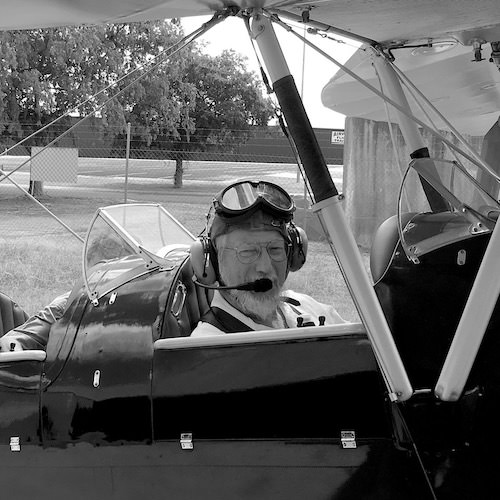 Jon Branch is the founder and senior editor of Revivaler and has written a significant number of articles for various publications including official Buying Guides for eBay, classic car articles for Hagerty, magazine articles for both the Australian Shooters Journal and the Australian Shooter, and he's a long time contributor to Silodrome.
Jon has done radio, television, magazine and newspaper interviews on various issues, and has traveled extensively, having lived in Britain, Australia, China and Hong Kong. His travels have taken him to Indonesia, Israel, Italy, Japan and a number of other countries. He has studied the Japanese sword arts and has a long history of involvement in the shooting sports, which has included authoring submissions to government on various firearms related issues and assisting in the design and establishment of shooting ranges.