I must admit that when I first heard that Rigby were back in London, making rifles as they used to, "Made out back and sold out front", it was a bit like being told that Top Gear was back with Clarkson, May and Hammond at the helm. I'm not sure why I would be quite so happy about that. I think it just provides hope that all is not quite lost for Britain's once proud gun trade despite the oppressive legislative framework British firearms makers and owners are supposed to live under; there are reasons I would not choose to live in Britain despite its being the land of my birth, and that is at the top of my list of reasons.
There is a special something about a London gun that sets it apart. It comes with a pedigree established in hunting around the globe laced with British practical conservatism and pride of workmanship. The design, the quality, the look and feel of a "London gun" really sets them apart.

London guns are, of course, expensive; typically out of reach for all but the wealthy few. Not every shooter aspires to owning a rifle that has a heritage rather like that of Aston Martin or Bentley when we think about cars for example. But I do. For me, a rifle that is brilliantly designed and well made is a joy to own and use, but one with those things plus a heritage, that's even more special. So as I was browsing through Rigby's new website and admiring the new "Big Game Rifle" I became even happier when I got to the bottom of the page and discovered the "bottom line". The "bottom line" is where the price is mentioned. I'm used to seeing bottom line prices for British rifles that immediately consign them to the "wish list" that is unlikely to ever be fulfilled. But the bottom line for the new Rigby Big Game rifle is not out of reach. Expensive, yes, but attainable. Rigby's Big Game Rifle is priced at US$13,558.00, and that includes UK VAT with grade 5 walnut. This is less expensive than an inexpensive new car; and its something that promises to last a great deal longer than an inexpensive new car, to hold its value much better, and to potentially become a family heirloom that your children will fight over when you're dead. A new Rigby Big Game Rifle will also provide a great deal more satisfying fun than a cheap new car. Suffice to say that as I expect to be in the market for a rifle in the coming months a Rigby Big Game Rifle now sits at the top of my "wish list" that very probably will be fulfilled.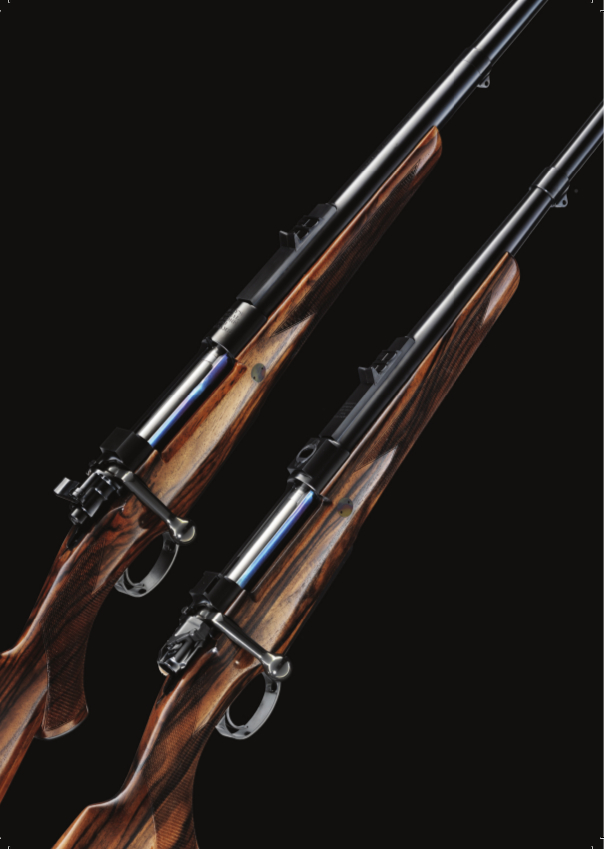 You'll find Rigby's page for their Big Game Rifle if you click here.
There are two basic models of the Big Game Rifle; the single square bridge and the double square bridge. The single square bridge features the old style Mauser flag safety catch, a shorter 22 inch barrel and express sights. It is available in two calibers; the first is the classic Rigby caliber, the 416 Rigby, otherwise known as the "foursixteeny" though please be aware that recoil of this legendary cartridge is by no means "teeny". Most people describe the boot of a "foursixteeny" as "severe" or just "ouch".
There's quite a nice video that demonstrates the level of recoil to expect from Ron Spomer.

It's nice that Ron Spomer has the humility and honesty to publish that moment for the rest of us to learn from. The recoil is a bit more than a 375 Holland and Holland but, as Ron Spomer ably demonstrates in the following video it is by no means unmanageable as he shoots it off a benchrest, and unsupported. In this video he also shows the operation of the Mauser flag safety and the controlled feed nature of the Mauser Magnum action.

As you have been able to see from that video a 416 Rigby is a manageable rifle with excellent safety and reliability.
The second caliber available for the single square bridge Rigby Big Game Rifle is the newer 450 Rigby created in 1994 by Paul Roberts, who was the proprietor of John Rigby and Company at that time. This cartridge is the 416 Rigby cartridge case necked up to hold .458″ diameter bullets, as used in the 458 Winchester Magnum. The 450 Rigby drives a 480 grain (31 gram) bullet at 2378 fps (725 m/s) creating 6288 ft/lb of energy (8525 Joules). This would be a caliber of choice for a professional hunter or guide needing a short range emergency stopping rifle in case their client gets things wrong and needs some helpful intervention.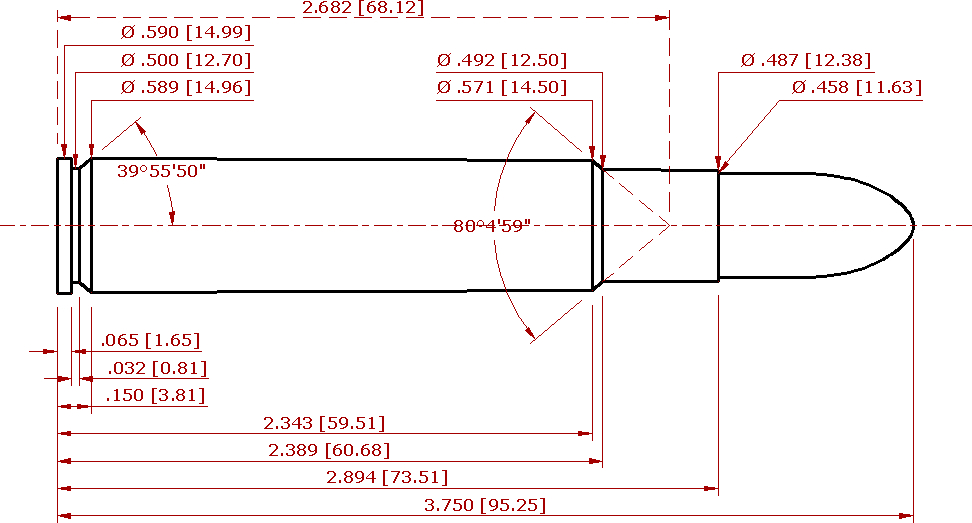 The 450 Rigby has been designed to operate at modest pressures to ensure it is both reliable and powerful under all conditions.
There is an informative page on the 450 Rigby cartridge at Wikipedia. To visit that page click here.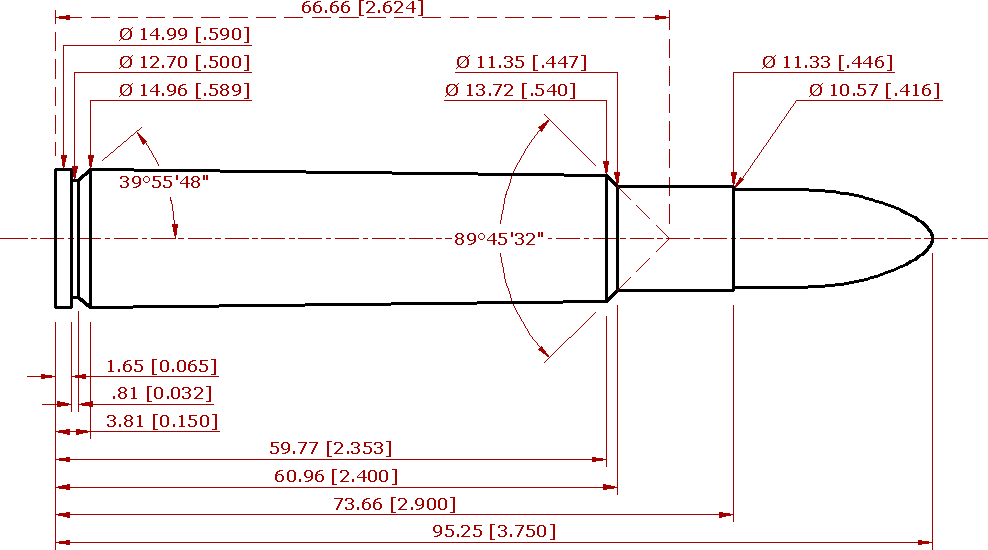 The classic Rigby cartridge is the 416 Rigby as mentioned above. For most people this is more likely to be their cartridge of choice for their classic Rigby and it is one of the best choices one could make. Recoil is manageable, and there are excellent bullets available that make the cartridge more adaptable to a range of hunting situations than the 450 Rigby.
For the Wikipedia page on the 416 Rigby click here.
The second model of the Rigby Big Game Rifle is the double square bridge. This is available in 416 Rigby and 375 Holland and Holland Magnum. The double square bridge is intended for mounting optical sights and has a horizontally operated three position safety similar to the ones found on the Winchester Model 70 to facilitate this.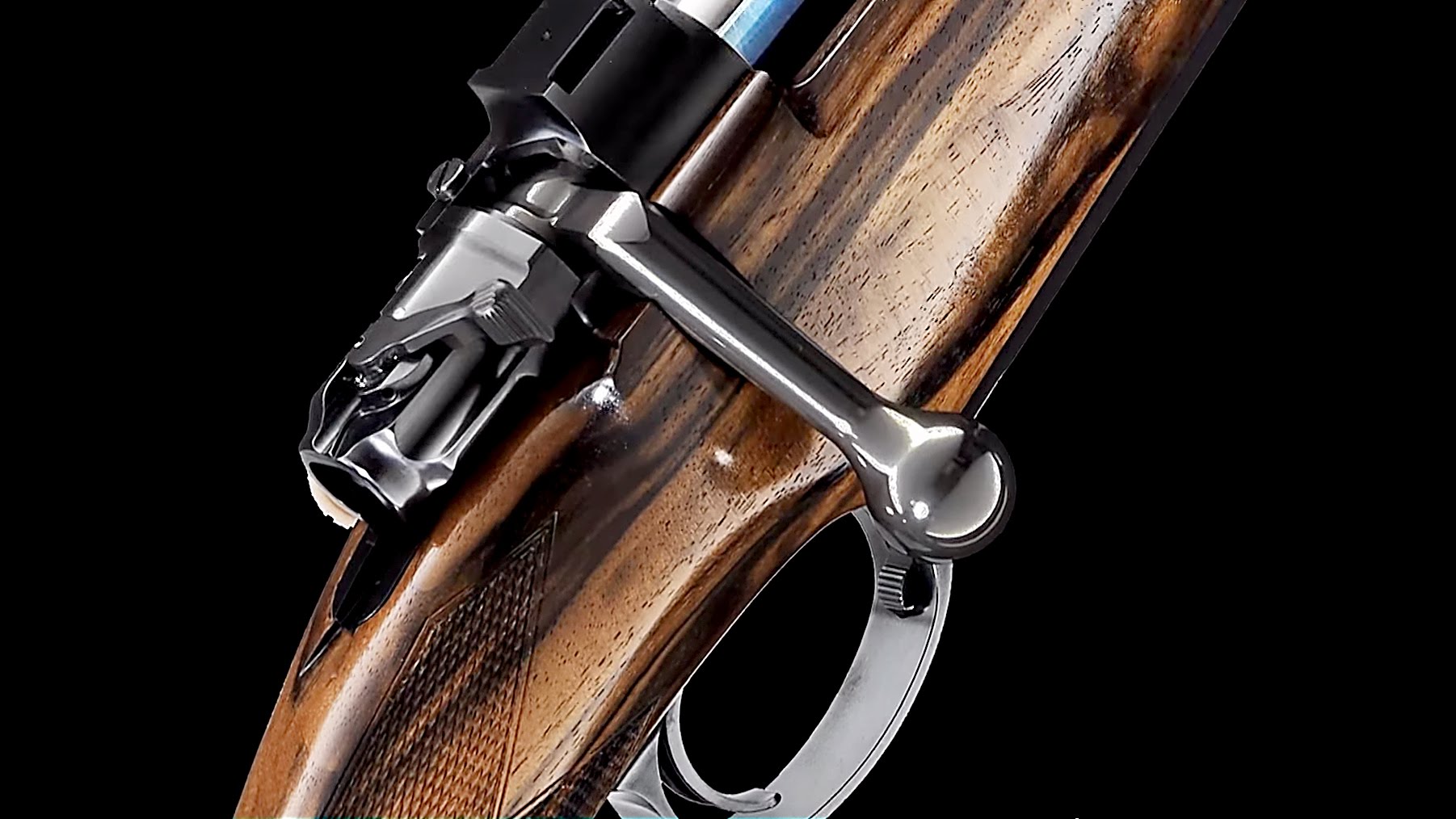 The double square bridge is the style that most sporting shooters will favour because most of us will want to mount a telescopic sight on our rifle. It is certainly the model that now sits at the top of my personal "wish list".
If you have a look at my previous post "One Rifle With Which to Travel the World" (to read it click here) you'll see that I favour a bolt action rifle, with a controlled feed action, fitted with a 2.5-10x56mm Schmidt and Bender "Classic" telescopic sight or a 2.5-10x50mm Kahles Helia C in EAW detachable pivot mounts, chambered for the 375 Holland and Holland Magnum. With that combination a hunter is equipped for any deer or antelope species; has a rifle which can be set up with ammunition suitable for 300 yard shots on wild sheep; and a rifle that can be taken against dangerous game such as Cape Buffalo with confidence. The cartridge has a wealth of available loadings available for it and is also easy to find reloading data and components for. A Rigby Big Game Rifle set up like that is going to be comfortable to shoot and reliable. So, although most of us prefer to have a few rifles in our rifle cabinet one could arguably just have that one and be set up for pretty much any sort of hunting situation imaginable – except "bunny busting" or "woodchuck whacking" of course.
The Rigby Big Game Rifle features a classical British "drop magazine" which extends the capacity to four rounds for the 416 Rigby and 450 Rigby cartridges and five rounds for the 375 Holland and Holland Magnum. So the rifles have a decent cartridge capacity without creating a "too much of a good thing" scenario.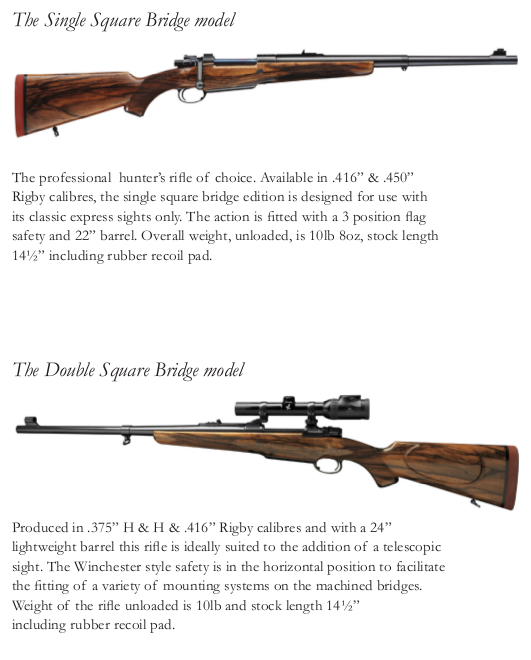 The Big Game Rifle is however not the only offering from Rigby in London. The other model however is likely to be the preserve for the maharajas, oil sheiks and merchant bankers reading this. Rigby are also offering their classic Rising Bite double rifle after an 82 year break in production.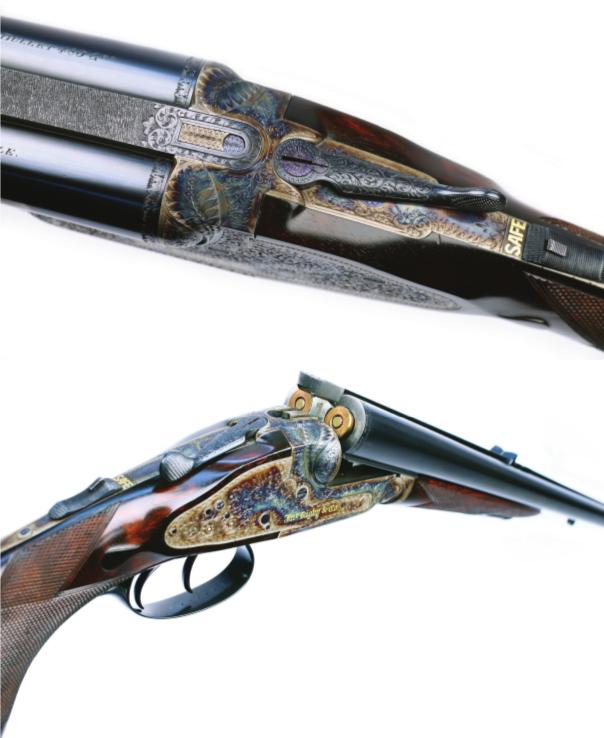 Rigby's Rising Bite rifle was acknowledged as being at the top tier of British double rifles. A rifle that holds its own in the company of the "best of the best". These are a hand made rifle, and the action is one of the hardest to make, strongest, and most reliable double rifle actions ever conceived. The last Rising Bite rifle was made for the Maharaja of Karauli in 1932, after which they became too expensive to produce.
The new Rigby Rising Bite Rifles are available on special order in either 470 Nitro Express or 500 Nitro Express. Prices start at £95,000 and it can take up to three years to make your rifle.
A Rigby Rising Bite double rifle is an investment quality collector's item that, if you do go ahead and purchase one, I hope you also take out onto the hunting fields and get some enjoyment out of. A rifle with which to build up some memories, and to acquire some stories to tell. Of the two available calibers I think I would opt for a 500 Nitro Express which John Taylor in his book "African Rifles and Cartridges" describes as "a real killer on practically anything". The 500 Nitro Express was generally regarded as the largest rifle one would normally use, the 600 Nitro Express was not, it was reserved for use as an emergency stopper only. A well balanced 500 Nitro Express is a lively rifle, and is light enough to be carried all day without producing excess fatigue.
You'll find Rigby's page on their Rising Bite Rifle if you click here.
For those who are interested in Rigby Rifles and/or big game hunting there are some good books that you might be interested in.
Rigby are back; and I for one am really pleased to see them back. Hopefully their business will flourish and we will again see London emerge as a city where some of the finest sporting rifles and guns in the world are made.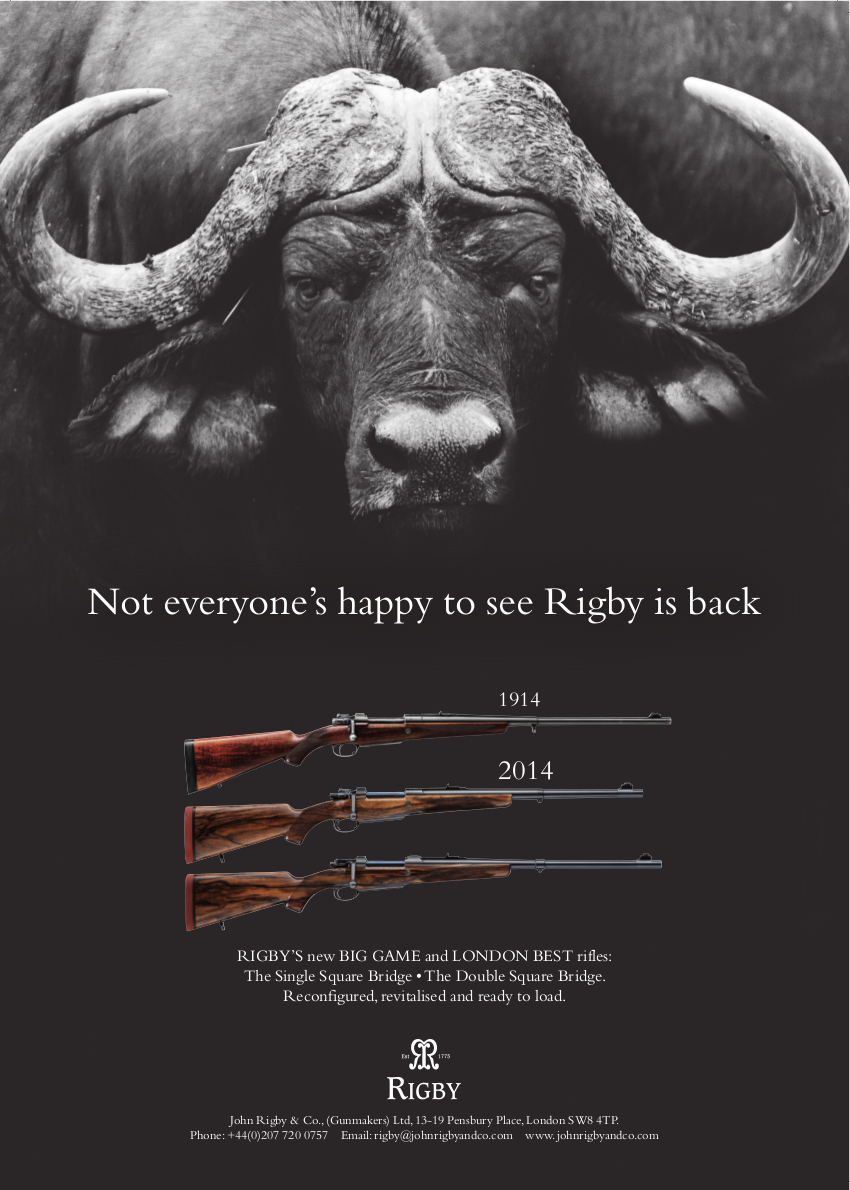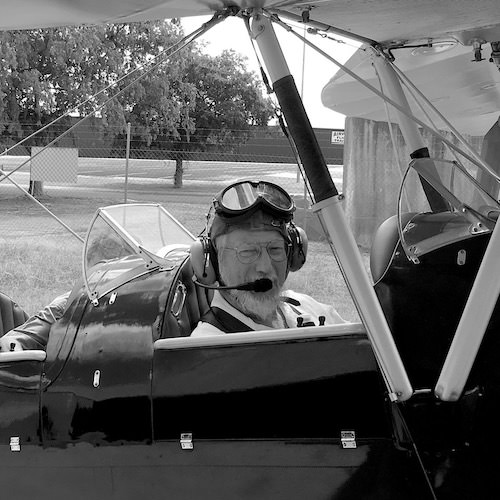 Jon Branch is the founder and senior editor of Revivaler and has written a significant number of articles for various publications including official Buying Guides for eBay, classic car articles for Hagerty, magazine articles for both the Australian Shooters Journal and the Australian Shooter, and he's a long time contributor to Silodrome.
Jon has done radio, television, magazine and newspaper interviews on various issues, and has traveled extensively, having lived in Britain, Australia, China and Hong Kong. His travels have taken him to Indonesia, Israel, Italy, Japan and a number of other countries. He has studied the Japanese sword arts and has a long history of involvement in the shooting sports, which has included authoring submissions to government on various firearms related issues and assisting in the design and establishment of shooting ranges.