The British have a bit of a long and unhappy history of banning things to "solve" problems and the 500/465 Nitro Express was the result of just such a ban. In 1905 the British Government banned the importation and use of .450 caliber ammunition in both India and the Sudan. For the Sudan they also banned the new .303 as well. This was done in an effort to ensure that people who were opposed to British rule would not be able to get hold of rifles or ammunition suitable for rebellion.
The result for sporting rifle makers was that the popular .450 Nitro Express cartridges that had become the mainstay of the big game hunting fraternity were no longer legal for use in India, which was one of the most important markets for big game rifles, the main buyers of very expensive British double rifles being Indian royalty. So it was that the British gun trade invented new big game rifle calibers to circumvent the ban, and London gunmaker Holland & Holland's new cartridge was the 500/465 Nitro Express, being the 500 3¼" Nitro Express necked down to accept .468″ diameter bullets (i.e. .460″ bore size, .468″ groove diameter/bullet diameter, so .465″ is between the two and sounds like a nice round number).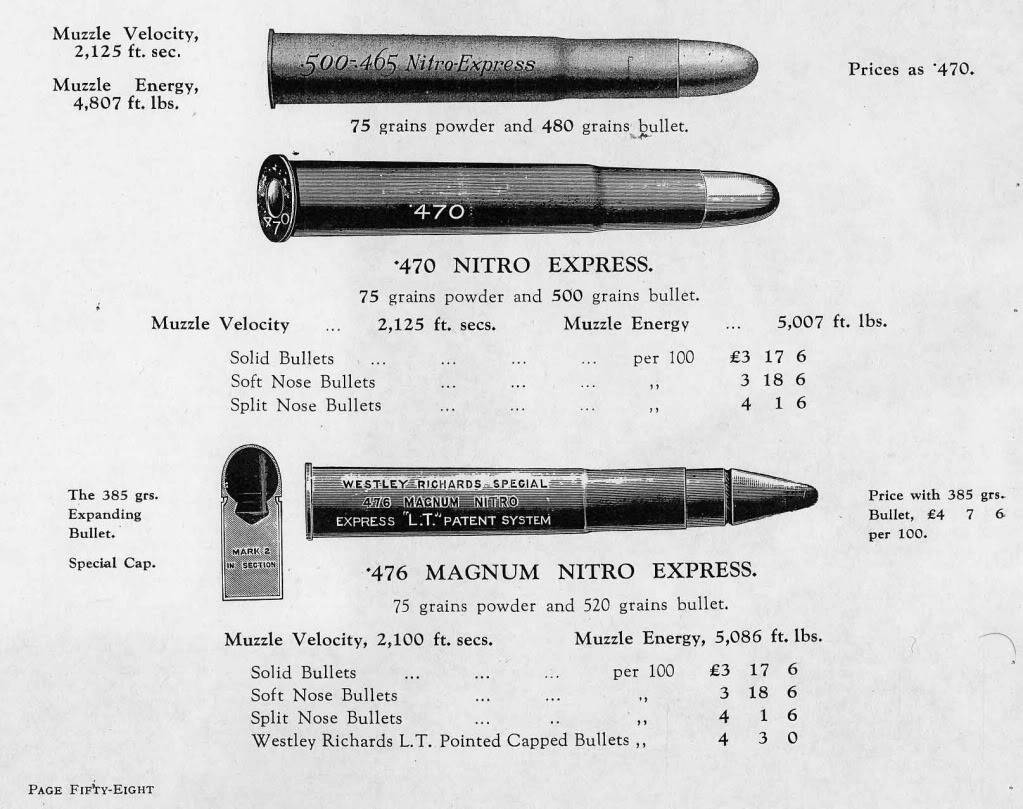 These new cartridges such as the 500/465 Nitro Express and the .470 Nitro Express were made to duplicate the performance of the successful .450″ Nitro cartridges they needed to replace. Holland & Holland's 500/465 Nitro Express was one of these, and was introduced in 1907. The new cartridge was designed to send a 480 grain bullet in the direction of one's quarry at 2,150 fps, which was the same performance as the .450 Nitro calibers generally delivered: this is also the same performance that Winchester's .458 Winchester Magnum was designed to deliver when it replaced the British big game cartridges as they went out of production in the late 1950's and early 1960's.

The 500/465 Nitro Express was a Holland & Holland proprietary cartridge and so it is not as common as the non-proprietary cartridges, such as the 470 Nitro Express. It was sold loaded with a choice of three bullet types; Solid (i.e. Full Metal Jacket), Soft Nosed, and Westley Richards Capped (see diagram above). We need to remember that one of the most important markets for these Holland & Holland rifles was India where the main quarry would be tiger, and also gaur, as well as Sambar deer, and so the bullet types made were to suit not only African thick skinned dangerous game, but also soft skinned game both dangerous and non-dangerous.
The more common type of rifle chambered for the 500/465 Nitro Express was the Holland & Holland double rifle in different grades up to the "Royal" sidelock ejector.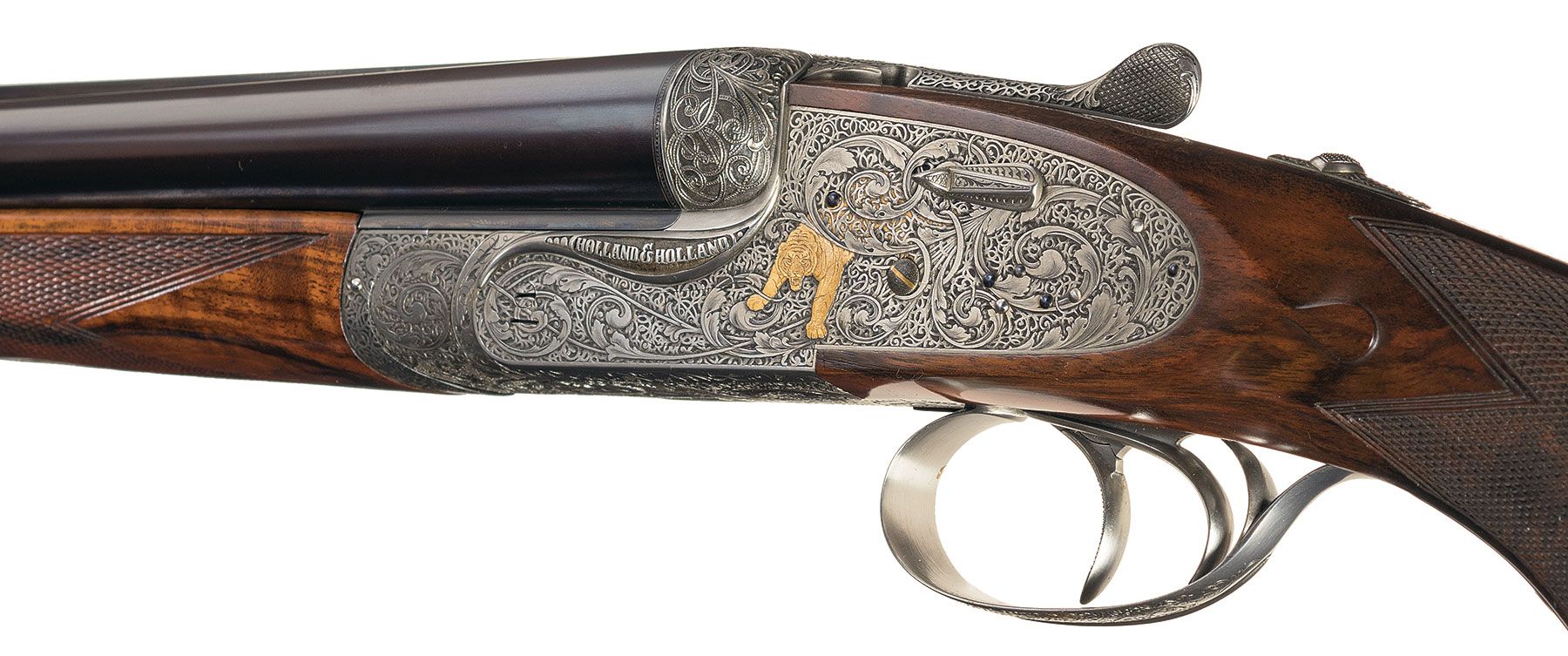 Rifles made for Indian royalty exhibit beautiful embellishment in the form of perfectly executed engraving with gold inlays, and the Holland & Holland in our pictures is a prime example of the best that one might find. The rifle features exquisite scroll engraving highlighted on the sidelocks on each side with a gold inlaid tiger.
On the bottom of the action is depicted an elephant with hunters on a howdah, which was the normal method of going hunting.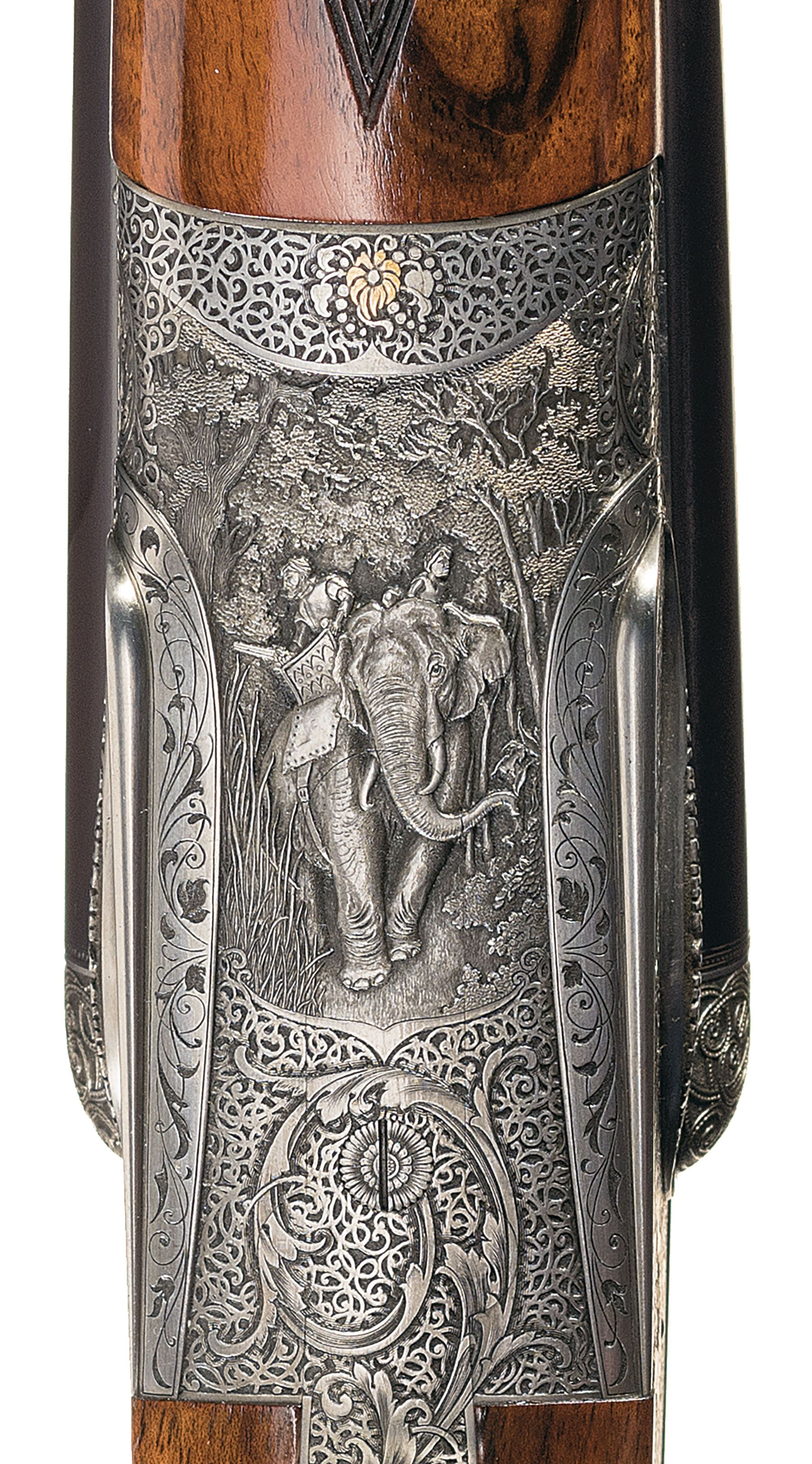 Holland & Holland rifles were by no means simply made to be decorative, but to be working dangerous game rifles equipped to provide absolute reliability, and excellent ergonomics. The rifle in our pictures features a textured front trigger and plain rear trigger to ensure the hunter knows by feel which barrel they are about to fire. The rifle weight is perfect for the caliber at 10 lbs. 7.4 oz. The open sights at the rear on the quarter rib are a two-leaf rear sight graduated for 50 and 150 yards: whilst the front sight is a bead mounted on a matte raised ramp. A spare front sight is stored in a compartment under the pistol grip cap.

This rifle has 24″ barrels and the ejectors are made so that they surround the top extension when the rifle is opened and the ejectors have been activated. This is more than just aesthetic as it provides a clean open breech for reloading and both visual and tactile feedback on whether one or both barrels need to be reloaded.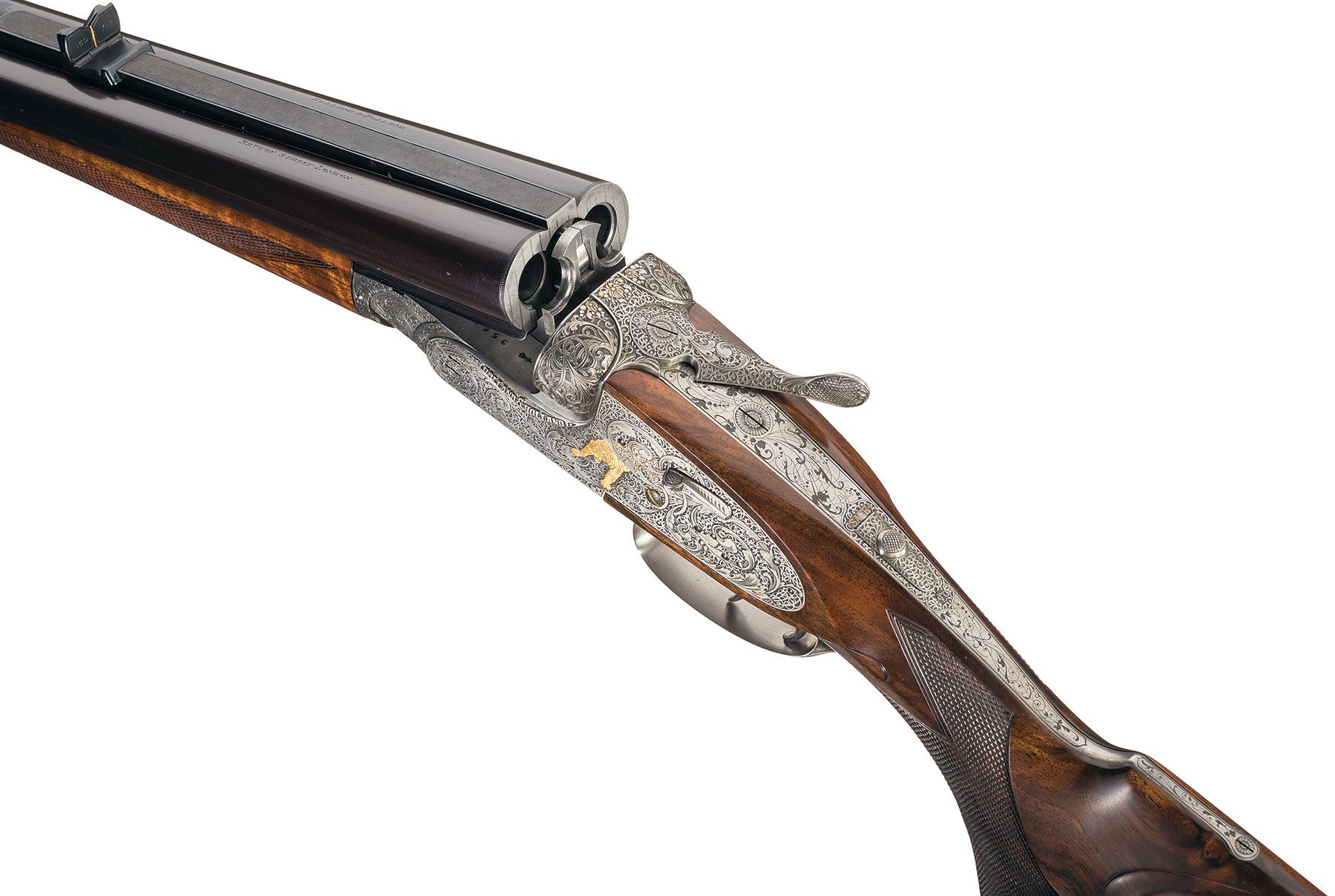 Combining the best of Holland & Holland functionality and embellishment this 500/465 Nitro Express double rifle is one of the most desirable examples of the best of London rifle-making one could hope to find. It is a thing of beauty, and it is a practical dangerous game hunting rifle all in one. The attention to detail, both aesthetic and functional, is something that might take some time of acclimatizing to the rifle to fully appreciate.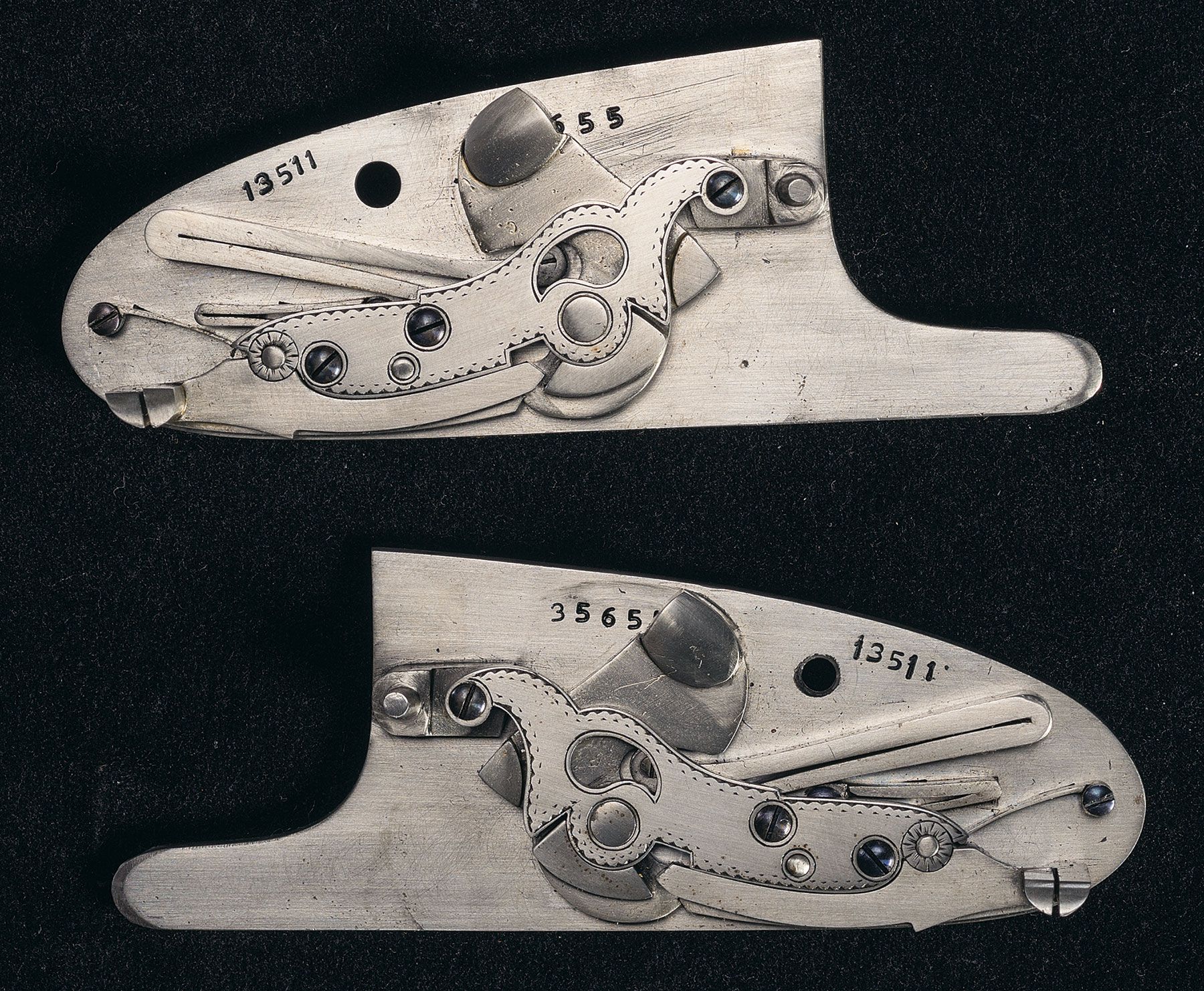 The rifle has been featured in the book "The Best of Holland & Holland, England's Premier Gunmaker" by Michael McIntosh and Jan Roosenburg which you will find on Amazon if you click here.
This documented exhibition quality factory relief engraved and gold inlaid Holland & Holland double rifle is going to be offered for sale by Rock Island Auction on September 7th, 2018 at their Premier Auction.
You will find the sale page for this unique piece if you click here.
This is an investment quality rifle and it is expected to sell in the range USD$150,000 – $220,000
The condition of the rifle is described by Rock Island Auction as follows: "Excellent overall, with the barrel retaining 98% plus original blue finish showing minor thinning towards the barrels, limited handling evidence, a slight spliced repair and faint hairline crack at the corner of the fore-end on the right, and crisp stock checkering. Mechanically excellent. A highly impressive Holland & Holland big game rifle for the serious collector."
This is a rifle that would be a great choice for an Africa safari, and when not out hunting with it this is a work of art to simply own and appreciate day by day.

Note: 500/465 ammunition is quite easy to obtain components for and to reload. Woodleigh Bullets make correct 480 grain projectiles specifically for this caliber and the Woodleigh Bullets Loading Manual has data for this caliber in double rifles. Bullets available include soft nose, full jacket, and Woodleigh Hydro (hydrostatically stabilized).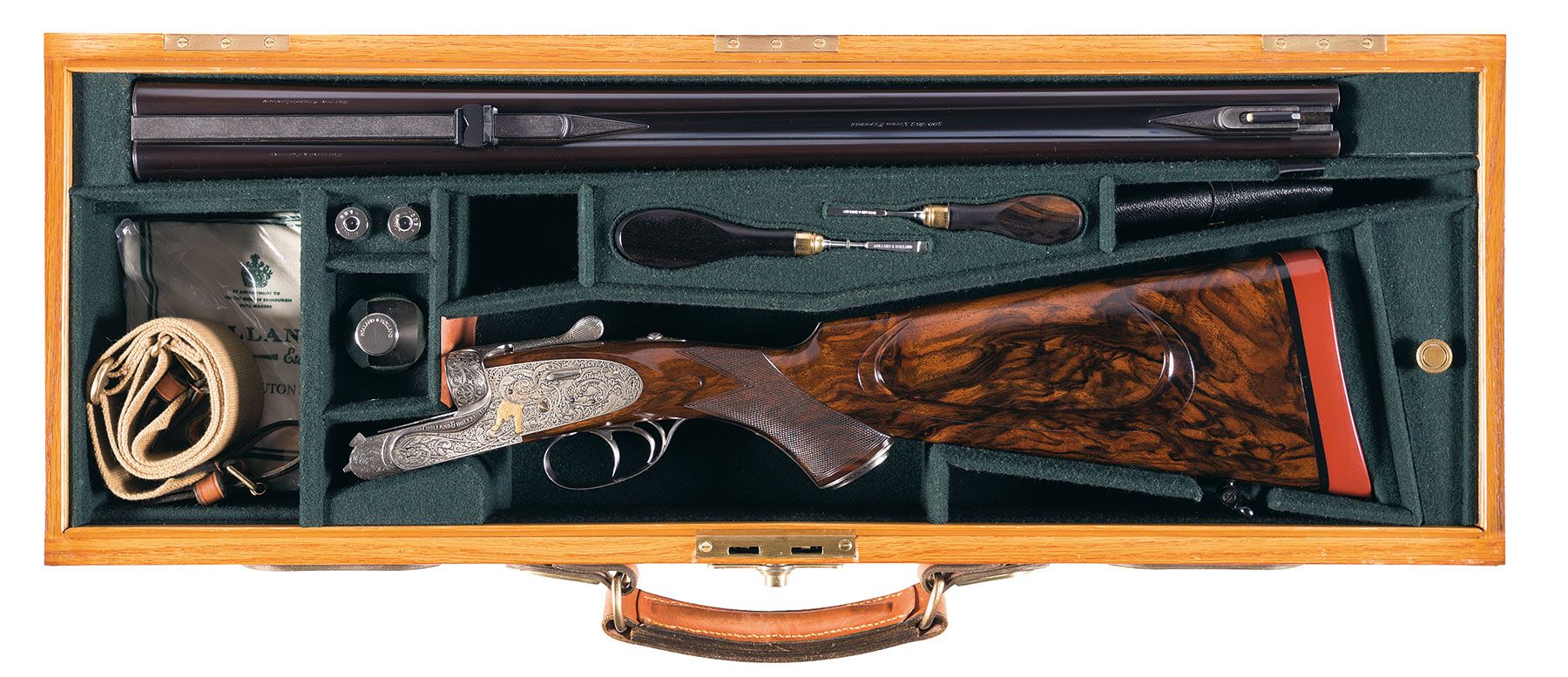 (All pictures courtesy Rock Island Auction except as otherwise marked).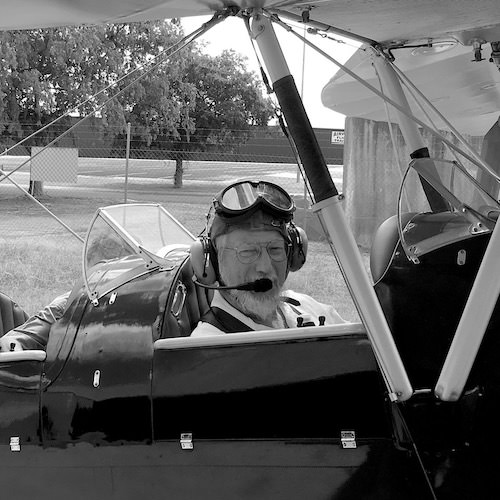 Jon Branch is the founder and senior editor of Revivaler and has written a significant number of articles for various publications including official Buying Guides for eBay, classic car articles for Hagerty, magazine articles for both the Australian Shooters Journal and the Australian Shooter, and he's a long time contributor to Silodrome.
Jon has done radio, television, magazine and newspaper interviews on various issues, and has traveled extensively, having lived in Britain, Australia, China and Hong Kong. His travels have taken him to Indonesia, Israel, Italy, Japan and a number of other countries. He has studied the Japanese sword arts and has a long history of involvement in the shooting sports, which has included authoring submissions to government on various firearms related issues and assisting in the design and establishment of shooting ranges.