Fast Facts
Maserati began as two companies, one making spark plugs, and the other making automobiles.
The spark plug company was started by Alfieri Maserati in 1914 and was kept very busy supplying spark plugs for the Italian war effort during the First World War.
The Maserati spark plug company progressively increased their product range until the early 1950's when they went into the motorcycle business in cooperation with Italmoto.
Maserati only made motorbikes for seven years so these bikes tend to be quite rare.
Few people are aware that Maserati, famous for their exotic sports cars, also manufactured motorcycles. The story of the Maserati motorcycles, wearing the familiar trident insignia, is a little convoluted but because these bikes turn up from time to time, often in people's garages or sheds, its useful to know a bit about them.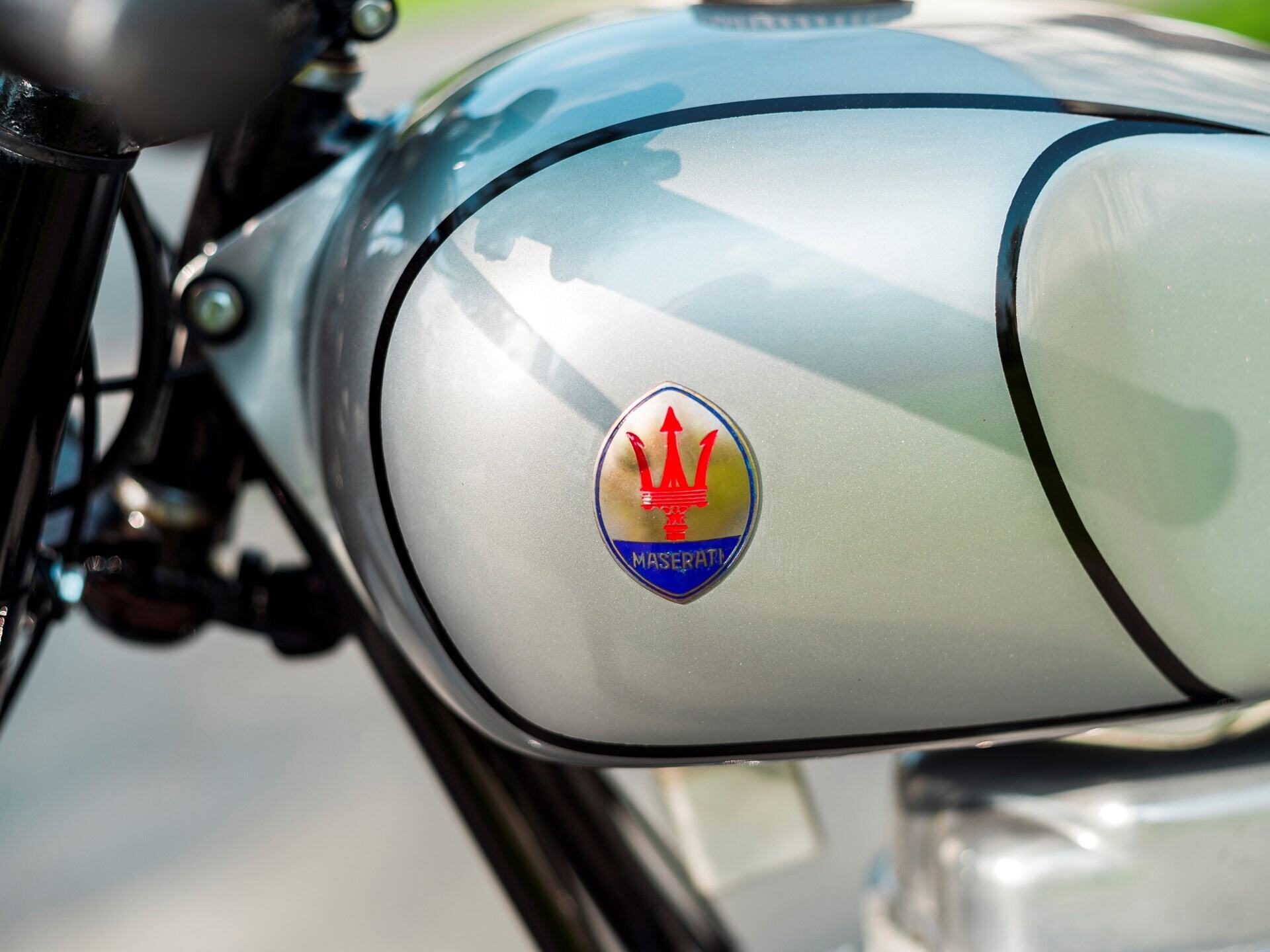 The best way to set up in a manufacturing business is often to start out small and work your way up. Truck maker Kenworth started out as Kent Worthington manufacturing sewing machines, Sir William Lyons, the founder of Jaguar cars, started out making motorcycle sidecars. Maserati's motorcycles had an even smaller beginning than that: they started out making spark plugs.
There were four Maserati brothers; Alfieri, Bindo, Carlo, and Ettore. The eldest was Alfieri, who along with his brother Bindo began working for car maker Isotta Fraschini  based in Milan in 1903.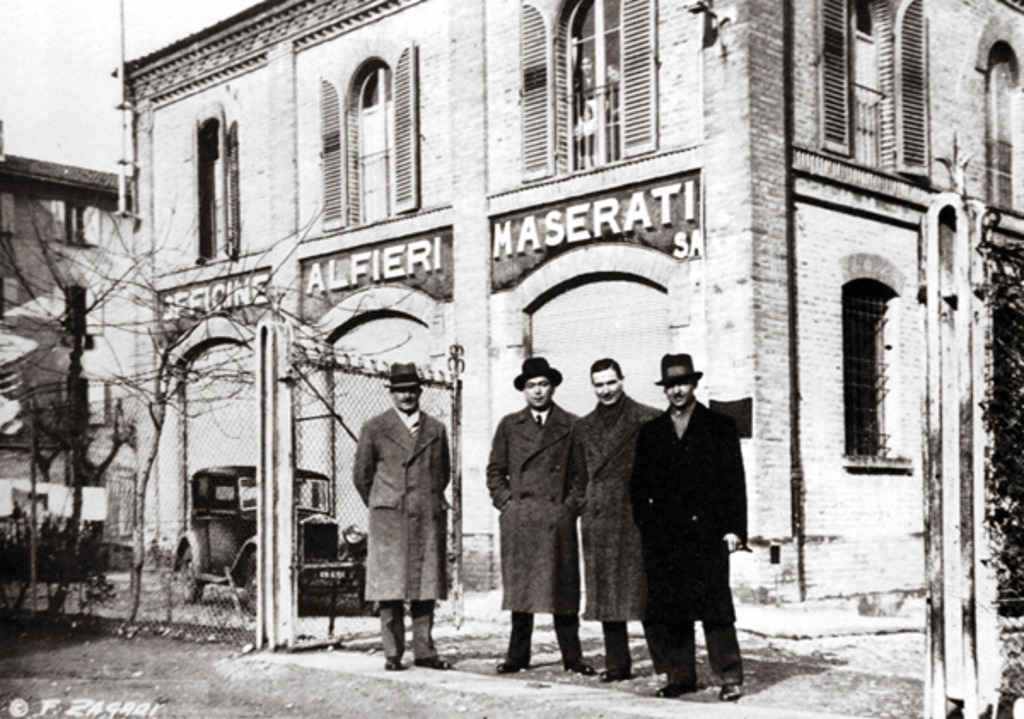 In 1905, on the advice of his brother Carlo, Alfieri moved to Bianchi, who manufactured bicycles and motorcycles: and then in 1912 Alfieri moved back to Isotta Fraschini accompanied by Ettore, to undertake a project in Argentina.
In 1914 Alfieri and Ettore returned to Italy and Alfieri established a new business, Societa Anonima Officine Alfieri Maserati, in Milan. This was the beginning of spark plug manufacturing and the business was kept busy supplying the Italian military throughout the First World War.
At the end of the war in 1919 Societa Anonima Officine Alfieri Maserati moved to a larger factory in Bologna and continued to prosper manufacturing spark plugs.
Throughout this time Alfieri Maserati had been involved in motorsport even from back in his days working for Bianchi: he is recorded as having won a race for them in 1909. Motor racing was very much a passion shared by all four Maserati brothers and they established their own racing car manufacturing business in 1926.
Motor racing provides a thrill and adrenaline rush that not much of anything else can provide, and the Maserati brothers started building a car they called the Maserati Tipo 26 which was based on a Diatto chassis Alfieri had purchased from Diatto before they closed their business. Then in 1926 Alfieri Maserati won the 1926 Targa Florio in that Tipo 26, and the Maserati marque was born.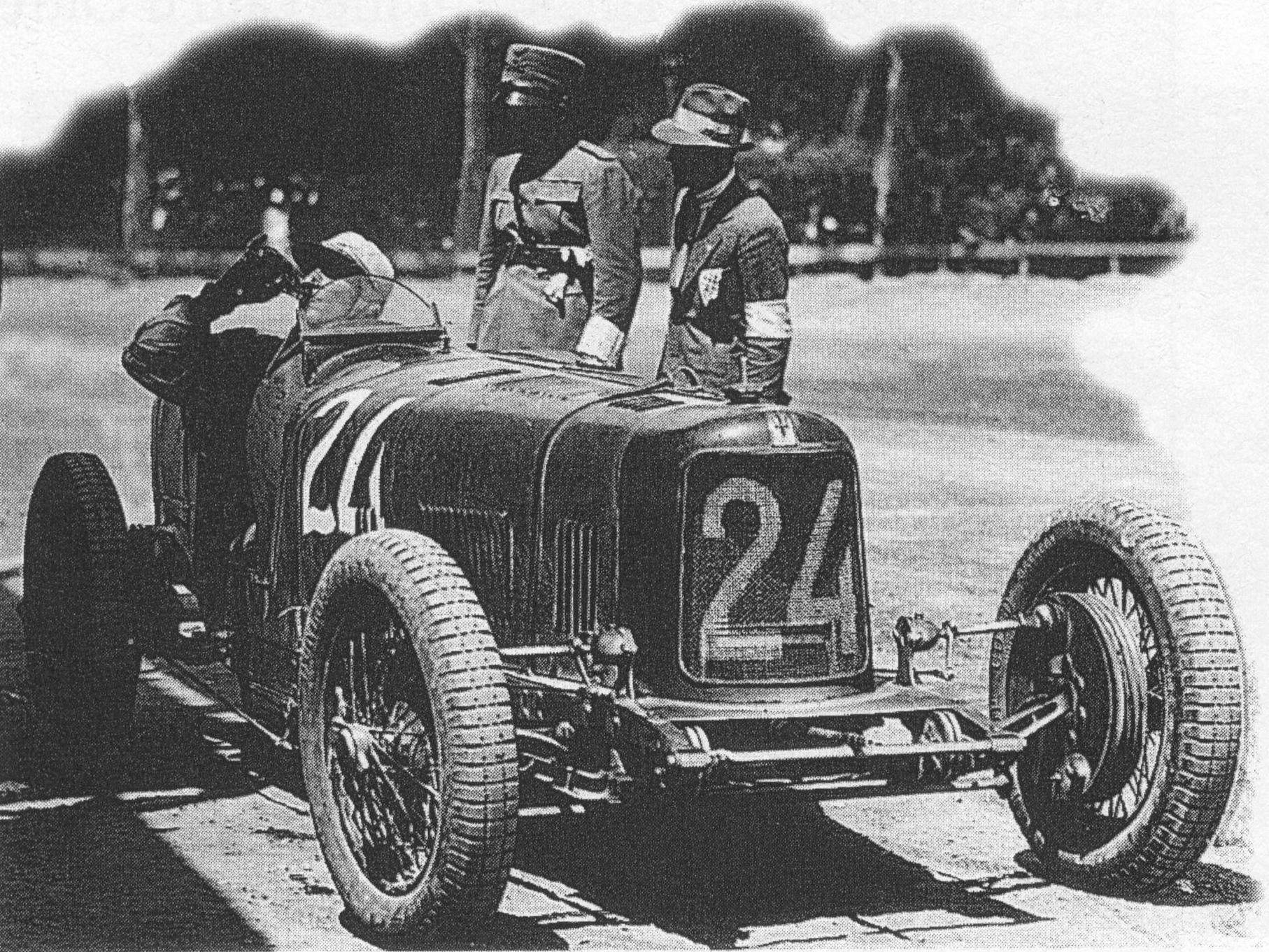 Sadly while Alfieri was racing a Tipo 26 in the first Coppa Messina, a 312 kilometre race on the Circuit of Monti Peloritani, Alfieri lost control and the car rolled into a ditch beside the track causing him grave injuries. He lost one kidney at that time and later in 1932 he needed surgery on the other. He passed away in the recovery room after that surgery.
The Maserati family kept Alfieri's business running up until all of Maserati's business concerns, the car manufacturing and spark plug factory, were bought by Adolfo Orsi in 1937.
The surviving three Maserati brothers would eventually leave the sports car and spark plug manufacturing businesses they had founded and they started a new company O.S.C.A to continue to create high performance sports cars.
Under the ownership of Adolfo Orsi the Maserati car company expanded its product line to ultimately include 4, 6, 8, and 16 cylinder engines, the 16 not being a V16 but a parallel 16 which was effectively two straight eights mounted parallel to each other. Maserati were even tasked with creating a 16 cylinder town car for Benito Mussolini but the Second World War prevented that because the factory had to be committed to the war effort.
The spark plug factory that Alfieri started continued as a separate concern under Orsi ownership, and was moved with the Maserati car making business to Modena where the Orsi businesses were centered in 1939.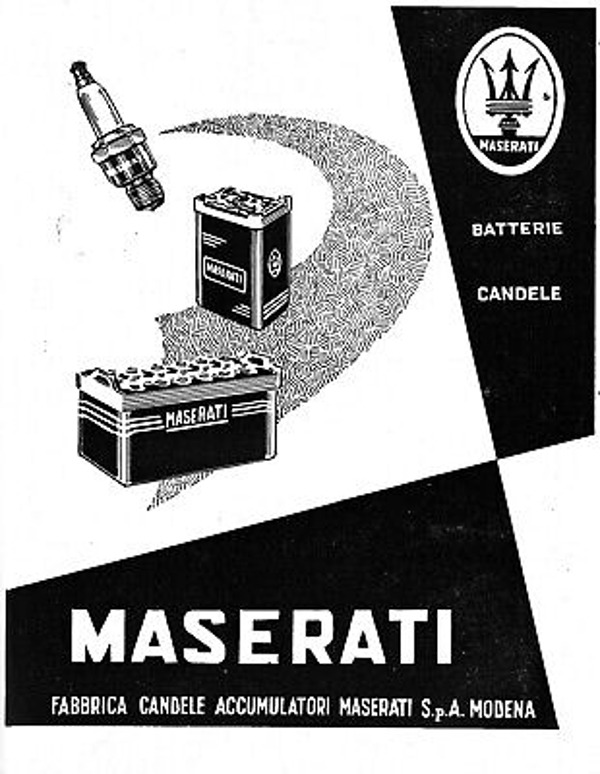 The spark plug factory was located a couple of kilometres from the car factory and in 1947 it was expanded to become the Società Anonima Fabbrica Candele Accumulatori Maserati: under which name it manufactured not only spark plugs, but also distributor caps, rotor arms and contact breaker sets, bulbs batteries, and tools, including industrial machine tools.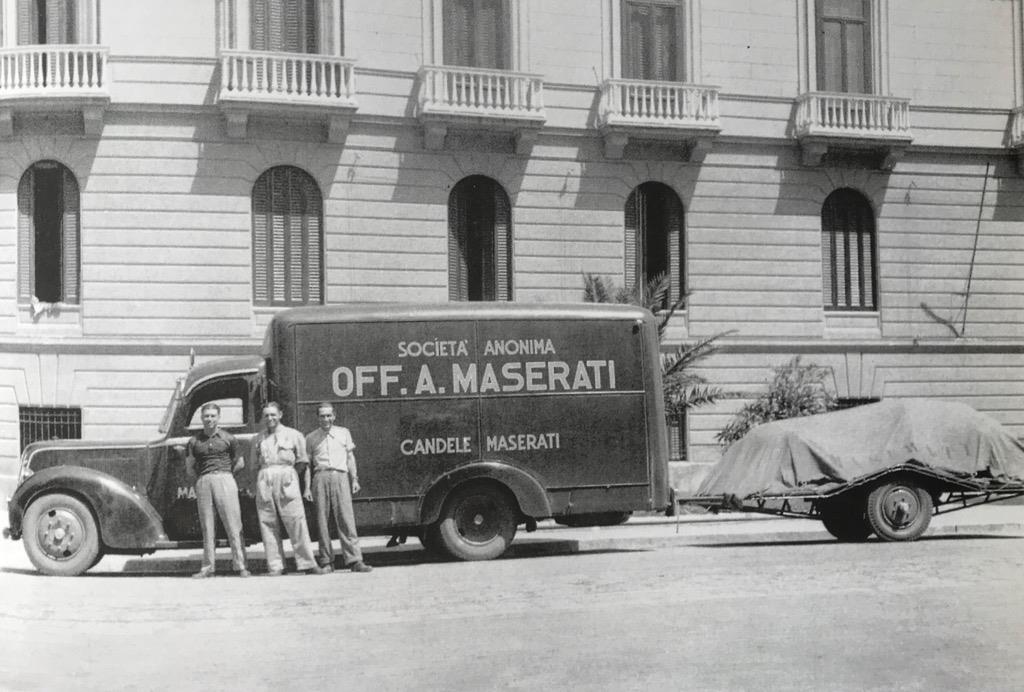 By the early 1950's it was decided to expand the business further by moving into motorcycle manufacture. This was decided because in 1950's Italy, and in Europe in general, people did not have money for a car, but could buy and run an inexpensive motorcycle.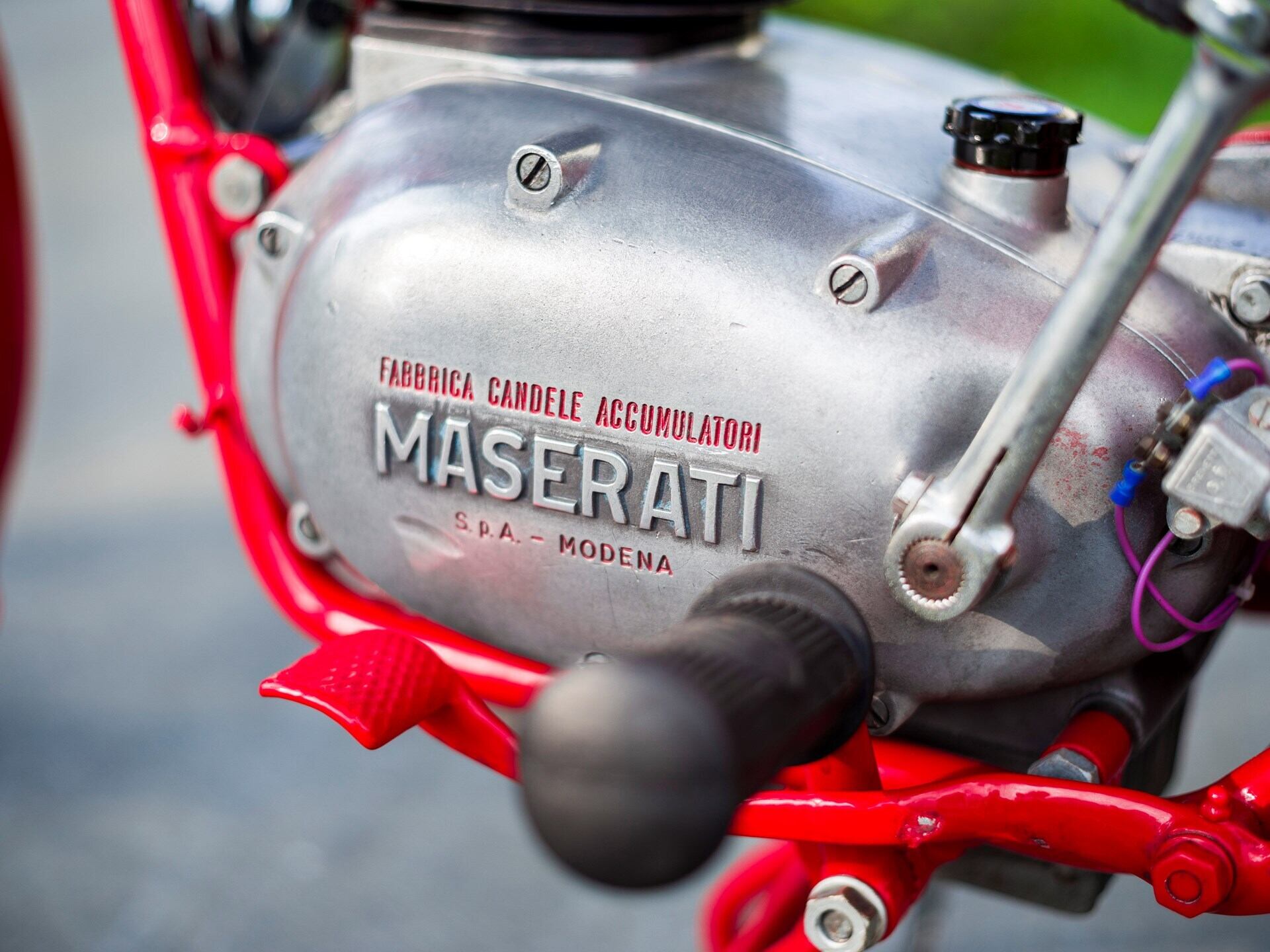 Rather than trying to invent new models of their own with all the expenses and difficulties of doing so Maserati decided to purchase an existing company. The company they decided on was Italmoto and they entered into negotiations with them with the result that Maserati was able to produce Italmoto designed motorcycles under the Maserati brand name.
Maserati set up for motorcycle manufacturing in 1953 at their facility at Generale Paolucci 165, Modena and began making an Italmoto designed four stroke 160 cc touring motorcycle which they renamed the Maserati Tipo 160/T4 and marketed under the Maserati trident brand.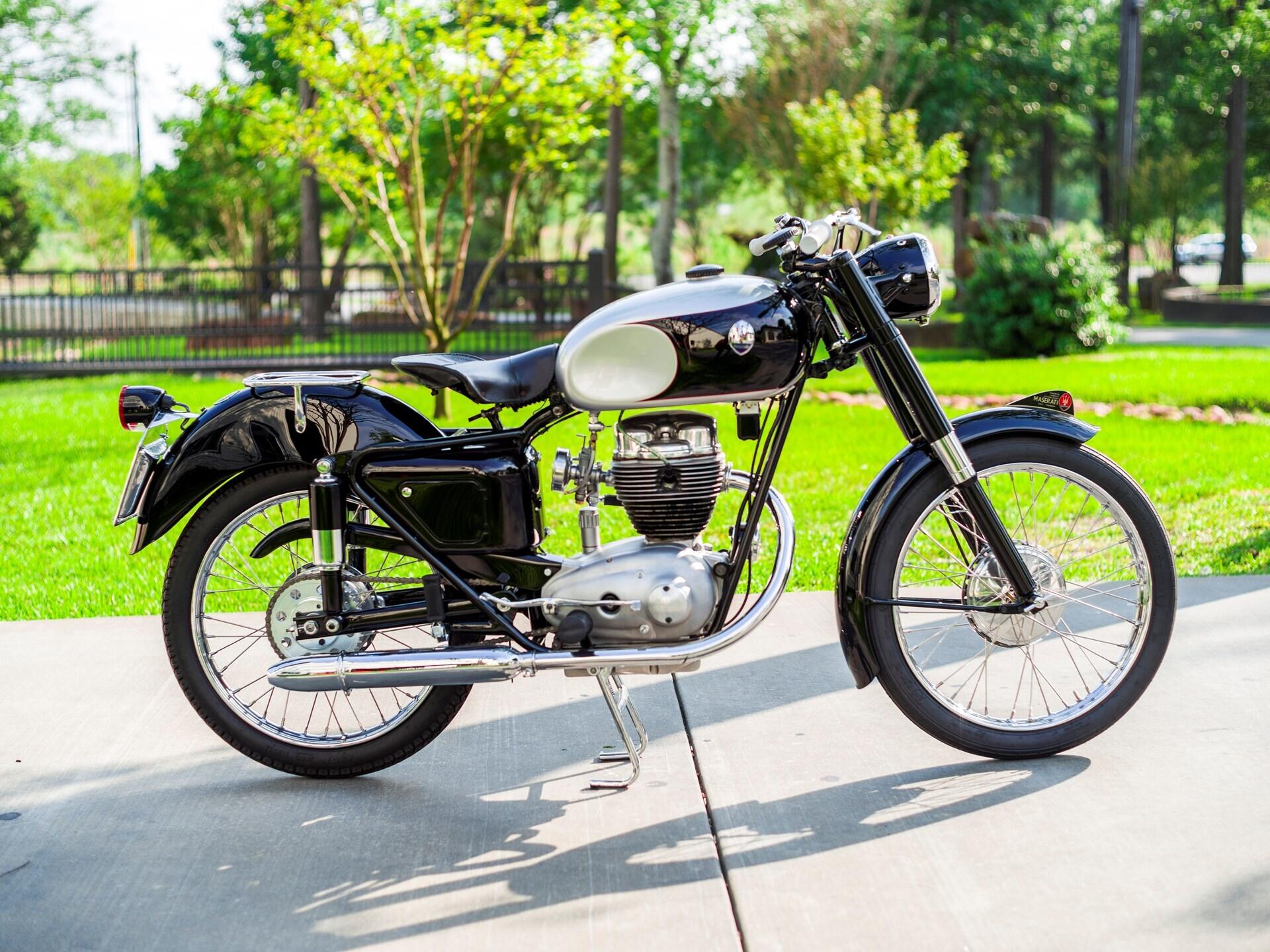 Maserati established their own motorcycle design team with their first model being the Tipo 125/T2 which was heavily inspired by a German DKW  two-stroke design.
In the early 1950's the strong market potential was the 50cc segment. So Maserati produced two models; the T2/U and the T2/D. The T2/U was the gentleman's model (the "U" standing for "uomo", "man". The T2/D was the ladies model (the "D" standing for "donna", lady). The T2/U featured a tubular frame while the T2/D ladies model used a pressed steel frame designed for women in skirts to ride.
In the Maserati naming system models listed as "T4" were four-stroke and "T2" two-stroke.
Maserati produced a range of motorcycle models in the few years in which they were active including 50 cc, 125 cc, 160 cc, 175 cc and 250 cc.
Examples of Maserati Motorcycle Models.
1954 Maserati Tipo 160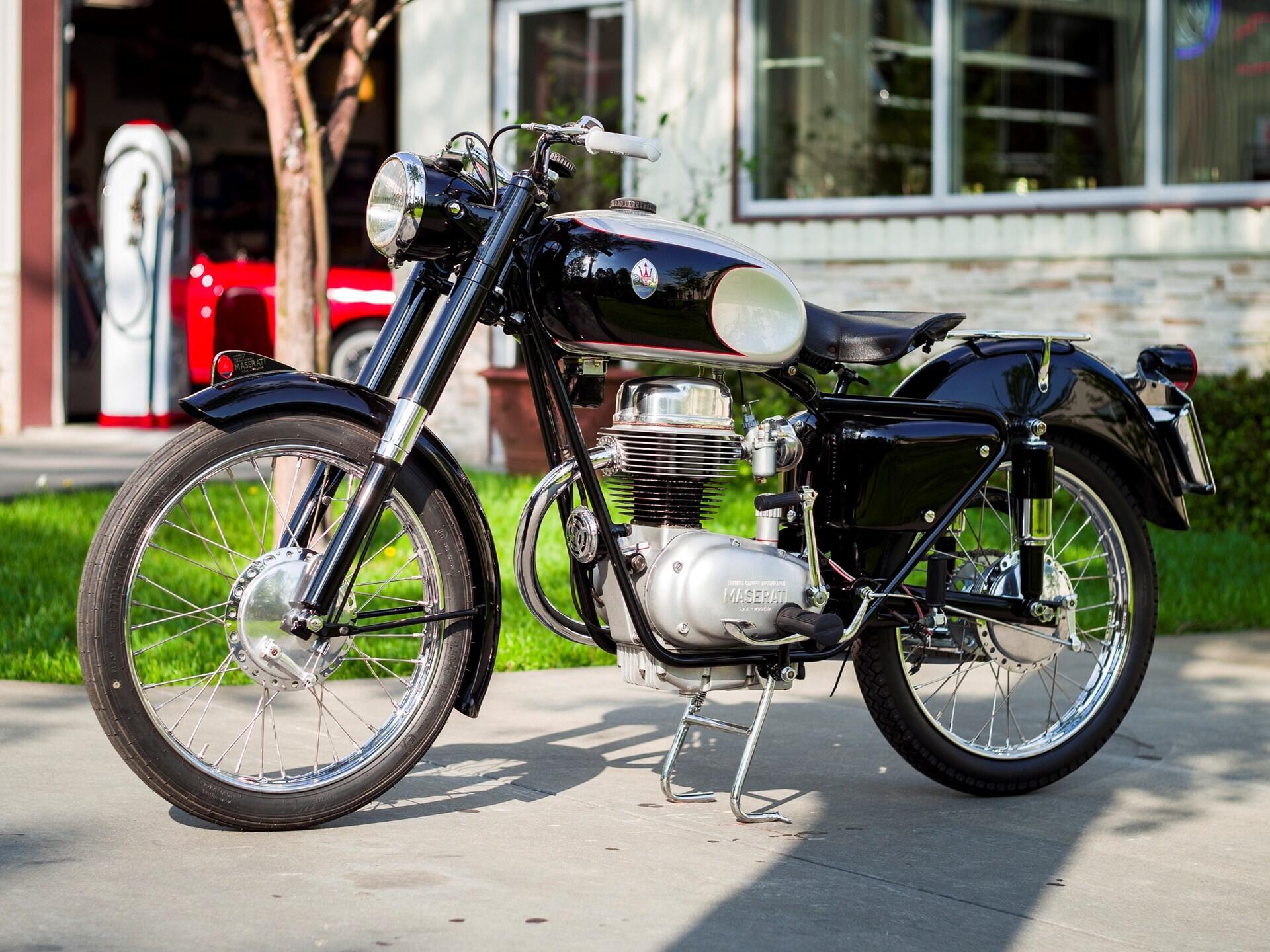 This example of a Maserati Tipo 160 comes from the Gene Ponder collection which is now being offered for sale by RM Sotheby's at their Gene Ponder Collection sale to be held between 22-24 September 2022.
This bike is fitted with a single seat, rear luggage rack, and fender plate.
It has been meticulously restored jointly by Foster Vintage, and Red Car Restorations, both of Texas.
You can visit the sale page for this bike to look at the extensive photos provided.
1954 Maserati 175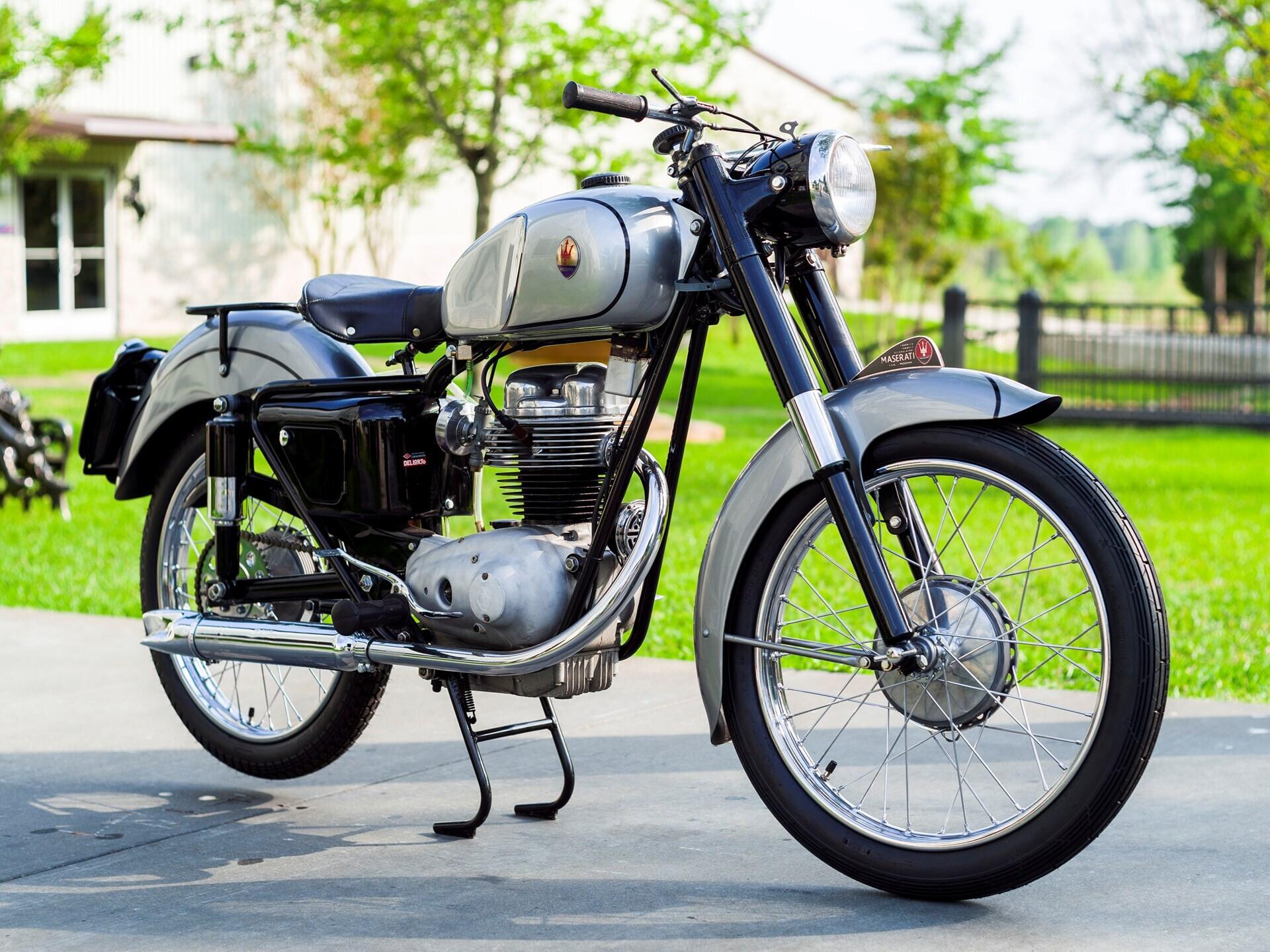 This 1954 175 cc is a four stroke model looks immaculate and examination suggests it has been subject to restoration in the past.
You can find the sale page for this bike if you click here.
1955 Maserati Tipo 160/T4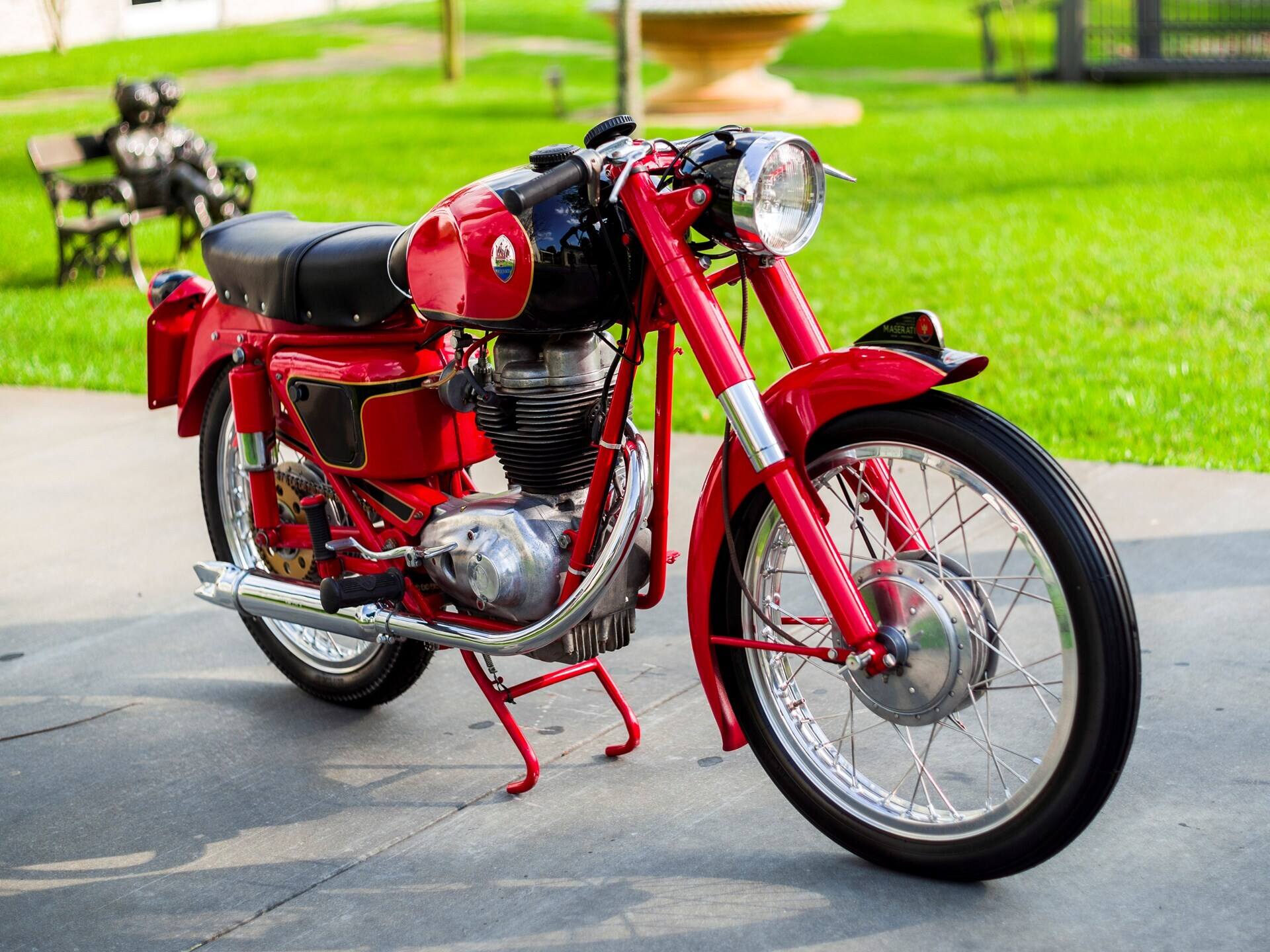 The Maserati Tipo 160/T4 was one of the first Maserati motorcycle models. this one is fitted out in sporting style, much as a lightweight "cafe racer".
You can visit the sale page for this bike if you click here.
1956 Maserati Tipo 125 Turismo Lusso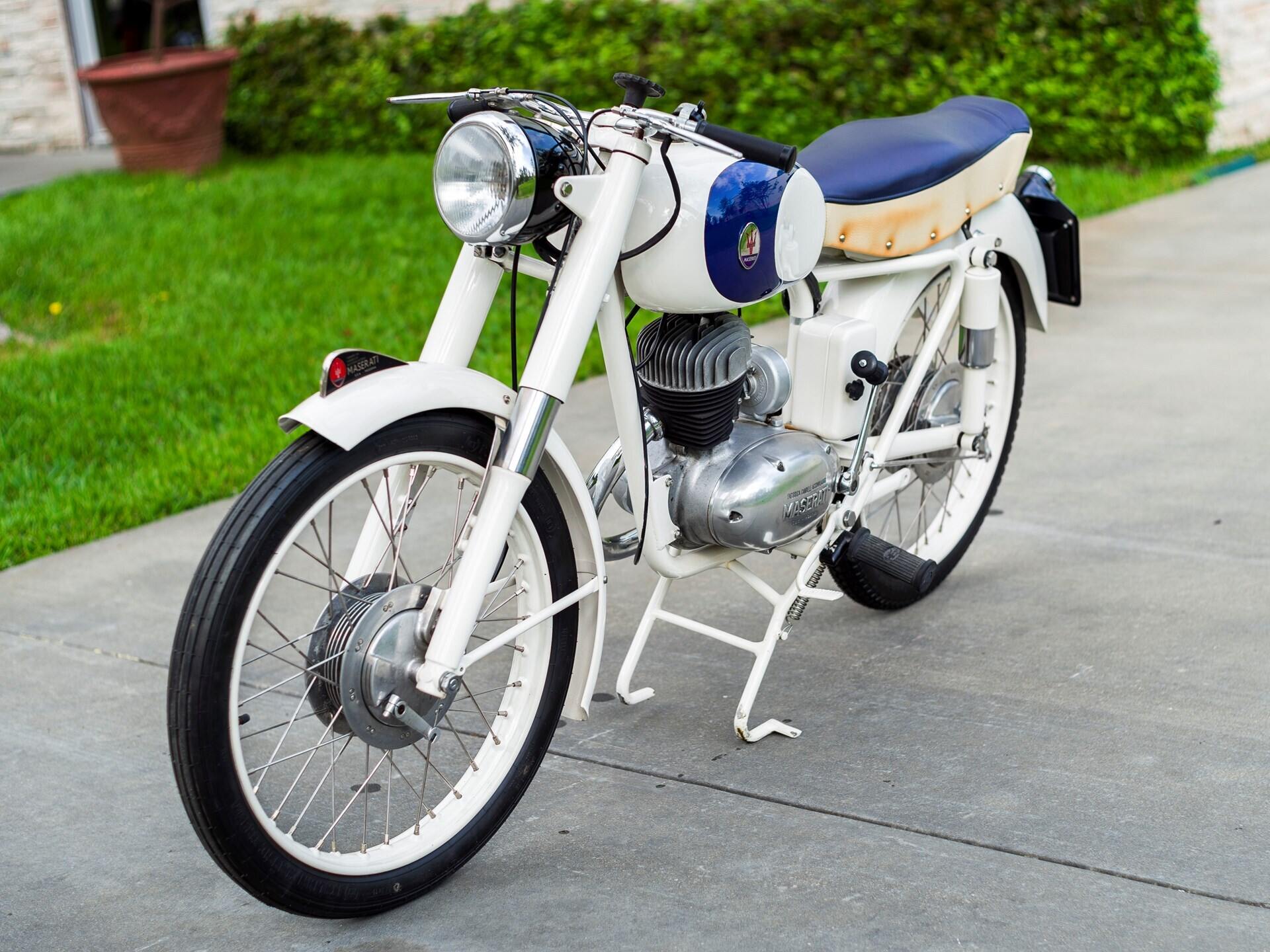 This 1956 Maserati Tipo 125 Turismo Lusso is a two stroke bike and has a three speed gearbox with right mounted gear shift.
You can visit the sale page for this bike if you click here.
The End for Maserati Motorcycles
Maserati made motorcycles from 1953-1960, at which point the market for their motorcycles progressively dried up. As inexpensive cars came onto the market – such as the Fiat 500 "Bambino" – consumers discovered that even a very small car was a rather more useful thing to invest money into, and it was a lot more comfortable in the rain and cold.
So it was that bubble cars by BMW, Isetta, Heinkel and Messerschmidt began to sell like little hotcakes, only to be supplanted by the Fiat 500.
Motorcycles became the province of the enthusiast, but most people wanted comfortable transportation and a small car was a more attractive purchase.
If you have a Maserati motorcycle languishing in your garage then you might want to check it over: it could be a worthwhile project, and it will certainly be a fun bike to own and ride – that Maserati badge is sure to attract the observant and curious.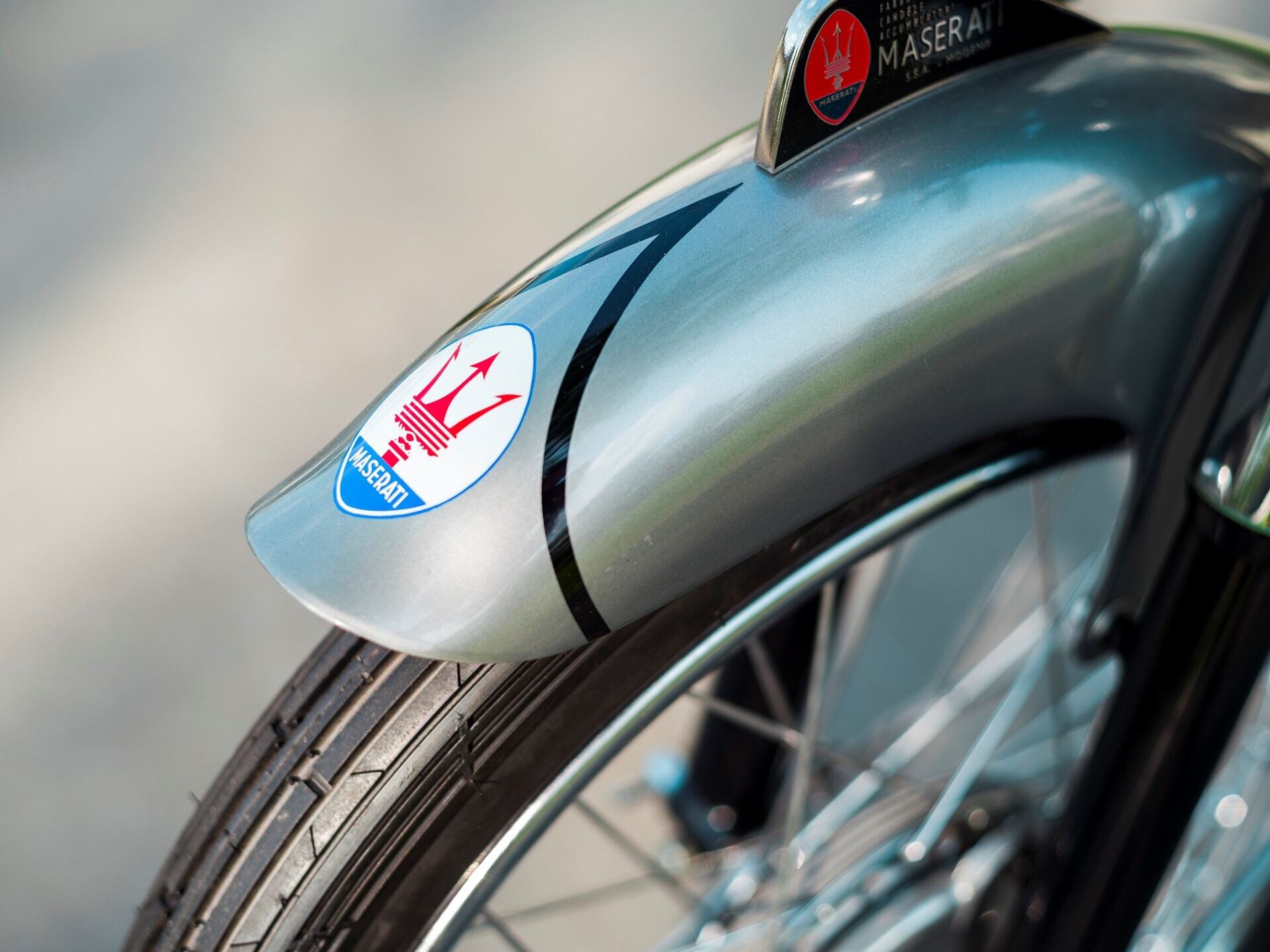 Photo Credits: All pictures of the sale motorcycles courtesy RM Sotheby's.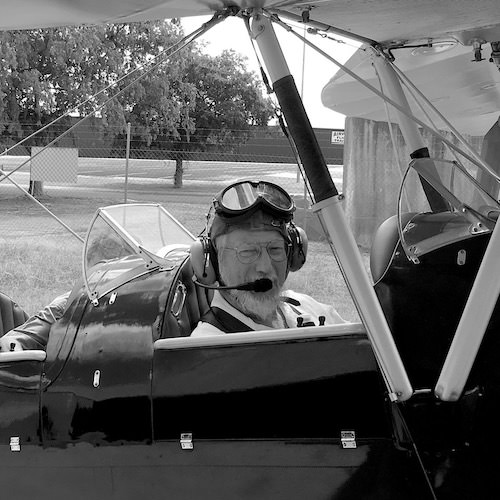 Jon Branch is the founder and senior editor of Revivaler and has written a significant number of articles for various publications including official Buying Guides for eBay, classic car articles for Hagerty, magazine articles for both the Australian Shooters Journal and the Australian Shooter, and he's a long time contributor to Silodrome.
Jon has done radio, television, magazine and newspaper interviews on various issues, and has traveled extensively, having lived in Britain, Australia, China and Hong Kong. His travels have taken him to Indonesia, Israel, Italy, Japan and a number of other countries. He has studied the Japanese sword arts and has a long history of involvement in the shooting sports, which has included authoring submissions to government on various firearms related issues and assisting in the design and establishment of shooting ranges.