The Rarest Toyota Land Cruisers
The Toyota Land Cruiser FJ45V is one of the rarest of the various Land Cruiser J40 models. Its a four wheel drive that I've long wanted to own but sadly that happy experience has eluded me. What has been the attraction? The Land Cruiser FJ45V put together all the good features of the J40 in a simple and yet totally practical station wagon body. Only 5,080 were ever made and of those only 1,000 were made in left hand drive for the US market: these being designated the Land Cruiser FJ45LV (the "L" denoting Left hand drive).
The rarity of the FJ45V and FJ45LV vehicles is exacerbated by the fact that their bodywork, which was made for Toyota by Gifu Auto Body Industries, was not well rustproofed with the result that they corroded with alarming enthusiasm. A fastidious owner would have ensured the use of Fishoiline and/or other rust preventatives to keep their Land Cruiser from rotting away before the bank loan to pay for it was paid out.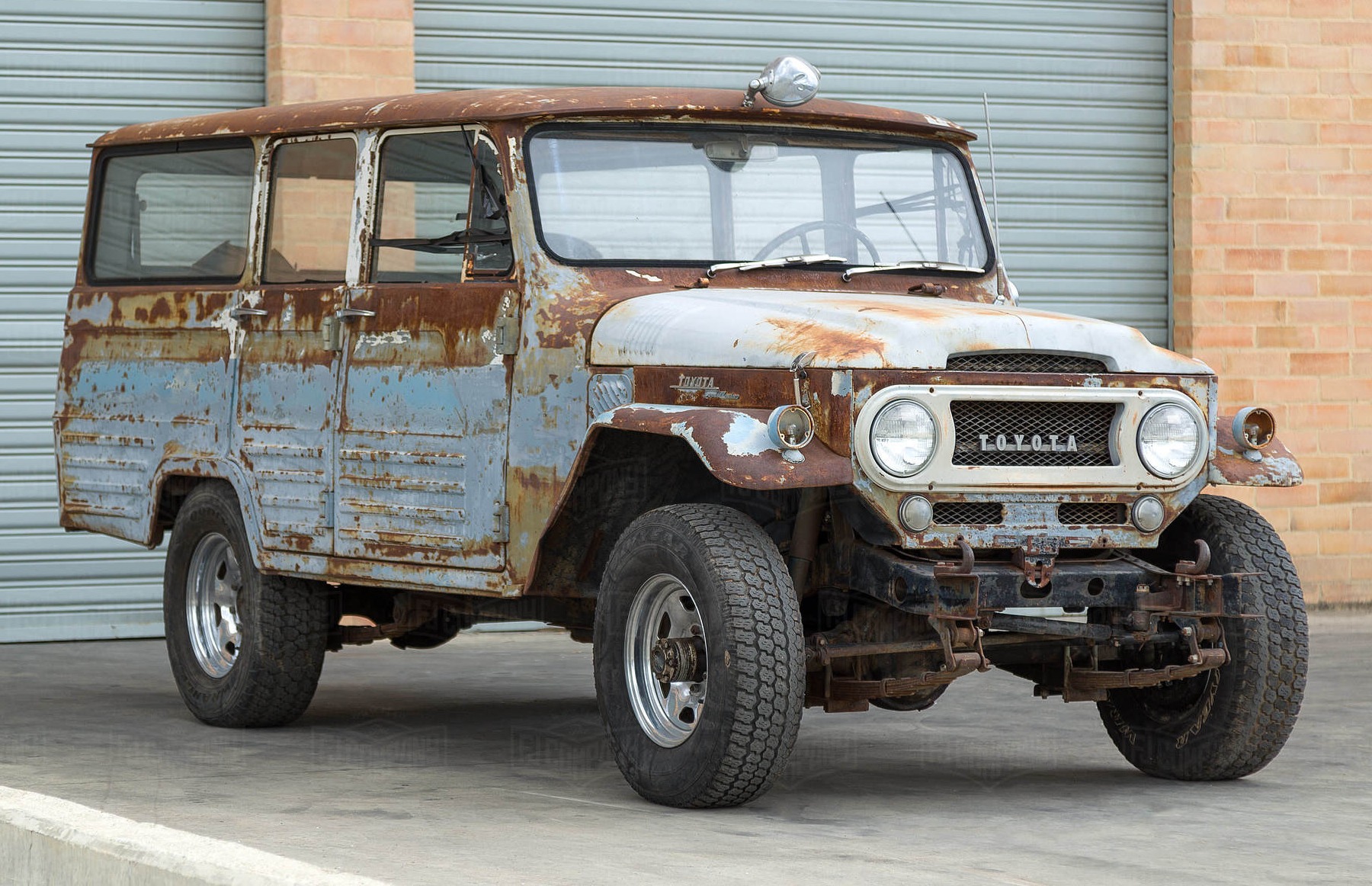 So why bother? Good question! The FJ45V was the only station wagon made on the Land Cruiser FJ40, and it was the last of the rugged and simple Land Cruiser station wagons, devoid of a stylish plastic dashboard that would rot and crack in the sun and heat. The FJ45V is a desirable vehicle for the same reasons that the Citroën 2CV and its four wheel drive sibling the Citroën 2CV "Sahara" are desirable vehicles. They are cars that are unashamedly functional, even down to the use of corrugated body panels to stiffen them. Indeed the same could be said of the Toyota Land Cruiser FJ45V as was said of the Citroën 2CV, which was described by a British motoring journalist as "A car designed by someone who had kissed the lash of austerity with masochistic fervour".
The Forebears of the FJ45V: the FJ28 Two Door and Four Door Station Wagons
The idea for a station wagon version of the Toyota "Jeep" dates back to the J20 series which was introduced in 1955, the year that Toyota's Hanji Umehara decided to give Toyota's "Jeep" a more dignified name, one that would befit a worthy competitor to the British Land Rover, so he coined the name "Land Cruiser". This Toyota four wheel drive would not just "rove" along rough roads and tracks, it would "cruise" along them giving passengers a decent ride. What was also on Toyota's mind was to build a vehicle that would be dependable, even more dependable than a Land Rover.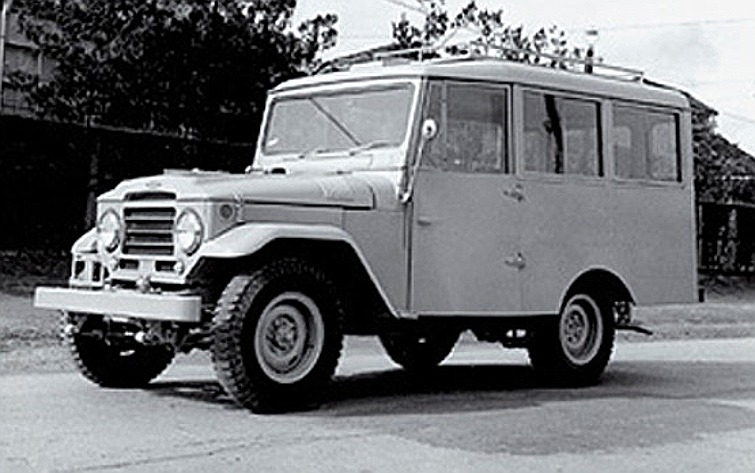 Umehara was quite likely also keen to have the Toyota Land Cruiser emerge as better than the Willy's Jeep also. Willy's had taken legal action against Toyota to stop them using the name "Jeep" and so the Japanese were motivated to come up with a superior name, and they succeeded. The first tentative step in building a station wagon was on an early Land Cruiser J20 chassis and it was in all likelihood inspired by Land Rover's Tickford station wagon. This appears to have been a very limited custom production effort but it seems to have served as a proof of concept, and Toyota went on to produce a far better designed and finished production model.

The Toyota Land Cruiser J20 was very similar to the iconic J40 that would take the world by storm. It was fitted with the Type F 3.9 liter (3,878 cc) inline six cylinder OHV gasoline/petrol engine with power upgraded from 125 hp to 133 hp. This engine was mounted 120 mm forward in the chassis as Toyota understood that the people in its export markets were likely to be a tad taller than a typical Japanese and so they needed more leg room for driver and front seat passenger: this change allowed an extra 200 mm in the cabin.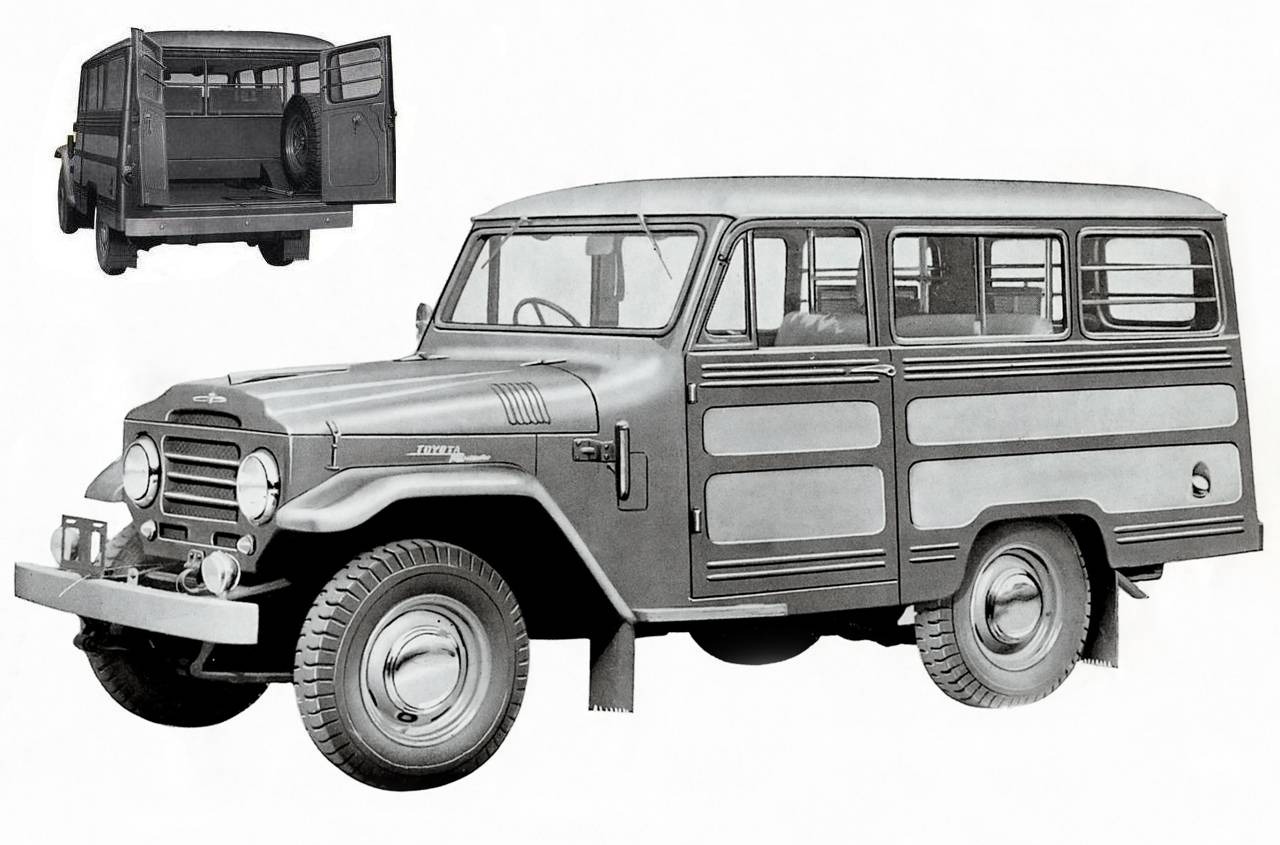 The Land Cruiser J20 was made in both short wheelbase of 2,285 mm (89.96″) and long wheelbase of 2,430 mm (95.66″) and all the FJ28V were built on the longer wheelbase. They also had a sideways facing seat in the rear for a fourth passenger. These vehicles were fitted with a three speed manual gearbox which had synchromesh on second and top gears, but they did not have a low-range/high-range transfer box.
The Land Cruiser FJ28 station wagons are exceedingly rare. The FJ Company has one for restoration and at time of writing the sale of that FJ28 station wagon is pending.
You will find the page regarding this vehicle if you click here.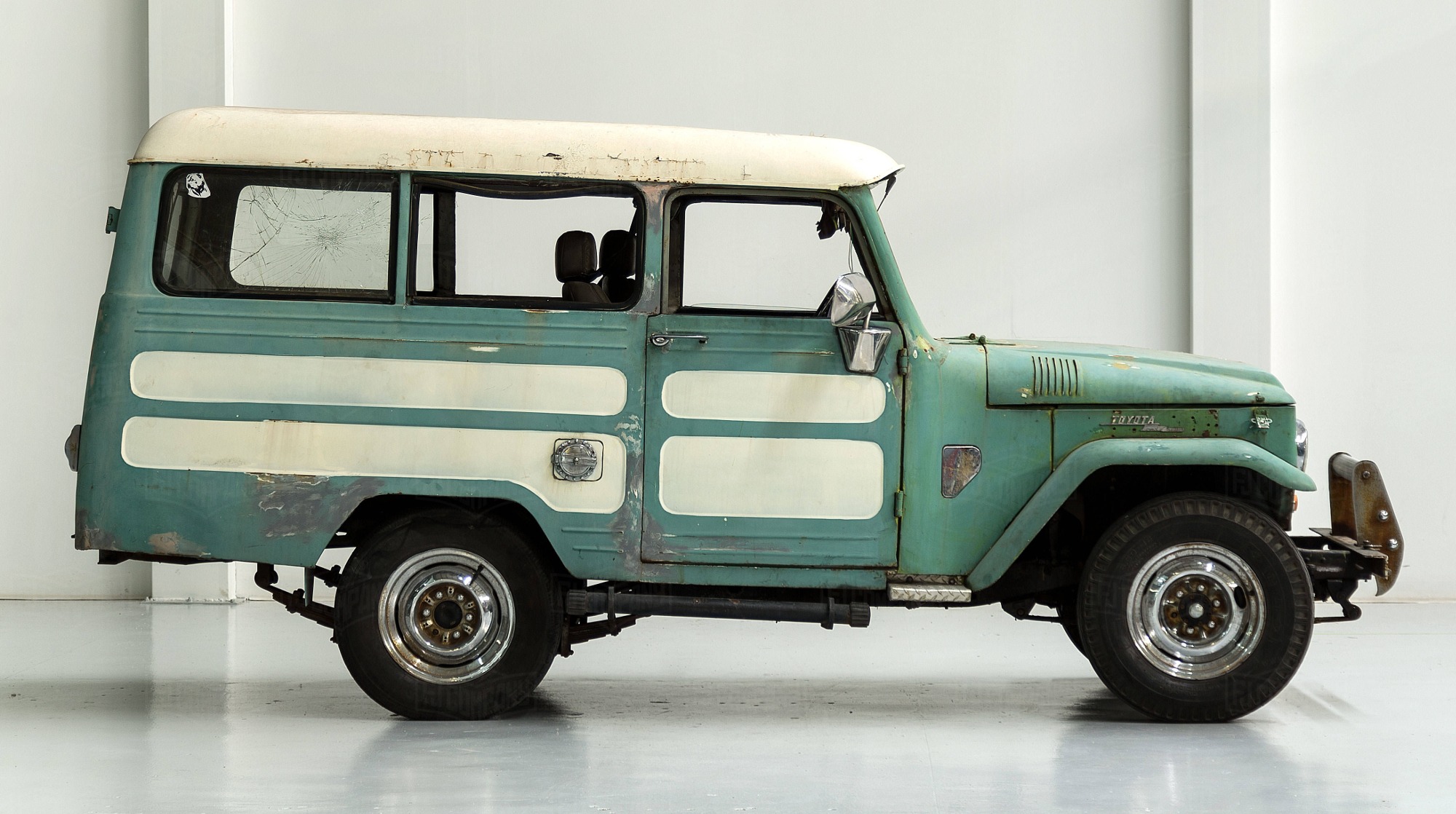 The Land Cruiser FJ45V Station Wagon
By 1960 Toyota were ready to put their new and significantly improved model, the J40 into production. The J40 was very much a development of the J20 and J30 vehicles and at long last it was fitted with a high-range/low-range transfer box to make those "climb every mountain, ford every stream" excursions much easier.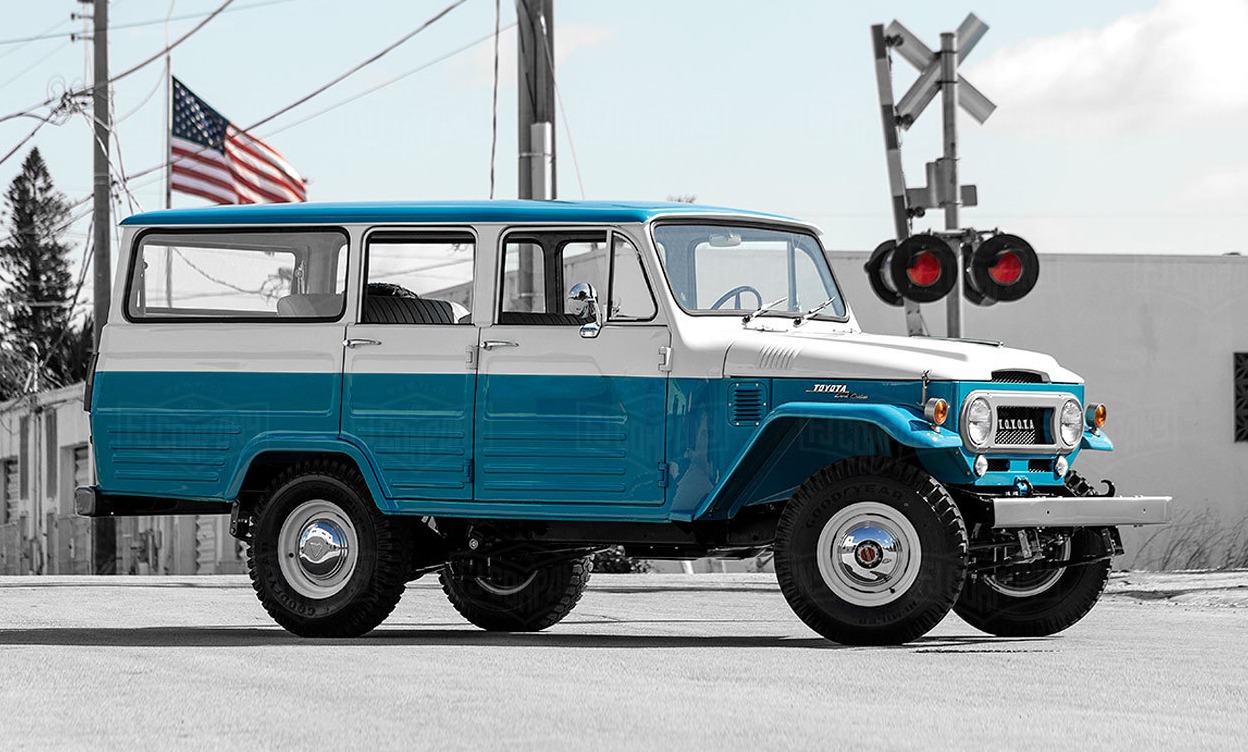 The transition from the FJ28V station wagon to the FJ45V began in February 1960 with Toyota commissioning Gifu Auto Body Industries to build a transitional FJ35V station wagon. This vehicle was made on the J20/J30 chassis and engine and production of this transitional model continued up until October of 1960. There would then be an almost three year gap before production of the FJ45V would begin.
The FJ35V looks almost identical to the FJ45V and the difference between them is first noticeable in the engine and transmission, and of course the builder's plate if it has survived the years, and if it is genuine.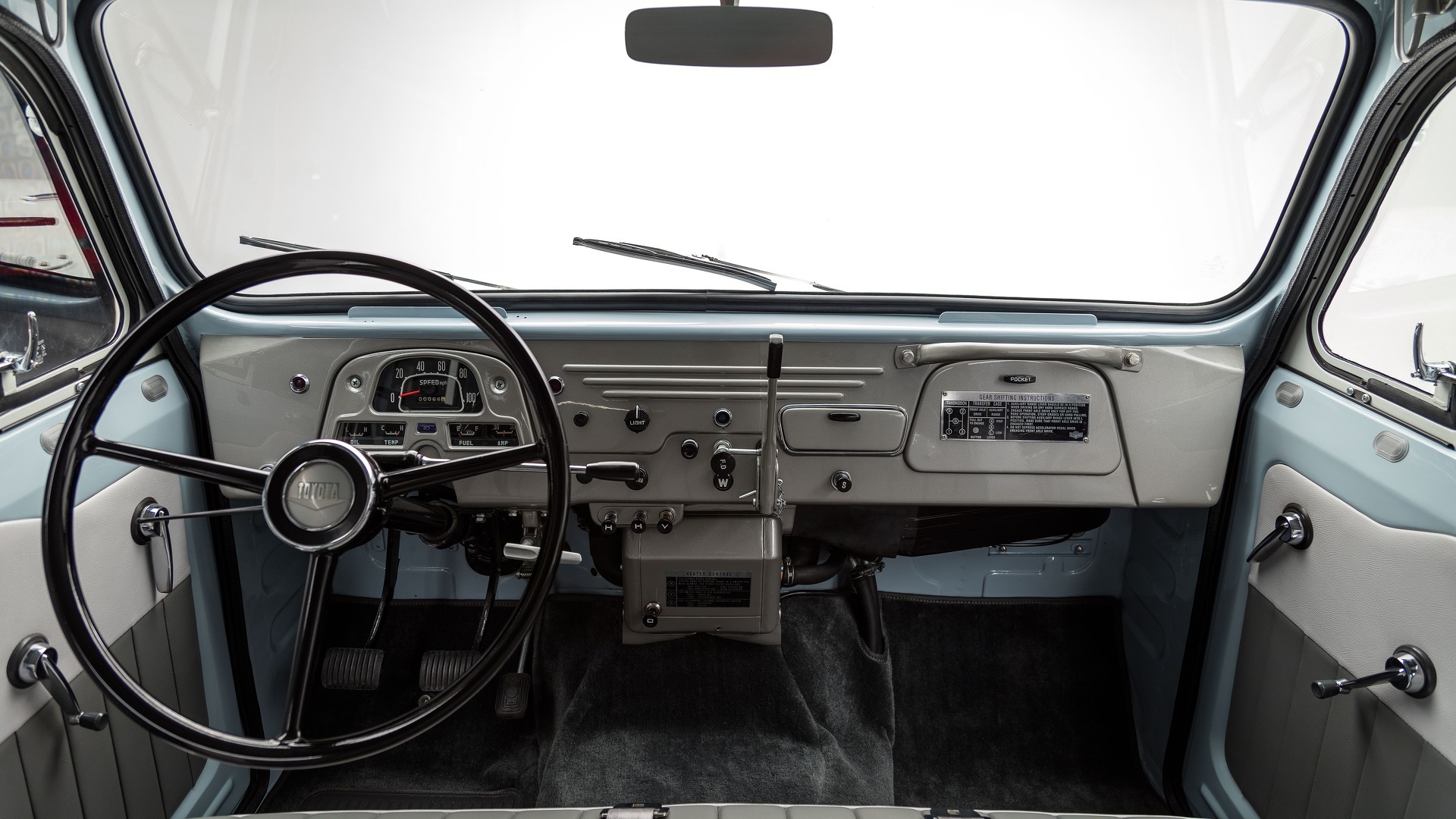 The FJ45V was fitted with the standard 3.9 liter Type F inline six cylinder OHV gasoline/petrol engine mated to the three speed gearbox and high-range/low-range transfer box. The gear-lever was mounted on the steering column and the lever for high-range/low-range selection was located on the dashboard.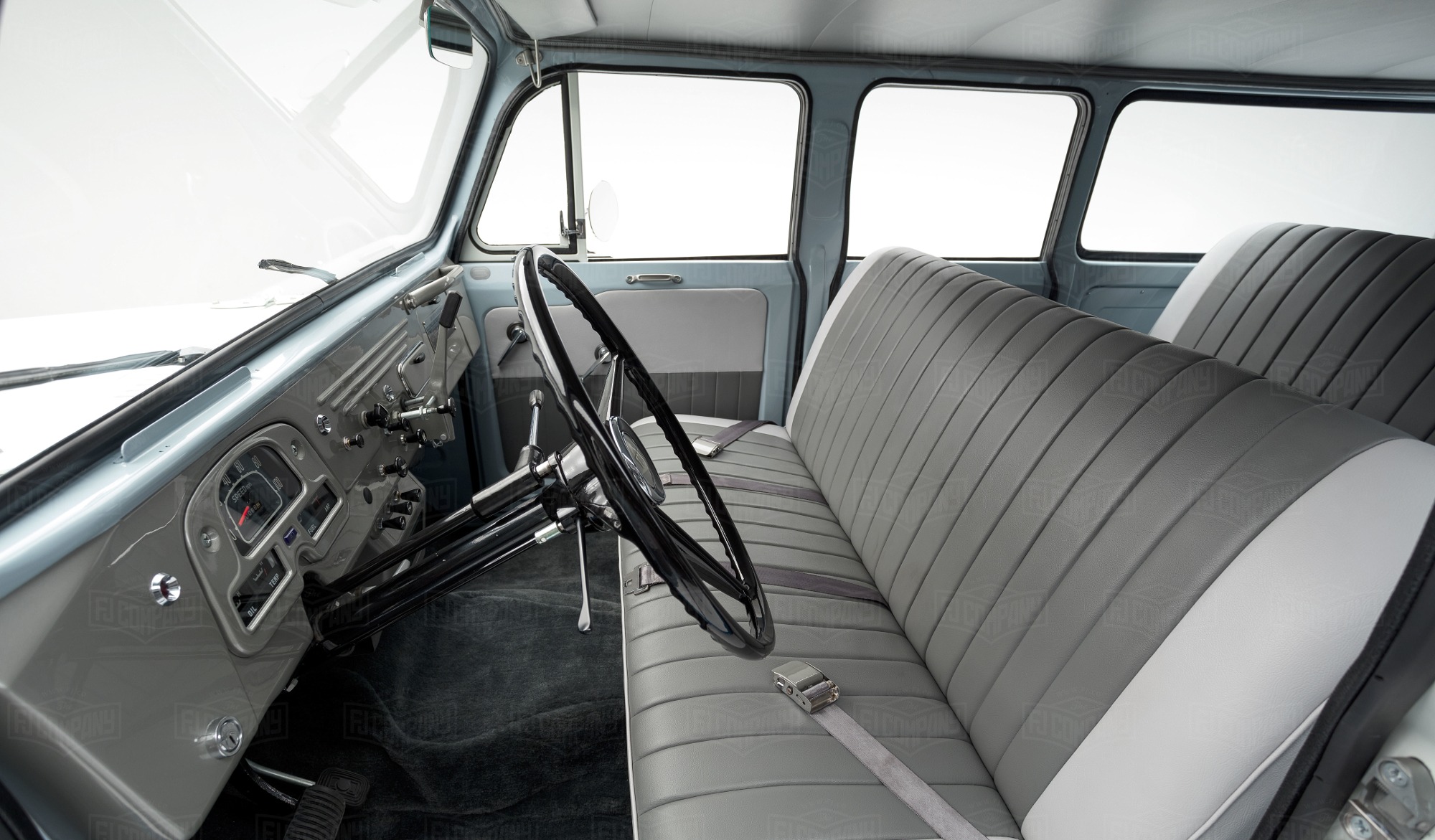 In order to understand why Toyota would have used a column shift and dashboard mounted transfer lever we need to remember that this was a 1963 design and it was intended for the US, Canada and Australian markets. In these markets a majority of passenger cars were fitted with a column shift and front bench seat intended to accommodate three people. For passenger comfort the column shift was much better and if a young man was taking his lady friend out then she could sit close to him in the middle while he had his arm around her, and she could change gears for him. So it was very practical.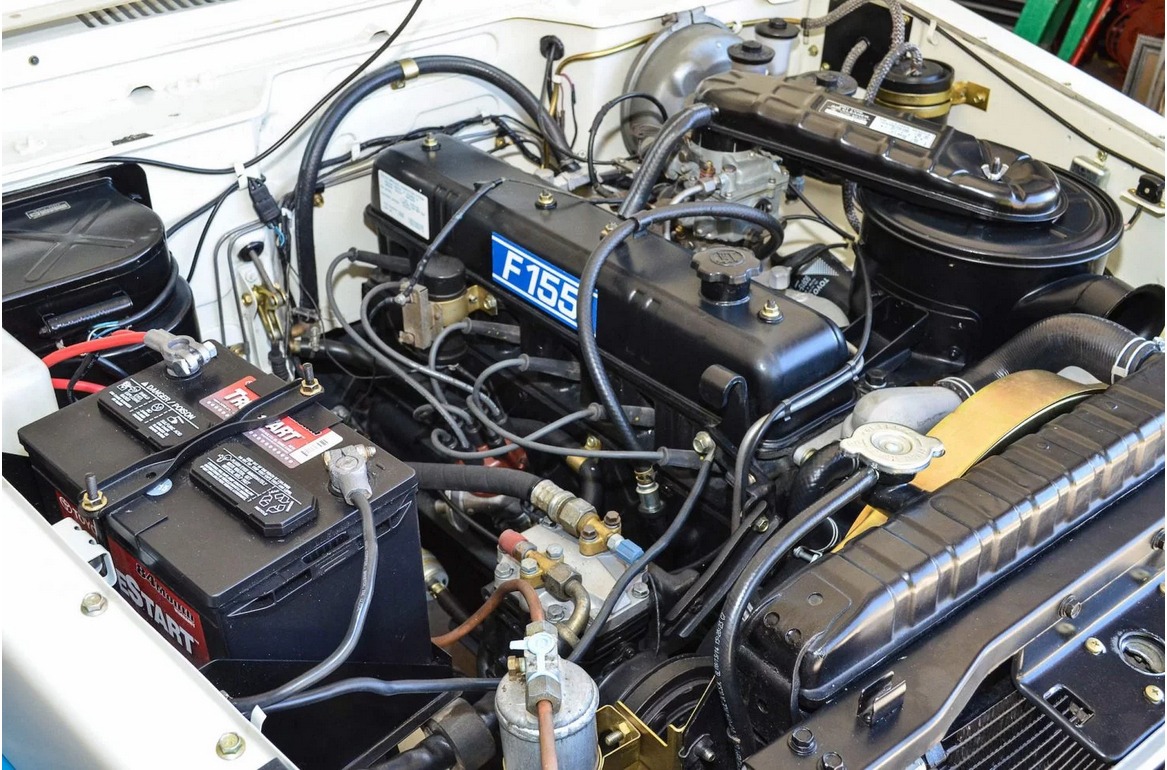 The 3.9 liter (3,878 cc) OHV six cylinder Toyota Type F gasoline/petrol OHV engine as fitted in the FJ45V produced 125hp @ 3,600rpm. So this was slightly less power than the J20 version. Nonetheless these engines went on to establish an enviable reputation for longevity and reliability typically delivering in the order of 300,000 miles before a major overhaul was necessary.
The Land Cruiser FJ45V was made in both right and left hand versions. Of the 5,080 made 1,000 were left hand drive FJ45LV (The "L" denoting Left hand drive) and the remaining 4,080 were FJ45V right hand drive vehicles. They were 4,630mm (182.3″) long and had a wheel base of 2,650mm (104.33″). The width was 1,720mm (67.7″) making them slightly wider than the standard J40. The height was 1,770mm (69.7″) and kerb weight was 1,850kg (4,078.6lb).
The Land Cruiser FJ45V was made up until 1967 when it was superseded by the J50 station wagon.
Restored Toyota Land Cruisers and the FJ Company
The Toyota Land Cruiser J40 has just started to be discovered by the car collector market and as a result there are a number of companies now established to do restoration or resto-mod rebuilds of these much loved classics. One company that does this work is the FJ Company who not only do restoration work but also offer un-restored Land Cruisers for sale on the basis that the purchaser has the vehicle restored by them.
The pictures we have featured earlier in this post are of an un-restored 1967 FJ45LV which you will find if you click here. And then there is the blue and white restored 1967 FJ45LV which you will find if you click here.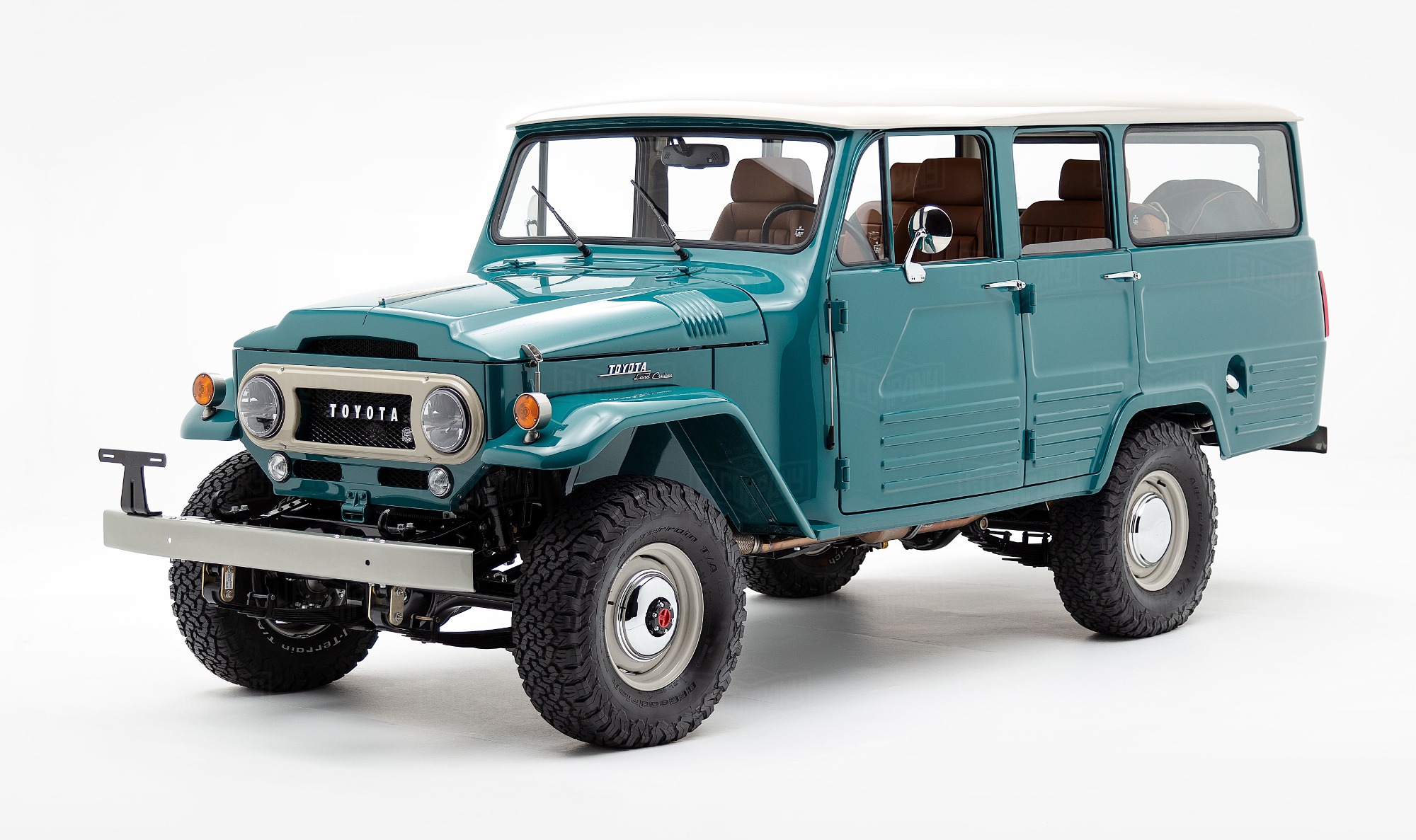 There is also an example of the sort of resto-mod work that the FJ Company can do, that example being a 1964 FJ45LV done in "Rustic Green".
This vehicle has been thoroughly modernized with a fully revamped interior and modern engine and transmission.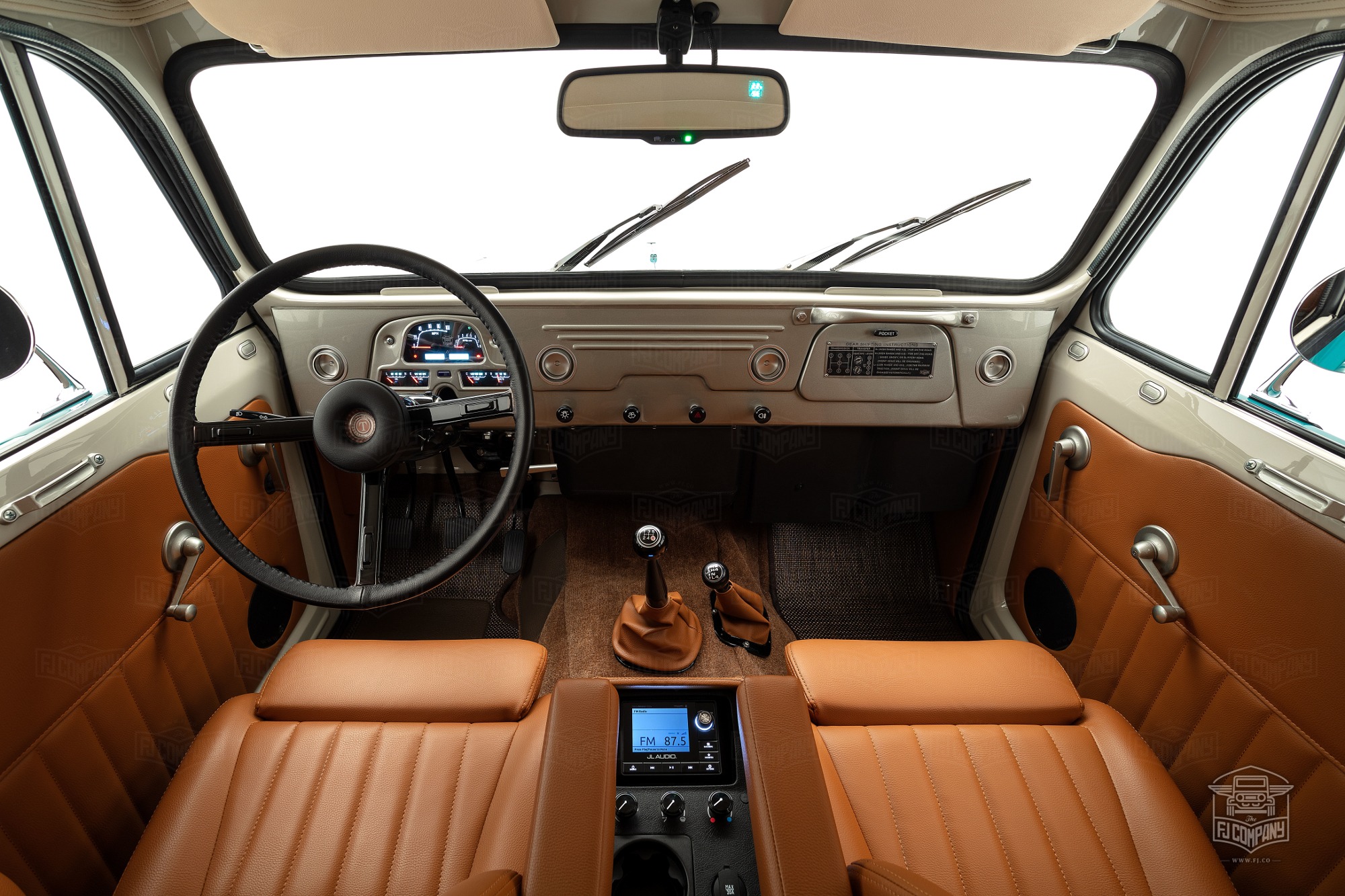 This vehicle has all the classic attractiveness of the original and its durability, but with a moderate and well planned inclusion of modern assets that turn this into the car we would have liked to have seen Toyota build, but the passing of time, changing fashions, and changing technology prevented.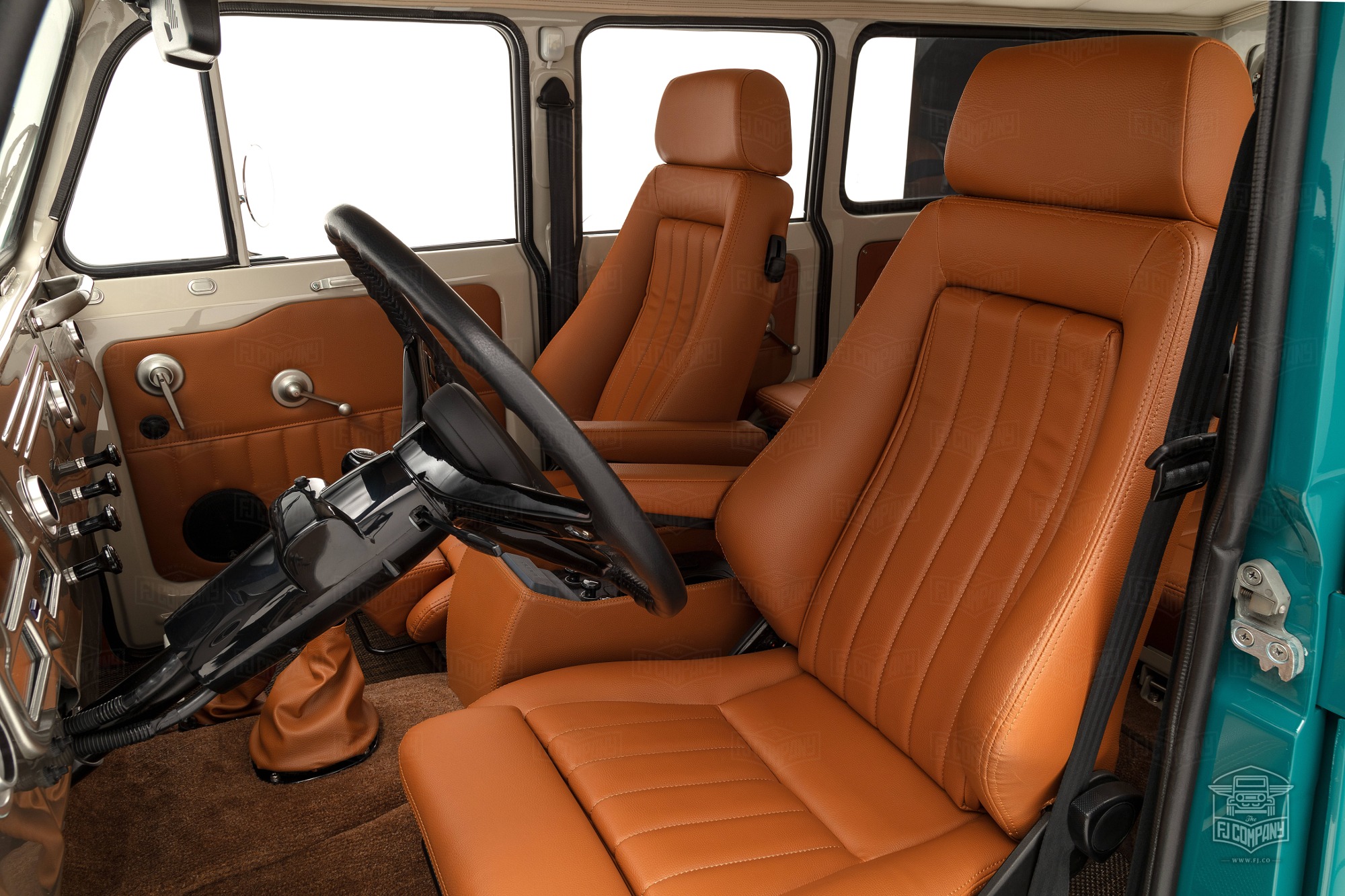 This resto-mod FJ45LV is fitted with a Toyota 1GR-FE fuel-injected 4.0L V6 engine that generates an estimated 240 hp, enough to propel this green machine along the highway or track with smooth ease. The gearbox is a Toyota 5-speed manual, and the vehicle has had its old fashioned drum brakes replaced with four-wheel disc brakes so it will pull up with much more efficiency than the original. The vehicle is also fitted with FJ Company's Advanced Power Steering system, and Old Man Emu shocks and leaf springs. To me this looks just about perfect, although I remain a diesel engine aficionado, but I could live with this.
You will find the page on FC Company's website with full details on this vehicle if you click here.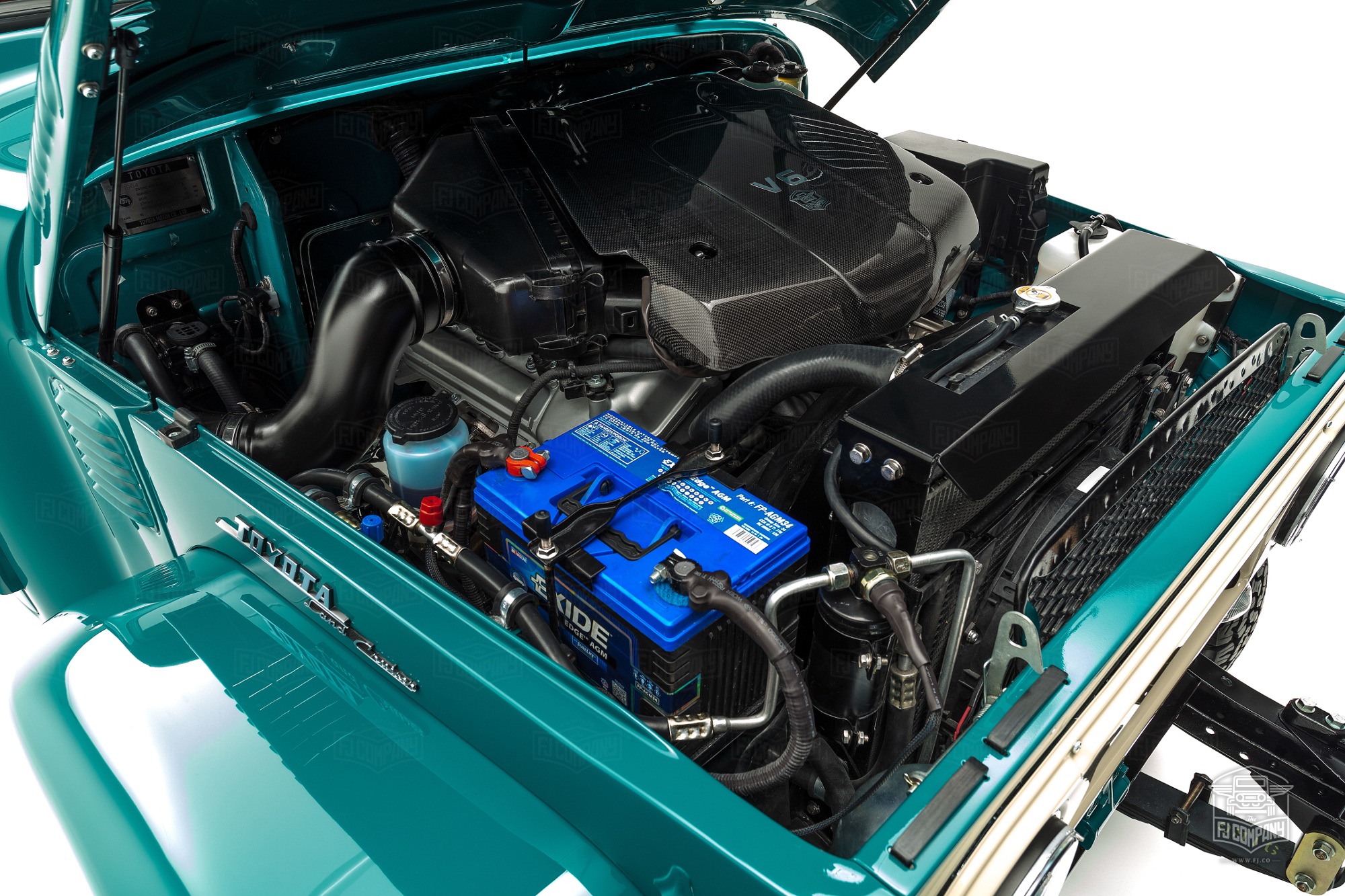 Conclusion
The Toyota Land Cruiser FJ45V was the first of the regular production full size Land Cruiser station wagons. It was made to be Toyota's answer to the Land Rover Safari station wagon and the emerging sports utility vehicles such as the International Harvester Scout and later Ford Bronco. Indeed if we consider that Toyota were already pioneering their FJ28V in the second half of the 1950's we realize that although the International Harvester Scout is generally recognized as the first sports utility vehicle the Toyota was created before it, but it was not in full scale production for the United States market at that time.
For me the Land Cruiser FJ45V checks most of my boxes for what I really want in a car. It is a stock FJ40 with a practical station wagon body and that makes it not only the ultimate four wheel drive for the family man with four children and a dog in the back, but it was also a perfect vehicle for shooting and fishing trips. When it was new it was the sort of vehicle that could really be used as a four wheel drive should, able to be taken to places where scratching the paintwork was going to be something that just happened. And after a few years of that kind of treatment it was easy to repaint so it would look nice and tidy before it got scratched up again.
Reliable, good looking, easy to fix, and now given a rather significant dose of the elusive "coolness" factor, the Land Cruiser FJ45V is, in my book at least, the greatest of the Toyota four wheel drives: and that makes it one of the most desirable vehicles on earth in my book. Collector values are already racing skywards, so one of these could be a good investment – if you can find one in decent shape that is.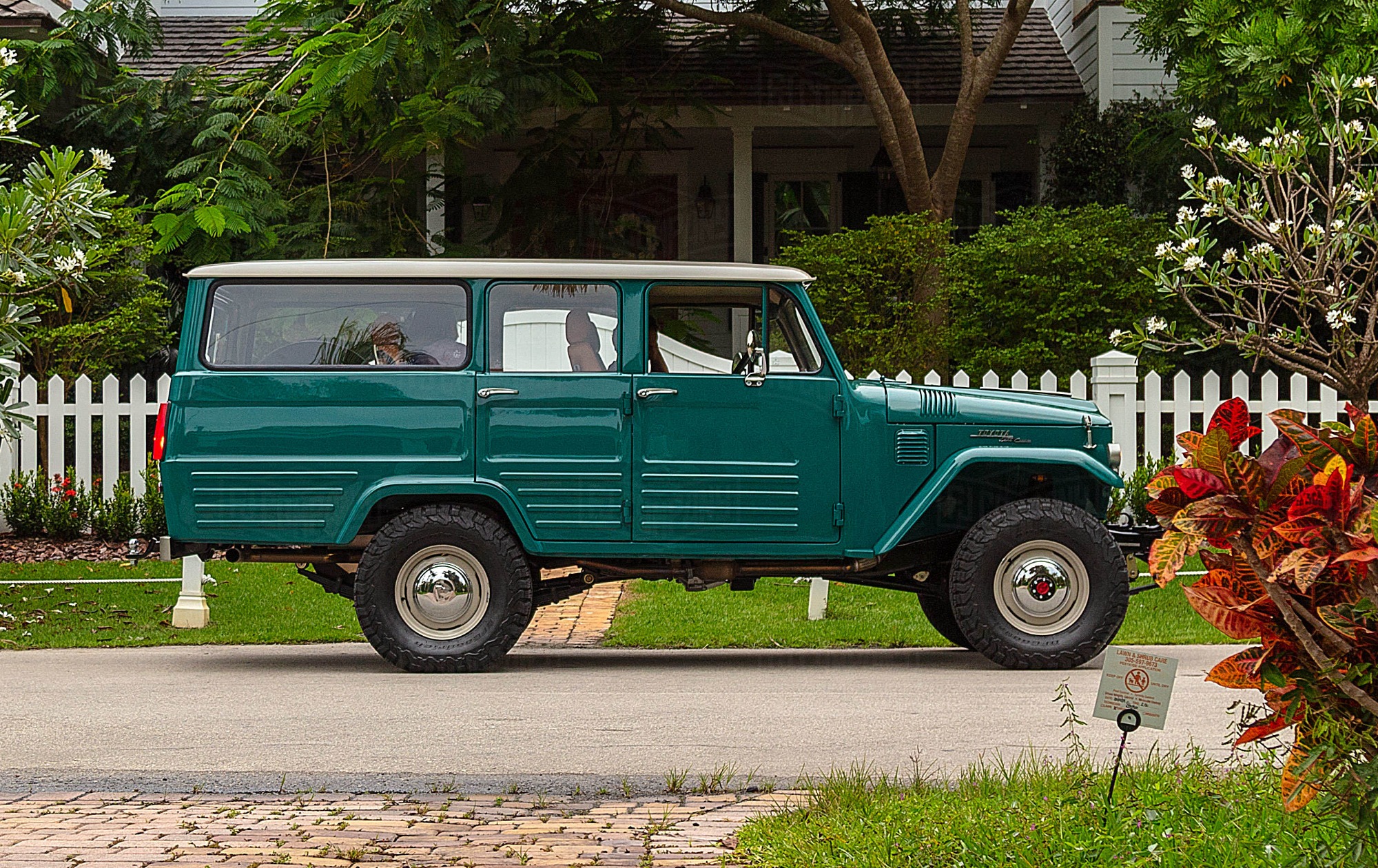 Picture credits: Feature image at the head of this post courtesy Mecum Auctions. Pictures of the restored and pre-restoration FJ45LV Land Cruisers courtesy the FJ Company, all other pictures courtesy Toyota.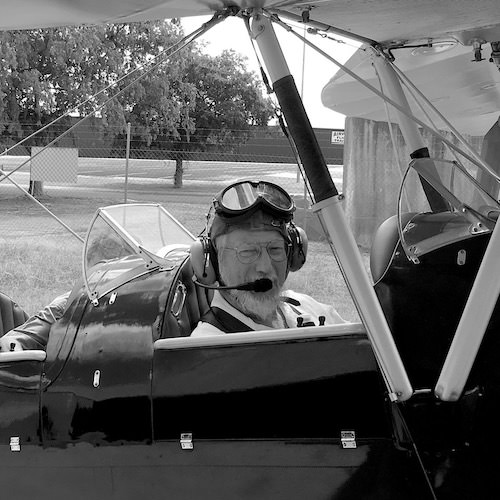 Jon Branch is the founder and senior editor of Revivaler and has written a significant number of articles for various publications including official Buying Guides for eBay, classic car articles for Hagerty, magazine articles for both the Australian Shooters Journal and the Australian Shooter, and he's a long time contributor to Silodrome.
Jon has done radio, television, magazine and newspaper interviews on various issues, and has traveled extensively, having lived in Britain, Australia, China and Hong Kong. His travels have taken him to Indonesia, Israel, Italy, Japan and a number of other countries. He has studied the Japanese sword arts and has a long history of involvement in the shooting sports, which has included authoring submissions to government on various firearms related issues and assisting in the design and establishment of shooting ranges.