Annie Oakley's Early Life
Annie Oakley was born Phoebe Ann Mosey on August 13, 1860, less than a year before the American Civil War began. Her father was Jacob Mosey and her mother Susan Wise and Annie was the sixth of their nine children. The family were Quaker Christians and lived in a log cabin in Ohio's Darke County. Annie's father died of pneumonia in 1866 before Annie turned six and this plunged the family into poverty. By the time she was seven Annie was heading out into the woods trapping animals to sell by the time she was just seven years old and by the time she was eight she was also shooting game to sell as well to bring much needed income into the household. Annie understood that if she shot game through the brain then the meat would not be spoiled and it would be easier to sell. So it was she began perfecting her shooting skills as a young child.
Annie's trapping and shooting business was not enough however to keep the family financial and by the time she was nine years old she was admitted to the Darke County Infirmary, which was a poor house, along with her sister Ellen. While there she was taught domestic duties including how to sew and then in the spring of 1870 as a child of nine years old she was "bound out" in the care and employment of a family who promised to pay her fifty cents per week and ensure she was provided with an education. The family did neither of those things and proved to be so abusive that Annie would later describe them as "The Wolves".
Annie endured her treatment at the hands of "The Wolves" for a couple of years and then in the spring of 1872 she ran away from them and finished up living with the Edington family until she returned home to her mother's home in about 1875, by which time she was fifteen. She had returned to trapping and shooting game for sale and she managed to pay off the mortgage on the family farm.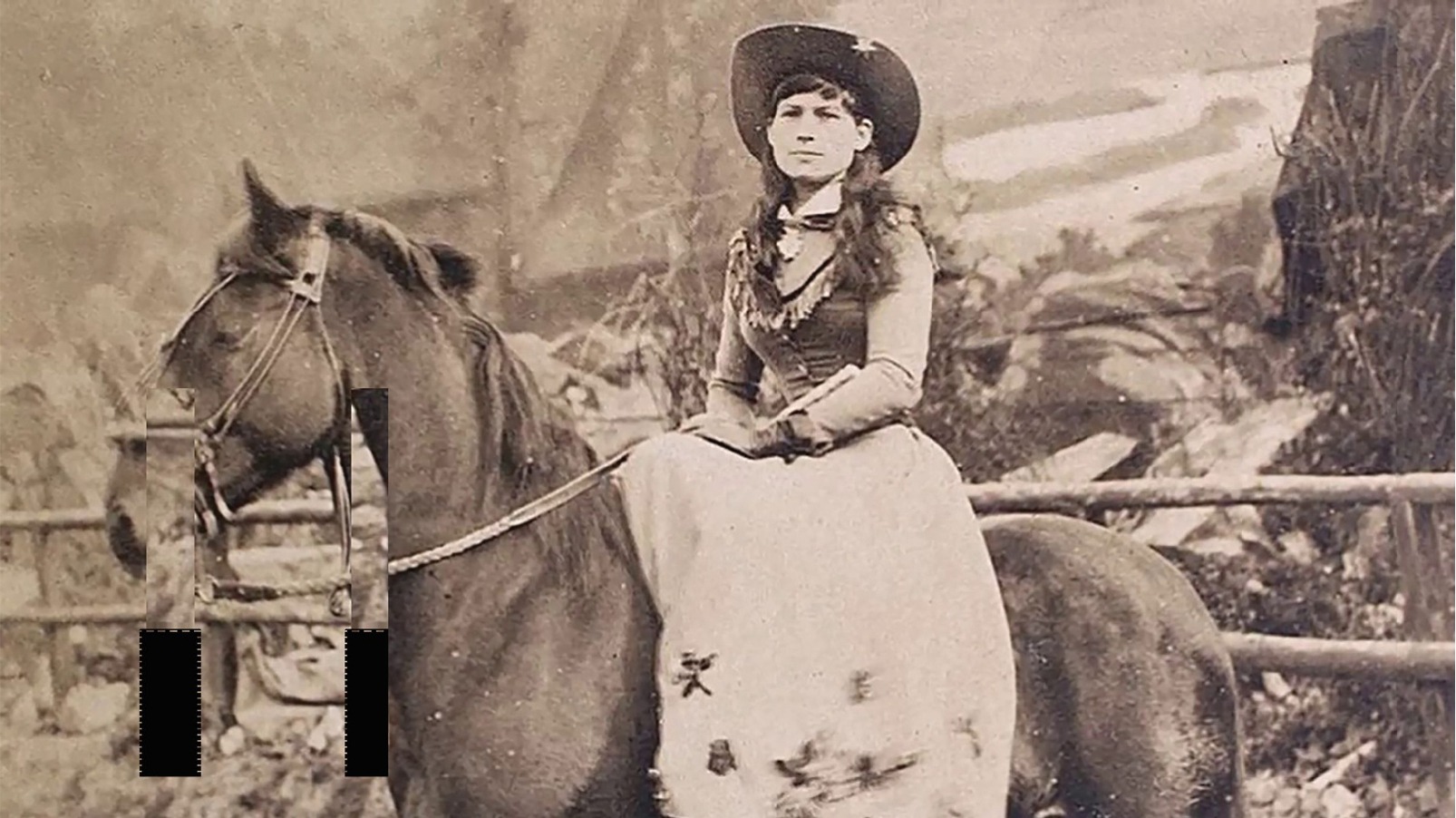 In the Bible the apostle Paul tells us in the book of Romans, Chapter 5 verses 3 and 4 that "… we glory also in afflictions, knowing that affliction works out patience, 4 and patience works out proven character; and proven character, hope." What is unmistakable in the photographs of Annie as a young woman is that she has a look of dignified determination. When a child has to endure the sorts of deprivations that she had to go through they can become filled with self-pity and create in themselves a sense of entitlement: the "the world owes me" sort of thinking. Or, if the child has had a Biblical based early education in which they have had depth of character nurtured in them they can emerge from the afflictions matured and highly developed. Annie was someone who emerged from her years of affliction with the depth of character that only those sorts of experiences can build into someone.
Annie Begins Her Trick and Fancy Shooting Career
Oftentimes we develop a skill to an extraordinarily high level and may not realize just how high that level of expertise is until we are put into a situation that shows us. This was the case for Annie. No doubt she knew she was a good shot, but may have only thought of herself as "fair to middling". But when Irish immigrant trick and fancy shooter Frank E. Butler came to Cincinnati with his show the owner of the Cincinnati hotel took on the challenge that Frank Butler made to him, Frank bet USD$100 that he could beat any local shooter and the hotel owner took him up on it. We can reasonably suspect that the hotel owner knew something that Frank Butler didn't and on the day of the challenge shoot Frank Butler must have wondered what was going on when he found that his competitor was a five foot tall young woman named Annie.
The contest ended when Frank Butler missed his 25th shot, and Annie didn't. He lost his $100 but he and Annie began courting and subsequently married on June 20, 1882, so he won the far more valuable prize.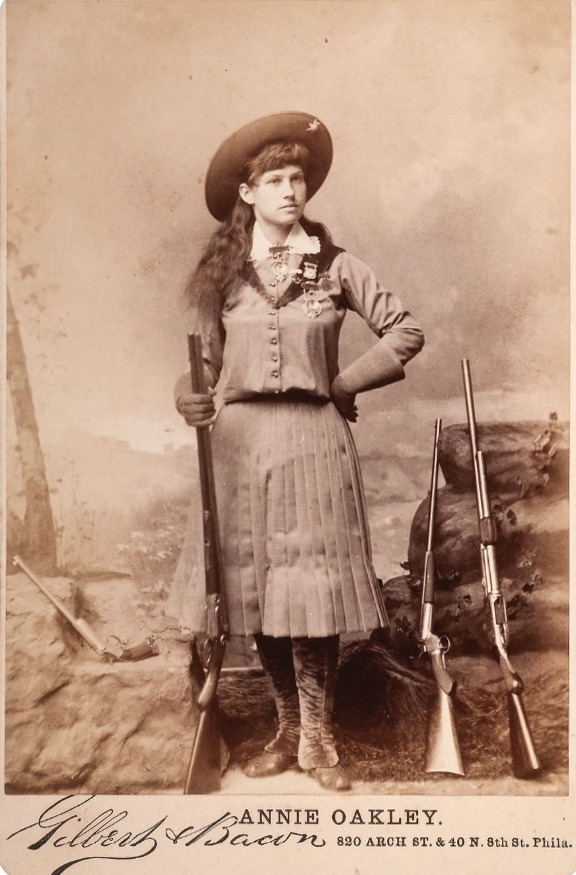 After they were married Frank and Annie put together their own traveling trick and fancy shooting show and began touring together. It was at this time that Annie took on the stage name Annie Oakley, probably taking the name from the area where they were living, which was called Oakley.
In 1884 Annie Oakley was seen performing by Sioux Chief Sitting Bull, the same Sitting Bull of "Battle of the Little Big Horn" fame. He was so impressed with her shooting that he nicknamed her "Watanya Cicilla" which translates as "Little Sure Shot" or "Little Miss Sure Shot". In her act she would happily skip onto the stage and then proceed to shoot corks off bottles, shoot a cigar out of her husband's mouth and other amazing feats.
(Video courtesy archive.org).
Annie and Frank joined Buffalo Bill's Wild West show in 1885 and this was to be the move that would ensure her name became a household word all over the world. That first year with Buffalo Bill was not to be a happy one however as an intense rivalry developed between Annie and Buffalo Bill's other lady trick shooter Lillian Smith. Annie left the show in 1886 and did not return to it until after Lillian Smith had left.
The British and European Tours
Annie and Frank rejoined the Buffalo Bill Wild West show in 1887 in time for the show to travel to London in England for the American Exhibition, which was timed to coincide with Queen Victoria's Golden Jubilee. Annie gave a number of performances for the Royal Family in early May culminating in a special performance on May 11. What amazed the crowd at that performance was not just Annie's shooting, but when the American flag was brought into the arena Queen Victoria rose to her feet and bowed to the American flag: making her the first British monarch to do so.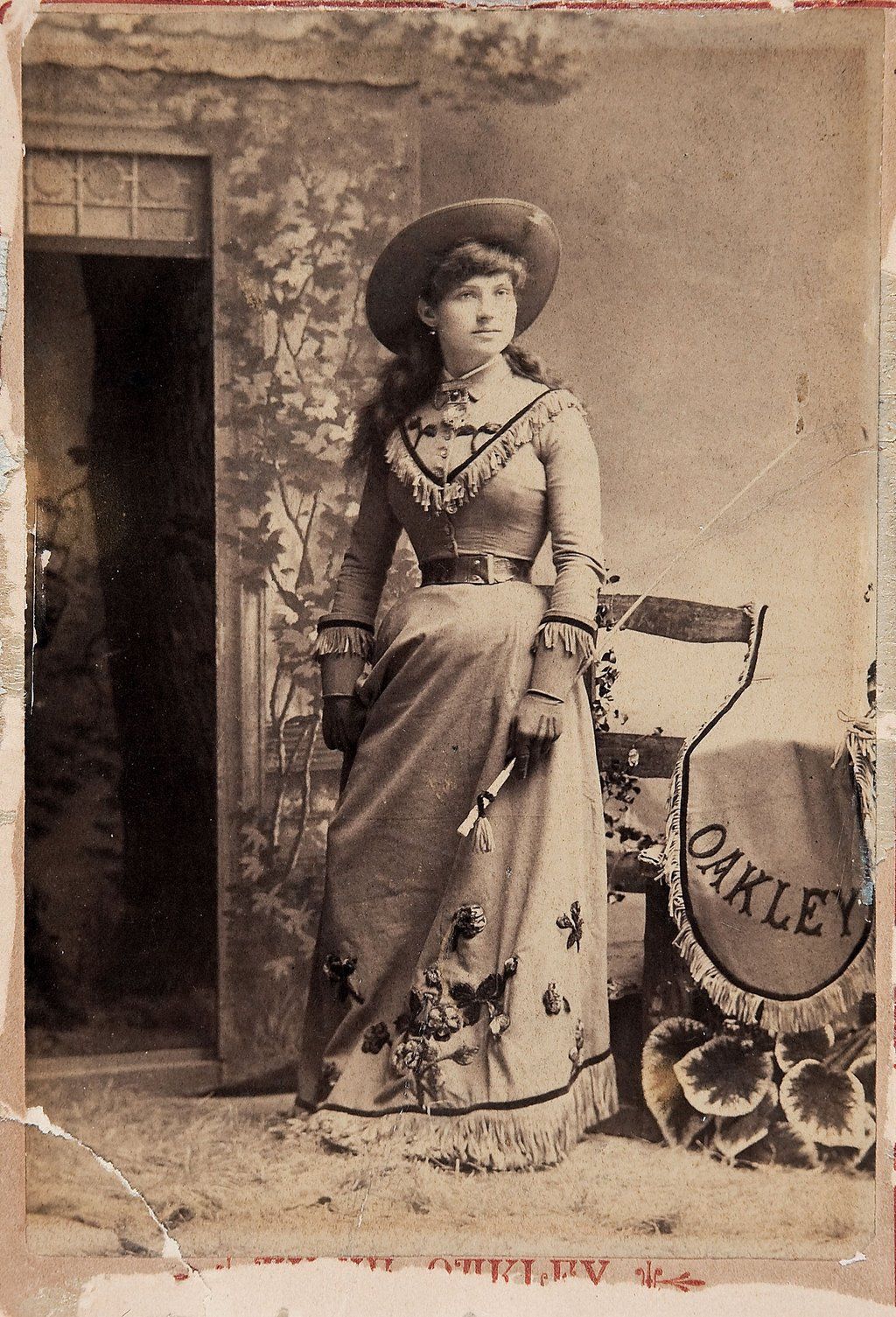 Buffalo Bill's show remained in London until October of that year and then toured the cities of Birmingham and Manchester before returning to the US in May 1888. Annie and Frank took a break from Buffalo Bill's show for a while and Annie tried her hand at stage acting in a play called "Deadwood Dick" which didn't do well. So when Buffalo Bill was to head over to Europe for a grand tour they joined him again on that new adventure of a lifetime. That tour took in France, Italy, Spain, Germany and Austria-Hungary. Annie became more and more the star of Buffalo Bill's show and was even asked by German Kaiser Wilhelm II to shoot the ash off his cigarette, which she happily did.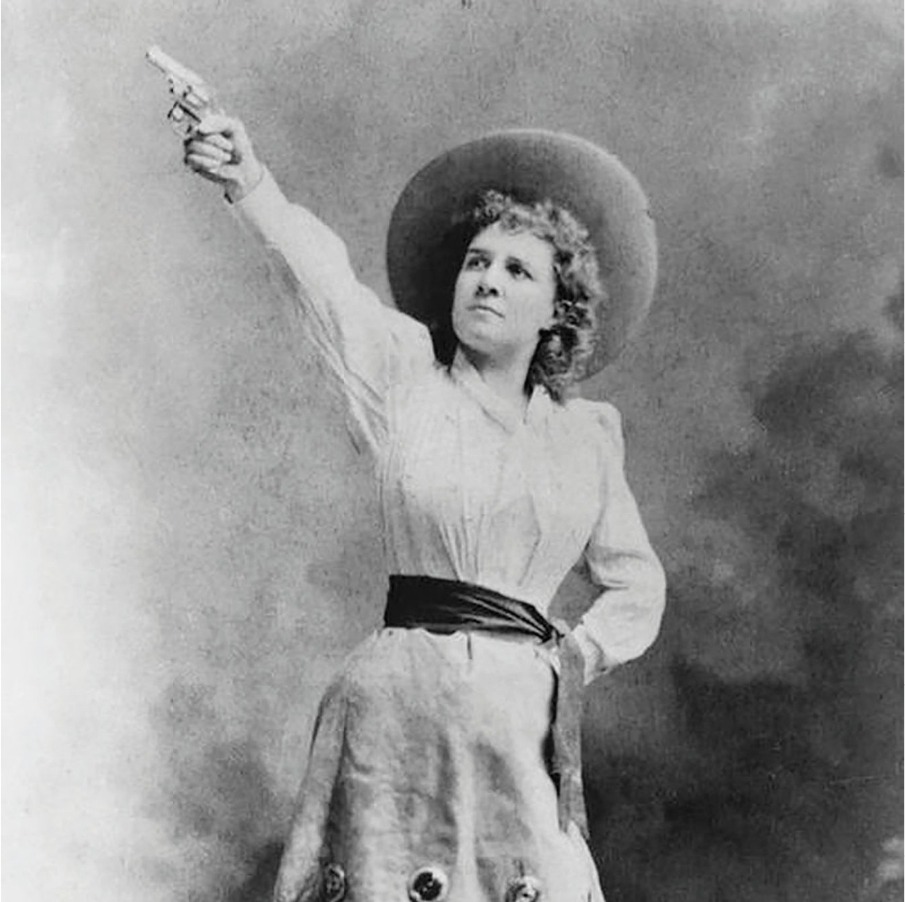 The European and British tours were so successful, and so profitable, that Buffalo Bill did two more tours in 1891 and 1892 and by the end of those Annie was the highest earning performer in his show. She had gone from a childhood of poverty to achieving success she had likely never dreamed possible, and she had performed for many of the crowned heads of Europe, people she would never have expected to meet, much less to be invited to shoot the ash off the German Kaiser's cigarette.
Annie Oakley's Golden Marlin M1897
One of the firearms Annie used in her performances was a Marlin M1891 lever action rimfire and in 1903 Marlin decided to honor her with the presentation of a gold plated Marlin M1897 rimfire rifle. So Annie became the "Lady with the golden gun". Annie and Frank had been in a train crash in 1901 which resulted in her sustaining some serious injuries. With that she decided that it was time to stop touring. Instead she began providing shooting lessons for women at shooting clubs and she was a strong advocate of women learning to shoot. Frank became a promotional representative for the Union Metallic Cartridge Company and he and Annie continued to do shooting exhibitions promoting that company's ammunition.

The Marlin M1897 Annie was presented with in 1903 was engraved by master engraver Conrad F. Ulrich Jr., who would subsequently move to Winchester and produce some exquisite engraved rifles there also.
The Ulrich engraving on Annie's rifle is Marlin Grade No. 10 consisting of a grape leaf and vine motif and game scenes depicting a doe and buck in a forest on the left side and a squirrel in a tree on the right. The rifle action is finished in gold plate and the whole is tasteful, and no-doubt a rifle that Annie would have appreciated and put through its paces.

This rifle is coming up for sale by Rock Island Auction at their Premier Sale to be held over December 6-8, 2019. This rifle will be offered on December 7th.
You will find the sale page for this rifle with further details if you click here.
Annie Oakley is one of the most famous Americans to have ever lived. A rifle owned by her is an important historic rifle and a connection with the Wild West that Buffalo Bill's show celebrated.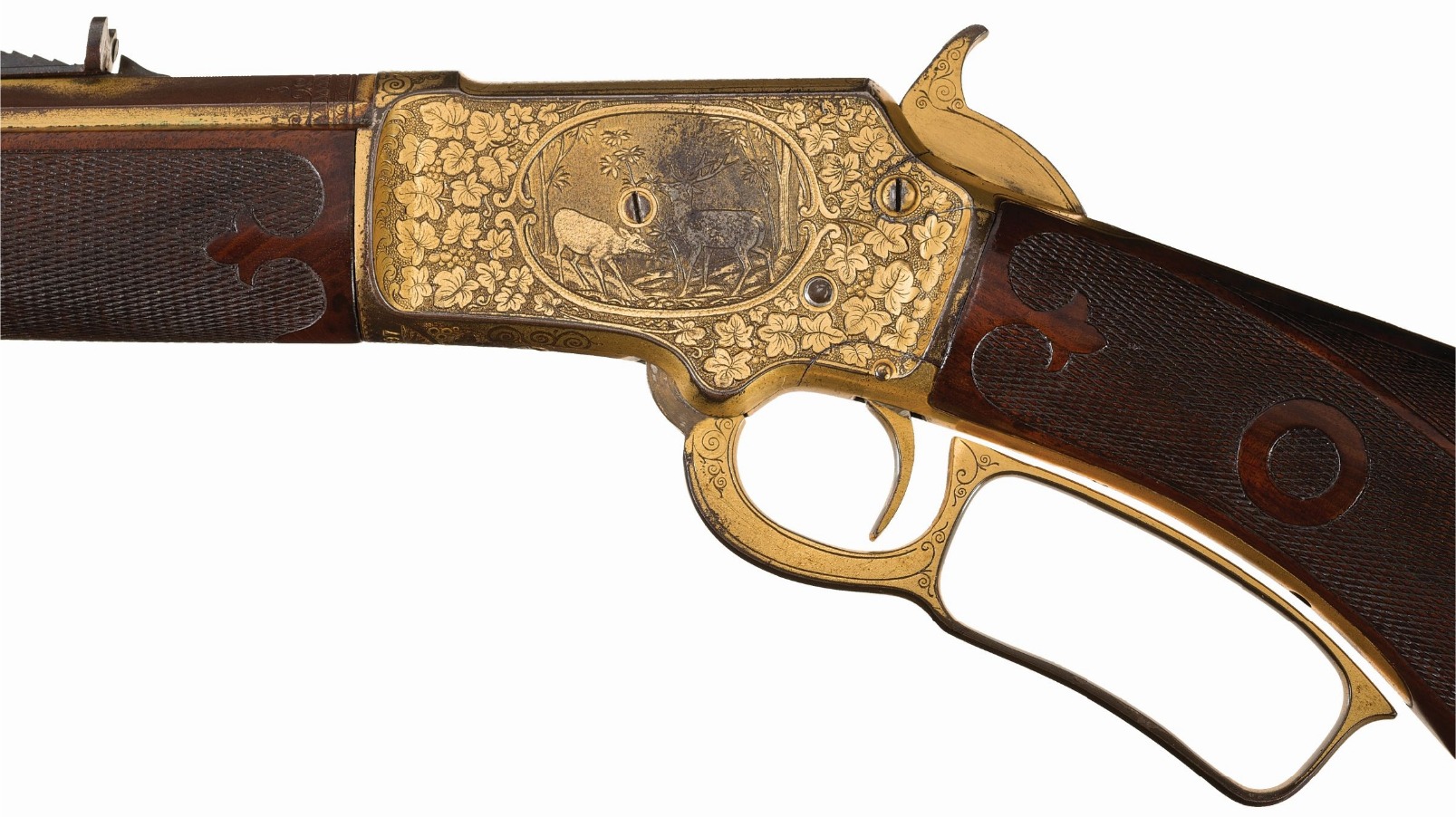 Rock Island Auction describe the condition of this rifle as follows:- "Exceptionally fine, retaining 70% original gold plating with a smooth dark brown patina on the balance. The engraving is crisp. The wood is excellent with scattered minor handling marks and crisp checkering overall. Mechanically excellent. A true work of Marlin high firearms art presented to famed exhibition shooter Annie Oakley that will make for a great addition to any lever action or Western collection. It is not often that we catalog historic firearms owned by the great Western legends!"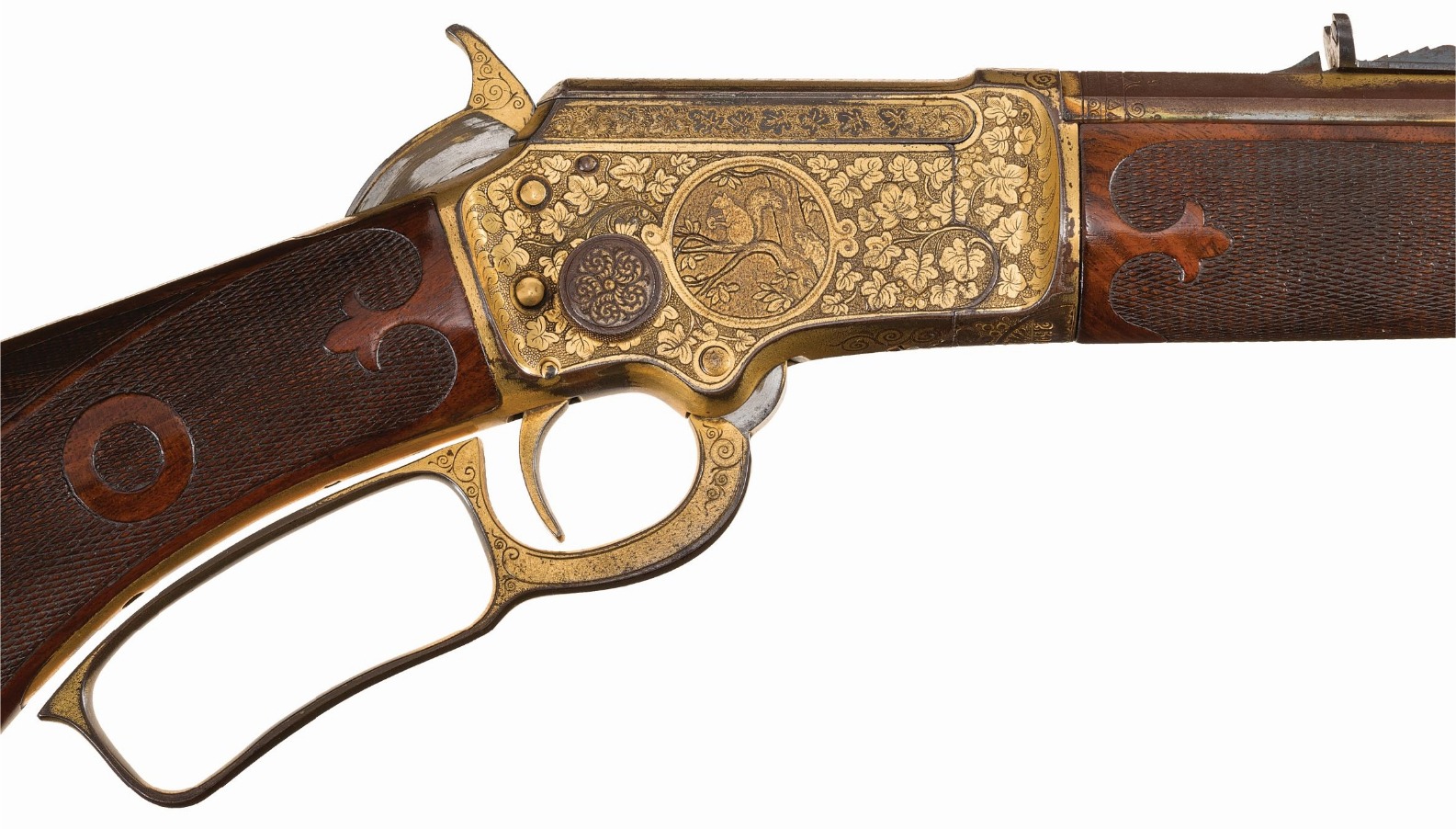 Epilogue
Annie Oakley was an advocate of women being able to shoot and during her career it is believed she taught around 15,000 women shooting skills. She once said "I would like to see every woman know how to handle guns as naturally as they know how to handle babies."
Annie and Frank were in a car accident in 1922 which left Annie with a serious leg injury and although she fought back and got back into shooting again her health deteriorated in 1925 and on November 3, 1926 she passed away and her ashes were buried at Brock Cemetery, near Greenville. Her husband Frank was so struck with grief that he too passed away eighteen days later and his body was buried next to Annie's ashes. I don't know if there will be any trick and fancy shooting shows in Heaven but if there are I hope to meet Annie and Frank there.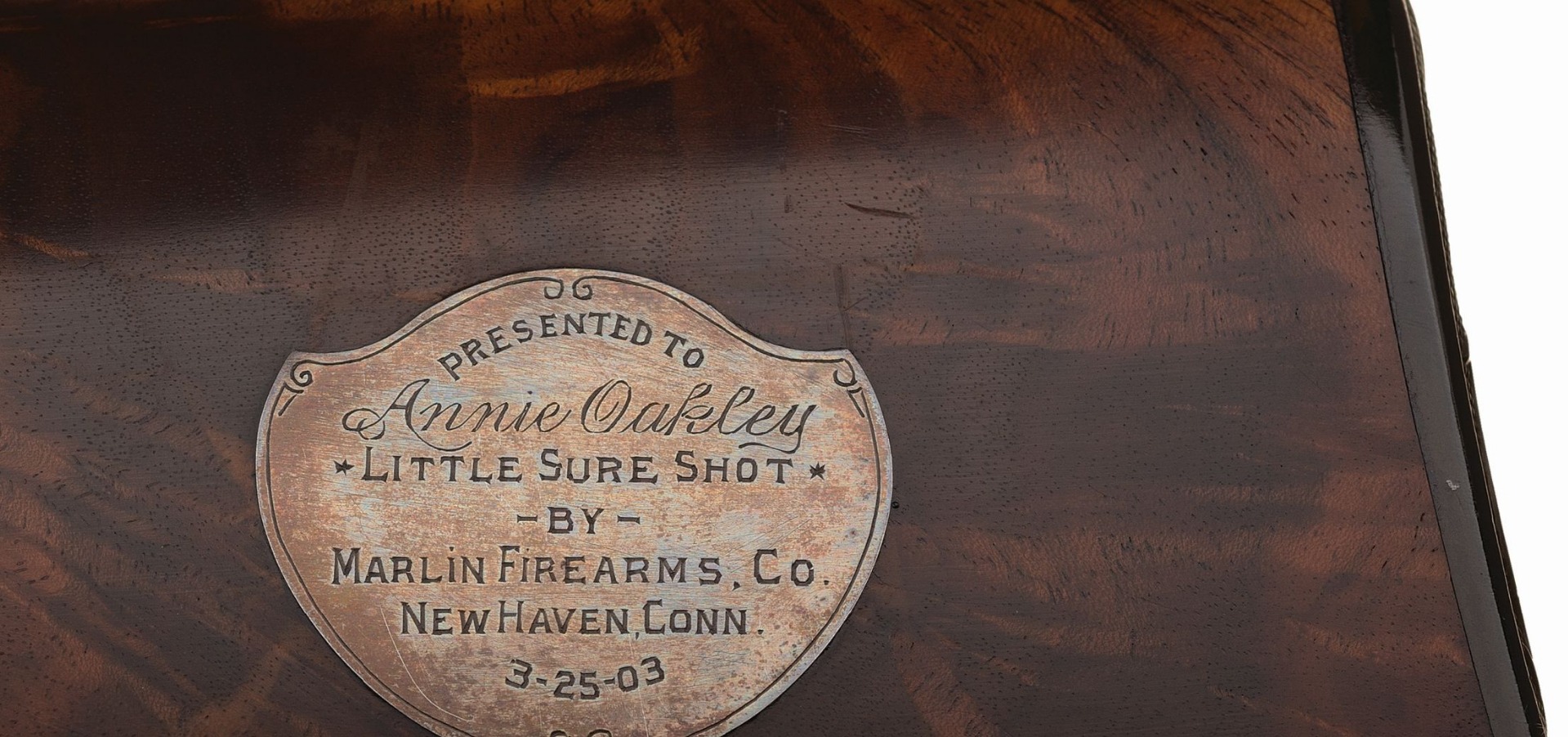 Picture Credits: All pictures of the sale golden Marlin Rifle and video courtesy Rock Island Auction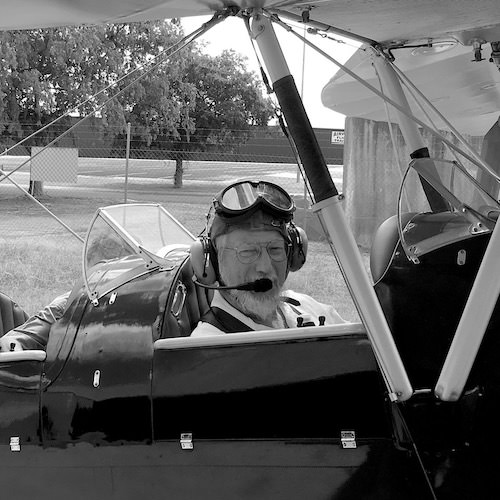 Jon Branch is the founder and senior editor of Revivaler and has written a significant number of articles for various publications including official Buying Guides for eBay, classic car articles for Hagerty, magazine articles for both the Australian Shooters Journal and the Australian Shooter, and he's a long time contributor to Silodrome.
Jon has done radio, television, magazine and newspaper interviews on various issues, and has traveled extensively, having lived in Britain, Australia, China and Hong Kong. His travels have taken him to Indonesia, Israel, Italy, Japan and a number of other countries. He has studied the Japanese sword arts and has a long history of involvement in the shooting sports, which has included authoring submissions to government on various firearms related issues and assisting in the design and establishment of shooting ranges.