The Brough Superior and the Brough "Inferior"
George Brough's father, William Edward Brough, was a motorcycle aficionado and was a knowledgeable and respected maker of motorcycles, so young George Brough grew up involved in his father's business acquiring the knowledge, skills and contacts of someone very much a part of the motorcycle manufacturing trade. George started out in motorcycle competition while he was still at school in 1906 and rose through the ranks quickly so that by 1910 he began his three year winning streak in the London to Edinburgh and back trial. He won the event in 1910, 1911 and 1912, and capped off 1912 by winning a Gold Medal in the 1912 Scottish Six Days Trial: an event that required the use of a single gear, no clutch, and for which the bike's tool bag had to be sealed so it could not be used during the competition.
As George Brough continued to advance in his motorcycle career he found that he and his father's ideas of what the perfect motorcycle should be were becoming very different. Edward Brough favored the old fashioned flat-tank, and the horizontally opposed "boxer" twin cylinder engine set laterally in the frame in the same way the British Douglas motorcycles used.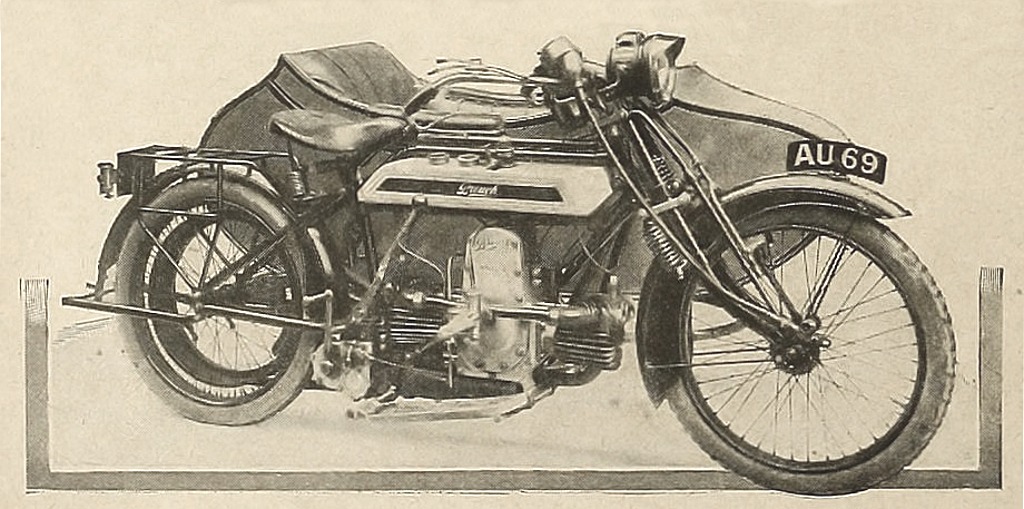 George grew beyond that idea, realizing its limitations from both a practical standpoint, but also from a marketing standpoint. George looked at the motorcycles coming out of the United States, especially the V-twins from Harley-Davidson and the Indian Motocycle Company, and decided that there would be a niche market for a large V-twin British motorcycle among the moneyed upper classes. He could see that if he could build a motorcycle with superb handling and big V-twin performance to match that he could have a world beater.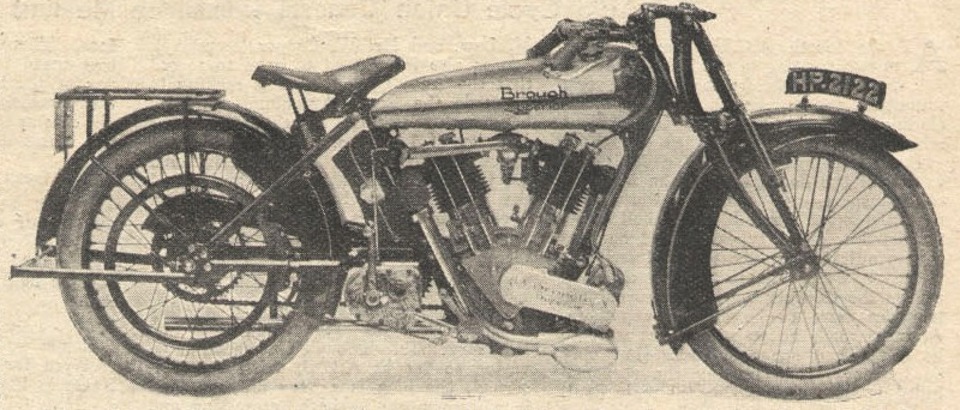 George and his Dad could not agree on the direction in which George wanted to take the family business and so the decision was made to split the business. To his credit George's father gave his blessing to George to go and start up on his own, and he gave him £1,000 as George's share in the family business with which to get established.
With that £1,000 George purchased a plot of land in Haydn Road, Nottingham and erected a workshop on it. He announced that his intention was to manufacture motorcycles superior to everything else in the world, and he called his new motorcycle marque "Brough Superior". When Edward Brough was told that George was to call his bikes "Brough Superior" he took it in good humor and said "I suppose that makes mine the Brough Inferior!"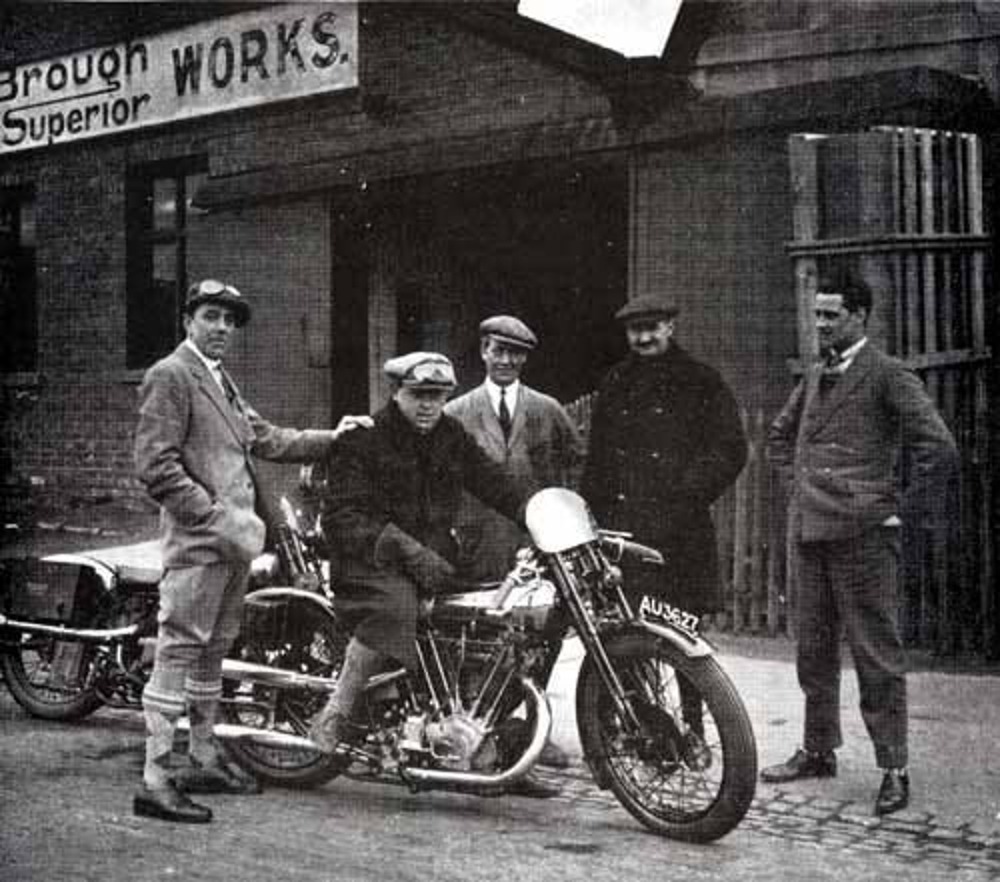 The First Brough Superior Motorcycles
George Brough made his first "Brough Superior" in 1919 and by Christmas of 1920 he had his bike refined, his parts manufacturing and supply for that bike organized, and the bikes went on sale. But these were not factory production line products, these were hand made bespoke motorcycles made to the order of the customer just like a gentleman's suit from Saville Row, or a bespoke gun from Purdey or Holland & Holland. A Brough Superior customer's bike was fitted to him/her just like a tailor made suit or a custom gun, completely personalized.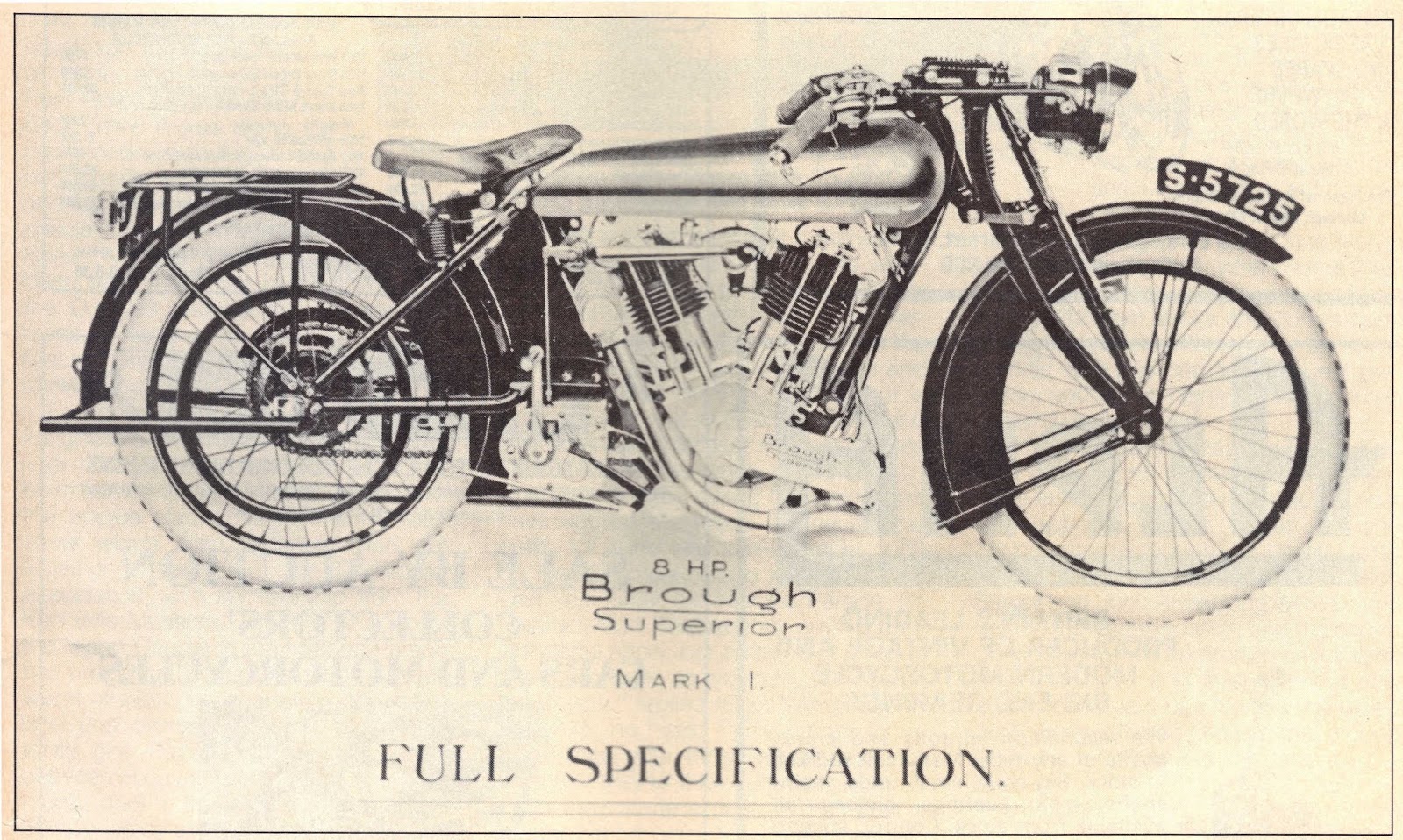 George Brough's Mark 1 motorcycle was installed with a V-twin 986cc JAP engine. The JAP engines were made to George Brough's requirements by J.A. Prestwich. JAP engines were used in a number of other maker's motorcycles but Brough ensured that his were special order engines, not just ordinary engines off the production line.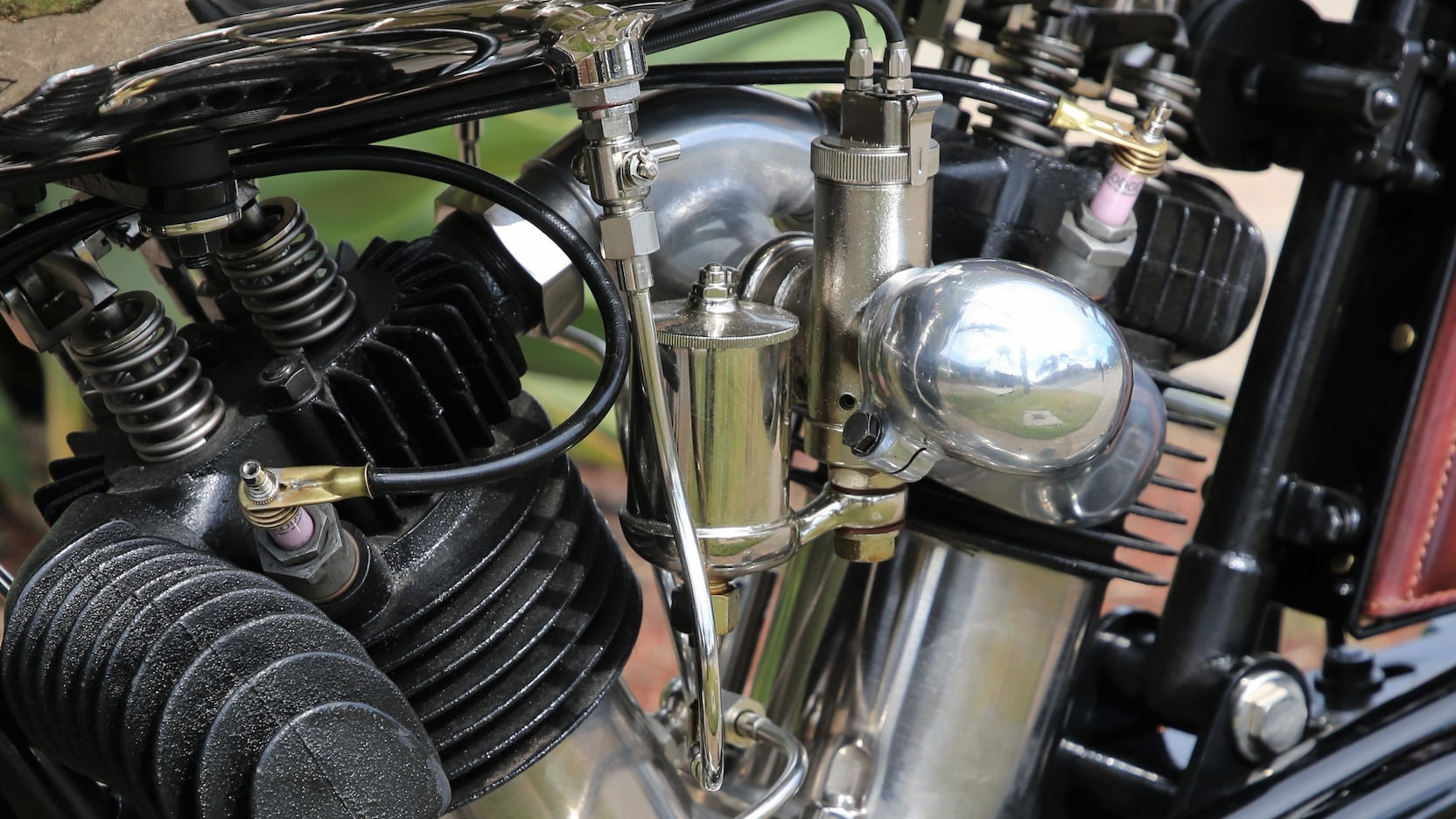 The JAP engine breathed through an Amal carburetor and was given its "spark of life" by an ML magneto. George Brough understood the importance of style and aesthetics and so his bikes were fitted with a unique teardrop shaped nickel plated fuel tank. This first model featured a Sturmey-Archer three speed gearbox and Montgomery front forks.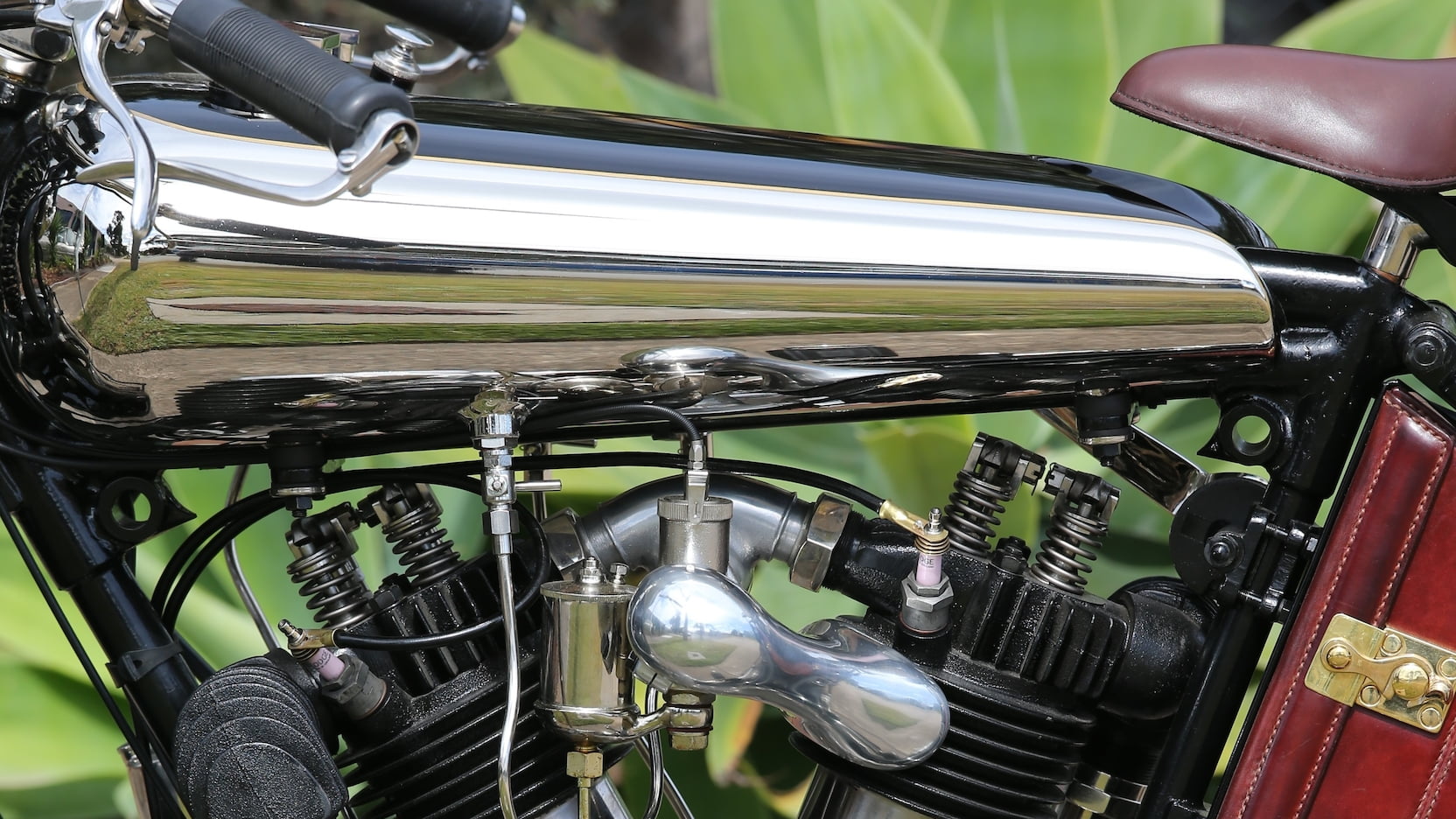 Even as he entered production of his motorcycles George Brough did not just settle on the JAP engine but instead offered a limited range of top quality engines for customer order. One of the alternative engines was the 999cc Barr & Stroud V-twin sleeve-valve engine. Nowadays we might wonder why George Brough would consider offering a sleeve valve engine but we should remember that the most expensive automobile on the market during the 1920's was not the Rolls-Royce, but the French Avions Voisin: and the Avions Voisin was fitted with a wonderfully silent sleeve valve engine. Similarly the Barr & Stroud V-twin sleeve valve offered unparalleled quietness for a motocycle engine.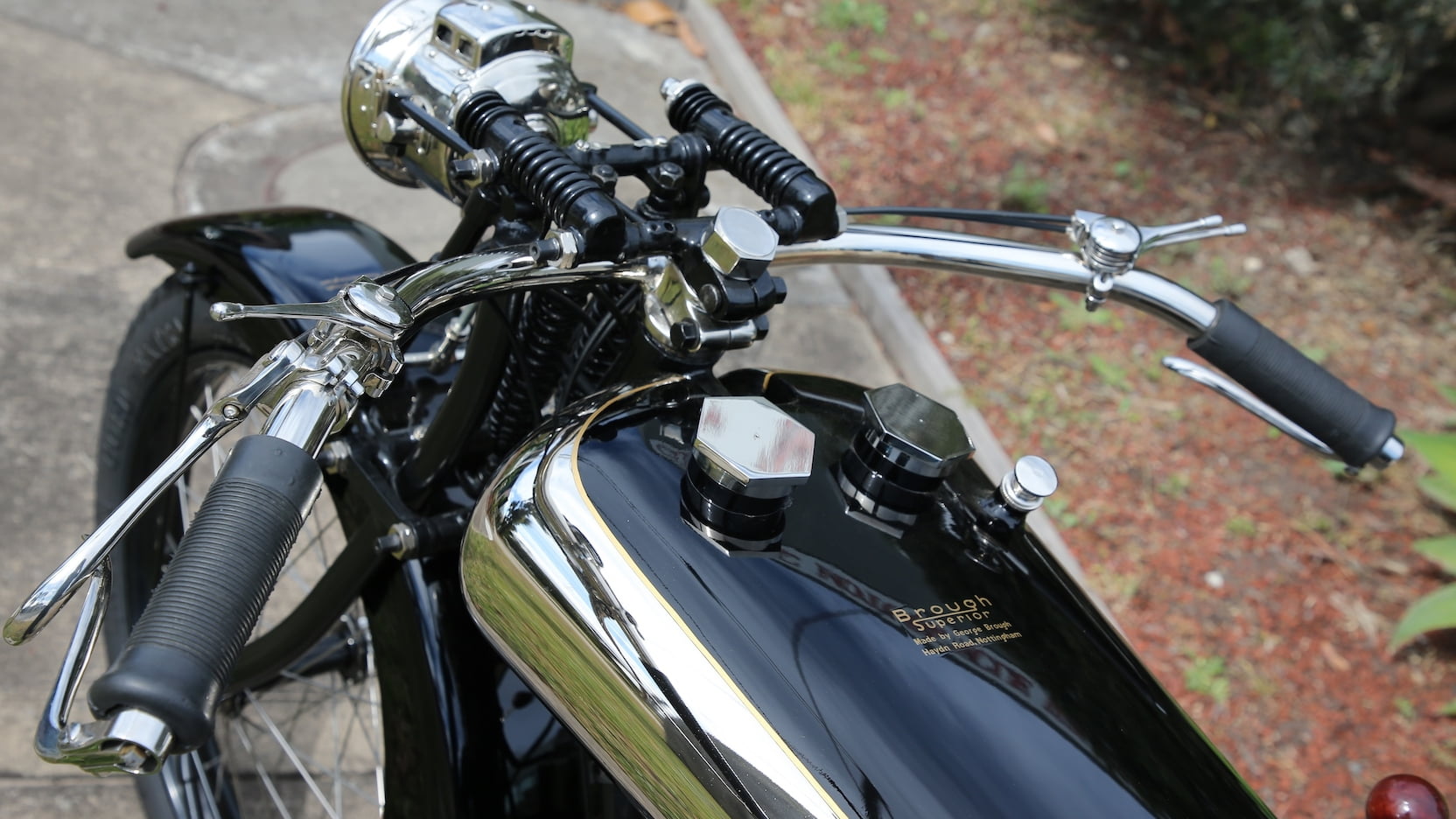 Another engine offered for the Brough Superior was the Swiss Motosacoche (MAG) IOE engine (i.e. Inlet Over Exhaust "F" head engine). These MAG engines were offered in either 733 cc or 993 cc.
In the period from 1919 up until 1922 George Brough offered his Mark I with both side-valve and overhead valve versions of the JAP V-twin. He went on to offer his Mark II in Standard and Sports models. He also offered an OHV 500cc, a Side-Valve 680cc Junior, and a 750cc Side-Valve.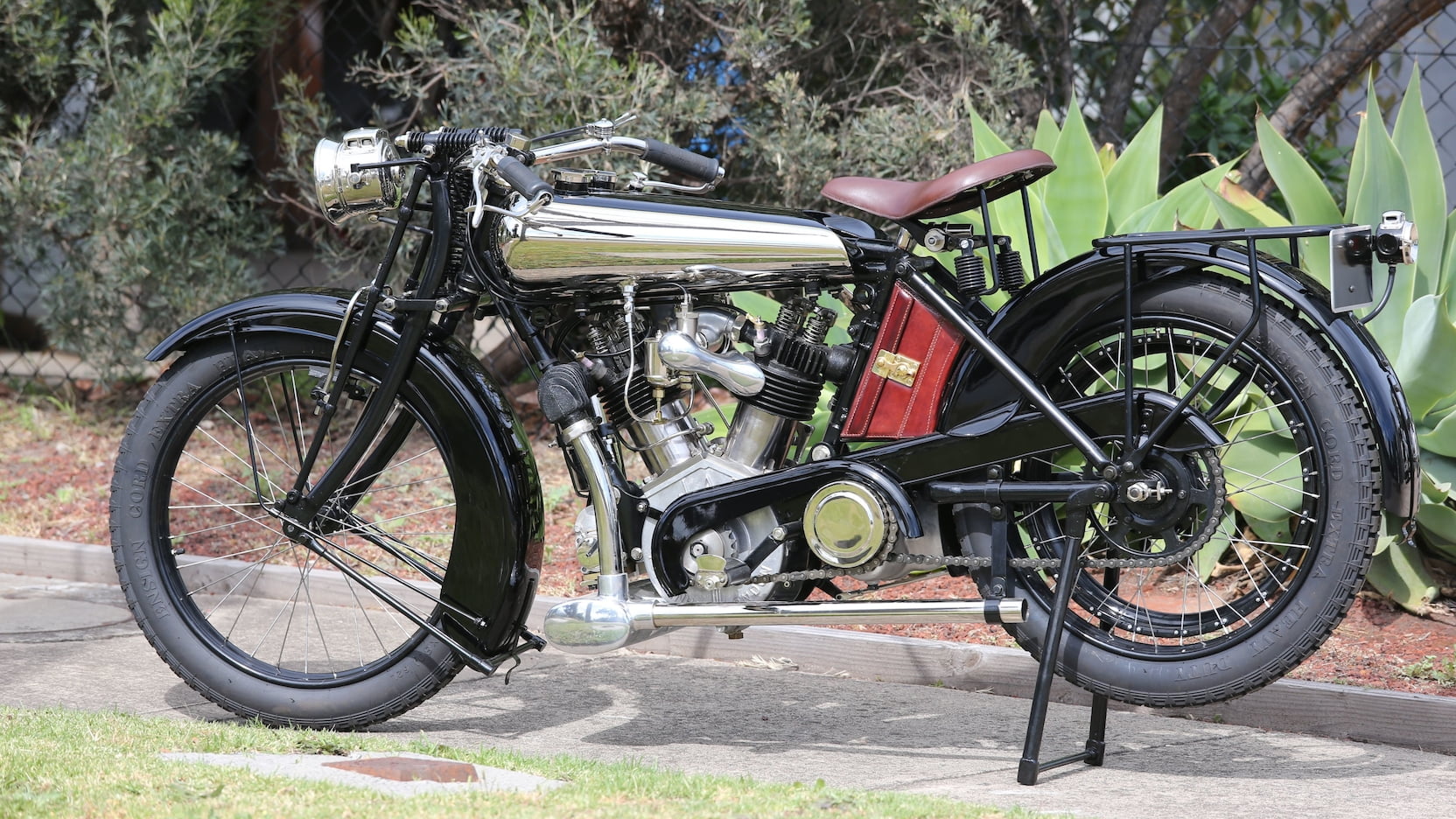 After his Mark I George Brough would go on to make his famous SS80 and SS100 motorcycles. He created two concept bikes the first being the "Golden Dream" which was fitted with a four cylinder "Flat Vertical" engine – effectively two boxer twin cylinder engines Siamesed together one on top of the other. The second concept bike was the Brough Superior Austin Four which was powered by an Austin 7 car engine and transmission modified for the bike. This bike had a shaft drive with twin rear wheels and the shaft drive passing between them.
By the end of the Second World War George Brough would close the doors of Brough Superior stating that he could no longer obtain a suitable engine for a post-war Brough Superior motorcycle. In a sense the baton was passed to Phil Vincent and Australian Phil Irving to go ahead and create a worthy British successor to the Brough Superior, and that was the Vincent.
A Brough Superior Mark I for Sale
Surviving Brough Superior motorcycles are rare and much sought after and that is even more true of the Mark I model. It is thought that there are only two Mark I bikes that have survived and one of them is coming up for sale by Mecum Auctions at their Las Vegas 2020 sale.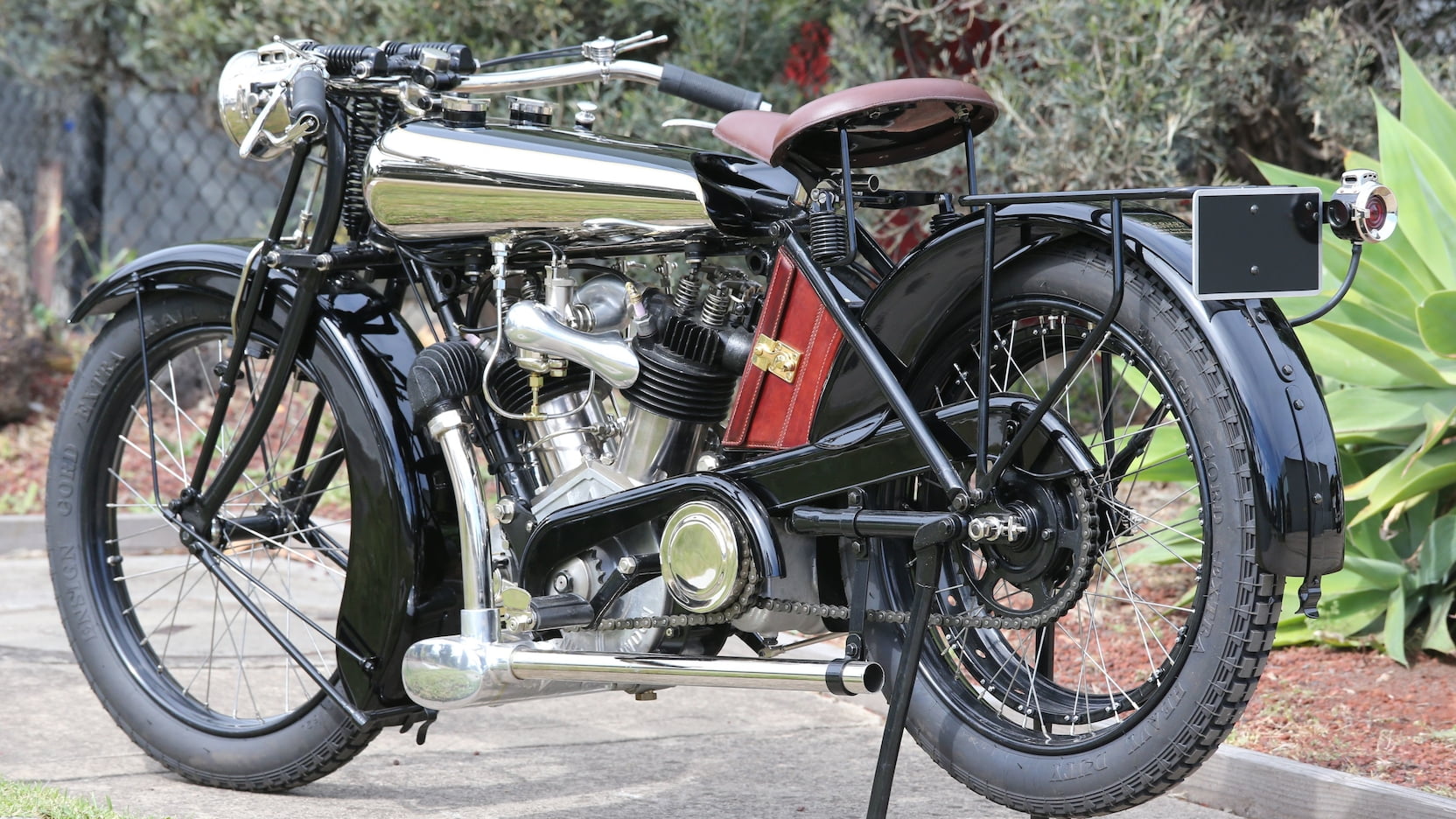 This motorcycle has been concours restored as can be appreciated in the photographs above.
You will find the sale page for this motorcycle if you click here.
Conclusion
George Brough was a visionary who went on to live his dream. His motorcycles became legendary in his own time and his customers were a who's who list of celebrities in motorcycling circles including T.E. Lawrence of "Lawrence of Arabia" fame and British playwright George Bernard Shaw. He was a man who made his mark in the history of motorcycles.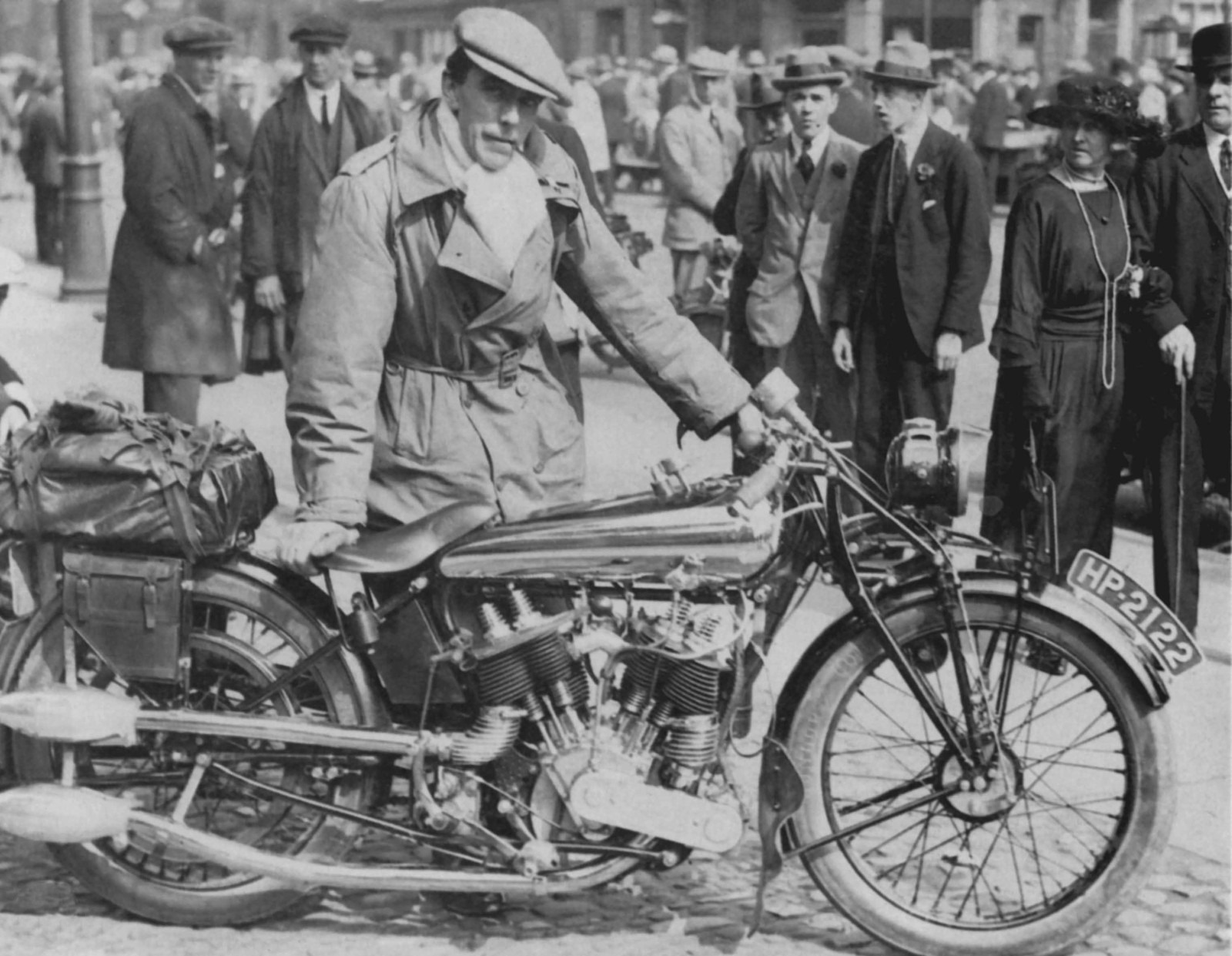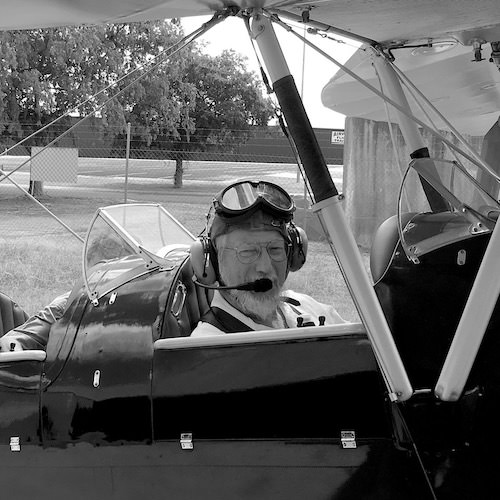 Jon Branch is the founder and senior editor of Revivaler and has written a significant number of articles for various publications including official Buying Guides for eBay, classic car articles for Hagerty, magazine articles for both the Australian Shooters Journal and the Australian Shooter, and he's a long time contributor to Silodrome.
Jon has done radio, television, magazine and newspaper interviews on various issues, and has traveled extensively, having lived in Britain, Australia, China and Hong Kong. His travels have taken him to Indonesia, Israel, Italy, Japan and a number of other countries. He has studied the Japanese sword arts and has a long history of involvement in the shooting sports, which has included authoring submissions to government on various firearms related issues and assisting in the design and establishment of shooting ranges.