Background
The Aultman and Taylor partnership had its origins as far back as the years immediately after the American Civil War and the company was established to manufacture a vibrator threshing machine.  When Aultman and Taylor considered establishing their business its viability was in part inspired by two pieces of legislation; one was the Pacific Railway Bill which Abraham Lincoln signed into law on July 1st, 1862. The effect of this bill was to provide a railroad link to the west, which was at that time still wild and which had not yet seen the development of farming. Not only would that railroad provide the means for farmers to transport their crops to the coastal cities for consumption and export, but it would also enable the transportation of agricultural machinery, such as the Aultman and Taylor threshing machine, to farmers in the "Wild West". The second government action was the Homestead Bill, which Abraham Lincoln signed into law on May 20th, 1862. That bill provided for the Federal Government to give a 160 acres piece of land to a prospective farmer on payment of a ten dollar fee and on the condition that the farmer would undertake to plow the land. Upon the satisfactory completion of five years the government would give the farmer the deed for the land so he would own his own farm. This led to many people immigrating to the United States to take up that offer leading to the opening up of the inland of the country.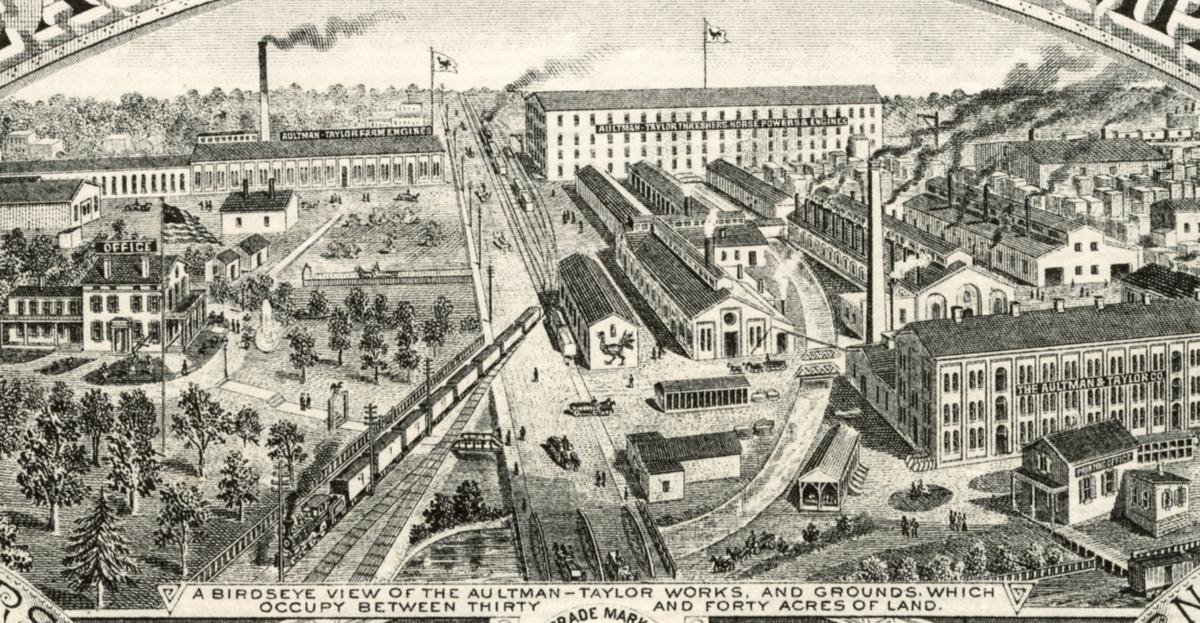 Seeing the potential Aultman and Taylor established a factory for the production of their threshing machines at Mansfield, Ohio, which was traversed by no less than three major railroad lines and which was also an area rich in lumber resources. With their manufacturing facility established in this center Aultman and Taylor were able to not only send their threshing machines into the wild west of America but were able to export to anywhere in the world. Work on the factory began in 1861 but was not completed until 1869. Aultman and Taylor manufactured not only their vibrator threshing machine but also sawmill equipment, steam engines and other agricultural equipment in that factory up until May 26th,1896, when the facility was struck by lightning in a wild electrical storm and burned down. The fire did not stop the company however and Aultman and Taylor rebuilt and continued business as one of the largest makers of agricultural and industrial equipment in the United States.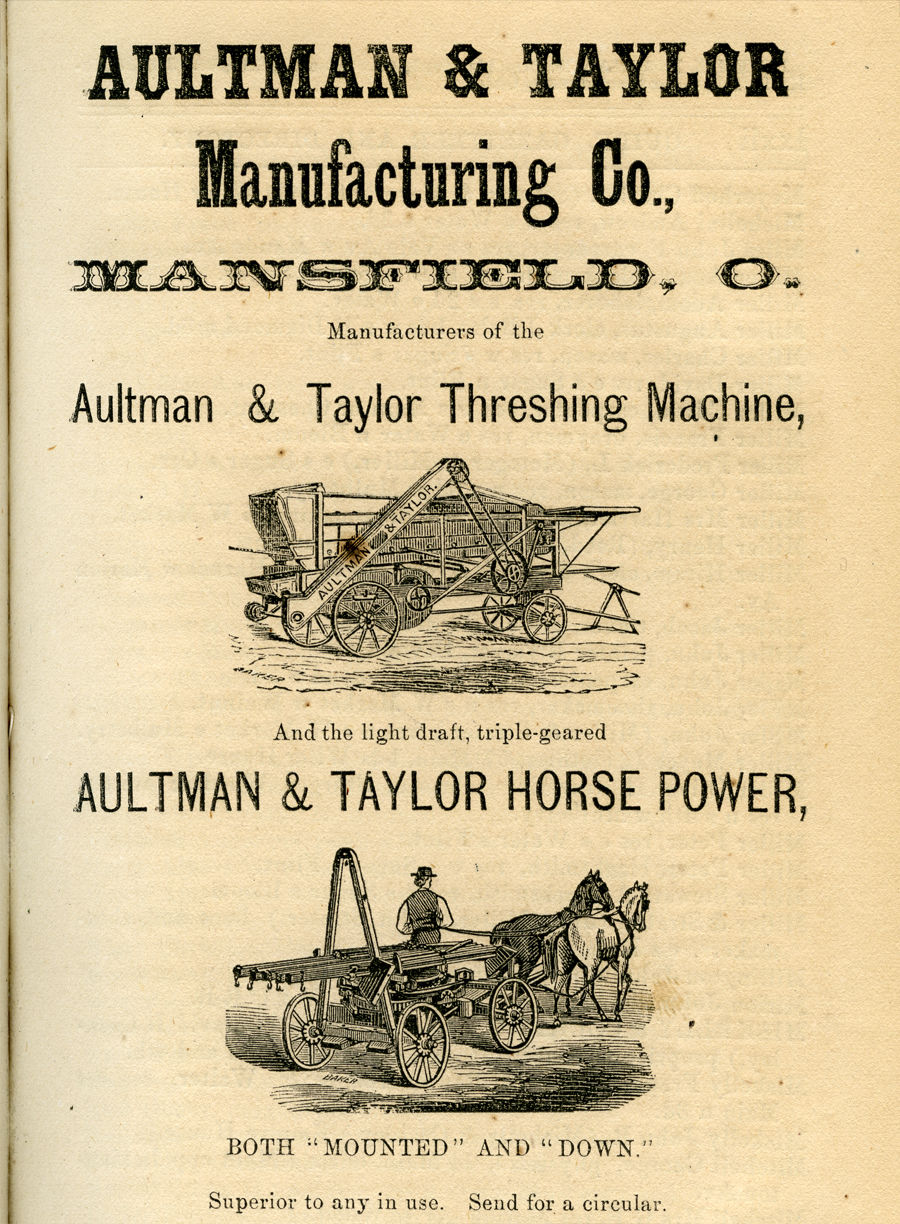 The Move to Gasoline Powered Engines and the 30-60
By the turn of the nineteenth century the internal combustion engine was making a name for itself because of its improved convenience and efficiency. Aultman and Taylor were among the early adopters of this technology foreseeing that it would progressively replace steam power. This led to the company creating their first, and most successful internal combustion engine powered tractor, the 30-60. The 30-60 was introduced in 1910 and was fitted with an engine that could run on either gasoline or power kerosene. This technology could only succeed at this stage in the history of the United States because petroleum fuels were becoming regularly available across America.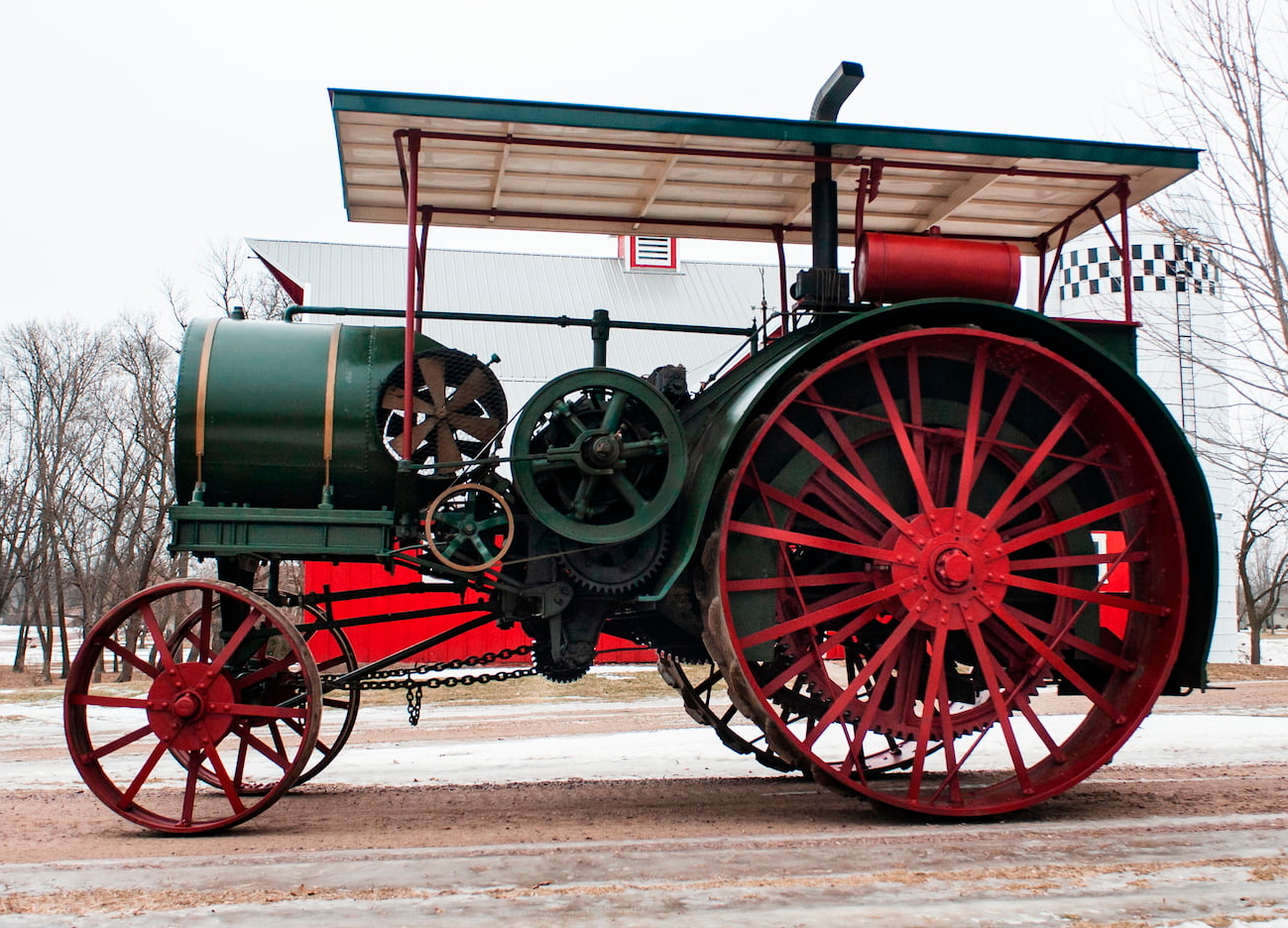 The 30-60 was powered by an "89 hp" liquid cooled 1385.4 cu. in. (22.7 liter) four cylinder engine. The engine had a bore of 7″, stroke of 9″, and operated at around 550 rpm.  Performance was 58.05 drawbar horsepower and 80.1 belt horsepower, resulting in the 30-60 being able to pull loads of up to 9,000 lb. Engine cooling was provided by a square radiator on early models but this was replaced by a 120 gallon tubular radiator featuring 196 2″ tubes with air being drawn through them by two fans. The transmission had one forward gear and one reverse gear: top speed was 2.5 mph.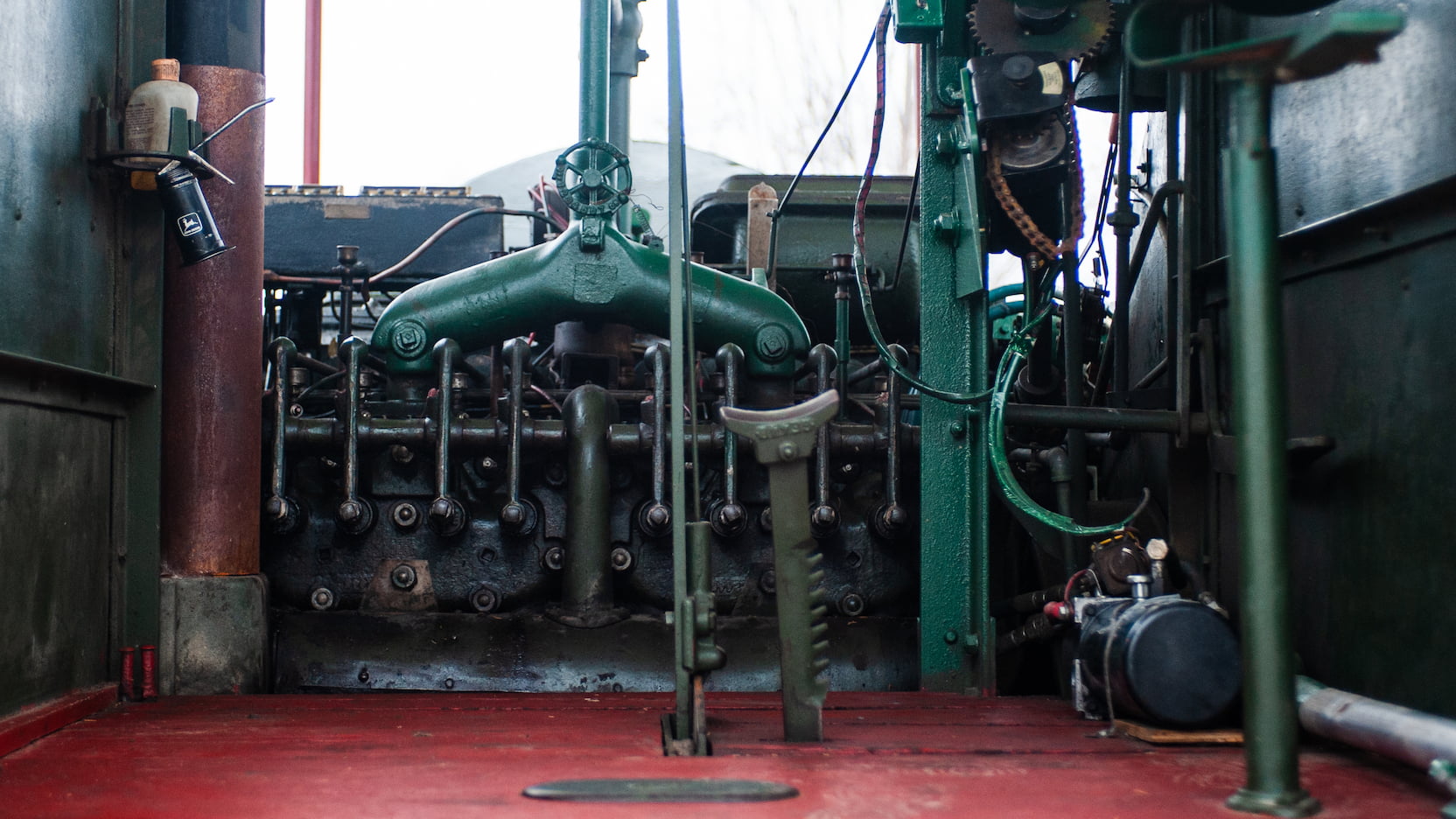 Dimensionally the 30-60 weighed a tad over twelve tons, length was eighteen feet, width nine feet, and height just over eleven feet, with rear driving wheels almost eight feet in diameter. It might not have had an exciting top speed but this was a machine on which you would "feel the earth move under your feet".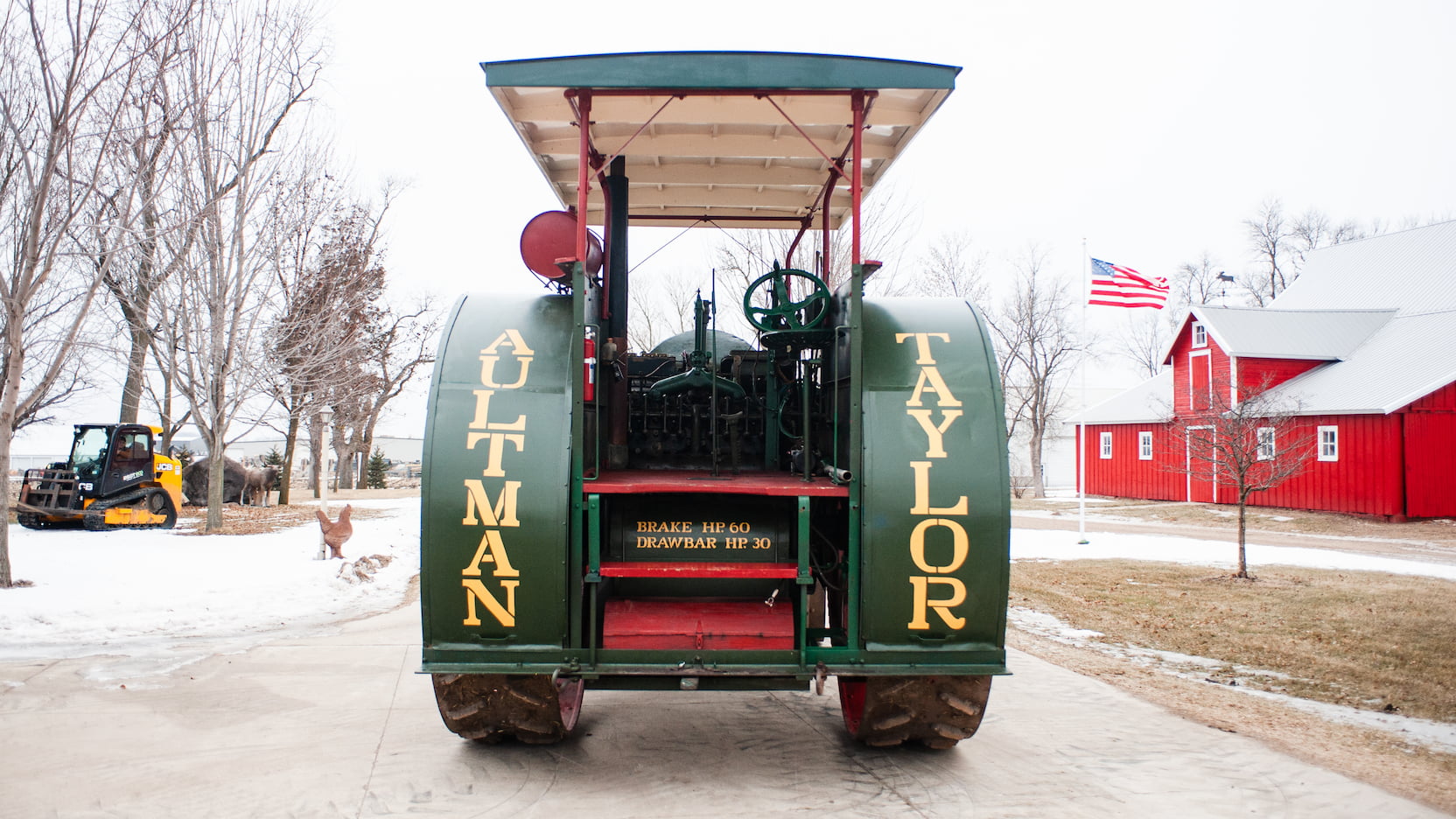 The Altman and Taylor 30-60 gained for itself an excellent reputation earning a couple of nicknames: the first was "Old Trusty", and the second was "King of Road Builders" for its role in the establishment of road infrastructure across the United States. It became Altman and Taylor's best selling tractor despite the fact that they also put into production smaller and less expensive tractors, the 15-30, 18-36, 22-45 and the 25-50.
The 30-60 was sufficiently well loved that it remained in production until the Aultman and Taylor company was sold to Advance Rumely in 1924.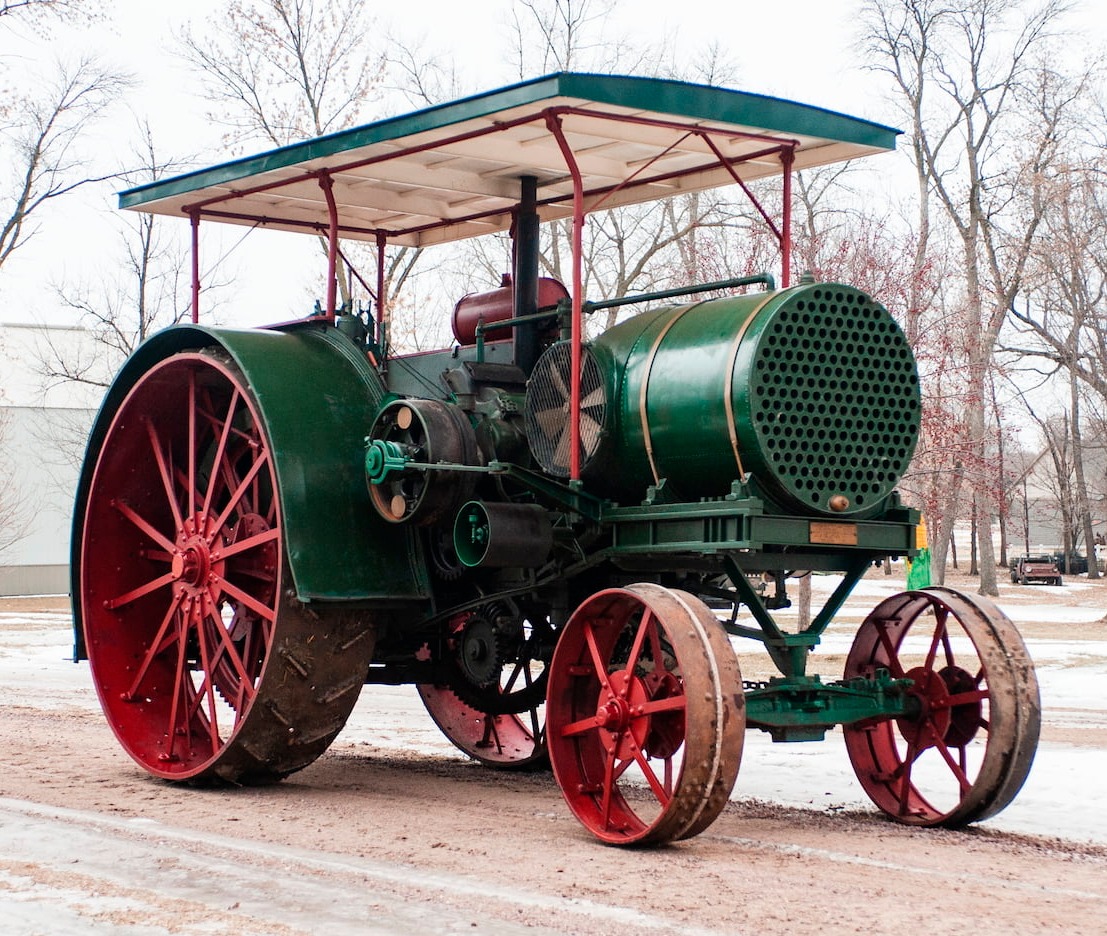 Featured Altman and Taylor 30-60 Tractor
The Altman and Taylor 30-60 tractor featured in the pictures in this post is coming up for sale by Mecum Auctions at their Davenport auction to be held between March 28-30, 2019. The tractor comes from the Dave Haala collection and is listed by Mecum with the following information:-
You will find the sale page for this tractor if you click here.
So, if 2.5 mph is fast enough for you, and you like to drive a machine in which "you feel the earth move under your feet" then this "Old Trusty" 30-60 might just be for you.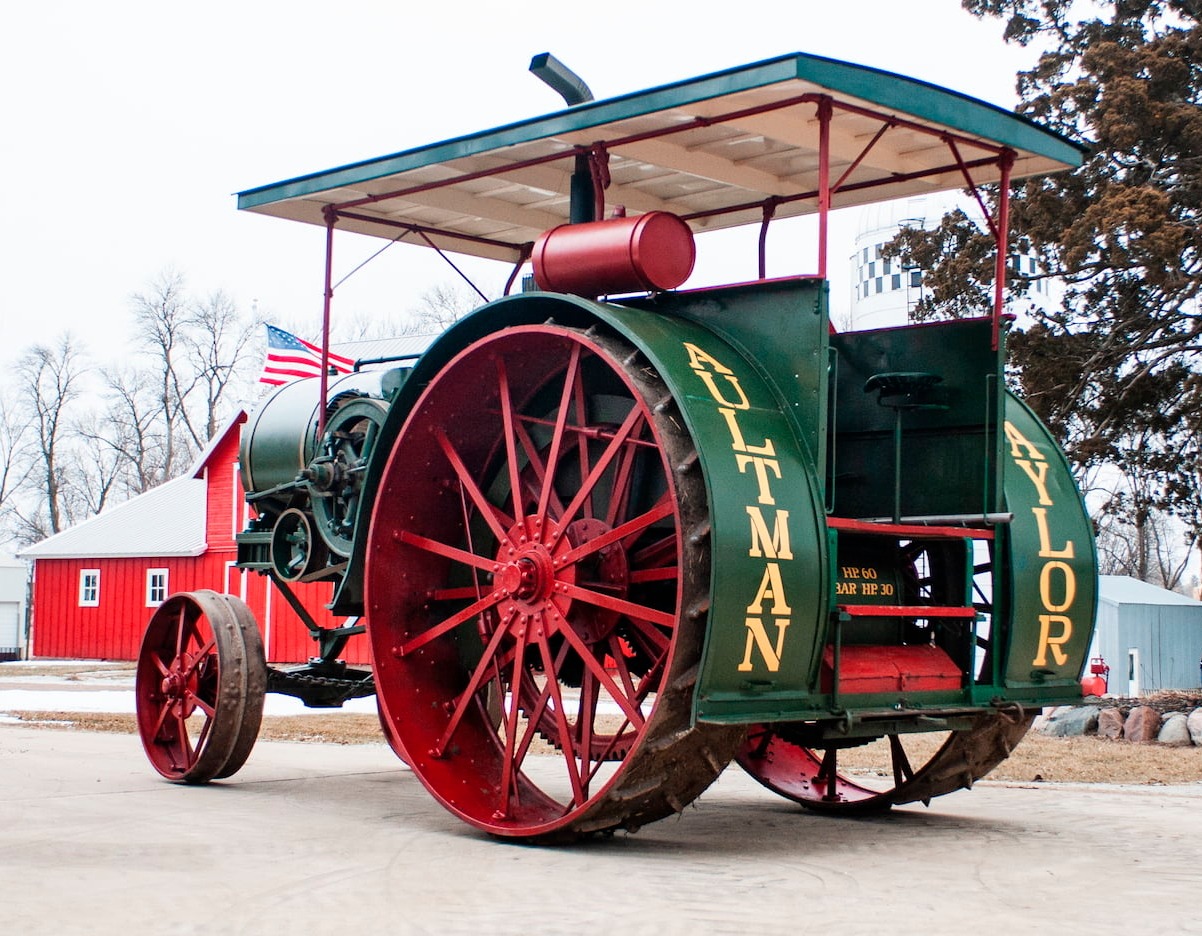 Picture Credits: Pictures of the Aultman and Taylor 30-60 courtesy Mecum Auctions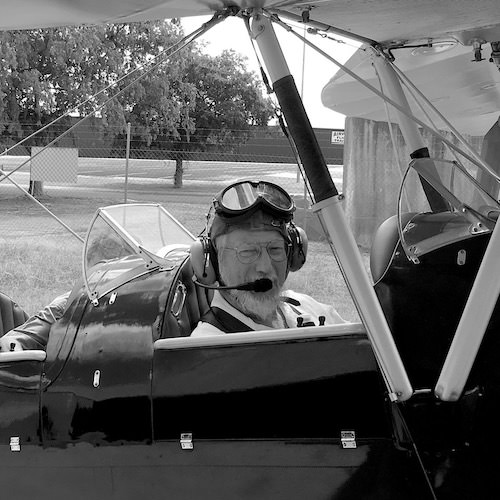 Jon Branch is the founder and senior editor of Revivaler and has written a significant number of articles for various publications including official Buying Guides for eBay, classic car articles for Hagerty, magazine articles for both the Australian Shooters Journal and the Australian Shooter, and he's a long time contributor to Silodrome.
Jon has done radio, television, magazine and newspaper interviews on various issues, and has traveled extensively, having lived in Britain, Australia, China and Hong Kong. His travels have taken him to Indonesia, Israel, Italy, Japan and a number of other countries. He has studied the Japanese sword arts and has a long history of involvement in the shooting sports, which has included authoring submissions to government on various firearms related issues and assisting in the design and establishment of shooting ranges.