This is an article I did for Hagerty back in April. You'll find the original posting on the Hagerty website if you click here.
The Mercedes-Benz 300 SL was one of the most outstanding motor cars of all time. It was a car that would look equally fitting driven by the likes of Gregory Peck or Lauren Bacall: And if parked amongst a group of Ferrari's and Rolls Royce's it would be the car that would attract a crowd. It was and is a car that epitomizes design excellence, flawless engineering, and a style that puts it in the top echelons of cars with that elusive "coolness" factor; something it has a rather generous portion of.
Originally created on an idea of a US Mercedes sports car importer named Max Hoffman who believed that a road going and stylish car based on the racing Mercedes-Benz W194 would be a big hit in the US prestige sports car market. The management at Mercedes-Benz were convinced and the 300 SL was born, initially as a coupe with it's trademark gull-wing doors.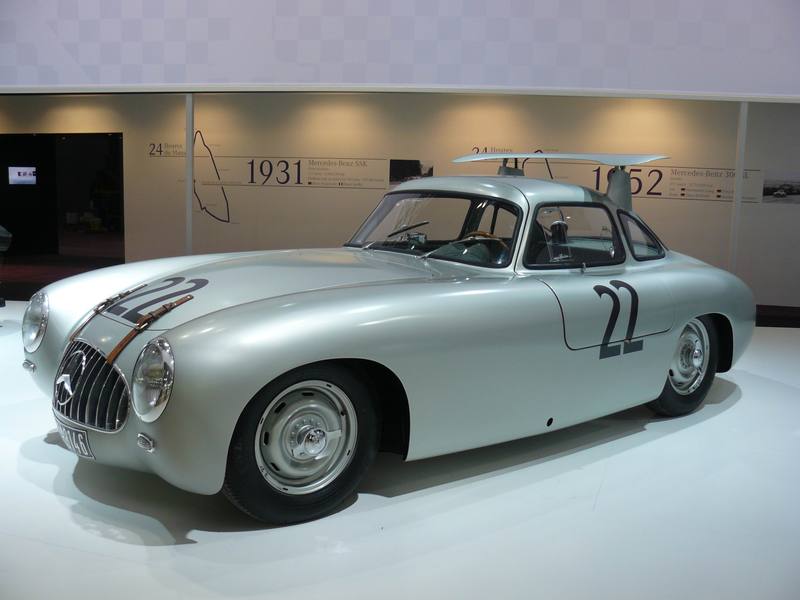 The 300 SL was introduced at the 1954 New York Auto Show and became an overnight hit. People were drawn to its sleek and proportioned shape with lines that moved away from the Spartan austerity of the W194 to become a luxurious and desirable road car.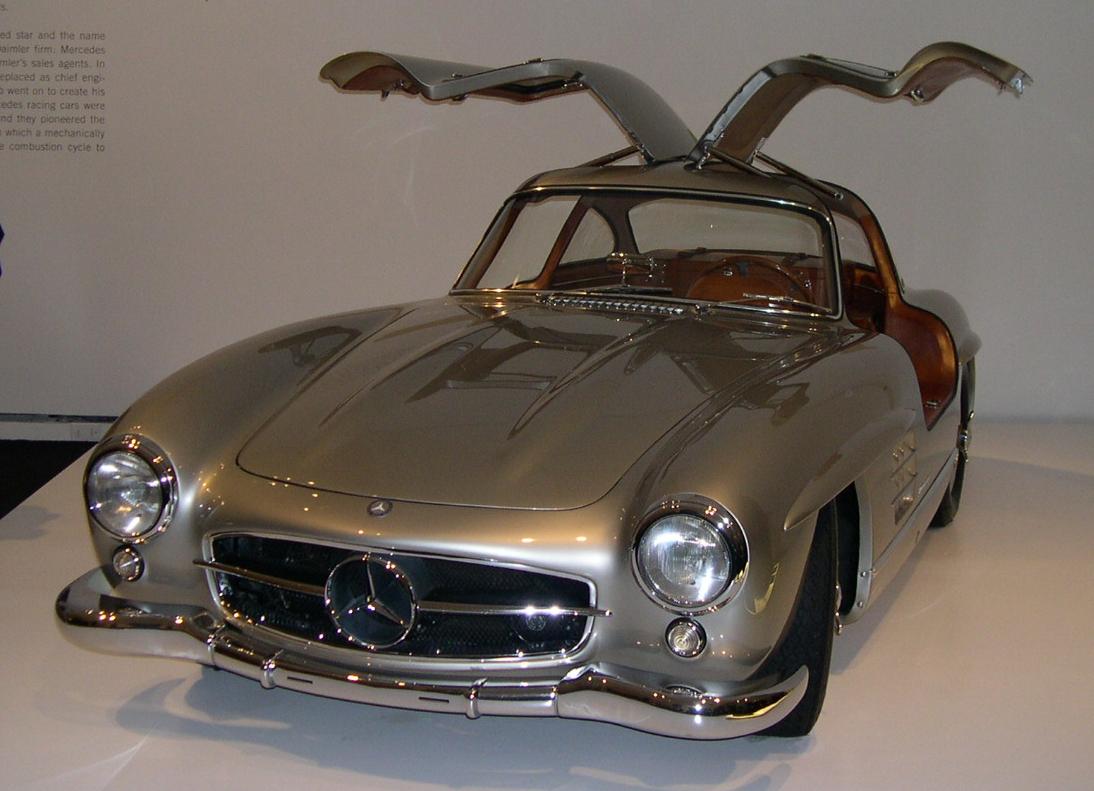 Soon demand was coming in for an open top roadster version of this desirable motor car. Mercedes-Benz decided that it both could and should be done and set about the process of removing the roof and then engineering the necessary strengthening of the car's structure to compensate for the loss of the roof and the rigidity it had provided for the body. As gull-wing doors can't be used on an open top convertible the body was altered to accommodate conventional doors which also required lowering of the chassis at the door line. Beautiful though the gull-wing doors were they did make for a less easy entrance and exit from the vehicle, something that the lowering of the chassis line amended. No doubt the ladies preferred the newer version.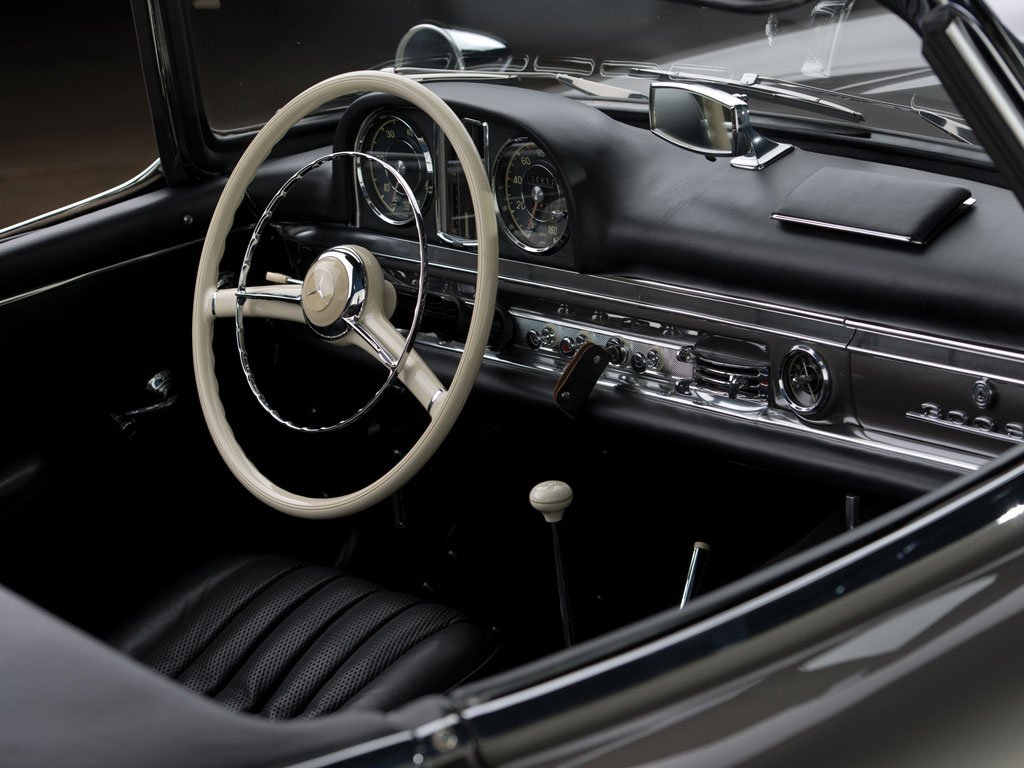 The 300 SL Roadster underwent various design improvements over the years of its production and by 1959 the Roadster had moved to a low pivot swing axle rear suspension with a transverse  compensating spring and coil springs. The front suspension was double wishbones with coil springs and a stabilizer bar. The engine was a 2.996cc fuel injected six cylinder, the roadster was only offered with the more powerful NSL engine that was offered as an option on the coupe with a four speed manual transmission.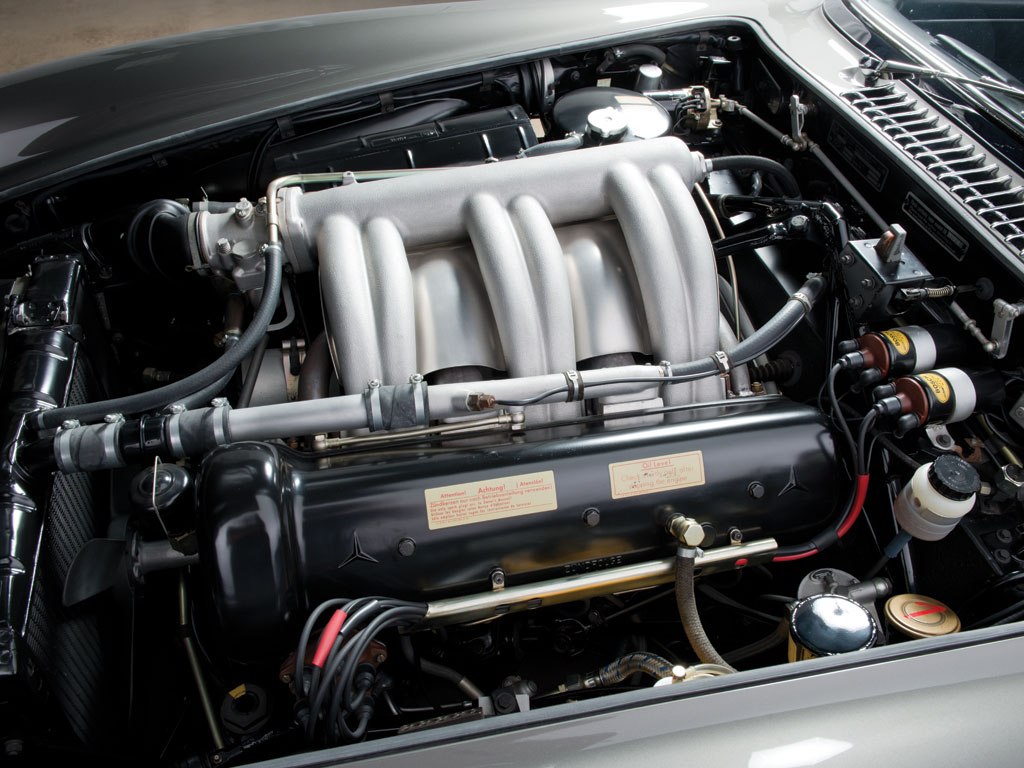 The 1959 Mercedes-Benz 300 SL Roadster we are featuring came up for sale on 2nd May 2015 by RM Auctions/Sotheby's. You will find the original auction page if you click here.
It sold for USD$1,842,500.00
This car has been painstakingly restored by Mark Allin, of Precision Automotive Restoration Inc. (now Rare Drive) in Newburyport, Massachusetts and won the Best in Class at the Amelia Island Concours d'Elegance. The car has been re-finished in factory correct "Anthracite Grey" with a black leather interior; a combination that is at once restrained and elegant, and a combination that really enhances the car's hint of "space age" styling.
This car was in the Andrews Collection for some time and has now gone to someone who has acquired an example of one of the most iconic examples of the art of the automobile.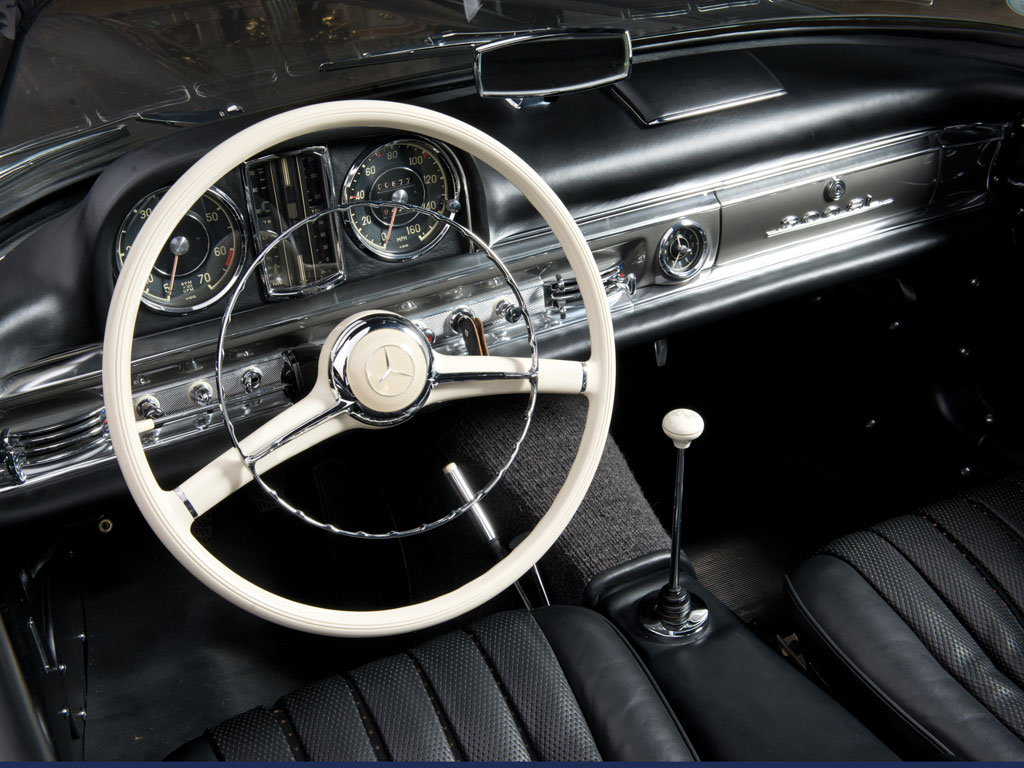 For those interested in the Mercedes-Benz 300 SL there are some excellent books available from Amazon.
"The Mercedes 300 SL Book" by Rene Staud is recommended, to see that in hardcover click here.
Karl Ludvigsen's "Mercedes-Benz 300SL: Gullwings and Roadsters 1954-1964" in paperback is an affordable reference. To see that click here.
Günter Engelen's up-coming two volume set on Milestones of Motor Sport are of great interest.
For his "Mercedes-Benz 300 SLR: Milestones of Motor Sports, Vol. 1" click here.
And for his "Mercedes-Benz 300 SL Rennsportwagen: Milestones of Motor Sports, Vol. 2" click here.
For a more general book on Mercedes Benz you might want to look at "Mercedes-Benz (First Gear)" by Dennis Alder. To see that click here.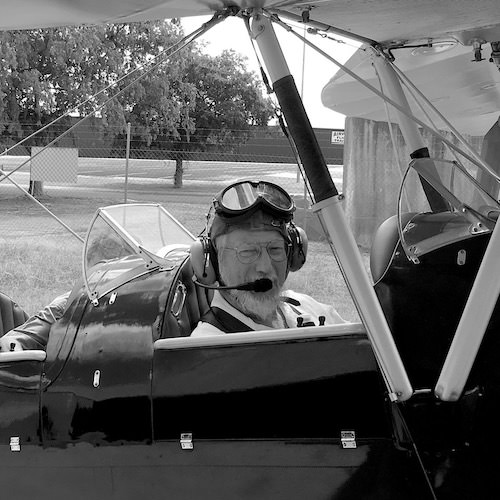 Jon Branch is the founder and senior editor of Revivaler and has written a significant number of articles for various publications including official Buying Guides for eBay, classic car articles for Hagerty, magazine articles for both the Australian Shooters Journal and the Australian Shooter, and he's a long time contributor to Silodrome.
Jon has done radio, television, magazine and newspaper interviews on various issues, and has traveled extensively, having lived in Britain, Australia, China and Hong Kong. His travels have taken him to Indonesia, Israel, Italy, Japan and a number of other countries. He has studied the Japanese sword arts and has a long history of involvement in the shooting sports, which has included authoring submissions to government on various firearms related issues and assisting in the design and establishment of shooting ranges.