Fast Facts
The Autech Zagato Stelvio AZ1 was made as a joint project between the Autech performance division of Nissan and the Zagato design house of Milan, Italy.
The car was based on the Second Generation Nissan Leopard F31.
The Zagato bodywork was all of hand beaten aluminium alloy, in fact the car was hand built including an interior featuring a beautiful wood dashboard complimented with plush carpet and fine Italian leather trim.
The most unusual feature of the car are the integrated shrouded wing mirrors which give it an eye-catching unique appearance.
Zagato Done Nissan Style
The Japanese have acquired a reputation for being a nation of adaptable perfectionists and I hope that perfectionism is so deeply rooted in their national psyche that they never lose it. We saw some of the fruit of that during the 1960's and 1970's when their motorcycle makers demolished the British motorcycle manufacturers with astonishing speed, and then during the 1970's and 1980's they pretty much did the same to Britain's car making industry.
We should of course have been able to predict that Japan was going to rise from the ashes of World War II and become an industrial powerhouse if we had looked at Japan's history. After American Commodore Perry forced Japan to open for trade with the world in 1853 the Japanese put all their coordinated national energy into becoming an industrial powerhouse, and a military one. They literally went from being a medieval society to being a powerful modern nation so that by 1903-4 they were able to take on a European superpower, Russia, and defeat her in the Russo-Japanese War of 1903-1904: they achieved that in fifty short years.
So it was by the 1980's, having supplanted the British car industry, Japan's car makers were in a pretty dominant position and had the luxury of being to indulge in creative projects that were challenging and interesting to do even if they were not likely to make lots of money. They even solved the problems of the Wankel engine and made it a viable concern – something Citroen and NSU were not able to do.
While Mazda were making some pretty exciting cars fitted with Wankel rotary engines rival car maker Nissan decided to do something wildly creative also, something completely different to Mazda. They decided to enter into a partnership with one of the most exotic and respected design houses in Italy, Zagato, and have them create a car based on a Nissan platform that would match the best that Europe could offer.
The division of Nissan charged with this project, filled as it was with creative fun, was their performance division Autech. This was to be a car for the well heeled Japanese gentleman who appreciated a single malt Japanese whisky perhaps accompanied by a good Cuban cigar, a man who appreciated the good things of life and had the financial means to acquire them. This was to be a civilized luxury performance car a bit like James Bond's Aston Martin but with Japanese characteristics.
The platform chosen as the foundation for the Autech Zagato Stelvio AZ1 was that of the second generation Nissan Leopard (also referred to as the Infiniti M30). This platform provided disc brakes on all four wheels, fully independent suspension front and rear, and a 3.0 litre V6 DOHC turbocharged engine that could produce rather more than the 280 hp that was the agreed maximum listed engine power for Japanese performance cars.
The Nissan F31 Leopard automobile was Nissan's direct competitor to the Wankel engined Mazda Cosmo, which was a highly desirable "halo car" for Mazda.
To get the project in full swing Nissan Leopard rolling chassis were sent to Zagato in Milan where Zagato took over the complete design and construction of these AZ1 luxury GT coupes.
Zagato had already created an Aston Martin V8 Vantage Zagato which began sales in 1986 and this car was very similar in concept to what they intended the AZ1 to be: consequentially there are shared design features between the two.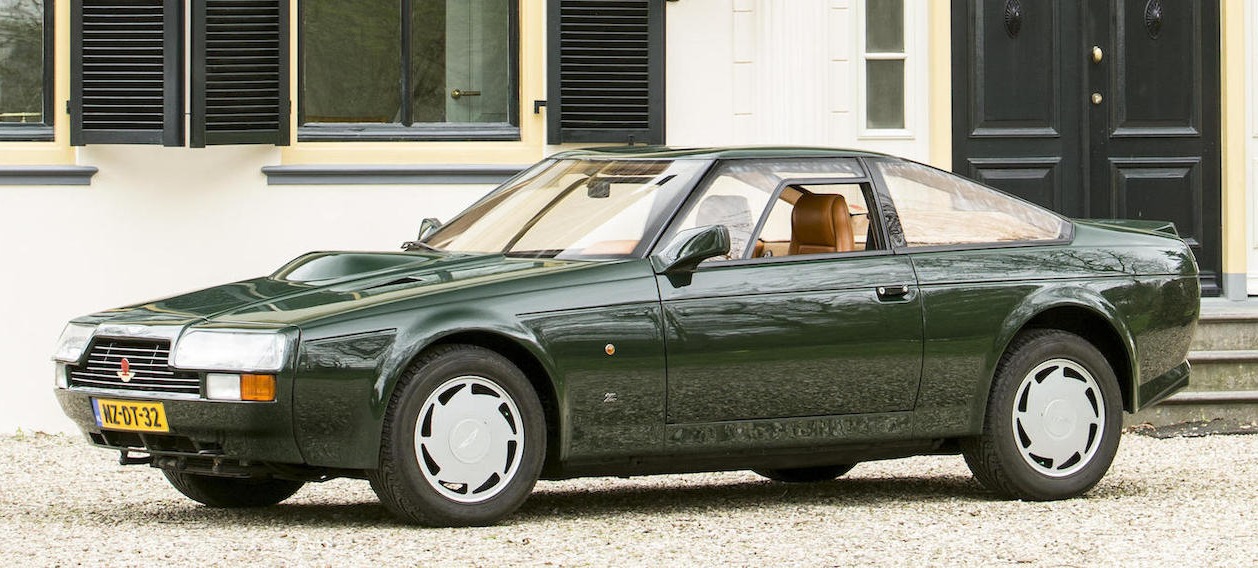 Despite the Aston Martin and the Autech being built on completely different platforms there appears to be quite a significant similarity in the appearance of the two.
Zagato's design team understood that the Japanese had a historic preference for the side mirrors to be mounted on the front wings as was common on British cars of the 1950's. So the designers decided that instead of having the wing mirrors bolted on as an external extra – which would look tacked on and ugly – they would integrate the wing mirrors into the bodywork.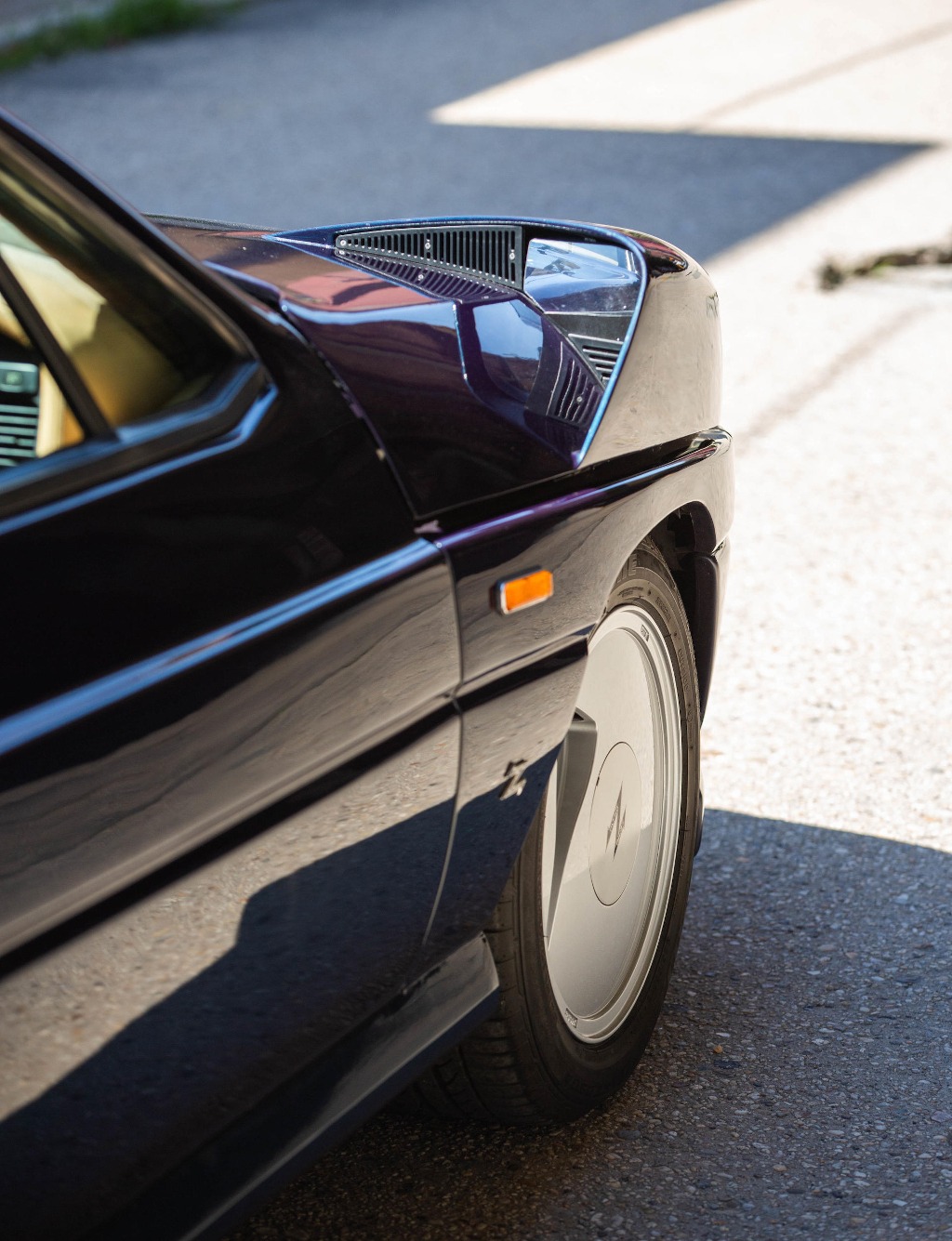 The effect of this is an appearance that is "love it or hate it". I think the effect is interesting, but I guess that the Autech staff and management must have really liked it because it made its way into production.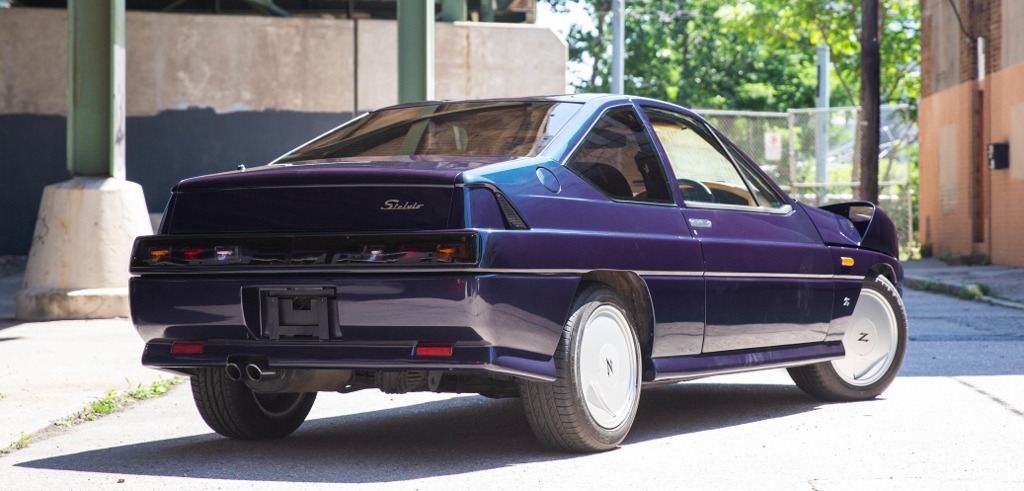 It has been the wing mirror design that has made the AZ1 a controversial car, it gets a reaction from people who would in all likelihood have developed a strong opinion about it. That single feature tranforms what, in the Aston Martin, was a graceful design with restrained prettiness, into a car that presents an aggressive assault on the senses and thus ensures it gets instant attention.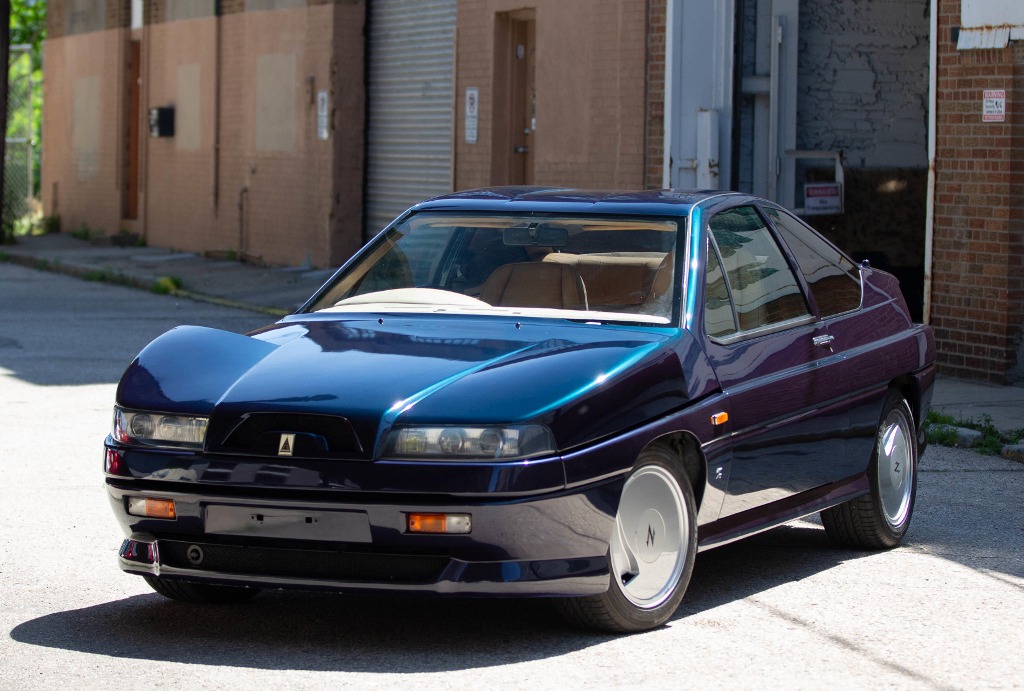 The remainder of the body styling is pure Zagato with clean uncluttered lines and featuring the characteristic "double bubble" roof treatment.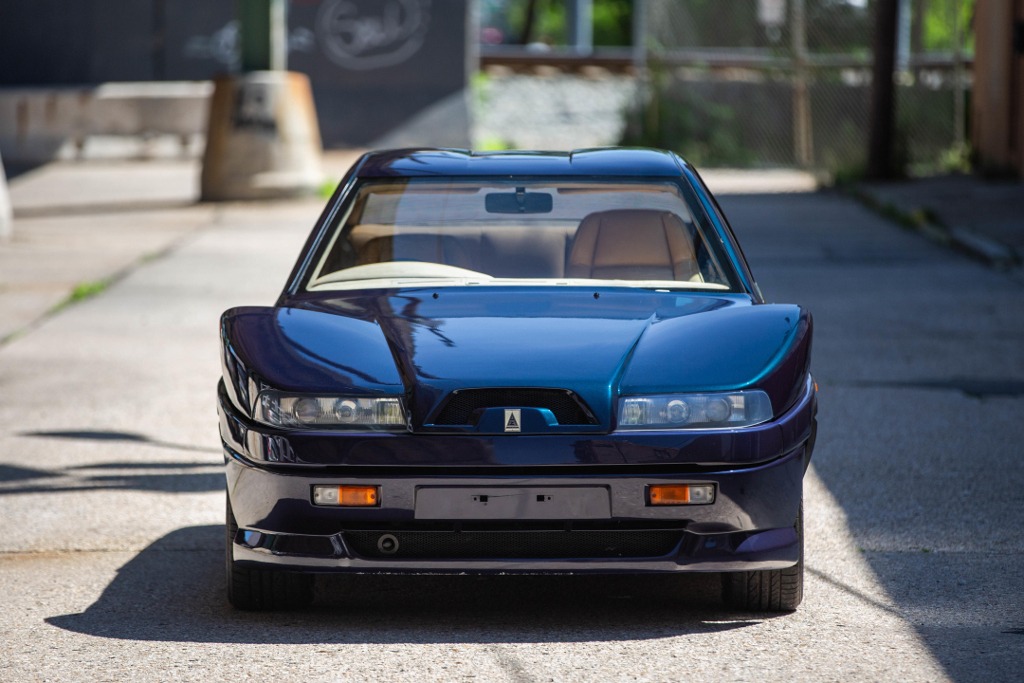 Lifting the hood/bonnet of the AZ1 reveals an impressive sight for the high performance engine aficionado. The engine that assaults your vision is a Nissan VG30DET 2,960 cc DOHC 24 valve V6 with twin T3 4-bolt Garrett turbochargers to give it healthy assisted breathing, and electronic fuel injection – an engine that represents some of the best the Japanese could do. Listed power output was 276 bhp (280 PS), that having been the maximum that Japanese car makers had agreed to list. Actual power output is said to have been something a tad north of 300 PS, just how far north we don't know.
The top speed of the AZ1 was claimed by Nissan to be 245 km/hr (152 mph) making it as fast as a Jaguar XKE but near certainly rather more stable at that speed. I suspect that the unusual styling treatment of the wing mirrors combined with the front air dam would create significant down-force and contribute to the high speed stability of the car.
To compliment the turbocharged engine the AZ1 had the Nissan Leopard second generation suspension system. DUET-SS  "Super Sonic Suspension" which was an active suspension that used a sonar system to scan the road surface and adjust the suspension by use of actuators mounted in the strut towers: the sonar scanner being mounted under the front bumper.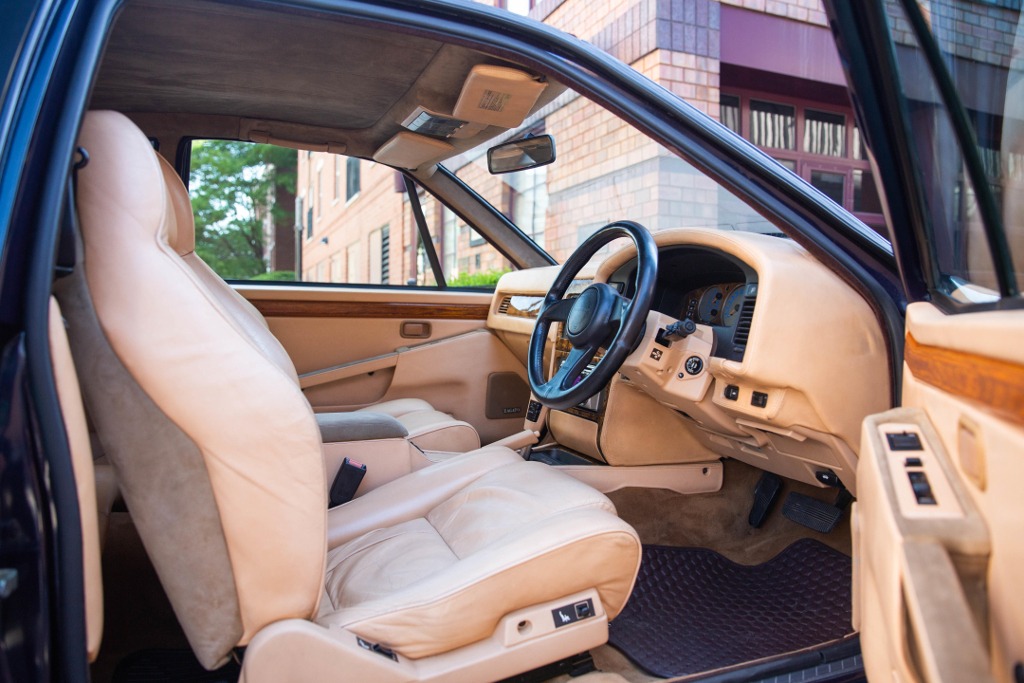 Technical Specifications
Body and Chassis:
Unibody, hand beaten aluminium over Nissan Leopard F31 platform.
Length: 4,370 mm (172 inches)
Width: 1,800 mm (70.9 inches)
Wheelbase: 2,615 mm (103 inches)
Track (front): 1,465 mm (57.7 inches)
Track (rear): 1,455 mm (57.3 inches)
Height: 1,345 mm (53 inches)
Kerb Weight: 1,560 kg (3,439 lb)
Fuel Tank Capacity: 60 litres (13.2 Imperial gallons, 15.9 US gallons)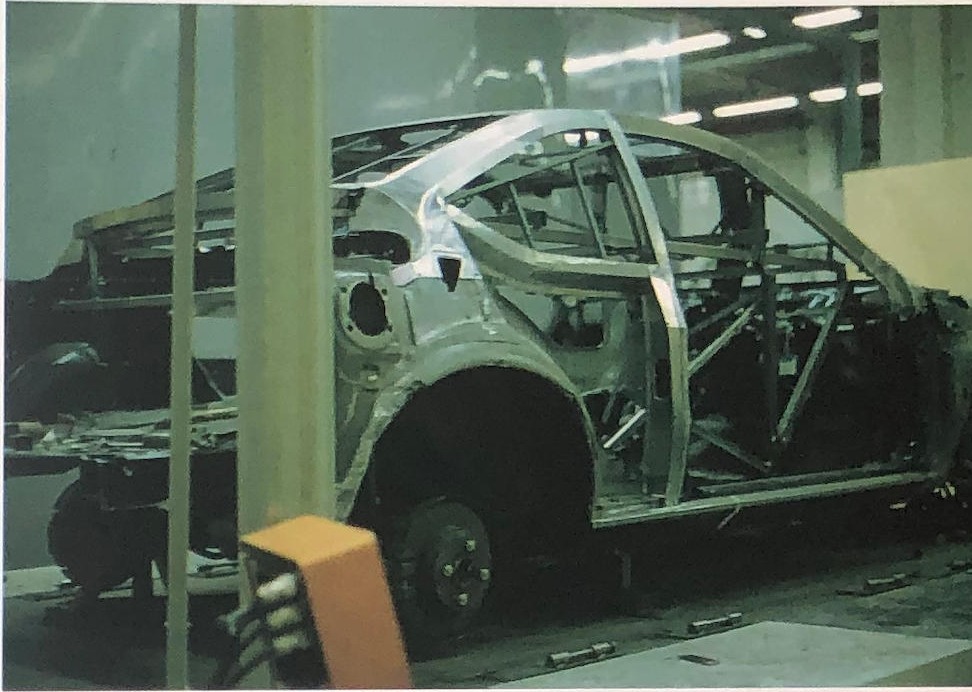 Suspension:
Front: Independent MacPherson strut with Anti-roll bar.
Rear: Independent Semi-trailing Arms with coil springs and Anti-roll bar.
Brakes:
Servo assisted ventilated discs on all four wheels with ABS.
Steering:
Power assisted rack and pinion. Turning circle 10.40 m
Wheels and Tyres:
Custom Zagato alloy wheels with 225/50 VR 16″ tyres all around.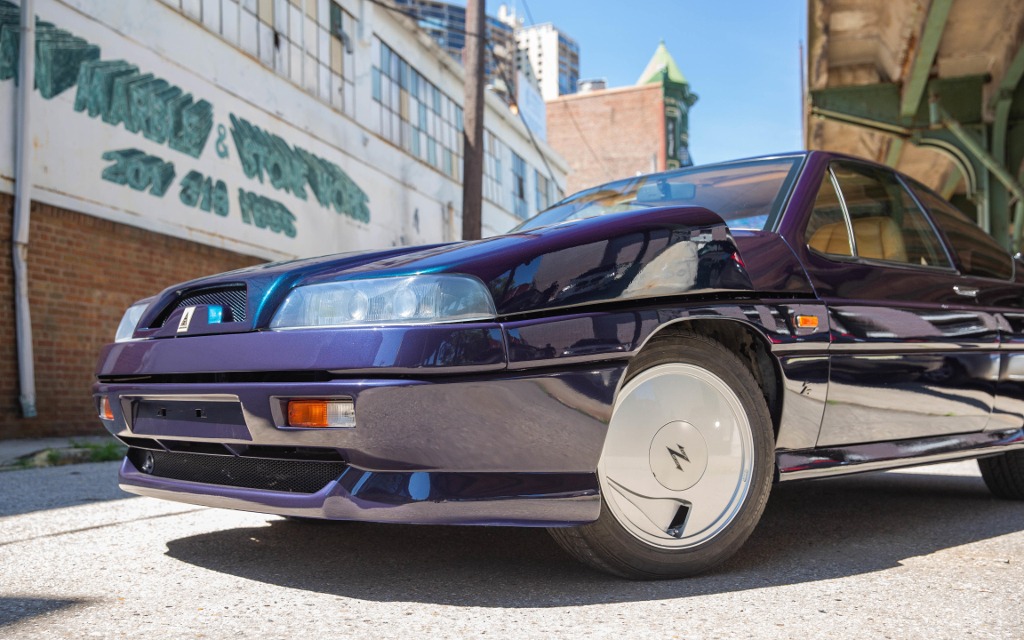 Engine:
Front longitudinally mounted driving the rear wheels.
Nissan VG30DET 2,960 cc (180.63 cu. in.) 60° V6 DOHC (quad cam) with four valves per cylinder, 24 valves in total. claimed power 280 PS (276 bhp) @ 6,000 rpm. Torque 296 lb/ft @ 2,800 rpm. Compression ratio 8.5:1. Wet sump. Twin T3 4-bolt Garrett turbochargers.
Transmission:
Four speed automatic with top gear ratio of 0.69 and final drive ratio of 3.92.
Conclusion
The Nissan Autech Zagato Stelvio AZ1 is a car that has been a tad controversial, primarily because of the unique styling treatment of the wing mirrors. Production numbers are most likely in the 80's, perhaps as many as a hundred, sources vary. The car in our photos is production number 81. All were sold on the Japanese market so they are very rare outside Japan, although there are a couple in the United States.
Values used to be remarkably low for a car that sold new for 18 million yen, ($160,000 US dollars in 1980's values), but they have been creeping up in the last decade as this unique and high specification model has been discovered by collectors and enthusiasts, so finding one is likely to be a challenge – and finding a good one you can afford may be an even bigger challenge. But if you are keen and can afford it, then follow your dream and make your check book follow.
I think this to be one of the most desirable – and least known – luxury GT 2+2 coupes ever to emerge from the land of the rising sun, and that makes it very special.
The 1991 Autech Zagato Stelvio AZ1 in our photos sold at auction by Bonhams for US$44,800 including buyer premium in 2019 and you can find the sale page if you click here.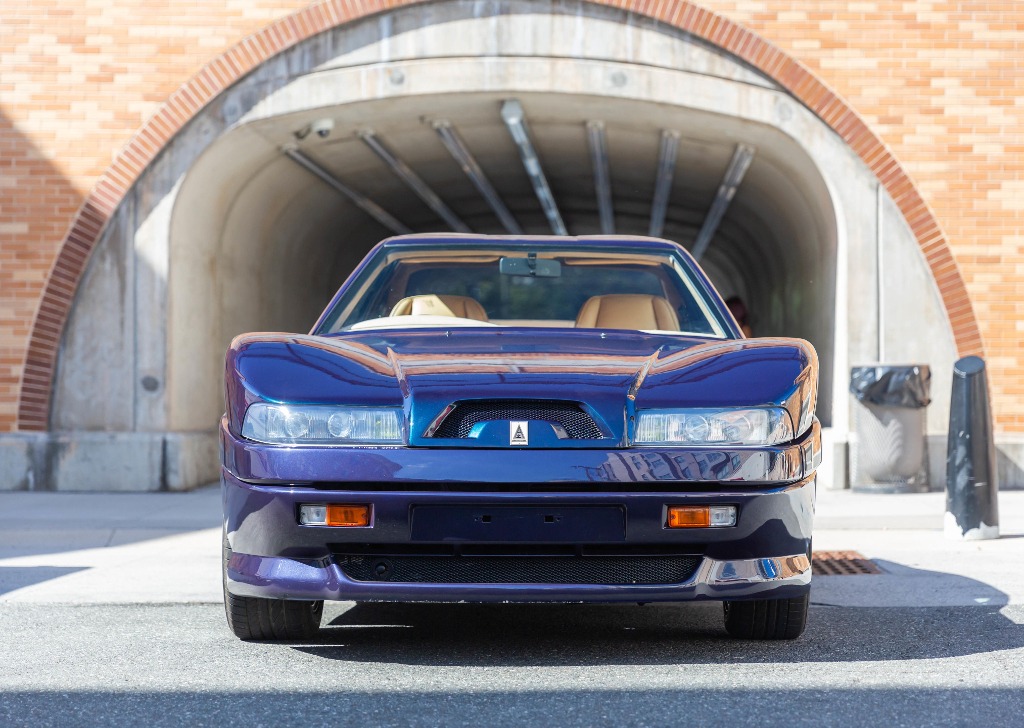 Photo Credits: Bonhams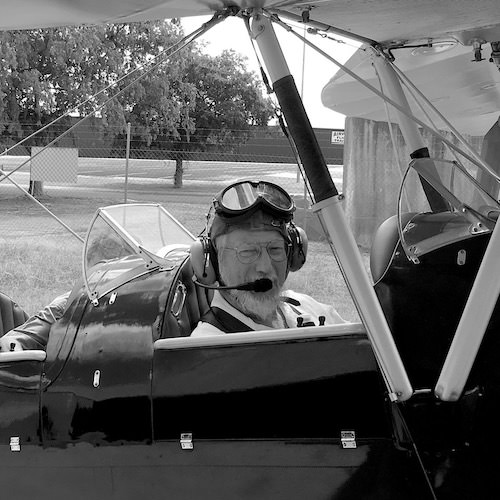 Jon Branch is the founder and senior editor of Revivaler and has written a significant number of articles for various publications including official Buying Guides for eBay, classic car articles for Hagerty, magazine articles for both the Australian Shooters Journal and the Australian Shooter, and he's a long time contributor to Silodrome.
Jon has done radio, television, magazine and newspaper interviews on various issues, and has traveled extensively, having lived in Britain, Australia, China and Hong Kong. His travels have taken him to Indonesia, Israel, Italy, Japan and a number of other countries. He has studied the Japanese sword arts and has a long history of involvement in the shooting sports, which has included authoring submissions to government on various firearms related issues and assisting in the design and establishment of shooting ranges.