It only has a single seat and a twin cylinder engine and it can't get much above walking pace but it sounds just as fantastic as a big single cylinder motorcycle. The Rumely Oil Pull traction engine was made in a variety of sizes beginning back in 1910 with the Model B 25-45 Oil Pull. These agricultural machines were at the heart of United States agriculture from the early years of the twentieth century up through both world wars with some still in use up into the 1960's. They were designed back in the days when things were expected to last and farmers being ever practical and money conscious had high expectations of usefulness and longevity from any machine they shelled out their hard earned shekels on.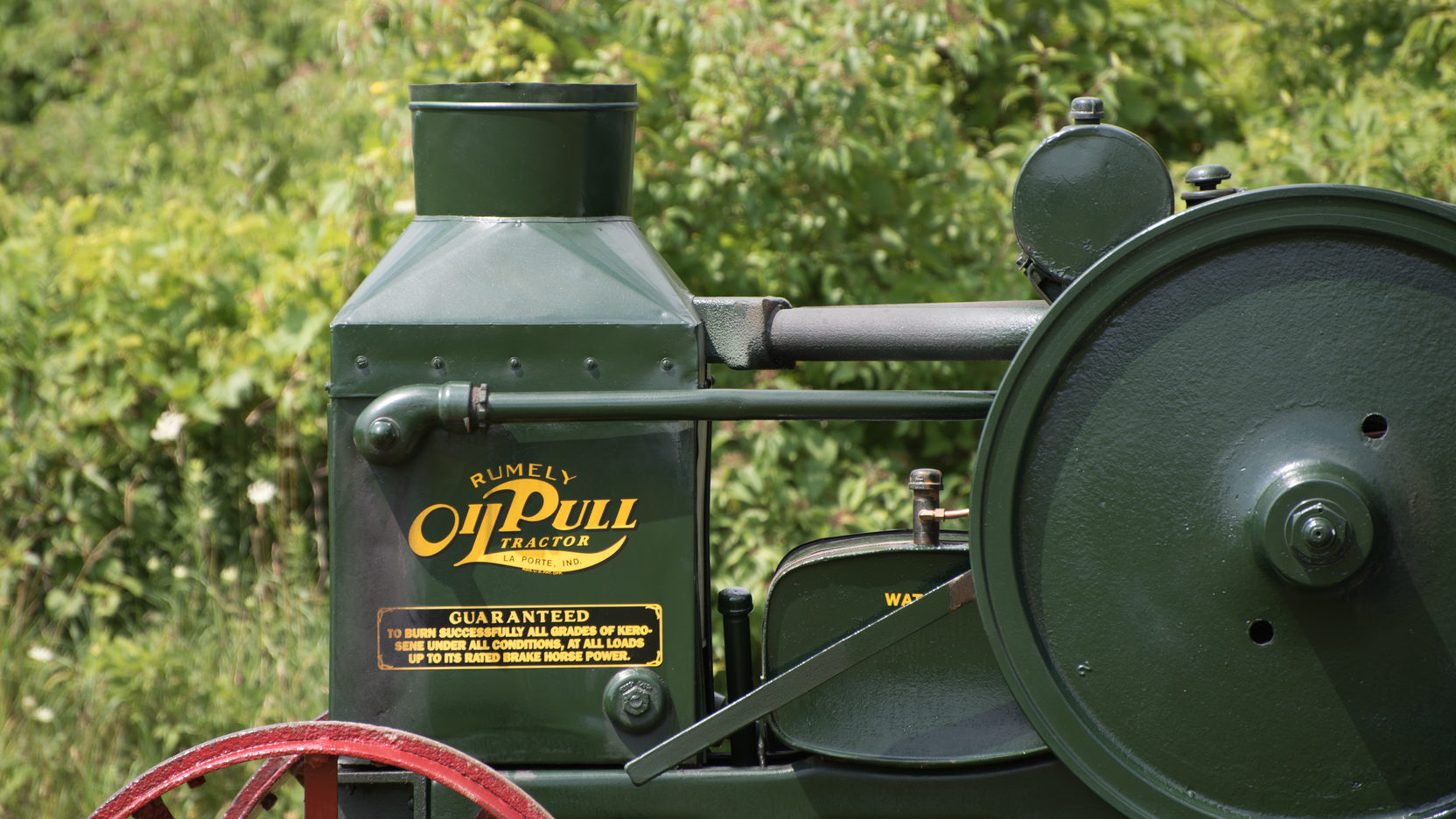 The Rumely Oil Pull was built for reliability. When they were first introduced their main competition was from steam traction engines and they were arguably quicker and easier to start, and just as capable of pulling a load or driving machinery as a steam traction engine. That being said getting a Rumely Oil Pull started required a tad more skill than just clicking an ignition key. Just like kick starting a motorcycle the engine has first to be brought to top dead center and then made to turn. In the case of the Rumely Oil Pull the role of the kick starter was performed by the flywheel as you'll see in the video below.
As you can appreciate watching the start up this is a kick start with a difference. The smaller Rumely Oil Pull models could be started by rotating the flywheel with the hands but the big 1911 Model E in the video needs the operator to use his body weight and "kick start" the machine.
The Rumely company began way back in 1853 in La Porte, Indiana building threshers and subsequently as the business became stronger they moved into making steam traction engines. In the early years of the twentieth century the company employed a man named John Secor to design an internal combustion engine for them. A steam engine required that a fire be lit and water to be put in the boiler and brought to the boil to create the steam. An internal combustion engine did not need to be filled up with water nor did it need the time it took to get that water boiling and to build up steam pressure. They could simply be started up and they were ready to work.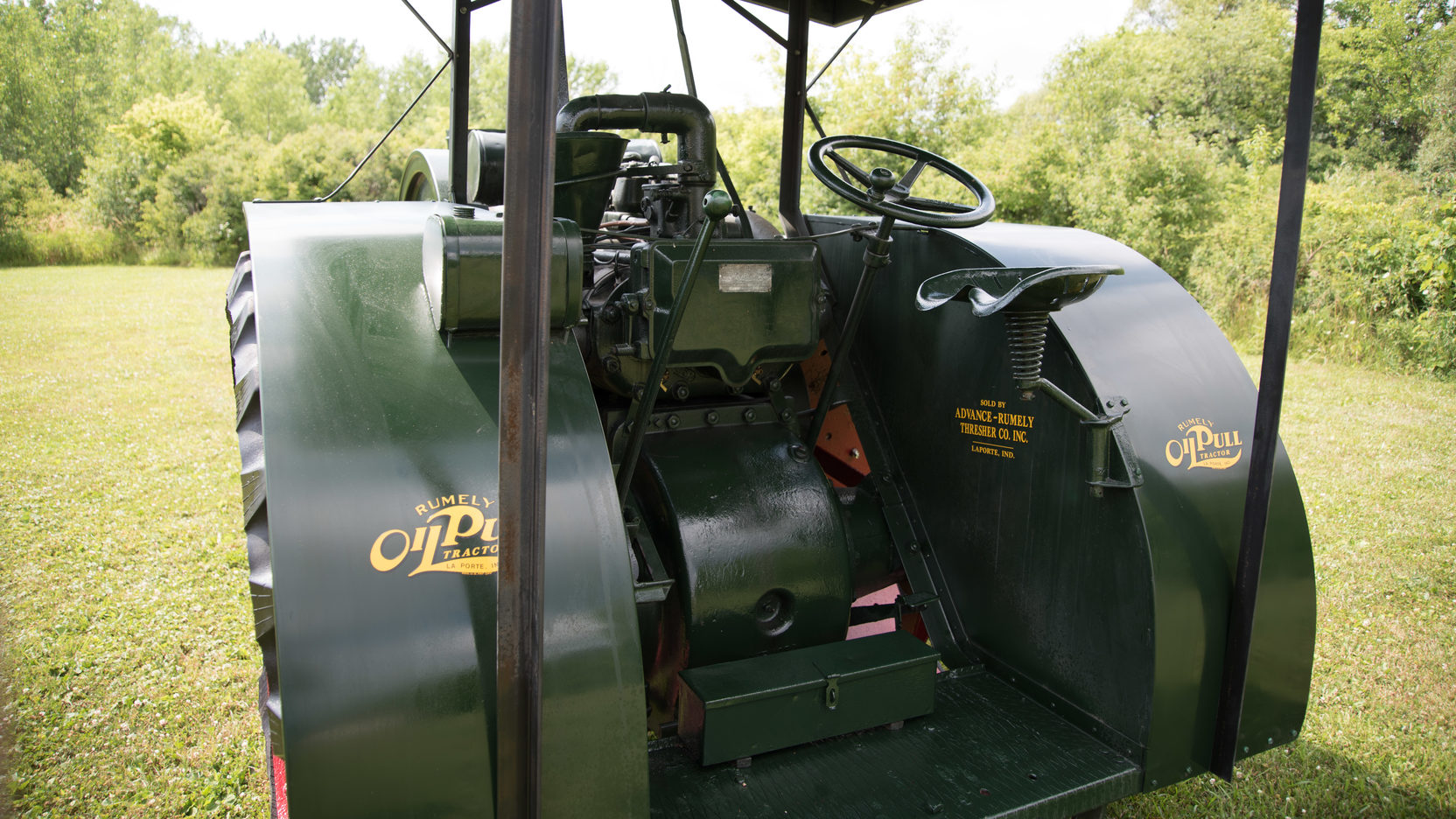 John Secor's engine was first put into a working traction engine in 1908 and by 1910 the first Rumely Oil Pull traction engine entered full production. The machine ran on kerosene and so it was christened "Kerosene Annie". As a production model Kerosene Annie was named the Rumely Model B 25-45. Although it was designed to run on kerosene and used oil cooling the Model B 25-45 Rumely engineers John Secor and W.H. Higgings created a custom carburettor for it that injected a measured quantity of water with the fuel/air mix into the engine. This water augmented carburetion served to improve the efficiency of the combustion and almost certainly provided a smoothing effect as well as helping generate the engine's power. The original Model B 25-35 was a two cylinder model and Rumely soon added a larger sibling model, the Model E 30-60 and a smaller single cylinder Model F 15-30 (which was later uprated to become an 18-35). An example of an original Rumely Model B 25-35 can be found at the Wisconsin State Agricultural Museum at the Stonefield Historic Site, Cassville, Wisconsin.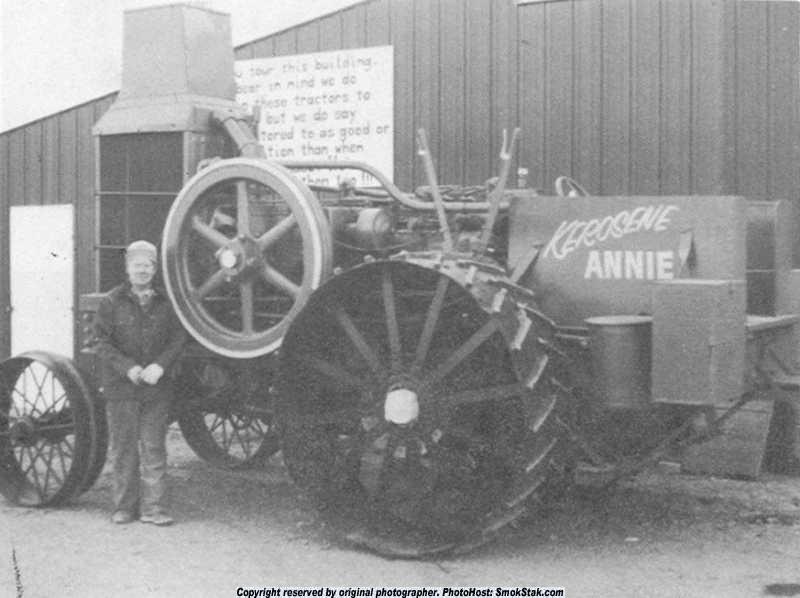 The Rumely Company merged with the Advance Thresher Company in 1911 to become the Advance-Rumely Company. It was under this name that the vast majority of the company's Oil Pull models were built and marketed.
The models produced by Advance-Rumely are as follows:-
Oil Pull Model B 25/45    50 hp    1910 – 1912
Oil Pull Model E 30/60    84 hp    1910 – 1923
Oil Pull Model F 15/30    33 hp    1911 – 1918
Oil Pull Model G 20/40    44 hp    1918 – 1924
Oil Pull Model H 16/30    33 hp    1917 – 1924
Oil Pull Model K 12/20    40 hp    1918 – 1924
Oil Pull Model L 15/25    27 hp    1924 – 1927
Oil Pull Model M 20/35    38 hp    1924 – 1927
Oil Pull Model R 25/45    50 hp    1924 – 1927
Oil Pull Model S 30/60    66 hp    1924 – 1928
Oil Pull Model W 20/30    33 hp    1928 – 1930
Oil Pull Model X 25/40    44 hp    1928 – 1930
Oil Pull Model Y 30/50    55 hp    1929
Oil Pull Model Z 40/60    77 hp    1929
(Data courtesy tractordata.com)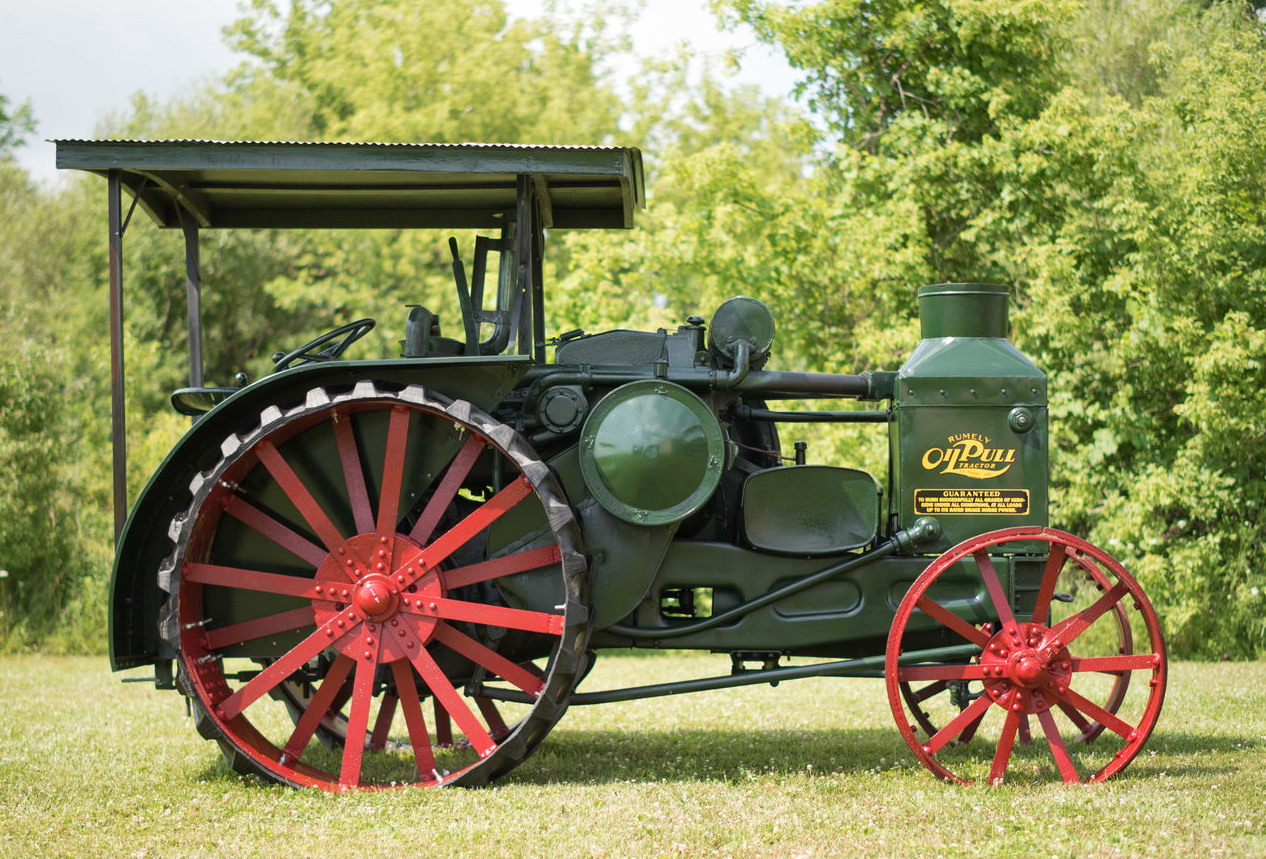 The model range of the Advance-Rumely Oil Pull traction engines was modernized in the 1920's with the original steel channel frame being replaced with a pressed steel frame resulting in lighter but rigid traction engines.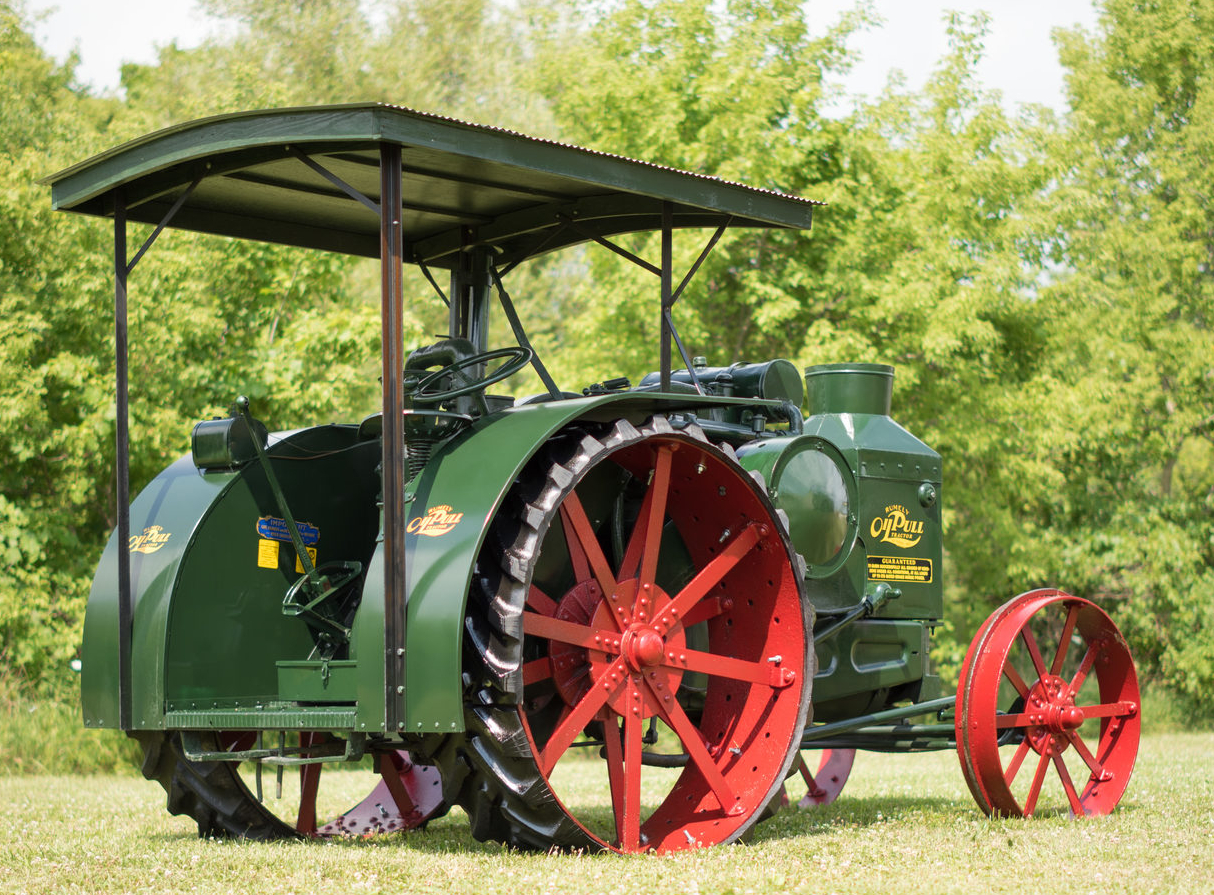 The Advance-Rumely Company was another casualty of the Great Depression and were bought out by Allis-Chalmers in 1931. Despite Advance-Rumely having begun constructing more conventional tractors and a motorized harvester Allis-Chalmers ended all production of Advance-Rumely models and took over their extensive dealer network to market Allis-Chalmers products.
The 1926 Advance-Rumely Model R 25-45 Oil Pull in our pictures is a nicely restored example that is coming up for sale by Mecum Auctions at their Tractors sale to be held in Davenport over November 10th-12th 2016.
You will find the sale page for this Oil Pull if you click here.
A machine doesn't need to be fast to be fascinating and these Advance-Rumely Oil Pull traction engines are amongst the most interesting machines one can own. They have a lot of pulling and working power as one would expect from an agricultural machine. But they were also the backbone machines of American agriculture and they have enormous character. Is there room in your shed for one of these?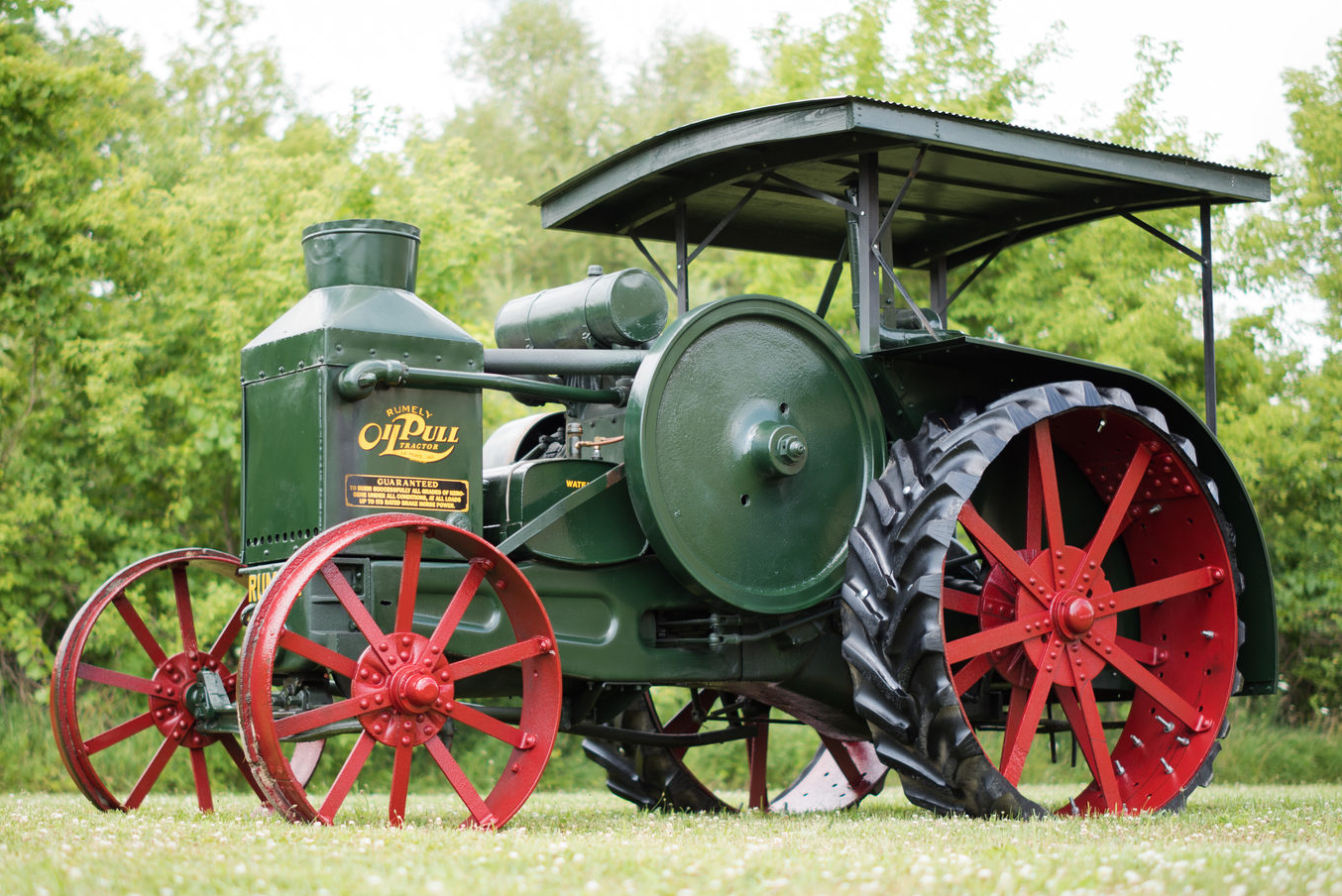 (All pictures courtesy Mecum Auctions except as otherwise marked).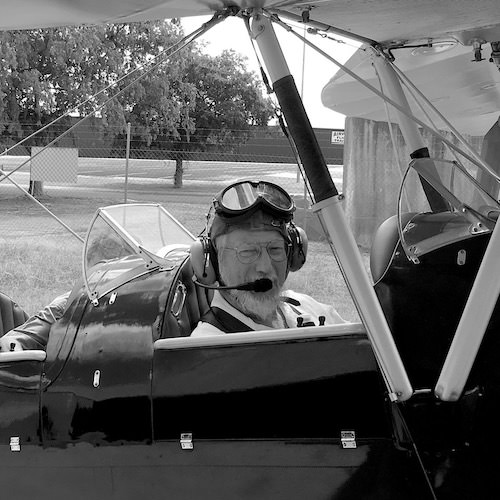 Jon Branch is the founder and senior editor of Revivaler and has written a significant number of articles for various publications including official Buying Guides for eBay, classic car articles for Hagerty, magazine articles for both the Australian Shooters Journal and the Australian Shooter, and he's a long time contributor to Silodrome.
Jon has done radio, television, magazine and newspaper interviews on various issues, and has traveled extensively, having lived in Britain, Australia, China and Hong Kong. His travels have taken him to Indonesia, Israel, Italy, Japan and a number of other countries. He has studied the Japanese sword arts and has a long history of involvement in the shooting sports, which has included authoring submissions to government on various firearms related issues and assisting in the design and establishment of shooting ranges.