It Began With a Gilded Cage and the Bicycle Craze
You've no doubt heard of the song "Only a bird in a guilded cage…" and the manufacture of delicate guilded cages was the way the Heinz, Pierce and Munschauer company began business in the wake of the Civil War in 1865. The company became well known for the household items they made, especially the refrigerators, and in 1872 Pierce bought out Heinz and Munschauer and renamed the business George N. Pierce Company.
By the 1890's the advantages of machines over the use of animal power was starting to be appreciated. A horse or a mule might have great strength but it requires feeding, grooming and training. A Horse or mule has a mind of its own and if it decides not to do what you want then you are in trouble, just ask Yosemite Sam.
If you've never had a frightened horse bolt with you on its back you've missed one of life's memorable experiences. You find yourself galloping at "Kentucky Derby" speed with no way of stopping other than to hang on for dear life and speak nicely to the panicked horse until it decides to stop running.
So when the bicycle was invented people started to realize the advantages of having a compact machine that would get you places just as quickly as a horse or mule: a machine that did not need feeding, never got sick, and did not have a mind of its own with an independent will.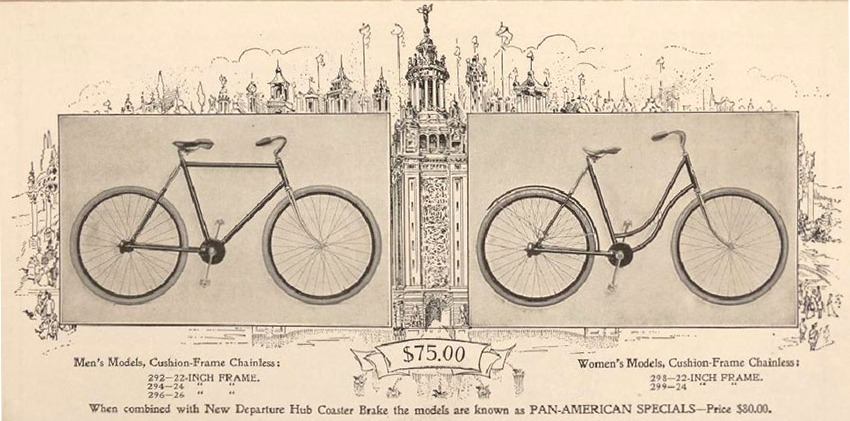 With the rising popularity of bicycles George Norman Pierce decided to go into the bicycle manufacturing business and in 1891 published his first catalog. The first bicycle line-up included the Model 30, a men's bicycle with 30″ rims and solid tires as standard or cushion tires as an extra cost option, and a 28″ "Ladies and Misses" model which did not have the cross-bar between the seat stem and the handlebar support of the frame so ladies could use their bicycles with grace and decorum.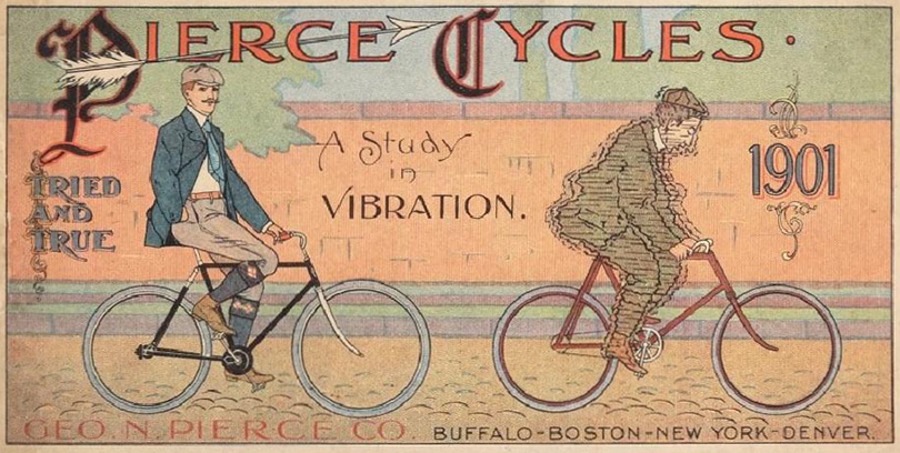 As the 1890's progressed Pierce introduced improvements to their bicycles with the "Cushion Frame" being one of the most important. The Cushion Frame incorporated springing in a rear shock device and subsequent to that spring forks in 1903. The other notable development was the "Chainless" bicycle which used a shaft drive instead of a conventional chain.
The Pierce Motorette
In 1900 Pierce had made their first foray into automobile manufacture by partnering with the Overman Wheel Company to produce a steam powered car. This was not a success and so George and his son Percy made a trip to Europe on a fact finding mission and returned to the United States having decided that the deDion engine would be the best engine to use. The following year Pierce debuted their two seater Motorette which was powered by a single cylinder deDion 2¾hp internal combustion engine and had two forward gears but no reverse.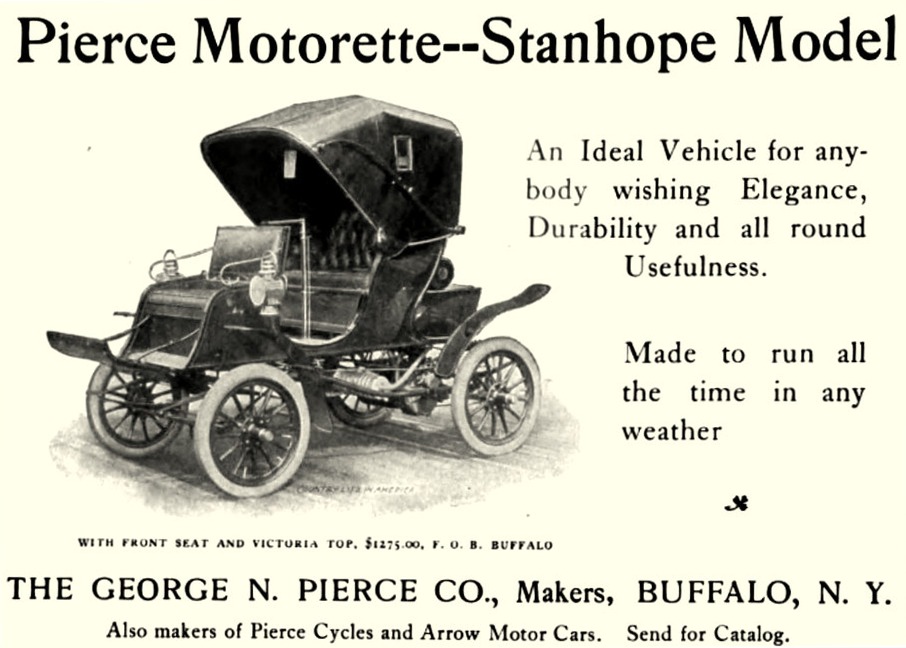 In 1903 Pierce progressed a little further in his quest to produce the luxury cars they would become most famous for when they built their two cylinder "Arrow", the first "Pierce Arrow". In 1904 the company went on to design and build the four cylinder Pierce "Great Arrow" and in 1905 one of these cars, driven by George Pierce's son Percy was entered in the "Gliddon Tour" which would later become known as the "National Reliability Run". Percy won the event and in so doing propelled the Pierce Arrow name firmly into the public spotlight.
The Pierce Motorcycles
In 1906 George and Percy Pierce's business was doing so well that they decided to expand and separate the automobile manufacturing division from the bicycle and soon to be motorcycle division. George Pierce had famous architect Albert Kahn design his new Pierce Arrow Factory Complex at Elmwood Avenue and Great Arrow Avenue leaving Percy in charge of the original bicycle factory which from then on operated as the Pierce Cycle Company.
In taking over the bicycle company Percy Pierce was determined to move into motorcycle manufacture and looking for the best ideas he made the journey to Europe again. He was particularly interested in the Fabrique Nationale (FN) motorcycles of that period. FN were, and still are, a manufacturer of fine firearms. For example they manufacture the current production Winchester Model 70 rifles and these are made to the most exacting quality control standards possible.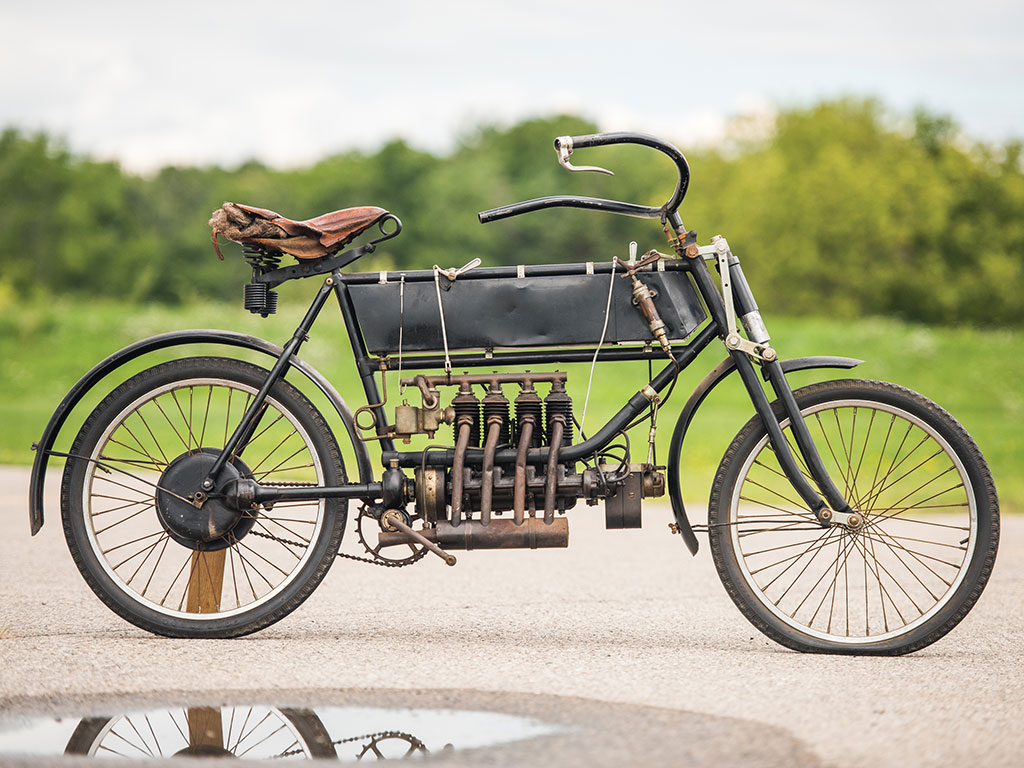 Around the time Percy Pierce made his trek across the Atlantic FN were famous for their inline four cylinder engine shaft drive motorcycles, and this was the design concept that Percy most favored. While in Europe he purchased an FN four cylinder motorcycle and brought it back to the United States for his engineering team to use as inspiration.
Percy Pierce was inspired by the overall concept of the FN but he recognized that it was very much a work in progress and that he and his engineers could design a better motorcycle, in fact he was intending to build the best motorcycle in the world just as his father was intending to build the best automobiles in the world.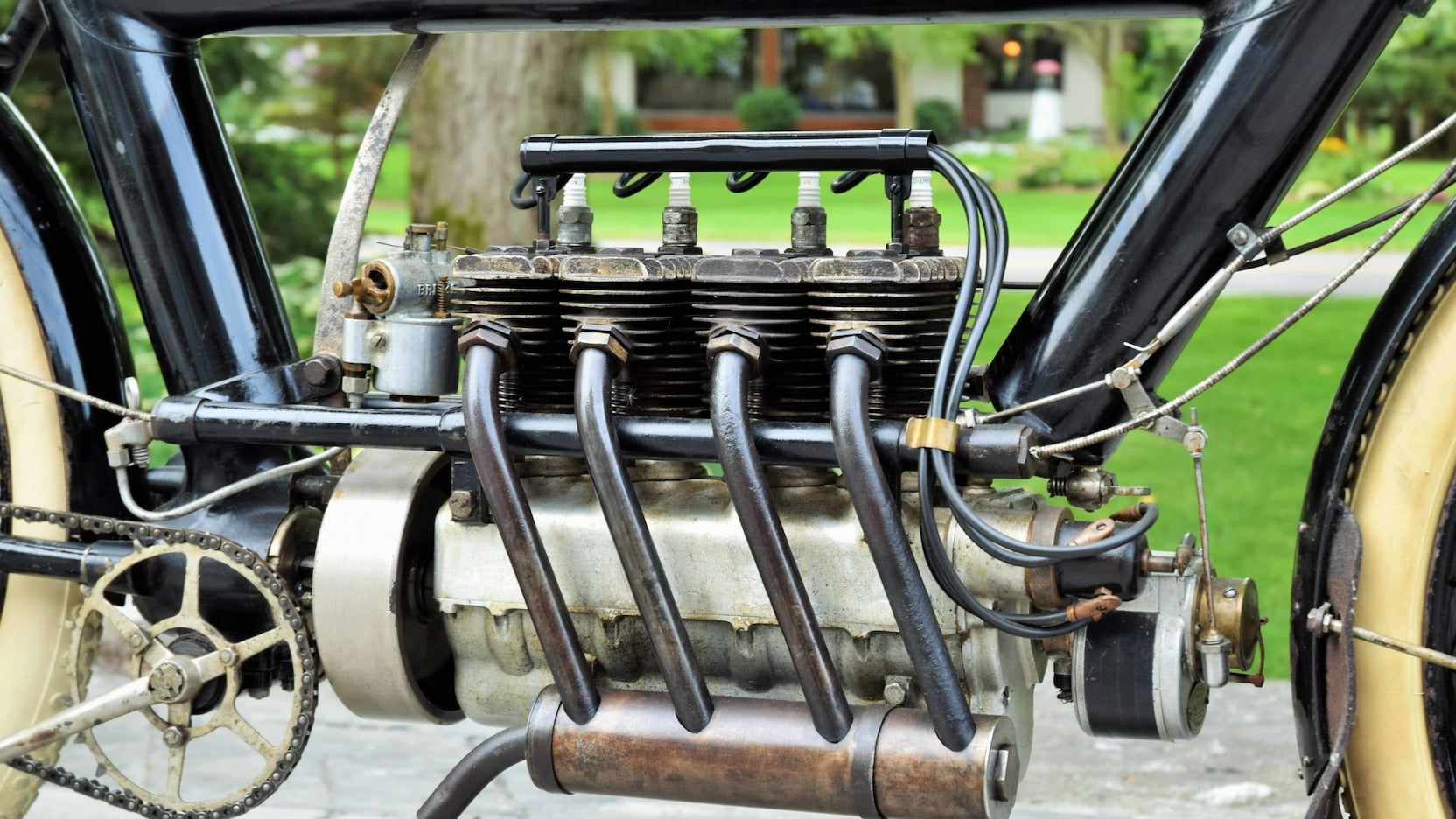 The Pierce engineers designed an inline air cooled four cylinder engine which for the first model was a "T head" of 688cc capacity delivering 7hp. That engine design would be changed and improved on over the years of production with the capacity changing to 707cc (43 cu. in.) in 1909 and later to 696cc by 1911. The first model in 1909 had a single speed and no clutch, with a shaft drive to the rear wheel, just like the Pierce Chainless bicycle. In 1910 that transmission was improved to a two speed sliding gear gearbox with a clutch and shaft drive. The engine was used as a structural member which eliminated the need for a bottom support tube and served to make the motorcycle lighter.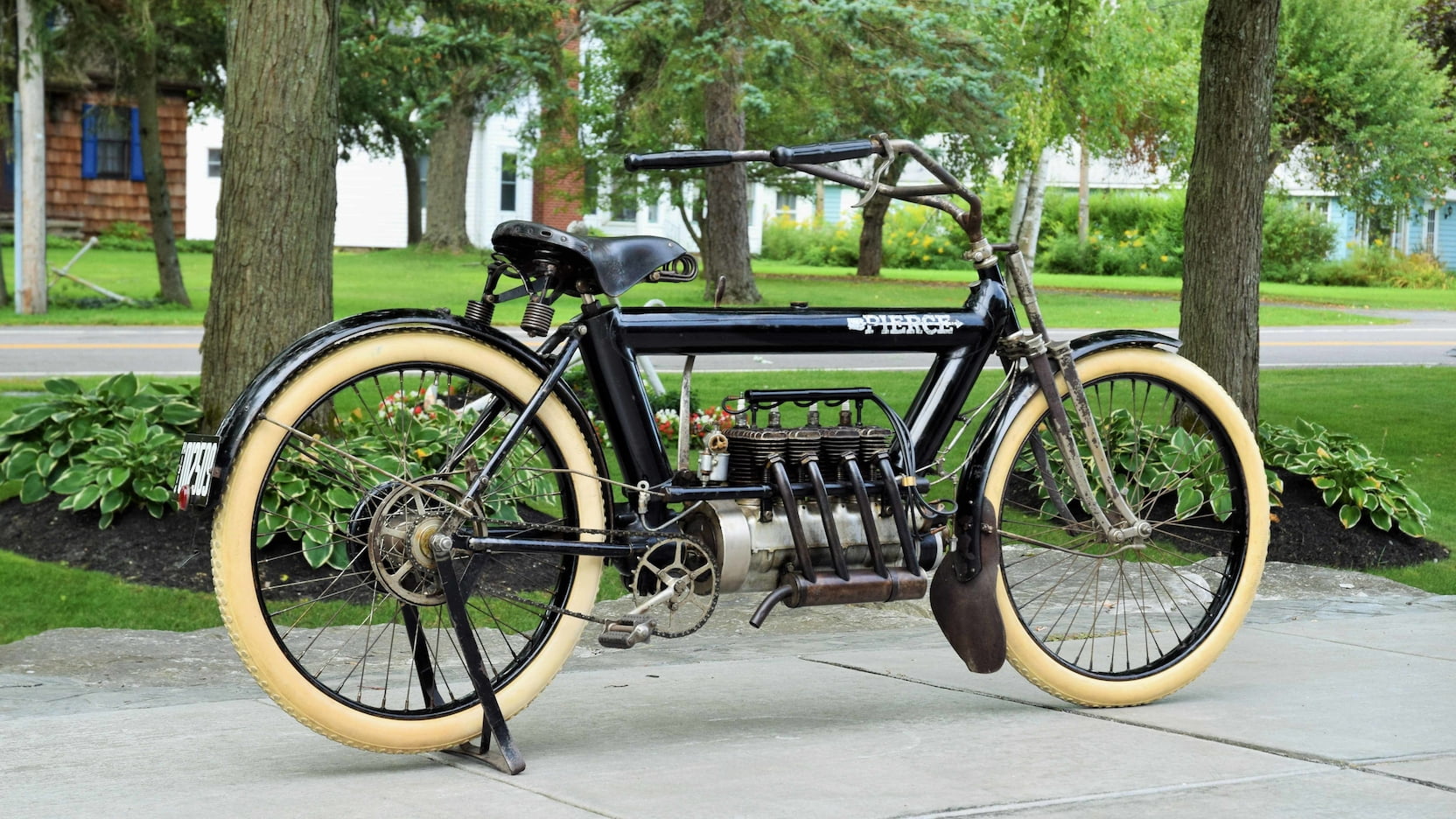 The frame of the Pierce Arrow motorcycle was made of 3½" steel tubing and as a mark of its quality and attention to design detail the fuel and oil tanks were incorporated into the top frame tube. The bike had a rigid frame but was installed with sprung front forks and a sprung seat to ensure a comfortable ride.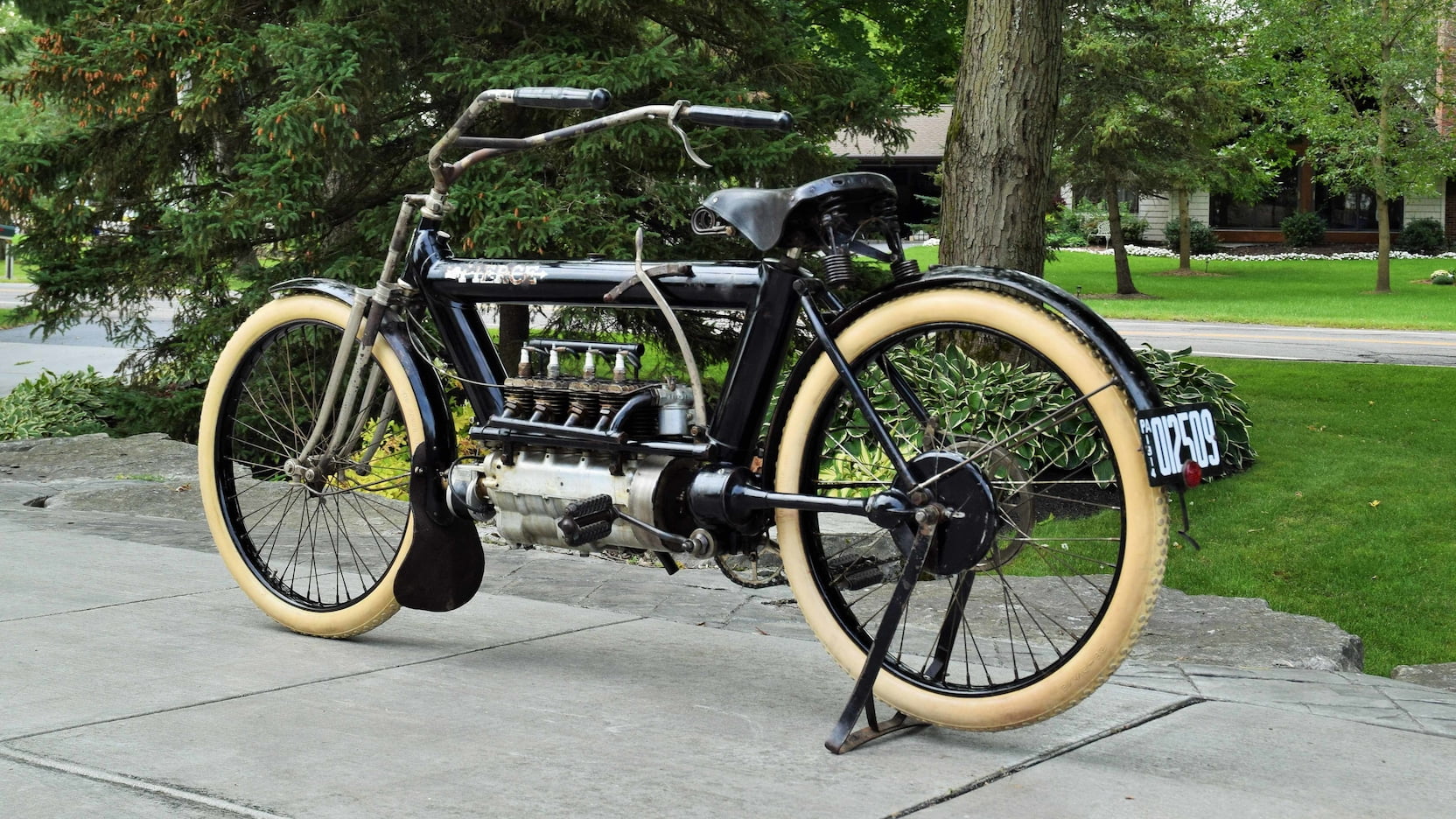 The Pierce Arrow Four weighed 275 lb and was capable of a top speed of 60 mph and Percy Pierce rode these bikes to success in a number of competitions to establish the "street cred" of his machines.
During the time that Percy Pierce was establishing his motorcycle business dramatic changes were happening for his father and the automobile division. George Pierce sold all his rights in his company in 1907, shortly after the new factory had been built. Then in 1910 George Pierce passed away leaving Percy without his father's advice and support. Percy was making and selling his Pierce Arrow Four motorcycles priced at USD$350.00, which was very expensive at the time but which was actually below the cost of manufacturing them. He increased the price to USD$400.00 but when he did that sales dropped further.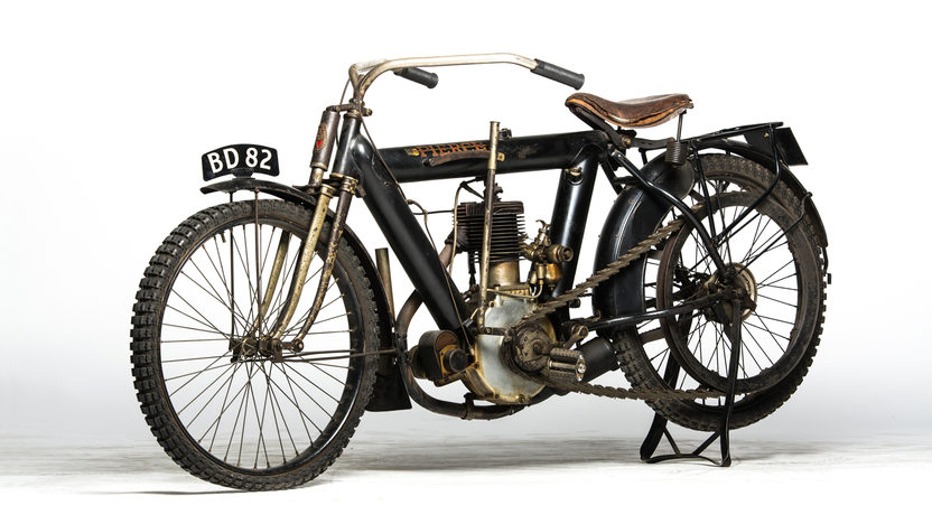 In order to attract sales Pierce created a less expensive single cylinder motorcycle with a 5 hp engine of 592 cc. This bike used a belt drive and incorporated the fuel tank in the top and seat copper lined frame tubes while the oil reservoir was in the front tube. The single was capable of a top speed of 55 mph so it was almost as fast as the Four and sold for USD$250.00, so it was much less expensive but quality was kept at the same high level of all Pierce products. Despite Pierce Arrow Motorcycles producing a much less expensive model sales were insufficient to keep the company solvent and by 1914 Pierce could continue no longer and was closed down.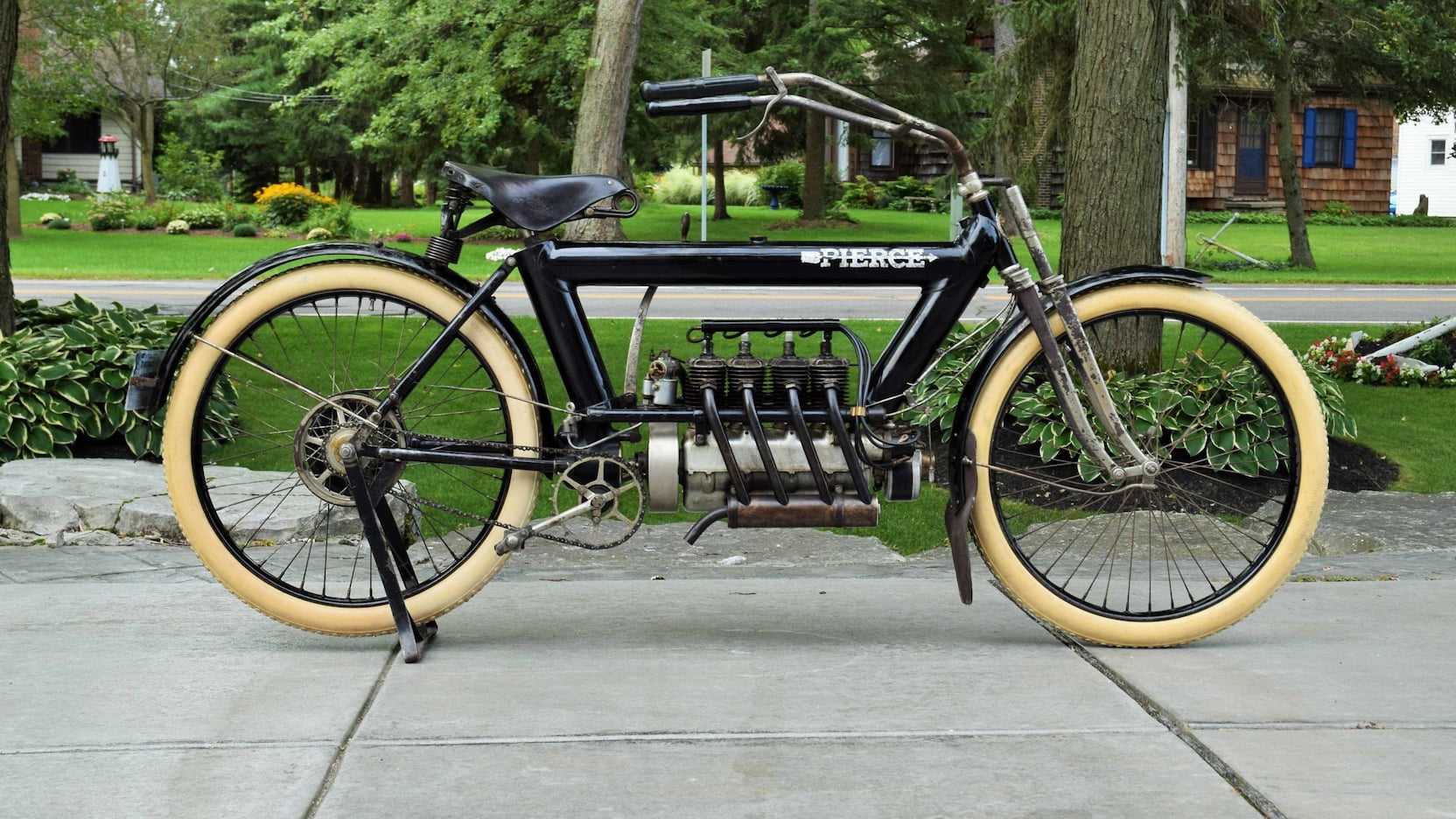 Not only were the economics of production for the Pierce Arrow Four troublesome but competition from other motorcycle manufacturers was also telling. The most notable competitor to the Pierce Arrow Four was the Henderson Four while the bikes from companies such as Harley-Davidson and Indian Motocycle were also less expensive and thus attractive to buyers.
Epilogue
The Pierce Arrow Four featured in our pictures is a 1911 model and is completely original, making it a remarkable 108 year old motorcycle. This bike is coming up for sale by Mecum Auctions at their Las Vegas auction to be held from January 21-26, 2020.
You will find the sale page for this fascinating icon of American motorcycle history if you click here.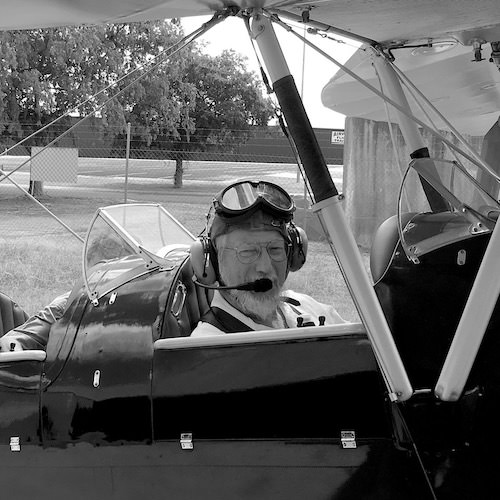 Jon Branch is the founder and senior editor of Revivaler and has written a significant number of articles for various publications including official Buying Guides for eBay, classic car articles for Hagerty, magazine articles for both the Australian Shooters Journal and the Australian Shooter, and he's a long time contributor to Silodrome.
Jon has done radio, television, magazine and newspaper interviews on various issues, and has traveled extensively, having lived in Britain, Australia, China and Hong Kong. His travels have taken him to Indonesia, Israel, Italy, Japan and a number of other countries. He has studied the Japanese sword arts and has a long history of involvement in the shooting sports, which has included authoring submissions to government on various firearms related issues and assisting in the design and establishment of shooting ranges.