Back when he was a sixteen year old just leaving school to join his family's business Winton Motors young William Henderson would have had no idea that he was on a path that would make his name near legendary in the history of American motorcycles. In life, everybody starts out as a beginner, and William was just that, a teenager drawing sketches of motorcycles and showing them to his dad for critique and approval. As William's experience and skills improved his drawings got better and his designs went from being unformed dreams to being formed concepts. By 1909 William's dad realized that the designs his son was showing him were excellent and viable. But William's dad seems to have known better than to take over his son's design and put it into production for him. Instead he encouraged William and his brother Tom to build a working prototype. It took the brothers about two years and the prototype was completed in 1911 and in the process William and Tom had learned a huge amount about design and production. So good was the Henderson prototype that the brothers were able to secure USD$175,000 in capital to establish their own motorcycle manufacturing business and the put the Henderson Four into production in 1912.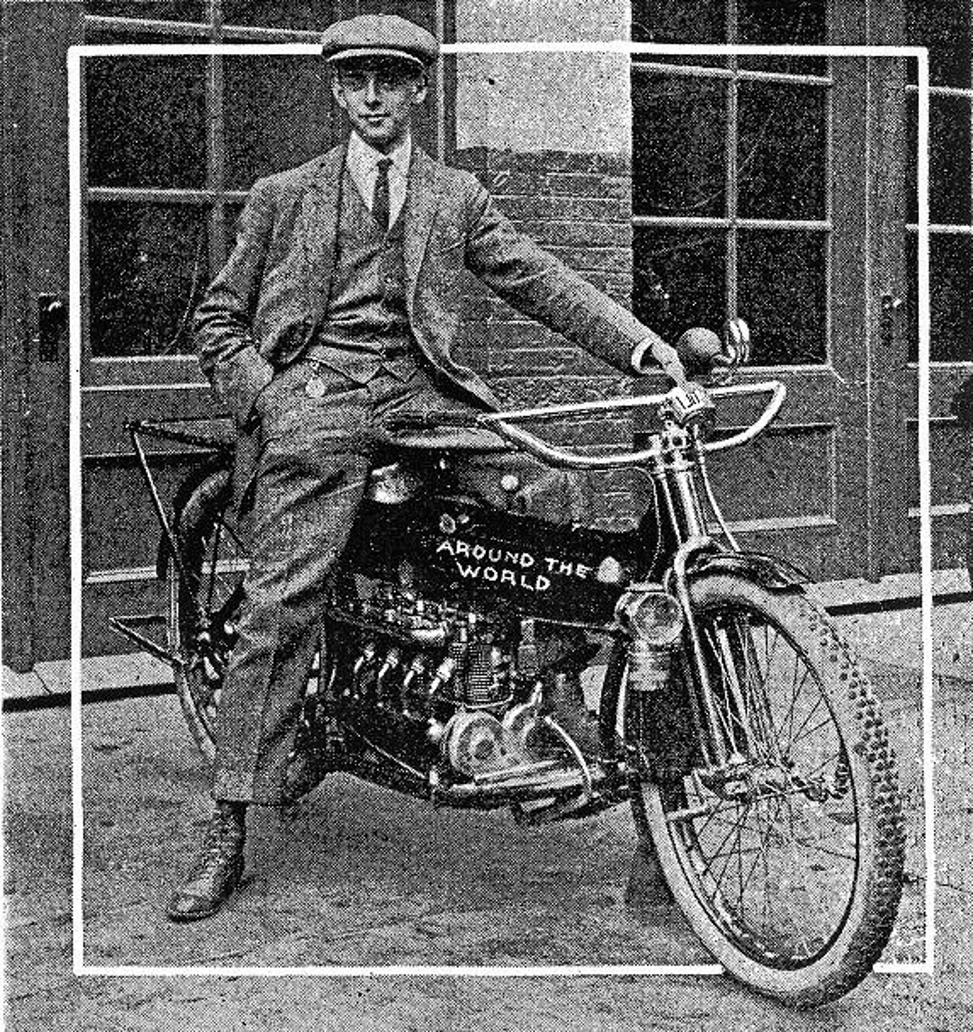 Around the same time the Hendersons were putting their Henderson Four into production another young man whose name was Carl Stearns Clancy heard about them and he and his friend Walter Storey decided to buy two of them for their pioneering around the world motorcycle adventure. At the time Clancy and Storey bought their Henderson Fours only a handful of the bikes had been produced so the bikes purchased were amongst the first off the production line. Clancy made a deal with the Hendersons that he could set up dealerships for Henderson Motorcycles wherever he wished and would be paid USD$5.00 commission on each bike sold. Clancy also arranged to be paid for press releases and photographs taken along the journey for publication in "The Bicycling World", "Pacific Motorcyclist" and "Motorcycle Review".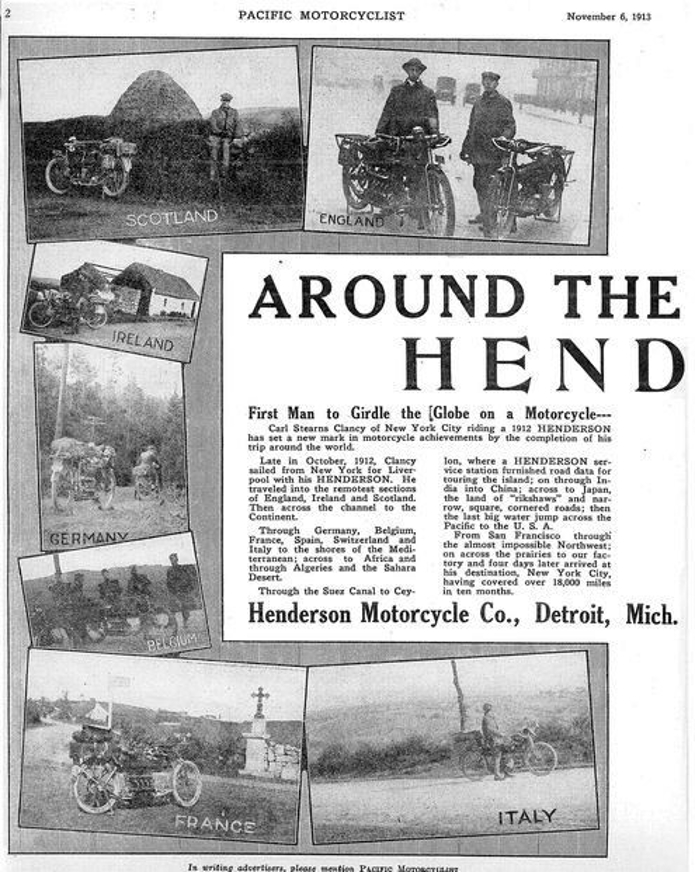 Walter Storey did not make the around the world trip as he dropped out in Paris. Carl Stearns Clancy went on to complete his trip although he found he could not actually ride across India as there was no gasoline available, but he did manage to navigate his way across China to complete his 18,000 mile around the world journey before boarding ship to return to the USA.
Carl Stearns Clancy wrote a book called "The Gasoline Tramp" about his journey which is available on Amazon if you click here.
Suffice to say the publicity generated by Clancy's successful circumnavigation of the world was good publicity for Henderson and it was the best kind of testimony to the durability of their bikes.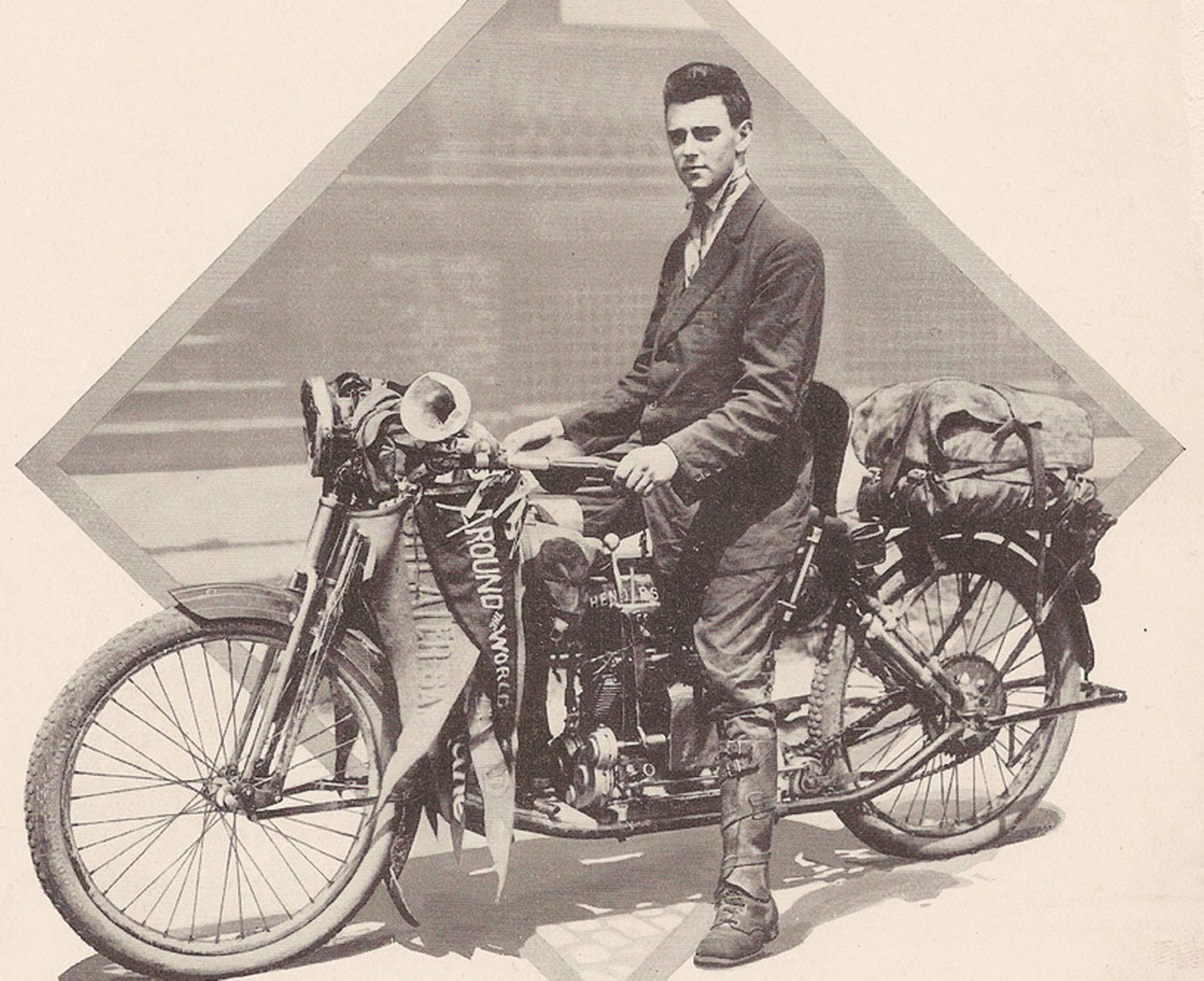 The 1912 Henderson Four was powered by William Henderson's 57 cu. in. (934cc) F head (inlet over exhaust) in-line four cylinder engine with a clutch and a single speed chain drive to the rear wheels. Despite being single speed the bike was quick and was regarded as the fastest motorcycle of its time. The engine produced 7hp.
The 1912 Henderson was built with a long wheelbase for stability and the emphasis was on quality. These bikes sold for the princely sum of USD$325.00 which was a lot of money back in 1912. They were so well made they were nicknamed "The Dusenberg of Motorcycles". As can be seen in the photographs above and below the fuel tank was a long cylindrical unit and the front suspension was by short leading link front forks.
In the ensuing few years before the United States entered the First World War William and Tom progressively improved on their motorcycle design but by 1917 were forced to sell their company to Ignaz Schwinn of the Excelsior Motorcycle company. William did not enjoy the loss of independence and left Excelsior in 1920 to form a new company Ace Motorcycles. Sadly William Henderson was killed in a motorcycle accident in 1922 but his design legacy continued on both in the Excelsior Hendersons and also when Indian purchased Ace Motorcycles his design became the iconic Indian Four.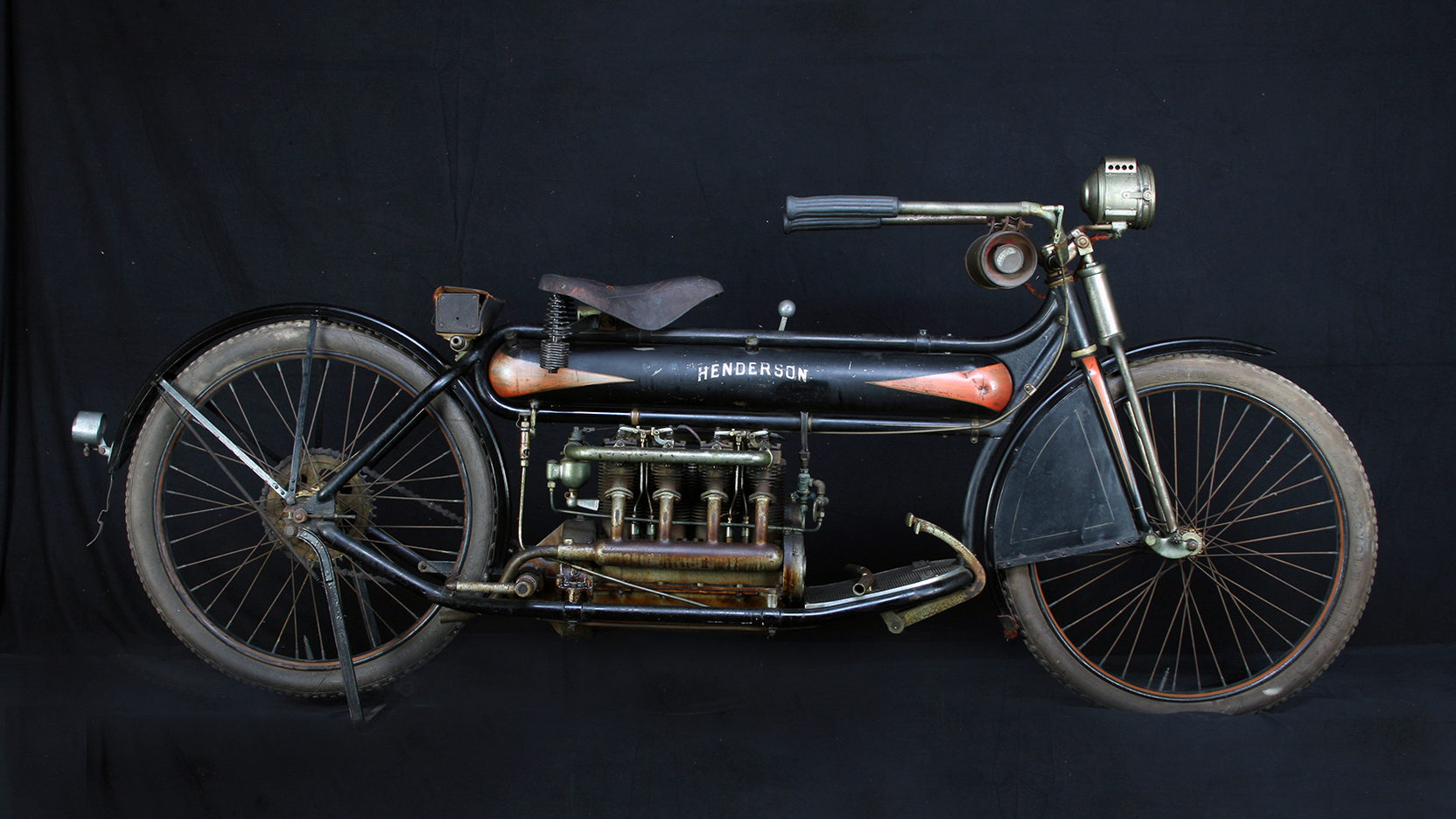 The dark blue 1912 Henderson Four in the photograph above is thought to be the only original survivor that has not needed restoration and so is completely original including having its original paint job. This bike is coming up for sale by Mecum Auctions at their Las Vegas Auction to be held 25th-28th January 2017.
You will find the sale page for this bike if you click here.
This offering is of a bike that is probably the only completely original 1912 Henderson Four in existence. It is an important piece of American motorcycle history.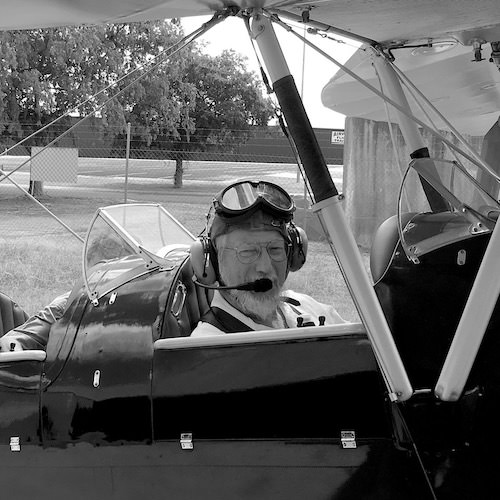 Jon Branch is the founder and senior editor of Revivaler and has written a significant number of articles for various publications including official Buying Guides for eBay, classic car articles for Hagerty, magazine articles for both the Australian Shooters Journal and the Australian Shooter, and he's a long time contributor to Silodrome.
Jon has done radio, television, magazine and newspaper interviews on various issues, and has traveled extensively, having lived in Britain, Australia, China and Hong Kong. His travels have taken him to Indonesia, Israel, Italy, Japan and a number of other countries. He has studied the Japanese sword arts and has a long history of involvement in the shooting sports, which has included authoring submissions to government on various firearms related issues and assisting in the design and establishment of shooting ranges.