American John Taylor who worked for many years as a professional hunter in Africa said that he believed the best possible rifle for a "one gun world wide hunter" would be a double rifle chambered for the .375 Holland & Holland Flanged Magnum with a low power rifle scope (if a fixed power then about a 2.5x) in quick detachable mounts. With such a rifle one would be equipped to take on anything in Africa, the United States and Canada. Indeed one could even hunt Ibex in the Tien Shan or Maral in Kazakhstan. The .375 Holland & Holland Flanged Magnum is sufficiently flat shooting to allow shots out to 300 yards especially if regulated for the 270 grain bullets. It is legal for dangerous game in Africa, and entirely adequate for large bruins and other nasty biteys elsewhere in the world. This rifle would perform superbly on a driven wild boar hunt also.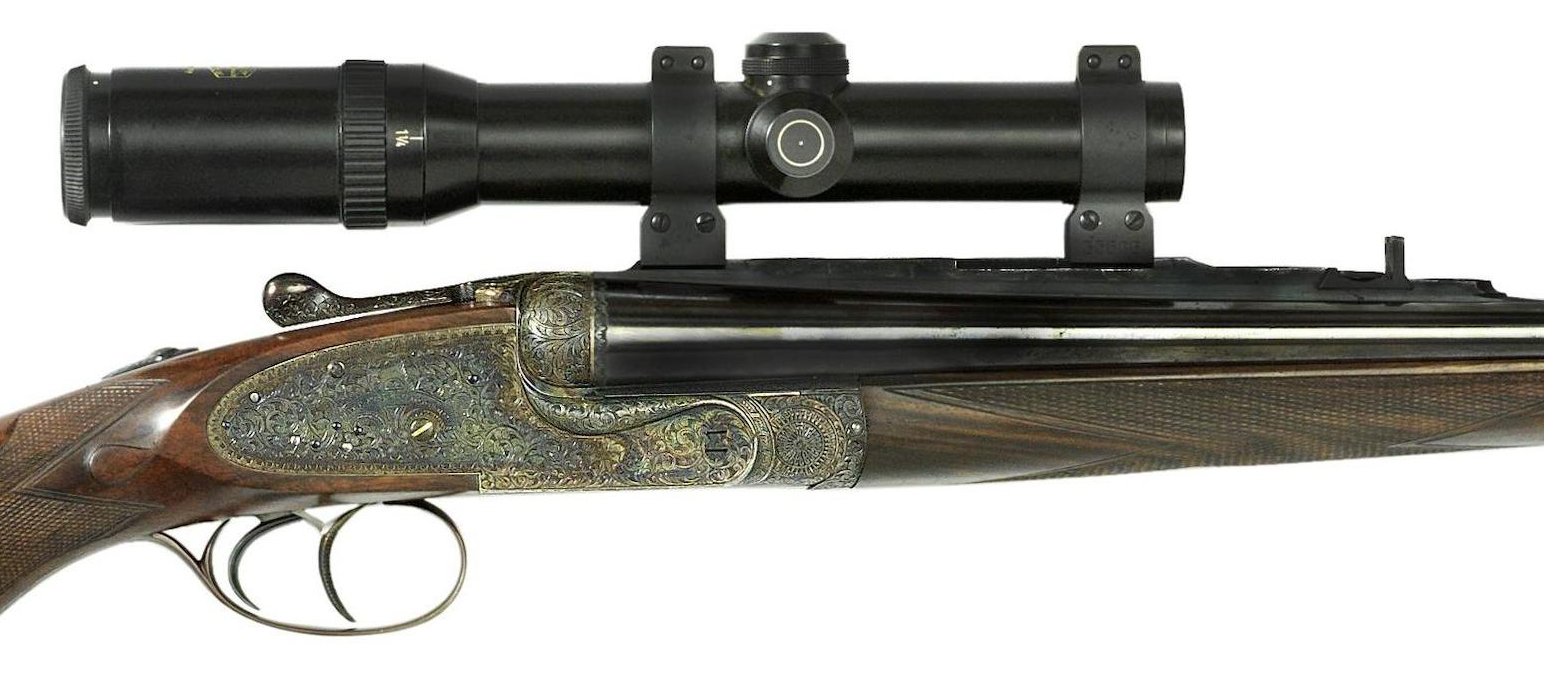 A double rifle has the additional advantage that it can easily be taken down just like a double barreled shotgun and packs into a compact case that is easier to travel with on planes, trains and automobiles than a bolt action rifle that is typically going to be over a meter long. Of all the double rifles available the Holland & Holland Royal is at the top of the desirability ranking. When Holland & Holland make a "best" gun they genuinely make something that is simply the best that money can buy, period.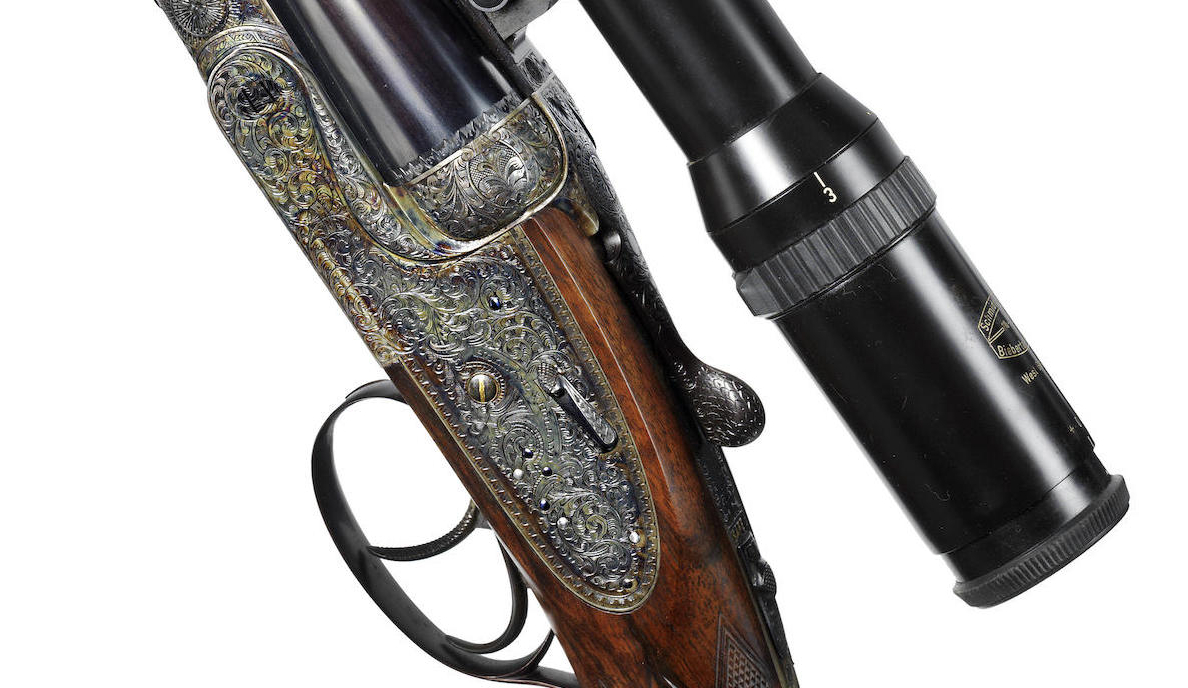 There is something about the balance of a good double rifle, they have a liveliness about them that can't be duplicated by a bolt action. The compactness of the action means the total length of the rifle is significantly less which contributes to their between the hands feel whilst the double barrels put weight where it needs to be to help control recoil and enable the shooter to get back onto target in case a second shot is needed. If a second shot is needed then the double rifle provides a swift and sure follow up.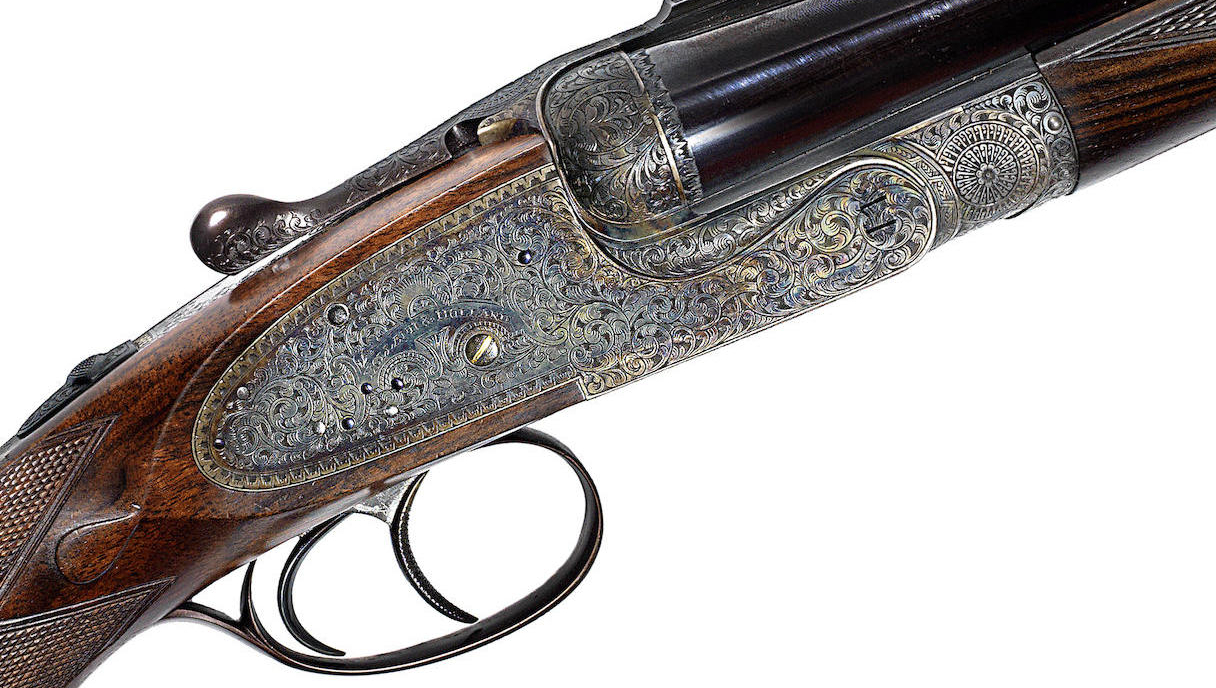 A double rifle with a sidelock action is effectively two independent rifles melded into one. The barrels and firing mechanisms are independent of each other so even if a cartridge misfires and lodges a bullet in the barrel the second barrel is still available for business as usual. This is why they have long been the rifle of choice for dangerous game, they mitigate against worst case scenarios.
Selective ejectors are a great asset on a double rifle. Whereas with an extractor fitted double rifle chambered for a high pressure cartridge it is necessary to pull the extracted cartridges from the chamber and if you are in a hurry this can be a frustratingly slow and finger nail breaking experience. The selective ejectors simply eject the fired cartridge case clear leaving a convenient empty chamber to receive the next round. The sole disadvantage of ejectors is the noise they make but they can be disabled if the rifle needs to be used in a scenario where "silence is golden". Typically though, if two shots haven't dealt with the situation then the ability to reload quickly and effortlessly is the preferred option.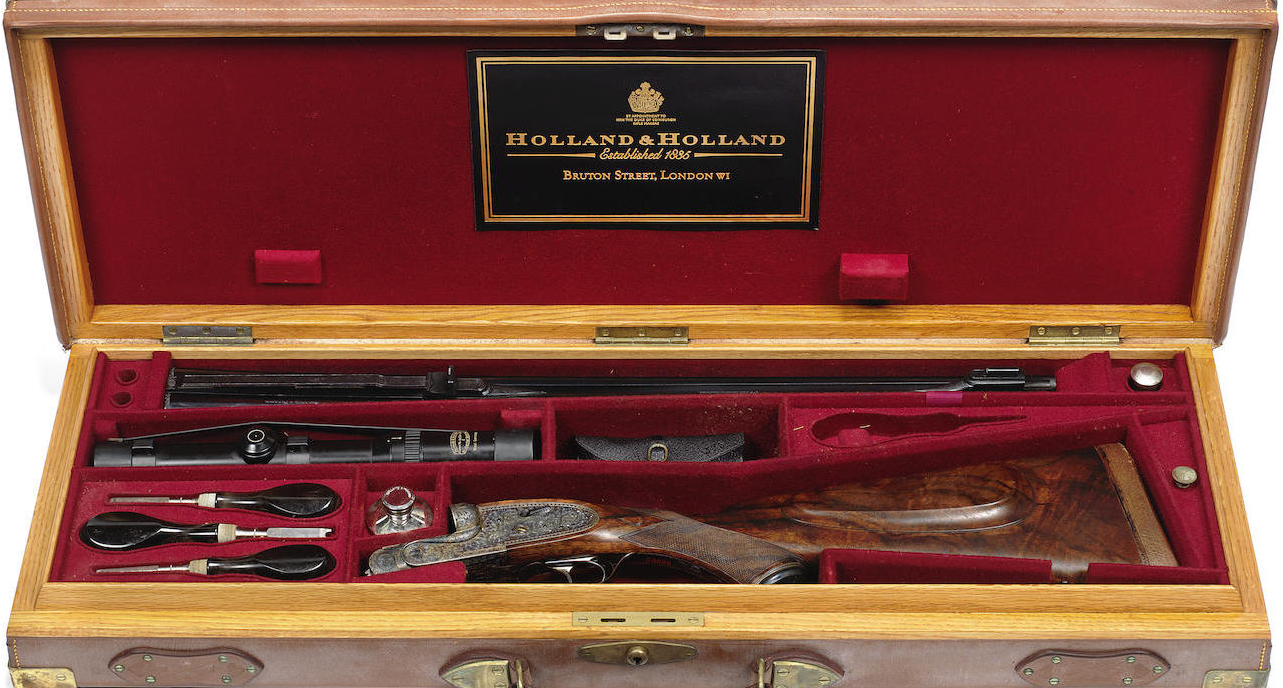 The Holland & Holland Royal double rifle in our pictures is coming up for sale by Bonhams at their Modern Sporting Guns auction to be held in London on 1st December 2016. There are some very desirable pieces coming up for sale at this auction including some beautiful English guns by the likes of Boss and Purdey. You will find the complete listing if you click here.
But for me this Holland & Holland Royal double rifle in .375 Holland & Holland Flanged Magnum is the star of the auction. It looks to be the perfect rifle in a perfect caliber for most hunting one might like to do anywhere on earth. The rifle was originally made in 1992 and appears to have had very little use. The action is a Holland & Holland treble grip with concealed third bite and the hand detachable locks have the gold inlaid cocking indicators we expect to find on the Royal grade Holland & Holland doubles. The barrels are engraved "Holland & Holland, 33 Bruton Street, London" Whilst the quarter rib notes the caliber ".375 H&H Magnum Flanged". The quarter rib is fitted with two open sights one for 100 yards and marked for "270 grain bullets" and the second for 200 yards. The ramp mounted bead front sight has the traditional style fold away  Moon sight. The quarter rib is also grooved for the American Talley double lever rifle-scope mounts that hold the 1¼-4x24mm Schmidt & Bender rifle-scope. The Talley double lever mounts have a very good reputation and my own experience with them has been excellent. You will find our Revivaler post on the Talley mounts if you click here.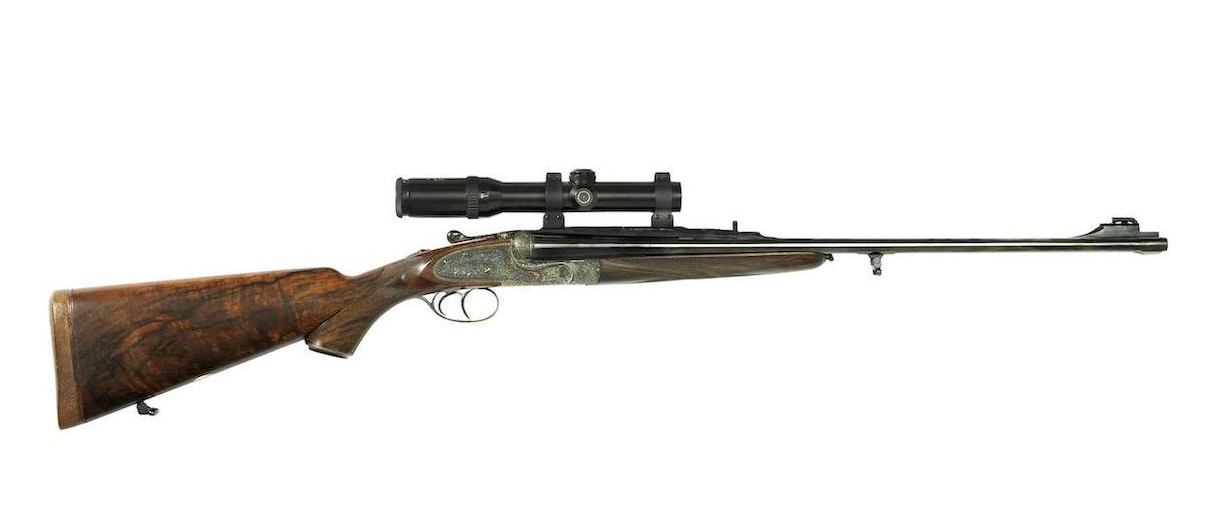 You will find the sale page for this rifle if you click here.
Paul McCartney's song created with John Lennon tells us that "Money can't buy me love" which may indeed be true but money can buy certain kinds of happiness and in the case of this rifle £30,000 – £40,000 will buy this kind of Holland & Holland Royal Ejector double rifle happiness in classic .375 Holland & Holland Flanged Magnum. This looks to be a superb and nicely patinated double rifle that should be guaranteed to provide many happy hours, and many happy memories of hunts and companionship for its new owner.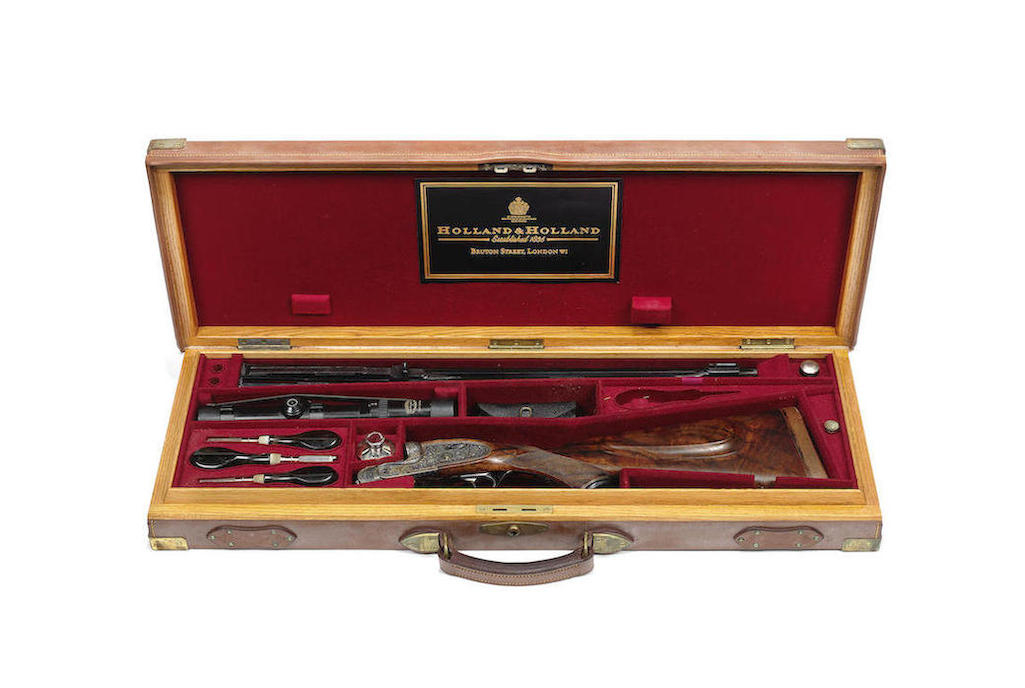 (All pictures courtesy Bonhams).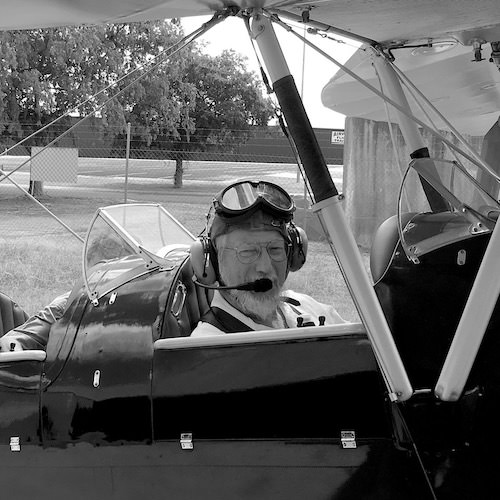 Jon Branch is the founder and senior editor of Revivaler and has written a significant number of articles for various publications including official Buying Guides for eBay, classic car articles for Hagerty, magazine articles for both the Australian Shooters Journal and the Australian Shooter, and he's a long time contributor to Silodrome.
Jon has done radio, television, magazine and newspaper interviews on various issues, and has traveled extensively, having lived in Britain, Australia, China and Hong Kong. His travels have taken him to Indonesia, Israel, Italy, Japan and a number of other countries. He has studied the Japanese sword arts and has a long history of involvement in the shooting sports, which has included authoring submissions to government on various firearms related issues and assisting in the design and establishment of shooting ranges.