(Note: This post updated on 5th August 2017 with additional re-loading information).
The Mauser 9×57 is an interesting cartridge that was reasonably popular before the Second World War. Sitting in power and size around the .358 Winchester it's the sort of cartridge that may have inspired Colonel Townsend Whelan to create his .35 Whelan by necking the 30/06 up to accept .358″ bullets. The 9x57mm is the 8x57mm Mauser necked up to accept 9mm bullets.
There appears to be some discrepancy in advice for bullets for this caliber. Frank C. Barnes "Cartridges of the World" lists the bullet diameter as .356″ which is an awkward size and would make 9x57mm rifles troublesome to get shooting. However the Woodleigh Bullets Loading Manual says the CIP list the correct bullet diameter as .3575″ and that most 9x57mm barrels actually have groove diameters of .358″ or a bit more. This difference of a few thousandths of an inch makes a bit difference in the ease with which one can get a 9x57mm rifle shooting. We recommend that you do a check on the groove diameter of the 9x57mm rifle you are planning to load for and hope that its .358″ or very close to it.
You can purchase the Woodleigh Bullets Loading Manual from Amazon if you click here.
You can purchase it direct from Woodleigh Bullets if you click here.
The Woodleigh Bullets Loading Manual lists data for their 225gn RN SN bullets using H4895, Varget and Australian AR2206H and AR2208. For their 250gn RN SN the Woodleigh Bullets manual lists data for H4895, Varget, R902, R903 and Australian AR2208H and AR2208.
Here is the 9x57mm entry from "Cartridges of the World" by Frank C. Barnes.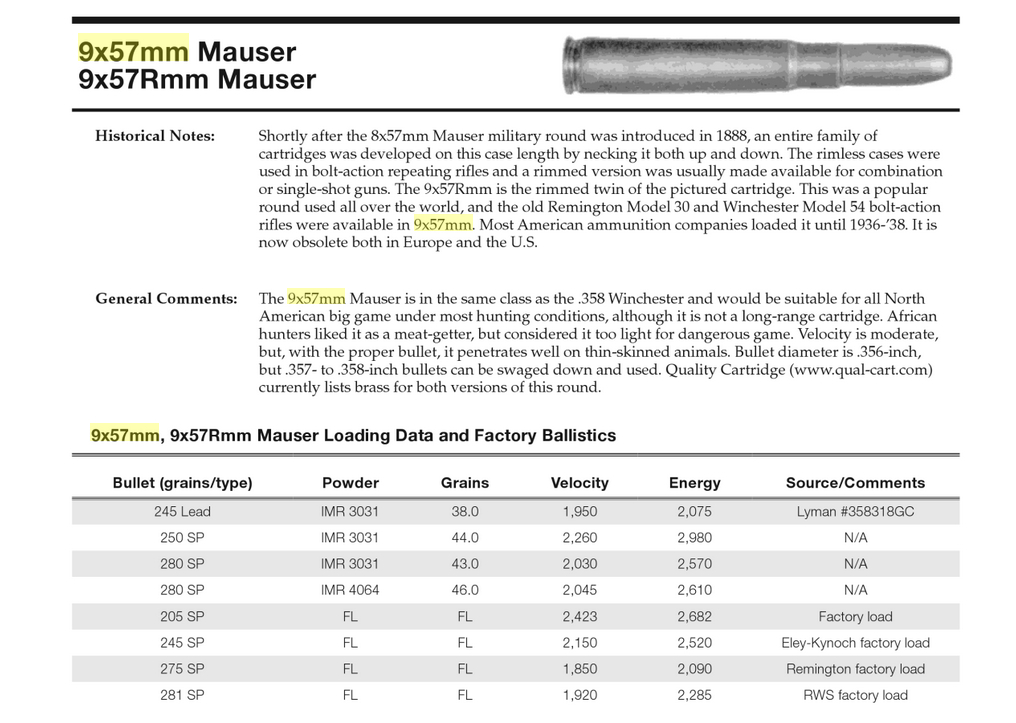 "Cartridges of the World" is a must have book for anyone interested in collector firearms and cartridges. You can find the latest edition on Amazon if you click here. and you will find our previous Revivaler post on this book if you click here.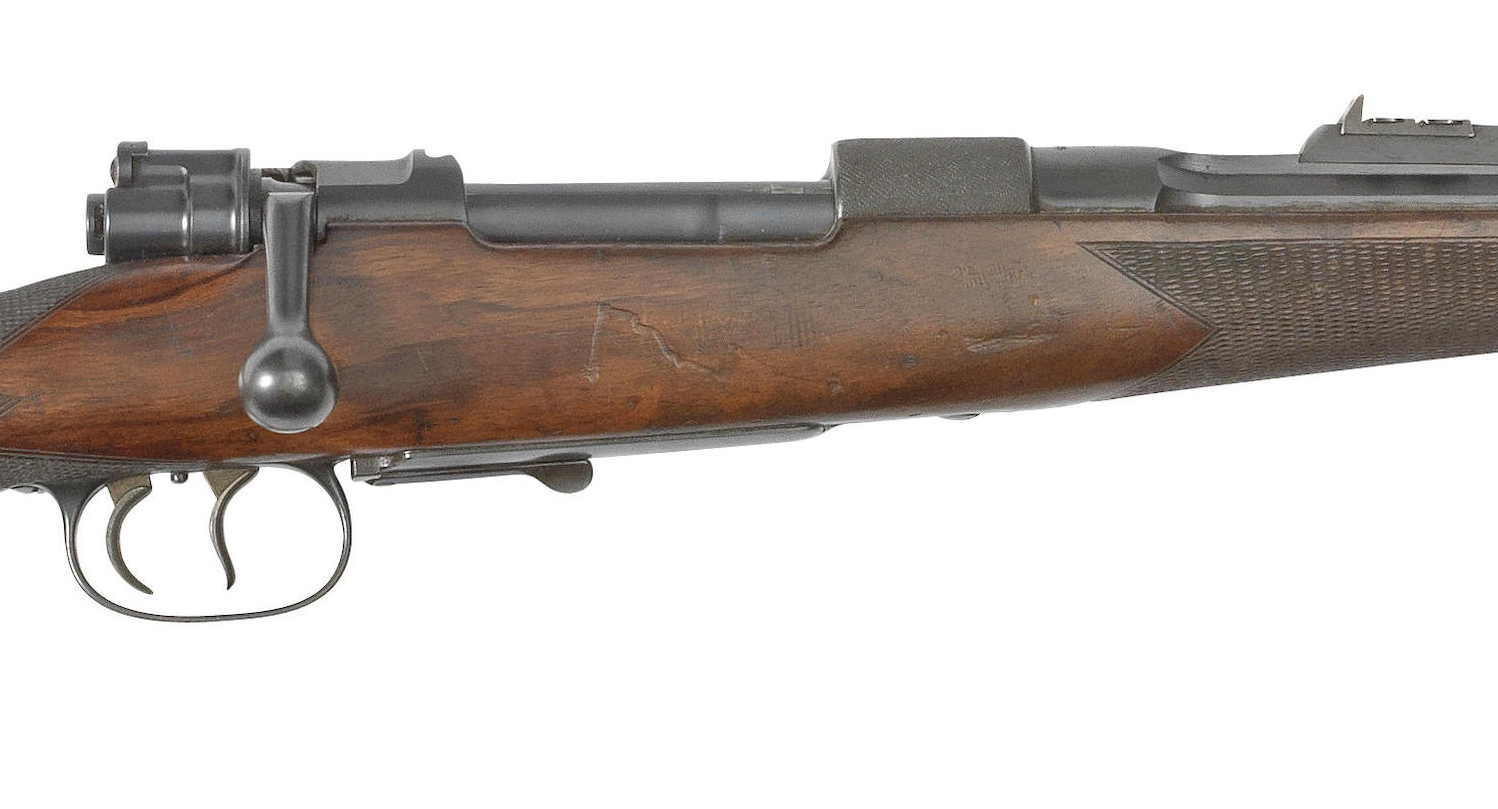 The Mauser rifle in 9x57mm to be auctioned by Bonhams at their Modern Sporting Guns auction on 12th May 2016 has nice wood, double set triggers, and an octagonal barrel with express sights, one fixed blade set for 100 yards and two folding blades for 200yards and 300yards. The rifle has an original Mauser 98 action including flag safety catch and the receiver bridge is slotted for use of stripper clips, this means stripper clips could be used for convenient 9x57mm cartridge reloading in the rifle. So this rifle would not be suitable for mounting a low mounted rifle-scope without modification to the safety and possibly to the bolt handle which is simply turned down. Used with open sights this is a very nice short range hunting rifle and the 9x57mm is at its best out to 200yards having a relatively curved trajectory. So this is a good woods deer rifle capable of taking large deer species. In Scandinavia the similar 9.3x57mm is referred to as the "potatiskastaren" (potato gun) because of its moderate velocity and large projectile. Recoil is said to be comfortable. These were regarded as light and fast handling hunting rifles.
You will find the Bonhams auction page for this rifle if you click here.
If you want to get a 9x57mm rifle shooting the first step is to have the bore slugged by a competent gunsmith. Bore dimensions can vary and you may find you have a rifle with a bore around .3575″ or .358″, in which case you can use standard .358″ bullets. If the diameter is around .356″ you can still use cast bullets sized appropriately or get dies for your "O" press to resize .358″ jacketed bullets down. Cases can be created by necking up 8x57mm brass although Midway USA list 9x57mm empty cases. The loading data from "Cartridges of the World" provides a starting point for reloading and you will find reloading dies at Midway USA if you click here.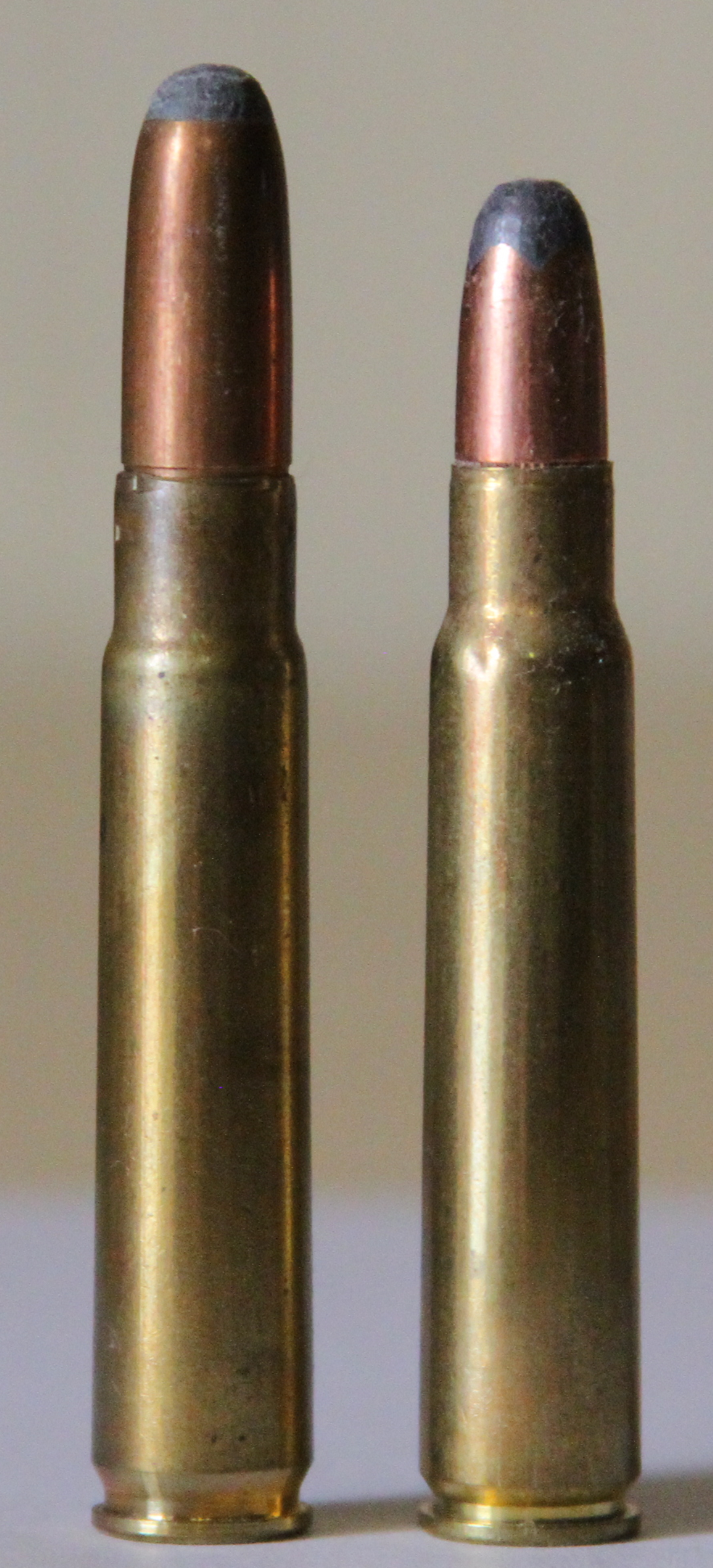 This is a nice rifle, easiest to get shooting with cast bullets with gas checks unless the barrel diameter is close to .358″ in which case it is simple to reload for. It is also a candidate for re-barreling into a more common calibre such as .35 Whelan or 9.3x62mm, or, if there is enough thickness in the barrel, re-boring to 9.3x62mm or .375 Scovill. The last one being the conversion I would favor either a re-boring if the barrel is thick enough or re-barreling. Chambering for .375 Scovill (i.e. a .375″ on the 30/06 case) would bring the rifle up into a different league whilst making reloading straightforward. Barnes list loading data for the .375 Scovill which you will find if you click here. The Barnes Reloading Manual Number 4 has reloading data for the .375 Scovill.
Otherwise this may appeal as a rifle for a collector who does not intend to shoot it. It is a very nice piece, in good condition and with lots of character.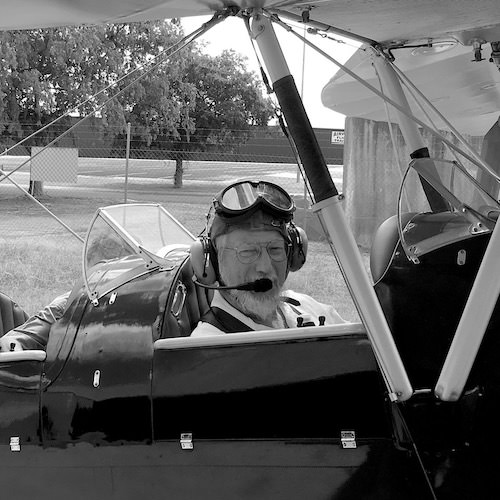 Jon Branch is the founder and senior editor of Revivaler and has written a significant number of articles for various publications including official Buying Guides for eBay, classic car articles for Hagerty, magazine articles for both the Australian Shooters Journal and the Australian Shooter, and he's a long time contributor to Silodrome.
Jon has done radio, television, magazine and newspaper interviews on various issues, and has traveled extensively, having lived in Britain, Australia, China and Hong Kong. His travels have taken him to Indonesia, Israel, Italy, Japan and a number of other countries. He has studied the Japanese sword arts and has a long history of involvement in the shooting sports, which has included authoring submissions to government on various firearms related issues and assisting in the design and establishment of shooting ranges.