The Rogers and Spencer was perhaps the greatest of the Civil War revolvers, but paradoxically it was never used in combat in the Civil War.
Fast Facts
Rogers and Spencer were located in Uttica, New York, and originally made agricultural equipment.
When approached to manufactured the Pettengill double action revolver and muskets for the Union Army in 1859 the company moved into firearms manufacture, and their arms proved to be of excellent quality.
When Pettingill ceased business Rogers and Spencer bought the rights to their revolver and continued to make them, but also began work on a revolver of their own design, incorporating the best design principles of the time.
Five thousand of the Rogers and Spencer revolver were ordered by the Union Army and Rogers and Spencer delivered them on time – but this was too late for them to be used in the Civil War.
The guns sat in storage for over thirty years and were sold off as army surplus in 1901.
History
The Rogers and Spencer was perhaps the best of the American Civil War era revolvers, but with one caveat: it did not arrive in the Union Army stores until it was too late for its distribution to the troops actively engaged in the war against the South.
So the Rogers and Spencer did not see field service in the Civil War, but it also did not see active service in the conflicts that occurred in the aftermath of the Civil War either, although legend has it that a few of these revolvers may have seen limited combat use in the Philippine-American War of 1899-1902 (a story unlikely to be true – if you have verifiable information on this please let us know so we can include that story).
Rogers and Spencer, of Willowvale, New York. were not originally a firearms maker but were commissioned to manufacture the unusual Pettengill double-action only revolver from 1859, prior to the outbreak of the Civil War. The Pettengill revolver was unique in that it was double-action only and had a fully enclosed "L" shaped hammer: it was the only Civil War revolver to have this type of design.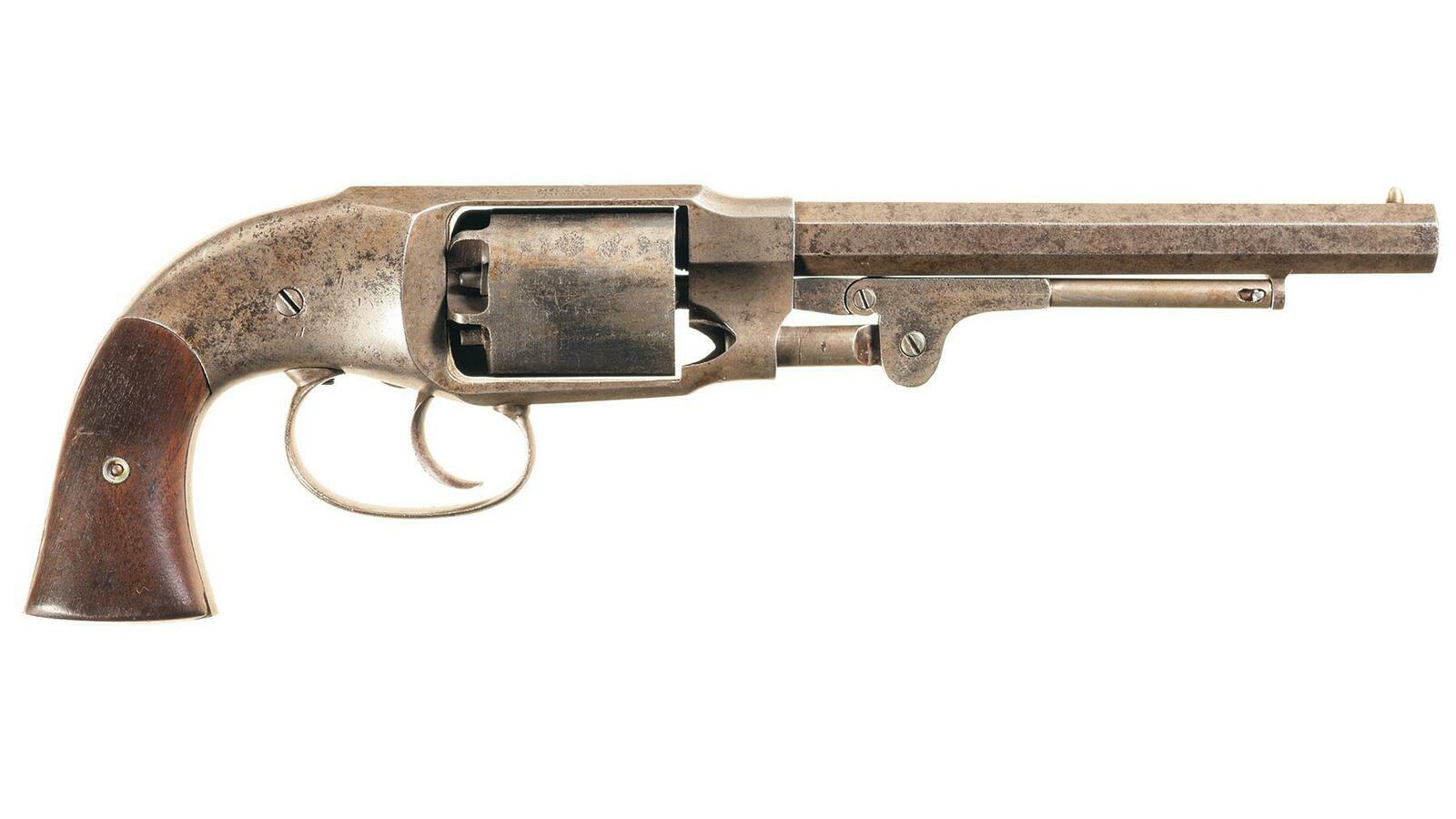 With the start of hostilities Rogers and Spencer continued to make the Pettengill revolvers until Pettengill went out of business, at which point Rogers and Spencer bought the design and rights to continue to make these unusual revolvers. In 1861 Rogers and Spencer obtained a contract from the Union Army to supply 2,000 Pettengill revolvers along with 25,000 muskets. The Pettengill revolver was offered in two sizes, a smaller civilian model in .34 calibre, and the larger "Army" model .44 calibre, which was the one the Army ordered.
Rogers and Spencer delivered these Pettengill revolvers beginning in October 1862 and completed the contract in January 1863.
During this time in which they were manufacturing the Pettengill guns the engineers at Rogers and Spencer got busy on designing a revolver of their own, one that would be an undeniable improvement over the guns the US Army were at that time using.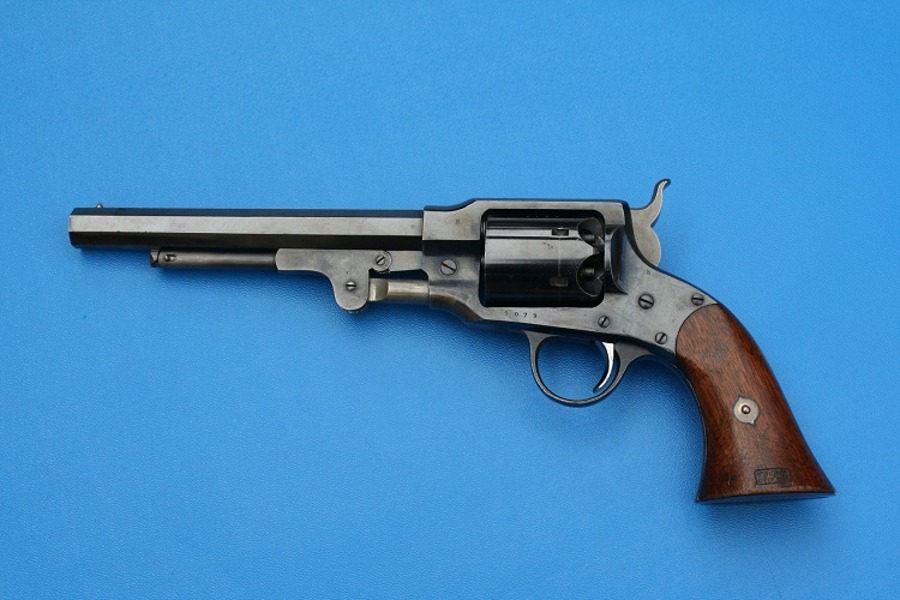 (Note: You can find the sale page for the above pictured revolver if you click here.)
The designers appear to have evaluated the features of some of the more successful of the existing designs, the Freeman revolver in particular, and then created what they believed would be a revolver that would be superior to them all: and in this they seem to have succeeded.
Success was in this case mandatory. The Union was in the midst of the Civil War and failure was not an option, it was a case of "succeed, there is no try". This revolver was intended to be dependable, easy to load and maintain, and accurate. The lives of those who were to carry them depended on this.
Thus it was by 1864 Rogers and Spencer had a prototype revolver ready to manufacture and so they approached the Union Army to try to obtain a contract from them to manufacture and supply 5,000 of them.
The Union Army replied that they had no need for 5,000 of these revolvers and so Rogers and Spencer waited until November of that year and then went back to the army and asked again. Their persistence paid off and they were granted a contract to supply 5,000 of their revolvers at US$12.00 per piece.
That contract required supply of the revolvers in stages, with the first shipment of 500 to be delivered by January of 1865, and then 500 per month until all 5,000 were delivered, which Rogers and Spencer successfully accomplished.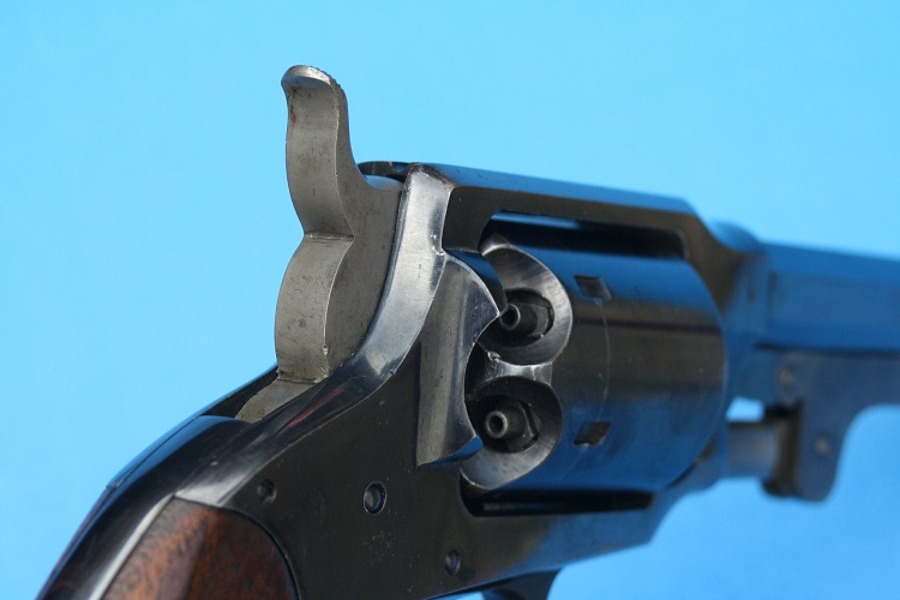 Not only did Rogers and Spencer deliver the revolvers on time but they also succeeded in having all these revolvers pass the army's quality control inspections.
At that time the Union Army did not know exactly when the war would end although at that point the defeat of the Confederacy was certain. General Robert E. Lee recognized this and made the decision to save lives by surrendering, ultimately inspiring the 1983 Johnny Cash song "God Bless Robert E. Lee.
So with the surrender of the Confederacy the Civil War came to an end, and the Union Army no longer had a need for the 5,000 Rogers and Spencer revolvers, no matter how good they were nor how well designed.
The revolvers were put into storage where they would rest in peace until 1901. In that year the US Army decided that they were not at all likely to have any need for these revolvers and so they sold them off in 1901 at auction as a job-lot for 25 cents each.
In that lot of military surplus Rogers and Spencer revolvers were 4,982 guns, a mysterious 18 short of the original 5,000. No-one knows what happened to those eighteen but we can reasonably suspect that a bit of pilferage occurred during the three decades the guns were in storage.
The lot of revolvers was purchased by military surplus dealer Francis Bannerman, whose gunshop was literally a castle constructed on an island in the Hudson River.
The revolvers were advertised in Bannerman's catalog for the princely sum of US$1.85 each in 1903.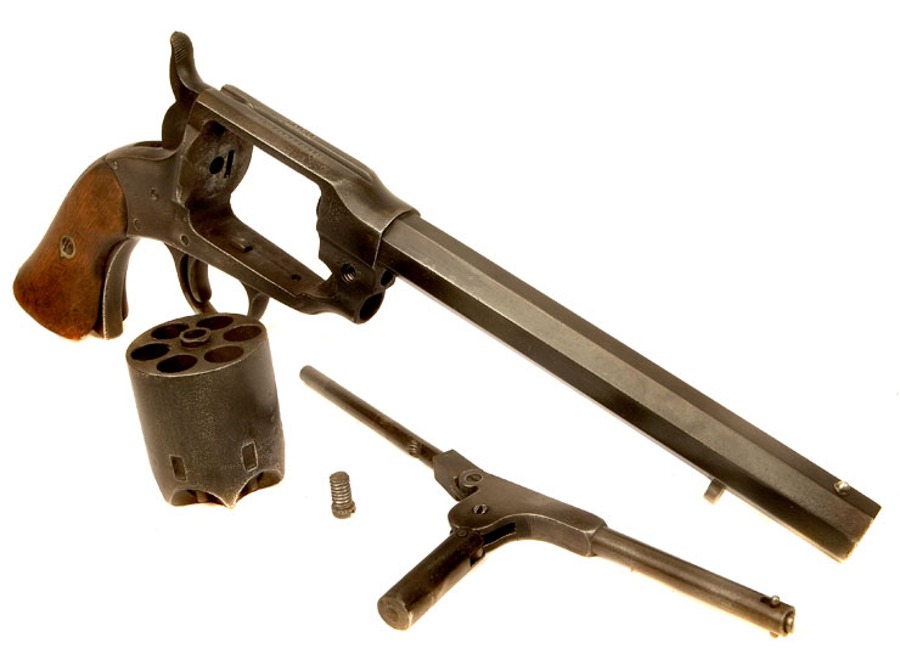 So those 4,982 revolvers made their way into the hands of American and Canadian sporting shooters and no doubt many are still sitting in the back of people's cupboards or gun cabinets: and some of these could be in mint condition and worth a lot more than US$1.85 to collectors.
Design
Because Rogers and Spencer had been supplying the Union Army with both muskets and revolvers for a few years they already knew what their requirements and preferences were. The revolver that Rogers and Spencer planned to produce needed to be in .44 caliber with a 7.5 inch barrel. It needed to be a single action to help ensure its reliability and its mechanism had to be kept simple, easy to load, dependable, and easy to field strip for cleaning.
The revolver was made by pistol-smiths who understood how to make a handgun that would be instinctively point-able for close quarters combat, but also with good yet rugged sights to enable precision aiming.
The Rogers and Spencer was a solid-frame revolver, in some ways similar to the 1858 Remington, with the top strap grooved and provided with a fixed rear sight. The front sight was of a decent size to come to the eye quickly.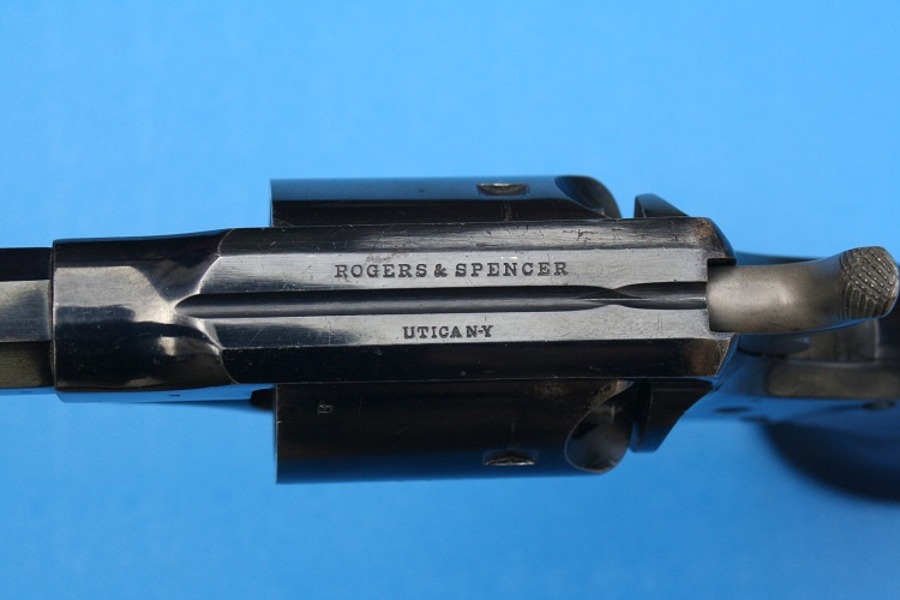 Field stripping the Rogers and Spencer was kept simple and could be accomplished without tools if the shooter had a reasonably strong thumbnail. The screw visible on the left side of the frame ahead of the cylinder simply needs to be rotated through 90 degrees and the whole loading lever assembly can be withdrawn, and then the cylinder removed.
The following video from Ian McCollum at Forgotten Weapons on behalf of Morphy's Auctions demonstrates this neatly.
Modern Reproductions
There have been few reproductions of the Rogers and Spencer revolver made, but none are currently in production.
Euroarms (Dixie) made a reasonably priced one. Pedersoli made one. But the one with the best reputation for quality of manufacture came from the unlikely source of German precision air rifle and air pistol maker Feinwerkbau.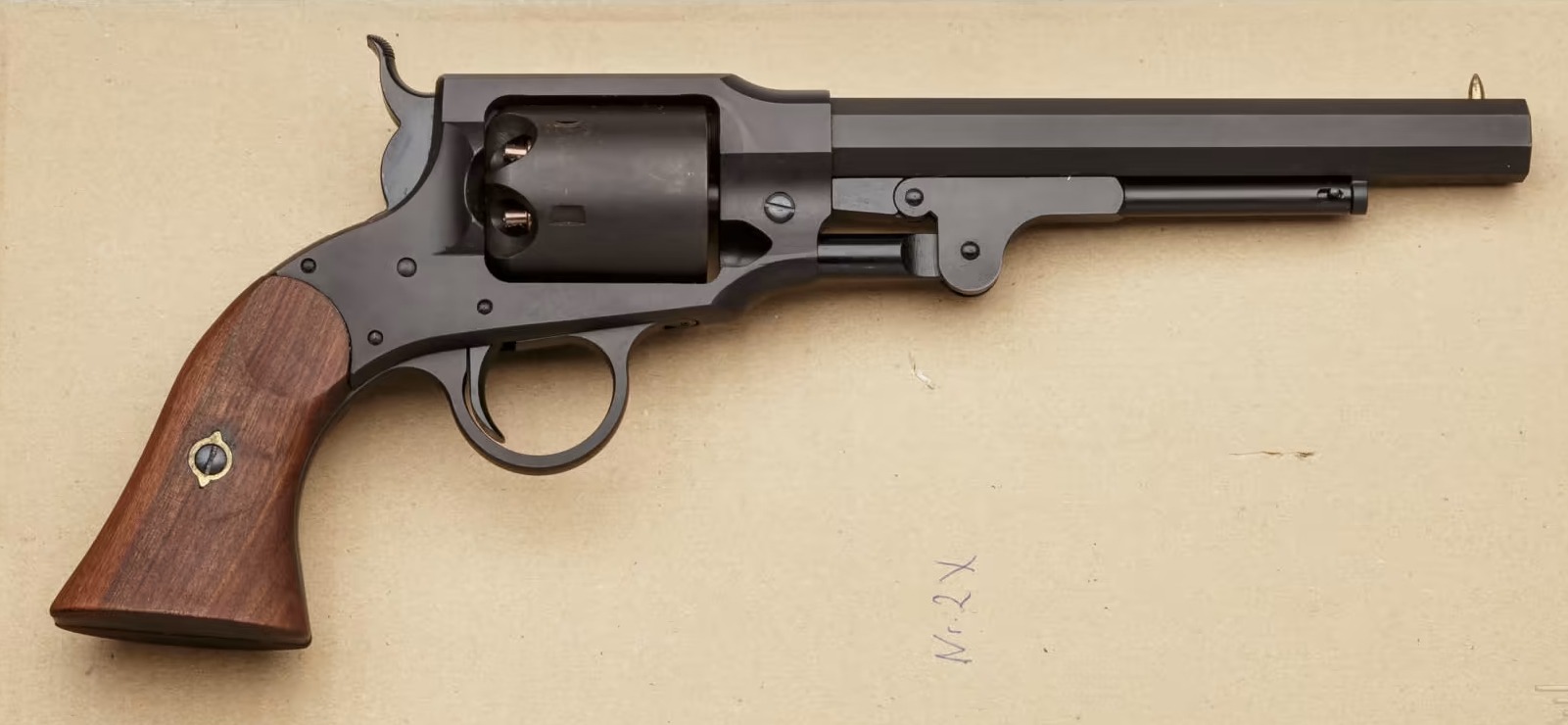 (Note: You will find the sale page for the above pictured Feinwerkbau reproduction Rogers and Spencer revolver here).
So for those wanting to add a reproduction Rogers and Spencer to their collection – or want one of the best percussion revolvers to shoot for competition or fun you'll need to search the "guns for sale" advertisements to see if you can track a decent one down.
You may also come across one of those almost five thousand original revolvers in the for sale postings, many of those are no doubt in homes across North America and will only emerge from storage if their owner decides to look in their storage cabinet and check out the "old gun" that's lying in there.
The Rogers and Spencer was arguably the best combat revolver created for the Civil War, but let's be thankful that they never had the opportunity to prove themselves on the field of battle. In his humility and wisdom General Lee saw to that, and thus saved the lives of thousands of both Confederate and Union soldiers, men who were husbands, fathers and sons who were able to return to their families and live full and productive lives.
Picture Credits: The featured image at the head of this post courtesy Rock Island Auction. All other pictures as individually credited.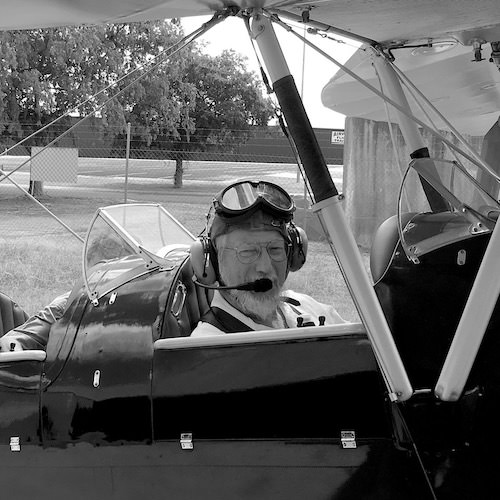 Jon Branch is the founder and senior editor of Revivaler and has written a significant number of articles for various publications including official Buying Guides for eBay, classic car articles for Hagerty, magazine articles for both the Australian Shooters Journal and the Australian Shooter, and he's a long time contributor to Silodrome.
Jon has done radio, television, magazine and newspaper interviews on various issues, and has traveled extensively, having lived in Britain, Australia, China and Hong Kong. His travels have taken him to Indonesia, Israel, Italy, Japan and a number of other countries. He has studied the Japanese sword arts and has a long history of involvement in the shooting sports, which has included authoring submissions to government on various firearms related issues and assisting in the design and establishment of shooting ranges.