Back when I was living in the Australian Goldfields my group of shooting friends included some Hungarians who made some of the best salami I've ever come across and also a very palatable cherry brandy. So I acquired a considerable respect for Hungarian people, certainly the ones I knew were ethical and gentile, with a delightfully Eastern European mild eccentricity mixed with a strong sense of tradition that made time with them all the more interesting and fun. So when I saw that Schmidt and Bender have begun making a new line of rifle-scopes in Hungary it immediately got my interest. Partly because it reminded me of old friends, and partly because the "Hungaria" line of rifle-scopes are the traditional "Klassik" that are so well respected in knowledgeable shooting circles.
The advantage for Schmidt and Bender in manufacturing a line of rifle-scopes in Hungary is, of course, that production costs are a bit less expensive, and this saving can be passed on to customers in the form of lower prices. One thing I really like and respect in this new development from Schmidt and Bender is that they are being completely open and up-front about where this new line of rifle-scopes is being made. There are, of course, other manufacturers who are not quite so open about the sources of their parts or where and by whom those parts are assembled and tested.
Is it possible to maintain the highest level of quality control over goods made in a foreign culture? I believe it is but it takes careful selection of the place where you will be doing your manufacturing considering the cultural environment and the impact of that cultural environment on the work ethic of your contractors and/or employees. We tend to respect goods made in Germany for example because German people have earned a well deserved reputation for taking quality seriously. So would it be possible to manufacture in Hungary and maintain the same level of quality as is the norm in Germany? Given a committed company with a committed German quality control regime I can't see any reason why it wouldn't be.
So, would I be willing to mount a Schmidt and Bender "Hungaria" rifle-scope on a dangerous game rifle and thus trust my life to it? Yes I would.
The Schmidt and Bender "Hungaria" Variable Power Rifle-scopes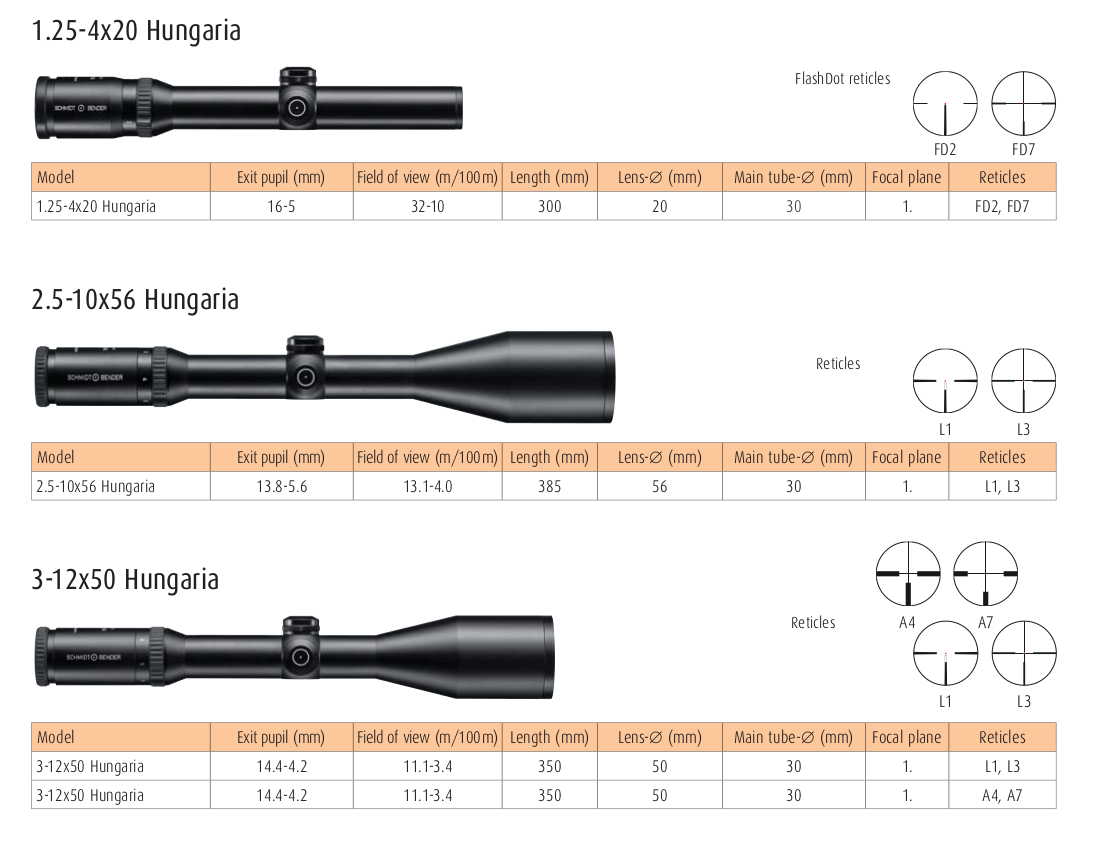 The "Hungaria" variable power rifle-scopes are the traditional "Klassik" (Classic) series. Unpretentious, and built with the ruggedness we have come to expect from Schmidt and Bender all models have the reticle in the first focal plane in the traditional European style.
The first of the three models is the 1.25-4x20mm, which would be equally at home on a dangerous game rifle, a rifle used for driven game, or a handy little lever action for deer in the woods. This rifle-scope has a generous 32metre field of view at 100metres on 1.25x and also features the illuminated "Flashdot" Schmidt and Bender FD2 and FD7 reticles to choose from. The advantage of Flashdot technology is that it projects the reticle illumination in such a way that if the illumination is switched off the reticle is fully visible. Without the Flashdot feature the tiny point where the illumination dot is located remains visible even if the illumination is switched off. So Flashdot provides a more complete image of the reticle whether illumination is switched off or on.
For a rifle that will be used at short range the FD2 reticle is particularly good providing a visually simple single post with a partial horizontal cross-hair as a guide for a shot on running game.
The second of the three models is the 2.5-10x56mm model. This power range is often cited as the best "all rounder" providing a sufficient field of view for quick target acquisition and also for a shot on running game. The upper 10x magnification is good for even the longest ethical shot one might take out hunting, which, depending on the calibre being used and the training and experience of the shooter, may be out to 300metres, or even 400metres. The big 56mm objective lens ensures the scope remains bright in poor light conditions and gives the hunter the best possible chance of clearly seeing his or her quarry and safely taking the shot. The reticles available for the 2.5-10x56mm are the illuminated L1 and L3. Of these illuminated reticles my personal preference would be for the L3 which is the traditional European three posts with a cross-wire.
The final model in the Hungaria series is the 3-12x50mm. This is the only variable power Hungaria model that offers either standard non-illuminated reticles A4 and A7, or the illuminated reticles L1 and L3. The offering of this higher powered model with crisp non-illuminated reticles is sensible as this scope will commonly be chosen for rifles for longer range shooting.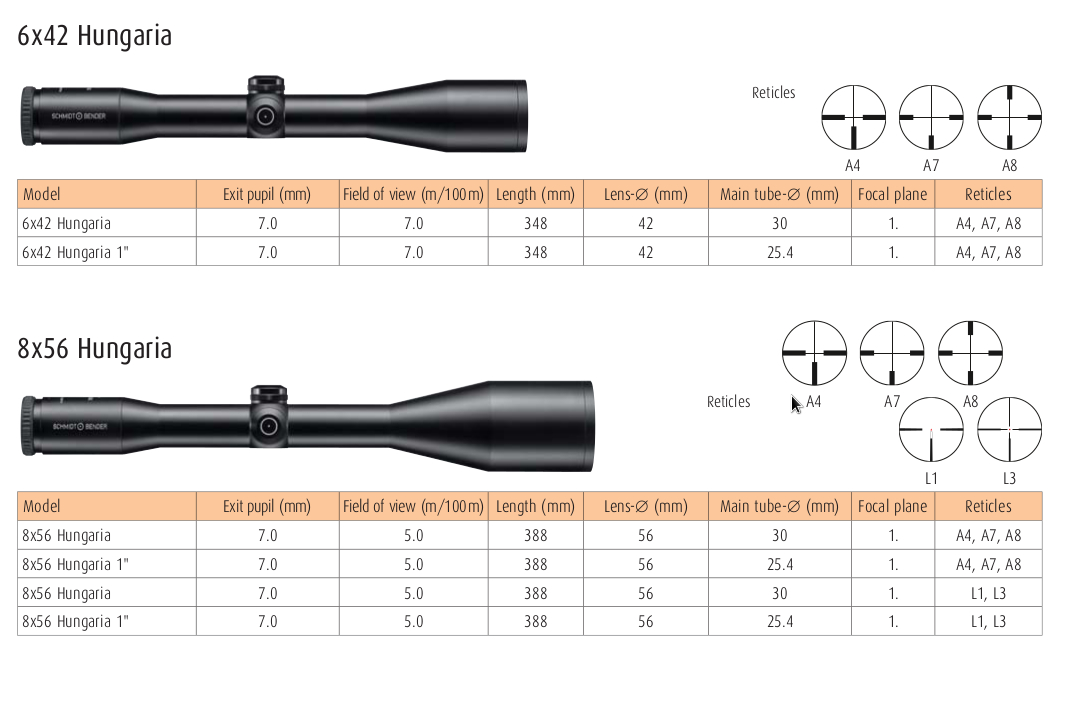 The Schmidt and Bender Fixed Power Rifle-scopes
There are just two models in the fixed power Hungaria series, both are European traditional standard, the 6x42mm and the 8x56mm. The 6x42mm was for decades the standard fixed power rifle-scope in Europe providing enough magnification for Alpine hunting with enough field of view for most European stalking or stand hunting situations. The 8x56mm provides a large 56mm objective lens and a high "Twilight Factor" and is useful for stand hunting and Alpine long range hunting. These fixed power rifle-scopes are offered in both traditional non-illuminated models and in illuminated models. The non-illuminated models feature the A4, A7 and A8 reticles; the A4 being the European standard three post with crosswire, the A7 being that reticle with a wider spacing between the posts, and the A8 being the traditional "sniper" reticle. On the 8x56mm only is the option for illuminated reticles L1 and L3, as this model may be used for fox shooting which may require poor light and even night time use.
Conclusion
The Schmidt and Bender "Hungaria" series of rifle-scopes offers Schmidt and Bender quality and design at rather more affordable prices. If you are interested in them they can be found at OpticsTrade.eu if you click here, or you can talk to your local friendly dealer. I think this series deserve consideration if you are planning a top quality rifle-scope for your hunting rifle.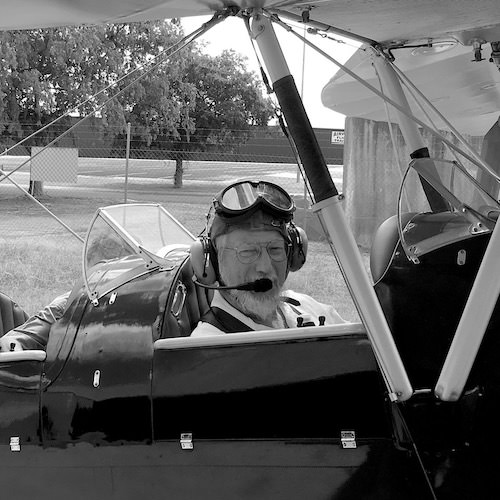 Jon Branch is the founder and senior editor of Revivaler and has written a significant number of articles for various publications including official Buying Guides for eBay, classic car articles for Hagerty, magazine articles for both the Australian Shooters Journal and the Australian Shooter, and he's a long time contributor to Silodrome.
Jon has done radio, television, magazine and newspaper interviews on various issues, and has traveled extensively, having lived in Britain, Australia, China and Hong Kong. His travels have taken him to Indonesia, Israel, Italy, Japan and a number of other countries. He has studied the Japanese sword arts and has a long history of involvement in the shooting sports, which has included authoring submissions to government on various firearms related issues and assisting in the design and establishment of shooting ranges.