My wife and I have four children, and back when they were little our "going to the beach" car was our trusty Series 3 Land Rover "Safari" station wagon. It had an eight seat capacity and a nice big water tank, not to mention a decent roof rack for longer family camping holidays. but it didn't have carpets, just plain metal floors. A friend of my eldest son discovered the reason for this when he came with us to the beach one day. The whole family had gone on this trip, including our old Labrador dog and, of course, on the way home everybody had to have ice creams. With children it is to be expected that not 100% of an ice-cream will actually make it into the child's mouth. Some of it will miss, some will get accidentally smeared on the seats, windows, doors etc. Our Labrador would do his level best to lick up some of the mess but even he had his limits. So it was, when we arrived home the younger children were shepherded into the house for baths and a thorough de-sanding and de-stickying. My eldest son and his friend stayed to help me clean up the Land Rover. This was actually not such a hard job. The first stage was to sweep it out. My son's friend coped with that OK. What we did next though caused him to collapse in a heap of disbelieving hysterical laughter, because I got the garden hose and proceeded to hose out the inside of the Land Rover. We had to gently explain to the poor young guy that this cleaning method was actually normal behavior even though his family would be unlikely to clean the inside of their Mercedes that way.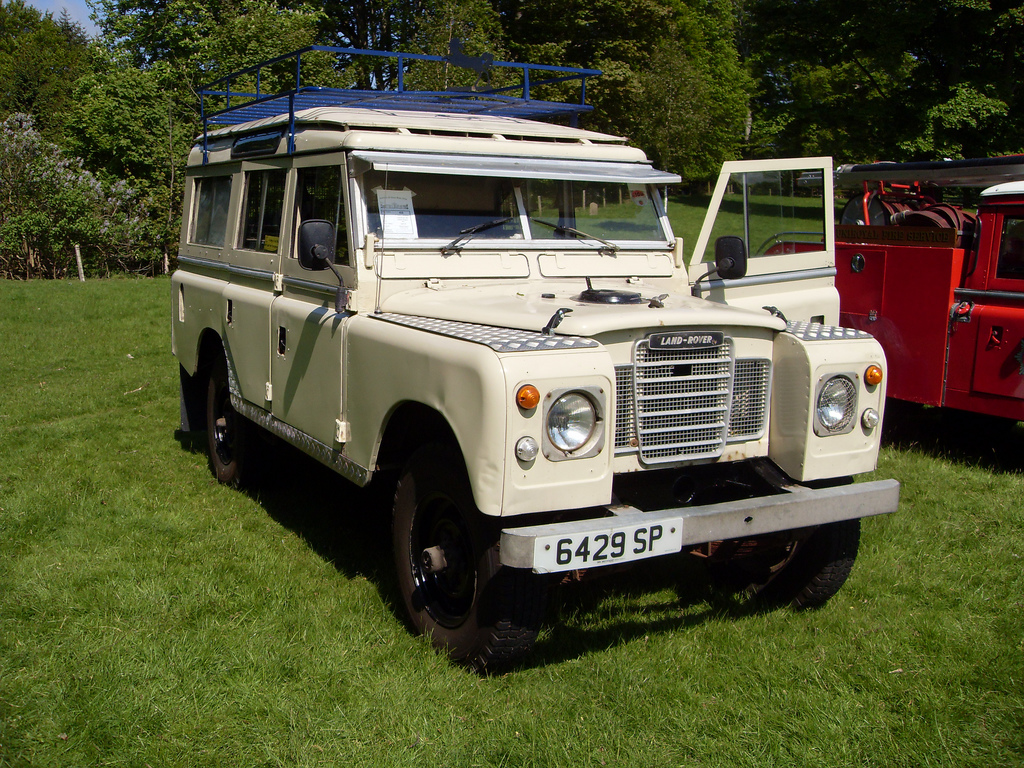 My introduction to cars for trips to the surf however began many years before I became a family man. In my own childhood in England we couldn't afford a car so trips to the "surf" happened once per year and we went by train or bus. Those who were affluent enough to afford a second hand car might manage a Morris Minor, the station wagon version would qualify as a "Woody".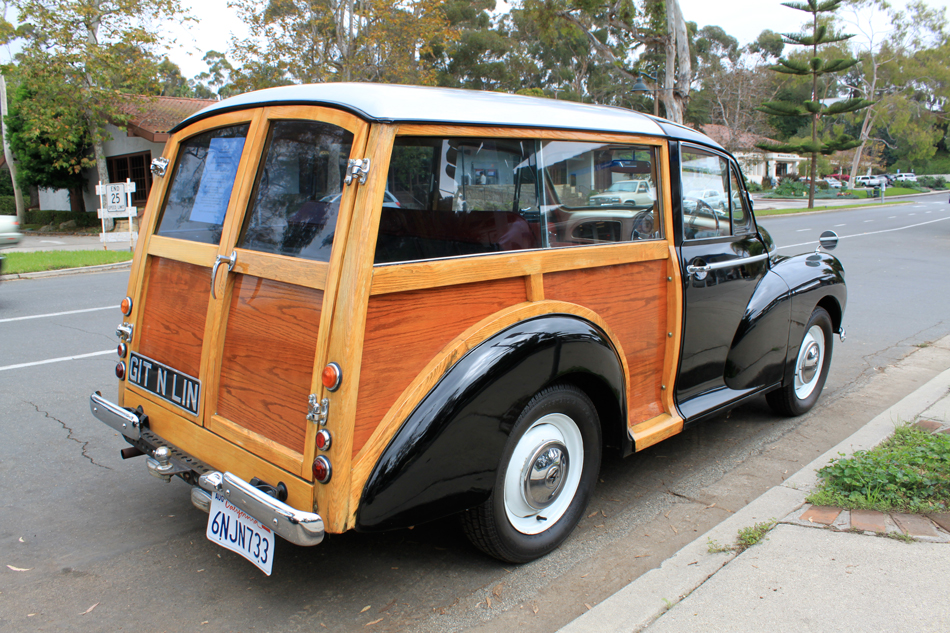 It wasn't until my family moved to Sydney, Australia, which really was and still is "Surf City", that I got to discover the sorts of cars the young surfer guys would use. Sydney, Australia is not California so when Jan and Dean sing about "Surf City" and that they've "got a 34 wagon and we call it a Woody"

… there were not any '34 wagons that I saw either at Bondi or at Manly where I was living in the mid sixties. But what I saw every Friday night from the balcony of our apartment on "The Corso" in Manly was a parade of hotted up FJ Holdens, lowered, re-painted, with the big "Mag" wheels and the obligatory fox tail hanging from the radio aerial not to mention the Red Back Spider gear shift knob. The FJ Holden was not so much a twin overhead cam as it was a twin overhead fox-tail type of car.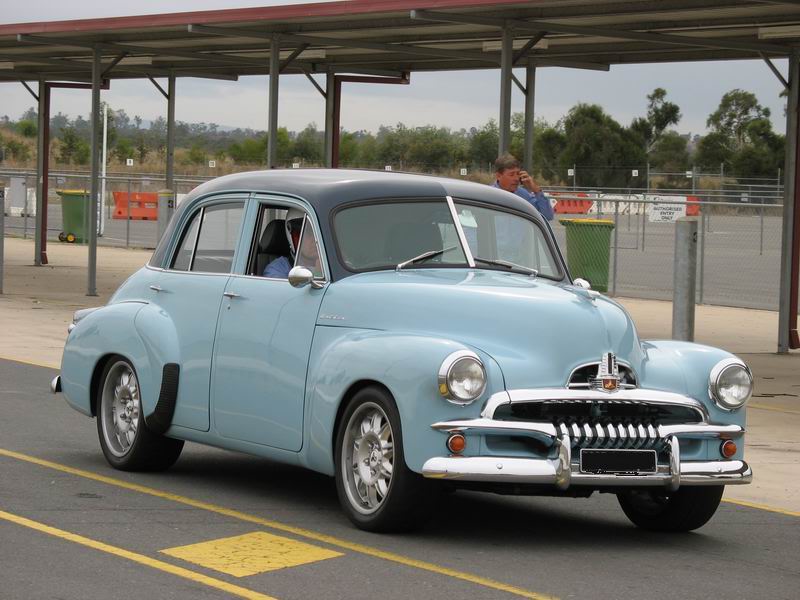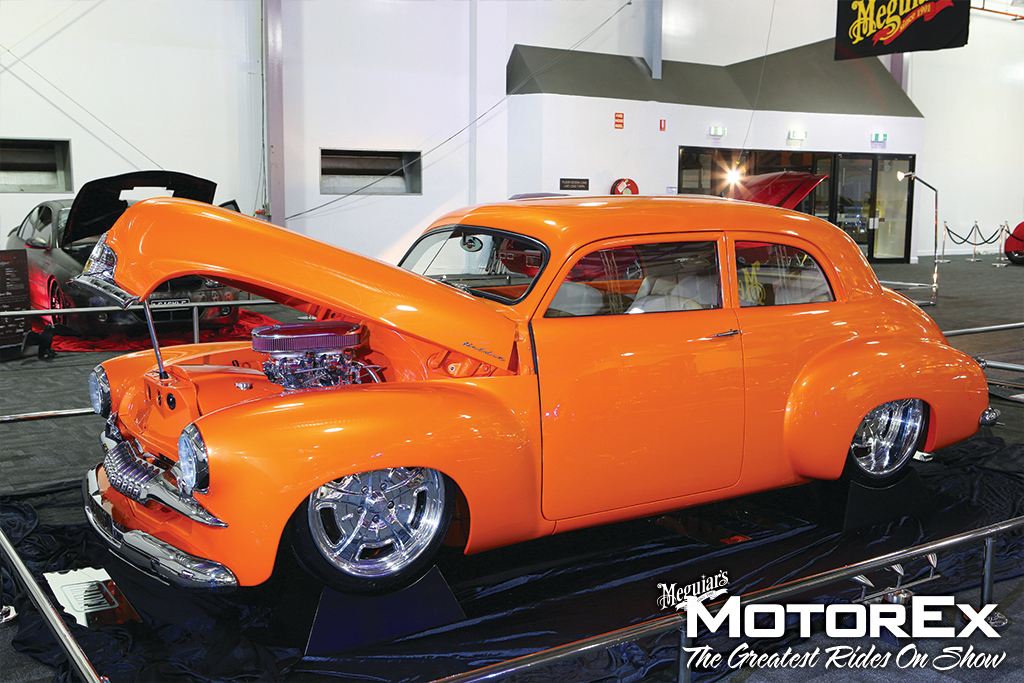 Jan and Dean sing that in Surf City there are "two girls for every boy…". That wasn't my experience in Sydney. There was one girl for every boy who had a hot FJ Holden with the twin overhead foxtails and not for those of us lesser mortals who were too young to drive yet. Nonetheless, what would be a good "Surf City" car for the girls? How about a Fiat "Bambina" with the roof chopped off and replaced with a makeshift beach umbrella? Believe it or not there was such a thing. Fiat called it the "Jolly" and they are indeed a cute and jolly little item.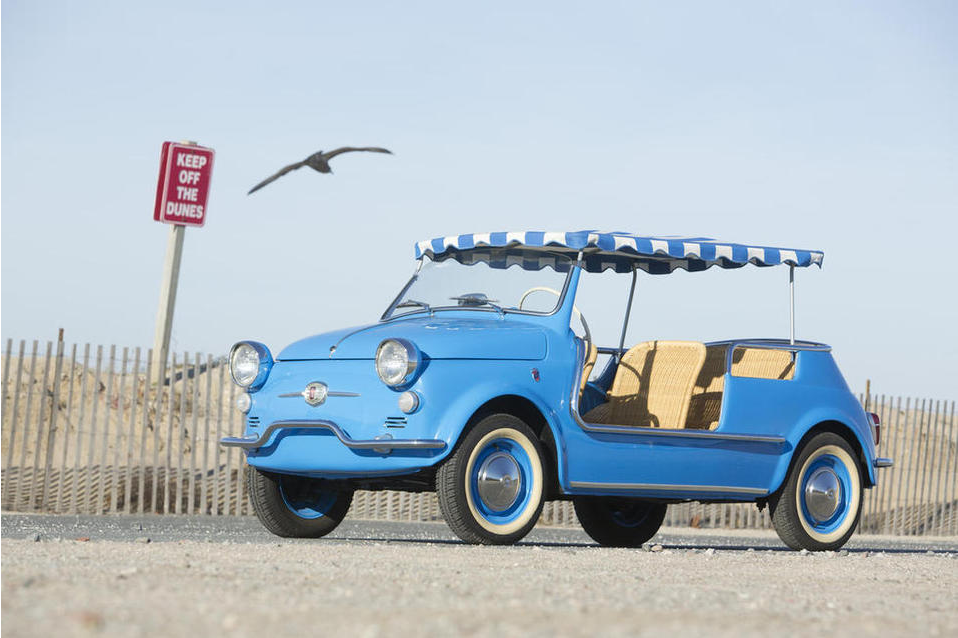 The little Fiat is not up to the FJ Holden when it comes to "Hooning" ability. In Australia "Hooning" means squealing tyres, doing burnouts, spinning on corners, going round and round and round at rounabouts and generally showing off one's lack of driving ability. Nonetheless the little Fiat would be a heck of a lot easier to park.
Personally though I was never into the surf scene. I just love old fashioned sports cars such as the big Austin-Healeys and the AC Cobra, and you can't fit a surf board on the top of one of those. So, when faced with the choice "AC Cobra or surfboard?" I'm going to go AC Cobra every time and not be the slightest bit interested in whether or not it has a Red Back spider gear shift knob.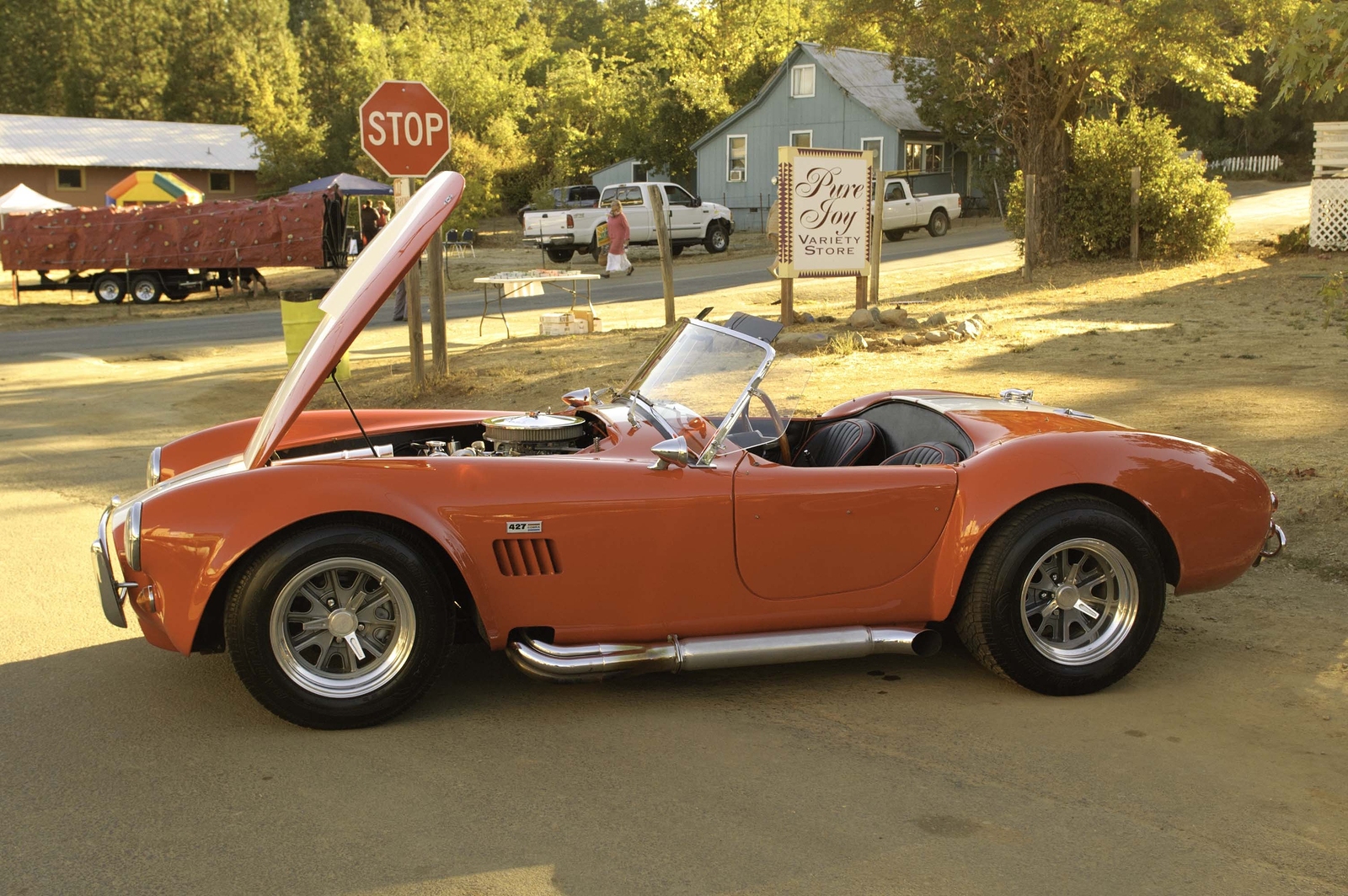 I think that over the years the cars of "Surf City" like the cars of everywhere else have somehow lost the character that made us so enthusiastic about them back in the sixties. Like when I saw my first Pontiac GTO at the Sydney Motor Show in 1965, I just wanted it, it had that something that seems to be strangely absent now. It was a work of art on wheels; even the noise it made was part of that art. Jan and Dean's song about "Surf City" just doesn't sound the same if we modernize the lyrics to "I've gotta Toyota Prius and we call it a 'Greeny'". And as for the prospect of the up coming self-driving "Googlemobile" I think I'd much prefer a Goggomobile – or an Austin-Healey 3000.
If you are looking for a car that isn't just about "transport" but instead are looking for something with character then the interesting cars are still out there. Some are languishing in barns and garages waiting to be found. Some are found already and are looking for good homes. One place to start looking for a classic FJ Holden hot rod is on tradeuniquecars.com.au and there are others. The Fiat Jolly we featured in this article is coming up for sale at Bonhams at the Amelia Island Auction on 12th March 2015 along with a gorgeous selection of cars with character – automotive works of art.
There is one car that is not coming up for sale at Bonhams however, one that is unique to Australia, and one that no discussion of the cars of "Surf City" would be complete without; I am of course talking about the Holden Monaro. If you haven't discovered that one yet then make a point of finding one. It's unique, and it's worth it. You might want to start your journey into Australian "Surf City" classics here.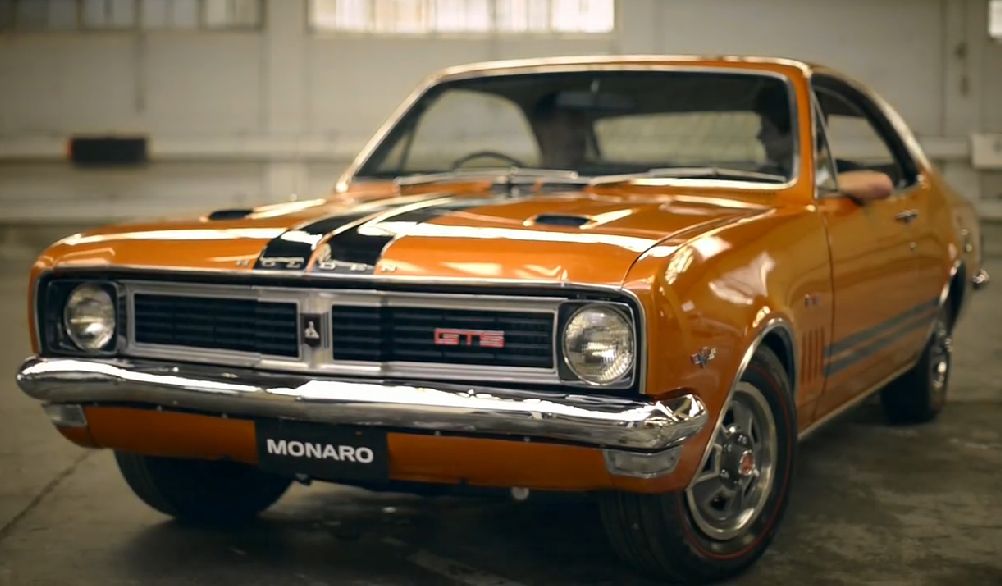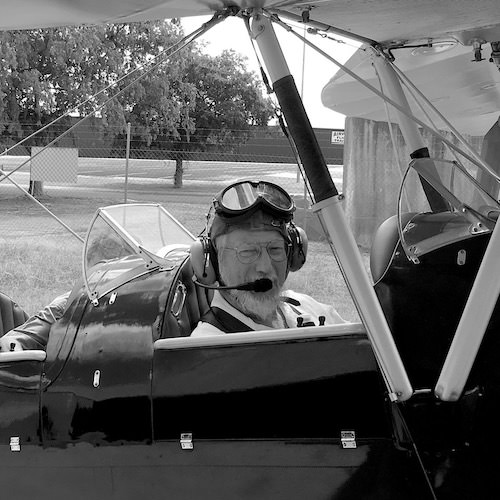 Jon Branch is the founder and senior editor of Revivaler and has written a significant number of articles for various publications including official Buying Guides for eBay, classic car articles for Hagerty, magazine articles for both the Australian Shooters Journal and the Australian Shooter, and he's a long time contributor to Silodrome.
Jon has done radio, television, magazine and newspaper interviews on various issues, and has traveled extensively, having lived in Britain, Australia, China and Hong Kong. His travels have taken him to Indonesia, Israel, Italy, Japan and a number of other countries. He has studied the Japanese sword arts and has a long history of involvement in the shooting sports, which has included authoring submissions to government on various firearms related issues and assisting in the design and establishment of shooting ranges.