The sixties were not like these first two decades of the twenty first century. People had just fought a war to keep freedom of thought and freedom of speech alive and well. Winston Churchill had been proven right regarding how things would work out in Eastern Europe with the Soviet Union and its satellite states. Churchill is reported to have once said that at the end of World War II "We should have kept the tanks rolling all the way to Moscow". No-one had listened to him and so by the sixties we were in the midst of a new thing called the "Cold War". Meanwhile the Beatles were making a name for themselves as were Mick Jagger and the Rolling Stones. Carnaby Street in London, England became the fashion centre of the world. The USA put men on the moon. I remember watching that history being made in the college canteen as a first year college student. At the Woodstock music festival Richie Havens sang "Freedom" and the new post war generation, understanding that our parents had fought hard and at much cost for that freedom celebrated it and treasured it.
In the US and in Britain speed enthusiasts be they car or motorbike oriented wanted freedom to create affordable motor sport and so drag racing began to be organized. As the British can tend to be a tad formal they got interested parties together on the 18th February at the Red Lion Pub in Bowling Back Lane, London where they created the National Sprint Association. In the United States things were well underway. Initially with few rules people were encouraged to "run what ya brung" in free and open competition. This was the birthplace of a class of drag racing car called a "gasser".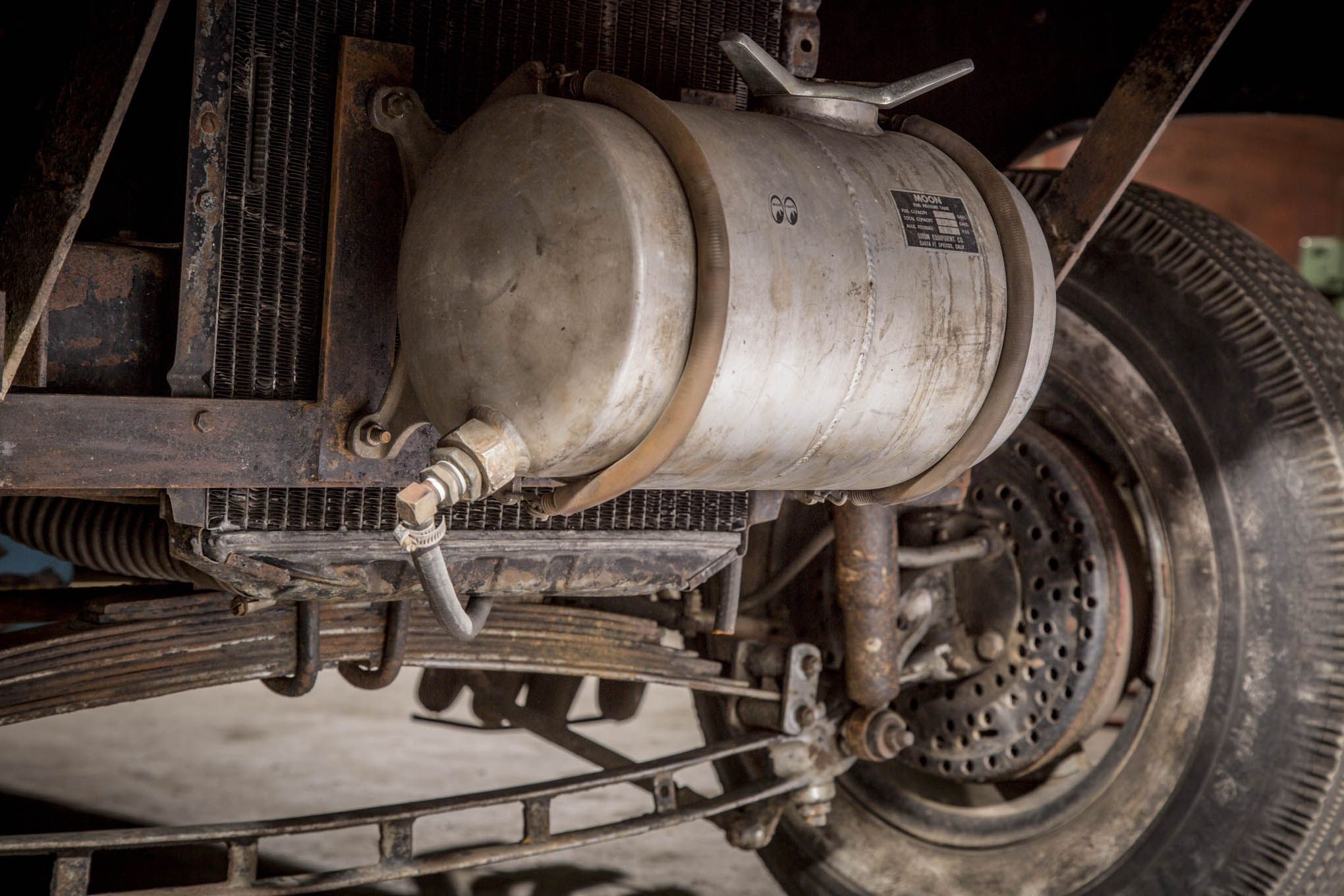 A "gasser" is not a car that uses an exotic gas such as Nitrous Oxide to enhance engine power. A "gasser" simply means a car that uses plain jane ordinary gasoline. Early gassers had to be street legal and registered, but by the time we move into the sixties the rules were being changed to allow competitors to modify street production cars to race that could no longer be registered for road use. The 1957 Chevrolet Bel Air we are featuring was one of those. It was a competitor in the Gasser Wars of the sixties and there was nothing cold about drag racing's Gasser Wars; Hot cars, hot engines, hot tyres and people who were fiercely competitive, but who still made time for the camaraderie that true sportsmanship requires.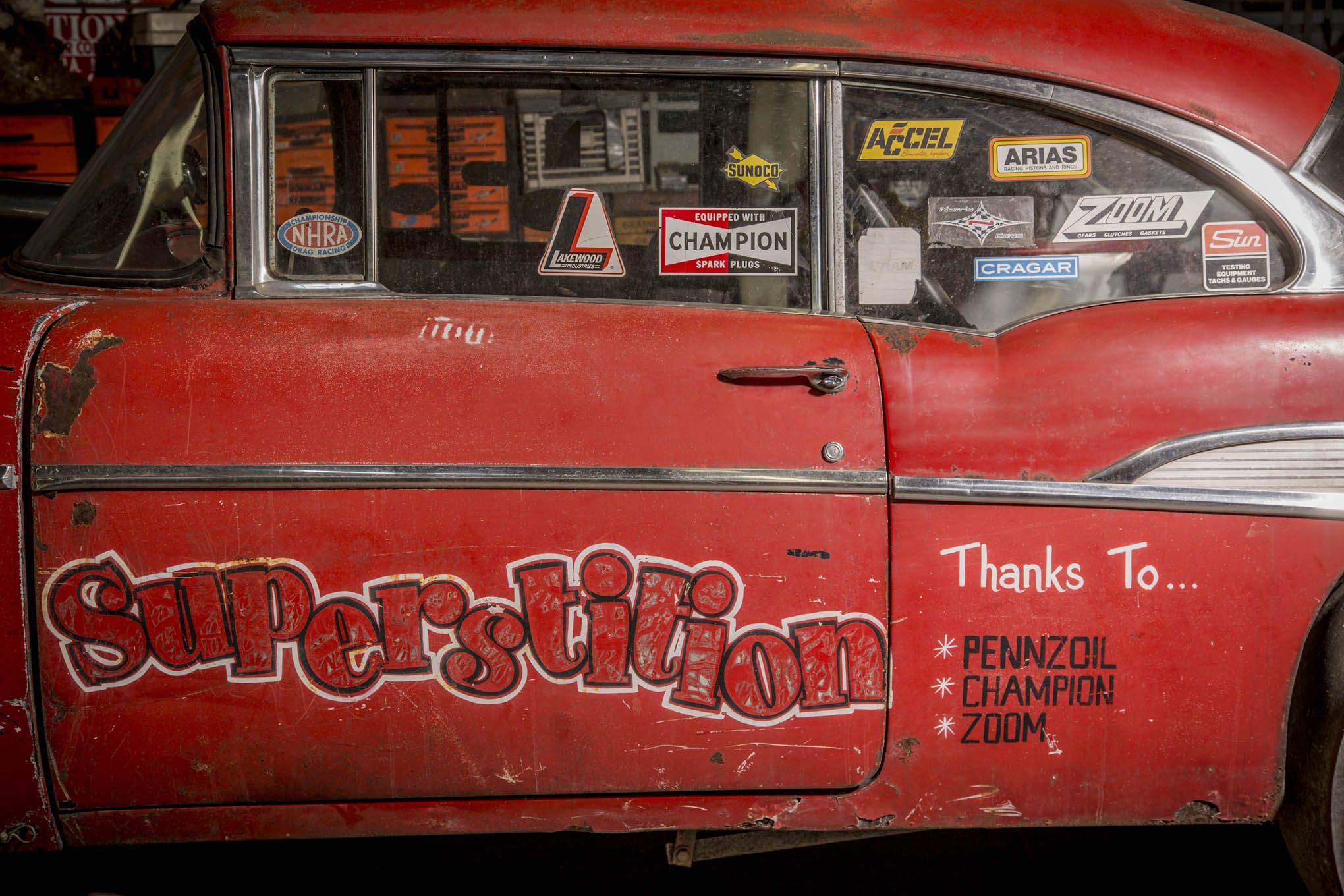 It was into this "Forrest Gump" world of the sixties that the '57 Chevy which would become "Superstition" was born. First purchased in 1957 by a man named Charlie Proite, who put his life on hold for a few years as he was posted for military service in Korea but when he returned to the states in 1960 he decided he wanted to go drag racing and that '57 Chevy was ideal drag racing gasser car material.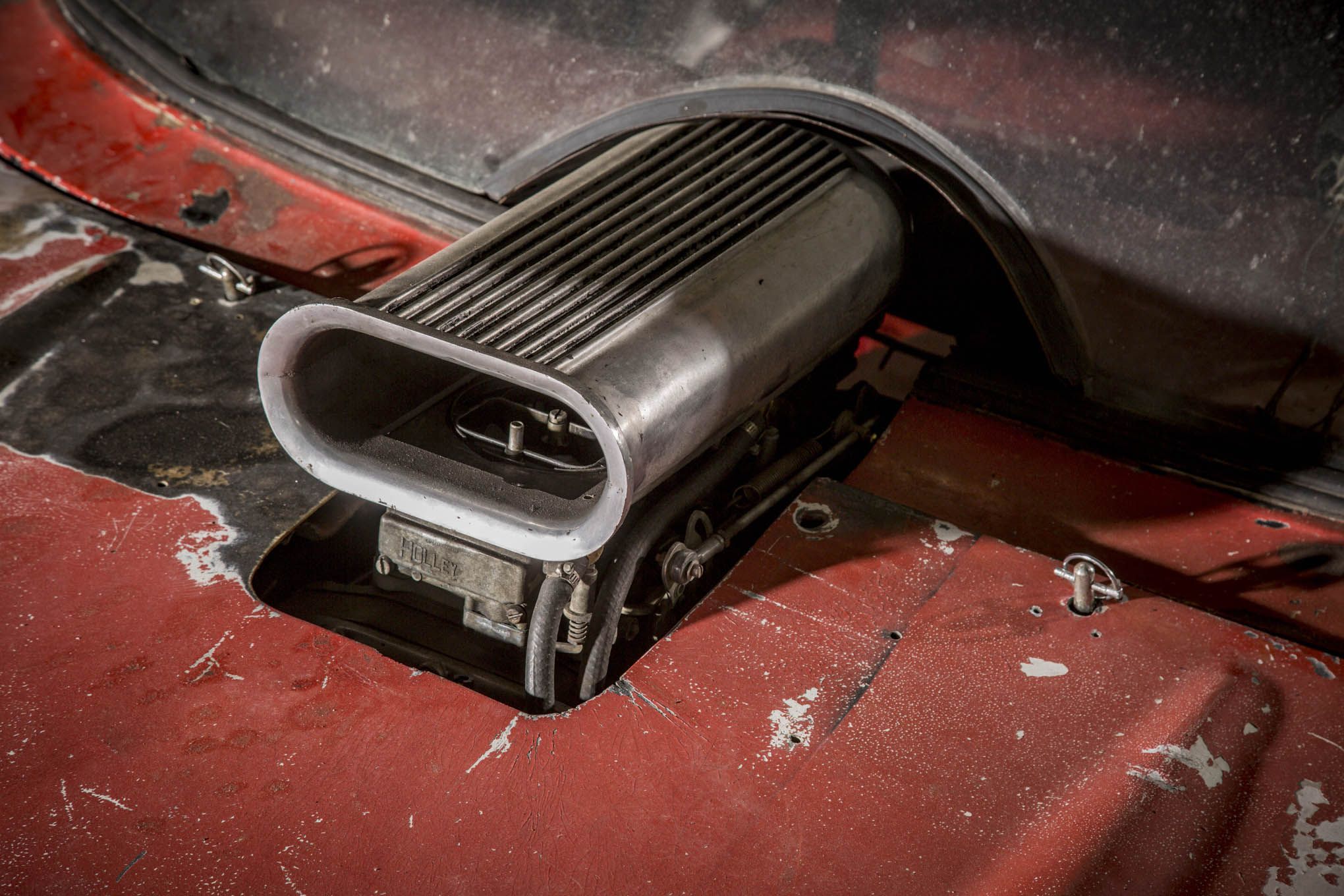 Charlie Proite dropped a 389 cubic inch Pontiac engine into the Chevy, then bolted a GMC supercharger onto to it along with Hilborn two port fuel injection. The transmission and drive train needed modification and so a Borg Warner four speed transmission was fitted and a truck back axle strong enough to handle the power being sent to the back wheels.
After blowing up his 389 cubic inch Pontiac engine and replacing it with a 421 cubic inch one Charlie Proite sold the car to a guy named Duane Hanson. It was Duane who christened the car "Superstition". Duane changed the engine and transmission of the car and campaigned it in the gasser wars of drag racing before retiring it in 1978.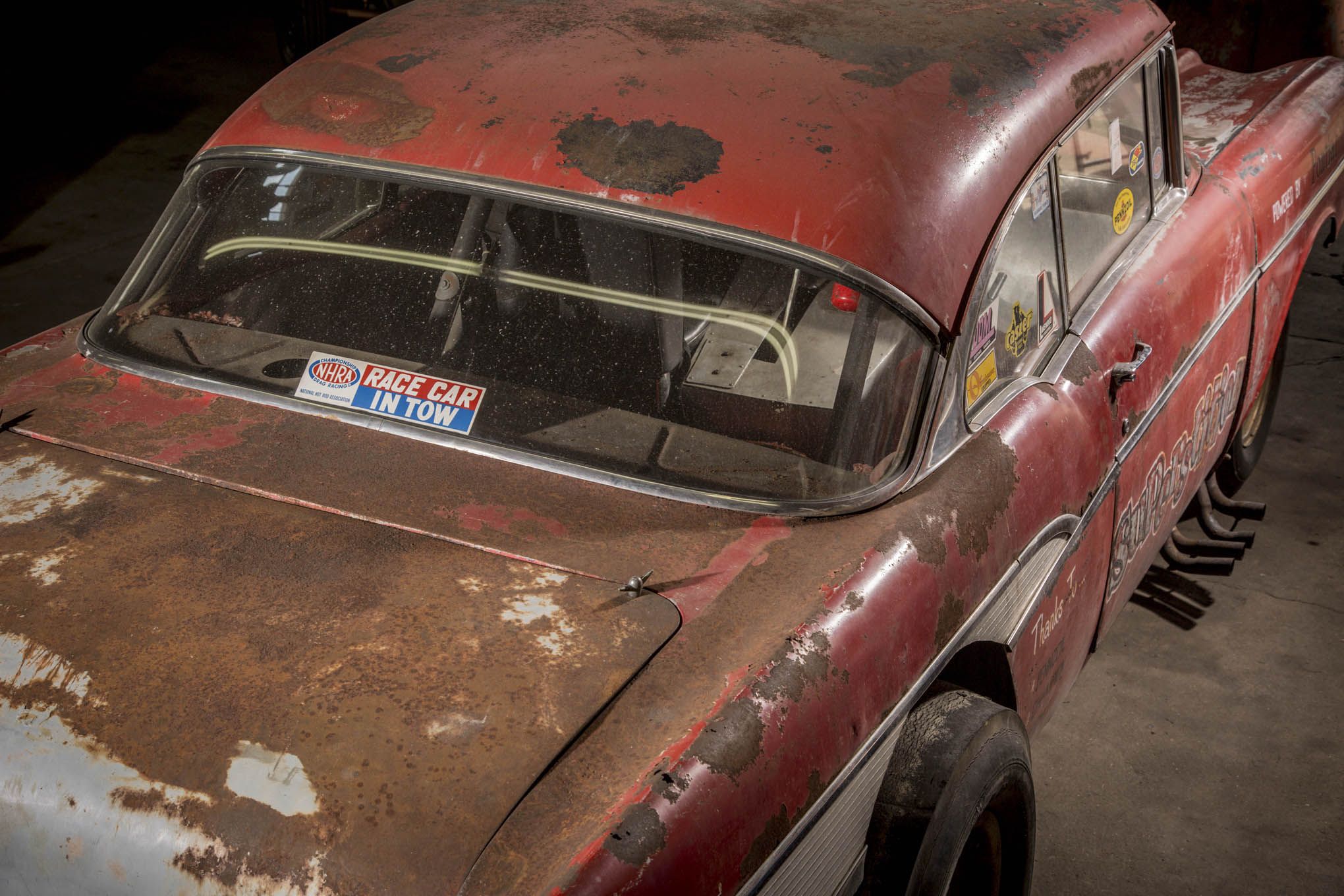 After thirty six years sleeping in a yard a car enthusiast named Drew Hardin happened to see Superstition rusting away in the weather and realized just what a time capsule of drag racing history this car was. He managed to buy it and has done some work on it to get it operational, but has kept it period correct. So Superstition has been resurrected from a fate that would have seen her rust in peace but she has not gone gently into that night. Instead she has a new lease of life and when that big V8 is kicked into life she sings beautifully.

Drew Hardin tells his story of finding and resurrecting this '57 Chevy called Superstition on Hot Rod Network (hotrod.com). You'll find his story if you click here.
This story also appears on BarnFinds.com and you'll find that post if you click here.
I hope Superstition gets enough restoration that she can again create the noise and smoke of a gasser as she flies up the quarter mile and brings back memories of an era gone but hopefully not forgotten.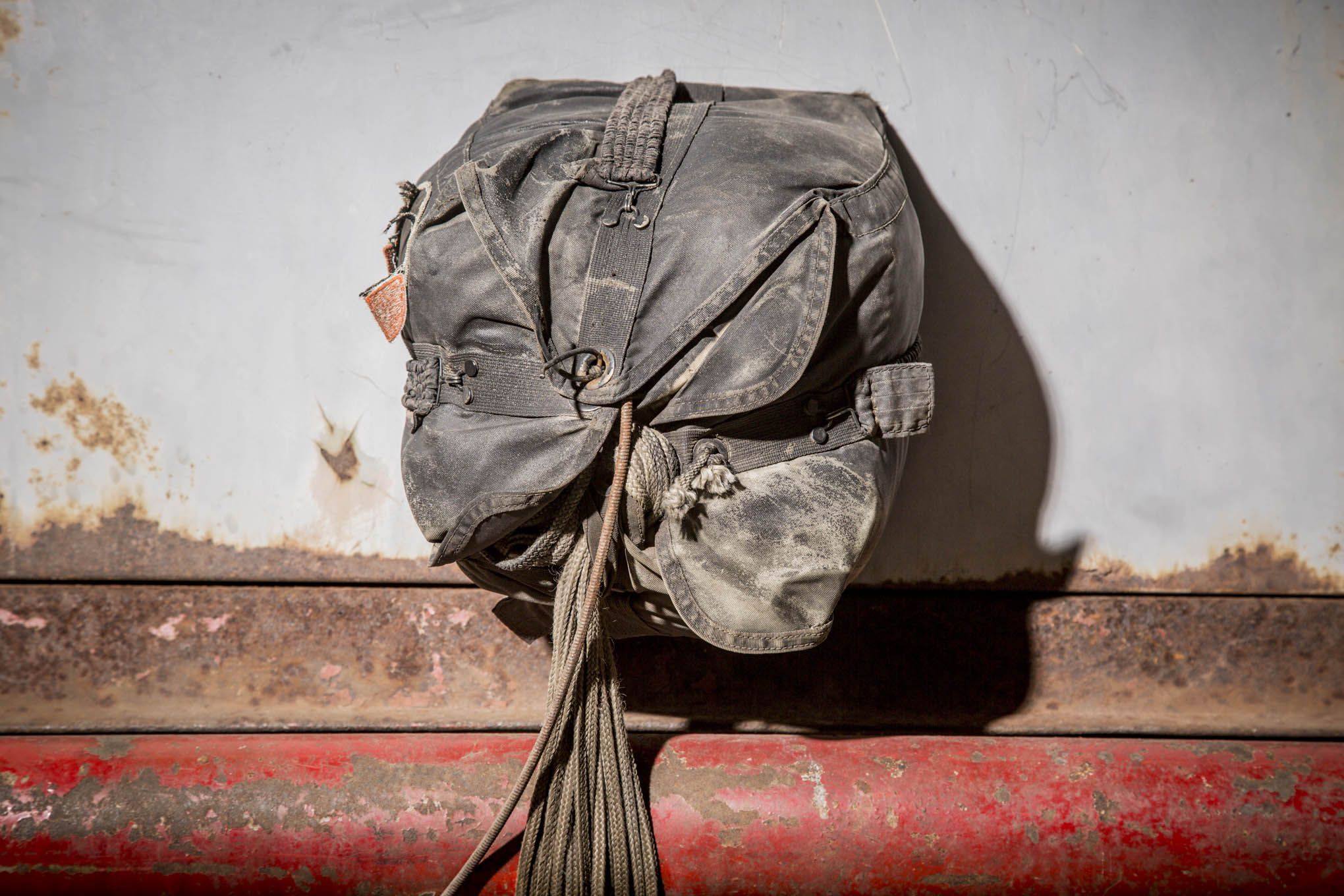 Moon tanks are still made and you'll find their website if you click here.
For those interested in Nitrous Oxide gas systems in performance engines you'll find informative articles if you click here and click here.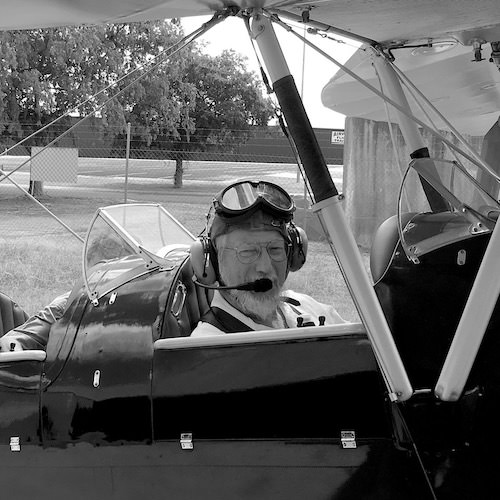 Jon Branch is the founder and senior editor of Revivaler and has written a significant number of articles for various publications including official Buying Guides for eBay, classic car articles for Hagerty, magazine articles for both the Australian Shooters Journal and the Australian Shooter, and he's a long time contributor to Silodrome.
Jon has done radio, television, magazine and newspaper interviews on various issues, and has traveled extensively, having lived in Britain, Australia, China and Hong Kong. His travels have taken him to Indonesia, Israel, Italy, Japan and a number of other countries. He has studied the Japanese sword arts and has a long history of involvement in the shooting sports, which has included authoring submissions to government on various firearms related issues and assisting in the design and establishment of shooting ranges.