The Spanish word "Tramontana" could best be translated as "a wind that travels over the mountain", or perhaps "a wind that transports you to the other side of the mountain" . That is in all likelihood why that name was selected for a quite unique sports car that hails from Spain and is best described at the car you have when you really want a cross between an F15 and a Formula 1 car that's road legal.
Every Tramontana is made as a unique "one of a kind" bespoke creation, made to the specifications of the individual buyer. The company that makes them, Atelier Tramontana, are located in Barcelona, Catalonia, Spain.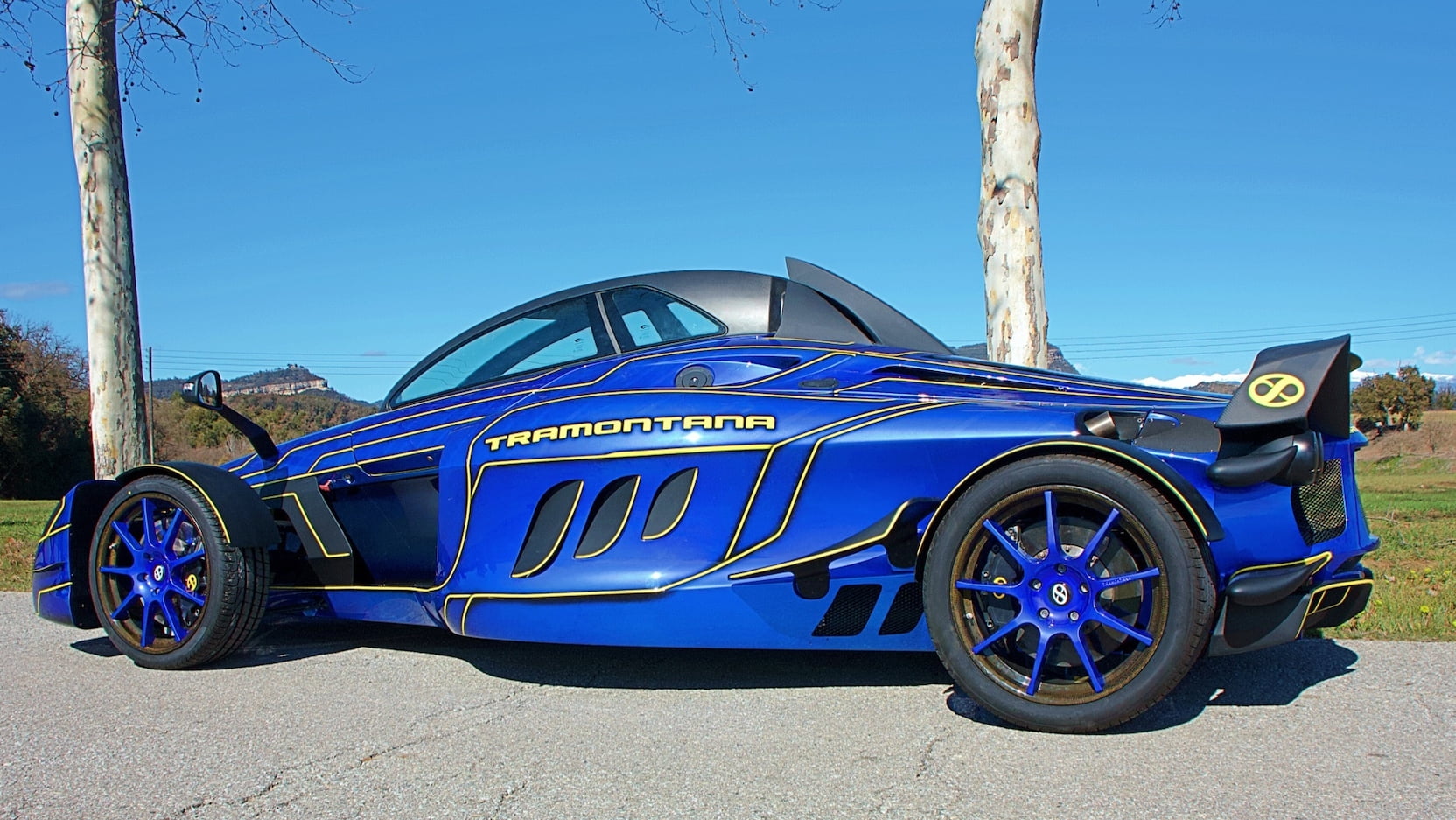 The concept for the Tramontana was first shown at the Geneva Motor Show in 2005 to gauge potential buyer response. There has been a steady market for unique high performance cars in this twenty-first century as evidenced by the profitability of such companies as Bugatti, Ferrari, Lamborghini and McLaren to name but four. Atelier Tramontana tested the waters to see if there might be a place for them in the heady world of exotic supercars and found that there was definite interest in their show concept car, which was rather different to anything being made by their competitors.
The Tramontana GT uses similar construction methods to a Formula 1 racing car. The monocoque chassis is an impregnated carbon-fiber honeycomb shell that, like a racing car, is made to provide protection for the occupants and be the rigid foundation for the fully independent double "A" arm suspension.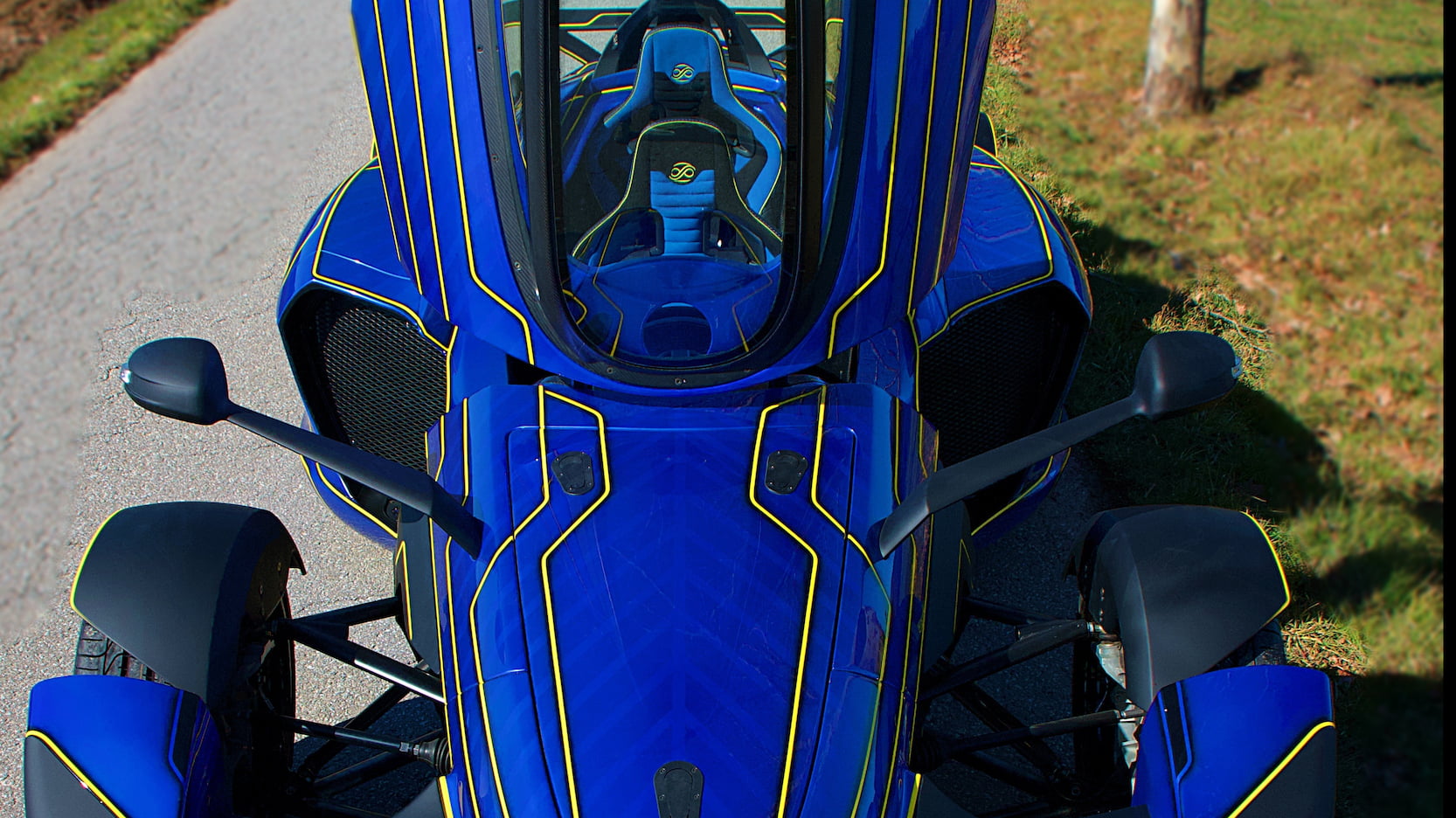 The buyer of a Tramontana has the choice of either a 5.5 liter double overhead cam V12 Mercedes-Benz, twin-turbocharged engine producing 888 hp (i.e. 900 PS/662 kW;), or a  naturally aspirated V10 engine that produces 651hp (660 PS/485 kW). The engine is mid-mounted just as they are in modern Formula 1 racing cars. Whichever engine a client chooses it is fully stripped down and re-built at the Tramontana facility in Barcelona before being fitted to the car.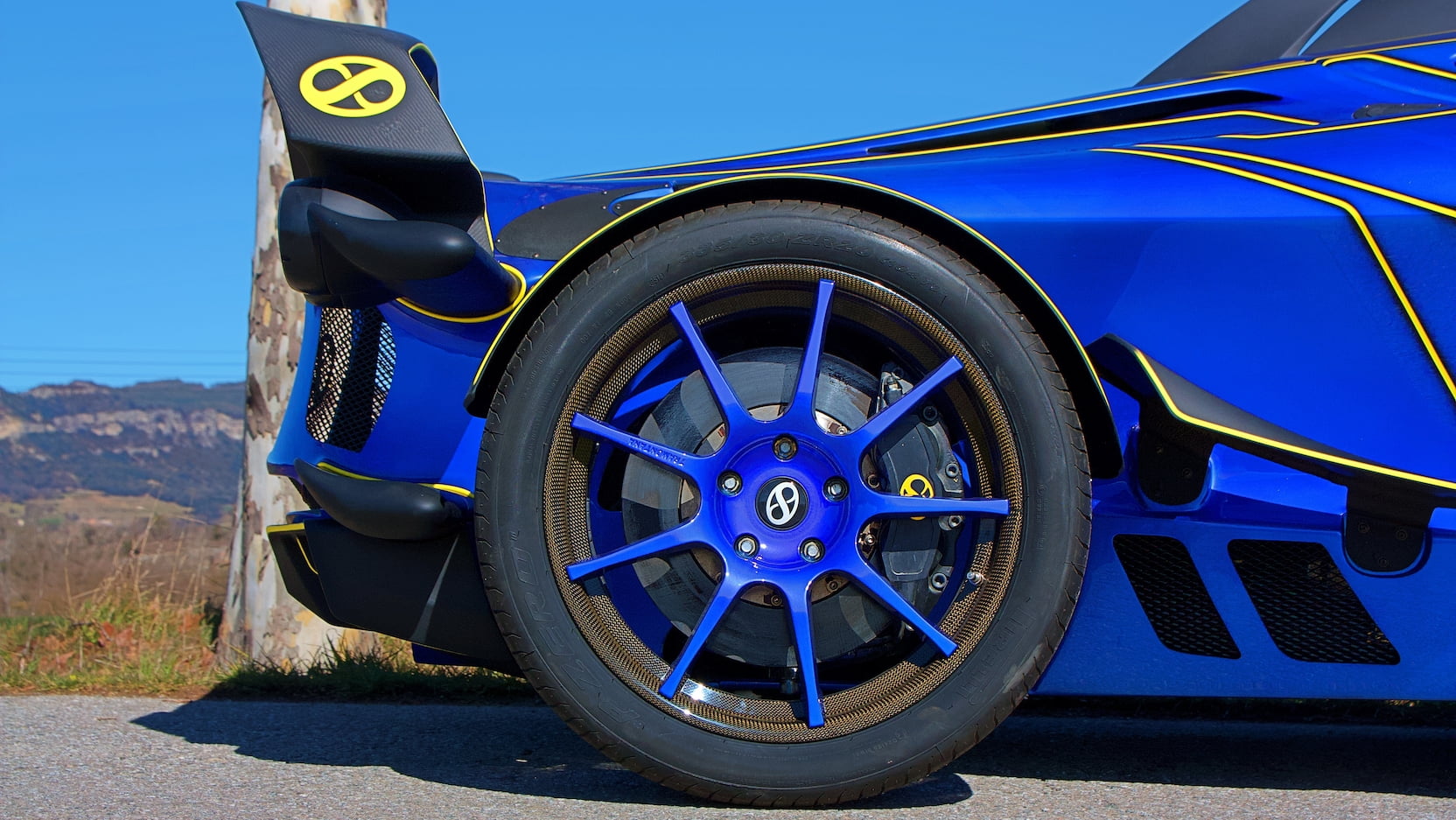 The 5.5 liter V12 engine features twin Garrett turbochargers and accelerates the 2,795lb Tramontana from standing to 60mph in a neck straining 2.8 seconds: top speed is factory rated at 217mph. The transmission is a 6 speed sequential gearbox with reverse gear, controlled by paddle shifters.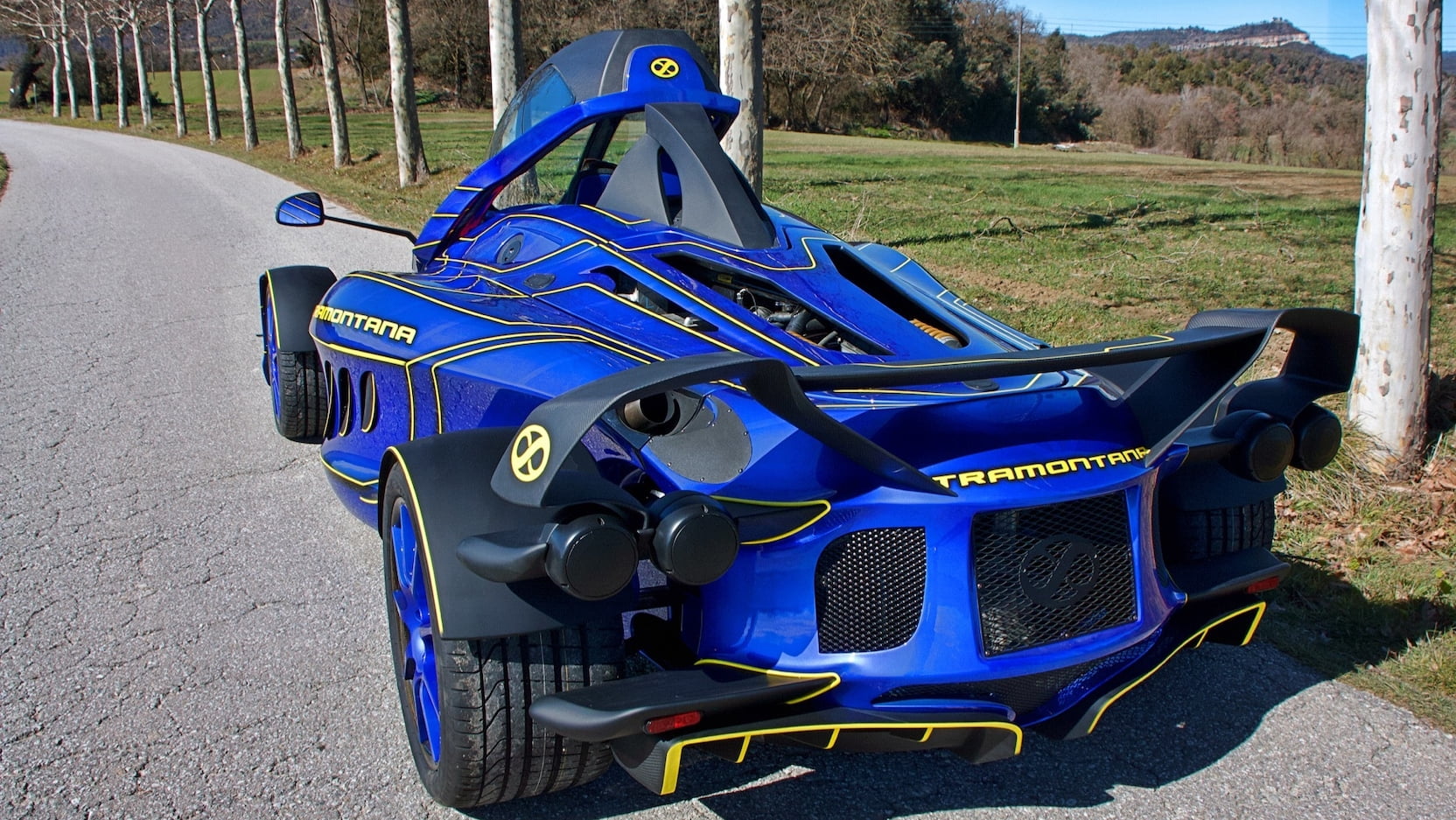 The aerodynamics of the car produce over 250kg of down-force as the car's speed increases: so the car flies with its four wheels firmly pressed to the ground. The suspension is fully adjustable not only for ride and handling features but also for ride height, just in case excursions off the bitumen are required, or a driveway entrance poses a bit of a challenge.
The driver and passenger cockpit of this road going projectile is a mix of carbon fiber, leather and aluminum. Every car's interior is made unique, the same design is not repeated. As a finishing touch the car's front name plate is made of white gold.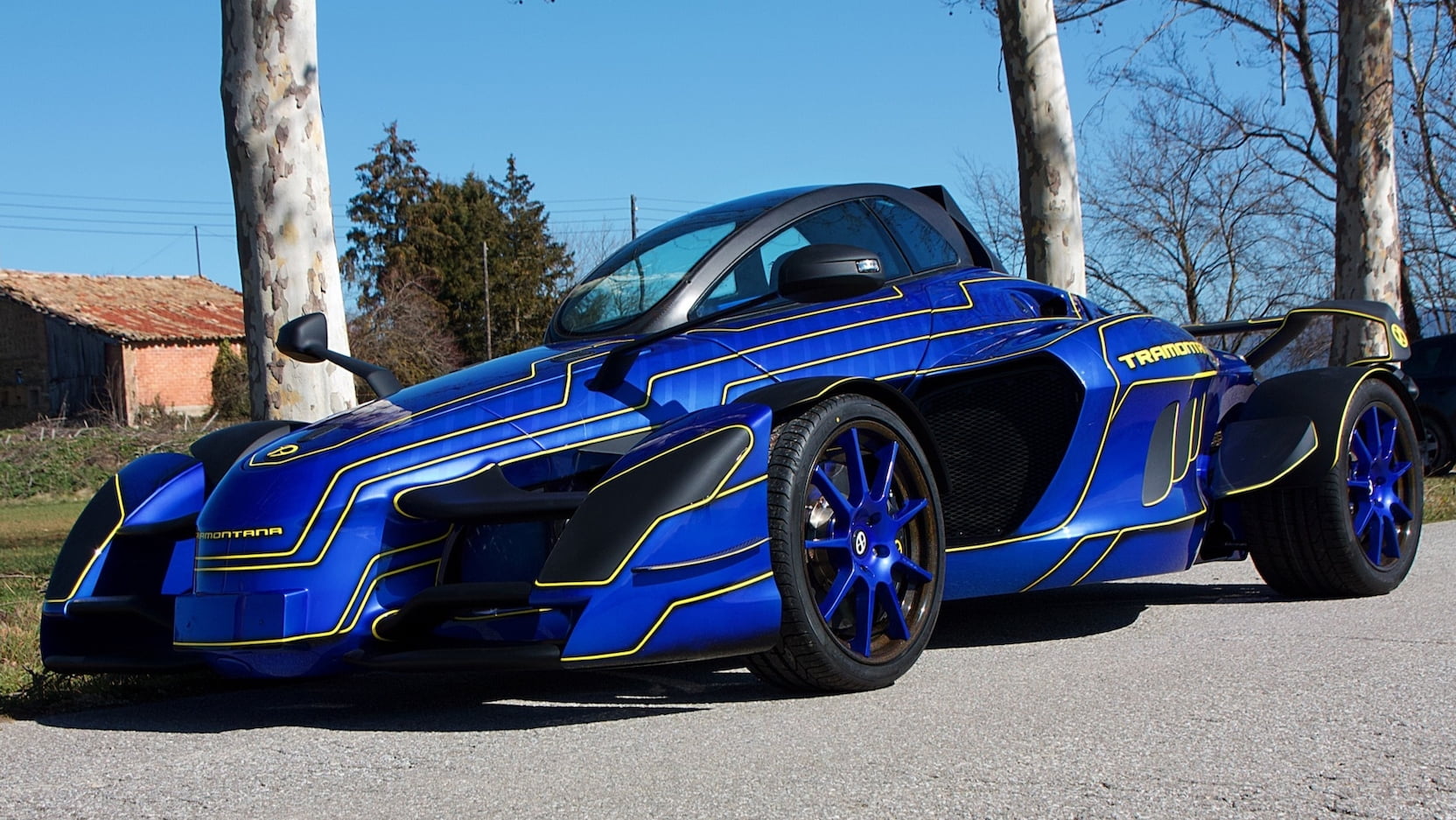 The blue with gold highlight lines Tramontana GT in our photographs is coming up for sale by Mecum Auctions at their Kissamee sale to be held from January 3rd-13th, 2019.
You will find the sale page for this car if you click here.
If you are looking for a car that is quite unique and which provides what may be the closest thing you will ever get to a road car that feels like a Star Wars X-wing fighter, including the shift into hyperspace when you put your foot hard down, then this is a car you should take a good hard look at. This Tramontana is one of just eight produced, and each one of the eight is unique.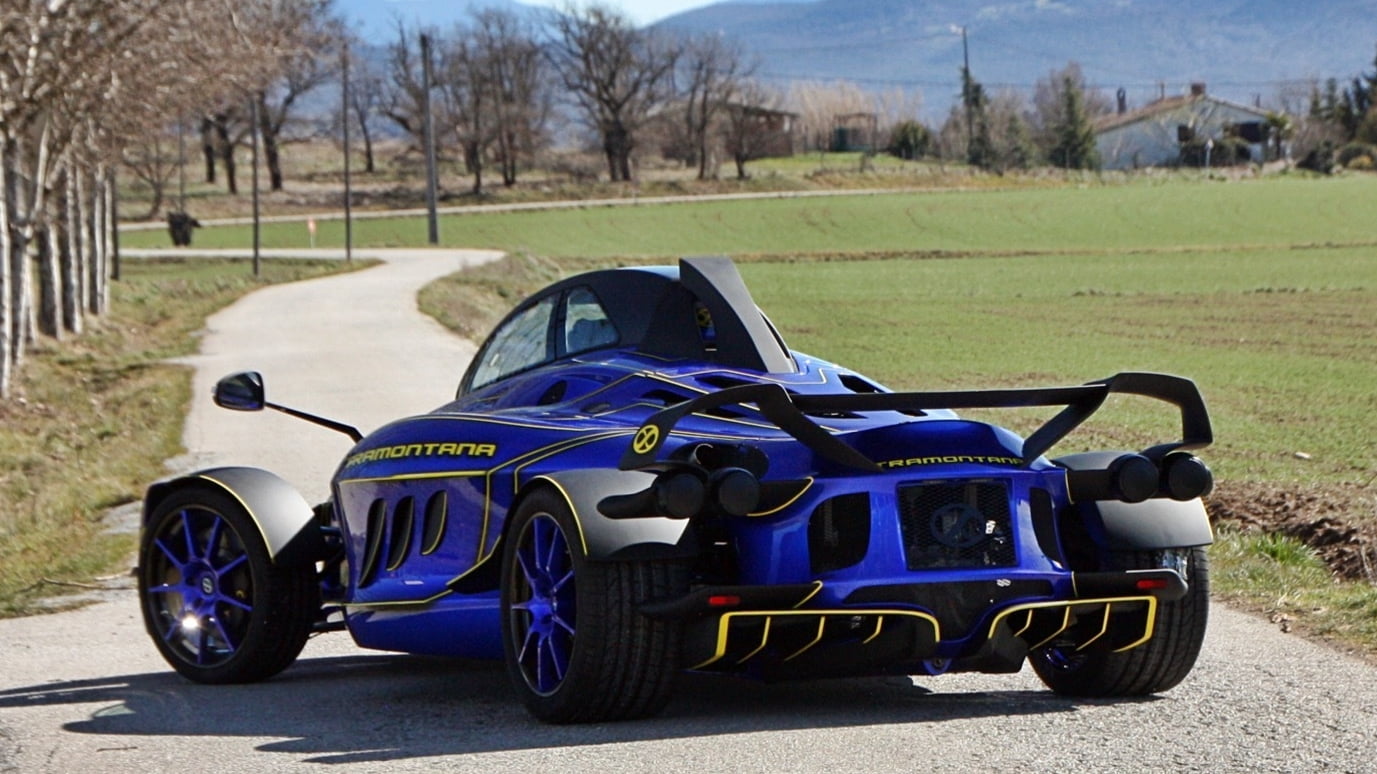 (All pictures courtesy Mecum Auctions).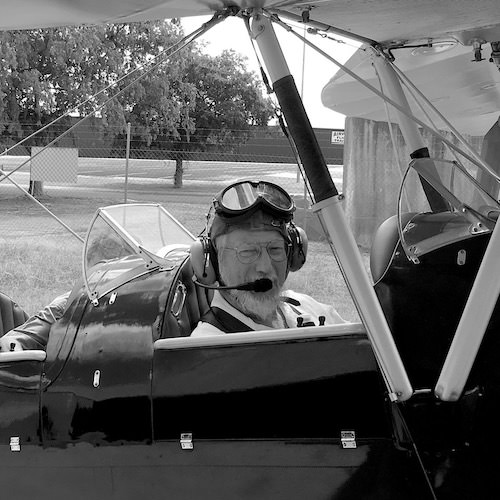 Jon Branch is the founder and senior editor of Revivaler and has written a significant number of articles for various publications including official Buying Guides for eBay, classic car articles for Hagerty, magazine articles for both the Australian Shooters Journal and the Australian Shooter, and he's a long time contributor to Silodrome.
Jon has done radio, television, magazine and newspaper interviews on various issues, and has traveled extensively, having lived in Britain, Australia, China and Hong Kong. His travels have taken him to Indonesia, Israel, Italy, Japan and a number of other countries. He has studied the Japanese sword arts and has a long history of involvement in the shooting sports, which has included authoring submissions to government on various firearms related issues and assisting in the design and establishment of shooting ranges.