Built in 1900 by Alfred Burgoine, who was Queen Victoria's boat builder, "Duet" is an iconic Victorian era steam launch of the sort that would be immediately familiar to Sherlock Holmes and Dr. Watson, and very like the "African Queen" piloted by "Charlie Allnut" (played by Humphrey Bogart) which is taken for an adventurous journey to sink a German gunboat at the instigation of British Methodist missionary "Rose Sayer" (played by Katherine Hepburn). The movie is classic Bogart and Hepburn, and a lot of fun to boot.
You can find both the movie and C.S. Forester's novel on which it was based on Amazon if you click here.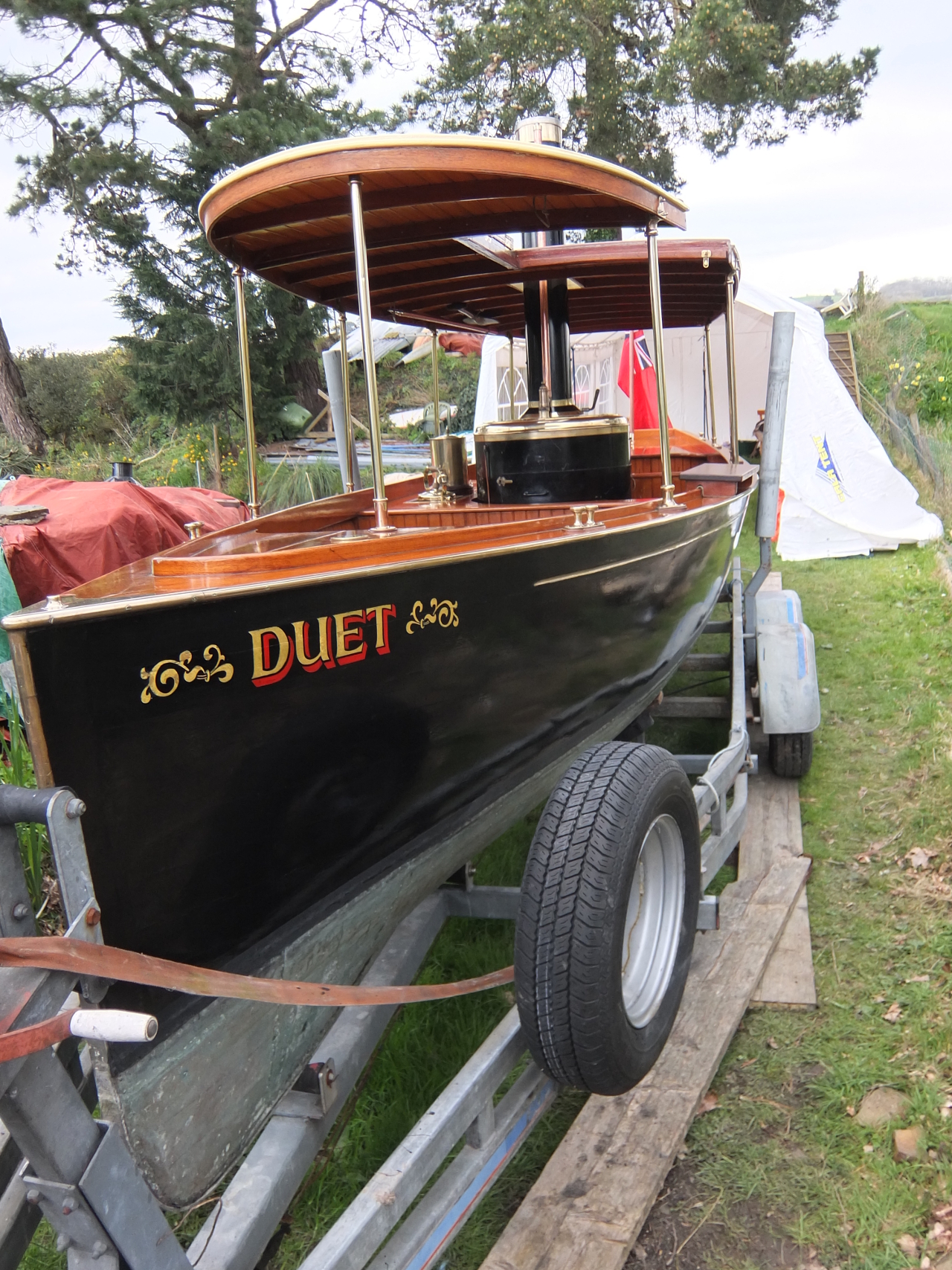 Although nowadays the Thames River near London is not infested with German gunboats that need torpedoing Duet is still a wonderful craft for less dramatic adventures. Re-built in 1965-1971 by Freebody's in Hurley she has a stainless steel shoe fitted along the length of the keel to protect the copper cladding under her water line. So her construction is similar to that of the historic clipper ship "Cutty Sark" preserved at Greenwich in having that copper cladding to protect her wooden hull.
During that rebuilding in 1969 Duet was fitted with a new radial fire tube boiler which is currently in test and rated for 120psi. In 2009 the system was given a full overhaul with new firebox, ash pen and gratings and in 2012 a new grate was fitted. Duet's fully condensing compound steam engine is a replacement from another craft and is in excellent working order being able to drive her at a relaxing 6-7knots.
Duet is a very desirable live steam launch well suited to someone who loves steam engines and loves messing about on the water.
You will find Duet's sale page at Henley Sales & Charter Ltd. if you click here.
Asking price is £40,000 for this 26ft 1in long Victorian steam launch with her 6ft 9ins beam.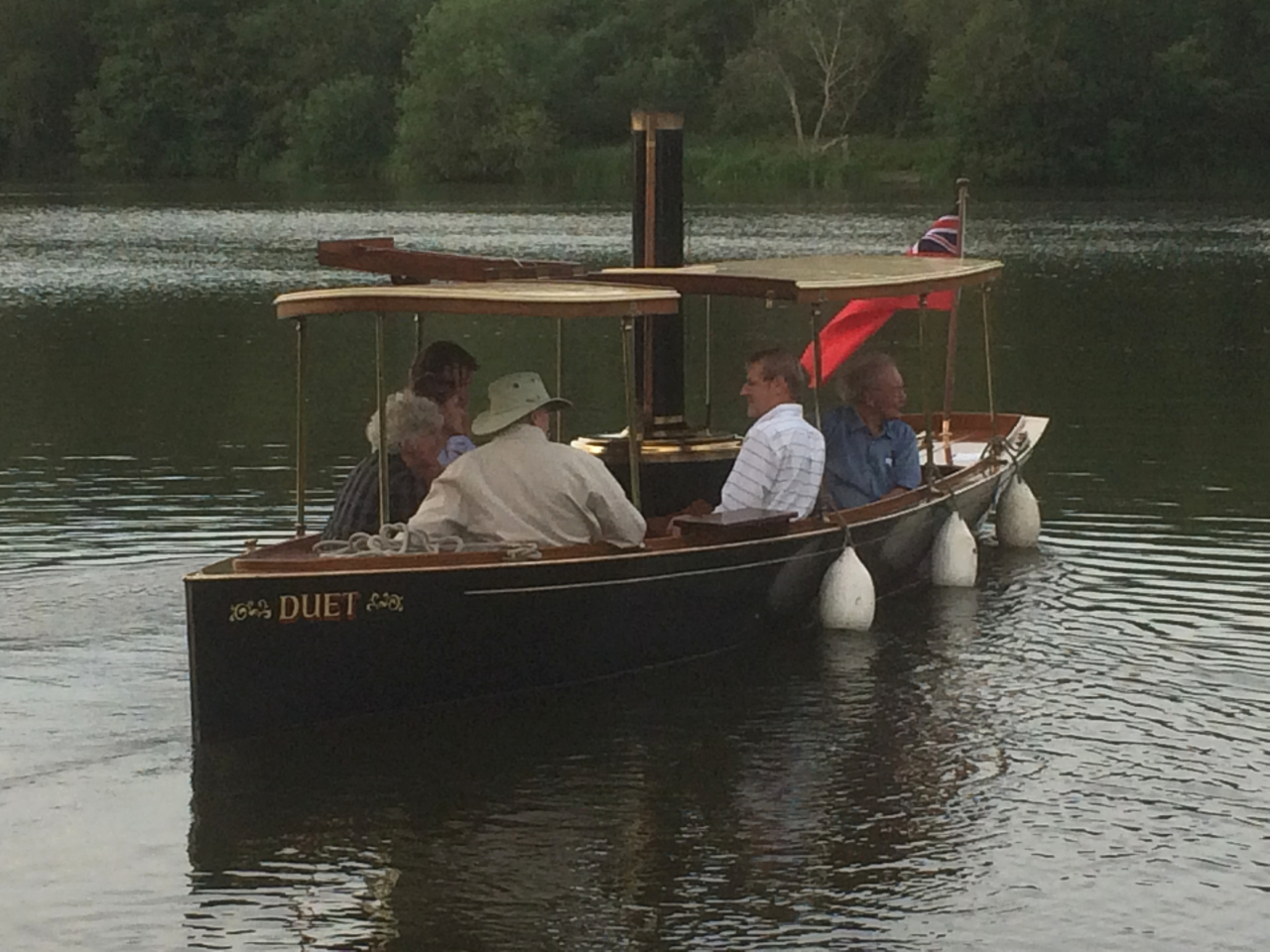 Duet is such a pretty boat that her picture we used as the feature image at the head of this post could make a delightful wallpaper. So I've edited that picture a little and given it an oil painting like canvas effect to make a nice free desktop wallpaper out of it. If you like it feel free to download it and use it as your desktop wallpaper.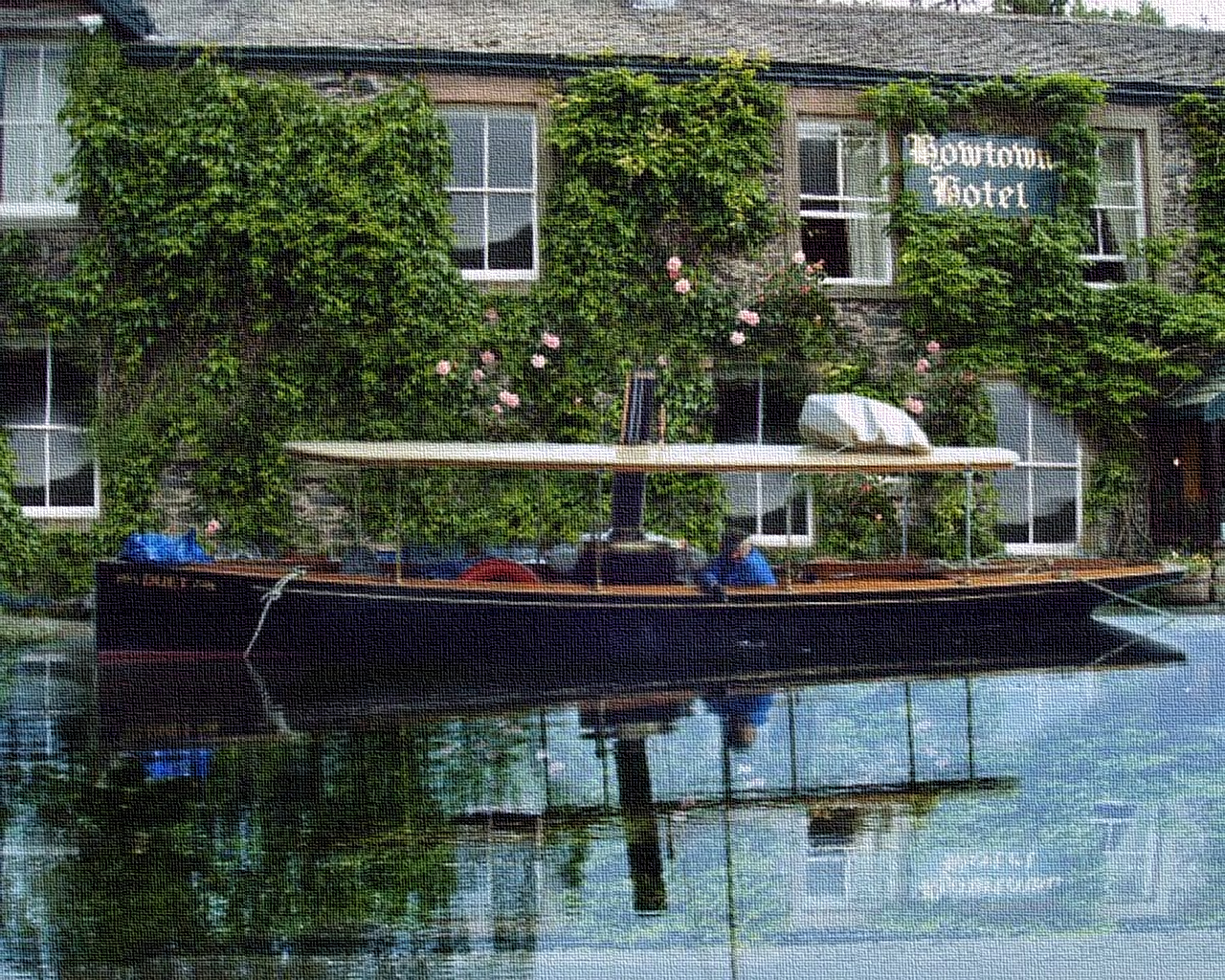 (All pictures courtesy Henley Sales & Charter Ltd.)
Picture above edited with the free multi-platform picture editing program GIMP.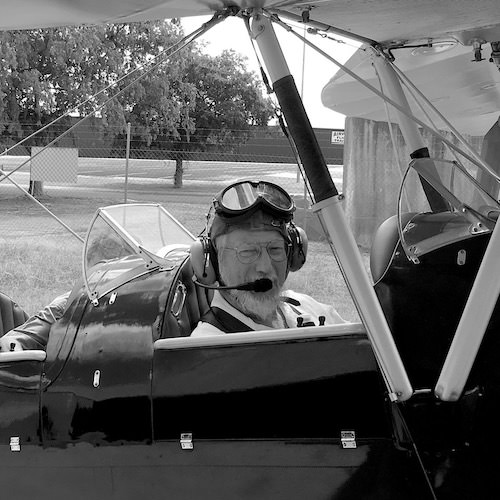 Jon Branch is the founder and senior editor of Revivaler and has written a significant number of articles for various publications including official Buying Guides for eBay, classic car articles for Hagerty, magazine articles for both the Australian Shooters Journal and the Australian Shooter, and he's a long time contributor to Silodrome.
Jon has done radio, television, magazine and newspaper interviews on various issues, and has traveled extensively, having lived in Britain, Australia, China and Hong Kong. His travels have taken him to Indonesia, Israel, Italy, Japan and a number of other countries. He has studied the Japanese sword arts and has a long history of involvement in the shooting sports, which has included authoring submissions to government on various firearms related issues and assisting in the design and establishment of shooting ranges.