Introduction: An Odd Beginning
The story of the Gar Wood mahogany runabout speed boats begins, oddly enough, with ferry boat racing on Lake Osakis in Minnesota and coal dump trucks.
Born in 1880 Garfield Arthur Wood was the eldest son of a ferry operator on Lake Osakis, in Minnesota. He grew up the elder brother to a dozen siblings and learned early to be inventive and self reliant, and also to be responsible. If you are the eldest of thirteen children then you will likely be given responsibilities at an early age. These were the Wild West years in the wake of the Civil War and Garfield was raised in that time before the character and creativity sapping entertainment industries were established: days when young people learned to make their own entertainment by doing creative things, whose minds were not stifled by passive living.
As he matured Garfield married a lady named Murlen and tried to set up a profitable business repairing machines and vehicles. It was quite by chance in 1911 that he got into conversation with two workers who were unloading a couple of tons of coal from a truck. Back then the tipping device used to unload was manually operated and required physical strength. It was dirty, dusty hard labor and the laborers were not particularly happy that the tipping of the truck bed had to be powered by human muscles.
Patents and a Dump Truck
There's an old saying that tells us "If you say to yourself 'How can I' your mind starts working on a solution". Modern day psychologists will affirm that a human mind will keep on working on the solution to that problem even when a person is asleep. Garfield got into the "How can I make a coal truck easy to unload" and sure enough after a while he had a "eureka" moment and his mind created a hydraulic tipper truck solution.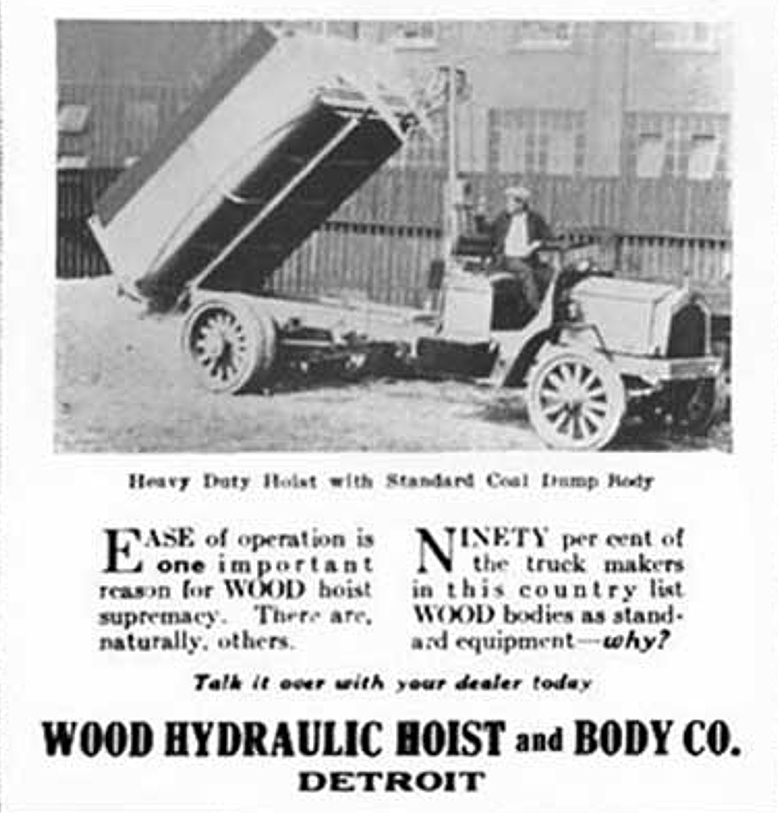 Garfield had the sense to patent his ideas and then managed to persuade a coal company to lend him a truck so he could demonstrate his hydraulic tipper device. The truck he was loaned was none other than the same one he'd witnessed being tipped by muscle power.  With the tipper installed on the truck Garfield invited potential investors to see it demonstrated. The investors must have been in a "boys will be boys" mood because they insisted that just seeing the truck tray tip was not enough to convince them. So they all got into the truck tray and challenged young Garfield to tip them out. He pulled the tip lever and "voila" the laughing investors were dumped onto the roadway. Not only did Garfield have a group of happy investors, he had the foundation for a company. He started the Wood Hydraulic Hoist and Body Company in Minneapolis, and the business took off making him a wealthy man rather quickly: he was a millionaire by 1920.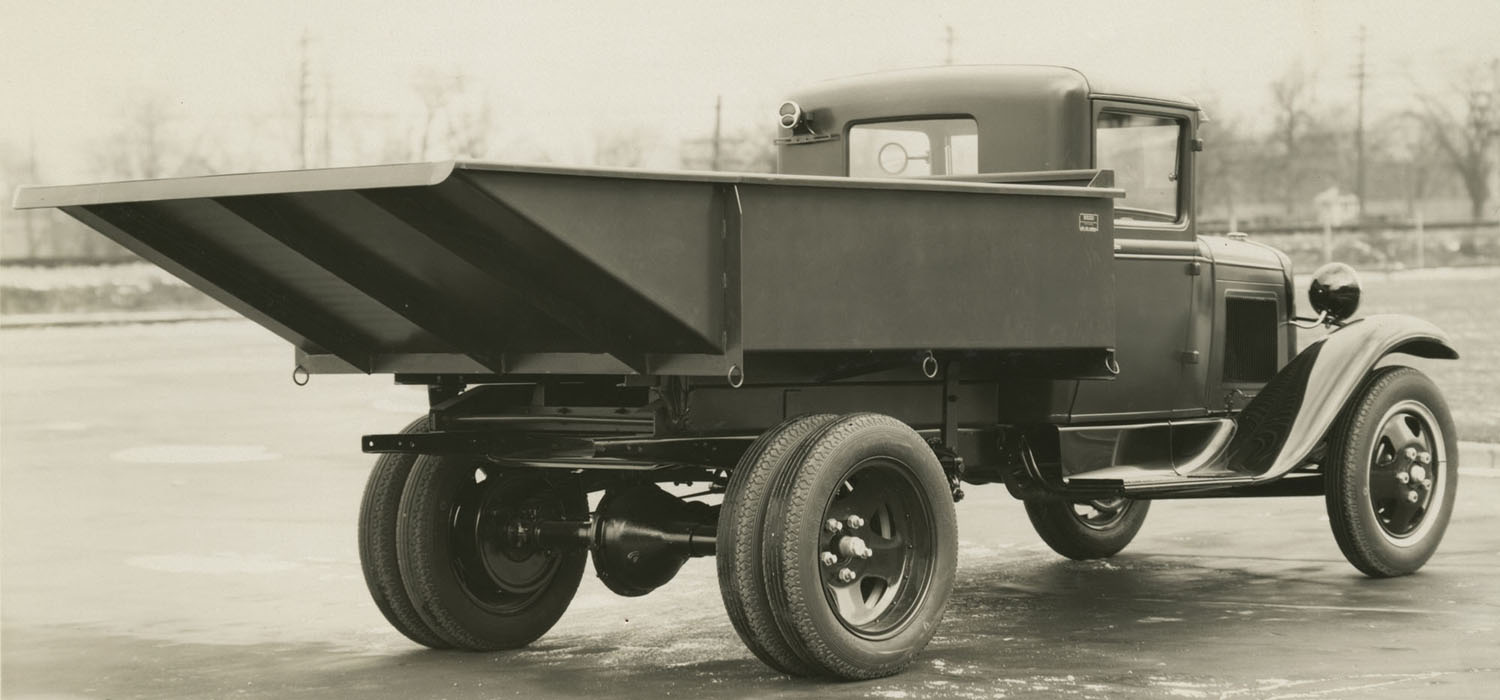 Garfield Wood was joined in the business by his brothers and as the company expanded they all moved to a new factory in Detroit in the 1920's.
Fast Ladies: the "Miss Americas"
With an elegant sufficiency of US dollars overflowing from his bank account Garfield Wood got into the sport of power boat racing. This was a very expensive sport, and it provided an adrenaline pumping mixture of exhilarating speed with a splash of danger. Back in the 1920's and 1930's the competition was primarily between the United States and Britain. The famous sail boat races were the America's Cup series, using the magnificent "J" boats. The power boat equivalent of the America's Cup was the Harmsworth Trophy.
Garfield Wood got involved in the Harmsworth Trophy competition, regularly taking the trophy home, and occasionally losing it to the Redcoats. By 1931 Garfield Wood had already built and raced no less than nine "Miss America" speed boats but he'd discovered that the Redcoats had a boat that was more powerful and thus quicker than anything the American's had built before. It just wouldn't do to let the British win so Garfield Wood got together with engineers from Packard to see what could be created. The maximum allowable length for a Harmsworth Trophy boat was 40′.
Garfield Wood's idea was to take the V12 Packard 1,400hp aero engines out of his previous boats, Miss America VIII and Miss America IX, and fit all four into a new boat, Miss America X. His plan was to join two 1,400hp engines end on end and have two banks of two side by side. This would get him 5,600hp. Packard's engineers warned him that it couldn't be done unless flexible couplings were used between the engines, but that would make the boat too long, so Wood insisted the engines be joined without them. Packard's engineers suggested that if they did that then Garfield Wood might get himself killed when an engine and/or gearbox exploded like a very large hand grenade: it was a boat for the "Harmsworth" Trophy, how much personal "harm" was it "worth" Garfield Wood risking? Wood said he would design and build his own gearbox for the boat to make the joining of the engines possible. Not content with that Garfield Wood relocated the superchargers from the flywheel end of each engine to the front, gaining an additional 200hp per engine and bringing total power to 6,400hp. Not content with that Wood tweaked the supercharger gearing and altered the fuel mix to one third gasoline, one third alcohol, and one third benzine. That brought his total power up to 7,600hp: it was enough to take on those pesky Redcoats.
The boat was built, and Garfield Wood in Miss America X won the Harmsworth Trophy for 1932, and 1933 before hanging up his speed boat racing goggles to gracefully put his energy into his businesses. One of which was to build beautiful, and very expensive, pleasure boats of the sort commonly known as a "mahogany runabout".
Designed for Sportsmen, by a Sportsman.
Although it is likely that Garfield Wood had not originally intended to get into the business of pleasure boat manufacture circumstances led him naturally in that direction. He was a member of the Detroit Exchange Club in 1916 when members were asked to to help the syndicate that had been set up to purchase the Miss Detroit 1 racing boat. Garfield Wood was sufficiently interested to finance the purchase and he traveled up to Algonac to inspect the craft. This led him to purchase the boat yard that had constructed her and thus he entered the boat building business.
What tended to encourage Gar Wood in design and production of "mahogany runabouts" were new rules introduced by the American Power Boat association which were intended to encourage racing in the sort of boats one might use as a recreational boat. Garfield Wood had the money to invest in expensive dedicated racing boats fitted with aircraft engines but not everybody else did.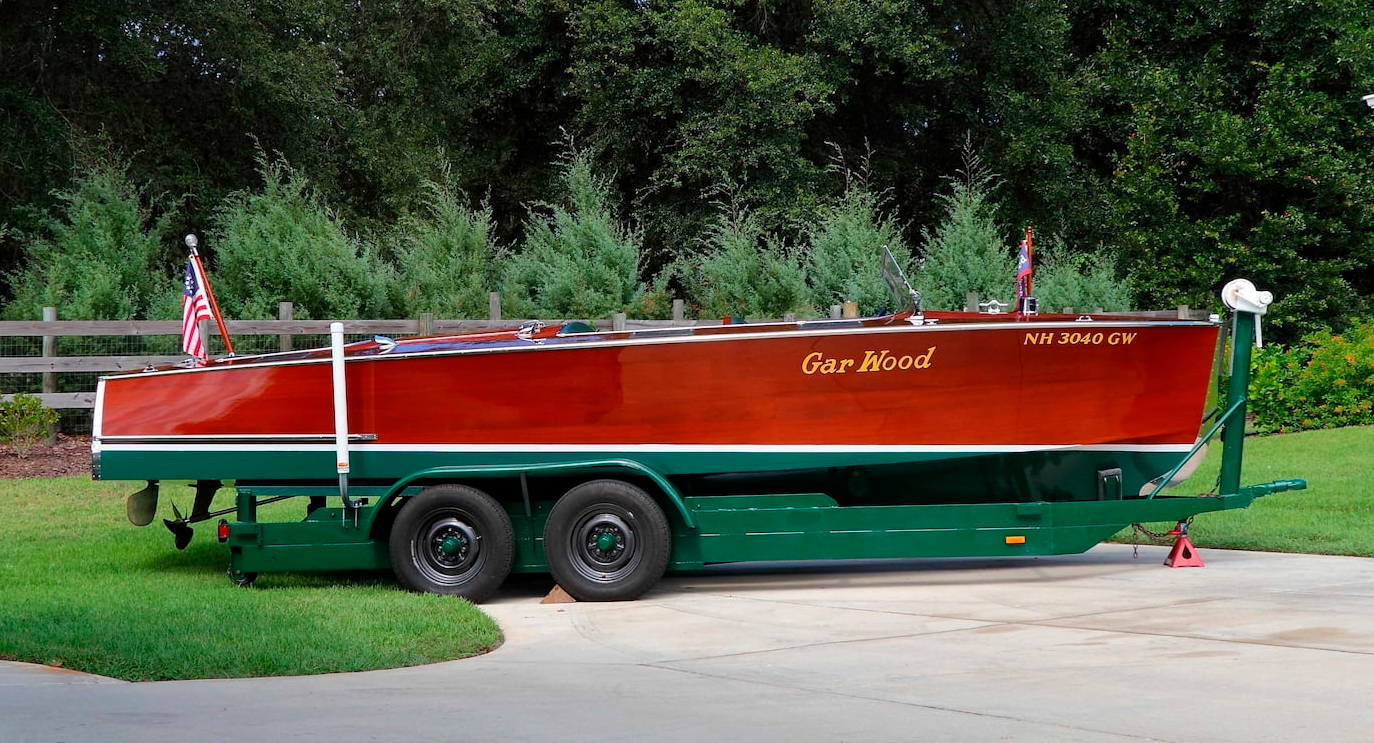 Gar Wood's famous first design was the 33′ "Baby Gar" gentleman's runabout with three cockpits and a hull that was just like the racing boats with which Garfield Wood had been winning so many trophies.
Rich people loved the design and soon it was not just the extremely wealthy elite such as P.K. Wrigley and William Randolph Hearst who wanted them but a great many others. So Garfield Wood devoted a section of his boat building workshop at Algonac to building "Baby Gar" runabouts. By 1924 there were no less than 60 Baby Car owners and Garfield Wood found it necessary to build a new factory to keep up with demand. This was built in Marysville, Michigan, and opened in 1930, just after the Stock Market Crash.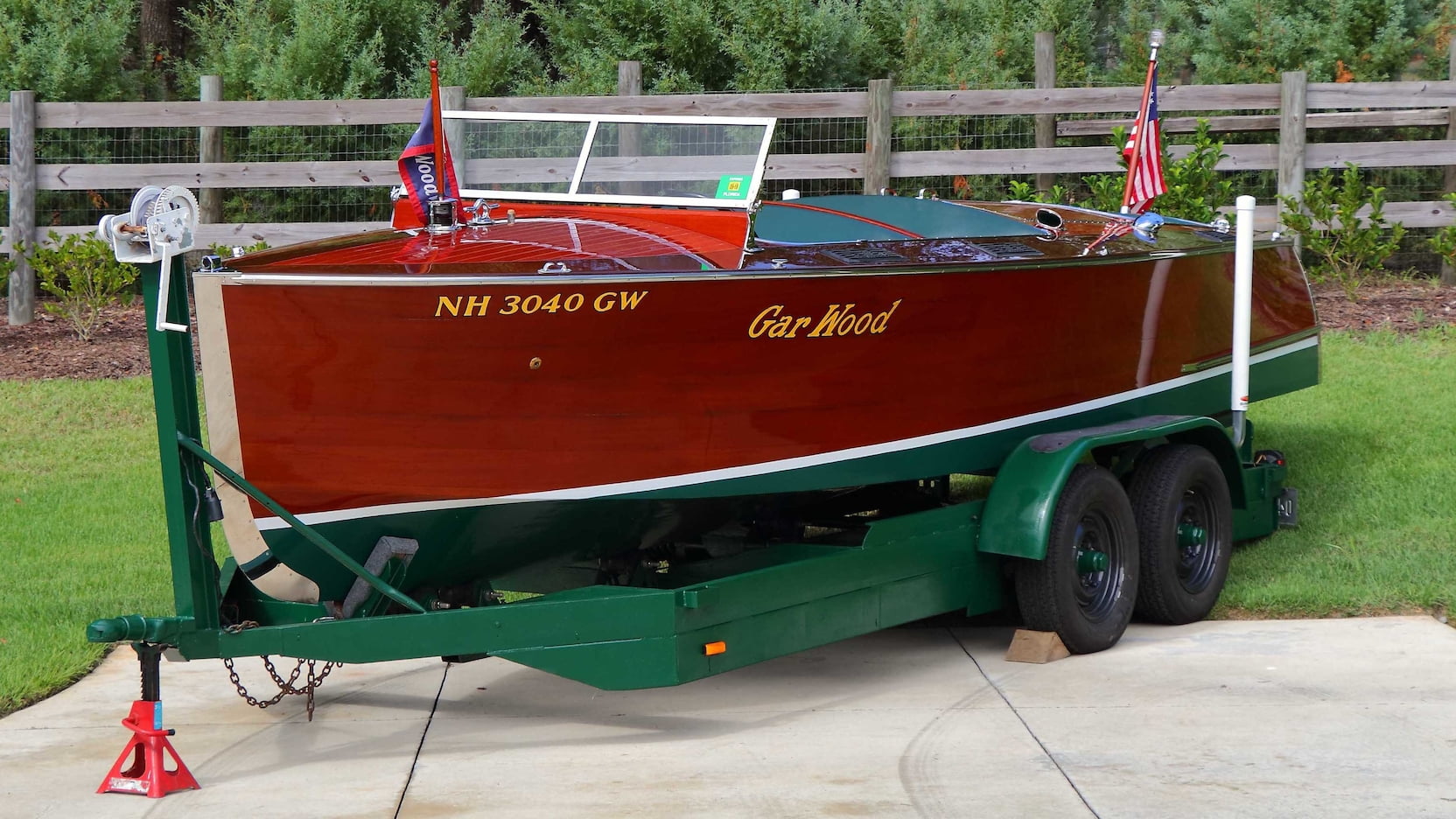 Gar Wood boats produced two smaller boat models in 22′ and 28′ and then a 40′ commuter.
Gar Wood boats would continue to produce a range of models up to the outbreak of the Second World War, with Garfield Wood retiring at age 60 in 1940. The Gar Wood factory was turned over to wartime production and attempted to re-start in recreational boat production after the war but shortages in supply and costs worked against them. Production of Gar Wood boats ended in 1947.
Gar Wood 22′ Triple Cockpit Runabout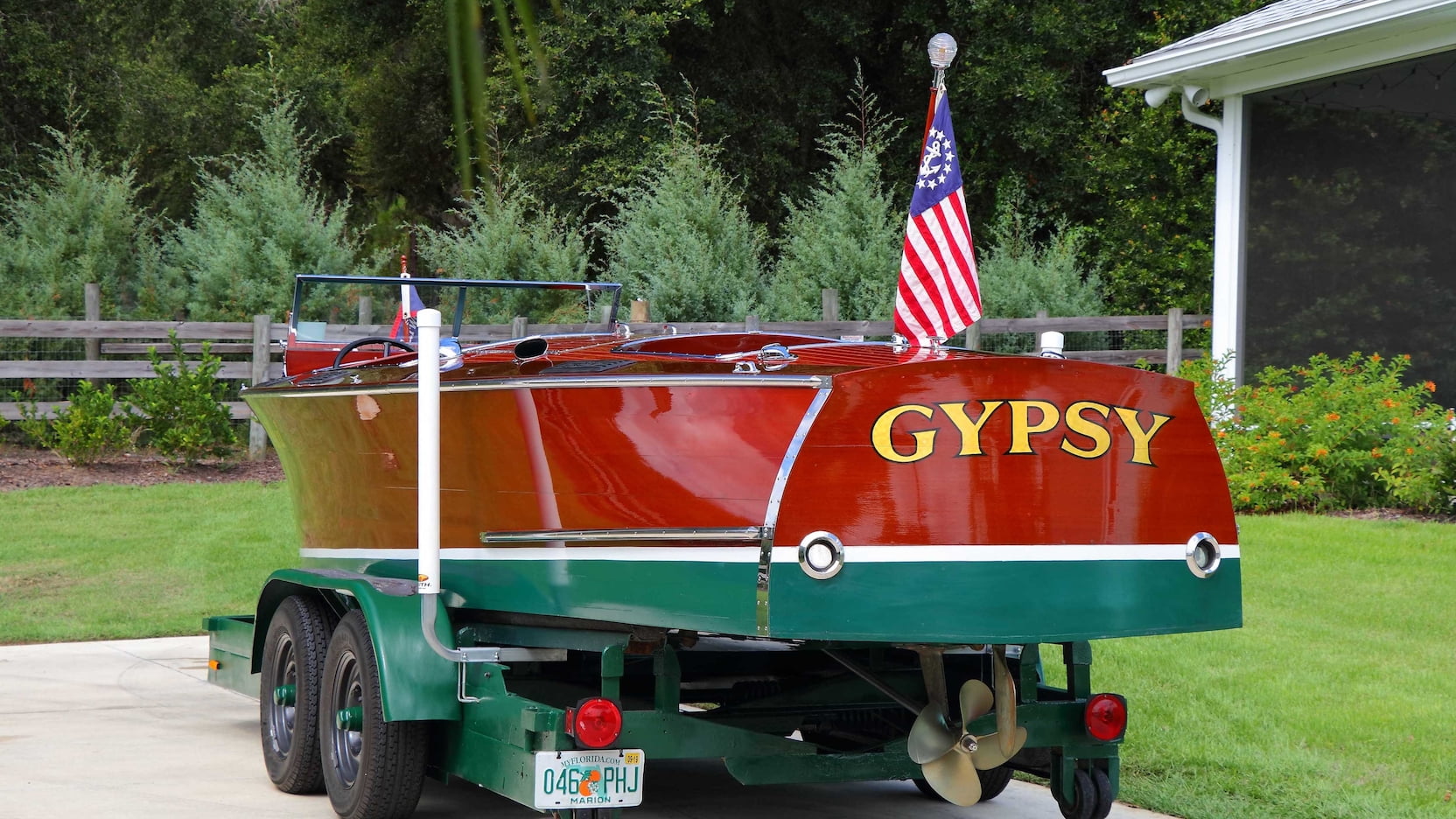 For those interested in a Gar Wood boat from the golden years of the 1920's and 1930's there is one coming up for sale by Mecum Auctions at their Kissimmee sale to be held between January 3rd-13th. The boat is a 1930 22′ triple cockpit powered by a 350 cu. in. 400hp V8 Crusader engine with a Holley 4-barrel carburetor. The boat has twin stainless steel fuel tanks and handles beautifully as all the boats from the Marysville boat yard do: attention to quality and detail was always superb for these expensive but exquisitely made craft.
You will find the sale page for this boat if you click here.
Expected sale price is likely to be around USD$75,000-$95,000
In her year of manufacture, 1930, these Gar Wood boats were described as "designed for sportsmen, by a sportsman." This one has rather more power than the original 1930 six cylinder Chrysler Crown engine would have delivered. With the original engine she was capable of 30mph, with the new engine rather more than that we suspect given the hull design's racing heritage.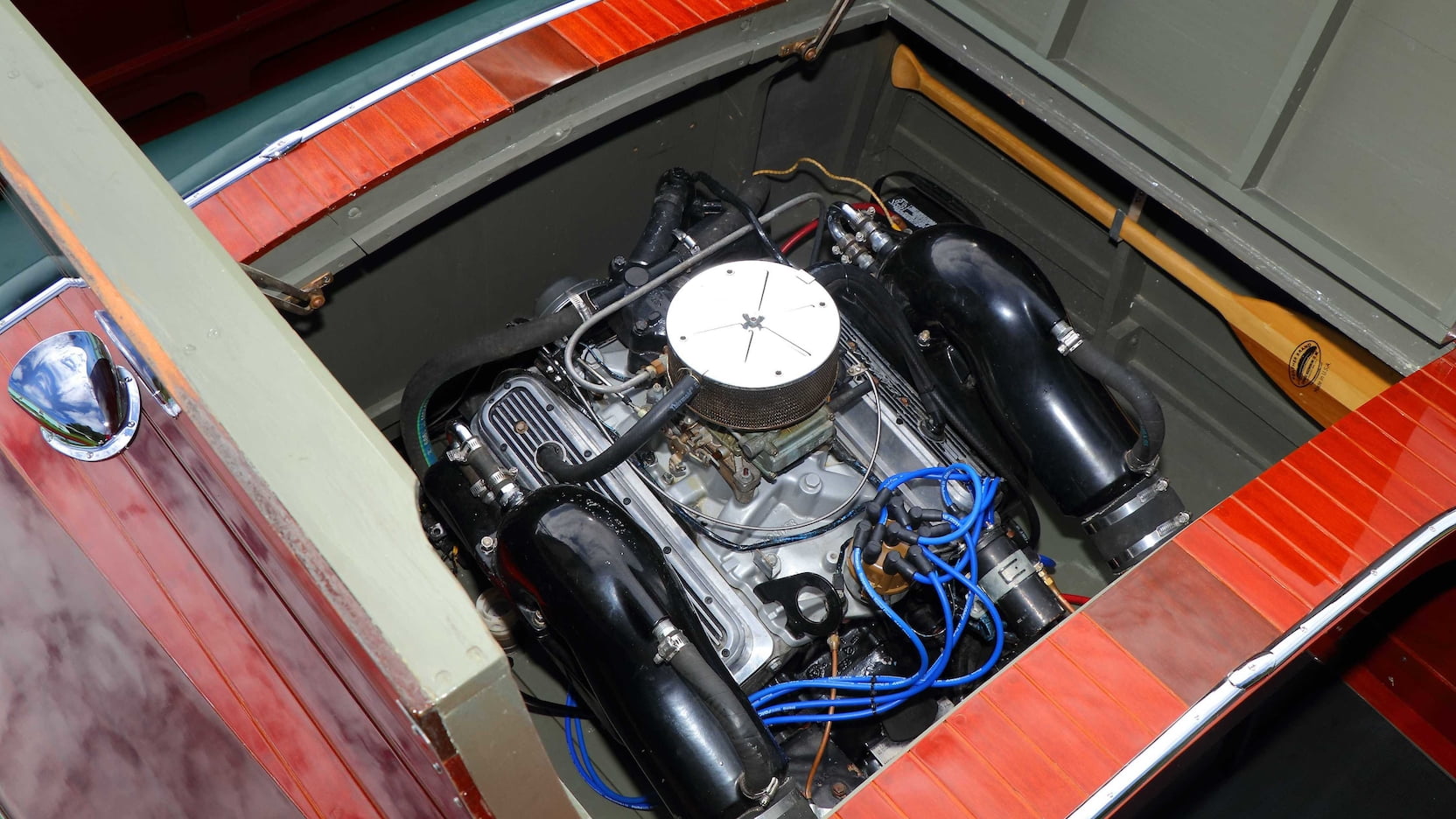 The Gar Wood sports boats were created by a man who loved the sheer excitement of speed on the water. They stand among the top American power boats ever made.
Photo Credits: Pictures of the sale Gar Wood 22′ Triple Cockpit runabout courtesy Mecum Auctions. Other pictures as credited in the captions.
Video's courtesy tcg550 and British Pathé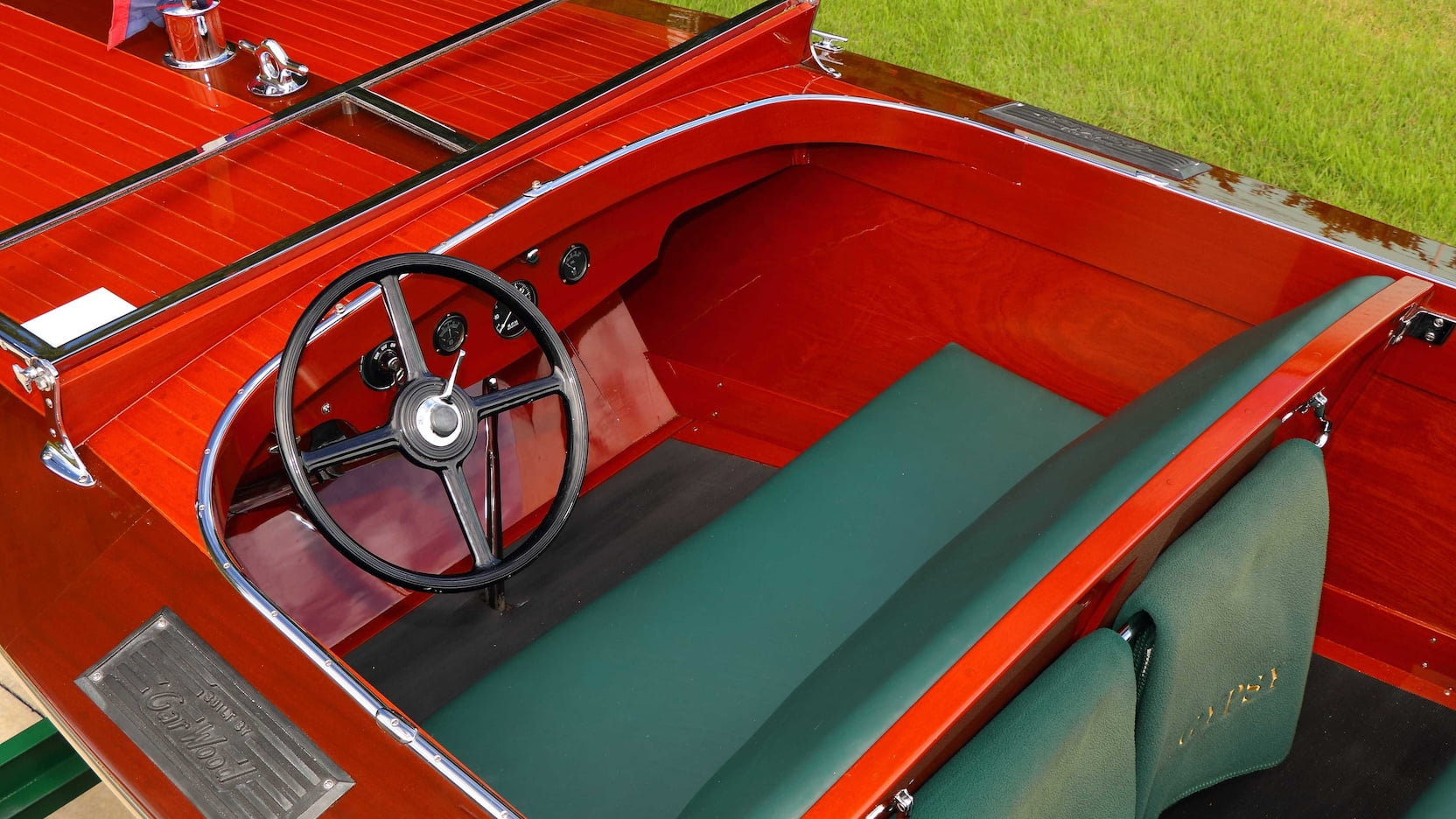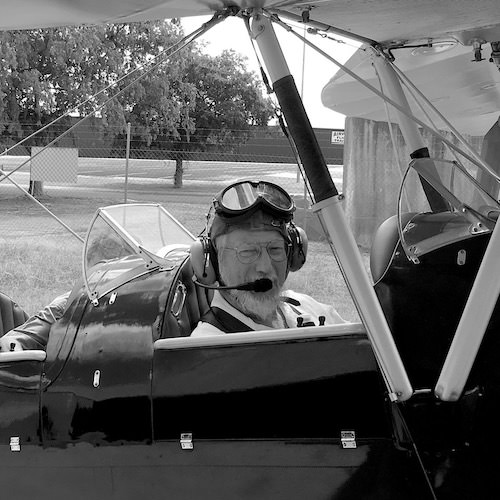 Jon Branch is the founder and senior editor of Revivaler and has written a significant number of articles for various publications including official Buying Guides for eBay, classic car articles for Hagerty, magazine articles for both the Australian Shooters Journal and the Australian Shooter, and he's a long time contributor to Silodrome.
Jon has done radio, television, magazine and newspaper interviews on various issues, and has traveled extensively, having lived in Britain, Australia, China and Hong Kong. His travels have taken him to Indonesia, Israel, Italy, Japan and a number of other countries. He has studied the Japanese sword arts and has a long history of involvement in the shooting sports, which has included authoring submissions to government on various firearms related issues and assisting in the design and establishment of shooting ranges.