A "Manstopper" Revolver Cartridge
British Army officers of the Victorian Era were required to do active service in the far flung reaches of the British Empire which included significant chunks of Africa, India, and such places as the Sudan and Afghanistan. These were all places where a British officer's adversary would be likely to be physically fit, and fanatically determined to use whatever weapon was at their disposal to cause the aforementioned British officer to meet his Maker in the nastiest way possible. In short a British Army officer needed to have a sidearm of sufficient power to not just kill but to stop in his tracks the opponent coming at him: and in case the revolver proved to be ineffective the officer would need to draw his saber in good time and get to work with that in the hope of emerging from that encounter alive.
The popular British revolver cartridges of that era were of .44″ or .45″ caliber typically firing a lead bullet around 200 gn – 250 gn at around 650 fps or so. These were thought to be good enough for most situations and indeed the British Army would still be using their .455 Webley revolver during the First World War, along with the Webley Automatic pistol and some Colt M1911 pistols chambered for the slightly more powerful .455 Automatic cartridge, which was still a bit less potent than the American .45 ACP. However, back in the Victorian Era, field experience showed that a more powerful cartridge than the typical .45″ would be a great advantage so something a tad larger was called for.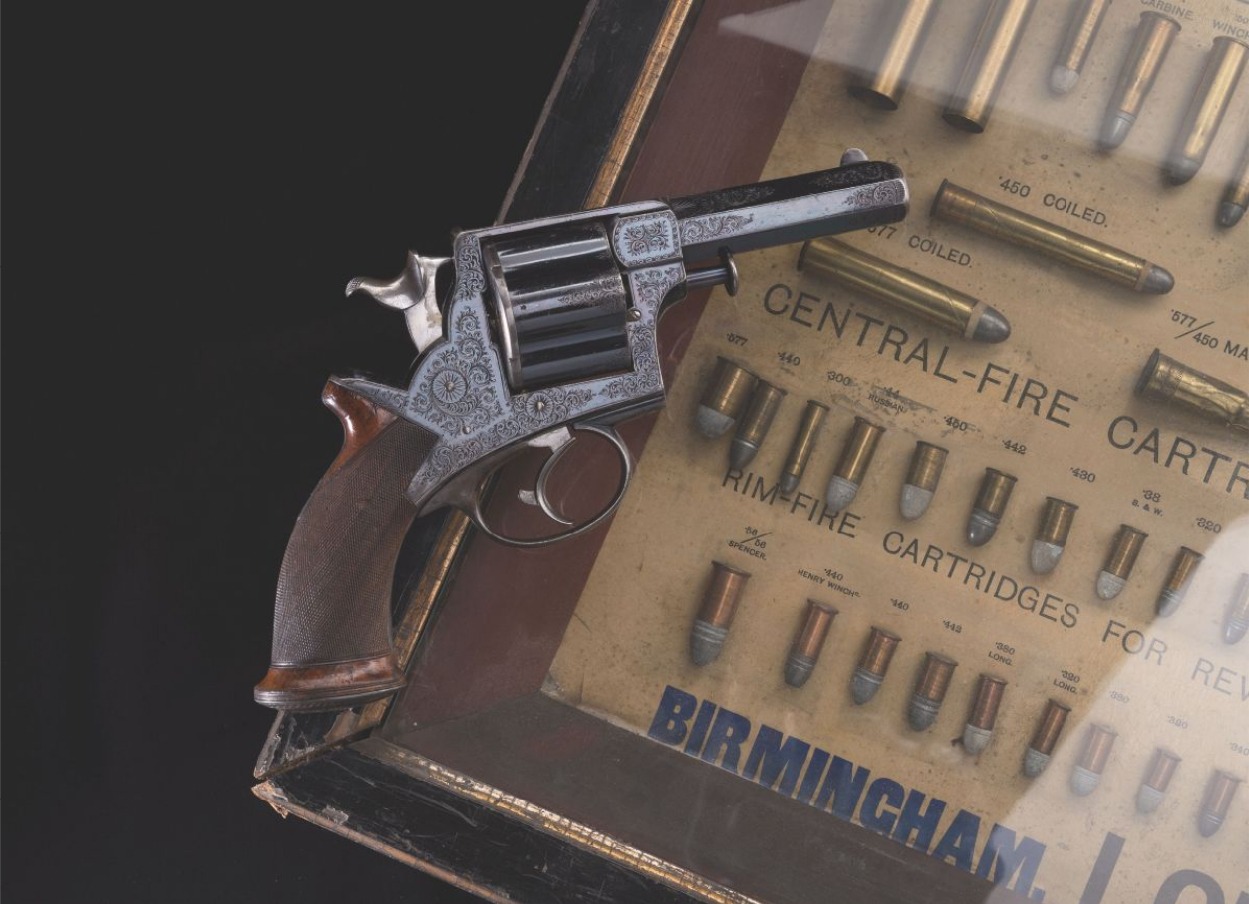 In that time period when all the firearms used black powder, the way to achieve stopping power was to employ a heavy lead bullet which would hit like a sledge-hammer despite its relatively low velocity – momentum was more important than energy. To achieve this the .577 "Manstopper" cartridge was invented. During this period the .577 Snider rifle had been the British Army standard and so the .577 bore was much respected and was used for the new handgun cartridge although of course the revolver could not deliver the velocity of the Snider rifle. In fact the .577 revolver cartridge is believed to have been created by the simple expedient of cutting the rifle cartridge shorter.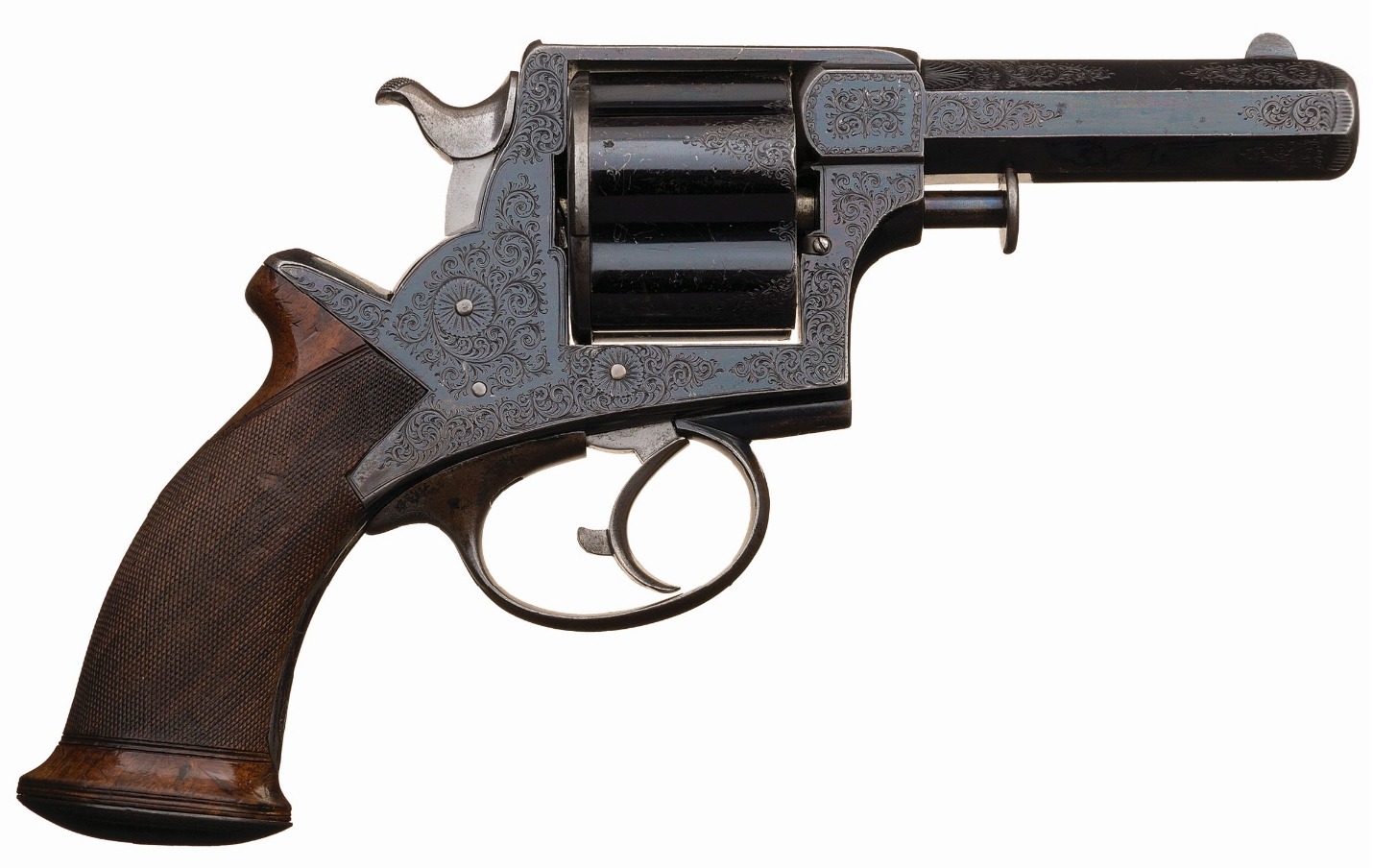 The .577 Manstopper cartridge began life using the quite primitive coiled brass cartridges with a gunpowder load and approximately 400 grain lead bullet traveling somewhere north of 650 fps. Subsequently the cartridge cases were made in the modern method using drawn brass and the gunpowder load was able to propel a 400 grain bullet at a useful 725 fps. So to put that in perspective almost twice the bullet weight of a .45 ACP at around 100 fps less: a quite satisfactory dose of stopping power with which to make one's "close encounters of the unfriendly kind" much less dramatic than they might otherwise have been.
William Tranter and his Revolvers
William Tranter was born in 1816 to a blacksmith named Thomas Tranter and his wife Mary. In 1830 he was apprenticed to gunmakers Hollis Bros & Co. in Birmingham and by 1839 had left Hollis to set up a shop of his own. This was to be the beginning of a career that would lead to his revolvers becoming some of the most respected in the world. For example, although mostly unknown outside the country, one of Australia's most famous Bushrangers (i.e. outlaws) was Ben Hall, and Ben Hall's favorite revolvers were those made by Tranter. Tranter revolvers also made their way to the Confederate States during the American Civil War and were favored for their practicality and reliability. Tranter revolvers acquired a well deserved reputation for being beautifully made.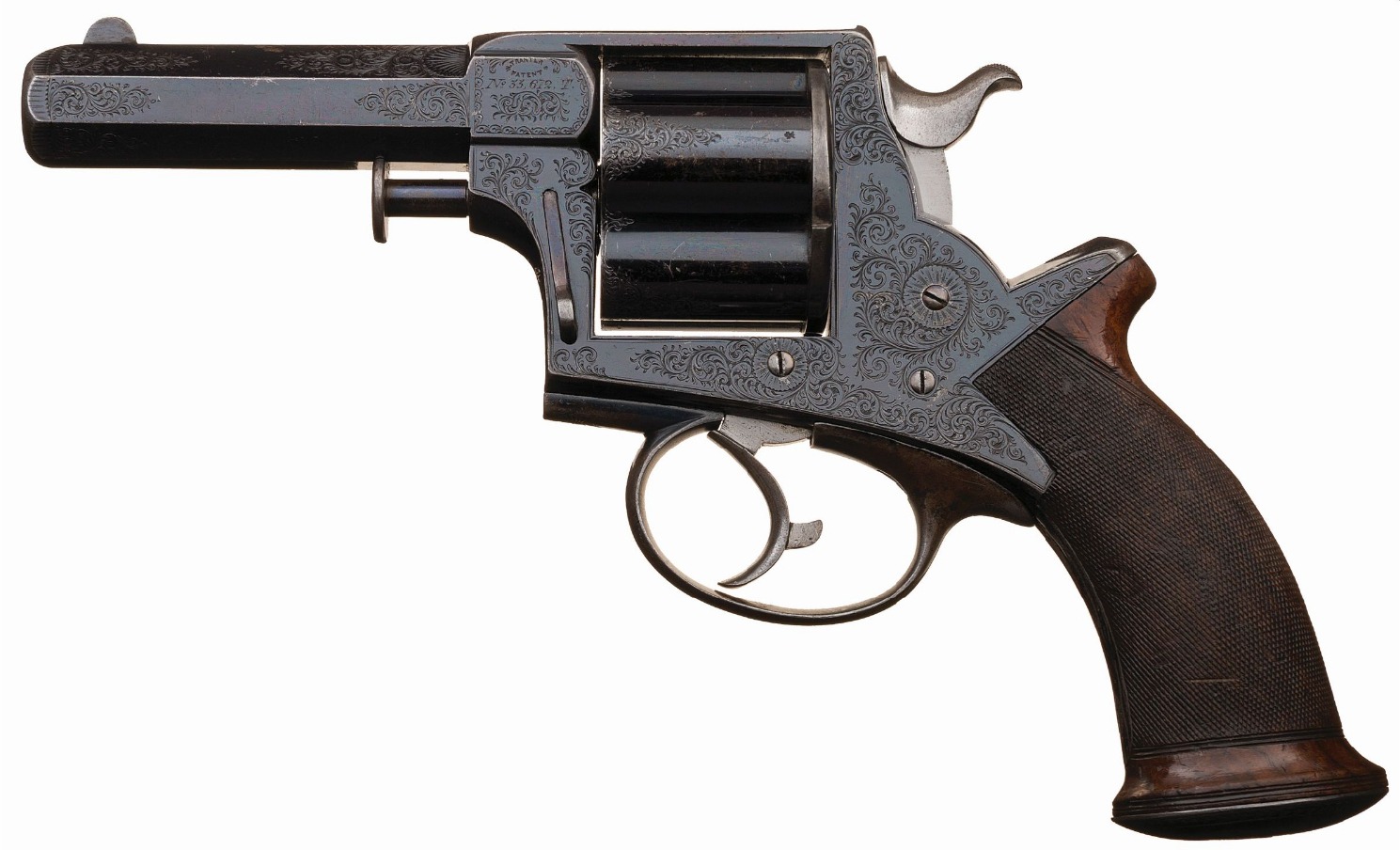 The largest of the revolvers made by Tranter was his .577″ caliber "Manstopper", this revolver being made to fire the .577″ revolver cartridge that first appeared in the late 1860's, probably around 1868. Various British gunmakers made revolvers for this cartridge including Webley, the Bland-Pryse, and Tranter. Tranter's revolvers first began being produced in the 1860's and seem to have been designed to ensure safe operation with the early coiled brass cartridges which tended to bulge at the case head on firing. To ensure the cartridge case was fully supported to avoid this fault the Tranter design incorporates a removable backing plate that fits at the rear of the cylinder.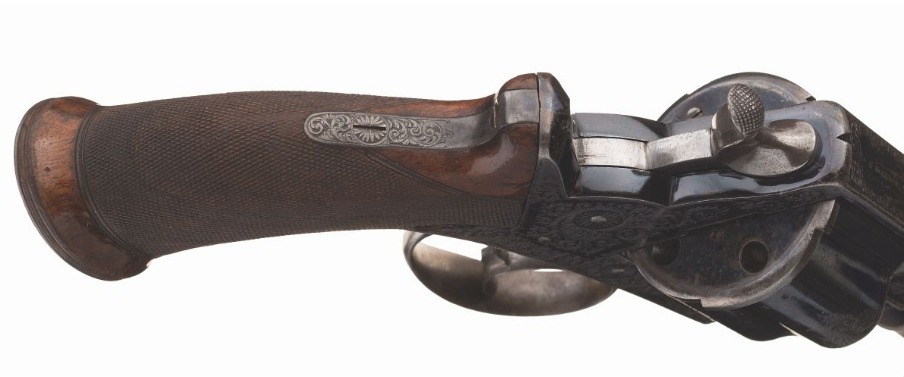 The use of a removable backing plate made the process of reloading the Tranter .577 Manstopper revolver a tedious process. First the cylinder had to be removed from the revolver and then the backing plate from the cylinder, and then the cartridge cases were pushed out one-by-one before new cartridges could be loaded, the backing plate reassembled onto the cylinder, and the whole assembly fitted back into the revolver. So, if five shots from the Manstopper revolver were not sufficient to deal with the emergency then it was time to resort to sword and prayer. Later .577 revolvers were made with far more convenient reloading systems including break action, such as was used in the Bland-Pryse.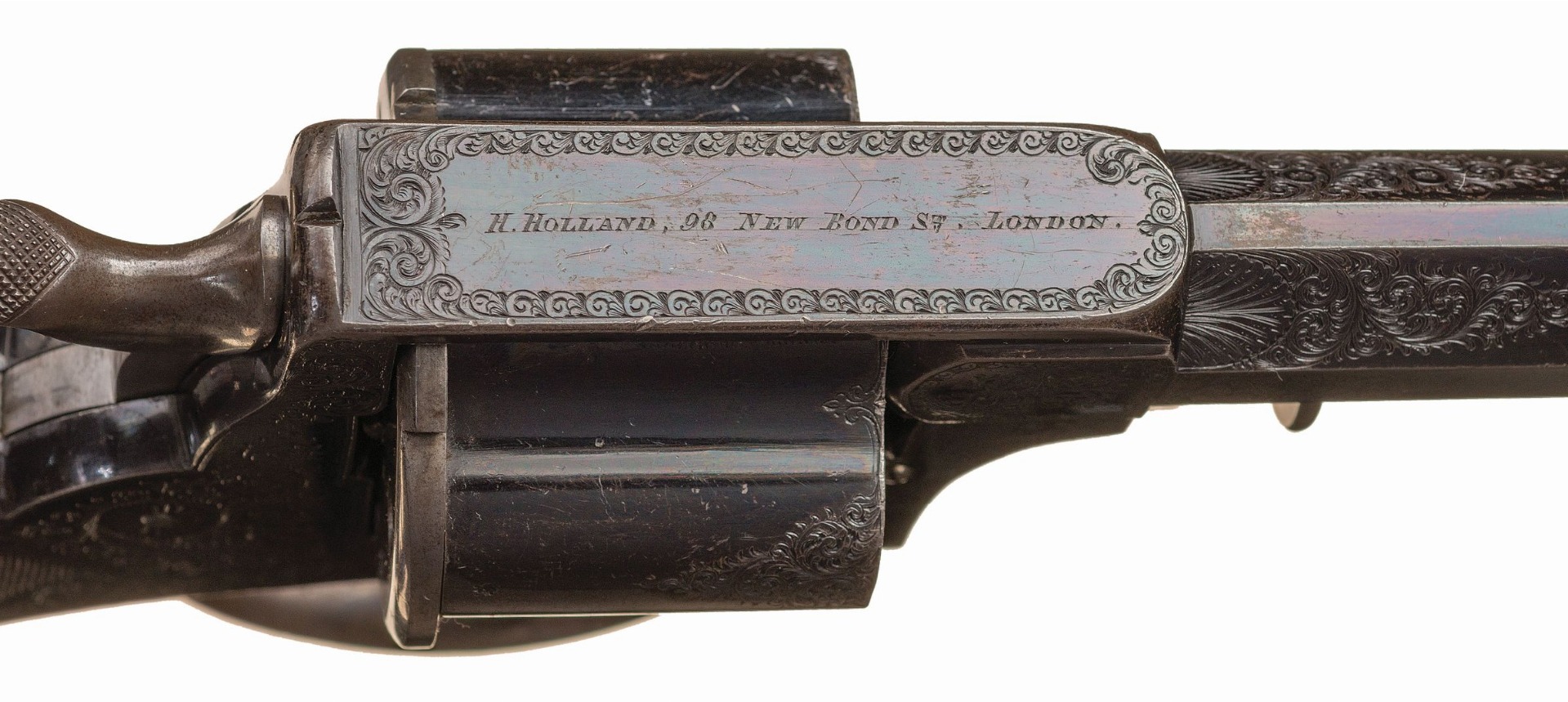 The Tranter "Manstopper" revolver in our pictures was made in 1869 so it is an example of the early design. It was sold by H. Holland, 98 New Bond Street, London, which later become the legendary Holland & Holland in 1876. This revolver is coming up for sale by Rock Island Auction at their Premiere Gun Auction to be held over 24th-25th April, 2020.
It is a rare item for a number of reasons, not least of which being the rarity of Tranter revolvers in this caliber, and in such fine condition. It is also the only known engraved .577 Manstopper revolver made by Tranter extant.
You will find the sale page for this fascinating piece if you click here.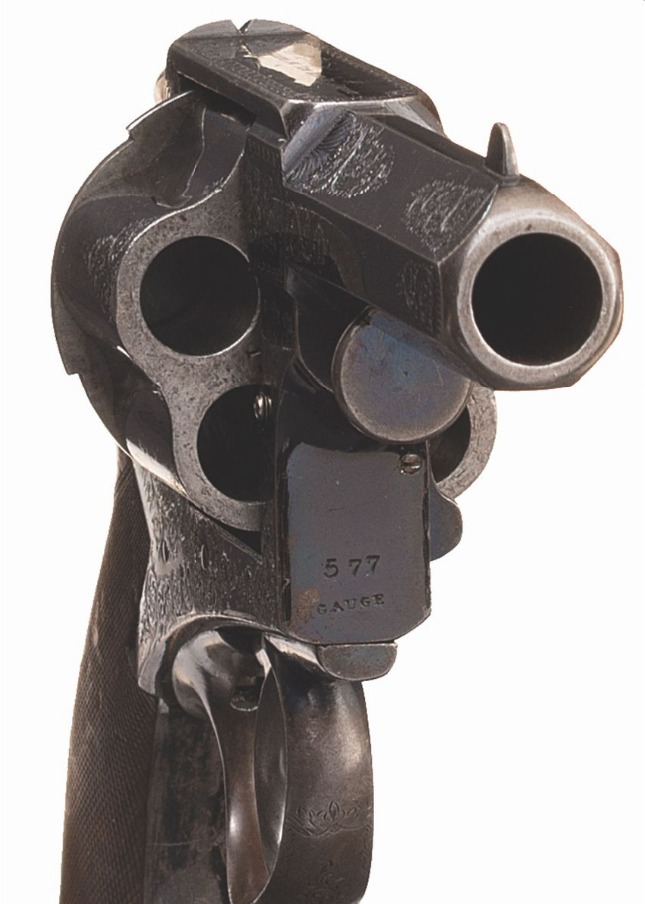 Rock Island Auction describe the condition of this revolver as follows: This incredible revolver retains 95% original blued finish with some age related rubbing around the muzzle and edges of the frame and cylinder. The trigger guard is mostly a grey patina. The engraving remains crisp and clear throughout. The butt shows a fine figure to the uncheckered areas, the checkering itself remains crisp with some scattered age related storage and handling blemishes and bruises throughout. Mechanically excellent. Provenance: The Malcolm King Collection.
The Future of Large Caliber Handguns
As an aside to this article readers will be aware that there have been a number of large caliber high powered handgun cartridges created in recent years including the .500 Smith & Wesson and the .50 Action Express, both of which are of course savage to shoot. Such handguns are specifically for handgun hunting and protection against the large bears and other unfriendlies of the woods. But there have also been some serious efforts not to create a large caliber grizzly stopper but to create a practical and controllable "manstopper". One example is the Guncrafter Industries .50 GI which only seeks to pack .45 ACP level power into a .50 caliber M1911 pistol.
Another such pistol is the .577 revolver created by American Handgunner magazine and featured in their November/December 2007 issue. American Handgunner based their .577 on a Ruger Redhawk and built it to be ballistically comparable to the original British .577 "Manstopper". You'll find that fabulous article if you click here.
Sadly we are unlikely to see a plethora of new American .577 "Manstopper" revolvers created anytime soon. American gun laws classify rifled arms over .500 as "destructive devices" and taxes them out of existence: something that the Founding Fathers would no doubt take exception to if they were alive today. But the original black powder pioneer guns that have survived are fascinating examples of a time past, a connection with a bygone age.
Footnote
For those interested in William Tranter and his guns the book "The Firearms of William Tranter, Birmingham Gunsmith" by Ron Stewart would be a worthwhile purchase.
It is out of print but can be found on Amazon if you click here.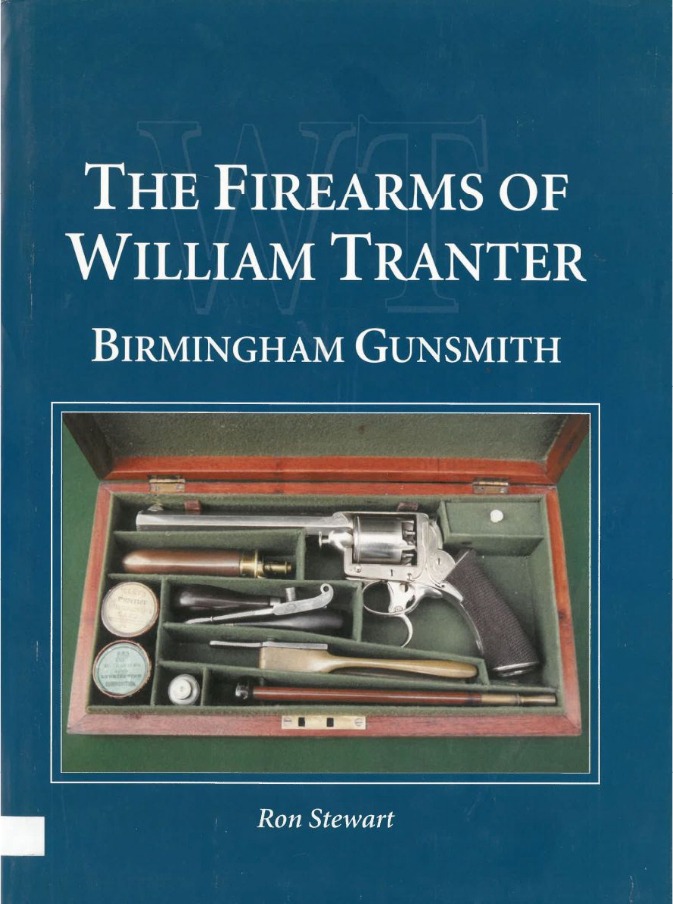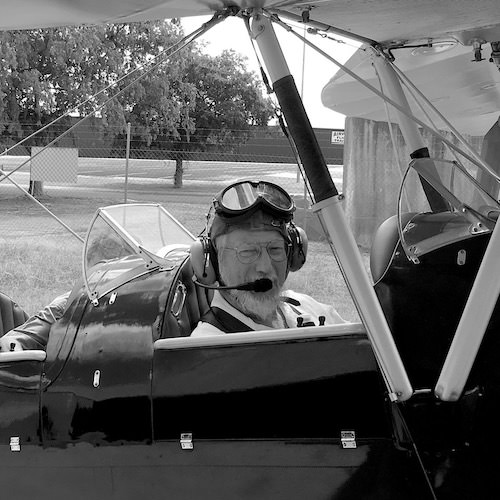 Jon Branch is the founder and senior editor of Revivaler and has written a significant number of articles for various publications including official Buying Guides for eBay, classic car articles for Hagerty, magazine articles for both the Australian Shooters Journal and the Australian Shooter, and he's a long time contributor to Silodrome.
Jon has done radio, television, magazine and newspaper interviews on various issues, and has traveled extensively, having lived in Britain, Australia, China and Hong Kong. His travels have taken him to Indonesia, Israel, Italy, Japan and a number of other countries. He has studied the Japanese sword arts and has a long history of involvement in the shooting sports, which has included authoring submissions to government on various firearms related issues and assisting in the design and establishment of shooting ranges.