The Harley-Davidson XLCR was Harley-Davidson's first and only attempt at a café racer style of motorcycle. It was a café racer done in the Harley-Davidson style and as such certainly doesn't fit with the smaller engined light framed café racers of British origin. Personally I think of it as "the Harley-Davidson you buy if you really want a Brough Superior". T.E. Lawrence of "Lawrence of Arabia" fame loved the big V twin Brough Superior and died riding one. The Harley-Davidson XLCR is a bike that is so much like a modern rendition of the Brough Superior that I think Lawrence would have loved it also. Of all the Harleys ever made it is certainly the one I'd buy above all others.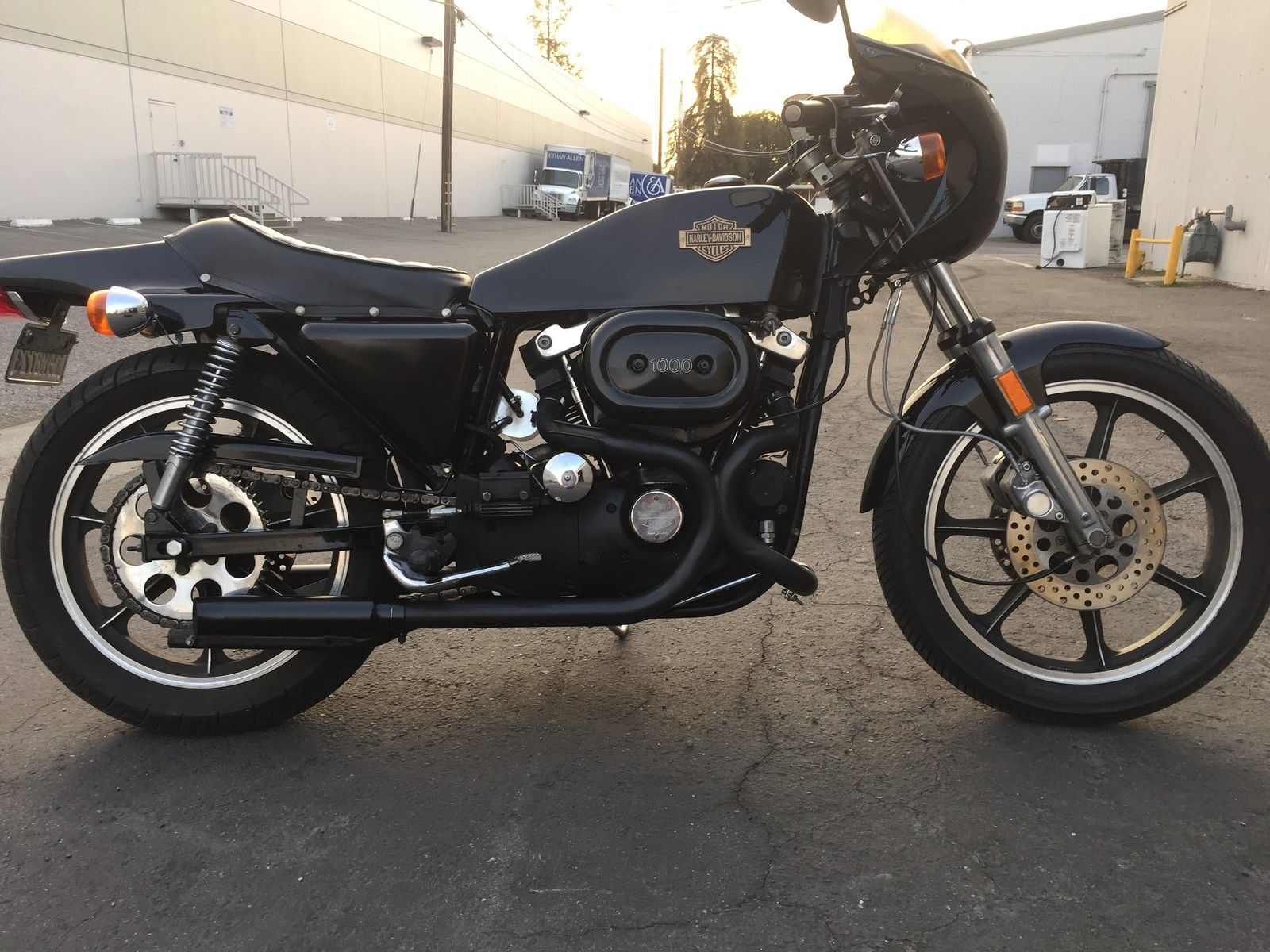 When Harley-Davidson's designer Willie G. Davidson set about the creation of this café racer Harley I really don't think he had the traditional light and lively British café racer in mind, or perhaps only in the back of his mind. What he set out to create was a bike that was based on existing Harley-Davidson parts, but built in the café racer style to some extent. What he produced was a bike that people did not immediately appreciate because they were trying to fit it into either the traditional café racer box, or the big lazy Harley-Davidson box. But this bike simply doesn't actually fit in either of those boxes – it fits in the modern "Brough Superior" box, and I've never come across a review that sees it in that light.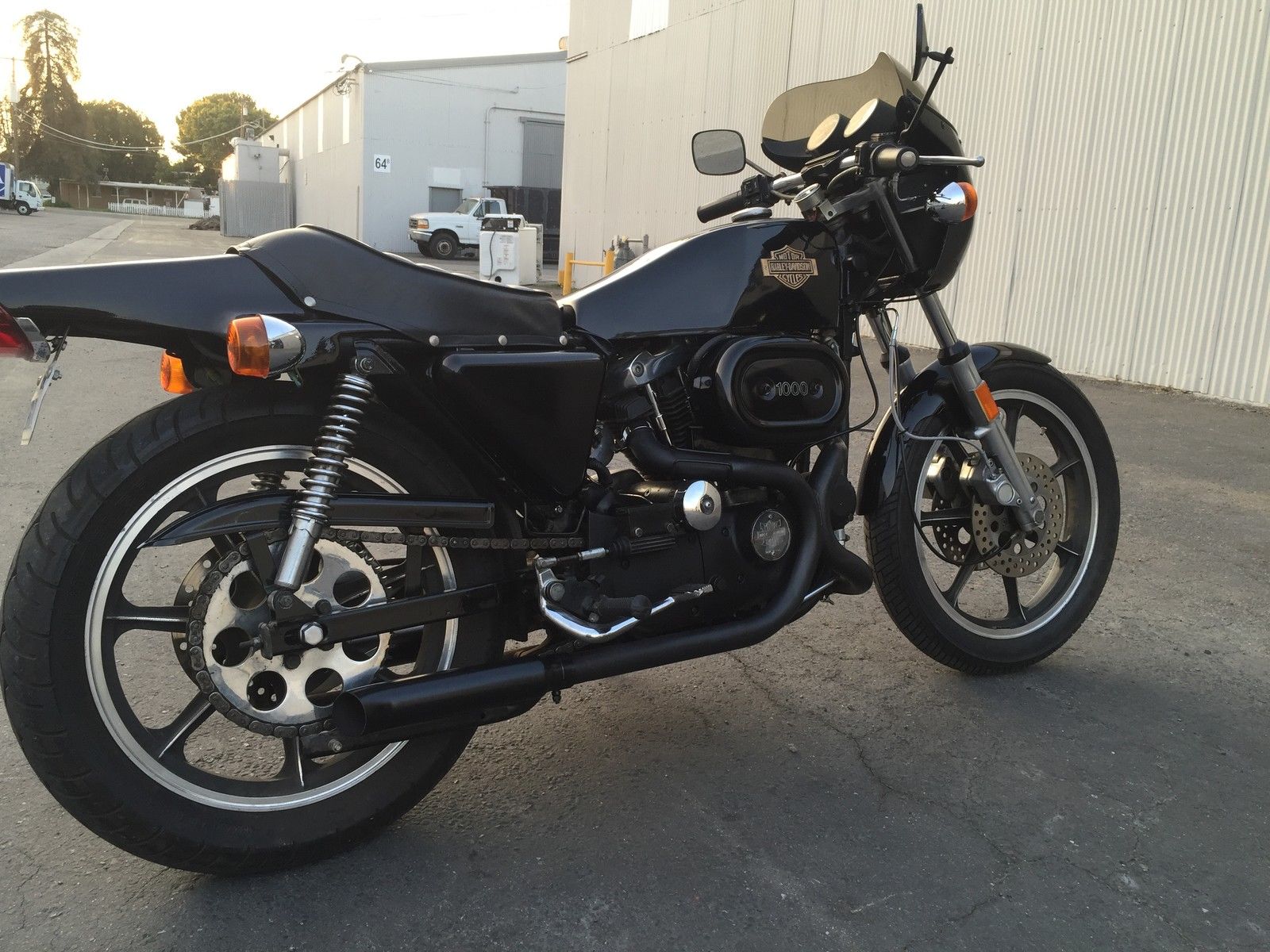 Back in 1977 when the XLCR first appeared a reviewer at Cycle World found the secret that has made this bike an enduring classic. He said "As a motorcycle, the XLCR has not much merit.  As an adventure, the XLCR has no equal." The sleek looking seat is said to be only comfortable for 20′ or so, the handling of that long chassis has been described as narcoleptic, the braking which should be very efficient with those twin front discs and single rear disc has been described as "wooden", and the engine vibrations of that gorgeous sounding Harley-Davidson V Twin have variously been described as anything but "good vibrations". But if I wanted a 1976 Moto-Guzzi Le Mans then I'd go and buy one. But I wouldn't, I'd buy the "adventure" that the XLCR represents. I'd buy this modern day "Brough Superior" with all its handling and braking quirks and vibrations and its head turning looks. One reviewer said of it "a bike like this stands out like a hooker at a convent school speech day."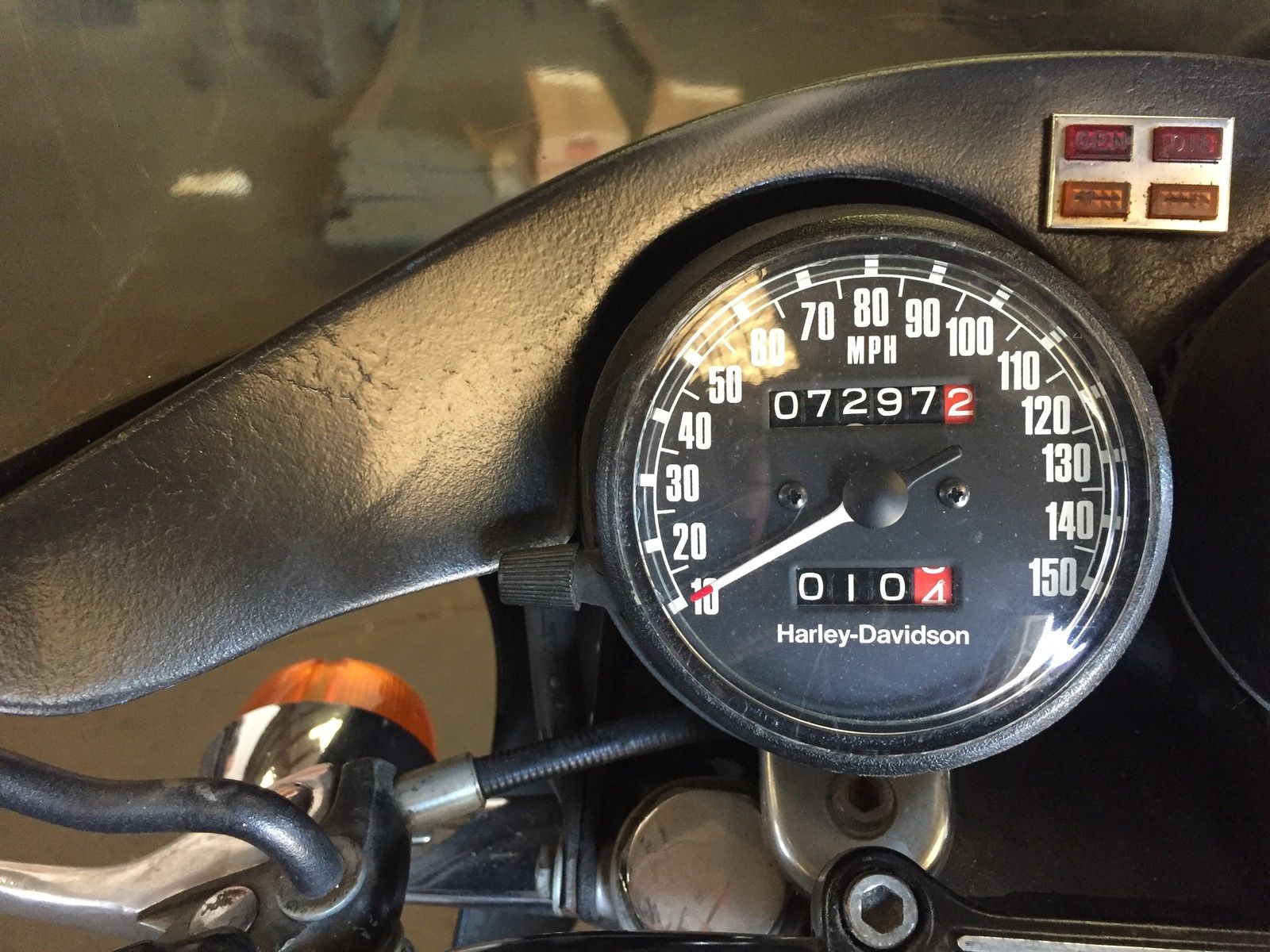 If you are looking for a café racer to really ride and exploit its handling and power then the XLCR is not for you. But if you, like T.E. Lawrence, are riding purely for the enjoyment of riding and you've simply fallen in love with the look and the feel such that the faults really don't matter then this might just be the classic bike for you. If you really don't care how big or small your chicken strips are because you just ride for pleasure then this is a bike that serves up riding and owning pleasure in abundant proportions.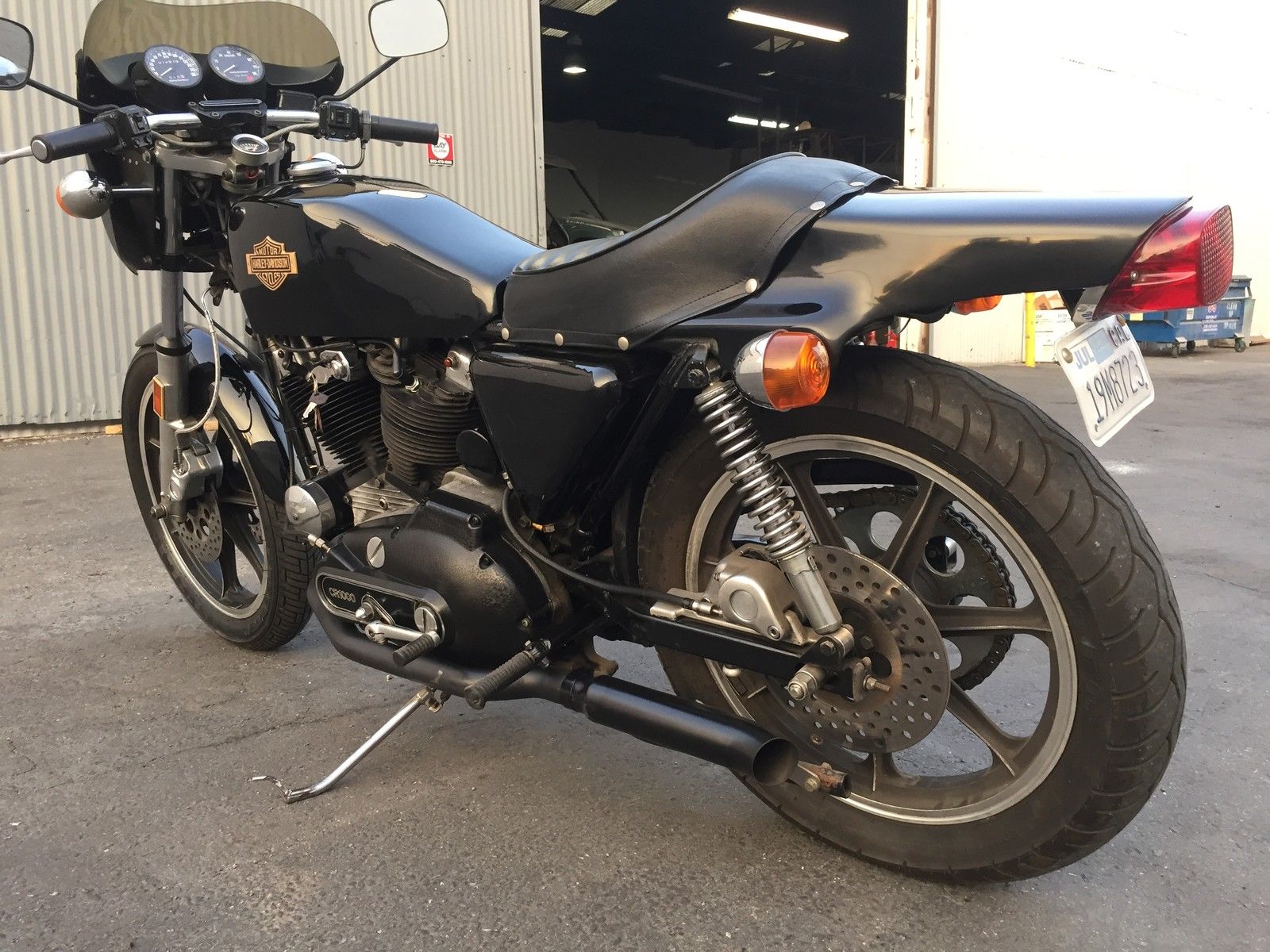 At time of writing there are two Harley-Davidson XLCR motorcycles up for sale on eBay, the one in our pictures and another one.
You will find the sale page for the bike in our pictures if you click here.
You will find a different Harley-Davidson XLCR if you click here.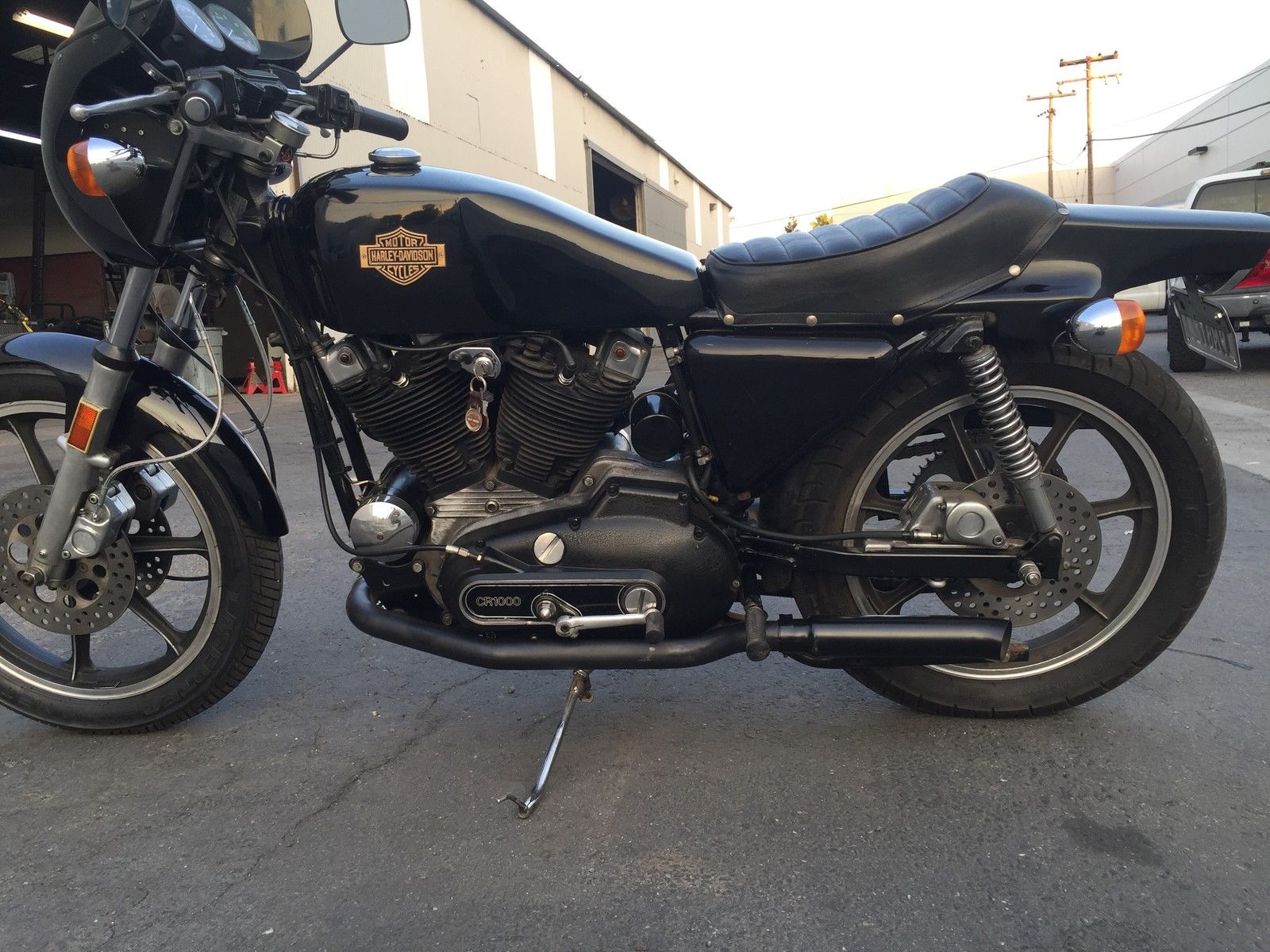 Technical Specifications
Production; 1977–1979
Engine: 998cc, two-valve, 45-degree V-twin
Bore/stroke: 88.9mm x 96.8mm
Compression ratio: 10.0:1
Power: 61bhp @ 6,200rpm
Torque: 52.0ft/lb @ 3800rpm
Fuel System: Carburetor. Keihin
Fuel Control: OHV overhead valves
Lubrication: Dry Sump
Cooling: Oil and Air
Gearbox: 4-Speed
Clutch: Wet Plate
Exhaust: Double W/ Siamese Primary
Frame: Steel Tube
Rake: 30.0 degrees
Front Tire: MM90-19
Rear Tire: 4,25-18
Front Brakes: Double Disk (254mm, 10.0 in)
Rear Brakes: Single Disk (254mm, 10.0 in)
Overall Height: 1,016 MM (40.0 in)
Overall Length: 2,210 MM (87.0 in)
Overall Width: 889 MM (35.0 in)
Ground Clearance: 178 MM (7.0 in)
Wheelbase: 1,473 MM (58.0 in)
Color: Black
Starter: Electric
(All pictures courtesy eBay).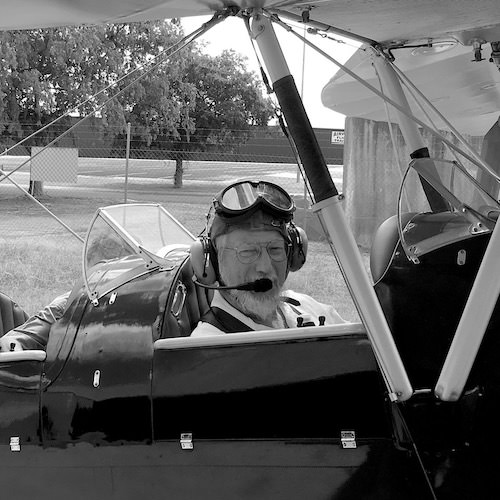 Jon Branch is the founder and senior editor of Revivaler and has written a significant number of articles for various publications including official Buying Guides for eBay, classic car articles for Hagerty, magazine articles for both the Australian Shooters Journal and the Australian Shooter, and he's a long time contributor to Silodrome.
Jon has done radio, television, magazine and newspaper interviews on various issues, and has traveled extensively, having lived in Britain, Australia, China and Hong Kong. His travels have taken him to Indonesia, Israel, Italy, Japan and a number of other countries. He has studied the Japanese sword arts and has a long history of involvement in the shooting sports, which has included authoring submissions to government on various firearms related issues and assisting in the design and establishment of shooting ranges.