Fosberry, his Automatic Revolver, and his Paradox Gun
The Holland & Holland Paradox gun was a creation by a man who is also famous for creating another "paradox" of a gun: Fosberry was the inventor of an "Automatic Revolver", something that to many will seem like a combining of two contradictory things – but then that is what the word "paradox" means.
Lieutenant Colonel George Vincent Fosberry attended Britain's prestigious Eton school before joining the British Army. His army service saw him receiving a Victoria Cross for gallantry while in action in the Umbeyla Campaign in 1863, and he attained the rank of Lieutenant Colonel before retiring from army service in 1877. So Fosberry had extensive field experience in the use of firearms and he applied that experience to designs of his own.
Something that Fosberry thought could be done was to invent a gun that would combine the attributes of both shotgun and rifle – at least for shorter range hunting of medium to big game. In India where Fosberry had done much of his military service there was a need for a gun that could be used for bird shooting but which would also serve for use against leopard and tiger.

The problem of combining a shotgun with a rifle is in that a rifled barrel will tend to throw shot all over the place, while a smoothbore shotgun barrel uses a choke near the muzzle to constrict and control the shot pattern – so the rifling and the choke appear to be mutually incompatible, which would make a gun capable of accurately shooting a bullet, and successfully patterning shot, impossible.
A gun that could combine these attributes was however something that promised to be rather popular so George Fosberry set to work to find a solution to the problem of smoothbore versus rifling being incompatible.
Fosberry discovered that for lead bullets that were typically used in bore guns that very little rifling was actually needed to stabilize the bullet. So he found that if he only had a couple of inches of rifling near the muzzle that the gun could provide a decent cylinder shot pattern and also shoot bullets accurately out to 100 yards. Fosberry then did something rather clever: he incorporated choke in the area of the barrel which also had the rifling made by cutting the rifling grooves into the choke constriction.

So, with this design, the shot pattern would tend to ride over the rifling grooves with little disturbance, while a lead bullet could be designed so that its driving bands would tend to expand into the rifling and impart the needed spin to stabilize it.
Fosberry patented his invention and then approached London gunmaker Holland & Holland with a view to selling them the patent rights. Holland & Holland saw the potential straight away and purchased the rights so they could start making Holland & Holland "Paradox" guns.
The Paradox gun could be made in any of the popular bore sizes and it was typically made in 8 bore, 10 bore, 12 bore, and 16 bore: the larger 8 and 10 bore being more suited to dangerous game while the 12 bore could serve against tiger or leopard and be suitable for deer stalking. The 16 bore was more oriented towards bird shooting and non-dangerous game and such guns could be made to be very light and handy.
Holland & Holland state in their catalogs of the time that the Paradox guns could be made somewhat lighter than a rifle of the same bore size, this is most likely because a full rifled barrel would tend to need to be heavier than a comparable smooth bore. That being said a Holland & Holland 10 bore Paradox gun could be expected to tip the scales at around 13½ lb.

8 bore was one of the black powder era standard guns for elephant and other dangerous game so a Paradox 8 bore had an acceptable level of power for such use.
The Paradox gun could use the same shotgun shells as any other shotgun of the same bore while the rifle bullets were typically of three styles; an alloyed lead round nose bullet with two driving bands, an alloyed lead round nose hollow point bullet with two driving bands, and a steel round nose bullet with lead covering. The two alloyed lead bullets were intended for soft skinned game while the lead covered steel bullet gave the Paradox significantly improved penetrating power which was especially important if going up against elephant or similar.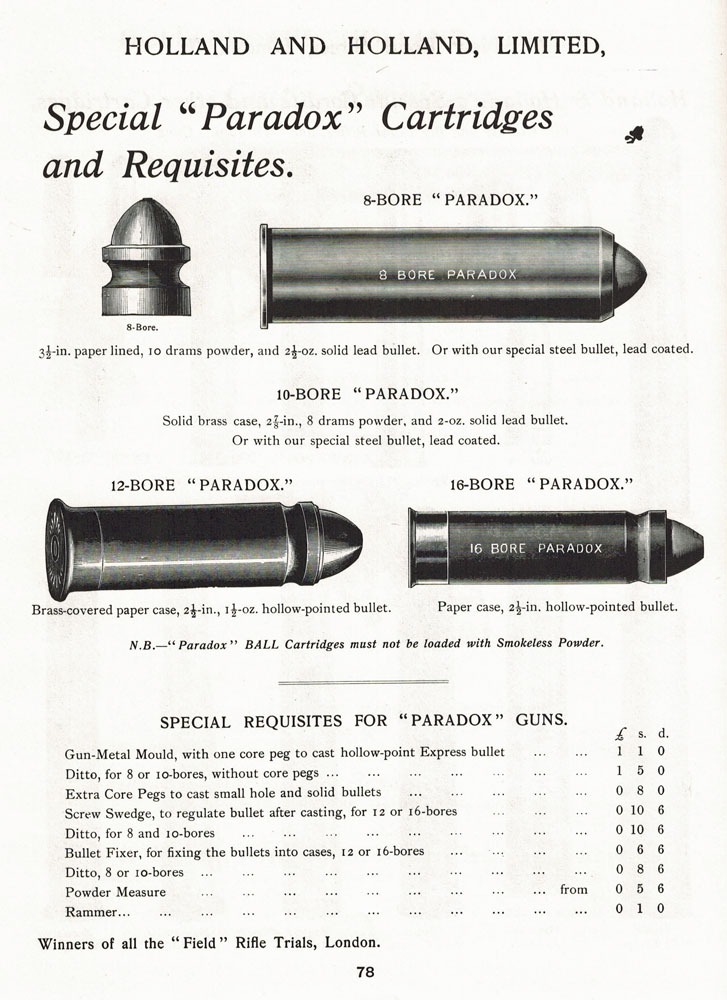 You can find more detailed information about these Holland & Holland Paradox cartridges if you visit The Cartridge Collector's Exchange.
Holland & Holland only made Paradox guns in black powder loadings, but after the expiry of George Fosberry's patent other gunmakers began making their own ball and shot guns, some using nitro powders. The most famous of these were Westley Richards who called their larger bore ball and shot guns the "Explora", and the smaller ones "Faucita".
If you are interested in a rather nice example of a Holland & Holland Paradox gun one is scheduled for sale by Rock Island Auction at their Premier Firearms Auction #81 to be held over December 4th-6th, 2020.

This gun was made to be exhibited at the 1900 Paris Exposition Universelle and was purchased by Count László Szapáry of Hungary. It is one of only 37 hammerless 10 bore Paradox guns made, one of 12 Royals, and it is one of only 3 "Best", making it even more rare.
The gun was a part of the collection of John S. DuMont and comes with a Holland & Holland factory letter from 1948 describing its pedigree.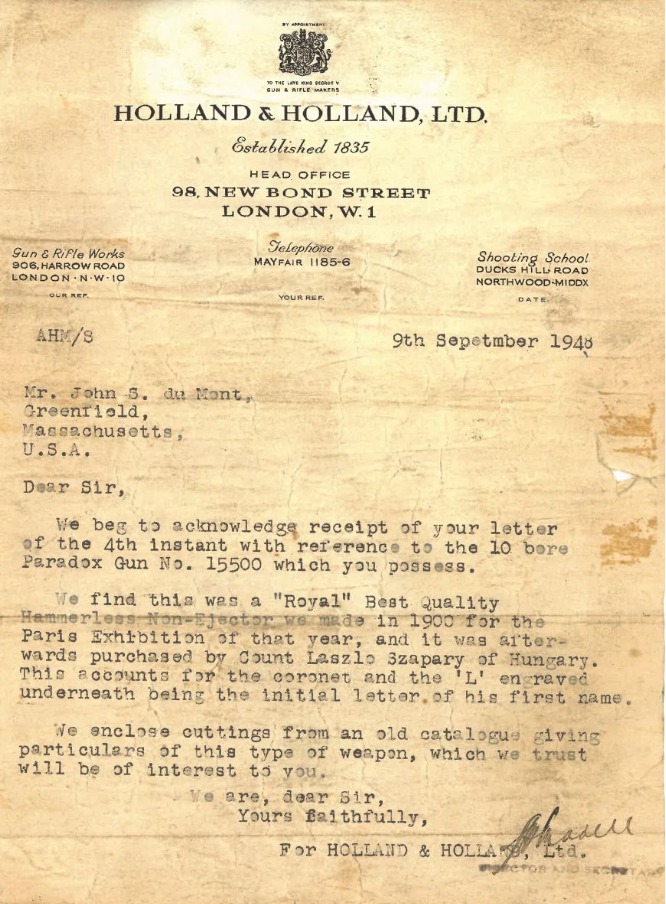 Rock Island Auction describe the condition of this gun as follows: "Exceptionally fine, retains 85% of the slightly thinned blue finish, showing a slight plum hue, with a few very small patches of light pitting on each barrel near the breech and 90% of the original case colors with some very light spotting on the bottom of the action and crisp engraving. The wood is also very fine with a few scattered light dings and scratches, crisp checkering, and retaining almost all the varnish. Mechanically excellent."

If you are interested in finding out more about this gun you can visit the Rock Island Auction sale page if you click here.
Lieutenant Colonel George Vincent Fosberry contributed two completely "out of the box" designs for firearms, both of which were very successful. The Fosberry automatic revolver is no longer made but Holland & Holland currently make a modern "Paradox" gun once again. These guns are made in 12 gauge and use modern nitro powders for their ammunition. They are beautiful examples of the best the British gun trade can make.
You will find the current Holland & Holland Paradox guns at their website if you click here.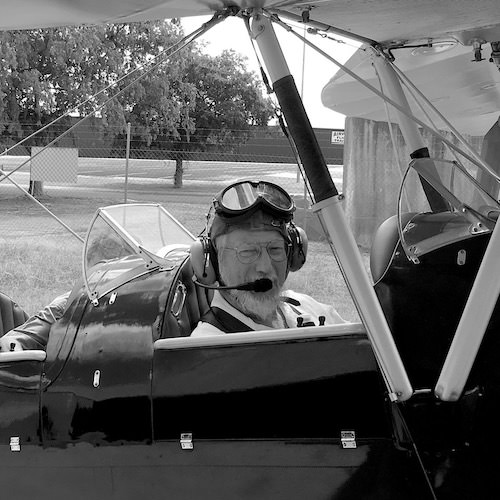 Jon Branch is the founder and senior editor of Revivaler and has written a significant number of articles for various publications including official Buying Guides for eBay, classic car articles for Hagerty, magazine articles for both the Australian Shooters Journal and the Australian Shooter, and he's a long time contributor to Silodrome.
Jon has done radio, television, magazine and newspaper interviews on various issues, and has traveled extensively, having lived in Britain, Australia, China and Hong Kong. His travels have taken him to Indonesia, Israel, Italy, Japan and a number of other countries. He has studied the Japanese sword arts and has a long history of involvement in the shooting sports, which has included authoring submissions to government on various firearms related issues and assisting in the design and establishment of shooting ranges.